Agbada Outfit Ideas for Women. Historically Agbada was a large gown worn by African men on special occasions or too formal places. But today, this traditional Nigerian style has been adopted by Agbada obsessed women.
The Agbada dresses were meant to symbolize more than just wealth and status. Instead, it was a representation of robust social heritage — the extravagantly comprehensive at the shoulders with embroidered neck or pocket styles in silk. Agbada are usually knee-length tops, which also reflect a bit of the Yoruba style. Nowadays, women are beating men when it comes to the trendy Nigerian clothing style Agbada. Celebrities like Toke Makinwa, Uche Jumbo, and Linda Ejiofor have been seen walking on the streets in the elegant Agbada outfits.
You can also have a look at these fantastic posts about Work Outfits for African Women.
How to Wear Agbadas for Women
The very typical Agbada style is not too mainstream, but it has been redefined in recent times to add a new definition to the technique for women. Use your sartorial expertise to revolutionize this fabulous according to today's fashion and trends. Apart from its severe association with men, Agbada is entirely rocked by women in the form of gowns, tops as well as Aso Ebi styles. Also, the feminine version of Agbada resembles nearly that of men, but the cuts are bit modified to define the female physique well. The article is going to inform you about various ways to impressively dress up using the Agbada pieces along with the accessories and makeup tips to gear up with this elegant style. The 20 breathtaking forms described below are going to be very helpful if you want to innovate your wardrobe with a few Agbada pieces.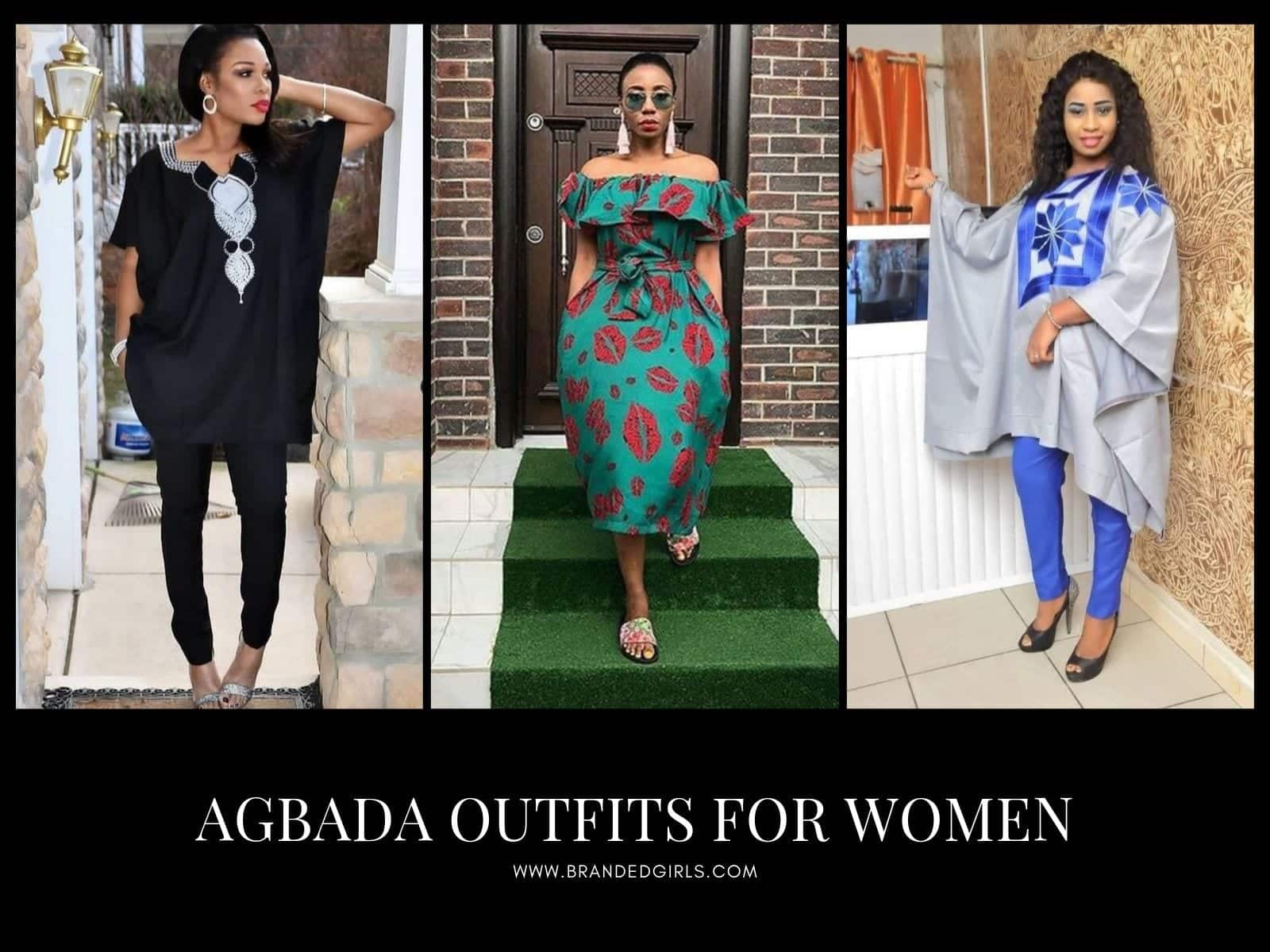 Agbada Outfits Styling Fashion Tips
Since the Agbada style has become an everyday outfit for African men and women for celebrations and other family events like weddings and birthdays. There was a period, Agbada outfit was religiously counted as a male affair only (Is it surprising?), but all that has improved over the years. Agbada outfits can be styled in various ways, so there is a probability that someone can get confused about how to style Agbada outfits. Let Team Branded Girls help you in picking the right Agbada outfit for you. The following are some frequently asked questions related to styling Agbada outfits in the right way.
Appropriate Color Hues for Agbada Outfits: Colour signifies when you are picking your Agbada outfit. If you want the right colour, you are going to cherish your Agbada outfit. Gone are the times when it was totally pure white that originates the styling cut when it comes to outfitting in Agbada dress.
Can Kids Wear Agbada Outfits? Yes, you heard it right! Kids can slay themselves in Agbada outfits too. However, with the most advanced styles, you can distinguish the primitive styles from modern designs. Surprisingly, modernish Agbada outfits can be slayed by young boys, girls, and even toddlers too. Everyone, including the children, can slay it and look equally chic like the adults slaying in Agbada outfits.
Can I Wear Denim Jeans with Agbada Outfits? Looking for what to wear underneath Agbada outfits? You can always go for skin fit pair of denim jeans, Yoga pants or even solid contrasting color leggings with any Agbada outfit.
Which Footwear to Wear with Agbada Outfits? Not sure which shoes to wear with Agbada outfit? You can try wearing a pair of sneakers, joggers or even loafers in the winter season. As far as the summertime is concerned, you can wear a pair of mid-lengthed heels with your Agbada outfit. However, pointed heels look best with Agbada outfits.
Which Hijab Style to Wear with Agbada Outfit? Turban Hijab is best to wear any of the African fashion-inspired Agbada outfits. You need to make certain that the color of the turban hijab should always be in contrast with the tones of the Agbada outfits that you are wearing. Want to know styling options related to the Turban hijab? Check out Latest Turban Hijab Styles-29 Ways to Wear Turban Hijab
↓ 20 – Traditional Agbada Style
The traditional Agbada style looks chic with plates or frills at the shoulder and embroidered center or neckline. You can wear it with the style of traditional trousers if you want to have a natural look. Your accessories matter a lot when you are going for the inherited cuts, as they'll enhance your overall image. Also, you can add headgears to keep up with the culture. This style usually works informal cultural events or occasions themed according to this style. Grand Boubou is the English title of Agbada, and it is one of the Nigeria fashion marks. It trends regularly because of the artistic styles that these outfits come with. Today, we see twos in resembling outfits of Agbada outfits, giving us some new concepts on how to make more desirable Agbada outfits.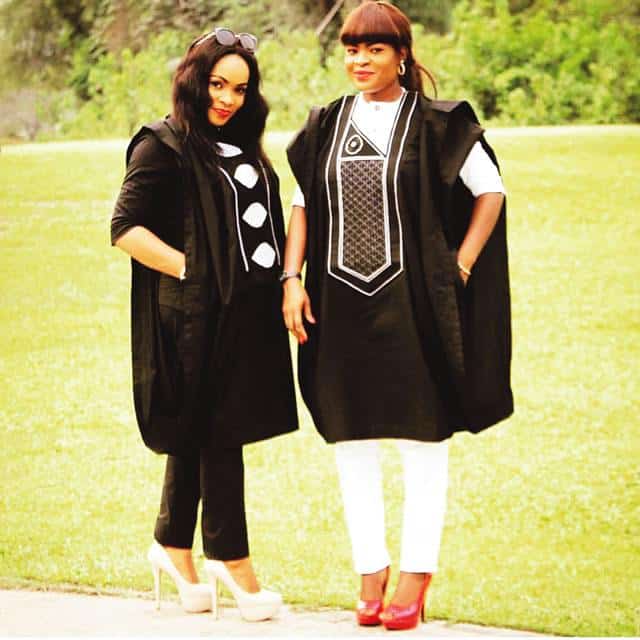 ↓ 19 – Elegant Agbada Gowns
Gowns are the most versatile forms of dressing that can be stylized by adding different fabrics and cuts to them. Agbada gowns are usually the same extensive at the shoulders with the traditional monotone shades. These can be extended or knee-length gowns but are not fitted along the length. Rather these are usually following the airline cut at the bottom. These can be made in silk and luxurious material to add a formal touch for events like weddings and formal parties. RECOMMENDED: African Fashion Bloggers-Top 15 African Fashion Blogs to Follow. Agbada outfits can be worn at your office as well. It is one of the classiest workwear outfits which is inspired by African fashion.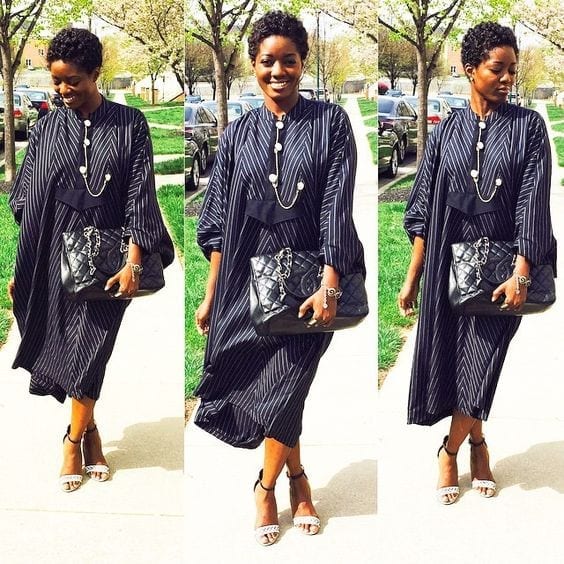 ↓ 18 – Sokoto with Agbada Dresses
Sokoto is the traditional African trousers which are close-fitting at the bottom and worn by African women along with Agbada tops. Printed Sokotos with simple Agbada tops look extremely classy and trendy at the same time. These ankle trousers look amazing in contrasting shades and also give a bit of the western look. The world is running swiftly when it comes to seem real. Looking great is everyone's business, which is one of the logic why we have come to acknowledge the value attached to every outfit. When you are waiting to do a movement or getting yourself set for a church holiday, wedding reception, or office functions, Agbada can be your most trustworthy partner in fashion. See how high pointed heels are looking with this dress! Monochromatic Agbada outfits always look classy and trendy.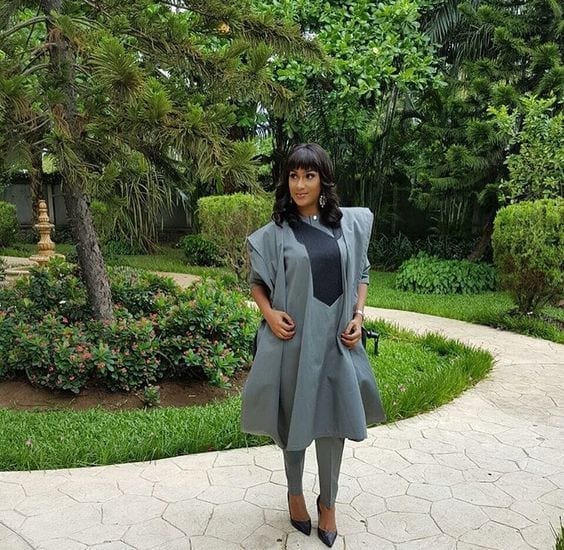 ↓ 17 – Western Agbada Styles
Women can add a western style to the traditional Agbada style by trying out different cuts and necklines. Simple Agbada tops with shorts or jeans will look extremely chic if worn with heels. Also, one can blend the sleeves and embroidery style with a western neckline to add up to the entire look. Alternatively, you could try out one of these Cute Ankara Styles.
If you are one of the Muslim Hijabi ladies, then you can wear a Turban type hijab with any of your Agbada outfits. Make sure that the color of the turban hijab should be in contrast with the color of the Agbada outfit that you would be wearing.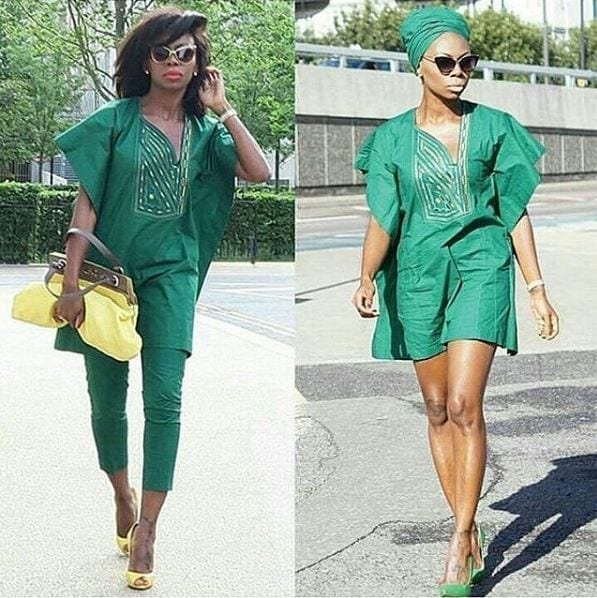 ↓ 16 – Attractive Agbada Dresses for Weddings
Agbada can be worn on wedding occasions with the same grace as any other typical wedding outfit. These can be made into luxurious materials like silks and chiffon and can be embellished with modern embroidery techniques and pearls while keeping the top and Sokoto style the same. Adding glamorous Louboutins to it will spice up the entire outfit.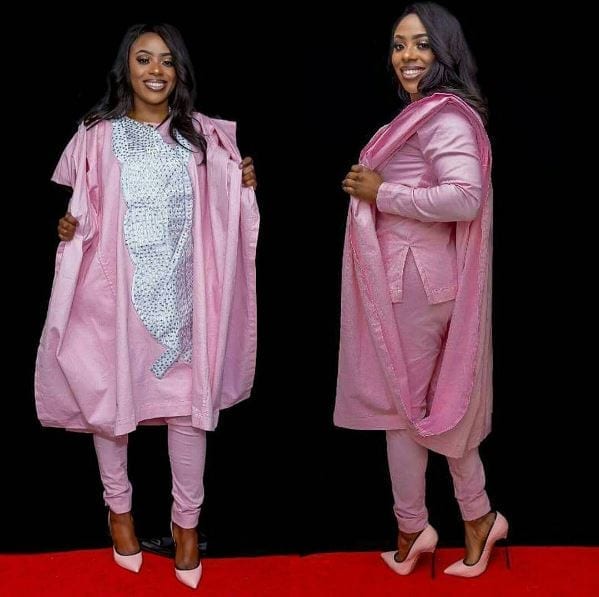 ↓ 15 – Formal Agbada Costumes
Formal Agbadas with frilly shoulders and uni shades look just amazing with funky heels. Ankara accessories look just amazing with formal Agbada. Moreover, embroidery in contrast or same shades and formal pants also look so chic if worn at formal events or occasions. If you're looking for the perfect wedding day guest outfit, then don't miss out these 20 Outfits to Wear for an African Wedding.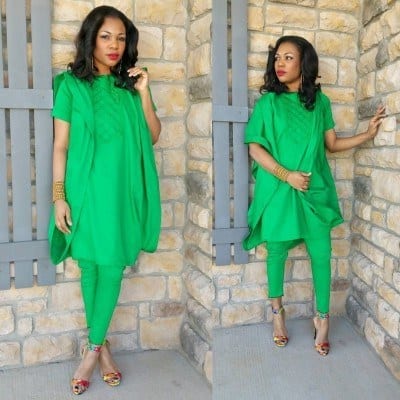 ↓ 14 – Agbada Dresses with Tights
Tights are loved by young girls, and they can totally slay Agbadas with tights in black or white. They can also add other designs or motifs to your outfits to have a more funky look. The embroidered center looks extremely attractive when worn with tights.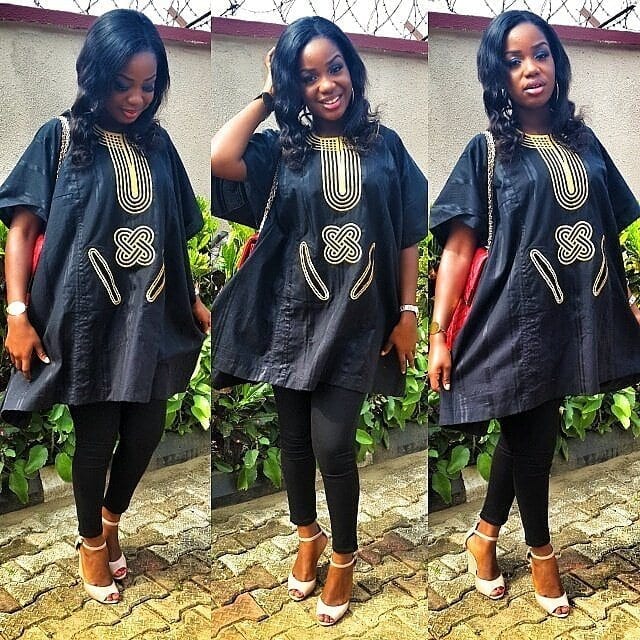 ↓ 13 – Summer Agbada Outfits
You can rock an Agbada outfit in summers along with a hat or cap. Sleeveless Agbadas in pastel shades looks just amazing in summers. You can wear them with stilettos to have more stylish overall attire. Also, it makes you look smart and elegant if you have a curvy structure. You might want to check out these Top Ankara Styles outfits for Ladies.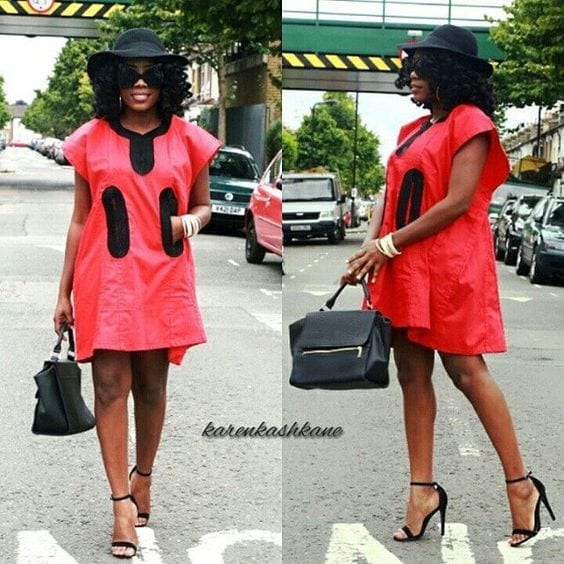 ↓ 12 – Agbadas for Teenagers
Teenagers can slay Agbadas with ripped jeans or leggings. They can wear these fabulous garment pieces with sneakers and braids. It looks both traditional and unique.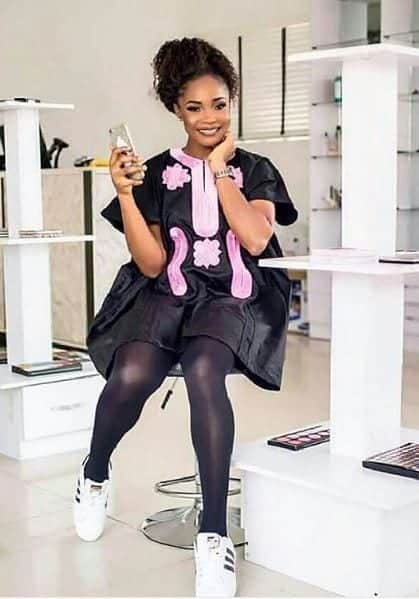 ↓ 11 – Monochrome Agbada Style
Monochrome Agbadas have been quite trendy nowadays as black looks perfect when blended with white or other pastel shades. Pastel colors could be introduced into the center embroidery or neckline. The overall attire looks very up to date.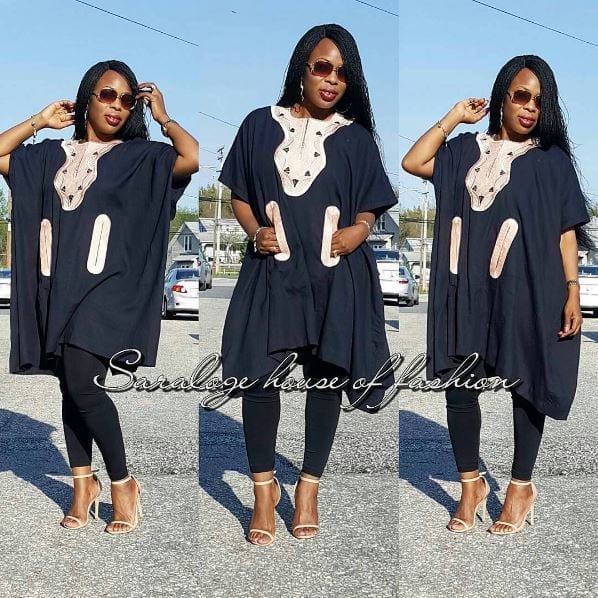 ↓ 10 – Embroidered Agbada Outfits
Embroidered Agbadas are the hype of the season. Bright shades could be used in contrast to pastel, or pastels can be used in comparison to any bright shade if you want to create a catchy look. Also, you can add a bracelet to these garment pieces since they usually have half sleeves. If you're still considering what to wear, why not check out these Top Dashiki Outfit Ideas for Women.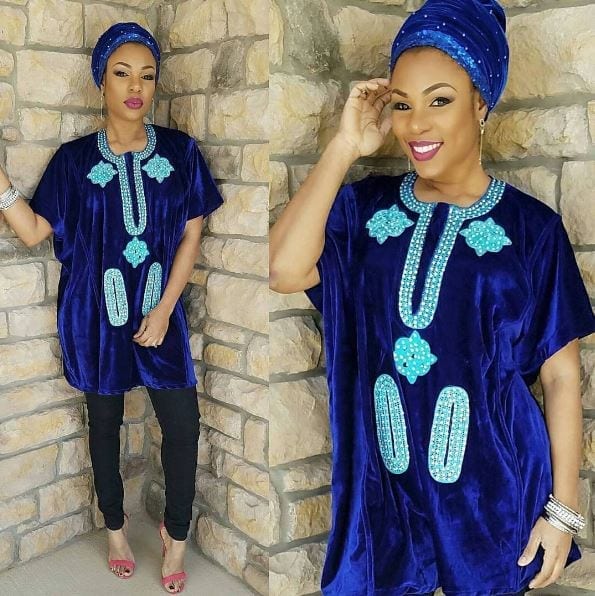 ↓ 9 – Agbada Street Style
The Agbada street style is unique. Using black and white, you can create impressive Agbada garments that can be worn with jeans or pants. The upper gown looks very chic and unique. These can be worn with snickers or joggers that will complete the entire street style. Also, different African braid styles go very well with the Agbada street style.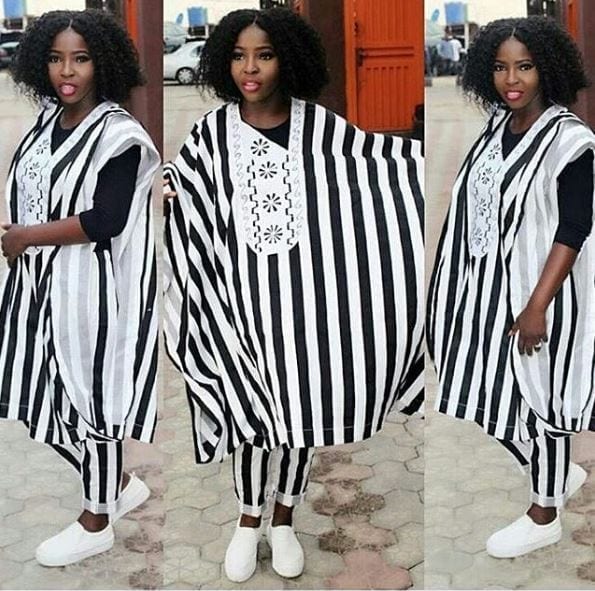 ↓ 8 – Agbada Dresses for Working Women
Working women can slay simple and unique Agbadas in monotone shades and with minimal embroidery at their workplaces. Since the trousers look pretty formal, so they go very well at the formal meetings and tours. RECOMMENDED: Modern African Dresses.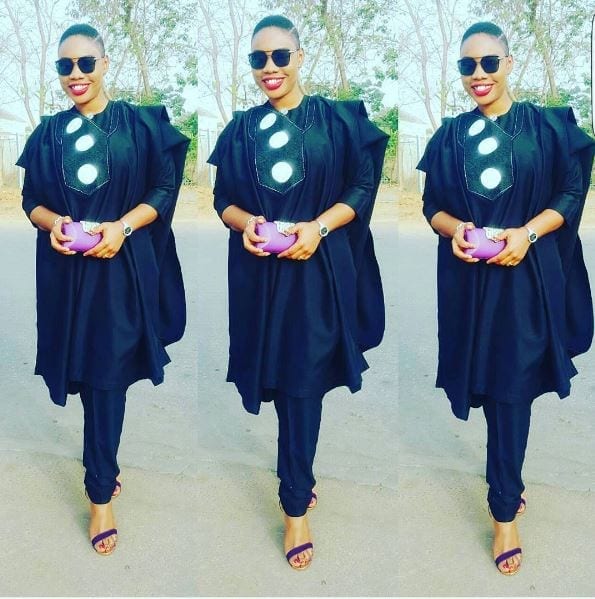 ↓ 7 – Striking Agbadas for Parties
Agbada in bright shades is perfect for parties and other events. The purple and mustard Agbada outfit looks very classy, along with the wavy hairstyle. The colors are both festive and charming.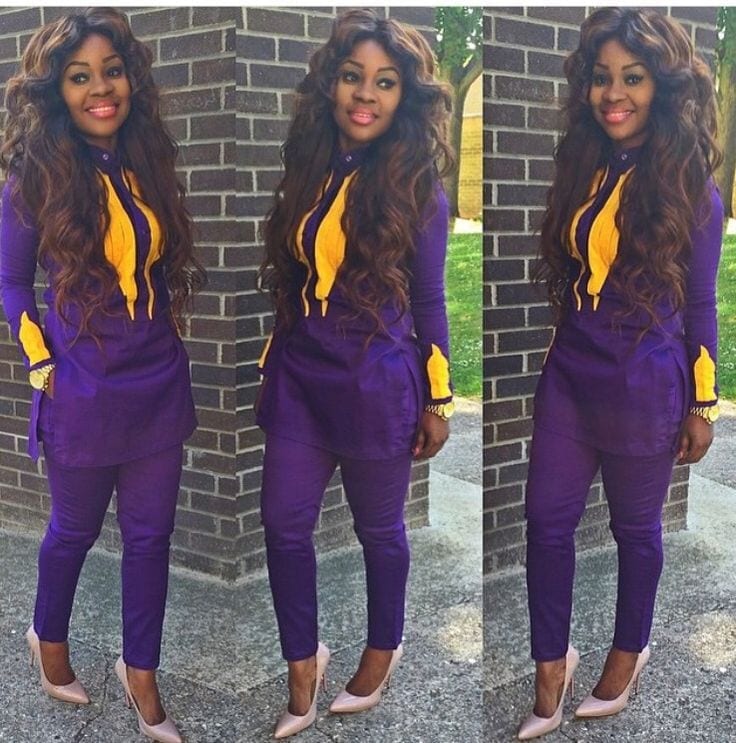 ↓ 6 – Agbadas Costumes with a Gele
Geles are quite essential when it comes to Nigerian or particularly African traditional look. Agbada can be paired with pretty and elegant printed geles to create an enchanting look.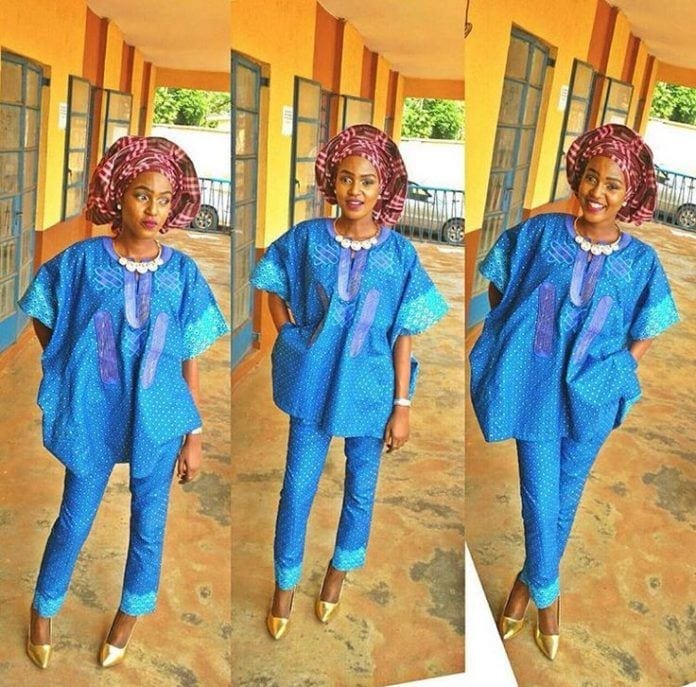 ↓ 5 – Agbadas Short Dress Style
Short dresses are loved by young women around the world since they accentuate their physique quite well and look extremely charming. Agbada can also be worn as short dresses to clubs and concerts. Moreover, these look perfect along the beach shore. You should also check out these Latest Lace, and Aso Ebi Designs that are trending these days.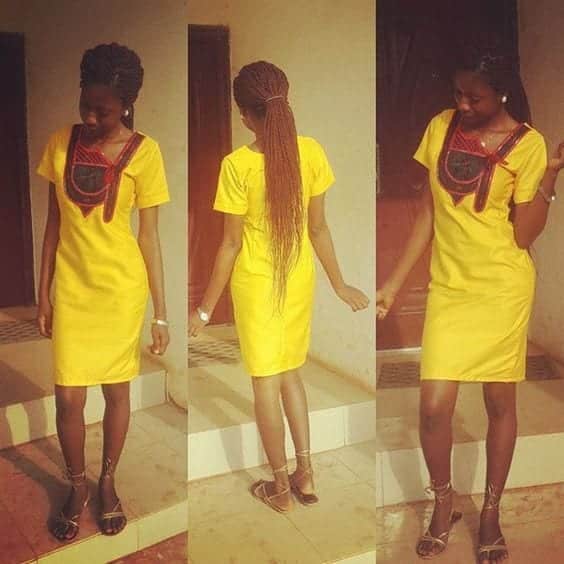 ↓ 4 – Pure White Agbada Dresses
Simple white dresses look perfect on formal or wedding events. Many celebs have been seen wearing simple white Agbada dresses to interviews. Occasionally these dresses look amazing with fancy heels and unique necklines. Also, the upper gown style is just perfect for a classy and royal look.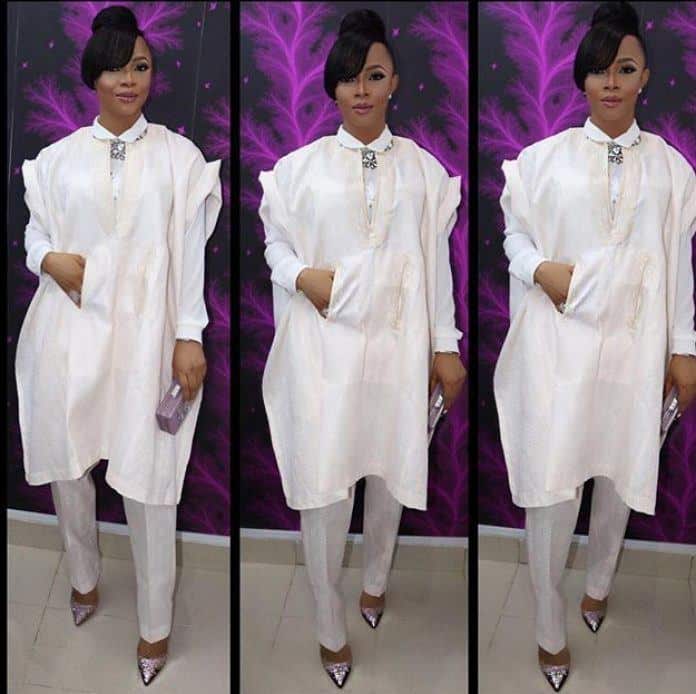 ↓ 3 – Agbada Top Styles
Agbada tops can be paired with black pants and strappy sandals in summers to create an impressive style statement.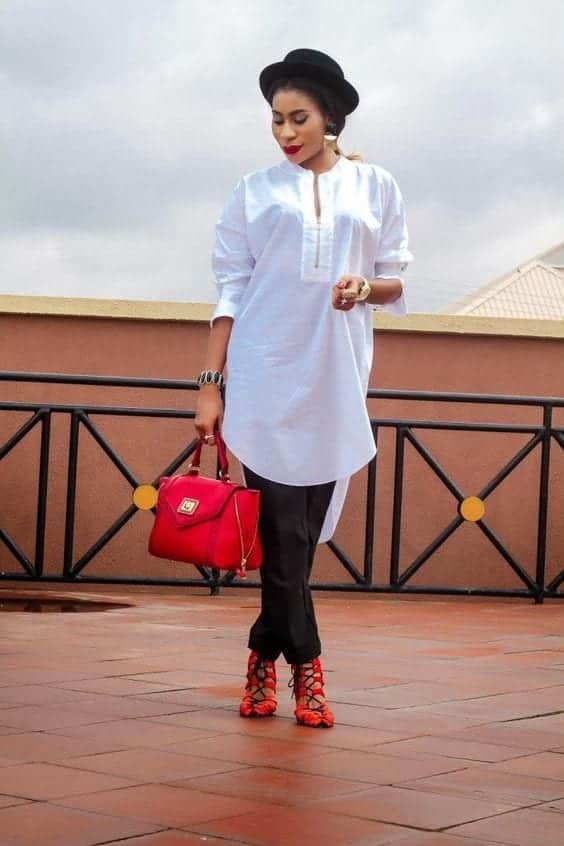 ↓ 2 – Shoes and Bags with Agbada Dresses
Medium-sized embroidered clutches, and formal heels look perfect with these fantastic garment pieces. Sokoto looks ideal with stilettos and Louboutins. The red-colored lipstick can add the boost to any of the everyday Agbada outfits of your choice.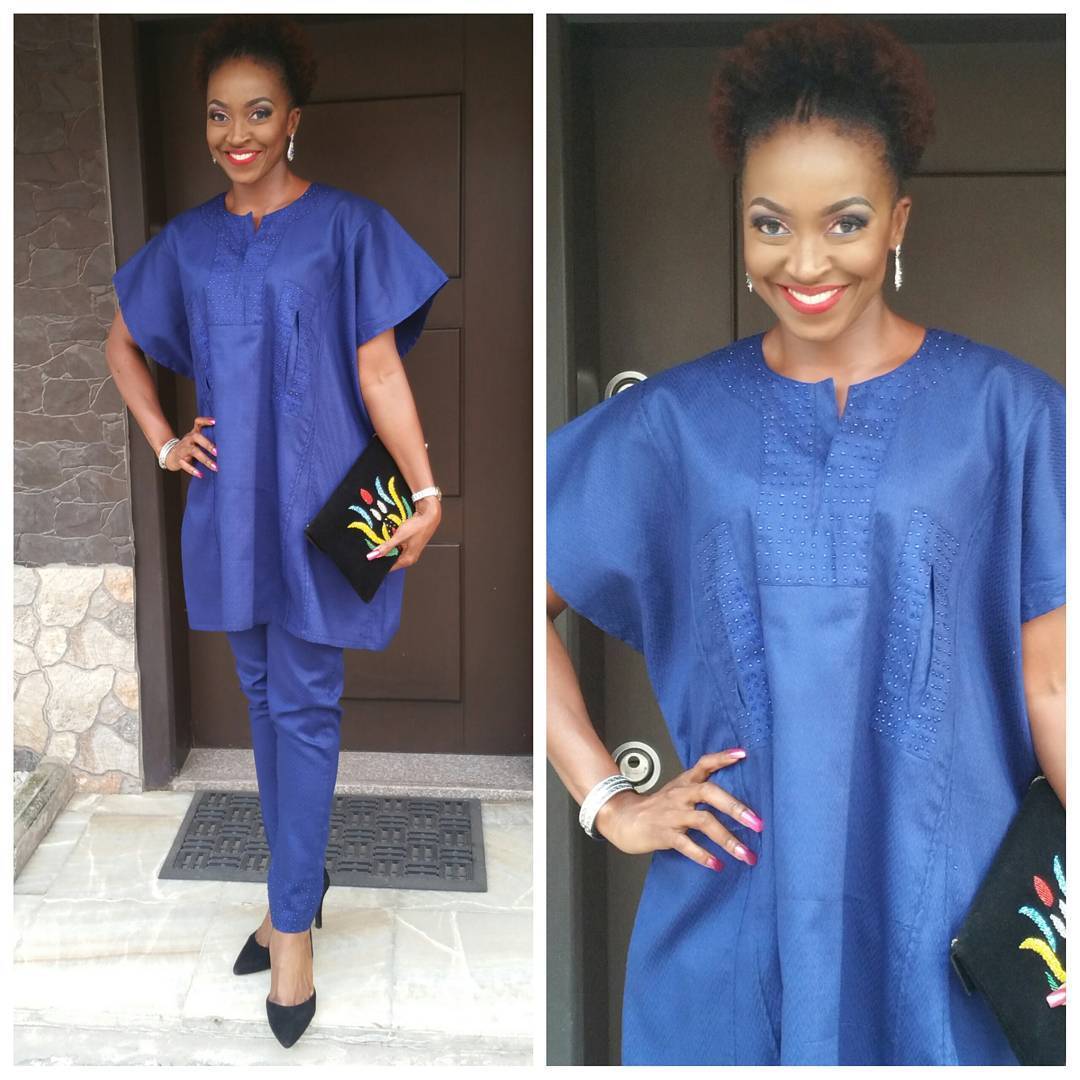 ↓ 1 – Makeup Styles to Follow with Agbada
The nude makeup look along with red or maroon lipstick is just perfect when you're going for black or white Agbada outfits. Also, the winged eyeliner with shimmery looks pretty okay.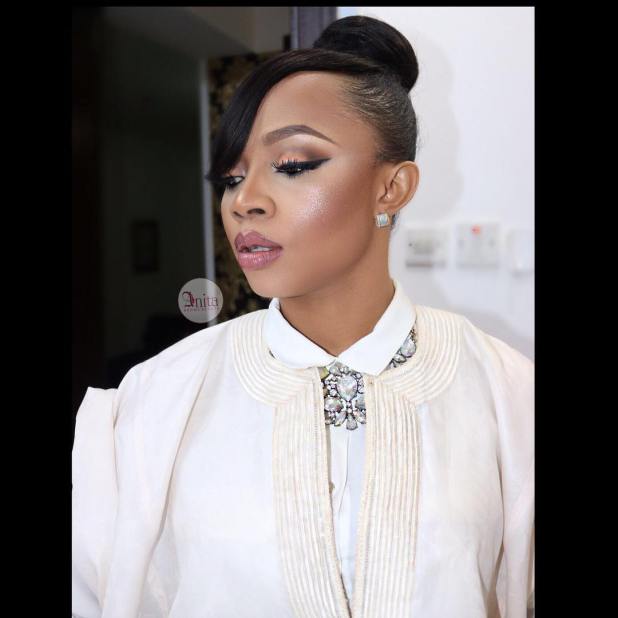 I hope this article helped you in gathering the latest ideas regarding Agbada fashion. Share your ideas through the comments section.