Aso Ebi styles – Aso Ebi styles not only make you different but give a nicer formal look for any party. The lace styles will help you to be more in style with latest designs. Perfect for bridesmaid wear or any such ceremony. It will look classy, fashionable and elegant. Besides all this, these styles are everlasting.
Aso Ebi styles are originated from Africa and the trendiest designs show that the African ladies are also making pace in being trendy and stylish. We have collected some latest lace and Aso Ebi designs currently in style and we've also included some amazing outfits from the best African Fashion Bloggers. Of course, one can design best Aso Ebi style only when she decides how she wants to look.
How to Wear Aso Ebi Stylishly
Some latest trending lace and Aso Ebi styles are collected that can help you being significant and outshine in any party. It can go well with high heels of party wears, clutches, and nice jewelry.
Among the top-notch designers, the most stunning designs are from BellaNaija. Here are some latest pics of her designs.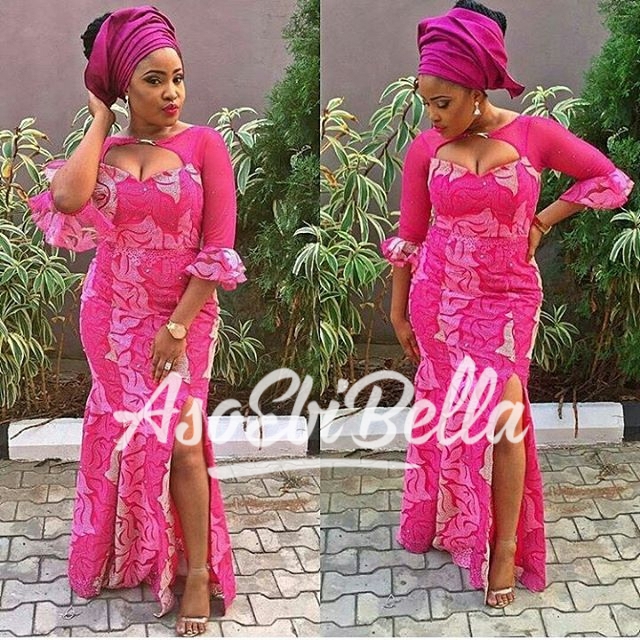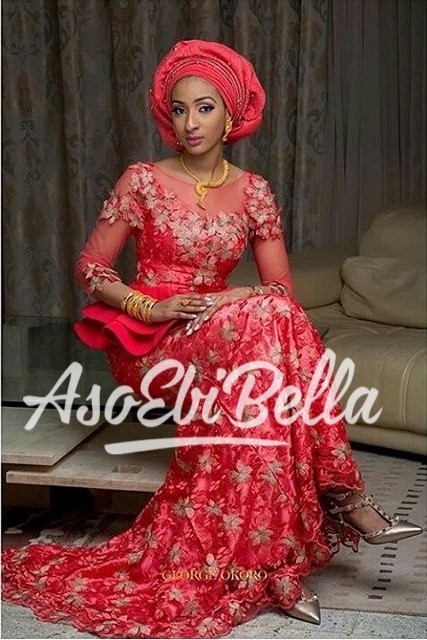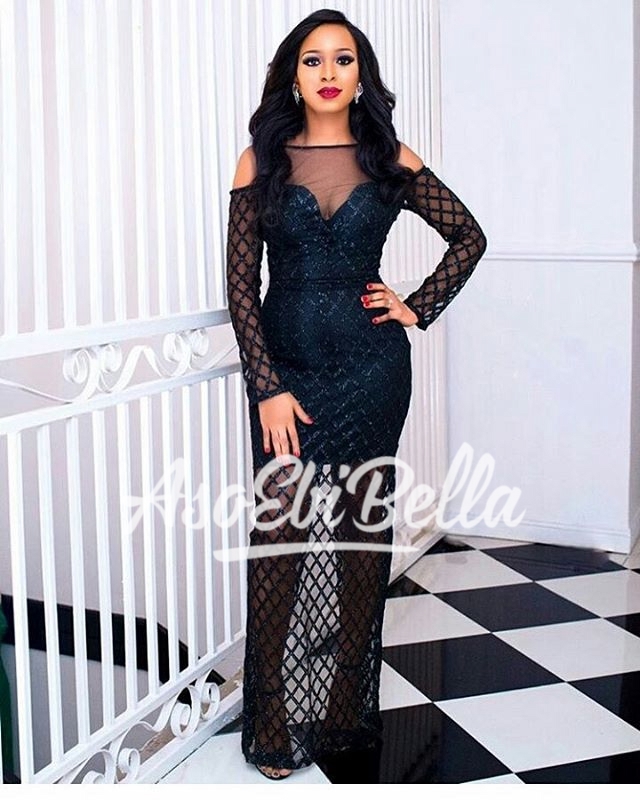 Via
#18 – Ankara Types Aso Ebi
Style yourself in unique, captivating Ankara  Aso Ebi. It is definitely a distinctive African attire. Stylize your persona with party wear pointed style pump high heels and gleaming jewelry. It looks stunning with the stylish cap bearing a contrasting bow. RECOMMENDED: Top 20 Ankara Styles for Ladies to Follow in 2016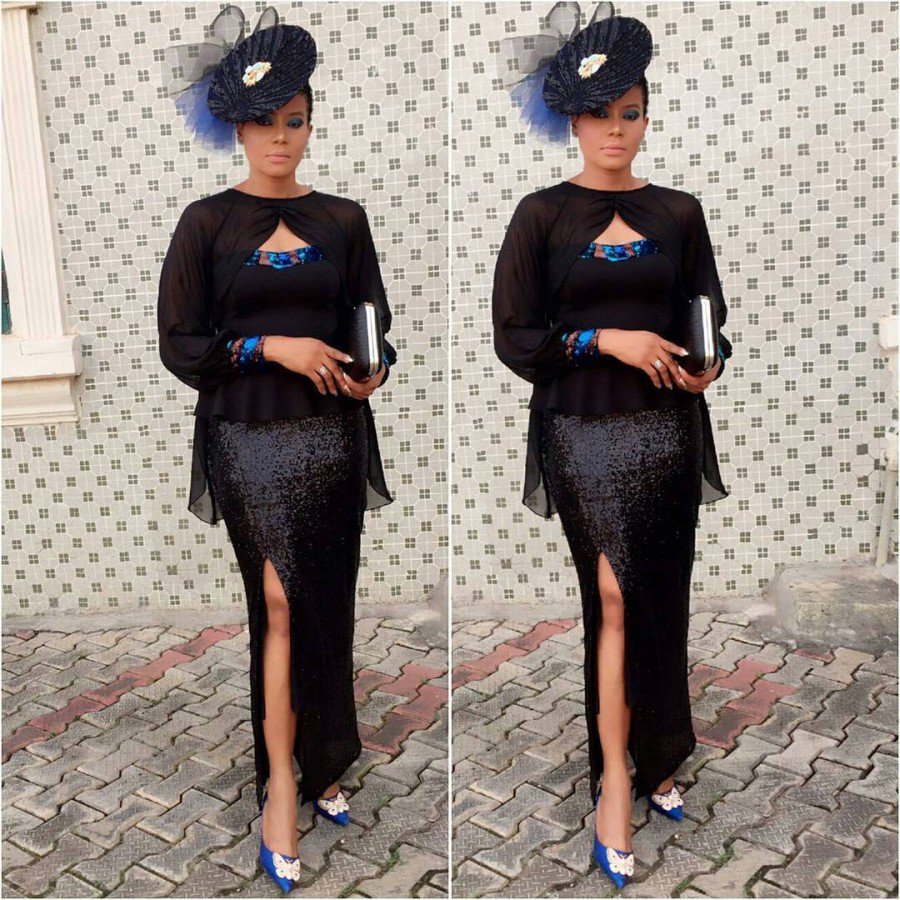 #17 – French Lace Aso ebi
The sensational and radiating french lace style can always work for you to look bright in the party. It is one formal persona of its kind perfect for any wedding ceremony.
Wear it with stiletto heels or delicate ankle straps, formal alluring clutch and heavy formal jewelry for a splendid look.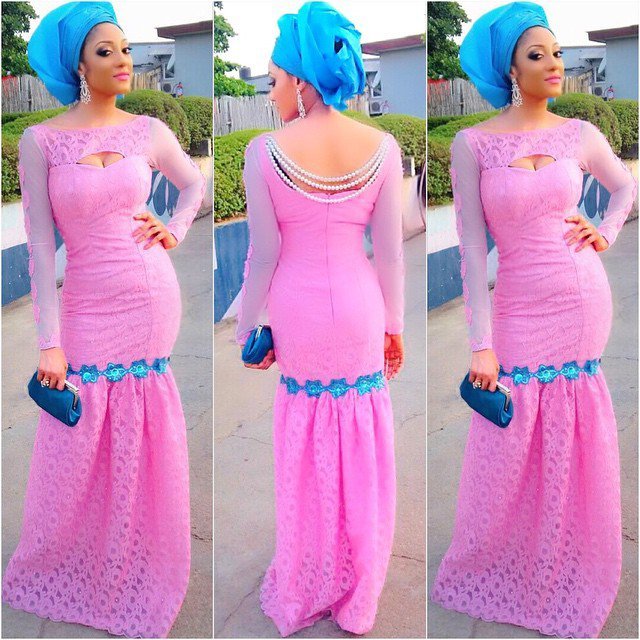 #16 – Short Aso Ebi for Work
Short gown style Aso Ebi looks glamorous giving you a uber chic Nigerian look.
Assocceries with short style gown
Wear classic court shoes with the short gown for a stunning look. Wearing a branded clutch and sparkling jewelry with western hairstyle could enhance the beauty of the outfit.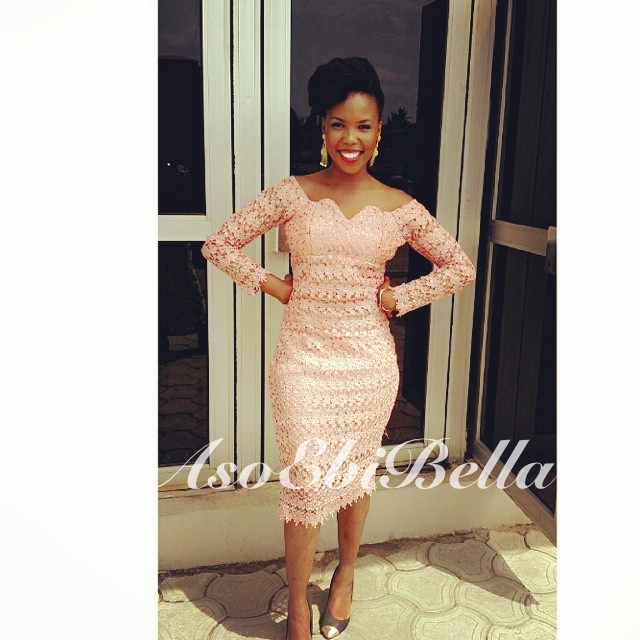 #15 – Side cut Aso Ebi 
Now you can enjoy the new splendid Nigerian look by wearing a side cut Aso Ebi maxi for any wedding or prom night. Make your event memorable with this lavishing style. The turban headscarf style looks amazing with all kinds of aso-ebis so do check out Latest Turban Hijab Styles-18 Ways to Wear Turban Hijab
Assocceries with side cut Aso ebi style
Wear light and sparkling diligent jewelry and stiletto heels or delicate ankle straps to increase the look of the dress. The Nigerian style head covering makes the dress more elegant. Match the heels with scarf color.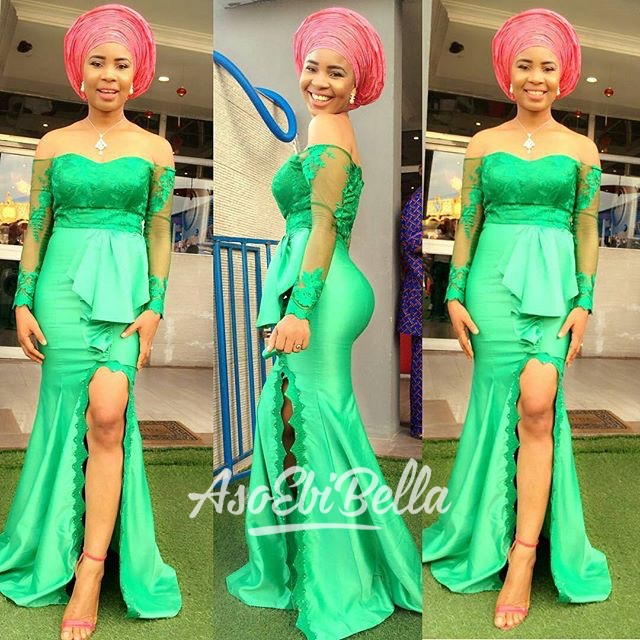 #14 – Aso Ebi in Blue 
Wearing an Aso Ebi maxi in blue tone gives you a formal and professional decent look. Perfect choice for any formal event.
Assocceries with Blue Aso Ebi Style
Wearing a branded watch and some silver jewelry will enhance the marvelous look in Nigerian style. Party wear style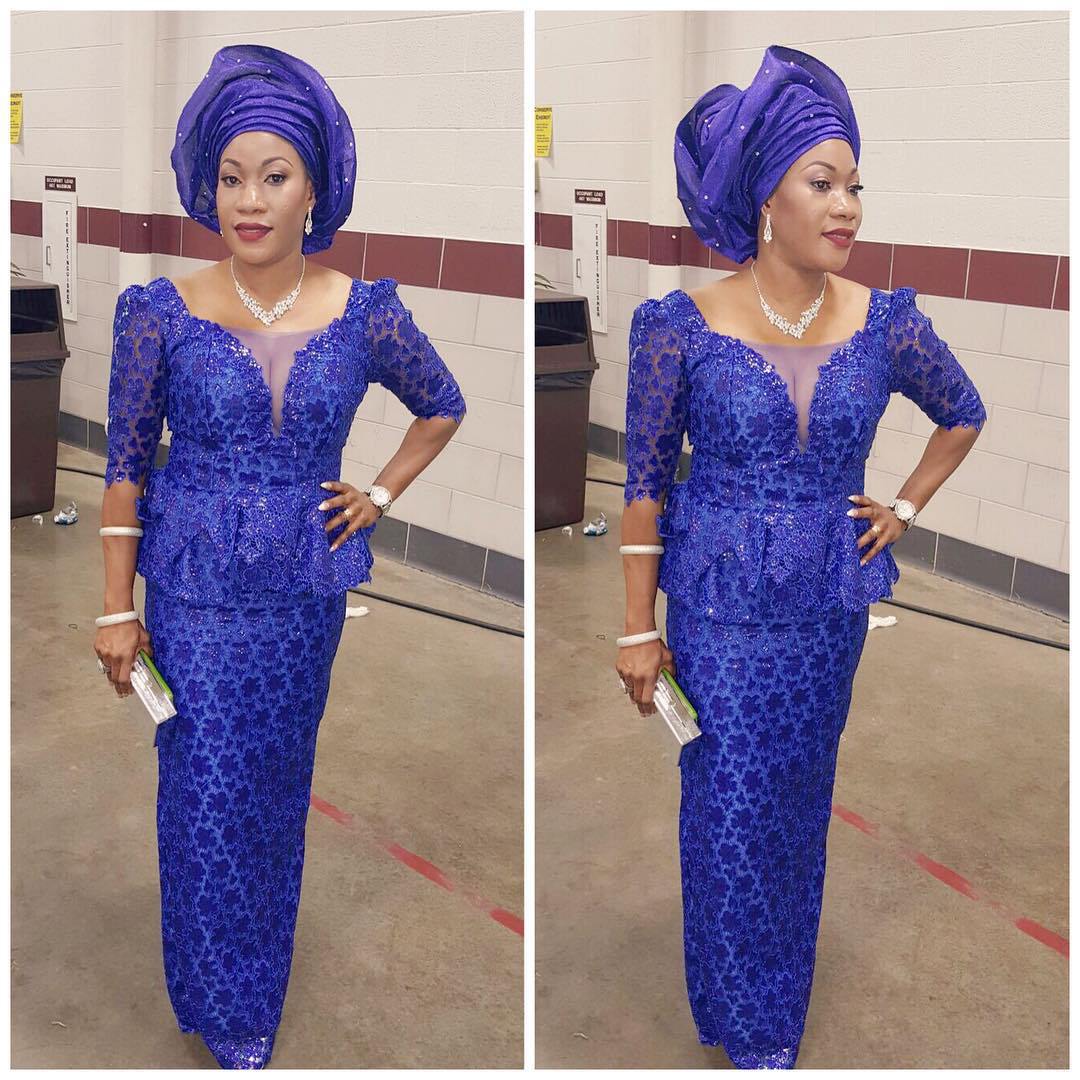 Via
#13 – Gleaming Green Style
The gleaming green mermaid style Aso Ebi would not only look gorgeous but also put you in limelight. This green would give a natural tone. Love the color green? Then you can just not miss out the Latest Green Hairstyles-These 23 Shades of Green Hairs you Can't Resist
Assocceries with gleaming green Aso Ebi
Fresh green scarf and stiletto heels would look perfect with this outfit. Heavey earnings would go perfectly for uber chic look. for neck, simple choker would look elegant or you can go simply without it.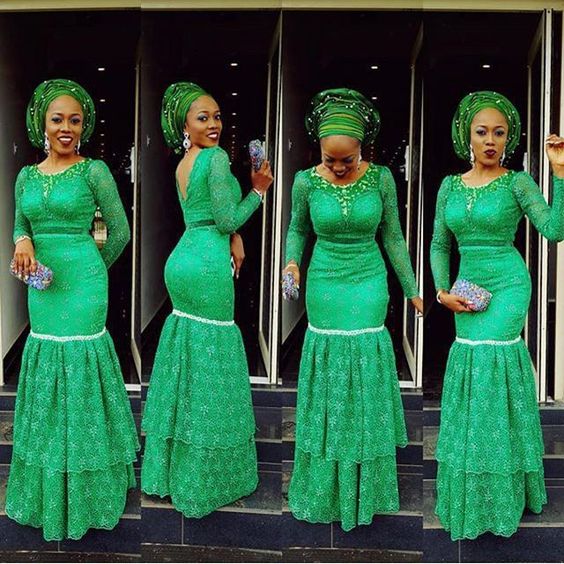 #12 – Ravishing Net Aso Ebi
Aso Ebi Style in net lace style in simply a beauty that don't need any other thing to adorn it. The floor length, full net sleeves Aso Ebi is a nice amalgamation of Nigerian western attire.
Assocceries to wear with Net Style Aso Ebi
The dress is simply elegant and perfect that it doesn't need any embellishment. For a complete look, it can be worn with white silk scarf and stiletto heels.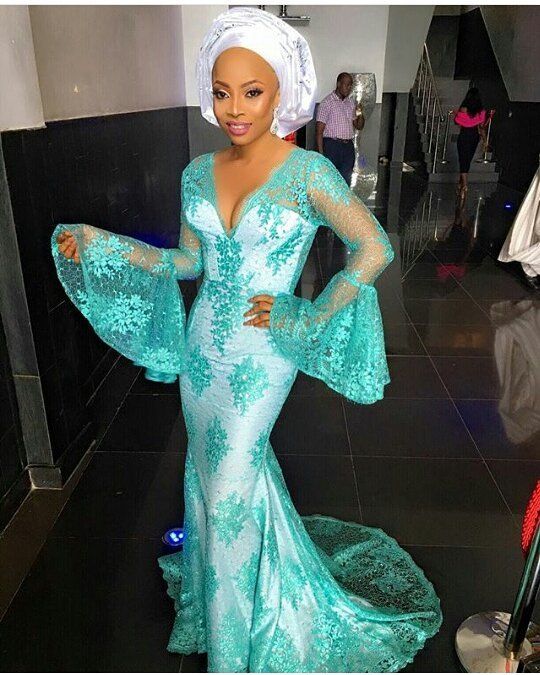 #11 – Native Aso Ebi
The native Aso Ebi style gives you a traditional Nigerian look and staying close to roots always nourishes your body and soul. This Aso Ebi style is perfect for Nigerian wedding. RECOMMENDED: African American Clothing Brands-Top 15 Black Clothing Designers
Accessories to wear with Trending Aso Ebi
Wear it with silver earrings, yellow head turning and metallic tone purse for a traditional and divine look.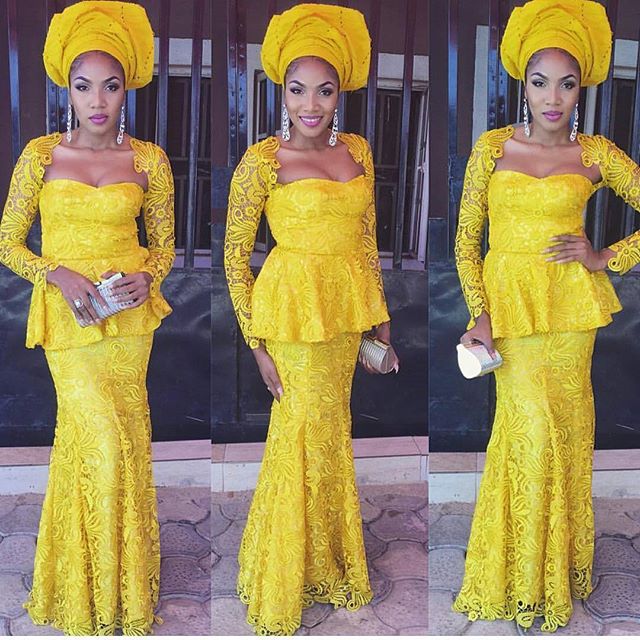 #10 – Trending Nigerian Aso Ebi
This trending off shoulder Aso Ebi style with nice black lace, and chic design is a nice outfit for wedding evening.
Accessories to wear with Trending Aso Ebi
Wear it with pumps or stiletto and simple jewelry. The stranded curls go perfect along with the dress. The lace work is so elegant that it looks perfect in minimalistic style. One can wear simple jewelry with this trendy aso ebi.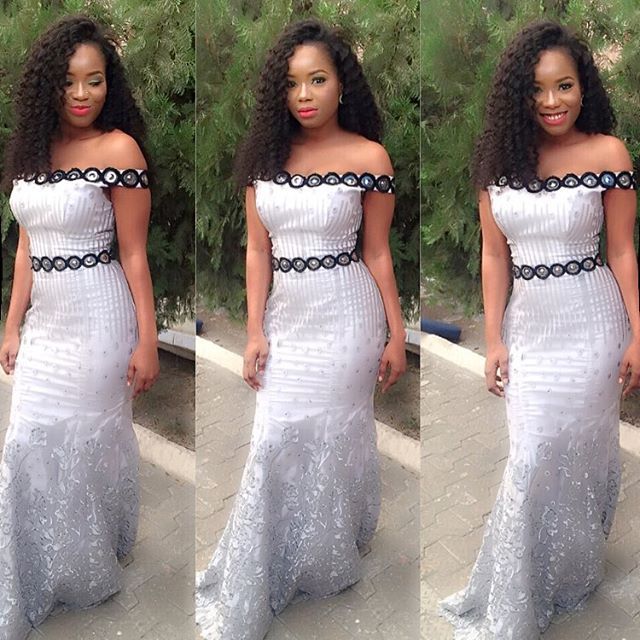 #9 – Gown Style Aso Ebi
The gown style Aso Ebi style with lace work is a splendid outfit for evening parties. The simplistic design makes you look gorgeous on the party.
Accessories to wear with Gown Style Aso Ebi
The classic design does not require anything to adore it. Its elegance is hidden in simplicity. The wavy hairstyle with a golden pump would be a perfect match for this dress.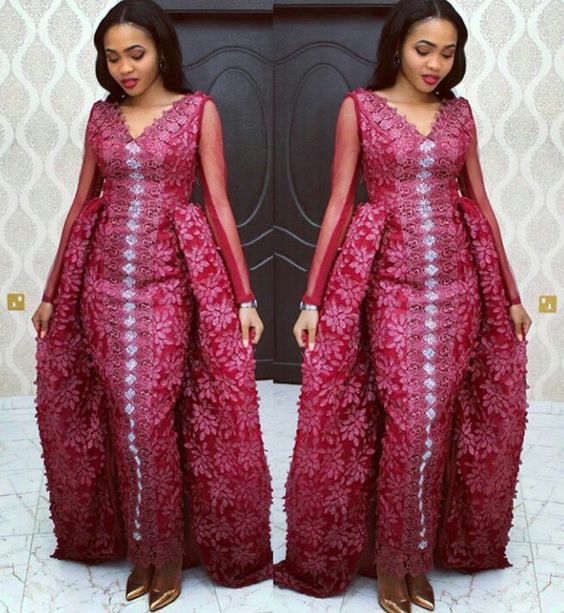 #8 – Aso Ebi in Purple
Ever wonder how would the Aso Ebi look in purple, the forever party color. Well here is a purple Aso Ebi look for prom or wedding evening party.
Accessories to wear with Purple Aso Ebi
A minimalistic design bracelet and elegant clutch would all that is required for this classic Aso Ebi. Light orange color head turning scarf would give a chic look with this apparel.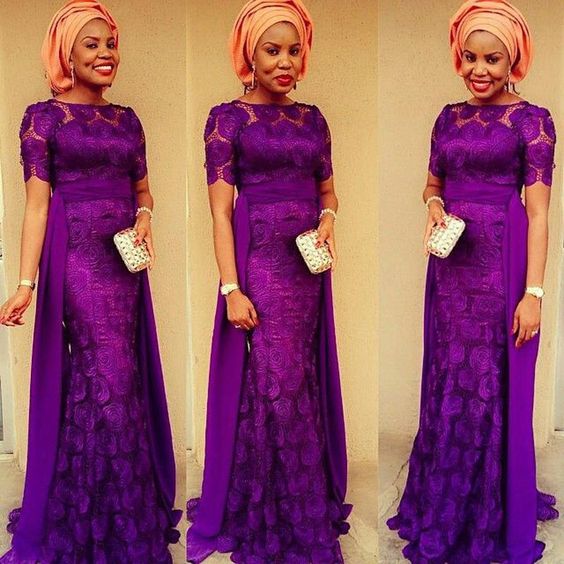 #7 Long Nigerian Aso Ebi
The mesh and bead designed floor length slit is simply elegant. It is a must have for any party where you are in the limelight. Here is another awesome hairstyle to go with Aso-Ebis: Cornrow Hair Styles for Girls-20 Best Ways to Style Cornrows
Accessories to wear with Long Nigerian Aso Ebi Style
Wearing a rose pink style lipstick and sparkling silver jewelry will give a dazzling look on the party. The ankle strap heel can rock your party to the fullest.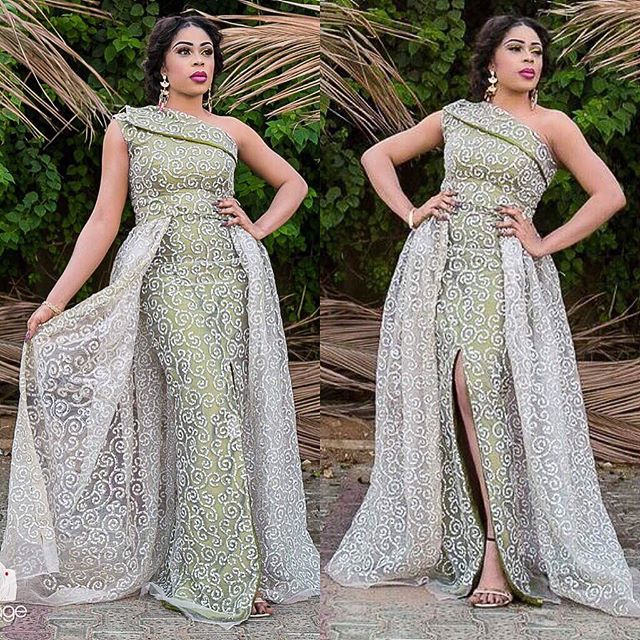 #6 – Celebrity Style – Rita Dominic in Aso Ebi
The Nollywood actress and fashionista Rita Dominic looks stunningly gorgeous in Aso Ebi. She is famous for her head-turning fashion style. Some of her stylish picks in Aso Ebi are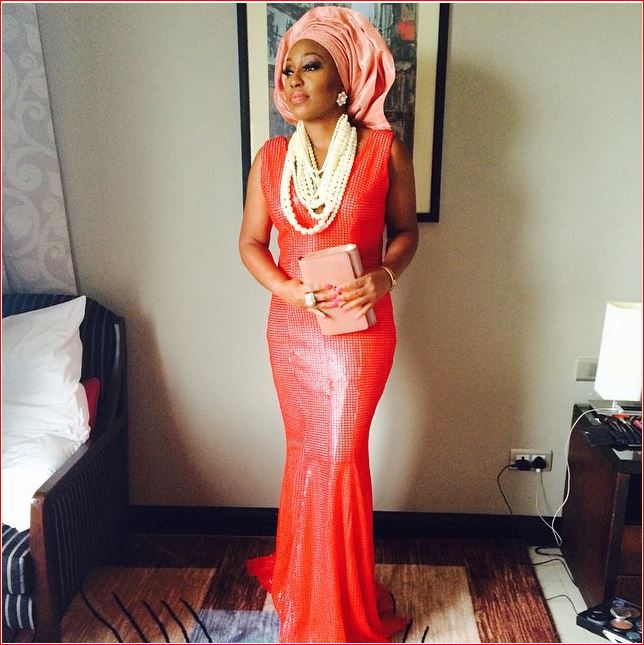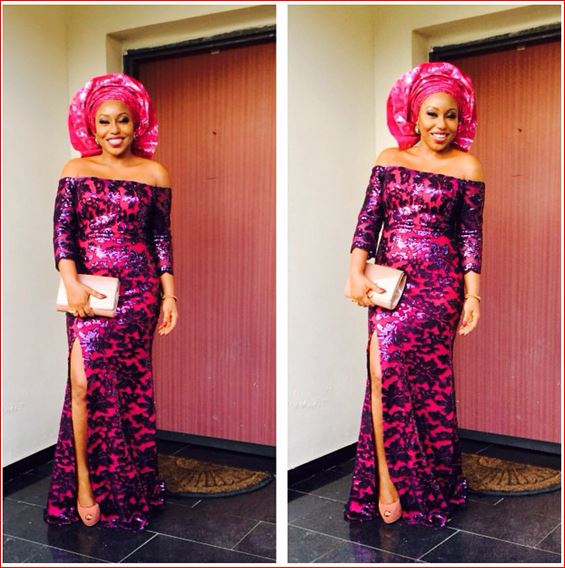 Via
#5 – Formal Dinner Aso Ebi
This blue Aso Ebi is best for your formal party. Best for prom and weddings. Its net and simple design enhance the natural beauty.
Accessories to wear with Formal Aso Ebi
Plain silver chain and simple silver shiny bracelet make the dress splendid. Braided hairstyle and gladiator heels will go great with this outfit-making your event great.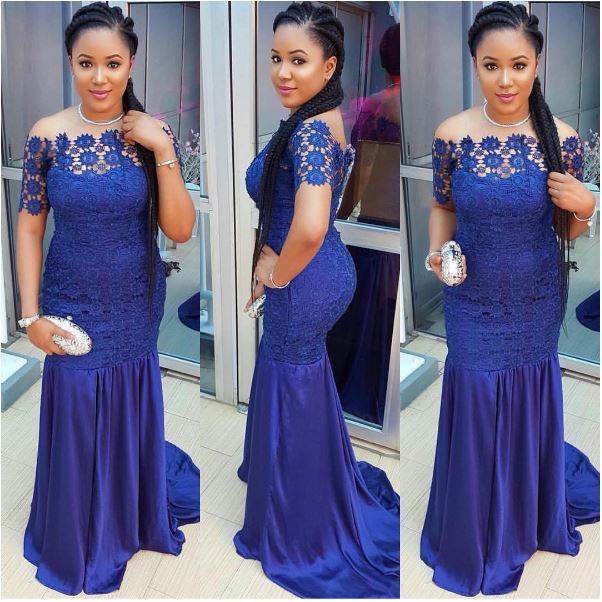 #4 – Mesmerizing Aso Ebi for Parties
Long floor length mesmerizing Aso Ebi is a perfect one to be in your wardrobe. The gleaming golden look makes it even more outstanding.
Accessories to wear with mesmerizing Aso Ebi
It can look great in both ways i.e. turning head style (left) and styled curled hairs (right). Wear with dust gold jewelry and stiletto or ankle strap for the gorgeously stunning look.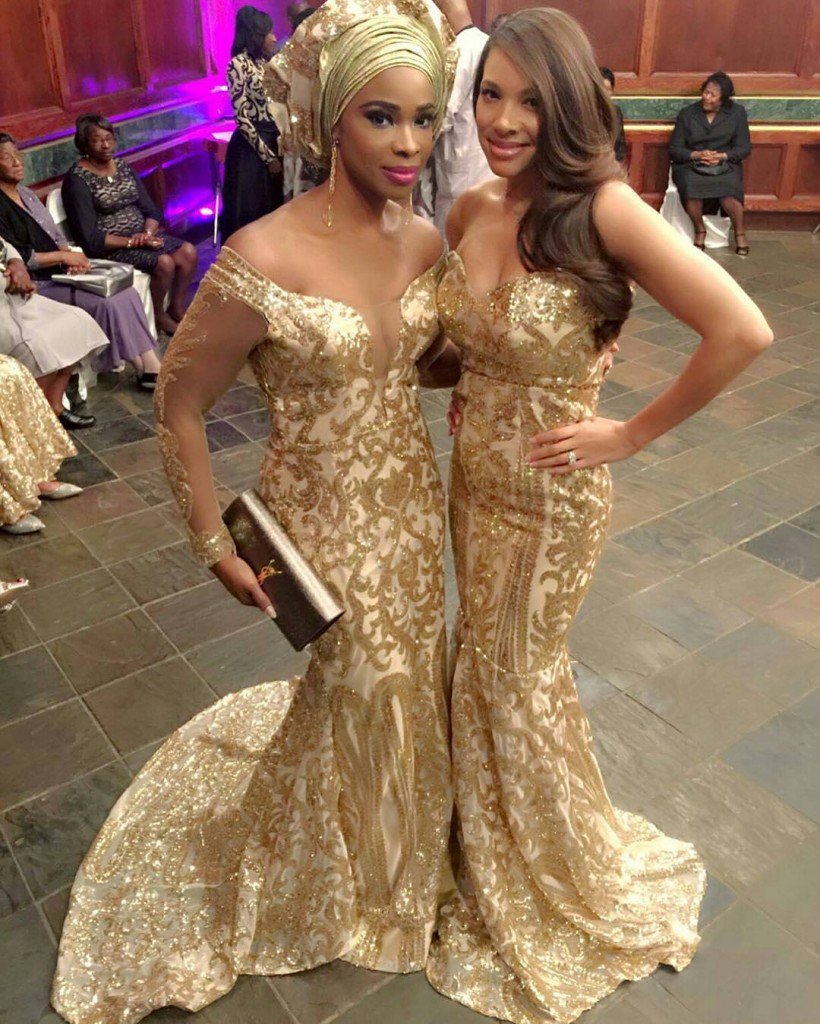 #3 – Silver Lace Aso Ebi for Wedding Guests
Silver laced Aso Ebi with chiffon sleeves is a perfect outfit for prom night. One can shine out in this gorgeous, floor length formal attire in the party. A must have if you want to rock the night.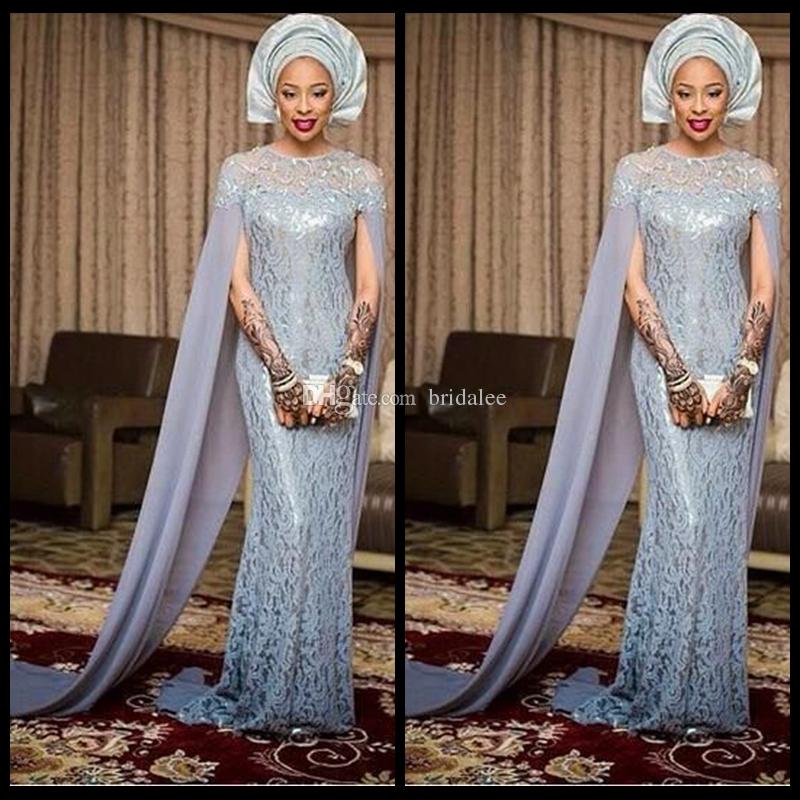 #2 – Bridesmaid Aso-ebi Style
The glamorous bridesmaid Aso Ebi will make the wedding of your loved ones even more classy, elegant and royal. One can look for every great combination in this way which can bring you in limelight.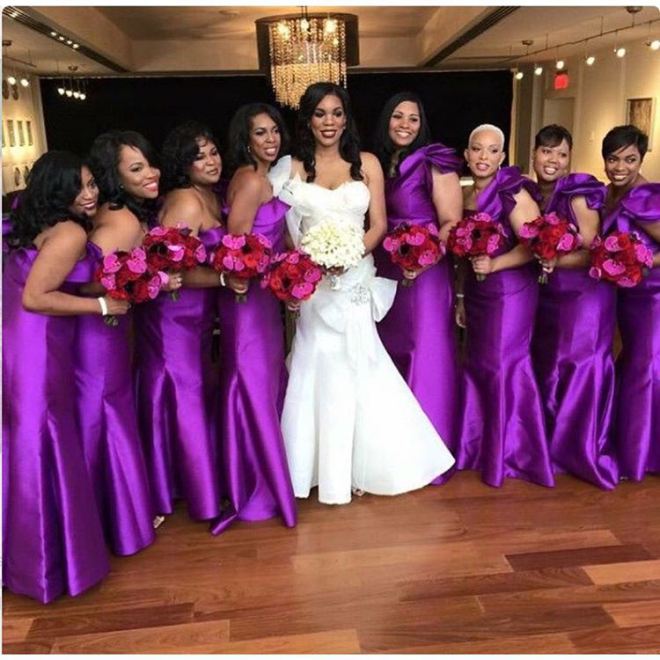 #1 – Bridal Aso Ebi
And on top of the list, we have stunning, gorgeous Aso Ebi for Nigerian brides. One can make her lifetime event memorable and make the everlasting impression with this ravishing outfit.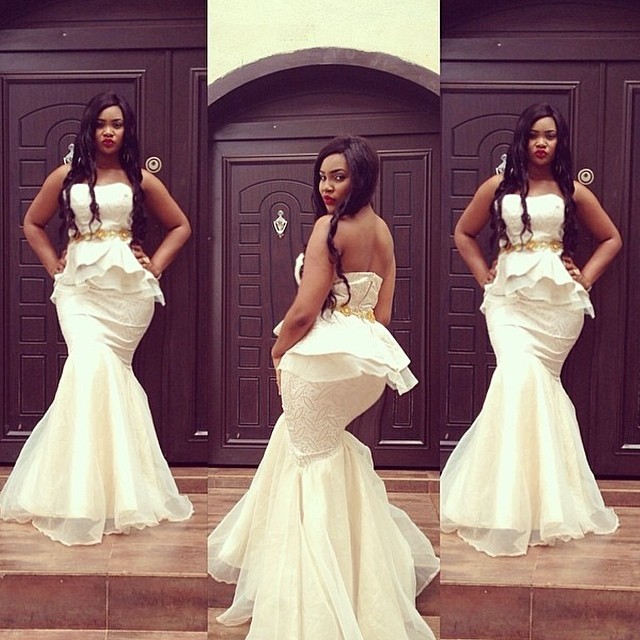 Via