Punjabi Lacha Outfits for Girls. Lacha outfits are always a sense of bliss when you are about to attend a social event that could be stressful and overwhelming at the same time. And that is when you need an outfit that simply lifts your spirits when you throw it a glance.
This is why we are here to stun you with some stylish, modern, traditional but all the very beautiful Punjabi lacha designs this year that you may have missed out on. So, worry not, get updated with some noteworthy styles of Punjabi lacha that will simply take your breath away in the first glance!
How to Wear a Lacha This Year
Check out these top 30 best and most beautiful Punjabi lacha designs of the year that is indeed a very good news for all brides. For ladies are soon to be engaged or for those who simply adore the idea of being dressed up in a nice lehenga or lacha, these styles will surely come of worth to you.
#30 – Indian Bridal Lacha with Kurta
#29 – Celebrity Style Lacha Outfits
Here are some beautiful Lacha outfits worn by Preity Zinta, Dia Mirza and Sonakshi Sinha respectively. For more Bollywood style inspiration, check out these Indian Celebrities Ripped Jeans Styles to Copy This Year.
Via
#28 – Indowestern Style Lacha for Wedding Guest
#27 – Coral-peach Lacha for Engagement
A gorgeous and beautifying glimpse of this coral-peach engagement lacha in a rather modern Punjabi look will be best for your big day, because who does not want their bliss to appear in their outfit? This surely would be a breathtaking choice for you! Just go light with makeup and higher with heels.
Here's another gorgeous coral lacha outfit:
#26 –
Blush Pink Swarovski Lacha
A sophisticated blush pink Swarovski style lacha for women who want to shed sophistication with every step they take. Let it be a walk down the street or their big engagement or wedding day. Try simplistic makeup with this and some lovely heels. If you're confused about the right dupatta style to go with your lacha, we're sure that this article will help you out: How to Wear Bridal Lehenga Dupatta in 10 Different Styles
#25 – Lacha for Bridal Look
#24 – Modern Lacha Style for Brides
Modern lacha style for brides with a vibrant combination of a lovely gold and scarlet to get all possible eyes on you in one go. Put on that scarlet magic of a lip color with this look and some sassy pair of heels. Also check out this amazing collection of the Latest Bridal Gowns of the year.
For a unique and modern look, you could also go for a black lacha:
Via
#23 – Loveliest Anarkali Lacha
A lovely and provoking Anarkali lacha for brides to try on their big blissful days. With a sizzling combo of pale gold and a magical red shade, your spouse won't be able to take their eyes off for sure.
#22 – Embroidered Lacha Design
An absolutely unique and a stunner of a bridal lacha design for ladies who want their style to stand out at all times. A magical blue shade with a crimson dupatta to match with is surely one good design to have been made.
Have a look at Deepika Padukone looking regal in a gol embroidered lacha outfit that is perfect for the wedding season. RECOMMENDED: Deepika Dresses–20 Best Looks of Deepika Padukone this Season
#21 – Pink Dupian Silk Lacha
Pink and cheery dupian silk lacha for brides who are not so much of a fan of the color red. Try this out and make your big day as stylish as your soul and never miss a chance to impress your spouse or those around you. Try some minimal jewelry and surely a pink-themed makeup look for perfection.
#20 – Indian Lacha Style
#19 – Pakistani Wedding Lacha
Lovely and prestigious-looking wedding lacha with a theme combo of crimson and sea-green to make your day as unique as you want. Try on some equally unique set of jewelry and some sassy earrings to show just how much you do not care about color trends and walk on your own league. Here are the Top 5 Bridal Designers of Pakistan.
#18 – Lacha for Valima
For ladies who are absolutely obsessed with the color of blue, here's some good news. Find all your tastes land here on this magical pale blue outfit that will best match the occasion of a valima and you would not be missing out on anything. When it comes to wedding wear, you can always get the best inspiration and ideas from the top designers, even if you can't afford them, so here are the Top 20 Bridal Dress by Manish Malhotra
#17 – Lacha Choli for Brides
The trend of lacha choli doesn't seem to be leaving anytime soon. It's because many women are still addicted to the charm that lacha choli offers them. Try it out on your big engagement day and never miss out on your favorite nostalgic love of trends. Try some vintage jewelry for the best look.
#16 – Decent Green Lacha Saree
#15 – Traditional Lacha Choli Style
A traditional and vintage inspiration lacha choli style for women who are addicted to saree styles. It has a lovely combination of a catchy blue and fawn that will simply take away the breath of all those around you.
#14 – Blush Pink Georgette Lacha
This blush pink georgette lacha will be the most phenomenal style for engagement look that you won't be able to get over long after. Match it with your stunning makeup skills and a glowy look and put on those fairytale heels that have never disappointed you or have made you look any less than a diva! RECOMMENDED: 2017 Ghagracholi Designs-20 Latest Lehngacholi Styles These Days
#13 – Stunning Silver Lacha for Brides
Stunning silver lacha for brides who are dreamy towards the idea of everything silver and glistening. So time to put your dream into real life outfit that fulfills your utmost fashion instincts! With this silver white awesomeness, you can put on some sensual heels and minimal jewelry, and matching your outfit with a cherry red lip color has got to be mandatory! And there you go, nailing the look of the year.
#12 – Vintage Lacha Choli
#11 – Casual Vintage Lacha
Casual vintage lacha design for ladies who love vintage styles and basically everything vintage. This vintage and yet casual look are meant for the times when you have this not so fancy gathering coming up and the weather is harsh. So you put on this light and stylish casual lacha look and still manage to look pretty.
#10 – Sexy Designer Lacha 2017
Sexy and sophisticated designer lacha style that has come out in about 2017 will be your most phenomenal attempt at lacha styles. Here are some of the best Ideas on What to Wear on Dholki/Sangeet Night
#9 – Gota Patti Lacha Style
#8 – Ethnic Bridal Lacha for Weddings
#7 – Jacket Style Lacha for Modern Look
#6 – Princess Lacha for Brides
For brides who have been planning their weddings since ages, should find this handy! With a real life princess' outlook to it, this princess lacha will be your goal for weddings. RECOMMENDED: Classy Patiala Outfits-30 Amazing Ways to Wear Patiala Salwar
#5 – Lovely Engagement Lacha
#4 – Most Beautiful Bridal Lacha
#3 – Banglori Designer Gown Lacha
#2 – Champagne Gown with Cape Jacket
#1 – Latest Engagement Lacha for 2017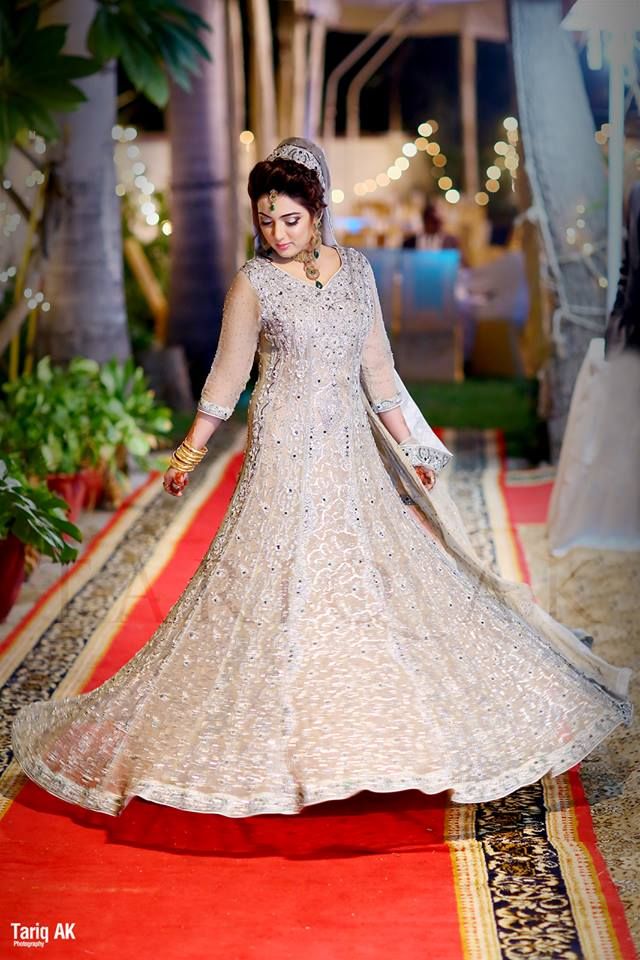 A Chemical Engineer by profession and content designer by choice! Meet Manahil Qureshi who has an infinite love for food and cats. Be it the latest fashion ideas about women or kids outfits or trendy men fashion styles, she loves to keep her pen moving on such niches. Other than writing, she has a love for designing jewelry which is why she has also started her own designer jewelry label, called Glare jewels. Want to know what is coming up next on her publication blogs? Subscribe to the newsletter and keep yourself updated anytime. Cheers!