Hijab with Indian Ethnic Wear. We live in a world where style and fashion change almost every week. The colors, the patterns the designs keep changing according to the trend and true fashionistas need to update quite often.
And then there's a high number of Muslim girls who wear hijab and just in case you were living under a rock and did not know that these girls call themselves the Hijabis. Mostly hijabis belong from the South Asian and Middle Eastern part of the world and therefore they have to follow their culture and traditional outfit styles along with the hijab. This can get quite tough as styling a hijab while keeping up with new up and coming trends is hard in itself.
How to Wear Hijab Stylishly with Ethnic Wear
Dressing up modestly and still managing to slay your entire outfit can be a little tough when you have no idea about how to mix and match. But that's what we're here for. We have put together a list of tips and tricks that you should keep in mind while styling your hijabs with your outfits as well as outfit inspirations.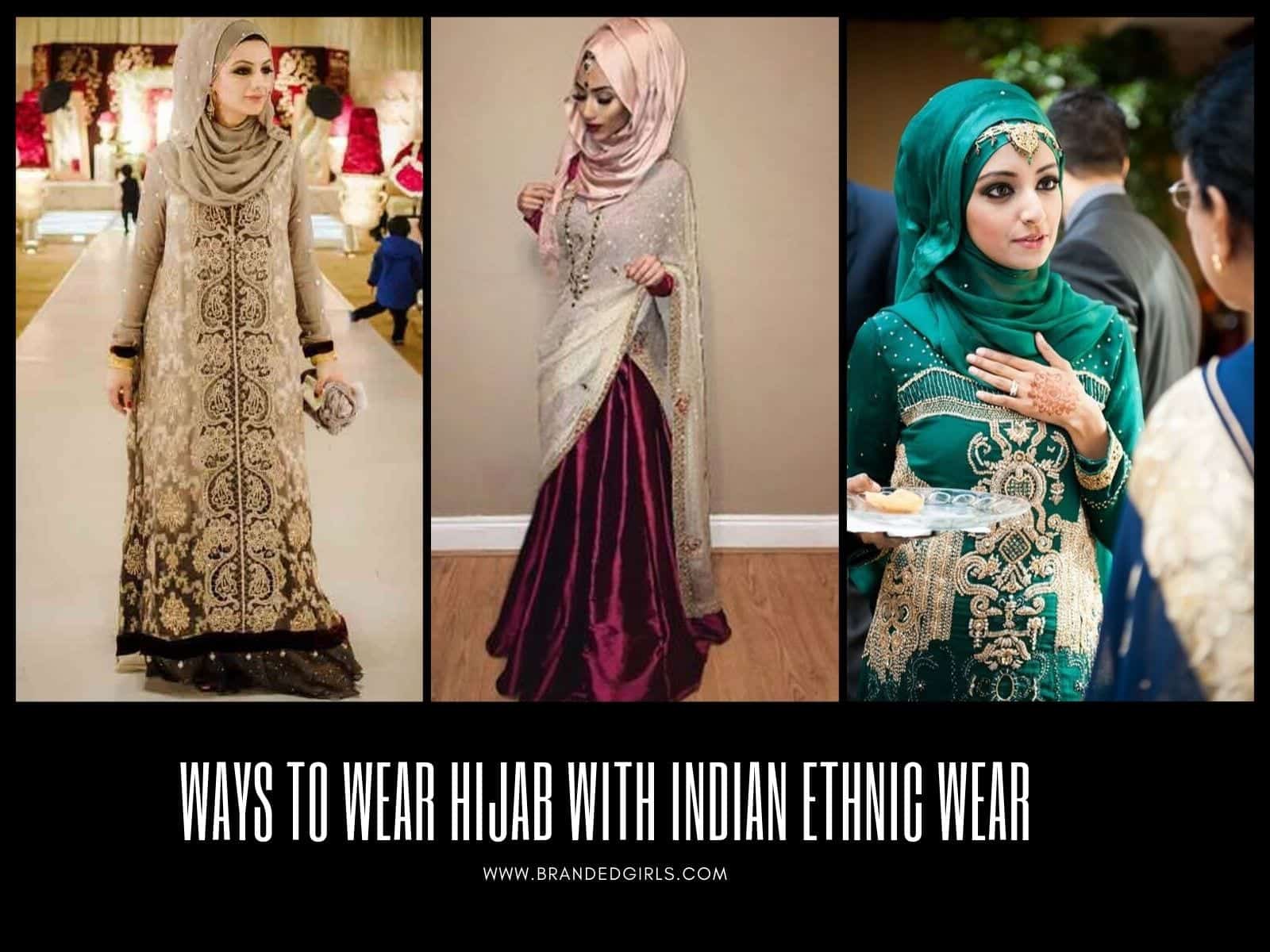 We bring for you, our Indian girlfriends, the best 30 ways to wear hijab with Indian ethnic wear, so read on to find out!
Practical Guide about Hijab Fashion: Hijab Fashion Ideas
Look at these tips to rock your looks with your hijab this season!
Hijab Color Combinations: Try to match your hijab's color and cloth with your clothes for a more seamless look. Using silk or chiffon with fancy clothes and cotton or woolen hijab with casual clothes will complete your look without making it seem mismatched.
How to Wear Hijab at Weddings: If you're attending an event that requires you to dress up like a wedding or party, then try to use hijab jewelry to make it fancier, instead of opting for a simple look.
Hijab Pin Hack: Always keep an extra hijab with you and definitely extra hijab pins too!
How to Select Printed Hijab: Try to keep your hijab as simple as possible as eastern clothes are already filled with exquisite prints and embroidery.
How to Pair Hijab with Various Outfits: Eastern clothes are made for pairing them up with hijabs, so don't worry, your whole look will fall in place easily!
↓ 30 – With Maroon Anarkali Dress
How beautifully our favorite Indian fashion blogger is pulling off a bold colored Anarkali. Now that's how you stay true to your Indian ethnic roots while being a hijab. This deep red anarkali dress can prove ideal for Eid parties or weddings, probably even for a bride if she wants to keep things simple! Observe how she is using a plain cotton hijab because her dress is itself heavily embroidered and she does not want to overdo her entire look.
Also, check out these cutest girls Punjabi Lacha Outfit Ideas.
↓ 29 – How to Carry Hijab with Traditional Saree
Another mind-blowing Indian outfit was worn by Amena, the dhoti style saree! Everything about this saree style is utter perfection. The beautiful red in enchanting and this is a great option for formal events. Take note of how she has paired a black colored hijab with her red and gold saree instead of a red or gold hijab, proving that mix and matching colors can sometimes work in your favor, but you have to do it properly and make sure the different colors still go together. Don't miss out on our viral collection of Modest Saree Styles.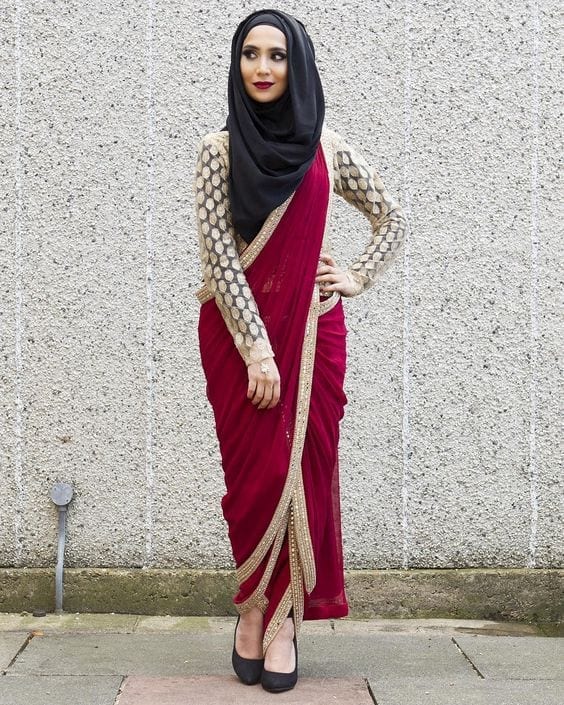 Via
↓ 28 – With Silk Saree
This one literally took our breath away! Look at it yourself, look just how beautifully she has slain her silk saree. The saree is pure perfection and so is her use of her hijab. The matching of the color with the embroidery makes for the ultimate balance between matching your hijab to your outfit but also letting the color of your dress shine through. You can use her example and match your hijab to a color that is present in your clothes but very minimally, letting the dress itself be the star.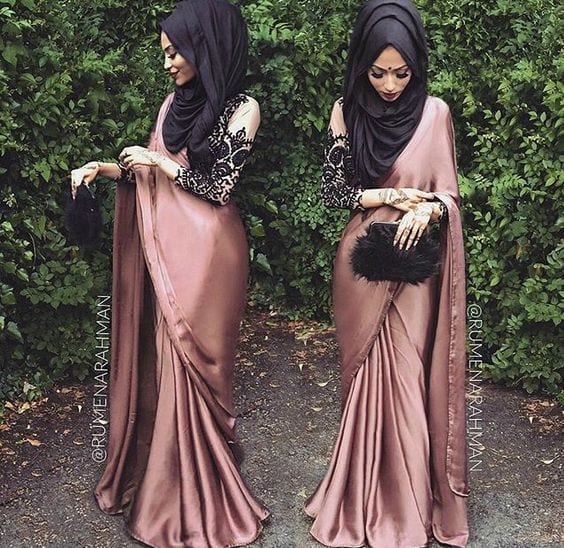 Via
↓ 27 – Can You Wear Hijab With A Lehenga?
Sometimes its best stay simple and let the outfit speak for itself. The below outfit is the perfect example of that. The yellow goes along so well with blue lehenga and hijab. This outfit could be a great inspiration for your next eid look as it is the right balance between simple and fancy. The use of a pashmina beige hijab provides a nice flow and also keeps your head warm during a colder day. She is also showing off beautiful earrings despite wearing a hijab, which you can do very easily and it looks transcendent!
↓ 26 – With Formal Indian Dress
If there's one thing Indian hijabis are best at, that's how to pair up their hijab with whatever outfit they have planned for the event. This yellow and grey formal outfit is perfect for any wedding you might have to attend soon, and the grey hijab pulls it all into place by acting as the perfect buffer piece. Not standing out but making its presence known.
↓ 25 – With Ethnic Shalwar Kamiz
Do not underestimate the power of a simple hijab. You can admiringly change the entire game by wearing the perfect hijab with your favorite casual shalwar kameez. In the inspiration picture below, the girl has opted for a plain hijab as is advisable while dealing with eastern attire as it's heavily printed. The plain hijab lets the clothes work the magic without overpowering them. Do have a look at the exclusive guide on Best Ways to Wear Hijab with Shalwar Kameez Elegantly.
↓ 24 – With Statement Dupatta
Who said you can only use either a hijab or dupatta? You can easily use a simple scarf for the hijab and flaunt your statement dupatta like this pretty lady right here. Opt for a plain hijab in a neutral color like beige, white or black, depending on the color scheme of your clothes and drape your beautifully printed or embroidered dupatta over your shoulder to achieve the ultimate look!
↓ 23 – Hijab with Indian Anarkali Dress
It is one of the fortunate events when your dress is the perfect combination of classy and modesty, and this is an example of just that. This example shows you that you can look stylish and trendy while adorning your hijab with confidence!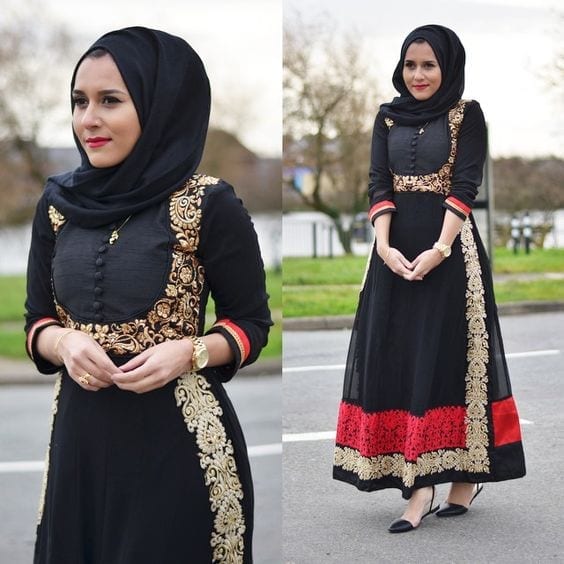 Via
↓ 22 – Hijab with Casual Long Shirt
You're not always heading to a major event all dolled up, sometimes you're just out for a lunch with your friends and you like to show off your Indian outfit. This simple yet beautiful look gives you inspiration for such casual yet necessary days. You can also learn from this look that it's okay to pair up lighter colored hijabs with your darker colored clothes, as long as they match some little thing in your colors or the overall color scheme.
↓ 21 – With a Formal Dress
Don't stress over it anymore because adding a hijab to that super heavy formal dress will automatically elevate your outfit. Just match your hijab with the colors of your dress and opt for a chiffon or silk hijab to help it fit in with the fanciness of the whole outfit!
↓ 20 – With Printed Suit
Turn the tables by wearing a plain same colored hijab with any of your favorite printed suits and rock out your inner Indian with pride. Let the prints on your clothes and our gorgeous dupatta show openly while still staying true to your true self. Here are the Latest Hijab Styles 2020 that Every Girl Should Know.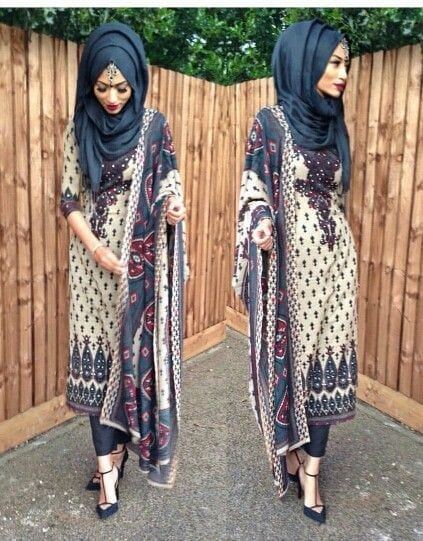 Via
↓ 19 – With Light Colored Maxi Dress
A great way to focus on your light and the subtle colored outfit are to add in a bold colored hijab. Choose a color that matches some little detailing on your dress and use your hijab to add a pop of color to your light-colored dress of it looks too dull.
↓ 18 – White on White
The color white is something of its own. It doesn't need a lot of description or addition for that total goddess look. So sometimes its better to go for an all-white look instead of attempting to add color to your look, as it's just as beautiful as colorful and bright clothes.
↓ 17 – With Banarsi Saree
By this time we think there's no saree out there that will somehow not look good when you add hijab in your look. Or any clothes for that matter. So pair up your hijab with whatever you choose to wear confidently!
↓ 16 – With Suit Dupatta
It often happens that the dupatta of your suit is not only beautiful but you can easily use it as your hijab perfectly. So instead of looking for a matching hijab to pair up with your clothes, just grab the dupatta that cam with it and wrap it around your head like a pretty hijab!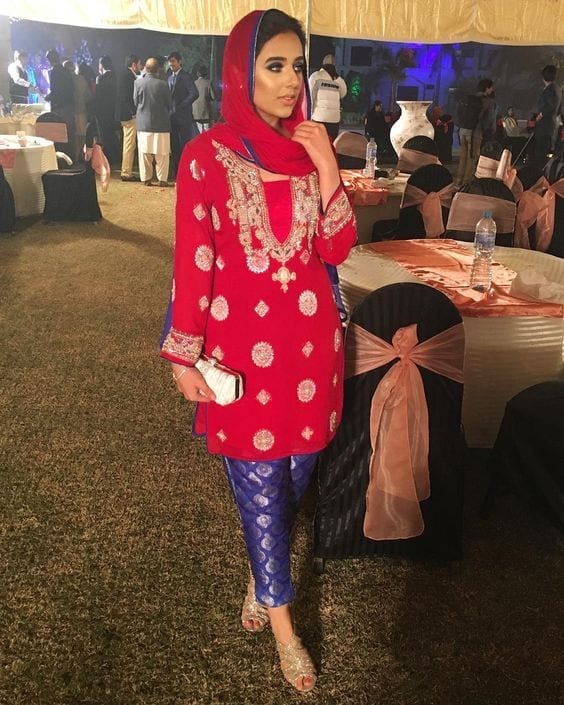 Via
↓ 15 – Pretty in Pink
Pink is a color that brings out the inner barbie in every girl. So if you have a pink outfit, go for a lightly shaded hijab and look picture perfect.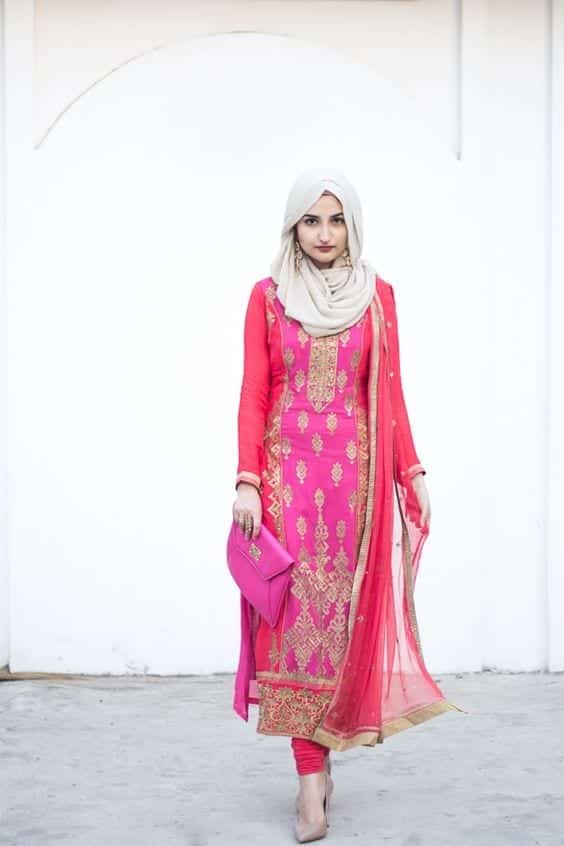 ↓ 14 – With Sharara
Wearing a beautiful sharara and looking breathtaking in it is every Indian girl's dream. But for Indian hijabis, dreams do come true. Match your hijab with your sharara and let your shirt be the star of the show. Add in some head jewelry to complete your look. You're ready for any party or outing now!
↓ 13 – With Shades of Grey
There are some colors that have a lasting impression and undoubtedly grey is one of them. It's mesmerizing and enchanting. And it'll make you look the same way!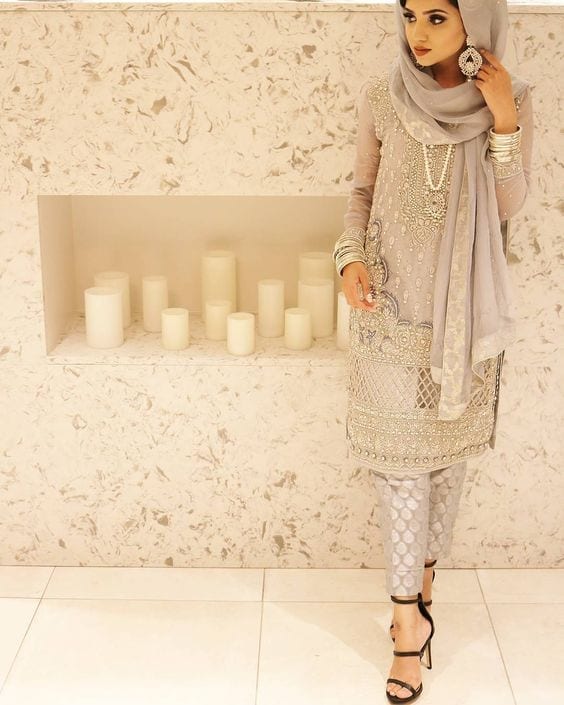 Via
↓ 12 – With Bold Colored Suit
You take one look at this dress and try not to love it. Everything about this whole outfit is striking. You can use your dupatta as a hijab, as discussed earlier, to attain a flawless look like the woman in the picture below has. Use pinkish eye makeup and a pair of statement earrings to complete your look.
↓ 11 – With Pastel Purple
Looks like pastel colors have made a comeback and we're loving every bit of pastel outfit there is. This way of wearing a hijab could prove to be more like as it covers up not just your head but also your chest, so if you don't want to wear a separate dupatta, you can wear your hijab like this with one side draping over your shoulder and chest.
↓ 10 – With Casual Suit
Here you can see another example of a casual hijab with a simple yet graceful suit you'd wear on an outing with your family or lunch with your friends. Do have a look at these Best Iranian Hijab Styles With Step by Step Tutorial.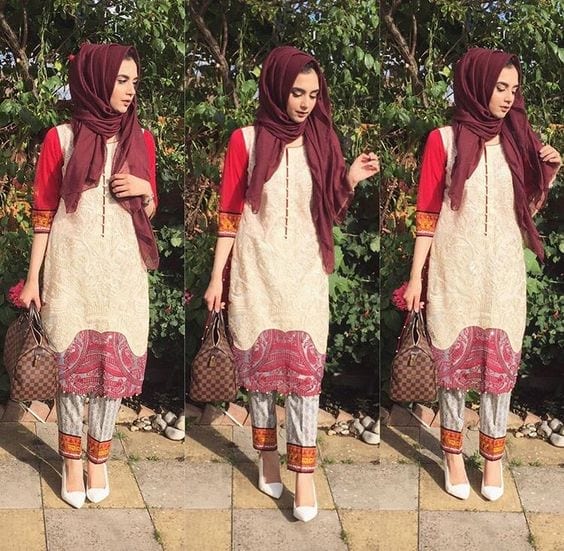 Via
↓ 9 – With Indian Churidar Trouser
A churidar dress is one of the most favorite outfits of an Indian girl but it doesn't mean you can't wear it because of your hijab. Use a darker colored hijab with a light-colored suit like the woman below to add some color and character to your outfit.
↓ 8 – With Bridal Suit
Indian bridal suits are the best feature of Indian weddings. The long dupatta that the bride wears can also be used as a hijab. You can take inspiration from this example and look at our article about styling hijabs with your bridal looks if your wedding is coming up!
↓ 7 – With Matching trousers
Sometimes deciding what color the hijab should you wear is tough. So how about just wearing the same color that of your trousers.
↓ 6 – With Beige Clothing
This year it's all about staying subtle and wearing neutral colors. Hijabis got all the pastel shades covered. This beige hijab and shalwar-kameez combo are ethereal and what all women are opting for in recent times.
Don't miss out on the Top 10 Hijab Brands that every hijabi must try.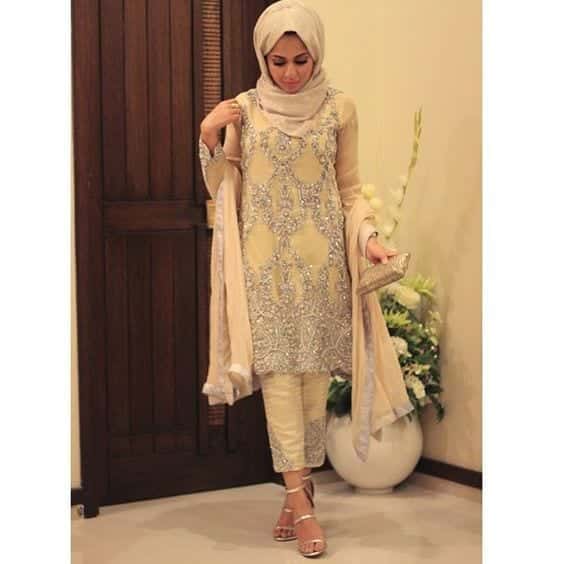 Via
↓ 5 – With Blue and Black
Blue and black are such a beautiful combination but it becomes even more hypnotizing if you add a black hijab in your outfit.
↓ 4 – With Off-White Dress
These lovely ladies really know how to work almost every color with their hijab on, don't they? Everything bout her outfit is pleasing. Using a deep brown hijab with a white shalwar kameez look can sound impossible but when done right, it can prove to be the ultimate combination!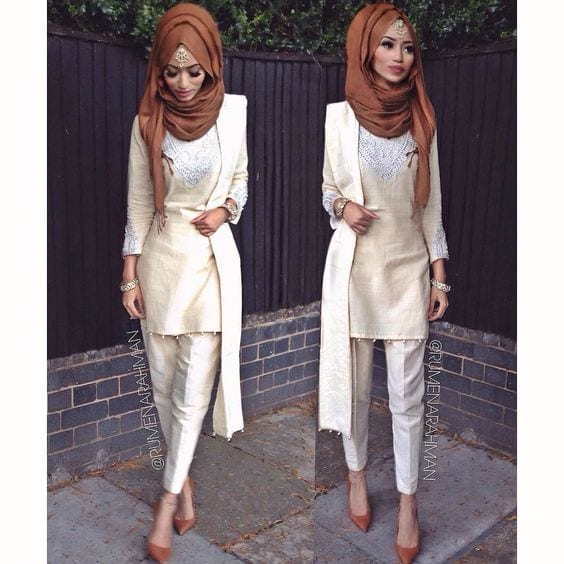 Via
↓ 3 – Golden Hijab with Formal Indian Suits
How aesthetic is it that you buy one golden hijab and it works well with almost every Indian outfit you own? Owning a golden hijab will hence com every handy to you when styling Indian formal wear.
↓ 2 – What Hijab To Wear With A Grey Dress?
We cannot get over how magnificent her grey hijab looks with her grey Indian styled suit. So graceful isn't it? Opt for a look like this for your next Eid outfit!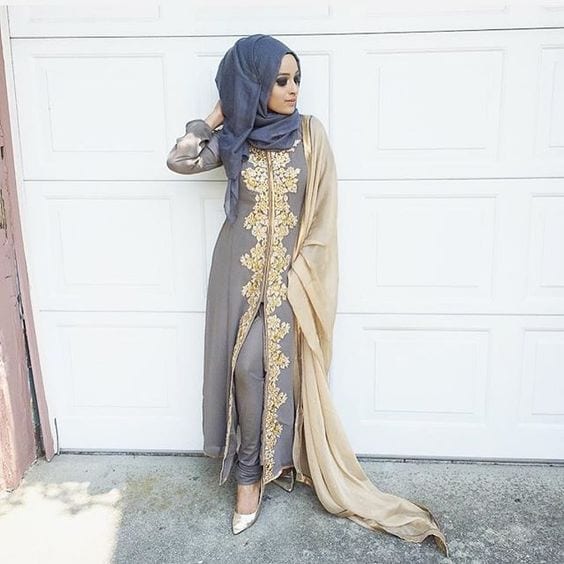 Via
↓ 1 – With Black Outfit
The black color was given to us as a blessing by our Lord and working a plain black hijab with an Indian black outfit just like hers is divine, because all-black outfits never fail to disappoint!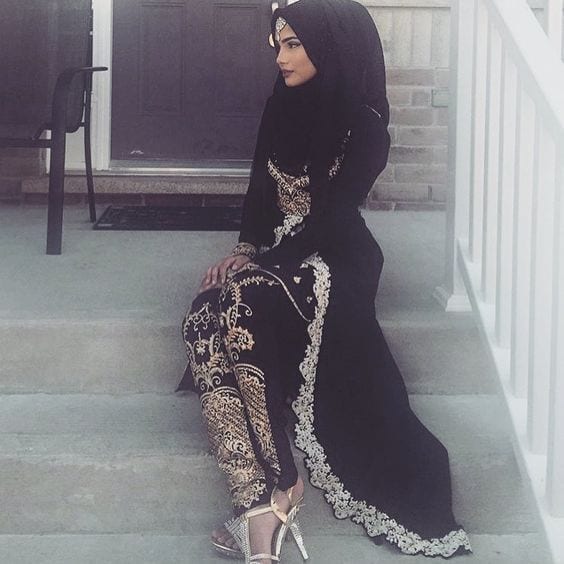 Via