Top Abaya Brands. The trend of abayas of hijab has expanded to not just Muslim countries but many non-Muslim countries as well, to cater to millions of women living in there and for them to feel comfortable and confident and own their dressing choices.
This idea of benefitting millions of Muslim women has led many Western fashion brands to introduce Islamic clothing lines and hence, we cannot see a bigger example of world progressing towards the better.
So, we think you should have a look at these top abaya brands that will make this year much better and fulfilling for so many women out there. Some of these brands are best sellers of abayas and make the classiest design collection. So do not miss out on making this year much comforting and pleasant for you in terms of dressing choices.
Which Designer Abayas to Buy List
Some of these classy brands are from Dubai, Kuwait, and Saudi Arabia, which will simply take your breath away knowing that how much these brands have worked to make fashion easier and approachable for women.
#10 – Bouguessa
Bouguessa is one elegant brand that beats its counterparts when it comes to perfect sophistication and class. It gifts all women with a sense of glorifying confidence that they simply do not find elsewhere. It keeps its collection of mostly straight line abayas that look extravagantly unique and impressive. They combine their expertise and skills from the use of global culture and world art and put them into their designs, which is why they don't have any competition. RECOMMENDED: Dolce & Gabbana Hijab and Abaya Collection 2019-20
via
#9 – The Chi-Ka Collection
Chi-Ka collection is an excellent abaya boutique in the middle east. They tend to cater to the style of locals and deeply consider the fashion priorities of different classes. They ensure their designs have modesty, feminity, and elegance which makes all women feel comforting and composed in their skins. They have their stores as well as mobile apps for customers.
via
#8 – Ghudfah
Ghudfah is basically an Arabic word that has the literal meaning of veil. The Ghudfah brand was originated in about 2013, as a very luxurious abaya clothing line that took the fashion world by storm. The brand creates products with utmost quality of fabrics which are produced with high-class finishing and the brand's main concern is nothing but customer satisfaction, which it obviously has consistently gained. Do have a look at Summer Abaya Collection-15 Abaya Designs to Stay Cool in Summers
#7 – Haal Inc.
Haal Inc. is a Saudi Arabia-based brand that was founded and initiated by Mariam Bin Mahfouz. The Hall Inc. relies on minimal overlays in its design and ensures that your wardrobe composes a bit of color, a bit of subtleness and a bit of fancy details to your clothing. This brand is all about diversity that it ends up creating all the designs that will be a perfect match for any girl and a perfect match for any occasion. It offers many contemporary designs so you have a wide area of choices to land on a single one.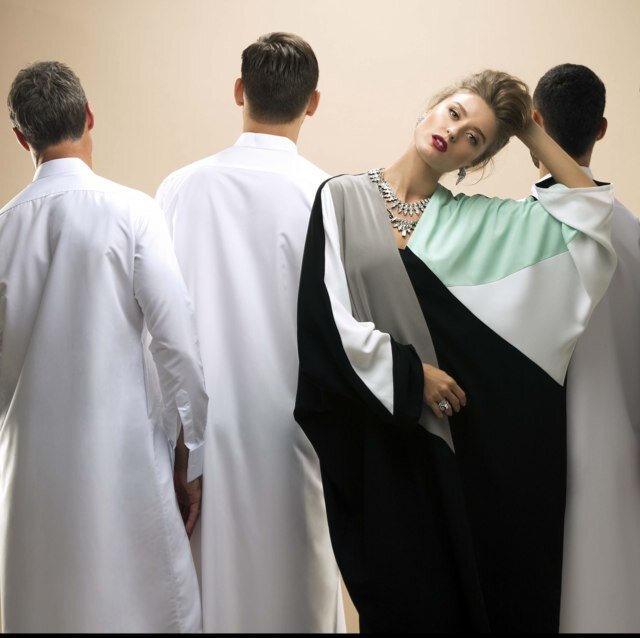 #6 – By Nouma
Nouma is a fashion abaya brand from Kuwait, that is apparently good enough to be featured in the Paris Fashion Week and the New York Fashion Week. They have an approach of designing abayas of all sizes, new shapes and new kind of embroideries that does not match designs with any other retail. From modern designs to distinct statement ones, we can assure you that Nouma is the kind of place where all girls with all different kinds of choices will find something of their own liking. By Nouma will be the ultimate option if you want to renew your wardrobe. Don't miss out Abaya with Jeans-10 Ways to Style Jeans with Abaya Modestly
via
#5 – The Nora Collection
The classic and prestigious brand from Riyadh, Saudi Arabia is one excellent idea for making your eveningwear as remarkable as possible. The brand offers various designs that are chic and elegant and falls under the taste of all women who are very choosy when it comes to fashion. It tends to impress the taste of all who are not pleased easy or satisfied with just about any other fashion brand. It offers various styles in kimonos and abayas which could be both modern or classic and you can choose acoording to your need.
via
#4 – Mauzan
Wondering who could be behind this no ordinary abaya brand Mauzan? Well, it has to be none other than the Rafia Helal who has been creating and designing abayas for about 20 years. The inspiration for her catchy and distinct designs come right from the people she creates the designs for. Yes, the core of her inspiration are the women she caters her magic to and other elements of art that she has been aspired by and hence, uses them in their designs. Her work isn't unique just for no reason, but it stands out from the rest because of no fuss cuts in her designs and the delicate embellishments. RECOMMENDED: Top 10 Hijab Brands; Best Brands for Hijabis to Try this Year
#3 – Nafs Design
The Nafs design is one of the very few brands of abayas that offer some formal styles which will actually deem suitable for formal occasions. The great aspect about their outfits is that they can be dressed up or even down depending upon your priority and the occasion you are going to attend. Other great details that are added to the design include pleats, cutouts which are mostly sliced, and the coolest addition of graphic hemlines which add much more attraction to the outfits. Many Muslim women prefer the brand mostly because of its formal range of designs.
#2 – Chador
This another magnificent Saudi-based brand explores its fashion skills with the use of silhouettes that matches none and stands out. Many of its designs are based on the trench coat styles and more of belted designs that can be both of contemporary nature or even cool. Here are some amazing Muslim Fashion Brands-10 Ethical Fashion Brands Every Muslim Girl Should Know
#1 – HF Boutique
The HF boutique is one of the brands that tends to combine fashion with technology and is progressing faster than any other brand. The use of 3D embellishments, cool laces, and dainty looking texture makes it all worth it. Its range of wedding abayas is gaining fast paced popularity.