Hijab and Shalwar Kameez. Hijabis who wear shalwar kameez are often confused about the right style and type of hijab to go with their dresses. There's also some confusion about how to style the dupatta along with the hijab, as we all know, shalwar kameez look best when worn with a dupatta. So today, we'll do our best to clear out all this confusion with you.
But no matter where you are from, there is no doubt in the fact that shalwar kameez look great on all girls. Even if you are petite or curvy, tall or short, there is always a shalwar kameez style that is simply made for you. If you're a fan of Eastern wear, head over to Top 10 Fashion Designers of Pakistan That You Can Shop Online
How to Wear Hijab with Shalwar Kameez
Shalwar Kameez is a type of traditional outfit that is worn in a number of countries like India, Pakistan, Bangladesh and it is said to have originated from the subcontinent. In Pakistan, it seems to be most popular since it is the national dress of the country. Enlisted below are few awesome styling tips to wear hijab with shalwar kameez.

Tips and Tricks of Pairing up Hijab with Shalwar Kameez
If you are wearing shalwar kameez with dupattas, then the hijab style that you choose should be simple enough as you don't want a lot of hassle.
A simple hijab style will help make sure that the hijab stays in place all day long and to avoid showing any hair, you can of course always wear an under cap.
There must also always be good color coordination between your hijab and shalwar kameez.
The images below will not just give you ideas about the hijab styles but also some really different and interesting color themes that you should try out.
↓21 – Drape Your Dupatta Instead For Hijab
Mostly shalwar kameez is worn with dupatta. Dupattas can also serve the purpose of the hijab very well when worn nicely. If you don't want to go with two different fabrics, one for hijab and one for dupatta you can also simply wear your dupatta in the manner of a hijab.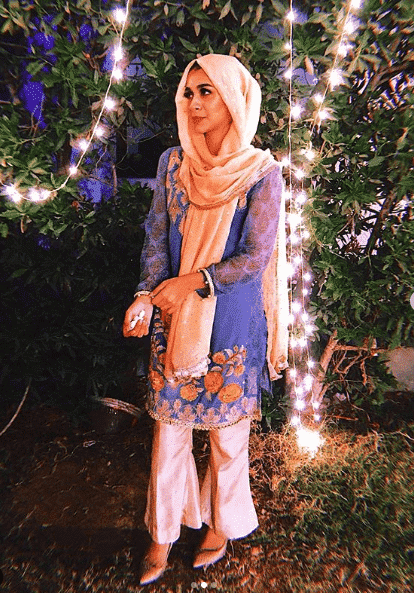 ↓ 20 – Turban Hijab With Men's Kurta Style
If you are someone who sways away from the typical feminine styles of wearing shalwar kameez, this is the perfect style for you. This kurta style is the perfect fusion of men's and women's wear. Wear a pinstriped kurta style shirt with cuffs over plain white trousers.  For the casual styling wear your hijab in the manner of a turban. The red hijab is going very nicely with the red and white shirt. To complete the look, wear red heels.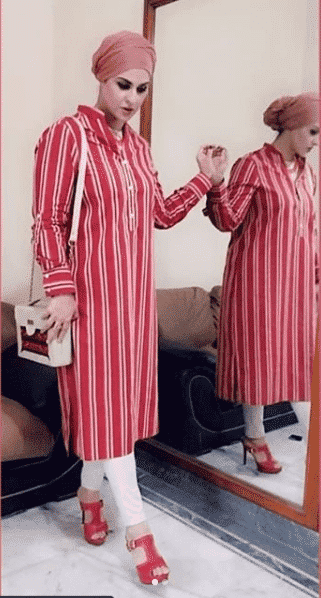 ↓ 19 – Winter Fashion Shalwar Kameez
In cold areas, it is really necessary to put on a coat or sweater over your clothes to be comfortable and cosy. Long coats on shalwar kameez look very nice and also fill the requirement of keeping warm. Nowadays coats are available in so many different colors. A black coat can go with so many outfits and looks very decent. However, if you have a fancier taste, red and cobalt blue coats look great too. For a nice and decent look, you can wear a grey coat over your shalwar kameez with a lighter shade hijab.
↓ 18 – All Over Printed Shalwar Kameez
Gone are the days when printed dupattas and kameez were worn over a plain shalwar. The modern fashion has included shalwars to be made of printed fabrics too and they look pretty awesome. If you are wearing an all-over printed shalwar kameez and also plan on carrying your dupatta, it is better to wear a plain hijab along with it. Too much print will make your entire look monotonous. Wear your printed shalwar kameez and gorgeous net dupatta with a flashy red hijab.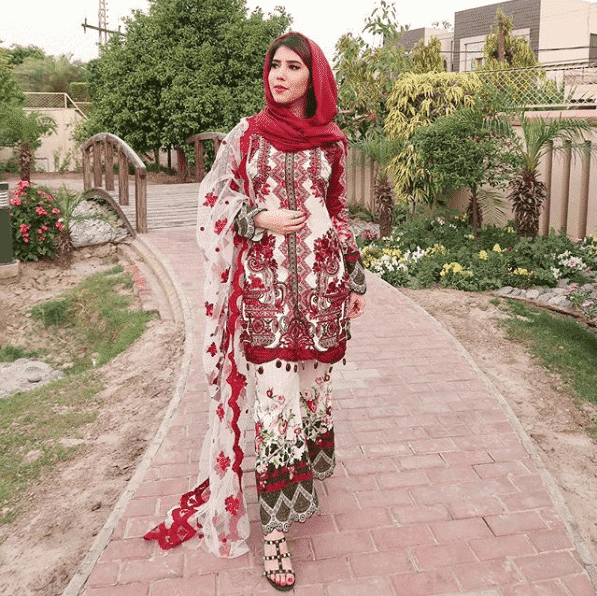 ↓ 17 – Pastel Color Plain Dress With Hijab
Pastel colors look very pretty in the summer season. Minimalistic pastel dresses are the new fashion trend of 2019 among young girls. Wear a long length pastel color shirt on white trousers and for a little dash of color, go with a contrasting pastel color hijab. Match your heels with your hijab for a trendy look.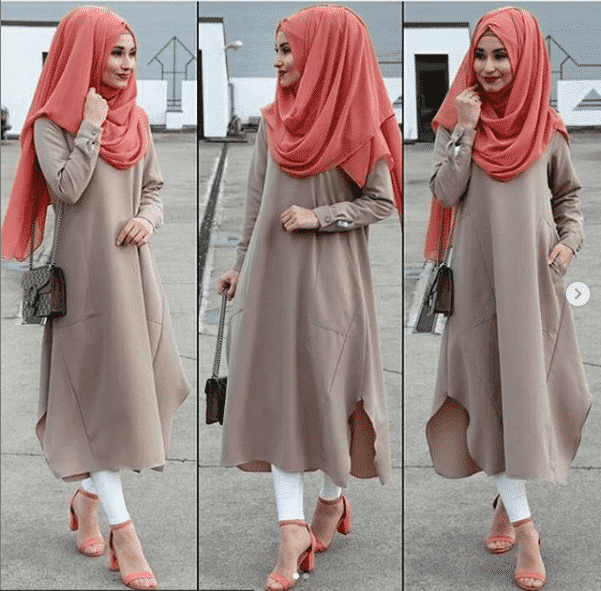 ↓ 16 – Full Black Shalwar Kameez Style
Black is one of the very few colors that are never out of fashion ever. The ways to style an all-black outfit are endless and even if you are wearing something simple, it will always look great when it is all-black. For this style, you can wear a full black silk or cotton shirt with black pleats and fringe details on the front and sleeves over a black shalwar. Since it is an all-black look, wear a black hijab and of course, black shoes.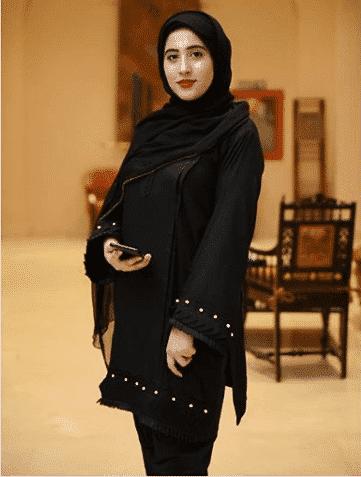 ↓ 15 – Formal Wear Shalwar Kameez With Hijab
In the South Asian regions, weddings are a never-ending affair and for those ladies need trendy and fashionable dresses all the time. For the next upcoming wedding in your family, you can go for this style of a front open long shirt with straight pants and a nude hijab. The mauve tones of the dress are going so well with the light nude tones of the hijab. Because the dress is embellished with work the simplicity of a plain hijab is making the entire outfit look perfect. Slip into a pair of shimmering heel pumps and you will woo the crowds surely.
↓ 14 – Shalwar Kameez with Printed Hijab for Birthday Party
This is a really simple but elegant style that looks great for casual get-togethers or parties with friends where you want to make your outfit look effortlessly good. Wear a solid-colored plain shirt with a black shalwar and go for a printed hijab. The hijab will be the highlight of this outfit so choose the best possible one. You should also have a look at these 22 Elegant Ways to Wear Hijab for Parties.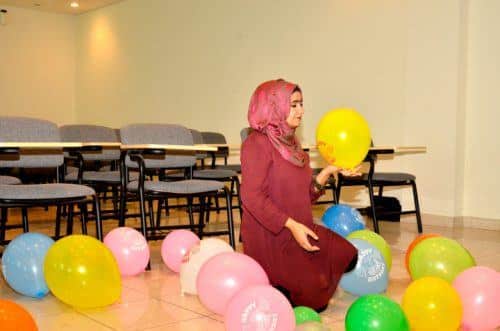 ↓ 13 – Mehndi Shalwar Kameez with Hijab
We absolutely love this color combination and it would be perfect for wedding events like mayun or mehndi, whether you're the bride or just a guest attending the function. The choice of burgundy hijab with brown shalwar and an orange-yellow shirt also make this a wonderful palette for the Fall season.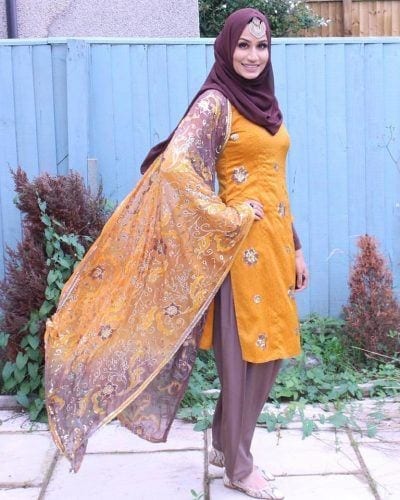 And here's the video tutorial to help you achieve this look and master the smokey eye makeup that goes really well with dark coloured hijabs. In the end, you can also learn how to wrap the chiffon hijab along with the maang tikka.
↓ 12 – Shalwar Kameez and Hijab for Eid
A block-printed kameez can never go out of style and the traditional vibes it gives, make it an excellent choice for Eid. The hijab color you choose can be taken from the color of the print on your shirt. Wear this outfit with traditional shoes like kola puris or khussas. Do have a look at 30 Ways to Wear Hijab with Indian Ethnic Wear.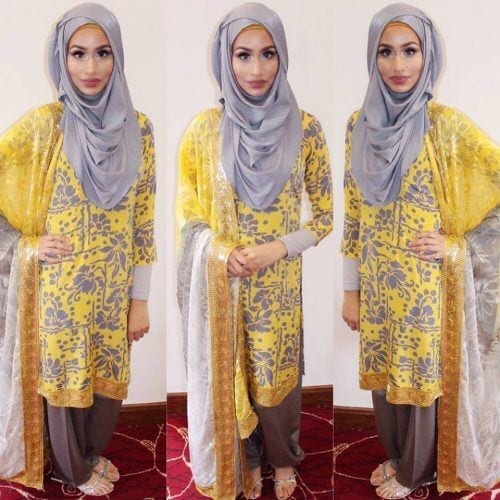 ↓ 11 – How to Wear Abaya Over Shalwar Kameez
If you like to wear abayas, then go with one that has a slit in the centre and this will allow you to show off your beautiful salwar. You should match your hijab with the color of the shalwar and with an outfit like this, there is no need for a dupatta. You can wrap your hijab in a way that it layers around your chest and add on a belt to complete the look.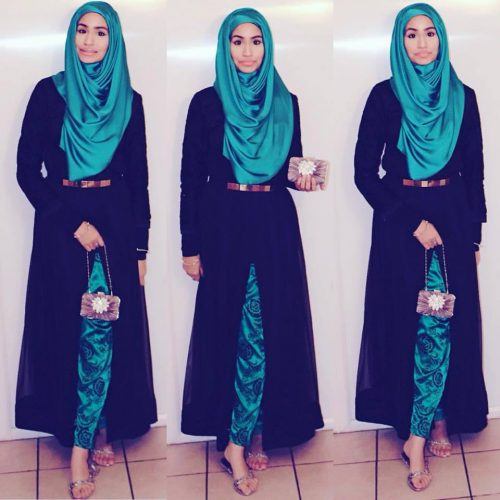 ↓ 10 – Simple Shalwar Kameez with Nude Hijab
What a cool and casual street style look. Nude hijabs can go pretty much with any outfit and here it has been wrapped beautifully to highlight the face. This hijab style does leave your neck uncovered but you can solve the problem by wearing a turtleneck under your kameez. If you don't want to go with too many layers you can get your shirts stitched in turtle neck styles with zips at the back or button on the front. There are a million ways you can design your turtle neck clothes. You can also go for the different style sherwani collars on your kamees for a much decent look. Here are 16 Ways to Wear Jumpsuit with Hijab.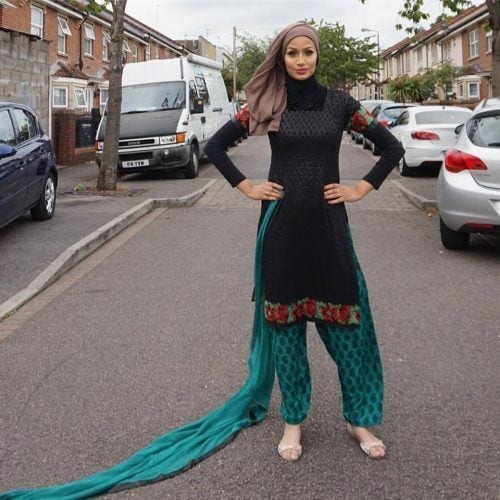 ↓ 9 – Hijab and Shalwar Kameez for Wedding Guests
Who says you hijabis can't wear necklaces, try wearing it on top of your hijab for a royal look.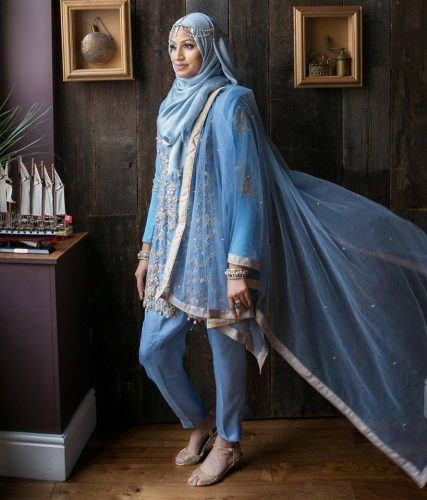 ↓ 8 – Lawn Shalwar Kameez with Hijab for Summers
Summers are all about lawn outfits and white hijabs are also an essential summer piece because it will keep you cool in the summer heat while making you look awesome. Since white is most definitely a summer hue, it goes extremely well with lawn shalwar kameez suits. Do check out these 20 Ways to Wear Hijab with Floral Outfits.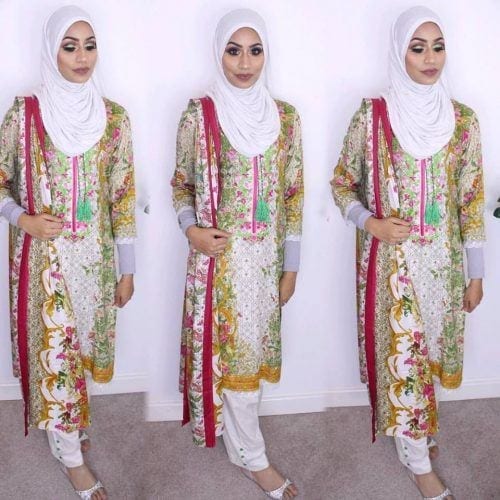 ↓ 7 – Turban Hijab with Shalwar Kameez
For a sporty look, wear your shalwar kameez with sneakers and a turban hijab. If it's too cold, you can use any of the layering items like jackets, sweaters or long coats. Turban hijabs look very trendy and allow you to wear some jewelry as well in case you want to.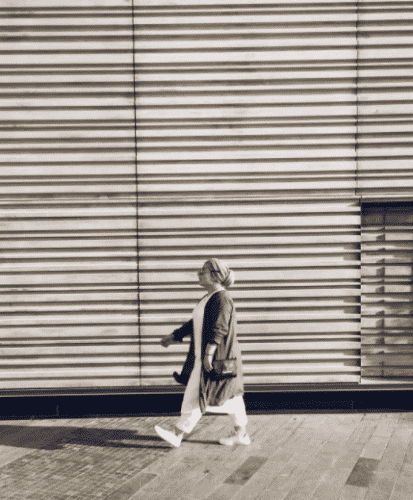 ↓ 6 – Accessories to Wear with Shalwar Kameez for Hijabis
Here are some beautiful accessories to wear with your hijab and shalwar kameez combinations. Remember that if you're wearing a dark-colored shalwar kameez, then a light colored hijab will make your face appear glowy. You can always add a pair of beautiful earrings to your turban hijab. Statement necklaces can also be a part of your getup with turban hijabs. Nowadays a lot of girls wear matha patti or teeka over their hijabs when the do a wedding look and those who pull it off nicely look pretty great with the accessories on their hijabs. Here are the Top 20 Travelling Tips for Stylish Hijabis.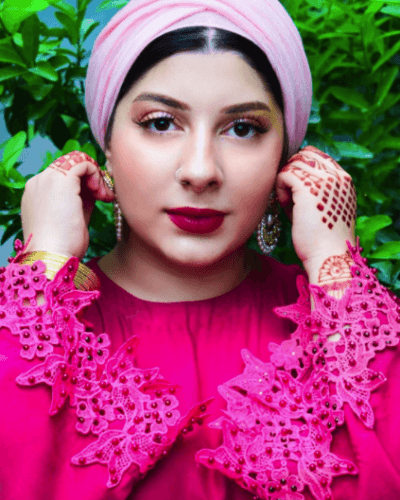 ↓ 5 – Hijab with Shalwar Kameez for Traveling
A black hijab is something that you must pack when you're traveling as it goes with all outfits and it also doesn't need to be washed or ironed too often, as compared to light colored hijabs. Also, a plain black hijab is best to go on all kinds of outfits, especially shalwar kameez. You can do any type of hijab style with your black hijab.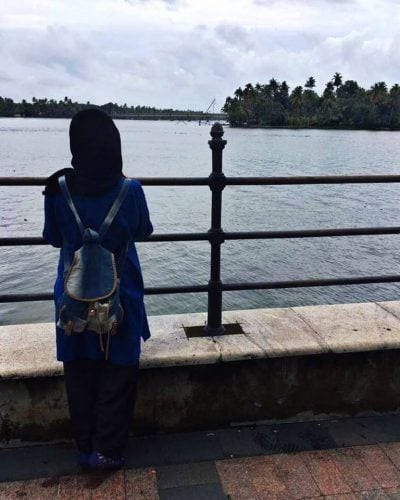 ↓ 4 – Step by Step Video Tutorial on How to Wear Hijab with Shalwar Kameez
Here's a tutorial to help you master the right way to wear your hijab using the dupatta. You should also check out these Tutorials on How to Wear Hijab Without Undercap.
↓ 3 – Salwar Kameez with Pakistani Hijab Style
Some beautiful Pakistani style hijabs that work with all sorts of shalwar kameez. You can do the easy hijab without pins style where you just leave both the loose ends of the hijab at the back or you can do a neatly draped hijab with your shalwar kameez; it's all up to you.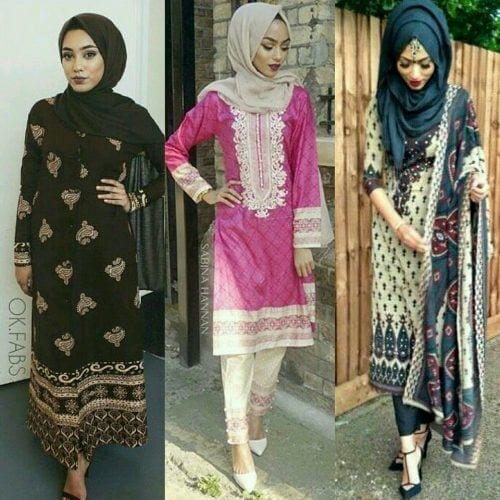 ↓ 2 – What Hijab to Wear with White Shalwar Kameez
When wearing a white shalwar kameez, it's always a good idea to bring in some colors using your dupatta and hijab.  With white, the best part is that all the other colors go very well. So, if you plan on wearing an all-white dress you shouldn't need to spend too much time wondering what color hijab to wear. You can go with all shades of blue or pins or even red gives a very bold touch to a white outfit. If you wish to go subtle, you can choose to wear a white hijab or a black hijab, both of which are sure to look very elegant. Here are the Latest Shalwar Kameez Designs for Girls to Try.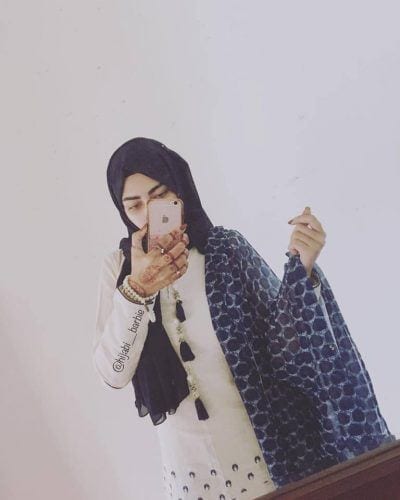 ↓ 1 – How to Tie Dupatta Hijab with Shalwar Kameez
We love this blogger's take on white shalwar kameez as she shows us how awesome it looks with different colors of hijab. The best part is that she used her dupatta as a hijab which is not only convenient but also looks perfect. The style also saves the hassle of draping and carrying two separate pieces of fabrics. Easy and stylish isn't it.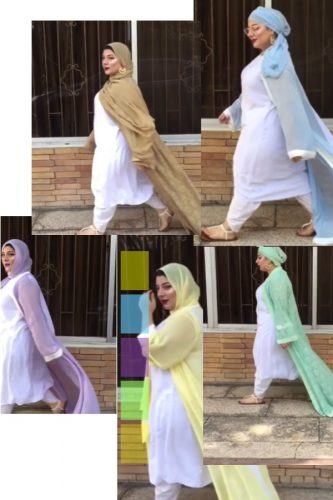 These are all the glamorous ways you can wear your stylish shalwar kameez outfits with hijabs. You can go for plain hijab or printed, also there are so many different varieties of colors and fabrics to choose from. Similarly, the choices for shalwar kameez styles are unlimited. So go on and pick on the best idea that you like from all these and look utterly fabulous.