Looking for modest saree designs for Muslim women? Different ideas of how to wear saree modestly? This post is all about the latest saree fashion trends for Muslim women. There are some brilliant ideas for all the ladies out there.
Saree is worn mostly in India and in the subcontinent of India. It is a garment worn which is  five to nine yards long. Usually, ladies wearing saree are seen in a small blouse and a saree over it while flaunting the belly. For Muslims, it becomes obligatory to cover and wear a dress which looks modest. There are several saree styles such as the Gujarati style, Bengali style, Kashta style, Oriya style etc. Muslim women can wear saree in any style but all you need to know is how to cover it.Don't forget to explore our  hijab fashion category for more ideas.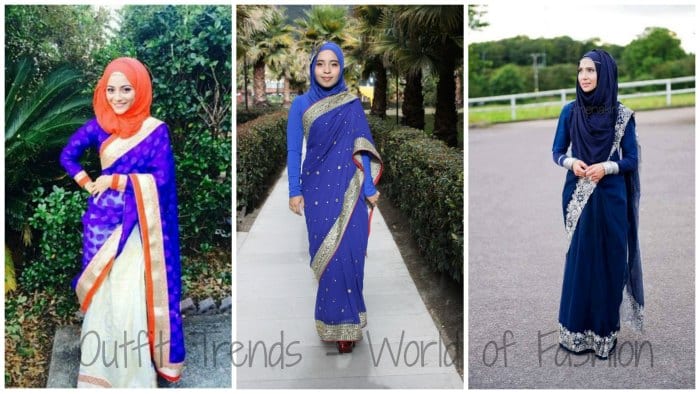 RECOMMENDED: 23 Latest Indian Wedding Saree Styles to Try this Year
How Should Muslim Women Wear Saree ?
It can be worn with a full sleeves blouse and high neck style without exposing skin. There are plenty of styles and colors available in the market with many color and material options. Fabric could be any depending on what kind of material you are comfortable in such as Charmeuse, Crepe, Satin etc. There are varieties of  designs and prints available in the markets and at the shops.
Muslim women are often concerned if they wear a saree and look good at the same time. There are many possible ways to cover the body and look elegant in a saree. You can wear a hijab with a saree and maintain the style you want to carry. The style you would like to opt for is a personal decision. The more elegantly you dress the more modest you can look. Tuck the saree in a right way and you will look absolutely perfect in it.
Wearing a saree with the hijab is the most modest way you can dress up. It will surely look beautiful. But if you plan to go without a hijab then that's alright. Hijab is basically an additional statement for those who cover their head as well. You can get many designs and colors in hijab and it can be worn at several occasions. Below are many of the designs, and ways of how you can tuck and drape a saree modestly.Here you can see 15 latest hijab styles fashion trending these days.
12- Blue Embroidered Saree
As much as an amazing and subtle color blue is, it looks even more amazing in a saree. You can always go with the plain blue colored saree but depending upon the occasion you can also add embroidery on the corners of the saree as well. For example, the best combo you can go for is a silver-colored embroidery on the blue saree, especially focus on the borders of the saree for embroidery to make the embroidery pop on the dark blue saree. It's pretty obvious that you need to go for a plain colored hijab instead of a printed one as a plain one will help highlight your saree and the work done on it. This saree and the color are ideal for a wedding ceremony, if you're going to a wedding soon then do check out Latest Bridesmaid Saree Designs-20 New Styles to try in 2016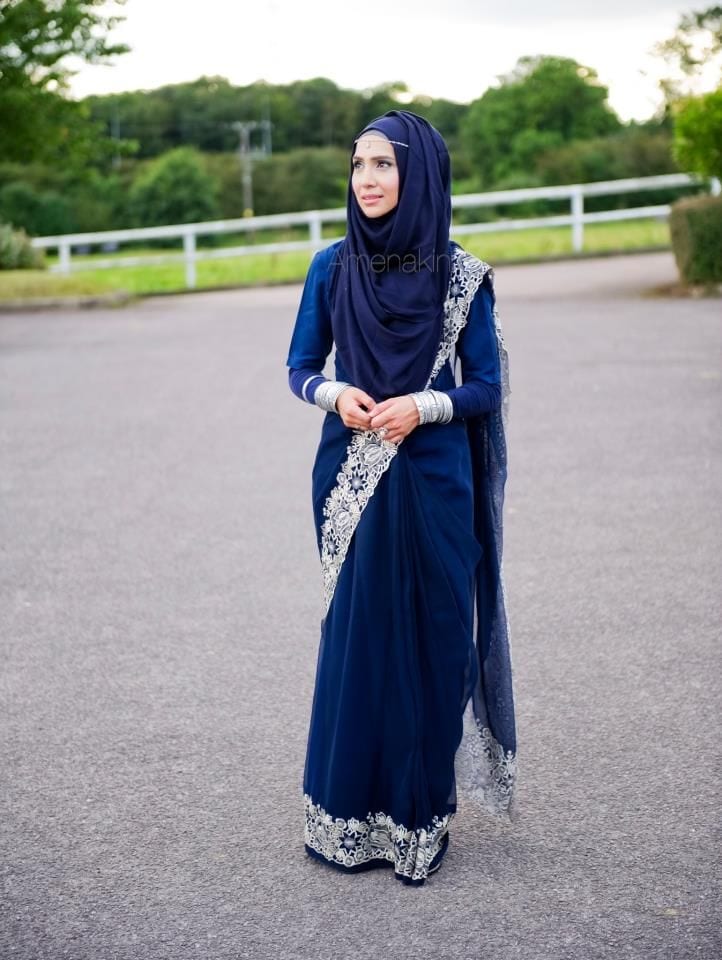 11- Golden Sequence on Red Saree
As much as silver embroidery looks amazing, golden colored embroidery on blue saree looks super amazing as well. You can totally wear in with the combination of different other color options, for example, you can go for red colored piping on the blue corners of your saree. You can also go for a golden head accessory to make your saree look even more pretty on you. For the hijab, if your theme is blue and red then try finding a hijab in red color but the red should not be extra bright. Try not go for the subtle tone of red color to keep it decent because it is very easy to overdo on red color. You can check out more hijab styles here: Top 20 Hijab Style Trends for Muslim Women These Days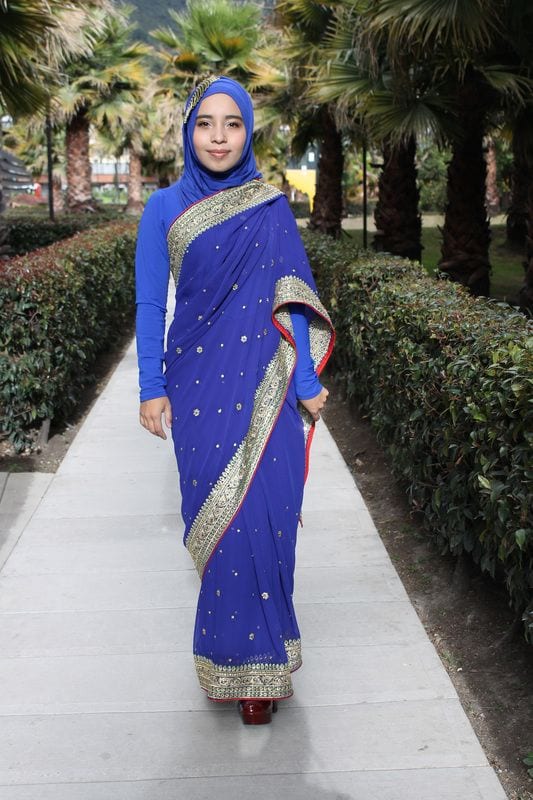 10- For Wedding
What makes sarees a great choice for Muslim ladies? The fact that they are so modest and yet so stylish at the same time. You can easily adjust your saree style as per your requirements like keep full sleeves or keep the saree blouse as loose fitted as you like. Moreover, a saree looks good on everyone, whether you're a teenager, a young girl, a married or even an adult woman, if you have grace you can always carry a saree well. This versatility of sarees is what makes it one of the most loved outfits in the whole world. You can even wear a saree for your own wedding, as many Bollywood divas too have done, check out some of them here: 10 Most Expensive Bollywood Wedding Dresses of All The Time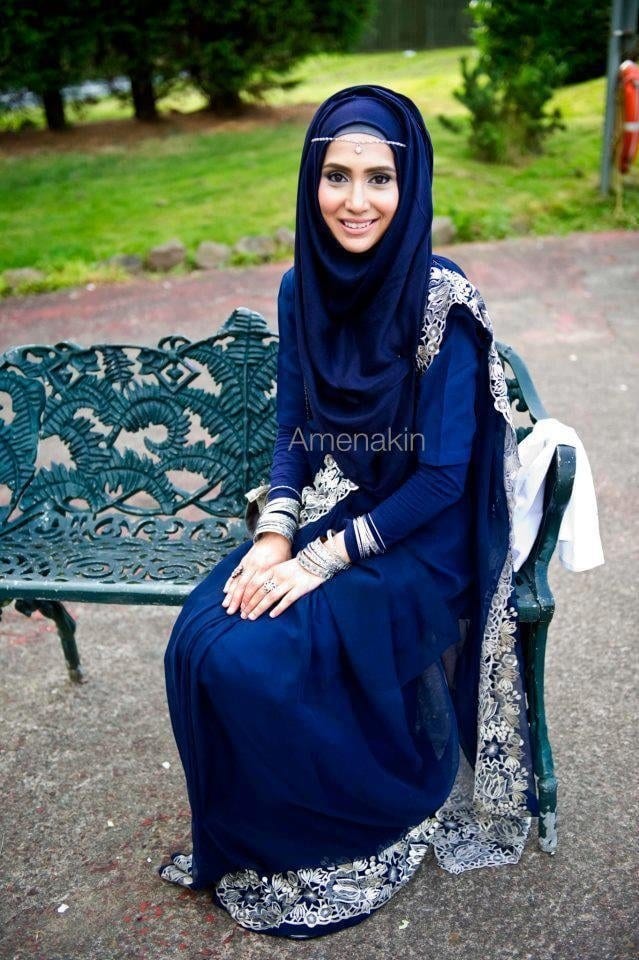 9- Turquoise Lace Work Saree for Party
Instead of going for embroidered borders of saree you can also go for thick lace saree borders as well. They look super beautiful and elegant. For the colors, it is best to keep them in lighter tones for example turquoise. If you are going for the hijab, go for any contrasting colored hijab to make your hijaab a little more prominent than your saree and the lace. For some traditional saree styles, you might find great inspiration in these 23 Latest South Indian Wedding Sarees To Try This Year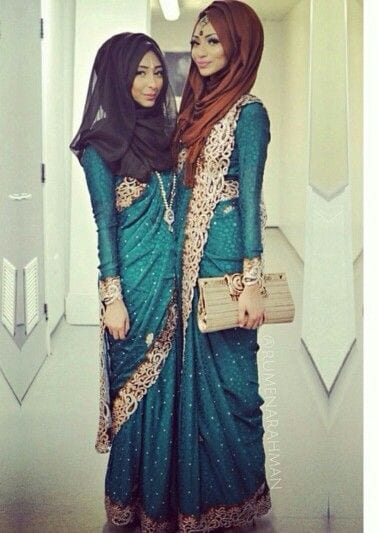 8- Blue and White Banarsi Saree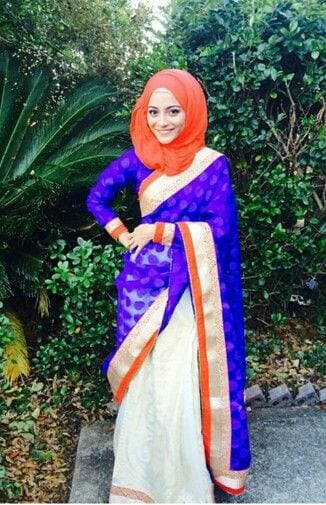 7- Gorgeous Sky Blue Saree with Pink Blouse
Pashmina hijabs look amazing with any saree so do check out Pashmina Hijab Styles-18 Ways to Wear Hijab With Pashmina.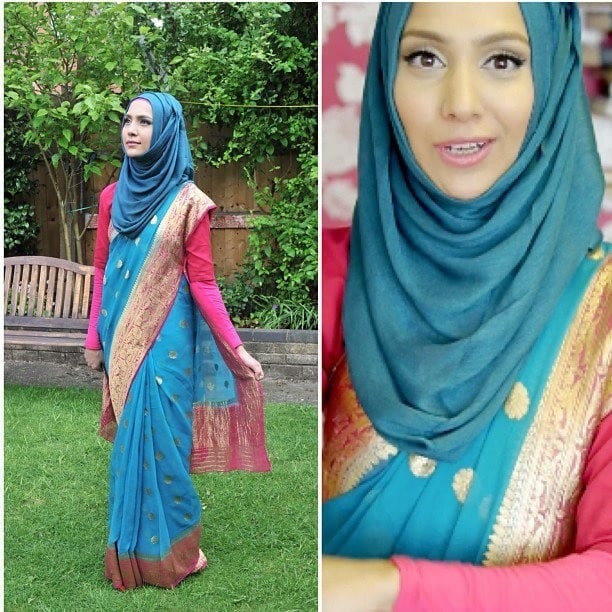 6- Gorgeous Sequence Work Saree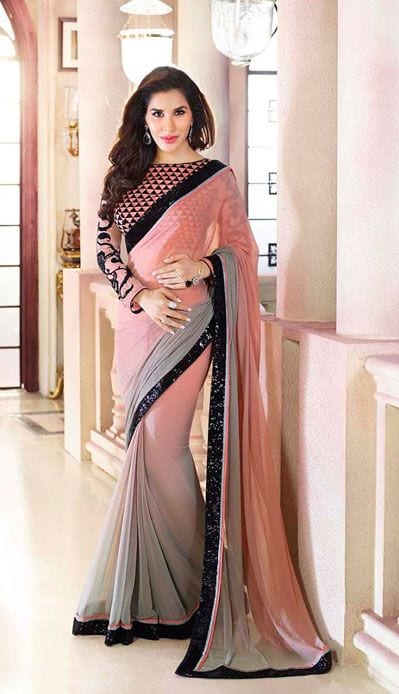 5- Indian Style
A right hairstyle is as important as the right saree so do check out these Hairstyles for Saree -20 Cute Hairstyles to Wear with Saree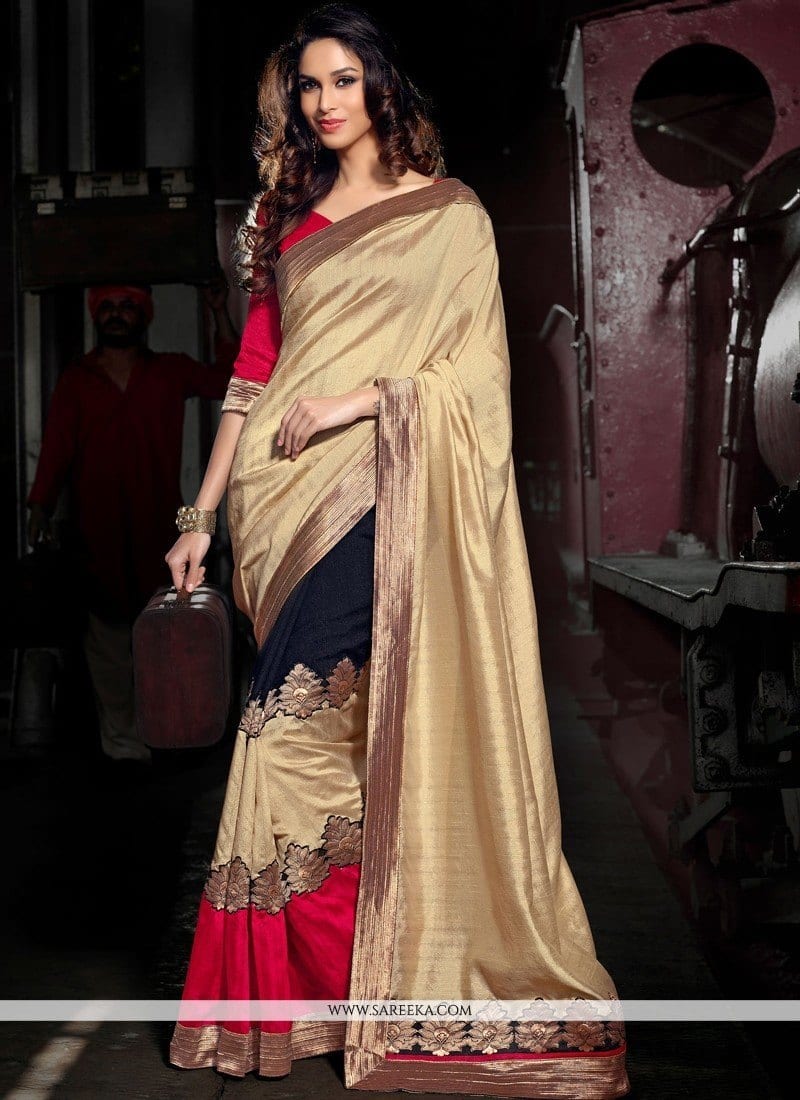 4- Embroidered Formal Sari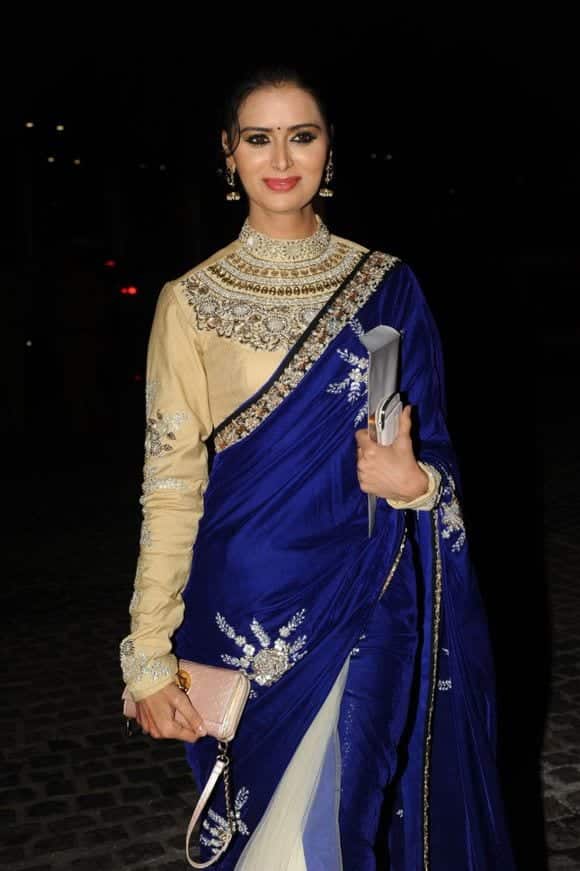 Tutorial for draping saree perfectly
This video is for all the newbies out there who don't know how to drape saree perfectly with maximum coverage.
 3 –  Modest Saree style For Teen Girls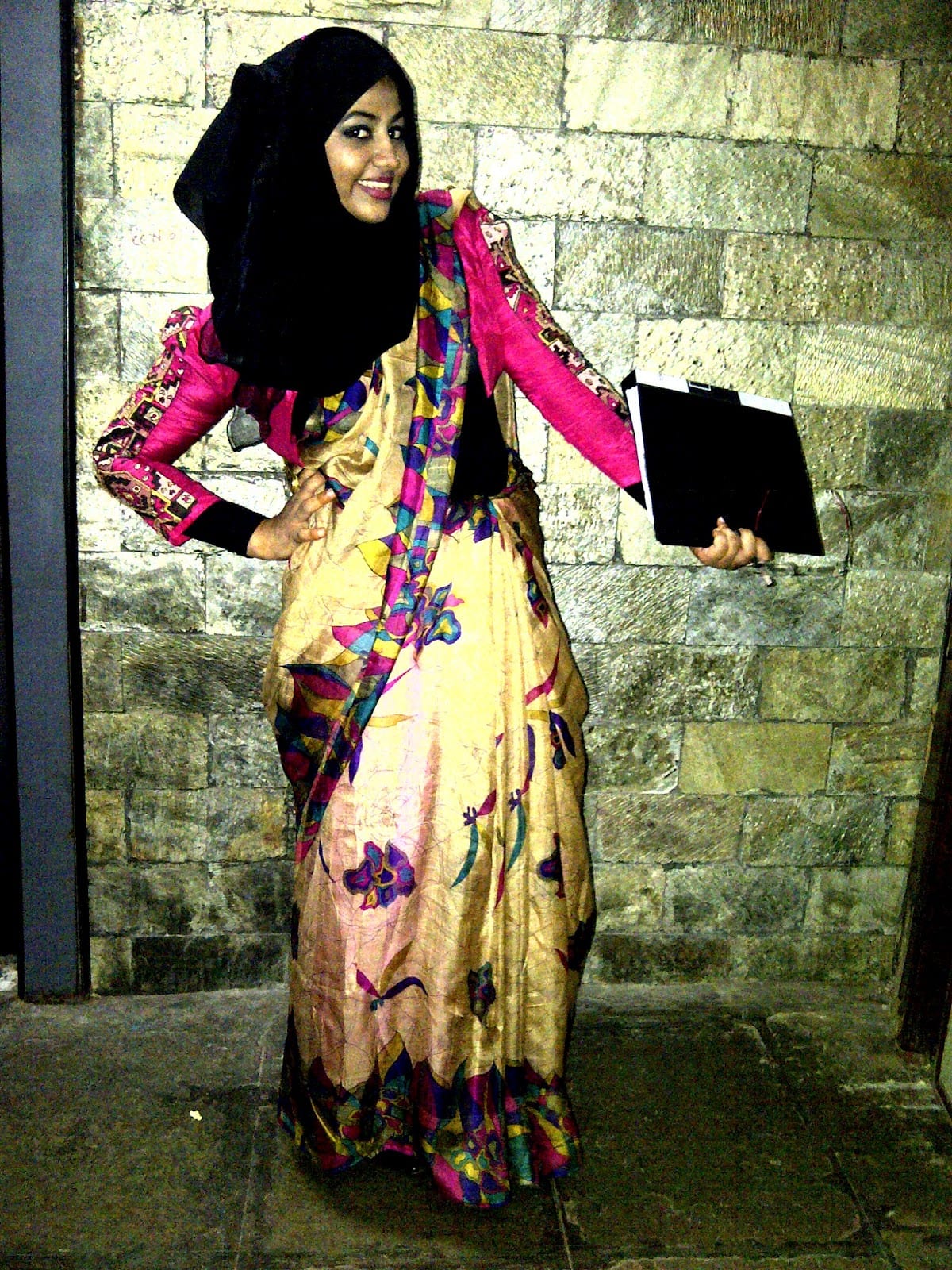 via
2 – Muslim Women Party Look with Saree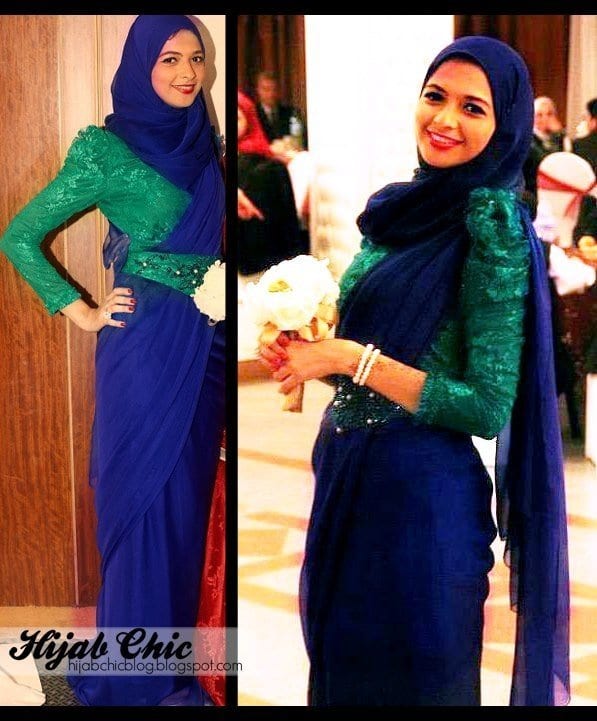 1 – Hijab Wedding Saree Dress