Skinny Guys with Tattoos- Having a tattoo is considered pretty modish nowadays. It's usually known as inserting ink into the skin for the sake of body modification. These are usually based on religions, cultures, tribes, sentiments, rituals and much more.
The commonly known facts about tattoos are that they're permanent, they hurt and they are definitely personal.
What Tattoo to Get if You're a Skinny Guy
Many young guys are obsessed with getting their skin inked and that also includes young and slim teenagers who are usually fascinated with various celebrities and want to go for different emerging arts in the world of tattoos. However, many of them want to go for something unique and close to their personality since it lives with you for the rest of yours life.
Small and simple tattoos are the emerging fashion since they are considered quite different and unique in their own sense. However, you can add simplicity to the traditional tattoo styles as well. The article is going to give you ideas about 18 distinctive designs in the world for tattoos that can be easily carried by any slender guy.
↓18- Lion Shoulder Tattoo
What is the first idea that comes into your mind when you first listen to the word lion? Definitely some immense power, strength, courage and glory. Lion tattoos have different significance in various cultures like for Greek, it symbolizes masculinity and love. Similarly, for Chinese and Japanese, it represents luck, protection, and guardian. Guys love to have lion tattoos, most of the times on their shoulder or chest. Slim guys can go for artistically sketched but simple lion tattoos on the side of their shoulders. Also, they can add a crown to it in order to enhance the uniqueness and glory of the tattoo. Here are some cool Accessories for skinny guys; 8 Style Essentials for Slim Men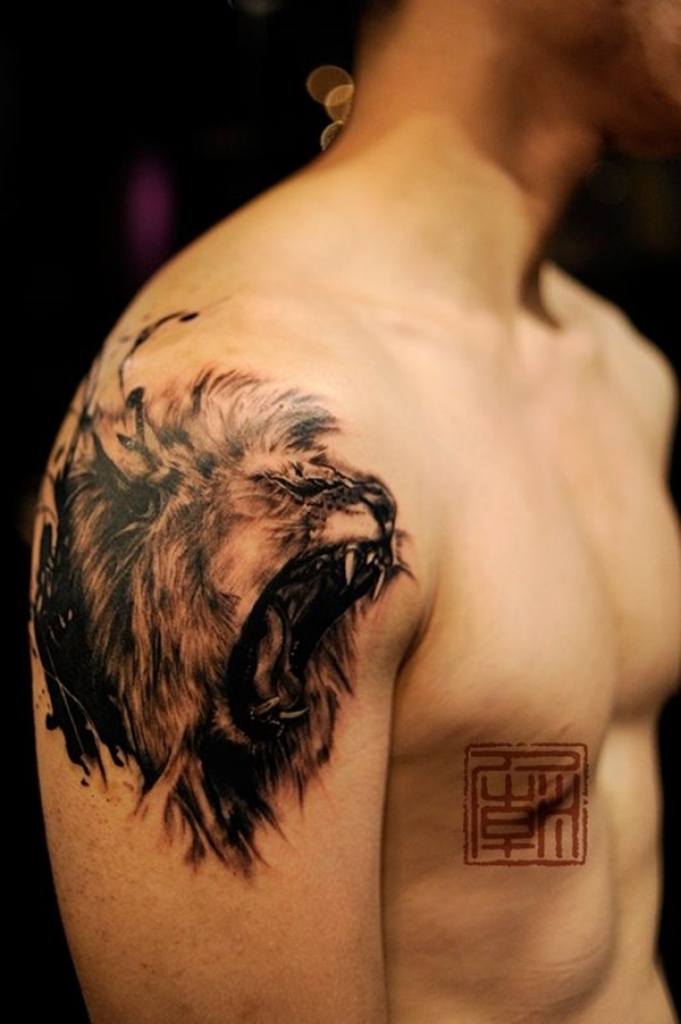 ↓17- Tiny Hand Tattoos
There are many ideas circulating on the internet regarding hand tattoos. Guys can have a tattoo anywhere but if they particularly want to make them a prominent artwork they need to have them on their hands. Getting the skin of your hands inked is quite attractive and catchy. Since skinny guys usually have thin hands so it will be pretty fine for them to go for the simplest of the tattoos like any phrase or art that can express their attitude towards life or their sentiments with the tattoo.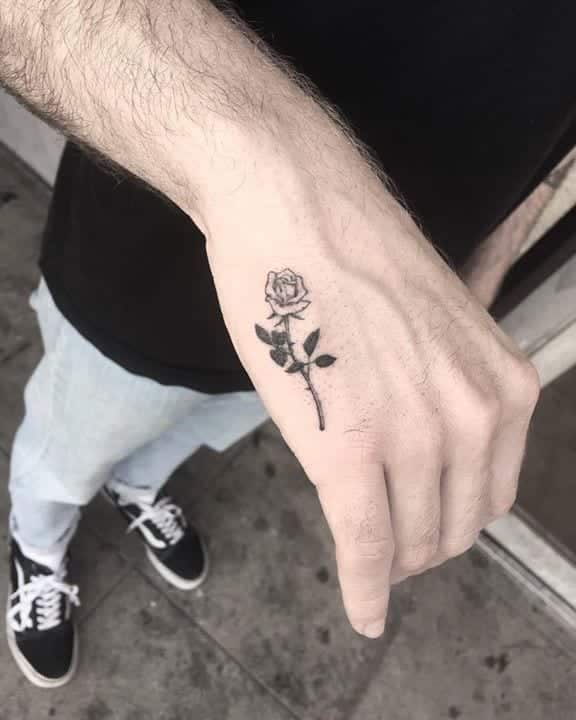 ↓16- Elegant Rose Tattoos
The traditional rose tattoos are the symbol of love, passion, and courage while black roses reflect death and pain. Roses are just perfect to reflect your thoughts but skinny guys need to make sure that the rose pattern and art should be moderate in size and very specific. They can also go for colored roses depending on their choice but the art should be defined and should depict nature as if it is expressing a sentiment or a feeling.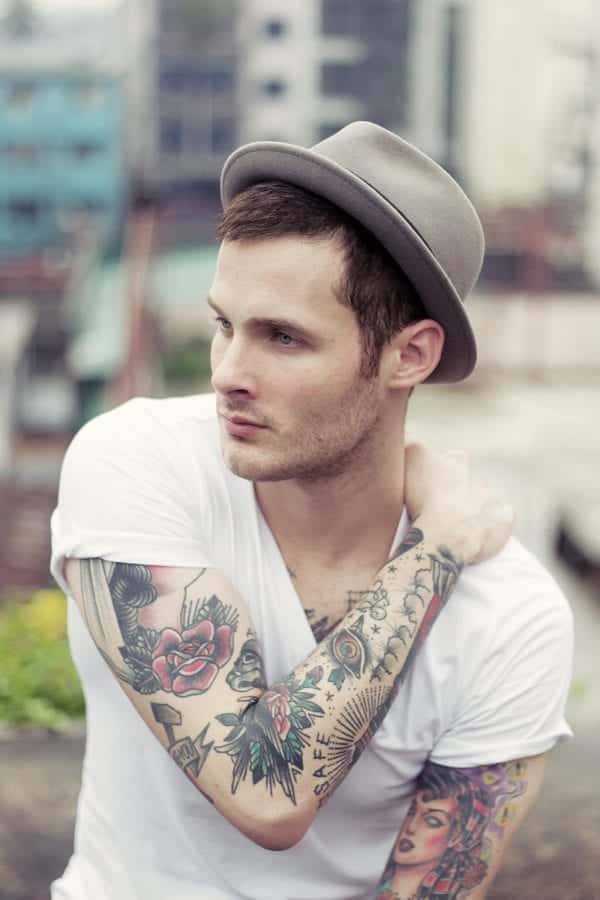 ↓15- Arrow Neck Tattoo
Arrow tattoos on the neck look very trendy and classy. Arrows in the form of tattoos turn out to be less painful and make your neck even more attractive. They symbolize positivity and optimistic approach towards life. A single arrow is often represented as protection against evil while double arrows reflect friendship. RECOMMENDED: Skinny Guys with Abs-Want to Get Six Packs? See This Guide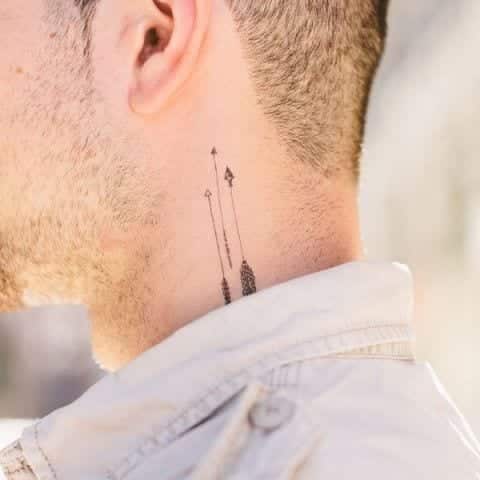 ↓14- Simple Foot Tattoos
Foot tattoos are often rare and their various sizes, designs, and positions make them look ravishing. In case you want a big work of art you can get it in the center of your foot. You can get an anchor, a phoenix or anything you can relate to. Lobster and tribal tattoos are immensely favored by people all around. Also, you can get them on the back of your heel if you want to keep them a bit personal.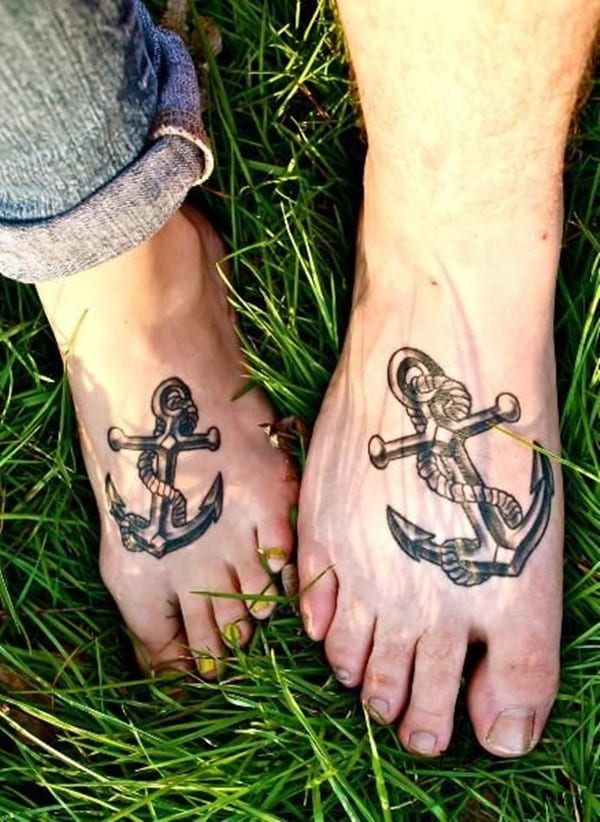 ↓13- Musical Tattoos
Music is the most expressive and compelling form of art. Getting a musical tattoo in the form of notes, favorite band or any musical instrument that can express your love for music. The best placement for a musical tattoo will be your arm or wrist. You can also go for phrases like 'Music is life' or 'Music is drug'.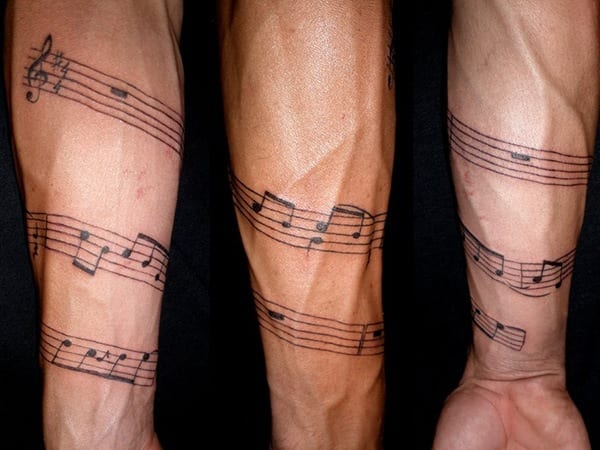 ↓12- Quotation Tattoos
Quotation tattoos are very popular among guys nowadays because every saying getting inked means something to the respective person. It might represent one's constant state of mind or a memory one wants to keep for forever. What matters about these sayings is the color, font, language, and size. Then comes the placement, it can be anywhere but chest, neck, and wrist are pretty common and preferable.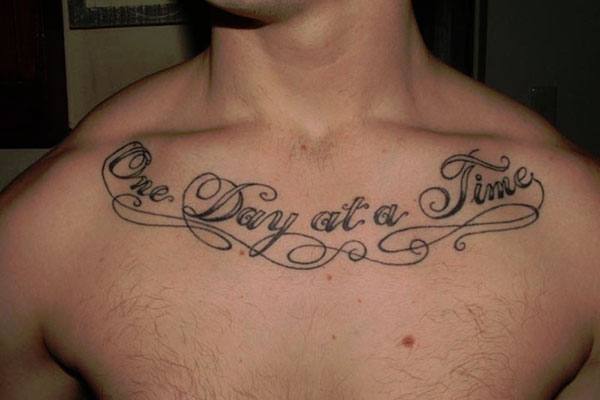 ↓11- Cool Wrist Tattoos
Wrist tattoos are extremely cool and enchanting. Also, these are less painful. There are astrological wrist tattoos, star tattoos, angel feather tattoos and etc. Each has its own meaning. Slim guys can have tattoos on their wrist if they are fond of more simpler and stylish tattoos. Here are the best Jeans for Skinny Guys-15 Perfect Ways to Wear Jeans Skinny Guys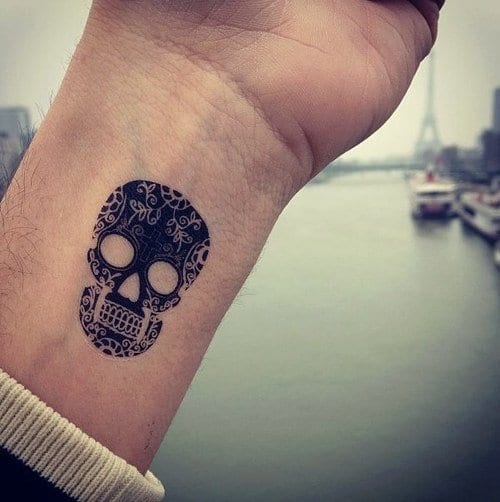 ↓10- Sexy Wolf Tattoos
Wolf tattoos often symbolize an amalgam of peacefulness and aggressiveness. They are often considered a sign of strength among men. Slim guys can go for a sketch of a wolf, more of a drawing, on their upper arm or chest that will make it look attractive and significant.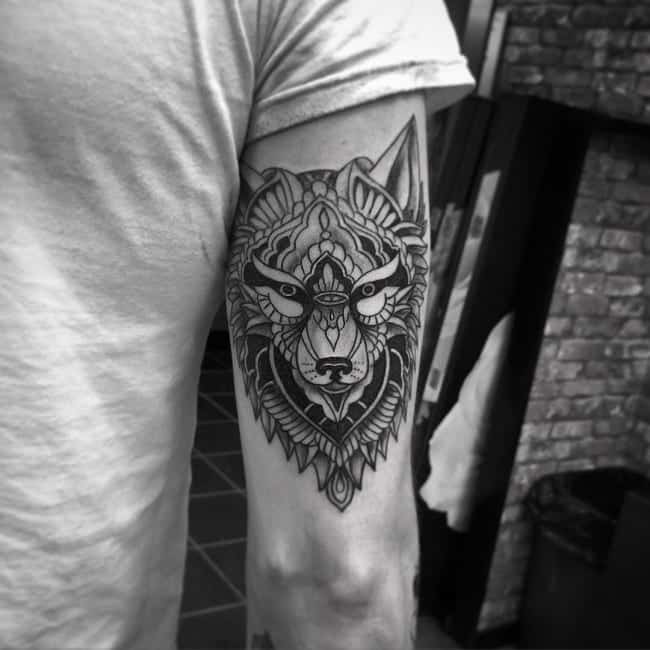 ↓9- Intricate Finger Tattoos
Finger tattoos are pretty classy and less painful. These are impressive as well as expressive. A tiny but intricate tattoo in the form of letters or little objects on your thumb or fingers is going to make your hands even more prominent and attractive.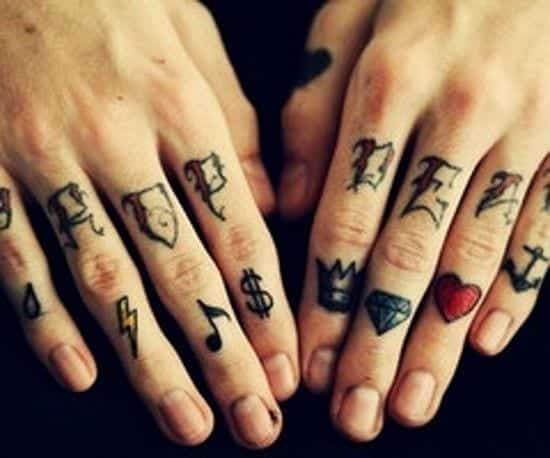 ↓8- Amazing Spine Tattoo
The interconnected and patterned spine tattoos are extremely ravishing for slim and slender guys. These are distinct and experimenting when it comes to raw art. There is no limitation to comprehensive and specific art when it comes to spine tattoos. RECOMMENDED: 15 Shoes for Guys with Skinny Legs–Footwear Ideas for Skinny Men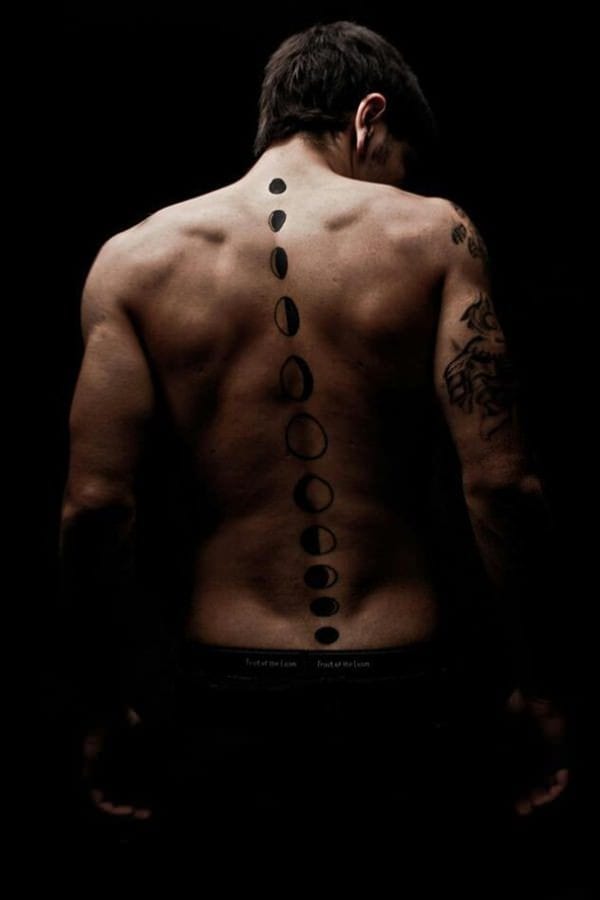 ↓7- Unique Leaf Tattoo Style
Leaf tattoos are quite detailed and distinct. The amazing shapes and placements make them even more charming. Skinny guys can go for thin leaves or a single autumn leaf tattoo on their wrist, fingers or arms. These amazing art forms represent peace and nature.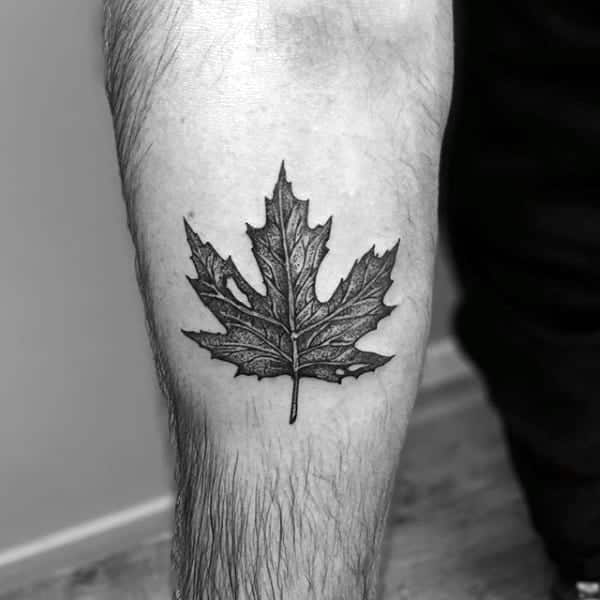 ↓6- White Astounding Tattoos
White tattoos are quite recent and trendy. Simple objects and shapes in white can be placed on arms, wrist or feet as well. These simple designs turn out to be very classy and charming. Especially ideal for guys with dark skin as it will look more expressive and classy on the respective skin type.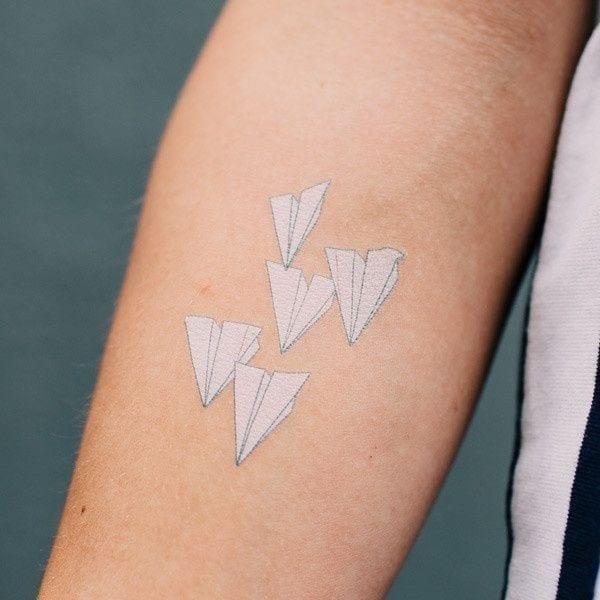 ↓5- Name Tattoo Styles
Name tattoos are pretty common but you can add different art styles, fonts, colors and tiny objects to these tattoos to make them look extra enchanting. Skinny guys can have them on their neck or fingers in the form of letters. Don't miss out 48 New Hairstyles for Skinny Boys Trending These Days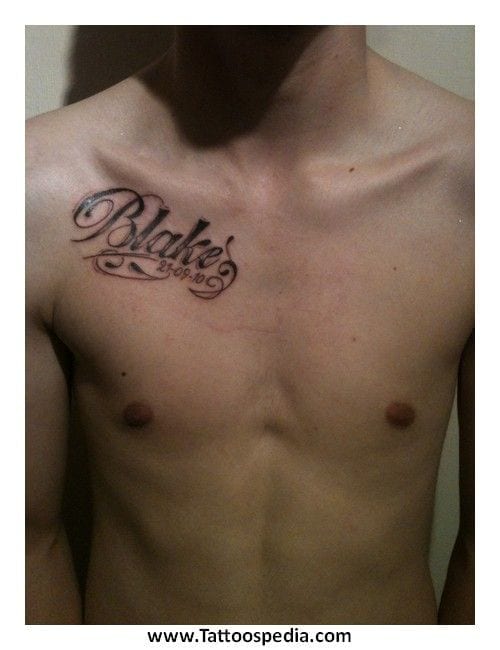 Via
↓4- Sleeve Tattoo Styles
Sleeve tattoos are loved by guys of all ages, especially the ones who are the fans of the typical rock star cool persona. These are recently inked in a variety of shades but skinny guys should only go for only 2 or 3 colors or even black looks pretty cool.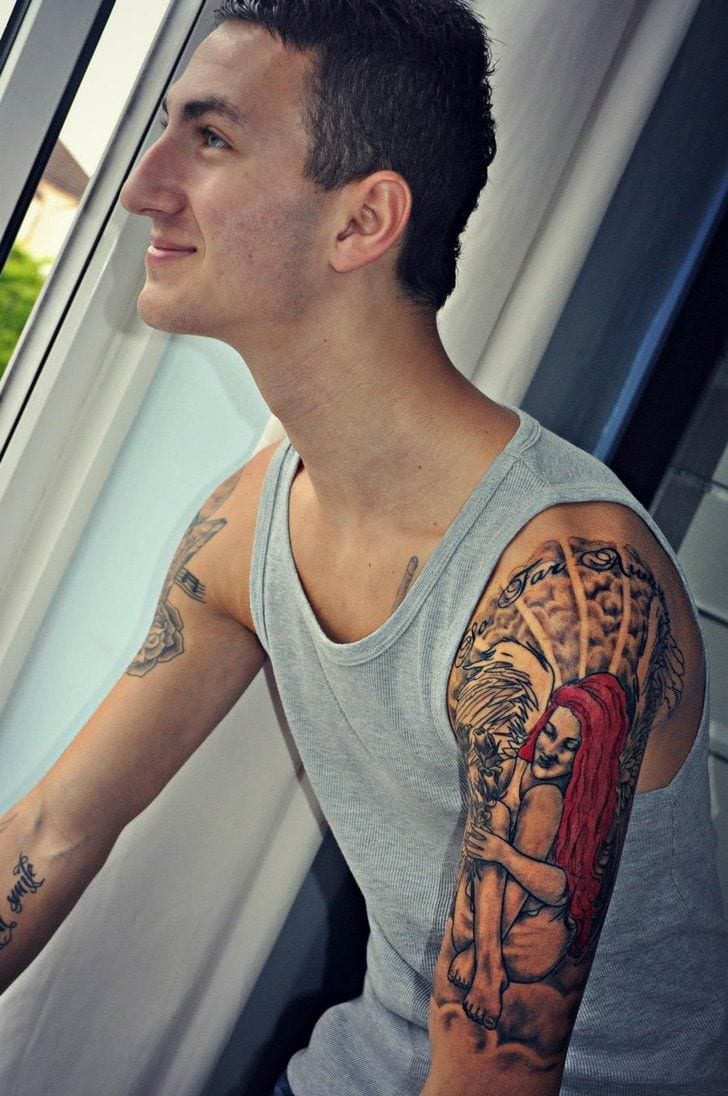 Via
↓3- Simple Face Tattoos
Face tattoos are complex and come up with a few drawbacks like an infection. But you can clearly express yourself with a simple face tattoo. Also, they are comparatively less painful and consist of small art works like a fish or stars or an infinity mark. Check out 19 Cute Outfits for Skinny Guys; Styling Tips with New Trends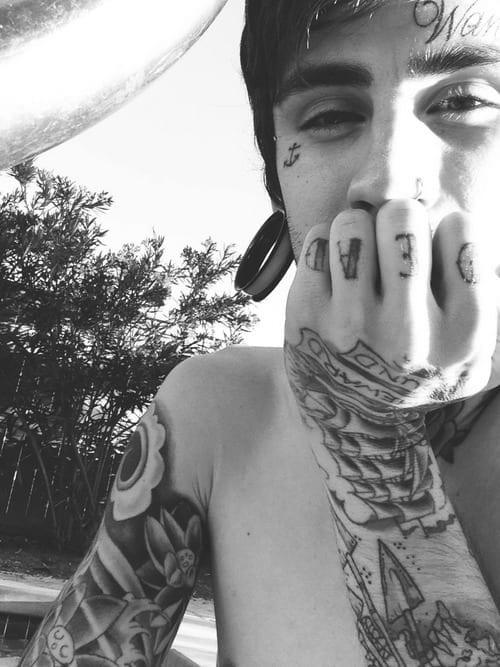 ↓2- Leg Tattoo Styles
Having significant leg tattoos take quite a time to heal and they are also quite painful. These can be in the form of cultural arts like Indian and Greek art. They look almost astonishing while walking down a street in shorts during typical summers and are so perfect for slender boys.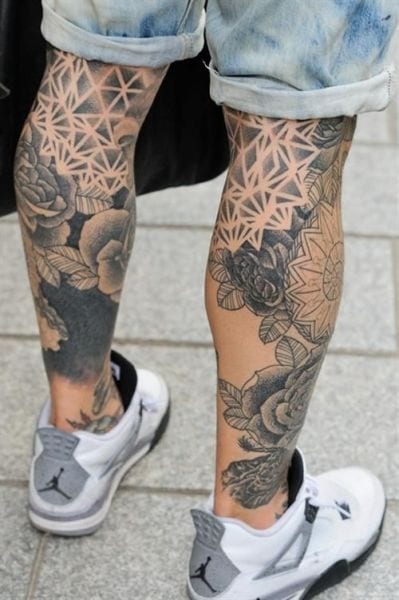 ↓1- Cross Tattoos
Cross tattoos are typically related to Christianity and reflect the secularity. The most versatile style for guys is the Celtic knot style on the arms or navel. The 3D soft curves style also looks amazing.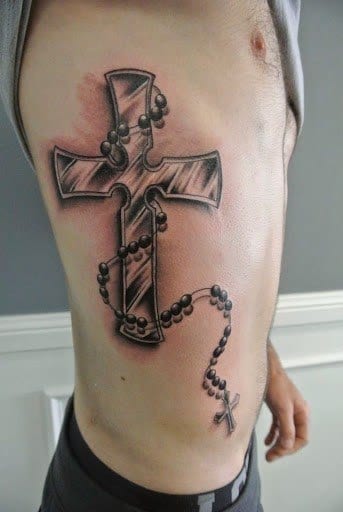 If you found these ideas interesting, give your feedback through your comments and also share any other interesting ideas.