It is important for skinny guys to wear clothing that suits their figure. Different styles will style different people but it is personal preference as to what style is right for you. How to dress up being the slim guy?What are the ideal outfits for skinny men ?What footwear is attractive for skinny guys?
This article will be a perfect guide to answer all these questions.
Styles for Skinny Guys
Skinny Jeans are a great choice for most guys but for the skinner men even more so. Not only do they already accentuate the actual size and shape of your legs but they also fit areas subtly such as the groin and around the ankle. A bit of a tapered look in skinny jeans is ideal for a man with a skinny figure. Skinny jeans will also go hand in hand with nicely loose tops, jackets, and jumpers. Don't go for massively oversized clothing as this will destroy your chosen look.You can also get a lot of inspiration from  these 50 popular men street styles.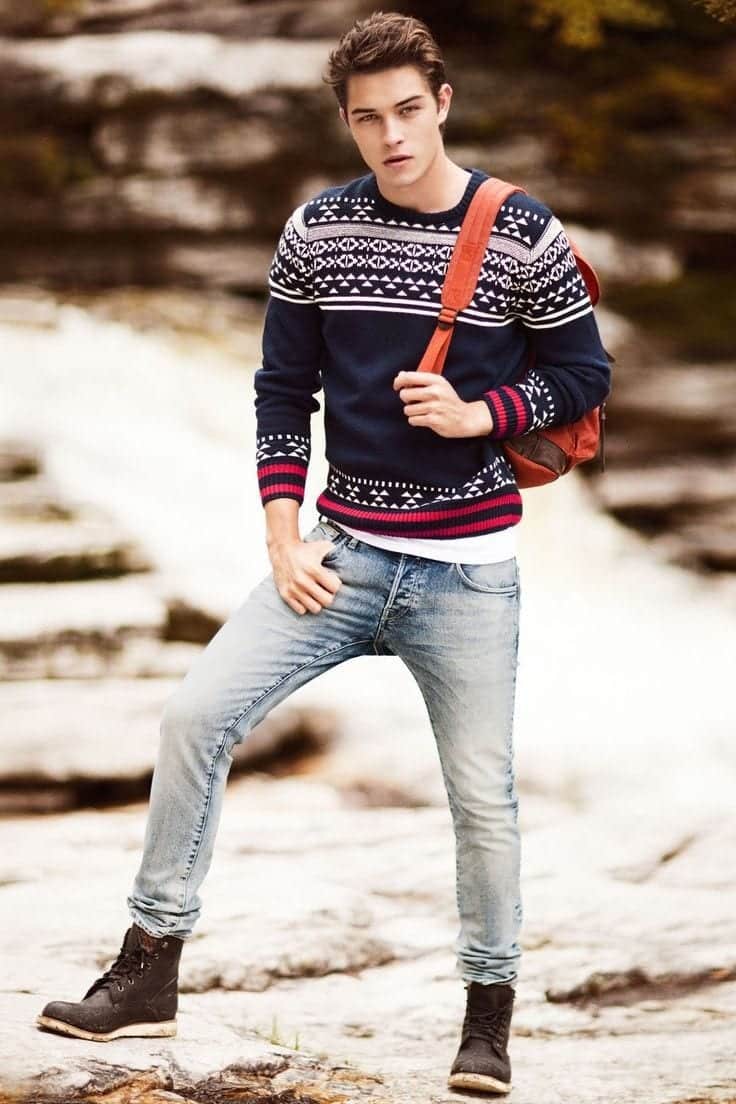 Instead, venture toward attire just slightly bigger than your actual size. This will create more volume in your silhouette without drowning your small figure. For a businessman, go for a herringbone or subtly patterned suit that has been professionally tailored to your shape. Tops with logos and patterns are great for skinnier guys as they take unwanted attention away from your figure and onto your top. Cardigans give players as do waistcoats and sleeveless jumpers. Although you will more likely come across this style in a more preppy surrounding. Band logos t-shirts with leather jackets make for a more rocker or biker style and is also a great look for skinny men.
Things to Avoid when Wearing Skinny Jeans
Things to avoid for skinny guys include vertical stripes. Vertical stripes will just elongate your figure even more and do absolutely nothing for a slim figure. This rule also goes for pleats. Instead, go for broad horizontal stripes and chunky belts. These will thicken out your overall image and will break up an outfit nicely. As mentioned before, also avoid overly baggy clothing. Here are 48 New Hairstyles for Skinny Boys Trending These Days
Ideal Footwear for Skinny Guys
The typical teen will more than likely choose sneakers as footwear and regardless of your size and shape these are a good choice. Another casual yet ideal choice of shoe is high tops, either sneakers or Jordans. Chunky style high tops will add a bit more breadth to your style and will match and balance out broad shoulders. For a businessman why not go for rounded oxfords or brogues? Pointed tips can ruin a look for a skinny guy as they are also slim.
Dressing Style Tips for Skinny Boys
Have a look at the following images and use them to create your own perfect look. And don't miss out 19 Cute Outfits for Skinny Guys; Styling Tips with New Trends
Winter Outfit with Hoodie