Latest Nigerian Bridal Dresses. For many women, the quest for a perfect wedding dress begins far before she's even found her groom. Nigerian women have the advantage of having a beautiful culture rich in unique traditions. Their wedding dress can range from a colorful Ankara Kobe to a classic white dress.
Here we have compiled all kinds of wedding dresses for Nigerian brides this year so that you can look your best for your big day.
Latest Bridal Wear For Nigerian Brides
Here are some tips to help you pick the right dress for your wedding:
Try to have a clear picture of what you want and stick to it. Often, confused brides find themselves being pressurized towards dresses they don't even like in the first place. Listen to your heart, not your friends.
Mentally go through the wedding; is it a morning or evening event, will you be kneeling, will you need to dance? etc. Make sure you and your dress are prepared for every situation. Comfort is key for a successful event.
When trying on a dress, wear the same undergarments or any traditional accessories that you are planning to wear. This will help you avoid any embarrassing wardrobe malfunctions.
Once you've picked the right dress, schedule your fittings as close to the wedding as possible for a perfect fit.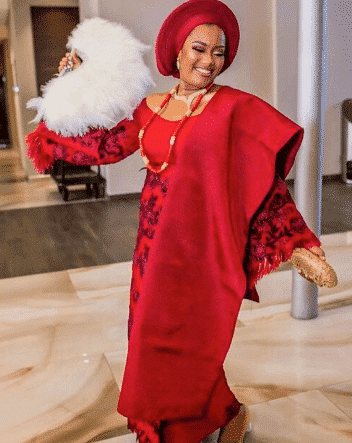 ↓ 30 – Traditional Aso Oke Dress
Aso Oke are traditional hand-woven fabrics without which no Naija ceremony is complete. They come in a variety of fresh colors and signature patterns. Many Nigerian brides prefer to wear this fabric in honor of their culture. Here are 17 Cool Ankara Dresses for Weddings.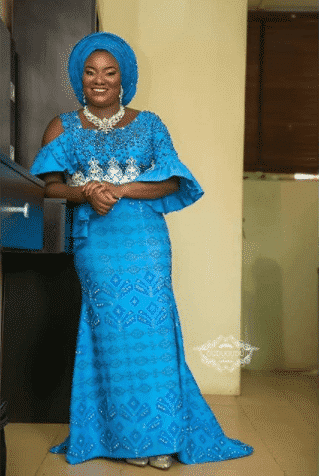 ↓ 29 – Colorful Ankara Printed Dress
The Ankara cloth is a huge part of African textiles. This wax-resistant printed cloth is made in vibrant hues and can be the life of any event. Its abstract patterns can be used in many versatile ways, especially with the retro cuts trending nowadays.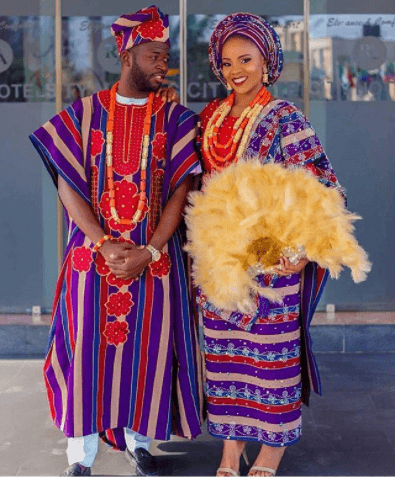 ↓ 28 – Ivory Fringed Dress
A gorgeous figure-hugging gown, studded with fringes and stonework. What more could a bride want? Fringe work has been seeping into bridal wear for many women in the past few years.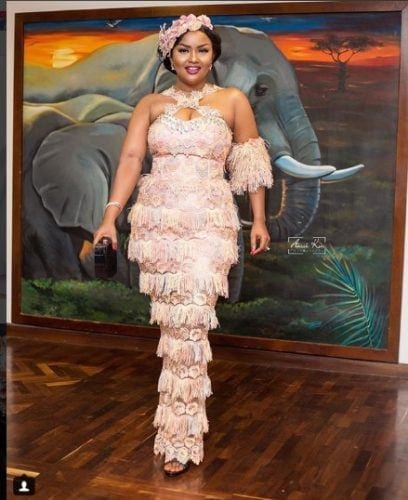 ↓ 27 – Graceful Off Shoulder Dress
Nigerian women are not limited to wearing their traditional clothing. They can rock a modern gown just as well – and when you look at this picture, we rest our case.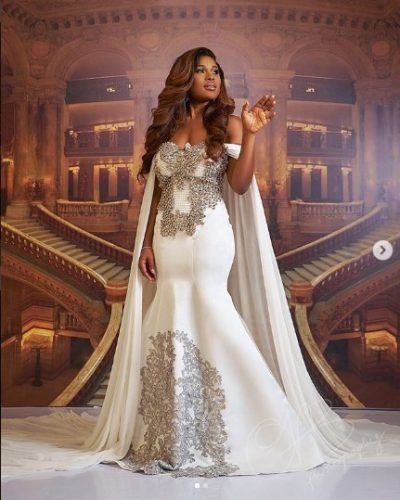 ↓ 26 – Red Ruffled Gown
Naija women can choose to wear a colorful bridal dress for their weddings, thus combining their traditional colors with Western stitches.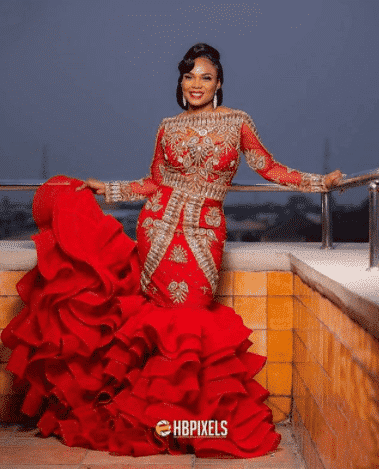 ↓ 25 – Strapless Purple Ankara
This strapless piece combines Ankara printed cloth with beautiful silver filigree work that literally adds charm to the stunning gown. Here are 18 Latest African Fashion Styles 2019.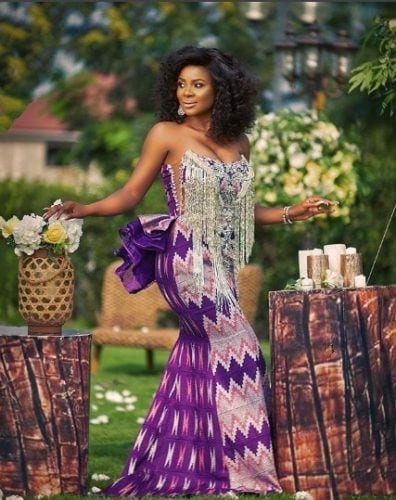 ↓ 24 – White Gown with Gold Embroidered Cape
Capes are no longer limited to superhero costumes. And what better example can there be than this couple. The capes are adorned with gold embellishments and wonderfuly contrast with their white attire.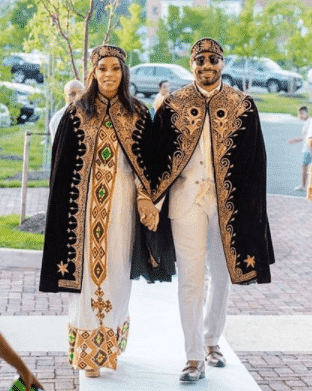 ↓ 23 – Eccentric Geometry
The beauty of Ankara cloth is that the prints alone are complex enough to create a riveting bridal outfit.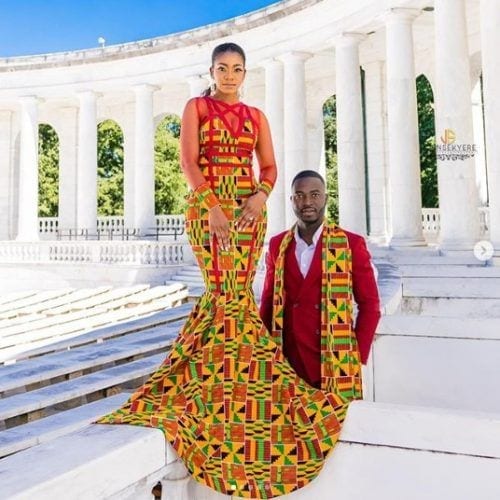 ↓ 22 – Kente Style Fuchsia Outfit
The kente cut gets a fresh take with this bride, as she dons a fresh fuchsia color set off by her lovely skin.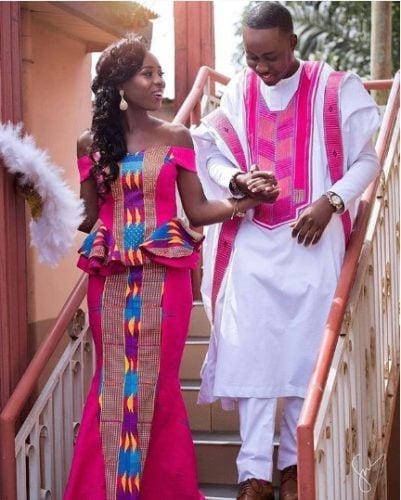 ↓ 21 – White Bridal with a Sweeping Panel Trail
Who here doesn't love the idea of a long panel trail, gracefully sweeping behind them as they join the ceremony?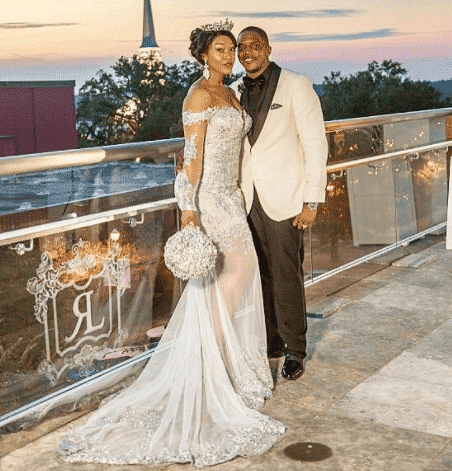 ↓ 20 – Sculptured Kente African-Western Fusion
Like this bride, you can reinvent the Kente outfit by creating a sculptured silhouette which is gathering all the hype this year. Here are Top 15 African Fashion Blogs to Follow.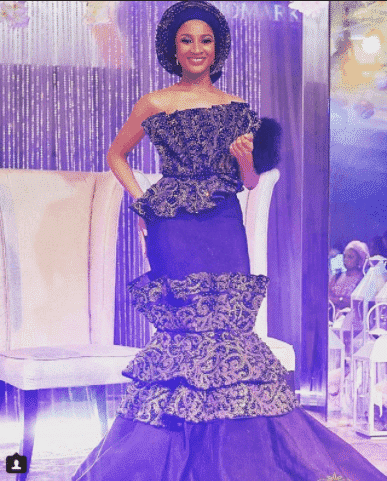 ↓ 19 – Egyptian Vibes
Channel your inner Nefertiti by opting for some glittering blue and gold stripes.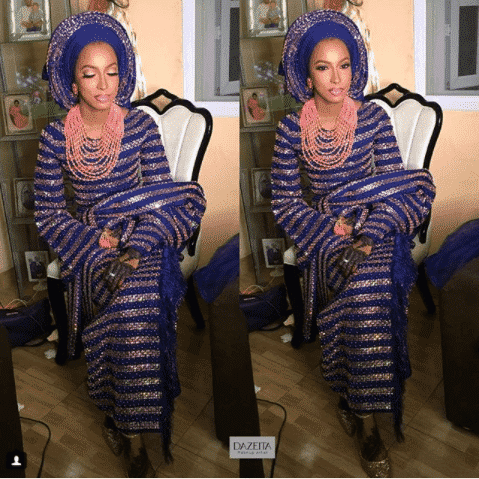 ↓ 18 – Flaired Ankara Skirt
For a change, you can pair your bright skirts with a contrasting blouse instead of the Kente. Either way, the print is sure to make you feel like a princess.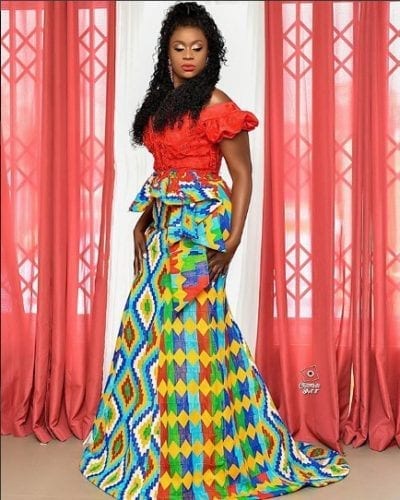 ↓ 17 – African-Western Fusion
If you can't make up your mind on what style you want to go for on your wedding – why not have the best of both worlds? This bride incorporated the traditional Nigerian prints with a white bodice to create her perfect look

↓ 16 – Gold Embellished Dressed
According to the latest trends, there is no such thing as too much bling. Although we wouldn't go so far as to suggest glittering lips for your wedding,  you can carry the gold look with as much style as this glowing bride.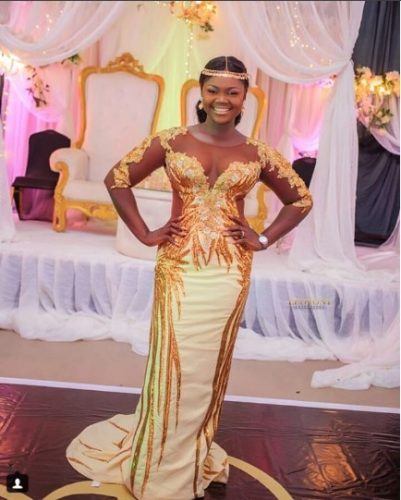 ↓ 15 – Intricate Silk Gown
This lavish silk gown is filled with delicate florets and paisleys with a matching shawl and Gele headscarf. Pastel colours like this can also be worn instead of white.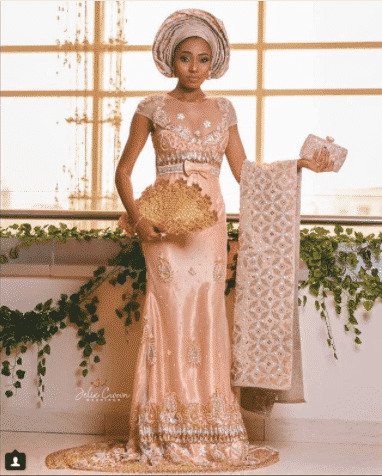 Via
↓ 14 – Royal Blue Aso Ebi
A blue Aso Ebi can add a touch of royale and culture to any bride's day.

↓ 13 – Silk Gown with Accentuated Shoulders
This silk gown is filled with exquisite detail work at the shoulders and waist, creating a slimmed-down effect.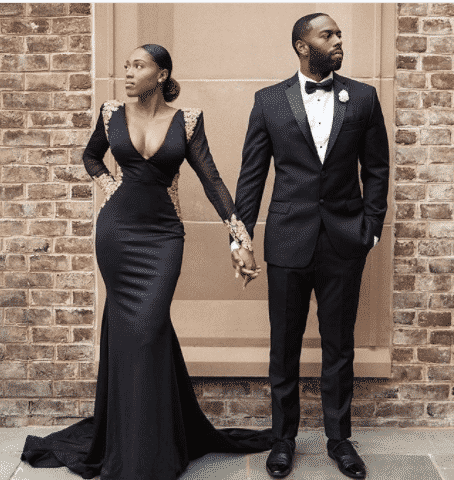 ↓ 12 – Sequined Bridal Dress
Sequins are back with a bang this season and the trend has seeped into bridal wear as well. This charming dress is filled with sequin-work of the same color which keeps the design from being tacky.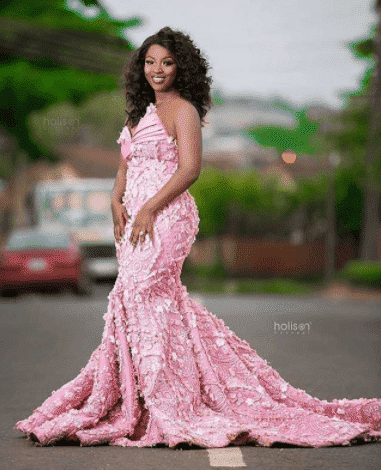 ↓ 11 – Plum Minimalist Gown with Rubies
The beauty of Nigerian brides are in their versatile dresses. This bride keeps her dress minimalist and uses her jewelry as the statement piece of her look.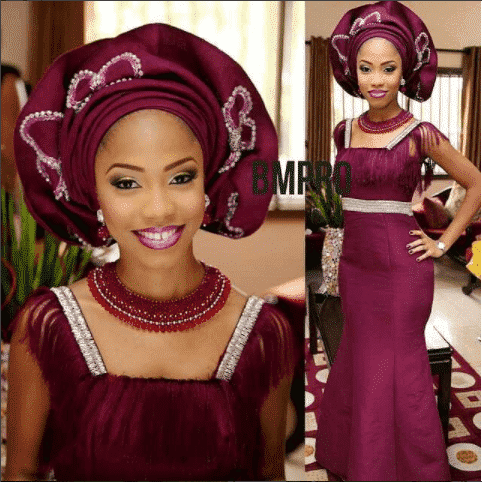 ↓ 10 – White Swarovski
This astonishing bridal is studded with countless Swarovski crystals that will glitter like stars every way you turn.. You'll also enjoy going through these Top 15 Black Clothing Designers.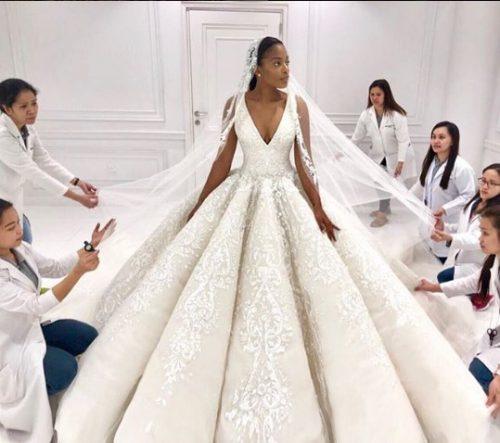 ↓ 9 – Exaggerated Bows
The bridal dresses this year make use of flamboyant cuts and shapes that add a wow factor. This dress makes use of an asymmetrically placed large bow to complete the look.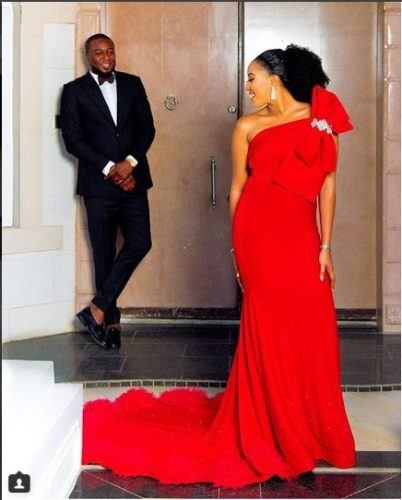 ↓ 8 – Bejeweled Ankara Dress
Who says Ankara can't look glamorous? A diamante studded Ankara dress like this is sure to keep all heads turned your way.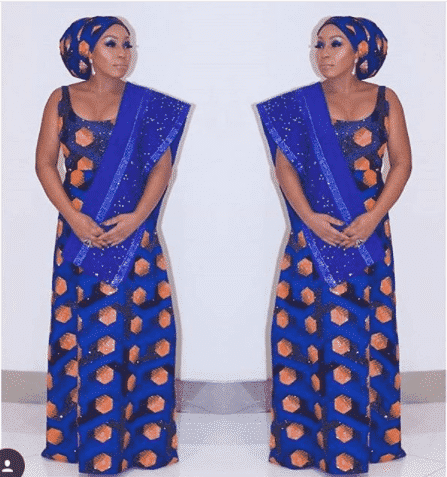 ↓ 7 – Bridal Mermaid Dress
Mermaid dresses never have and probably never will go out of fashion – especially for brides. The fishtailed skirt of these gowns is ideal for those who want to emphasize their curves.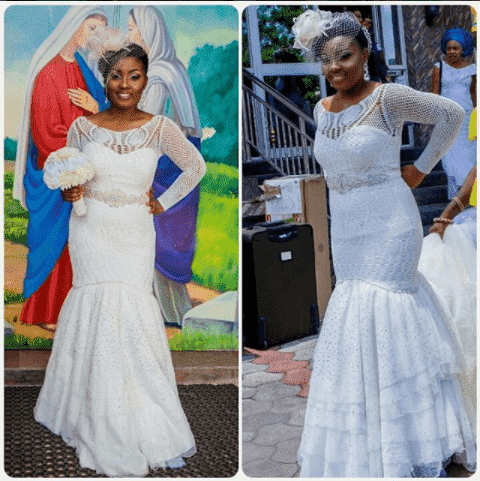 ↓ 6 – Corset Kaba Slit
This Kaba and slit dress is a nod to Ghanaian fashion, but uses a corset for a more refined approach.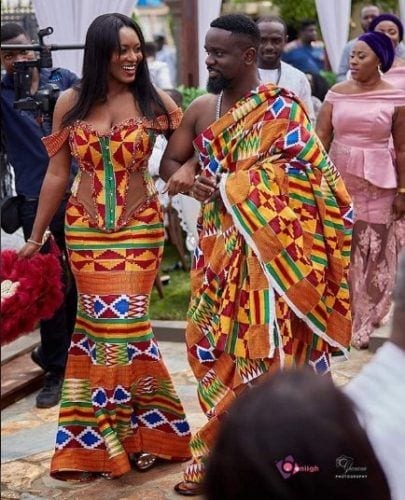 ↓ 5 – Cinderella Style
This scintillating white dress with waves of structured flairs looks straight out of a fairytale. Such gowns by the likes of Michael Cinco have been garnering all the love this year.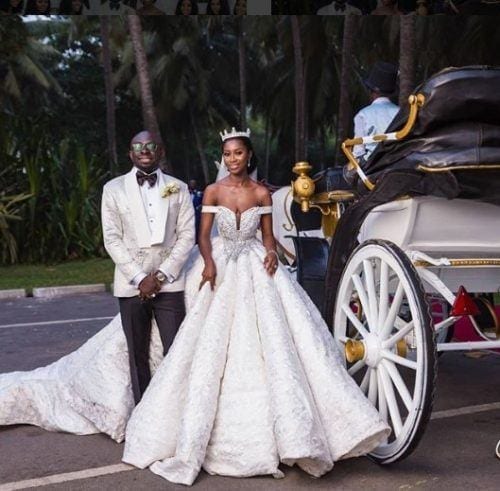 ↓ 4 – Ice Queen
Blue bridal dresses look sensational with warm skin colors and have been popular with bride-to-be's ever since Elsa got them trending in all haute couture boutiques.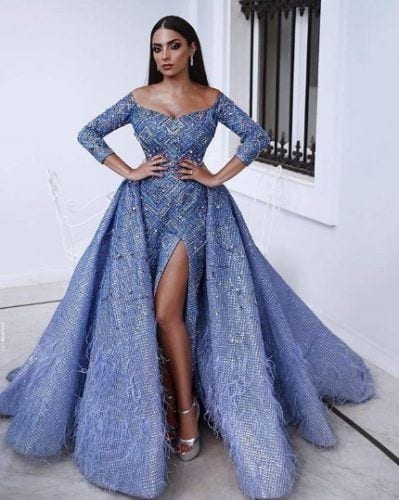 ↓ 3 – Modern Afronista
Many Nigerian brides tend to revamp their traditional dresses with voluminous and structured silhouettes. This teal number is the quintessential dress if you want to join the trend of futuristic high fashion cuts.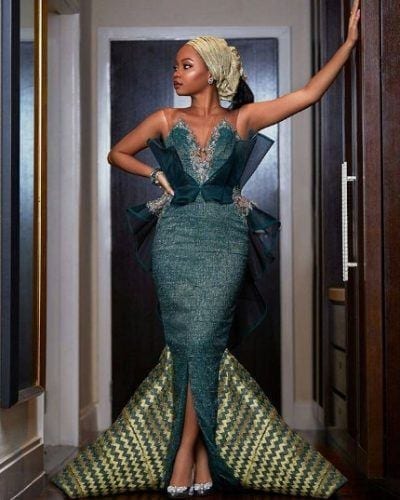 ↓ 2 – Elegant Pastels
Chantilly lacework is a classic look for brides. The ambrosial fabric creates a look full of grace, poise and simplicity.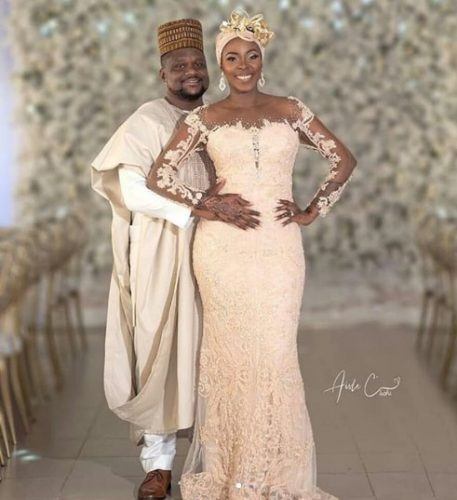 ↓ 1 – Regal in Red
A girl can never go wrong with a red dress. Many Nigerian brides turn to the bold color for its striking ability to adapt to any combination. This bride uses a red Ankara with beadwork for a vibrant look.