Best Indian Wedding Dress Designers. For the most unforgettable day of her life, every girl deserves to look and feel beautiful and this can not be possible without the right dress. But which Indian bridal designers are the best? How affordable are indian dress designers? And how should you choose the right bridal dress designer? Find all your answers here today.
We've compiled a list of the top 10 bridal dress designers in India along with some who are really affordable for brides on a budget. So have a look and let us know who your favourite one is.
Who Are the Top Bridal Dress Designers in India
Choosing the right bridal dress designer and a dress style are two of the most difficult decisions that a girl ever makes. So here are some simple tips to help you make the right call.
Start by deciding on a budget and be open when discussing it with the chosen designer.
Keep an eye out for sales and designer discounts. Some designers even let you bring your own fabrics so if you can find your fabric of choice at a good price, it can make your dress more affordable.
When it comes to choosing the dress designer, make sure that you do your research and short-list the designers whose work is in line with what you're looking for.
If you're going for a new and affordable designer, make sure to check with their previous clients and get to know their reputation.
When going for the wedding dress appointment, make sure that you go early as this is the time when you and your designer will both be most fresh and energetic to come up with some great ideas.
When choosing a wedding dress silhouette, always keep your body shape in mind instead of blindly going for something that's trending or looks good on a model.
↓ 10 – Most Affordable Indian Bridal Designer
Mahima Mahajan and Natasha Dalal are both our top choices when it comes to affordable lehngas. And being affordable doesn't mean that you have to compromise on quality because these designers are creating bridal lehengas that are simply lovable. Both of them are relatively new designers but they're immensely talented and creative. You can get a gorgeous lehnga designed by Mahima for under 50 thousand rupees and by Natasha Dalal for under 1 lakh. Have a look at 20 Latest Lehngacholi Styles These Days.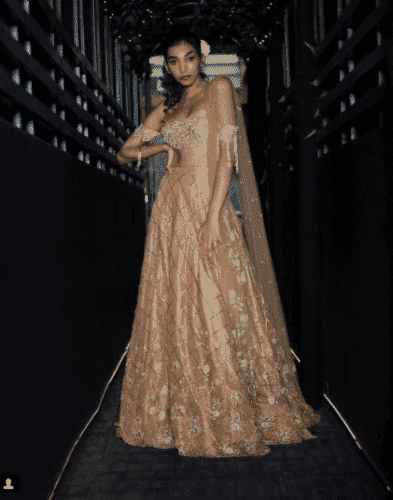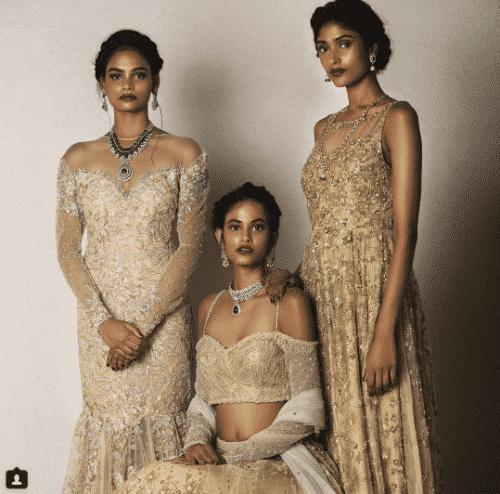 ↓ 9 – Bhumika Sharma
Here lehngas and anarkali dresses can make any bride look like a princess for her big day.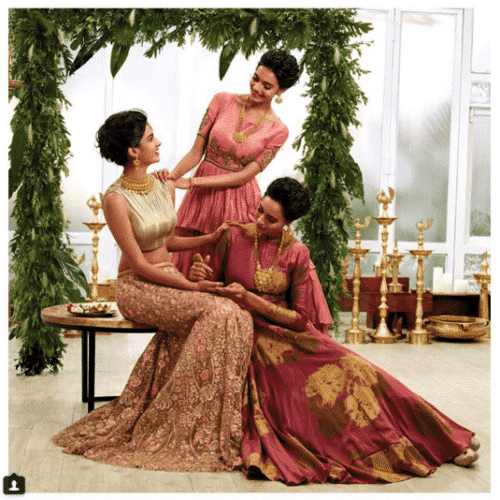 ↓ 8 – Ritu Kumar
How gorgeous is this vibrant colored banarsi lehnga for the classic Indian bridal look? Ritu Kumar launched her brand in 1969 and after all these decades, she has become more of a trendsetter than just a designer. If you have to describe her bridal wear in two words then it would surely be 'bold' and 'beautiful.' The best thing about her is that despite being an Internationally acclaimed designer, her outfits are pretty much reasonable especially as compared to other designers on the list. For more outfit inspiration, here are 25 Indian Celebrity Snapchat Accounts to follow.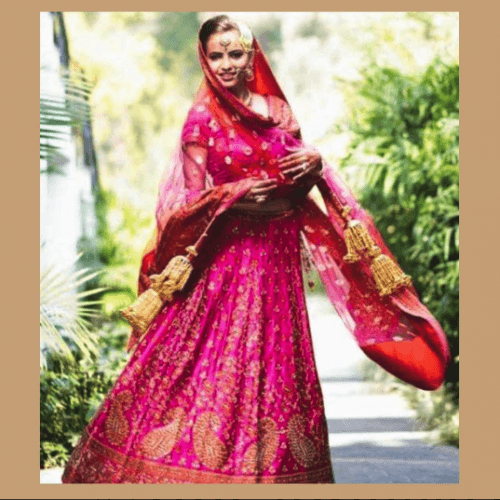 ↓ 7 – Shantanu and Nikhil
Nothing beats a simple and elegant gold colored bridal dress. It's all about royalty and grandeur and designers Shantau and Nikhil add to the grandeur of this color with their exquisite hand embroidery and dramatic drapes. So if you want to wear a gold dress on any of your wedding days, then this is the designer to go for.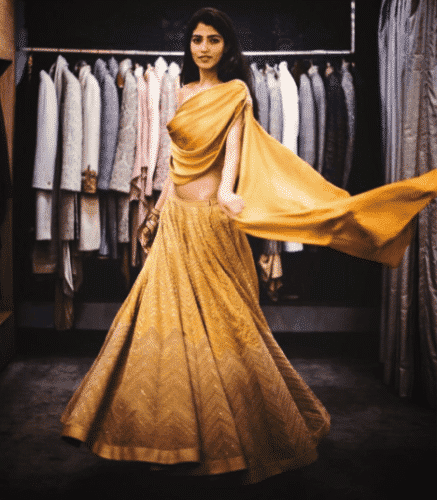 ↓ 6 – Neeta Lulla
This amazing designer is the only one to have won four national awards and she has been a favorite when it comes to Indian bridal wear, since more than two decades. She is not just acclaimed nationally but she has also been highly active in the International fashion scene as she recently collaborated for the famous bad 'The Chainsmokers'. The most recent news is that she will be designing the wedding dress for the favorite Indian comedian Bharti Singh. Her bridal wear is the best choice for girls who are looking for a contemporary bridal look. Do check out these Latest Bridesmaid Lehenga Designs.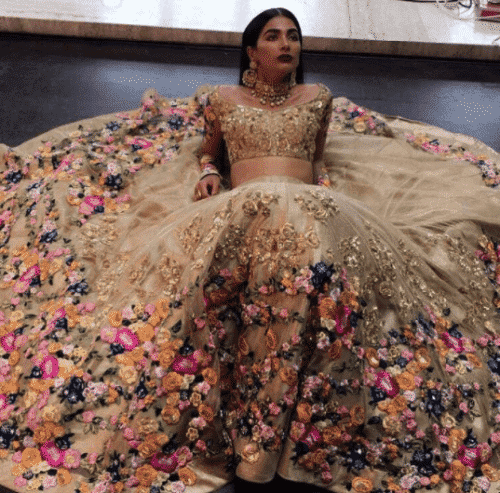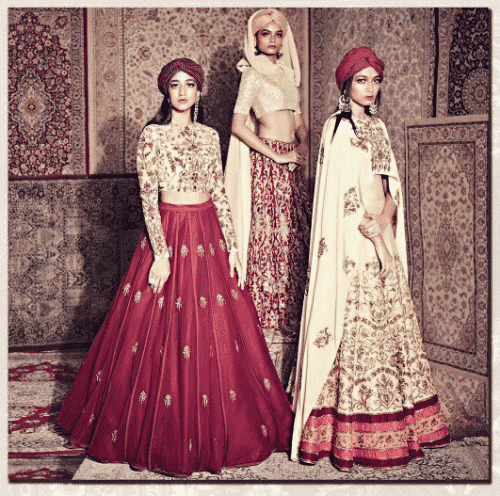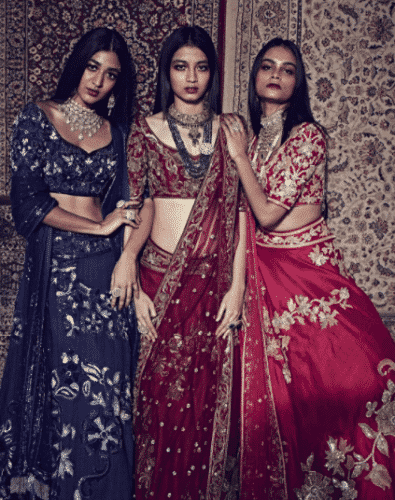 ↓ 5 – Manish Malhotra
His name needs no introduction and he undoubtedly is the king of bridal couture. Here we see one of the most beautiful silver bridal outfit designed by Manish Malhotra. His bridal outfits are always in line with the latest fashion trends and it can be seen here too in the form of the fringed cuffs and a bold neckline. His outfits always are a true definition of ethereal. You should also have a look at the Top 20 Bridal Dresses by Manish Malhotra.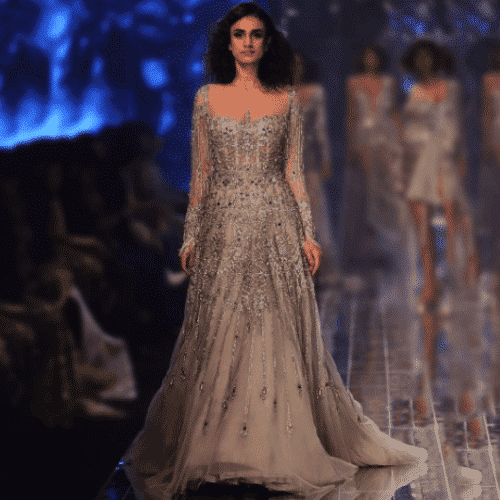 ↓ 4 – Abu Jani Sandeep Khosla
Aby Jani and Sandeep Khosla are the co-founders of one of the best Indian designer wear brands and we often see Sonam Kapoor looking marvelous in their creations. Here we see Sonakshi looking pretty in a pink outfit by the awesome duo.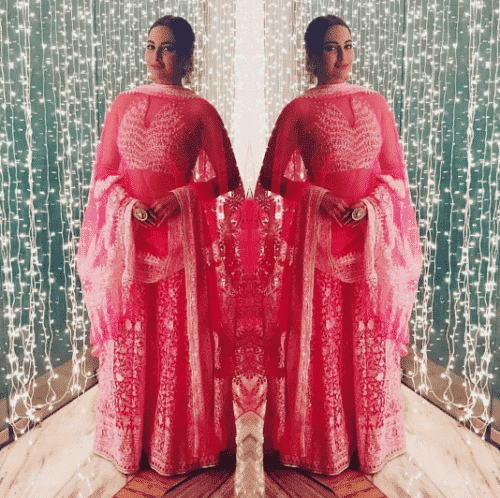 ↓ 3 – Tarun Tahiliani
Here we see a beautifully detailed saree designed by Tarun that is embellished with Swarovski crystals and gara embroidery. Tarun is one of the most often chose designers by the Bollywood queen Kareena Kapoor for attending special events. If you plan on wearing a saree for your big day, check out these 23 Latest Indian Wedding Saree Styles to Try this Year.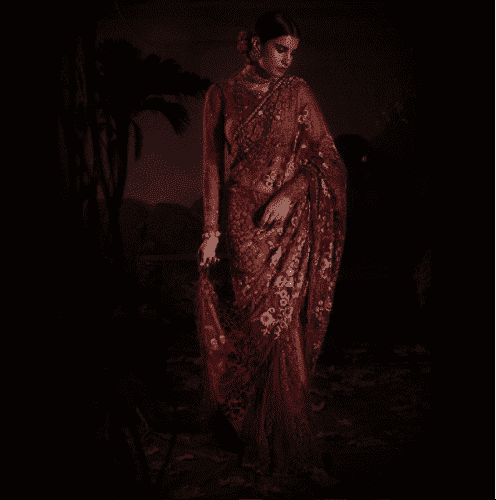 ↓ 2 – Anita Dongre
She's a designer who gives true contemporary colors to the extravagantly beautiful and traditional Indian aesthetics. Here you can have a glimpse of her latest collection of 2017/2018, that is inspired by the Rajasthani culture. The outfits include zari work, beautiful embroideries, gota, banarsi creations and so much more. As always, this collection of Anita's is also a very versatile and practical one.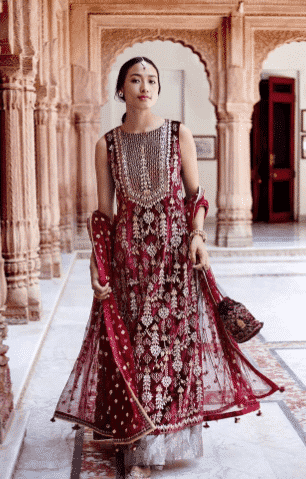 ↓ 1 – Sabyasachi
Sabyasachi tops our list of Indian bridal wear simply because of the designer's commitment to perfection which can be seen even in the most intricate details of his products. The mastermind behind this brand is Sabyasachi Mukherjee himself and he has been in the business since 1999. We've seen many great celebrities take pride in wearing his outfits and jewelry, such as Deepika Padukone, Kangna Ranaut and many more. Rani Mukherjee chose to wear a Sabyasachi lehnga for her own wedding. For all these reasons, Sabyasachi continues to be an Indian bride's dream designer.