Korean Women Fashion – If you are a fashion lover then you must always be looking for the newest trending ideas and tips. There are plenty of fashion trends that are very popular in Korean girls that also spread out to serve as global fashion trends. Korea is that one place where people are fashion freaks and Korean girls love dressing up well, no matter wherever they go.
With these new clothing ideas, you can enhance your style and beauty. Today we'll go through the best dressing ideas inspired by Korean girls where you can use a mix and match of colors and styles to create your own unique outfit.
What Are The Latest Korean Fashion Trends?
We have selected several kinds of styles, from dresses, tops, maxis, shorts that you can arrange in your closet by seasons; won't that be helpful?. If you are someone who loves to experiment with their outfits you might end up loving and later on trying these outfits ideas. Since you will have so many styles to pick and choose from, once you know what suits you the most then you can easily be your own stylist rather than spending a lot of money on stylist advice which a lot of girls opt for. We aim to show you varieties of dresses that are being worn in the latest Korean fashion by women and hope that you can pick the right ones for yourself. This is like the perfect Korean fashion guide for young girls who love to dress up well.
Go for styles that suit your size. Honestly, not all kinds of dresses are meant for everyone so designers have introduced the petite and plus size specialties in clothing.
Experiment with different cuts. It is not necessary to wear a similar kind of straight cut in all the dresses. Choose a variety of different cuts for unique experiences.
Dress according to seasons. There are colors that have their own significance according to every season so if you really want to live fashion to the fullest, choosing colors according to seasons is a nice way to go about it.
Accessorize your outfits. Adding a bunch of jewelry to your clothes magnifies the whole look even more. You can always uplift a simple dress by wearing a nice statement piece or fashion jewelry along with it.
Try and match your shoes, bags, and belts to the same color or at least within the same family of color. For instance, if you plan on wearing golden shoes, the clutch or bag you intend to carry should be in shades of gold too. If you plan on wearing a belt as well then it is best suited that you wear that of golden shade as well.
Draw a fine line between casual and formal wear. You should always know which dress is appropriate to be worn at what event. Otherwise, there won't be a difference in your appearance on a regular supermarket trip or a high-class yacht party.
A little bit of makeup never hurts. Well if you love makeup and enjoy going overboard with it, well and good but, if not then there are products available by designer and drugstore brands that are for people who like going light on makeup. Either way, we're sure you'll look gorgeous!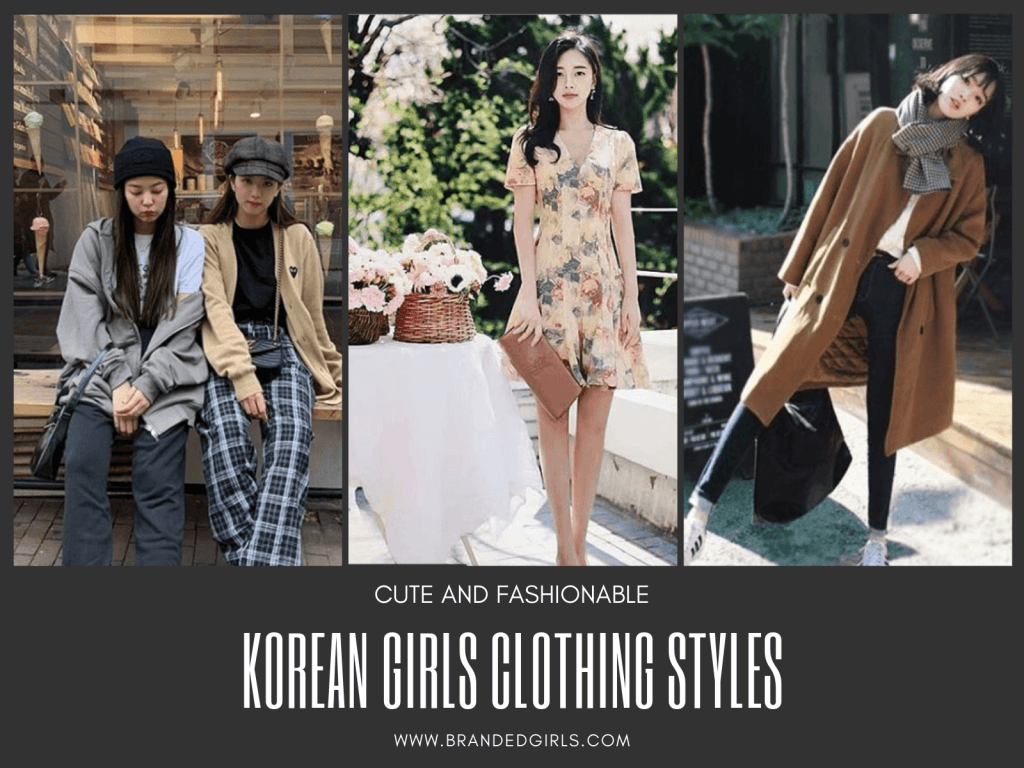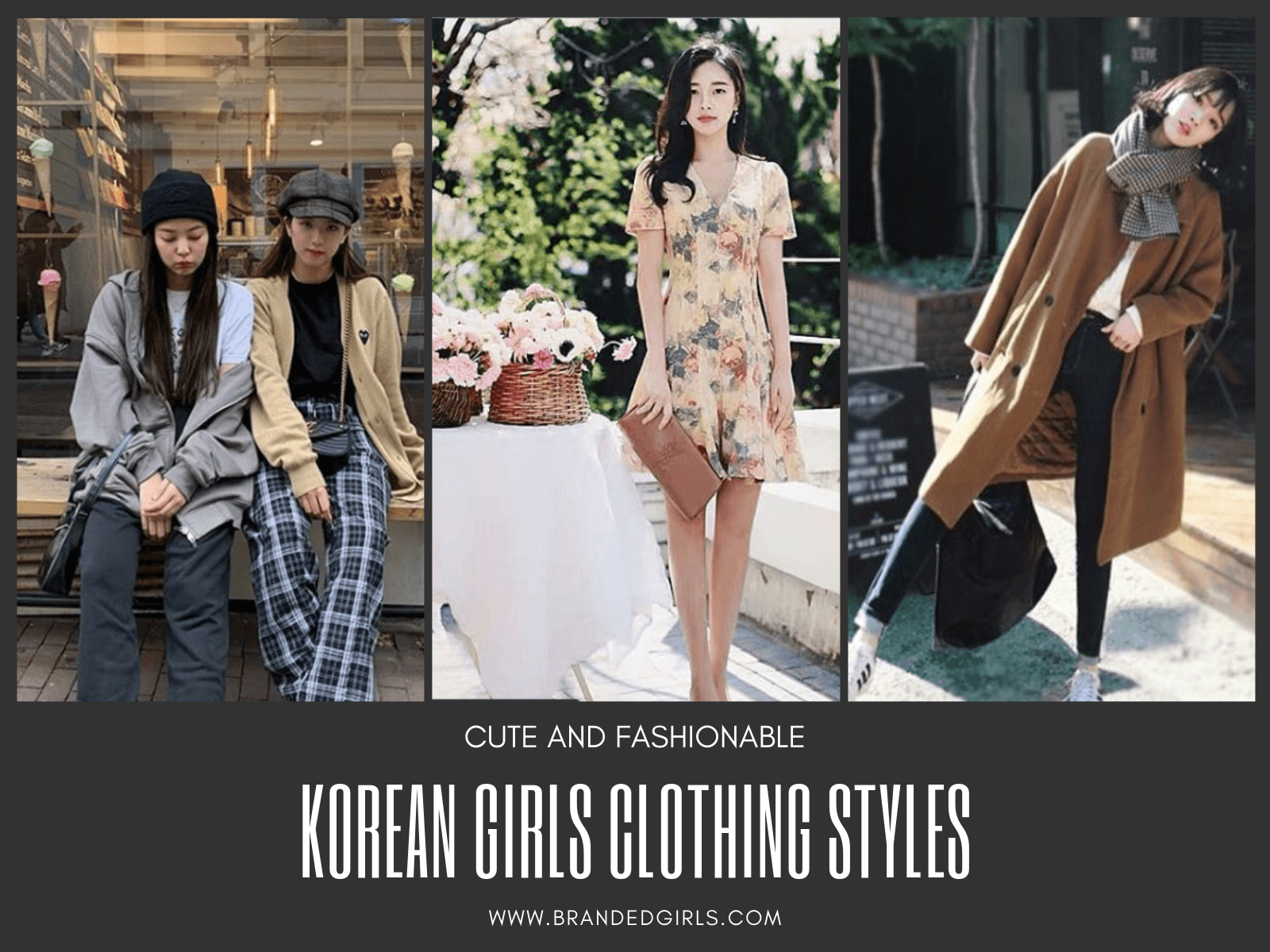 What Are Some Good Korean Clothing Brands For Women?
Before we move further ahead, we'd like to share with you some of the most amazing Korean fashion brands and designers, so you know where to go shopping for the looks we discuss today. One of our favorite ones is the brand "beyond closet" by designer Ko Tae Yong. Other cool brands include Mixxo, BSQT, Kye, HUPOT, Raike Nen, Style Nanda, Lucky Chouette and Yong Kyun Shin. All of them have been producing some amazing outfits and are being recognized internationally.
To let you in on the best of ideas and latest trends so you can find the perfect outfit for yourself here are the top Korean fashion ideas you should follow.
↓ 18 – Plaids Are Timeless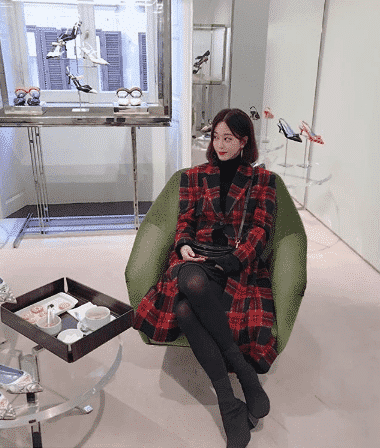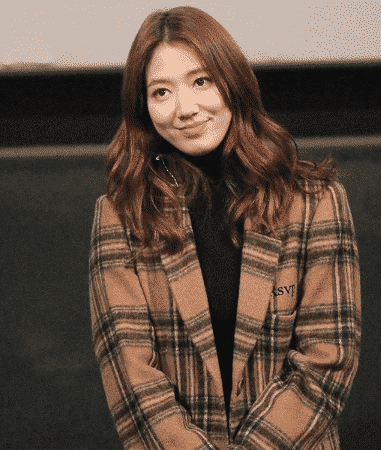 ↓ 17 – Stand Out With Your Puffer Jacket
Puffer jackets are the easiest way for Koreans to stand out in a crowd. Korea probably has the best variety of puffer jackets because of how popular these have lately been there. If you have to buy a new jacket this season, don't miss out these Top Women Jacket Brands.
↓ 16 – Everything Oversized Works
Like Korean men, Korean women too, love wearing baggy and oversized clothing, perhaps this is where the boyfriend clothing trend emerged from. So whether its a hoodie, jacket, shirt, jeans or blazer, size is not an issue!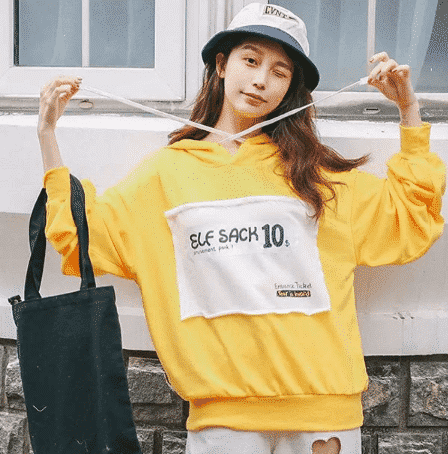 ↓ 15 – The Longer The Better
When it comes to jackets, the length is not an issue since they carry even the longest jackets with such perfection.
↓ 14 – Most Popular Korean Haircut & Hairstyle 2019
The most trending haircut this year amongst Korean women has been the bob cut that gives them such a fresh and light look. If you're looking for some new hairstyle ideas, do check out these 25 Suitable Hairstyles for Petite Women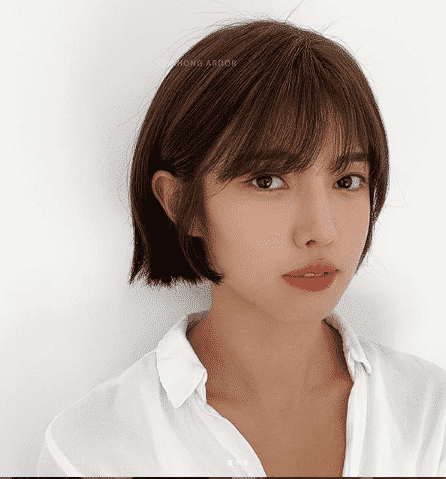 And when it comes to hairstyles, buns of all sorts are forever their favorite. Based on the occasion, the buns can also be accessorized with flowers of pins.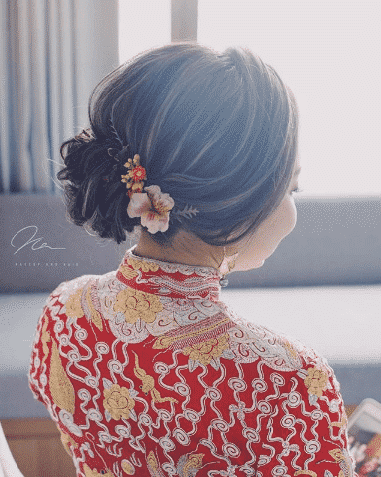 ↓ 13 – You Can Always Wear A Beret
Korean girls look oh so chic in beret hats which is why these hats are seen literally everywhere!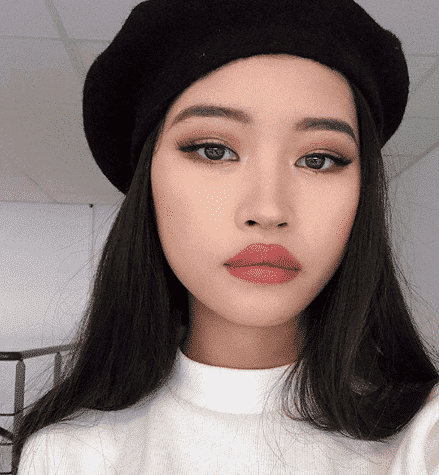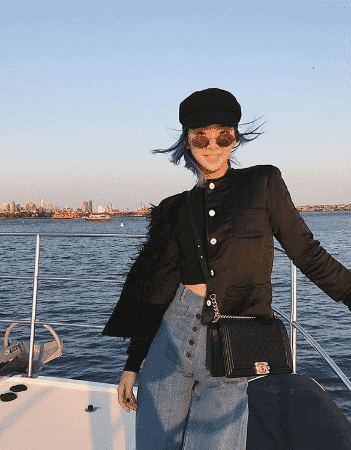 ↓ 12 – College Girl Style
If you want to look like a hot Korean superstar in college, then this is the look to go for. Black shorts and cardigan with white basics. The brown bag along with brown shoes would look great to break the monotony.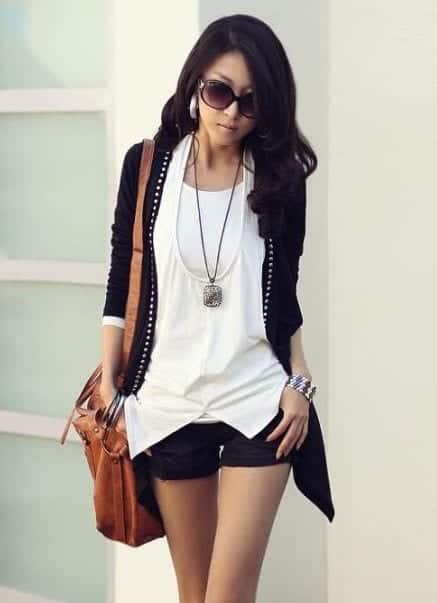 If diva stuff for college is what you're into, this brown dress with a hat can justify your style too.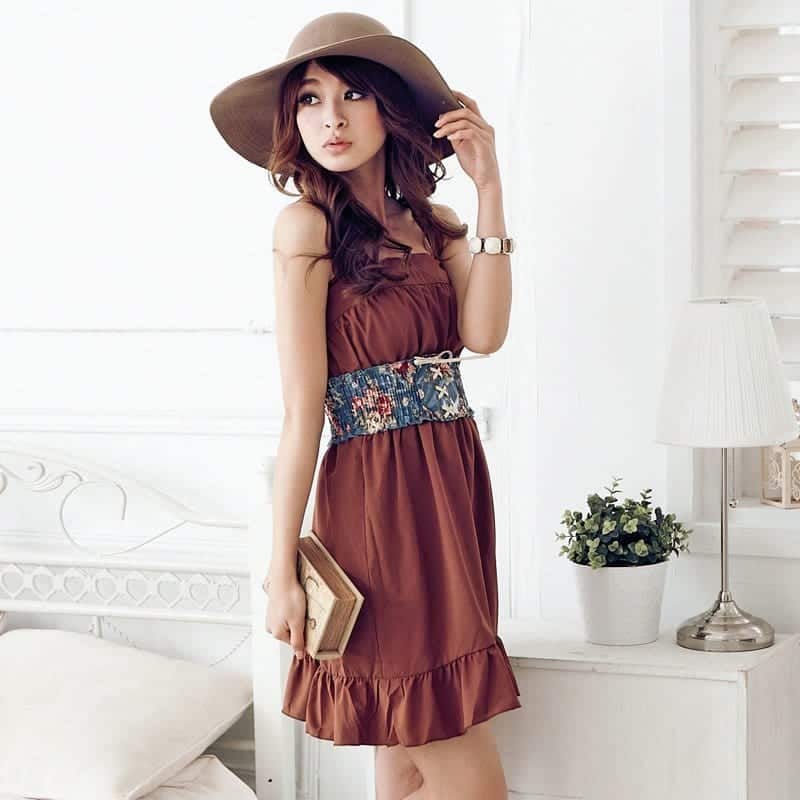 Well if you are someone who prefers to be chic and modest at college these jeans and pullover outfit with black booties are your perfect college look friends. You can sway anybody at college with this style without wearing too much-revealing clothes.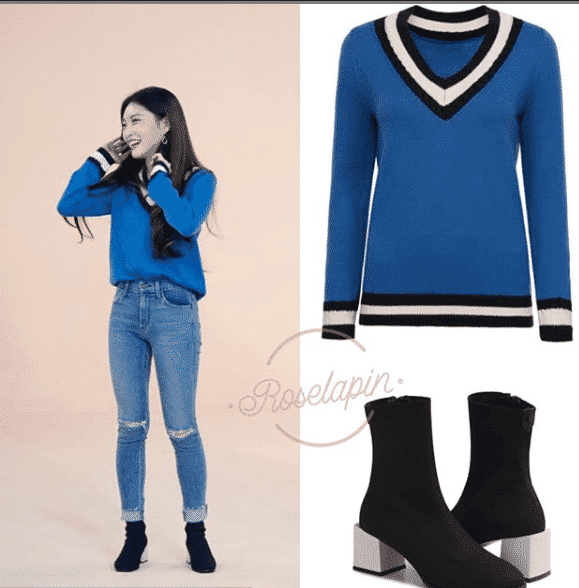 ↓ 11 – Winter Casual Wear
For casual wear in winter, you can wear loose knee-length sweaters. These knee-length sweaters are extremely cozy and comfy. Along with that, they're also very cute and elegant if worn the right way. For the perfect combo go for a purple colored loose knee-length sweater and then long boots in contrasting color. For example, with a purple colored dress, you can wear light-colored jewelry and white colored high heels.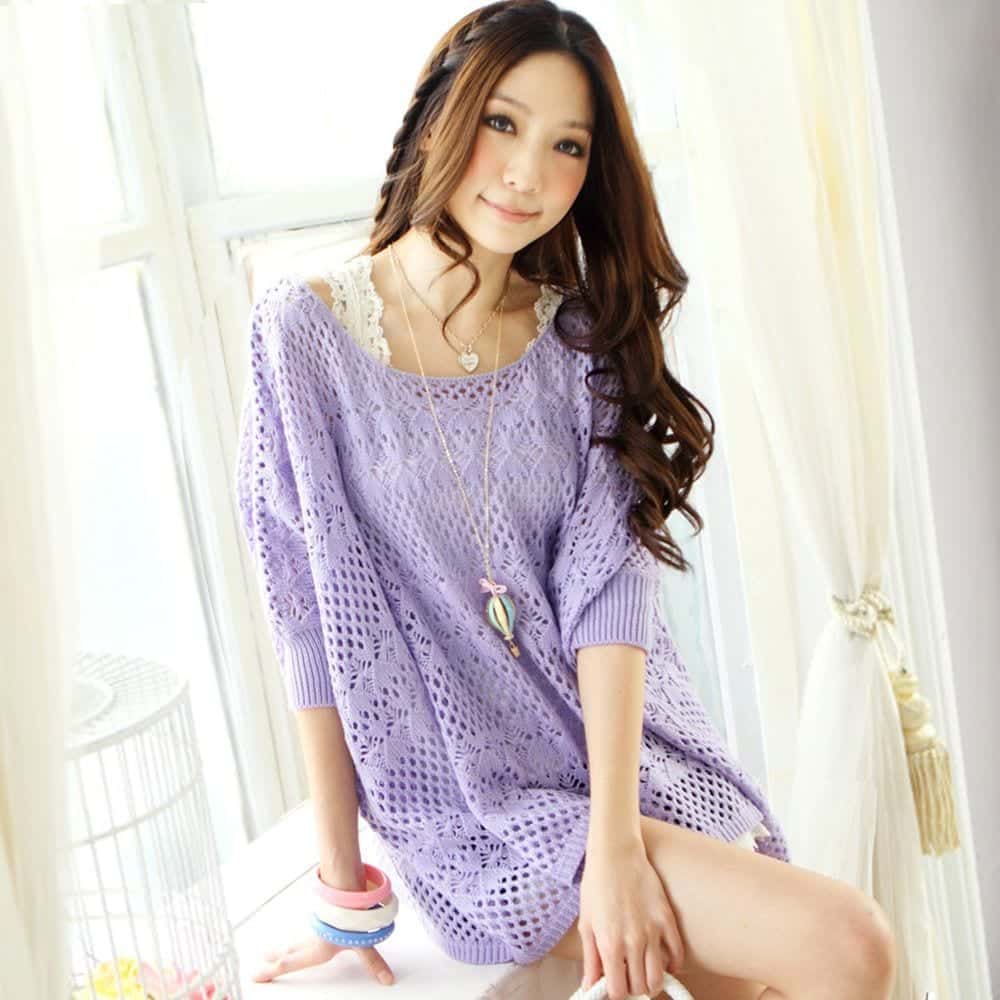 ↓ 10 – Short Dressing Style For Summers
Summers in Korea is the time of the year when minis make it to the front of girls' closets. Shorts and mini dresses are Korean girls favorites for summer fashion. You can style your summer look with a fitted mini dress and petit cardigan. Matching shoes and purse will make your look even better. Most Korean girls have a skinny figure so here are some Cute Outfits for Skinny Guys & Styling Tips With New Trends.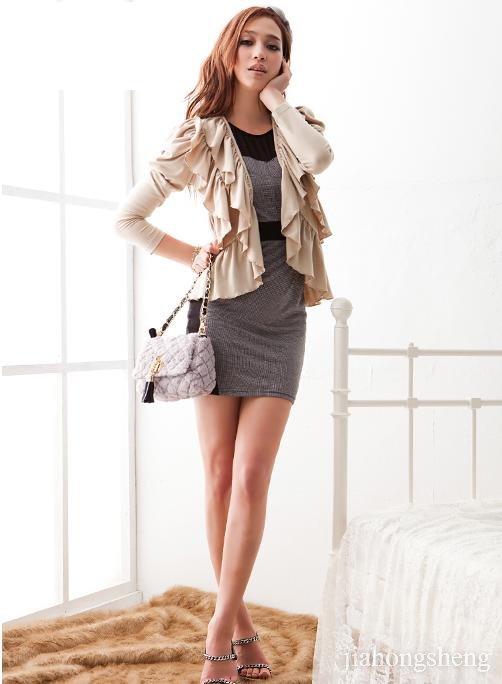 Another style of mini dresses is this tan tunic dress that hangs loosely from shoulders to thighs.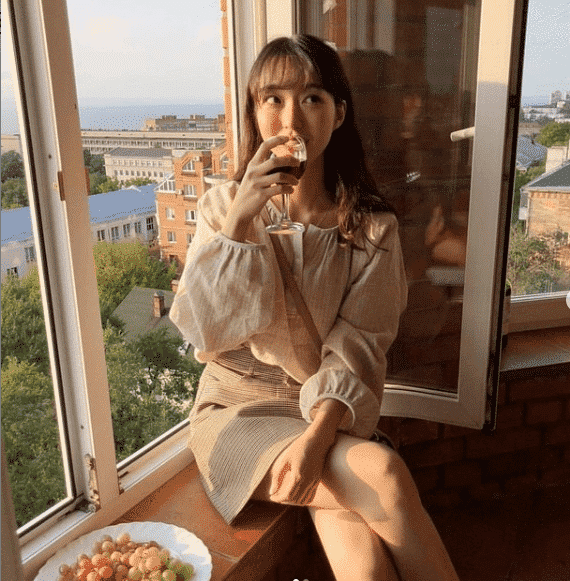 Shorts and tee shirts make the best casual summer style. If you are someone who doesn't like the dangly jewelry and fancy looks, this simple short with a shirt and sneakers style is best for you. In fact, sneakers or running shoes are the most preferred type of shoe for most Korean girls.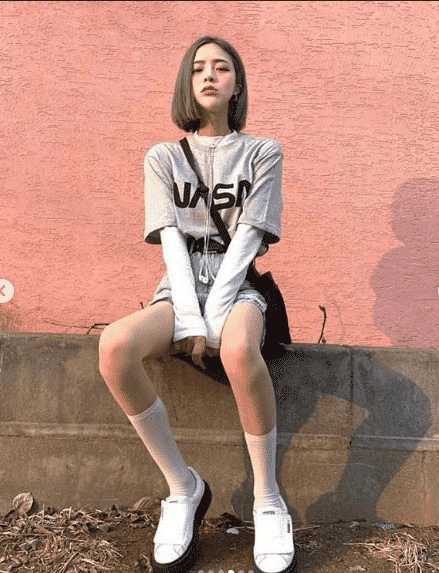 via
If mini dresses aren't something your personal taste approves of, you can also go for the midi dresses like this white mesh lace dress that is perfect for summers because white is basically a summer shade. You can wear any color shoes with this dress whatever you like, red, black or blue, they will all look great. Wear a pair of silver hoop earrings and ta-da!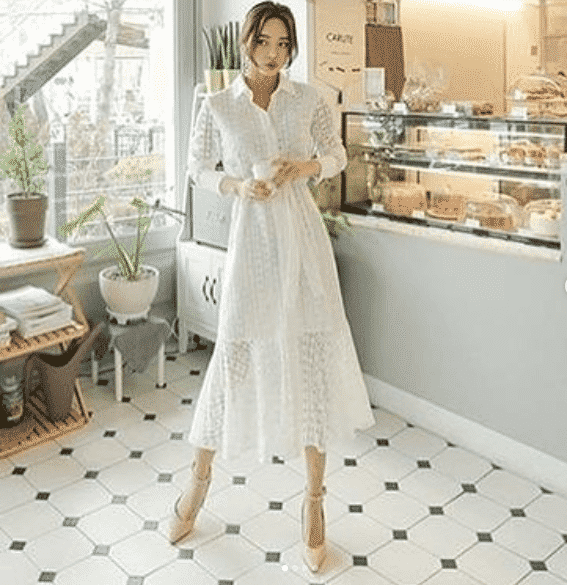 ↓ 9 – Floral Long Maxi
Printed floral maxis are a must have item in Korea and they always look spot on. This one that we see here has a gorgeous smoking design at the chest area, giving it the X-factor. Such designs look especially great on petite girls. and if you're one of those girls then don't miss out our fabulous guide on 25 Cute Outfits for Skinny Girls. This outfit can be worn when going out for a date for the first time or when going out with your best friends. For the perfect look, go for light colored floral maxi and pair it with brown or any other light colored shoes and handbag.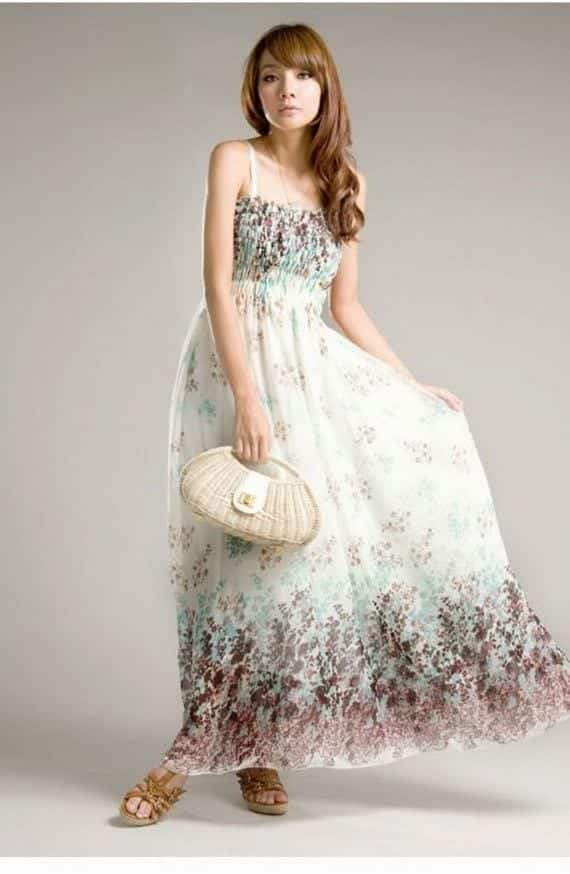 ↓ 8. Fancy Outfit for Party
Silk is always the best choice for formal occasions. No matter where you're going, a silk dress can never go wrong. If you are going to a formal party with your office fellows and you want to look responsible and elegant then this type of silk knee length dress will be perfect for you. For this particular look, you can wear a purple colored dress and then pair it up with silver and white jewelry for a perfect look. For the shoes; you can wear white colored wedges or high heels if you are into heels, otherwise, just go for flat pumps or ballet shoes.
Silk Slip dresses like these are not just fun to wear but are also available at extremely reasonable prices so you should get some in all your favorite colors. By dressing them up using fancy accessories and shoes and a nice hairstyle, you can easily wear them to formal dinner events like Thanksgiving or Christmas too.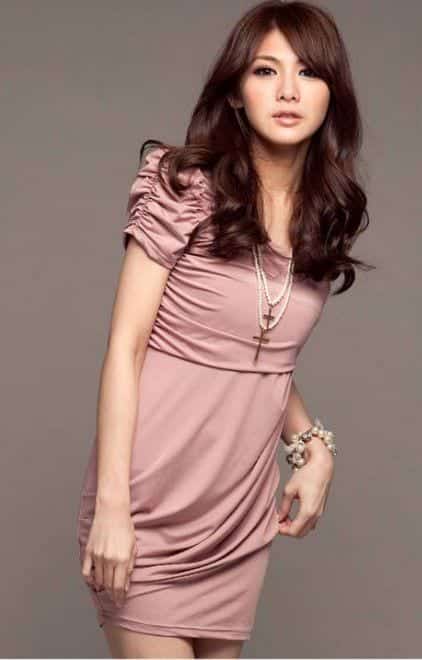 Another great look for parties is this yellow mini dress that is just perfect for daytime events. Yellow is particularly a summer hue so a yellow dress paired with white wedges and an evening purse can make a pretty outfit. For weddings and more formal gatherings, Korean girls choose sequins dresses as well and fancy them up with beautiful jewelry.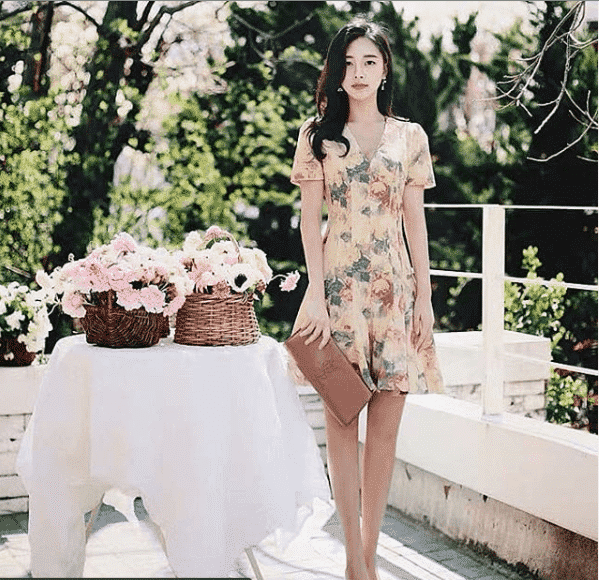 via
↓ 8 – Cute Outfit for Korean Girls
This contrasting outfit is perfect for college going girls. For this kind of outfit go for a jet black chiffon knee length dress and then wear a petit jacket in white color for a perfect combo. For the jewelry and other accessories, you can wear them in either black color or you can add uniqueness by wearing it in red color.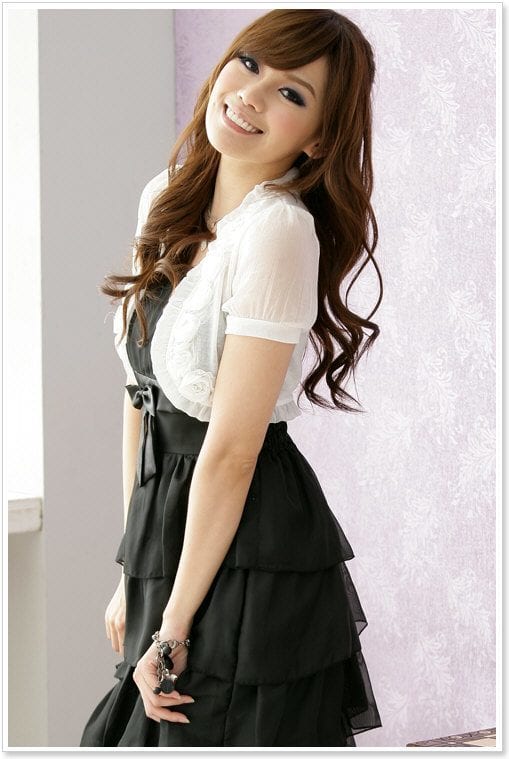 ↓ 7 –  Korean Girl Cute Makeup
We don't often get to see Korean women going heavy with makeup; they do emphasize too much on skincare though, no wonder they have such beautiful skins. Thin eyeliner, some blush, and lipstick or lip gloss is the most makeup we get to see Korean girls wearing. Where they might make use of foundations and concealers as well, it is so minimal that you can hardly be sure about it. Anyhow, we can all take a lot of inspiration and beauty tips from Korean girls to maintain nice and healthy skins.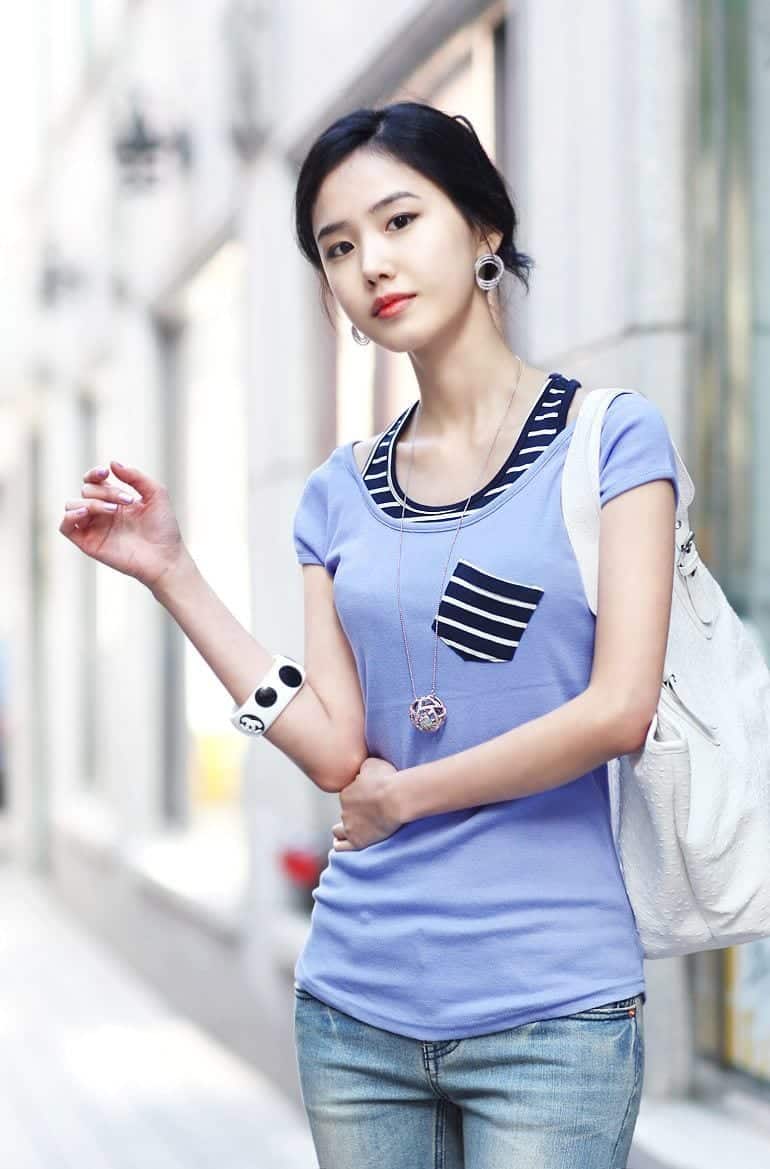 ↓ 6 – Denim Jacket Fashion
Wear your denim jacket with shorts and ankle booties for a swag Korean look. The short bob hairstyle also looks really cool with this outfit.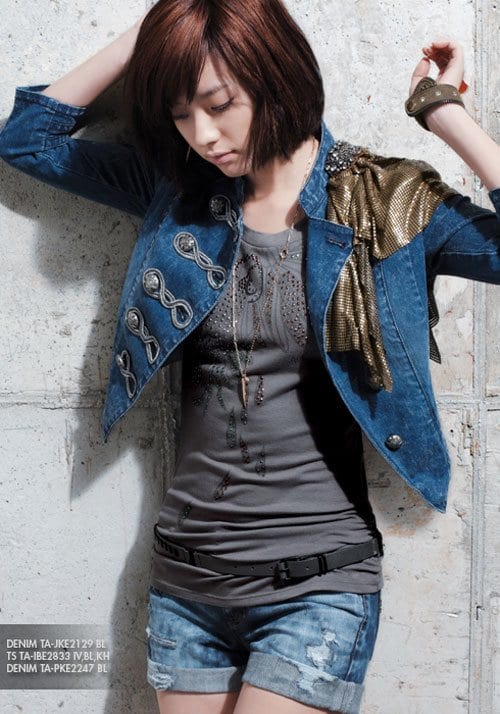 ↓ 5 – Korean Girls Street Style
Where casual street styles for Korean girls are usually jeans with tees, some girls choose to take the unique road to street style fashion. Baggy pants with oversized jumpers, sneakers, and caps are a nice twist to the usual pants and shirt look.
↓ 4 – Winter Coat Outfit Look
Winter fashion in Korea is pretty much the same as any other part of the world. Coats, jackets, boots, and sweaters are must when it comes to winters. Style your winter look like Korean girls with jeans and a top and of course a nice coat to go with it. You can try puffer coats as well as they look super cute especially if you are someone with a frail physique. Add a scarf around the neck and you're ready!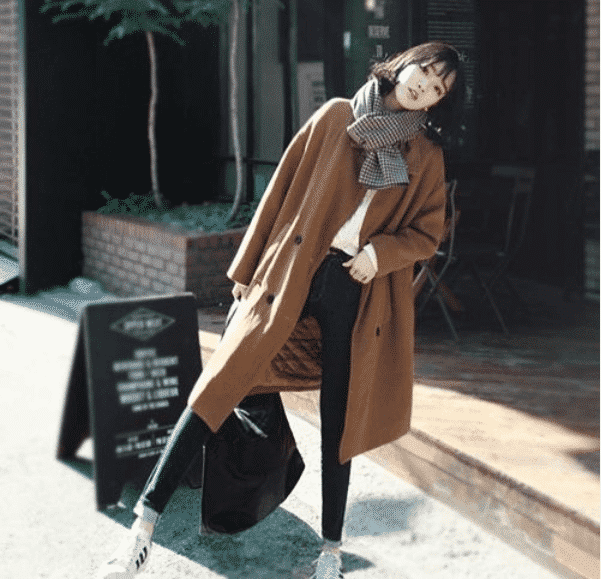 ↓ 3 – Korean Girls Hairstyles
Korean women usually let their hair down. Owners of naturally silky hair, doing hairstyles is not much of a hassle for them. They usually leave their hair straight for a casual everyday look and for formal events what mostly they do to their hair are blowdries. Where every once in a while they might get updos done mostly it's just hair let down. Although, hair length has been brought into the limelight in Korean fashion for 2019 where girls are very much into getting the bob cuts (as we discussed earlier); others are just loving their long locks.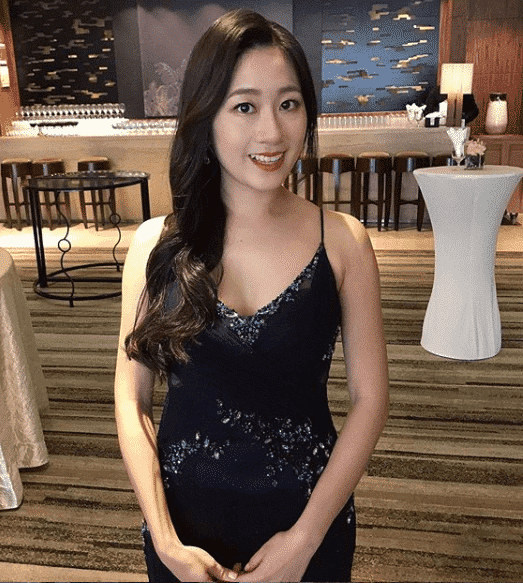 ↓ 2 – Korean Workplace Fashion
Korean workplace fashion trends 2019 are all about looking classy and neat. Korea's most favorite office dress code is most likely to be skirt suits. A close to knee length skirt with a button down shirt and a blazer; this is also something we get to see on a lot of K-dramas as well. If you don't want to go too prim any blouse on a skirt would make for a decent workplace outfit. Pair with basic color heel pumps and you are ready for work.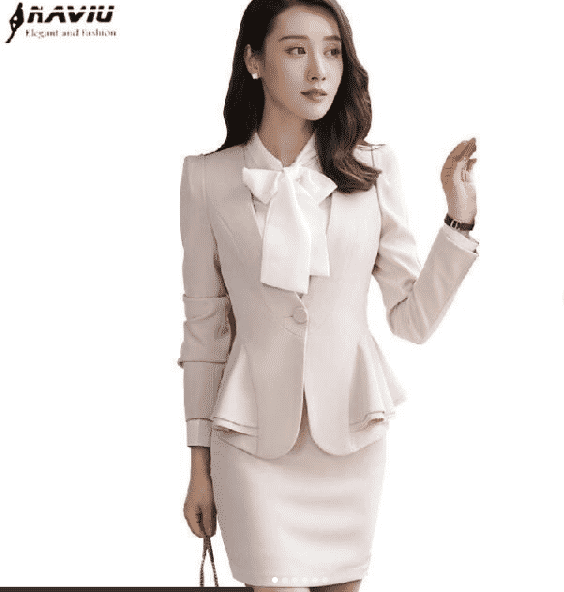 ↓ 1 – Cute South Korean Teen Girl Style
Korean women are known for wearing dresses. This sweater style dress is a nice take on winter fashion. This style although worn by a young teenager here is actually pretty suitable for women of all ages. Wear a knee-length sweater dress on stockings with boots. Throw a beanie over your head and voila! You are going to be the most ravishing beauty on the streets.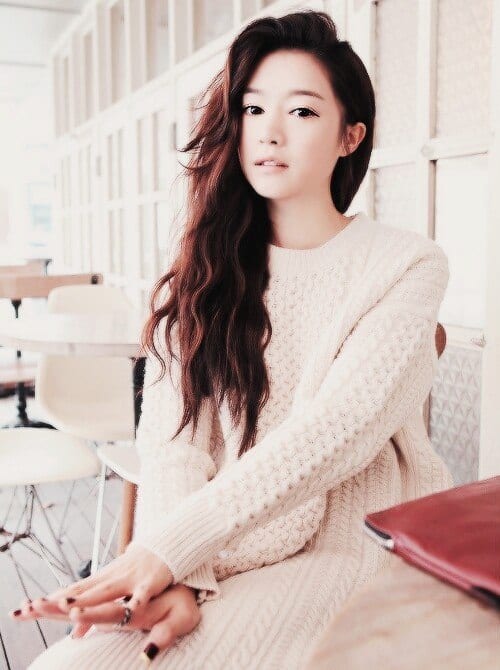 These were a few of the styles that are famous in Korea. You must try these trends and change your styles every now and then so you can be sure of what suits you the most.