Outfits With Hot Pink Heels – Some thrilling colors instantly grab everyone's attention. Such colors are perfect for adding to your outfits – especially on days when you don't have the energy to create an impeccable look. Trust me; it's annoying when you have your outfit ready but can't decide what shoes to pair with it. So, grab your hot pink heels on such days and be the center of attention.
It's one such raging trend that teenagers and adults love for all right reasons because, hey, who doesn't want to stand out in style?
I do recommend that you check out these Affordable Designer Shoes.
Hot pink was having a moment in the spring and summer last year – runways prove that the color looks incredible no matter how you style it. But, the charm this color has will not let the trend die anytime soon, as many celebrities and fashion bloggers are adopting the hot pink heels trend.
So ladies, get ready to add a fun dimension to your outfit with hot pink heels.
Best Outfits to Wear With Hot Pink Heels
As Marilyn Monroe said, "Give a girl the right shoes, and she can conquer the world." I think she was talking about pink heels because this versatile item creates rocking looks every time it's paired with something.
This piece is truly an investment – all you have to do is choose the right pair that fits you well and is comfortable. There are lots of good heels to wear out there, but these have to be the best, especially when paired with a matching hot pink dress.
Pink has a feminine aura that adds elegance to any boring outfit, creating an utterly chic look. However, styling it can be a bit tricky. The vibrant intensity of the color can either rock or shock everyone with a mismatched look. But, that should not stop you from embracing these heels because I am here to help you find the best picks for you!
Let's start with some rules for wearing hot pink heels. Keep them in mind, and you will never make a fashion fiasco.
Dos And Don'ts for Styling Hot Pink Heels
Pink is a vibrant color. Therefore, style it with lighter tones to balance the look. An all-bright look is too much and isn't chic.
If you are hesitant about experimenting with the colors, go for black or white outfits. These heels look great in both colors.
Don't buy highly fitted heels; they can cause unnecessary pain and cramps. Your heels should have vast space for your toes.
When buying heels, make sure to do a walk test. This way, you can feel whether the heels are comfortable and fitted nicely.
If you have been considering giving hot pink heels a shot, check out these hot pink skirts to level up your fashion game.
21 – Level Up Your Fashion Game With Hot Pink Paxtey Pumps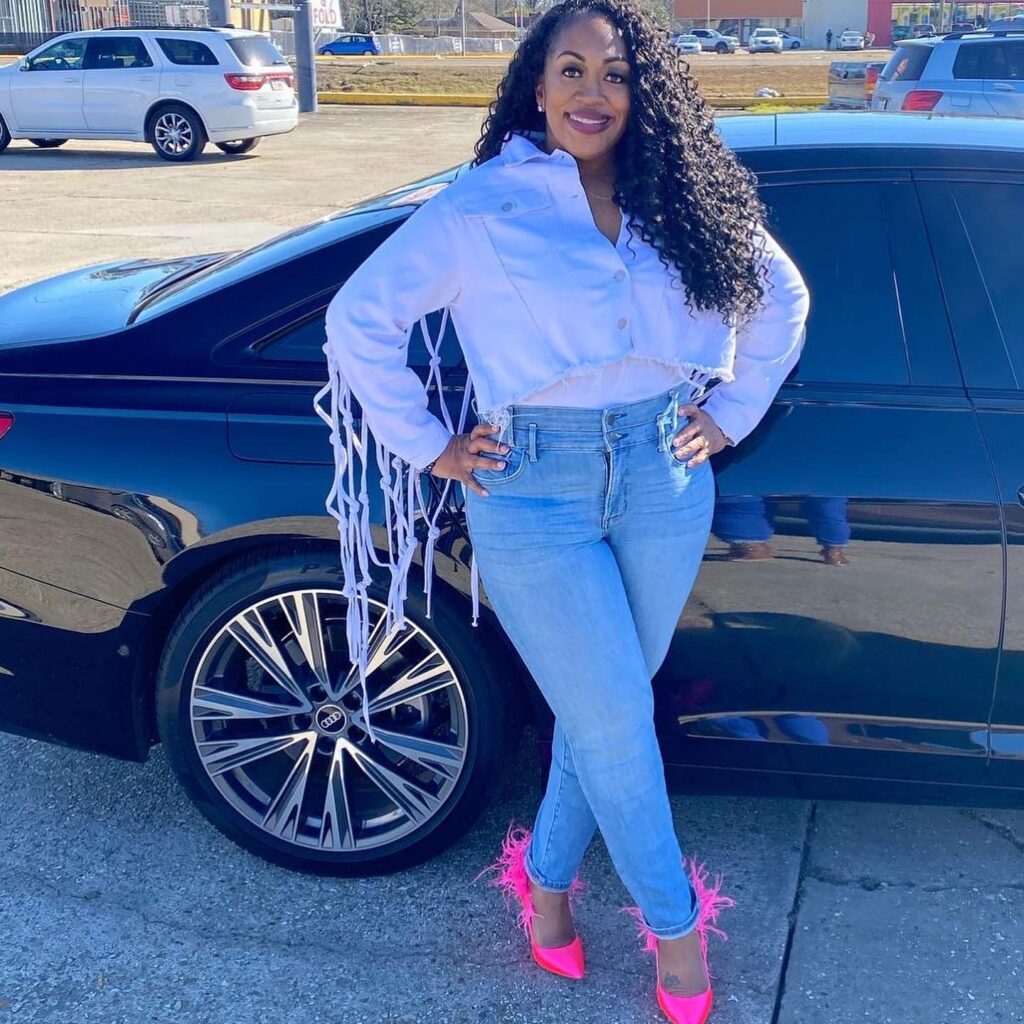 20 – Pair Culotte Pants With A Sheer Sequin Top
Most people, including me, love all black because not only does the color look perfect on everyone, but it saves you from the hassle of pairing one color with another. All you are required to do is to take your black shirt and trousers out and wear them. But wait, you are not ready yet, where are the shoes?
We always focus on outfits and provide the least consideration to our shoes. The right pair of shoes is necessary to make you look edgy and stay comfortable. Therefore, choose hot pink heels this time with your black outfit.
Still a little skeptical? Have a look at this picture for proof. Who would have thought the baggy pants and sheer top could look this incredible? Create a similar look by pairing a sheer black top and baggy pants with hot pink heels.
Moreover, a bra would look good under the top but if you don't want to show off your skin, add a black cami top. Finish the look with a designer shoulder bag and your favorite glasses.
Here are some more of my favorite Sequins Outfits.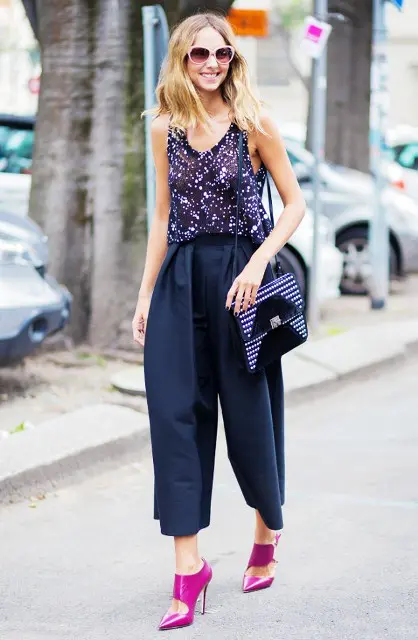 19 – Try A Colofurl Mini Dress With Hot Pink Heels
If you are someone who loves colorful clothes, then this look is for you. Get yourself a similar mini dress and grab all the attention with some cool and vibrant colors.
Pairing hot pink heels is definitely a great idea since the little bit of pink in the dress makes it a more put-together look.
This look is appropriate for parties, baby showers, or lunch with your girls – the look is ideal for days out in the sun.
Moreover, Maang tikka is paired with a western outfit that takes a look to another level. Apply purple nail polish and wear a matching bracelet. Complete the look with minimal jewelry and your favorite bag.
Don't miss out this list of Best Shoe Brands For Walking.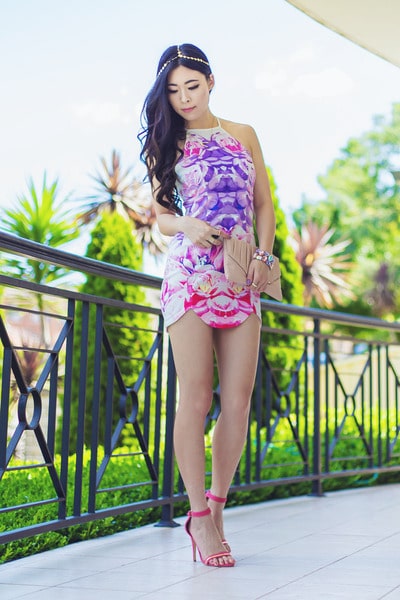 18 – A Sheer Summer Dress Is Best For Formal Occasions
A white dress brings you classy vibes, but it can look dull if it's not paired with the right accessory and shoes. Bring some elegant vibes to your outfit with hot pink heels and a matching clutch with it.
I would definitely recommend wearing a white bodycon or a dress that shows your best features. Wear this dress and heels for a day out with your girls or on a date night with your beau.
Further, create a messy bun, preferably a side one, to give some elegant vibes. Lastly, throw in your favorite pair of shades, and you are sorted.
17 – Stay In Trend With An Off Shoulder Top
Pink heels can never go wrong with denim and a white shirt. Wear an off-shoulder white top and ripped jeans for a day out with your girls. Some embroidery on the top would look fantastic.
If it's cold outside, add a coat over, and you are ready for the day. Moreover, add a handbag, get some cool curls, and throw in your favorite pair of shades to finish the look. It's definitely a look that emanates elegance and class.
16 – A Breathable Summer Look
Here we bring you a lightweight and breathable summer look. I love how balanced this look is – a blue and white dress with bright heels that don't overshadow the look.
The colors look incredible together, and the hair is tied to create a neat look. Perfect for summer cocktails or for days out when the scorching sun is unbearable. It's a fresh look that I would definitely recommend creating in summers.
For this look, keep the make-up very light. Make sure you have that fresh glow to look great. Moreover, wear minimal earrings or a necklace, and you are sorted!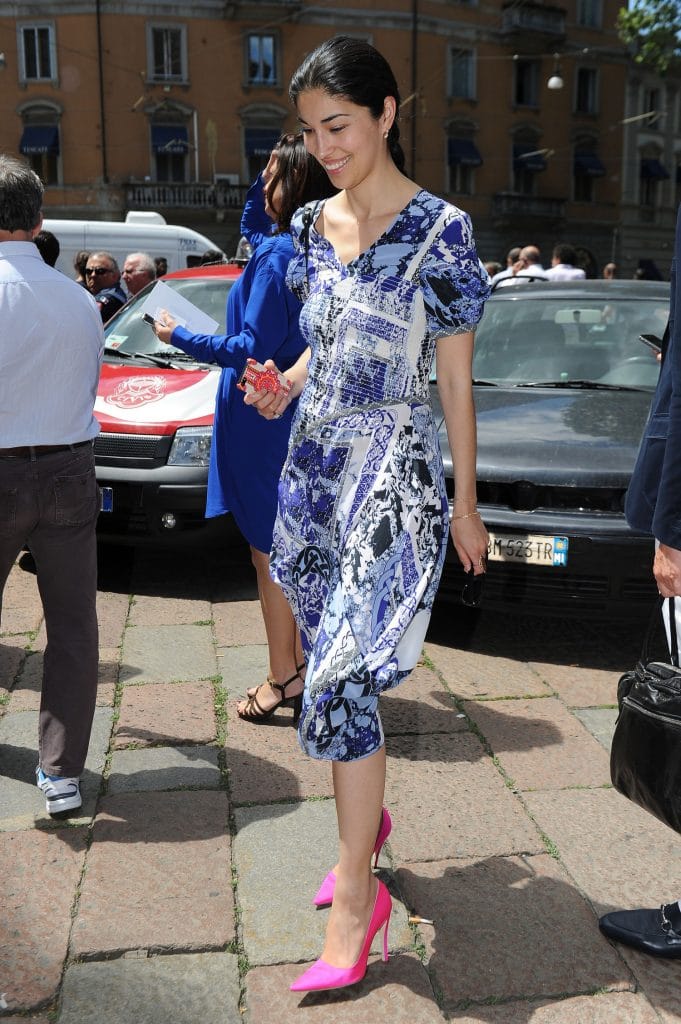 15 – Sarah Jessica Parkers Mixes Stripes With Florals
Sarah Jessica Parker seems to love hot pink. She has made multiple appearances with this color in her outfits. She rocked it all whether it was heels, cross-body bags, or a mask. Here are two of her most loved looks.
The first one is Sarah twirling her hair and truly enjoying the moment while she is photographed in her lovely yellow outfit. I love her floral blazer and two-toned trousers – this eye-catching look definitely should be on your outfit recreation list.
Create a breezy look with similar two-piece sets, add a clutch and heels, and be the talk of the town!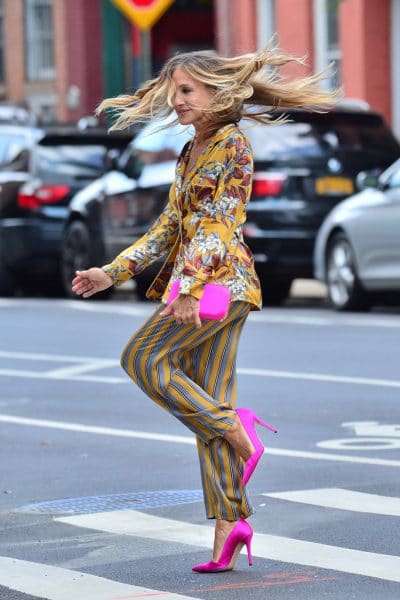 Think of a more chic yet comfortable look with hot pink heels, and I will wait. The outfit is a whole different vibe.
This is one such look that I am looking forward to creating because it has everything I want in my outfit – a comfy sweatshirt, pants, a fantastic fluffy coat, and some sass, aka hot pink heels.
And, how can we not talk about this copper color crossbody bag with blue stripes? It looks fabulous! Indeed, an effortless outfit, and I love how Sarah is nailing it. These two looks are proof that Sarah has got some great fashion sense.
14 – Solid Bottoms With A Printed Overcoat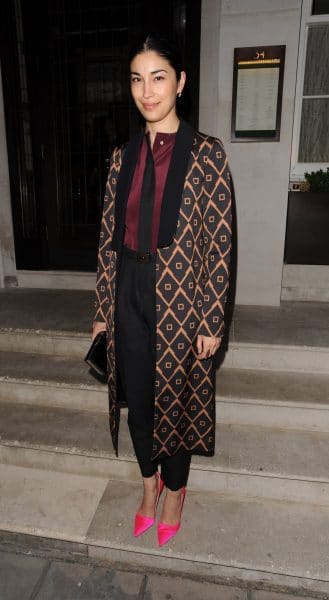 13 – Pink Blazer With Matching Heels
I know we are used to wearing blazers in black or white. But take a bold step and wear this pretty pink blazer with the same color heels to create a classy and chic look.
12 – Cropped Denim Jacket With High Waisted Culottes
Hot pink has a groundbreaking impression. And while the neon color is hard to pull off, it's generally better to add such a color in small doses.
For instance, people who are not confident enough to wear such vibrant colors can start by pairing them with the clothes they feel good in. Have a look at the picture. The cropped denim jacket paired with high-waisted culotte pants will make you look edgy and stay warm.
Besides, the color of the dress isn't vibrant. So, you can start by adding your hot pink heels. This way, you will feel confident with your outfit while fulfilling your desire to wear gorgeous pink heels.
Hot Pink Pointed Toe Heels $40.99
11 – Jennifer Lopez Mix Of Bright Yellow And Hot Pink
Jennifer Lopez is a sophisticated sight in this neon dress and hot pink heels. The actress was spotted on a TV show in Brazil and can be seen rocking it.
The fitted neon dress was the talk of the town, and we have never seen two vibrant colors go this well together. Overall, it is a great look to recreate for parties, dinner dates, or brunches.
For this look, I would suggest keeping your make-up light like Jennifer's since the colors of the dress and heels are bright already. Besides, style your hair correctly and you are ready to dazzle.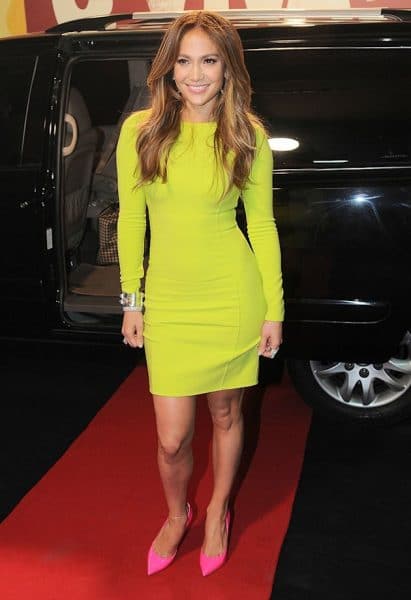 10 – White Shirt And Denim Jeans With Hot Pink Heels
Do you wish to stay comfortable and stylish at the same time? Let's look at the edgy-chic outfits you can create without putting in much effort.
Pair the two versatile items, a white shirt, and denim jeans, with hot pink heels. A flawless look for a casual daytime gathering. Just do your hair real nice and accessorize minimally to make it fancier.
9 – Nude Two Piece Set With Hot Pink Heels
Grab this pair of block heels that are not just stylish but also comfortable—the perfect looking outfits for summer days.
For this outfit, get yourself a two-piece set in a nude color. Brighten your summer day with a soothing hue, and do the bronzy make-up.
Moreover, make a half-up ponytail for a stunning finish. Lastly, add block heels, and you are done. This is a gorgeous outfit with hot pink heels, and with a look like this, I am sure you will bag all the compliments.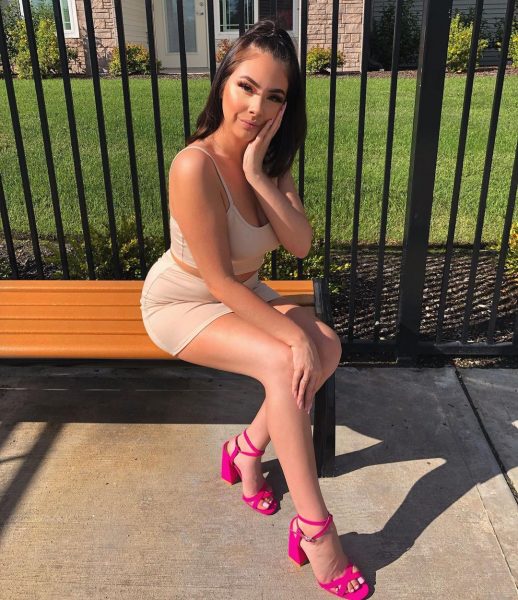 8 – Turquoise Polka Dot Summer Dress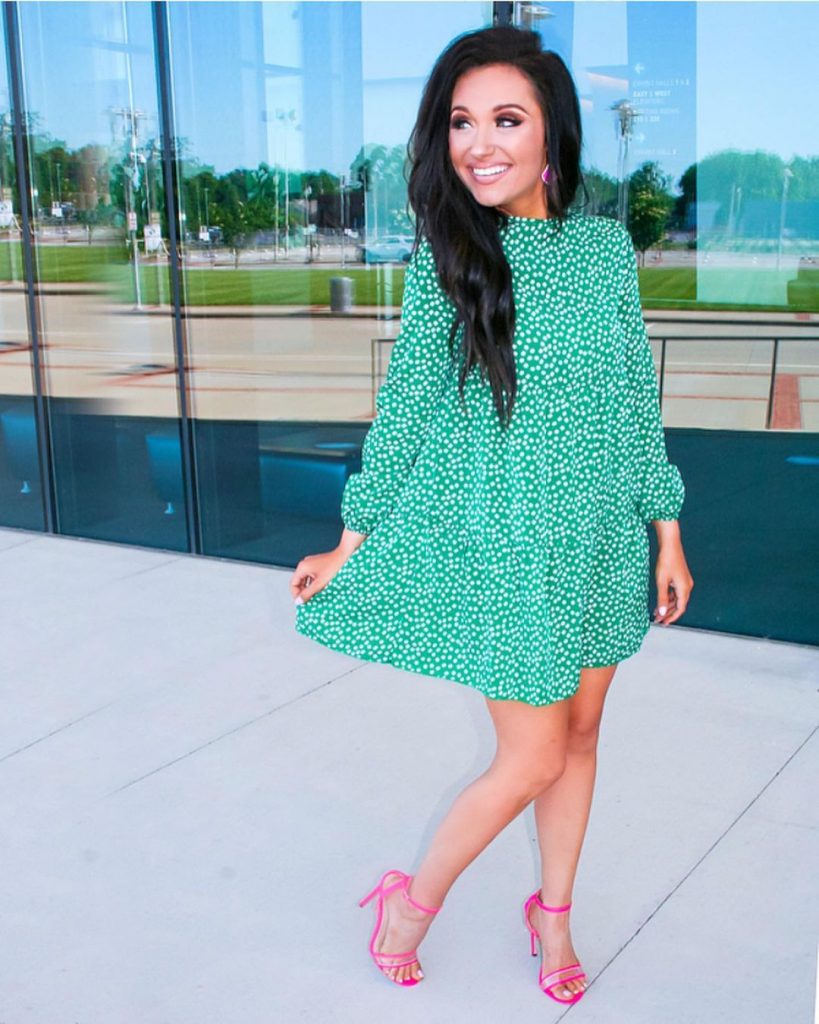 7 – A Collared Shirt And Straight Jeans
Hot Pink Low Stiletto Heel $54.99
6 – Classic Black And White Polka Dot Style
Wear the Vintage polka dress to a party but this time with a modern touch; accessorize the classic polka dot dress with hot pink.
Wear hot pink shoes, earrings, and carry a matching clutch bag. These accessories will aptly complement your outfit and take your look to the next level!
Vintage Styled Polka Dot Dress (similar) $35.99
5 – Black Dress With A Pink Coat
Off shoulder Slim Dress (similar) $36.99
4 – A Yellow Floral Summer Dress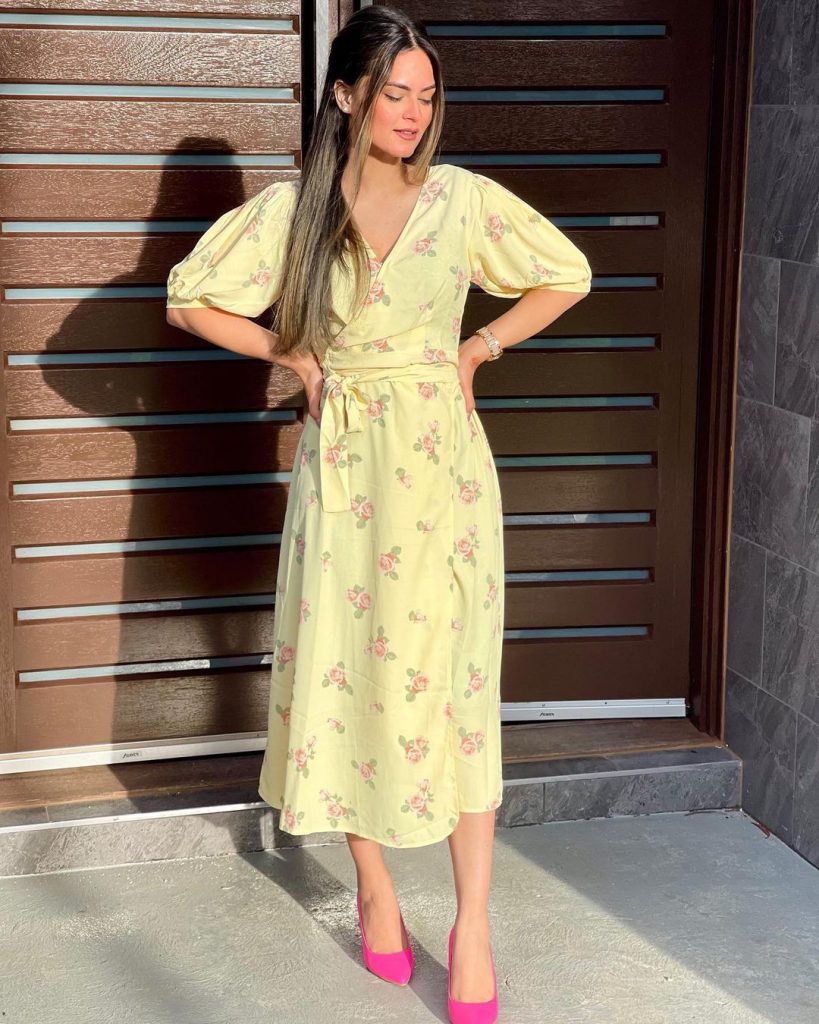 3 – How About Khaki And Hot Pink?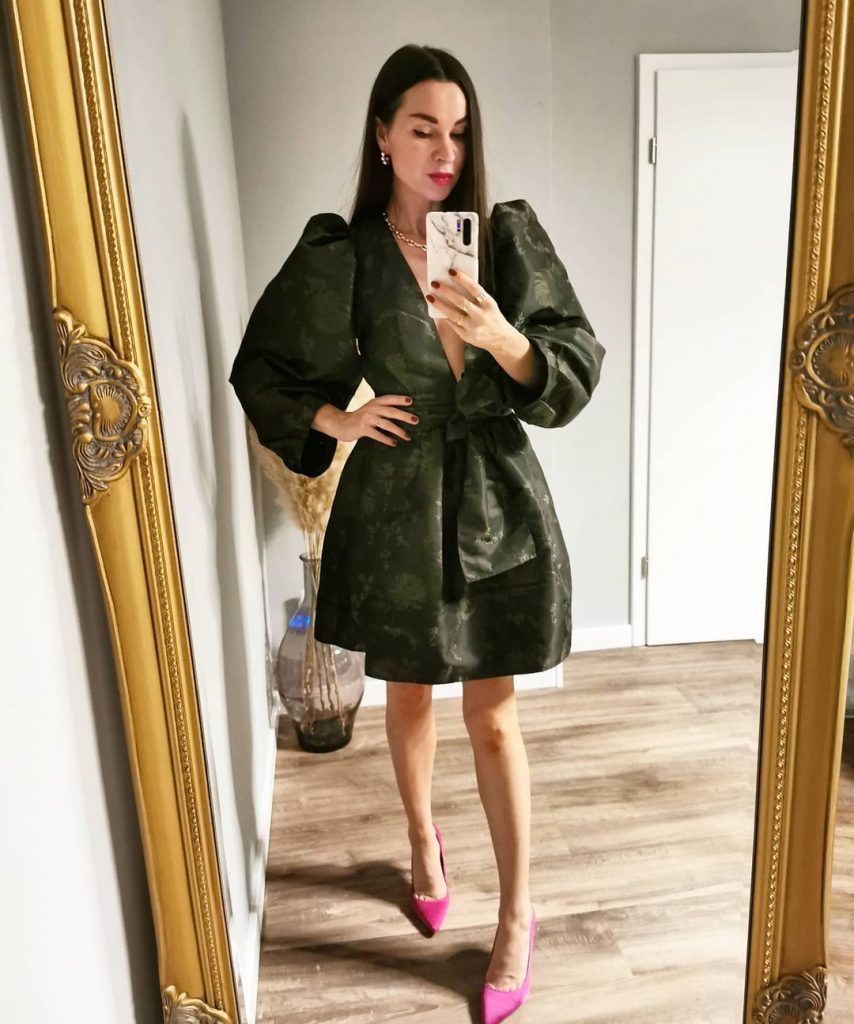 2 – Add Fun Dimension to Your Checkered Print Dress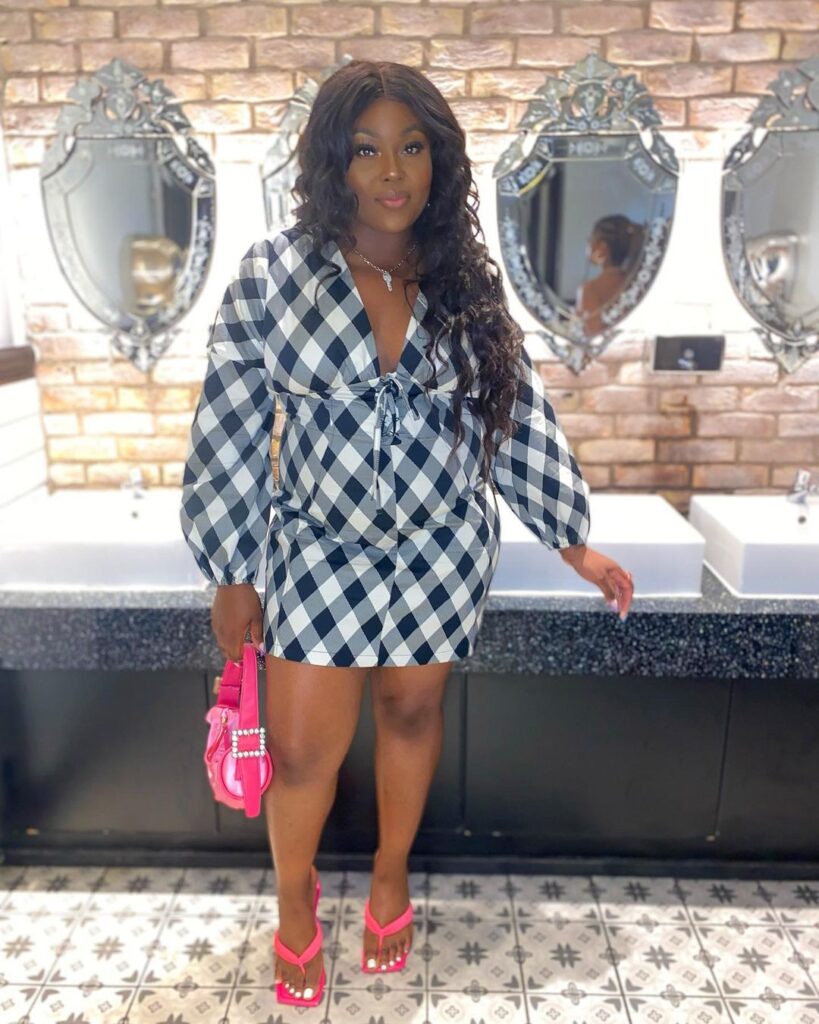 1 – Silver Metallic Dress
One of my favorite picks for a night out! Wear the calm tone of silver with striking pink heels. I deem this gorgeous dress worthy pick for a fancy night out since it creates a very balanced, fun, and elegant look.
This one-shoulder dress hugs your body and accentuates your curve – giving a flattering look overall.
Moreover, take your look to the next level by adding hot pink heels and a clutch bag. Create a side low bun for a romantic and fun touch. Lastly, be confident because you are about to blow away the audience in this ensemble!
Off Shoulder Ruched Bodycon $36.99
Frequently Asked Questions
Q: What do hot pink shoes go with?
Ans: Hot pink heels look fabulous with denim, culottes pants, trousers, dresses, and matching pink skirts. Therefore, you can wear them quickly with anything. Take the risk and pair hot pink with another vibrant color such as neon, purple, or orange. But, if you wish to stay safe with your choice, then stick to the white, black, or less vibrant colors for your outfit.
Q: Where to buy hot pink heels from?
Ans: These are the best places where you can find the classiest heels that are both stylish and comfortable. Amazon, Zara, TopShop, Aldo, Steve Madden, Cole Haan, Clarks, Naturalizer, Sam Edelman.
Q: Can I wear hot pink shoes with black dress?
Ans: Hot pink adds a fun dimension to any outfit. It will give an unexpected pop of color to your black dress, and you will definitely look fashion-forward.
That was it for today. I hope you find the best pick for yourself. If you did, let us know which one you chose for yourself in the comment section. Until next time!