Outfits with Khussas – Khussas depicts the true essence of our lively culture. Vibrant colors, sophisticated artwork, delicate embellishment, and design represent our ethnic charm. For South Asians, Khussas are not just any other footwear; they hold our rich cultural heritage making them one of our favorite items to buy.
Khussas, also known as Juttis and Majori, have been in game for decades and never once felt outdated. They were a fashionable accessory for the Royals. But over the years, the designs and artwork have evolved and have now become a permanent staple in South Asian closets. They are wearable on almost every occasion – be it for weddings or daily wear.
This season, we turn our heads to the classic and comfortable pair of Khussas. Read on to find out some of our favorite types of Khussas, along with outfits to wear with Khussas, stylish tips, do's and don'ts, and more!
What to Wear With Khussas?
From breezy outfits to relaxed shoes, comfort is our top priority this summer. If you are also planning to get easygoing shoes, you need to buy Khussas. Once you try them on, we are sure you would never want to put your foot in any uncomfortable shoes. Since Khussas are widely available in all shapes, sizes, and colors, they are a viable and fashionable option for everyone!

But you might be thinking Khussas are only eastern wear. This is where you are wrong. Khussa is a versatile piece of an item; you can pair it with anything, including western wear. Many celebrities and fashion influencers wear Juttis with westerns, and they look fabulous! Now it's your turn. So, grab your favorite pair of Juttis and let us help you style it.
Find a rounded up list of effortless, dressy, casual, and easy-to-style Juttis below. We present 20 ways to wear Juttis with anything in your wardrobe. But first, here are some tips to keep in mind.
Tips And Tricks to Style Khussas With Outfits
Every type of Khussas goes well with eastern outfits. But when pairing a Khussa with formal western wear, buy solid neutral colors like black, grey, or beige. Such colors would look perfect with formal looks.
If your western wear is informal and casual, you can also wear tassel, velvet, or embroidered Juttis. Scroll down to see Khussas paired with western wear.
You don't always have to wear a matching Khussa; contrasting color Khussas look stunning with any outfit.
Khussas are easy slip-on, but they need care to have them last longer. Therefore, always wrap your Khussas in a cloth and keep them in a box.
Clean your Jutti with a cotton cloth or damp towel to keep them in pristine condition.
If your Khussas have become muddy, you can also use a mild cleanser. After cleaning, make sure to leave them out in the sun to let them dry out.
20 – Velvet Khussas With Basic White T-Shirt And Jeans
One style that has transcended through the years is a basic tee on denim. This outfit is basic yet versatile because you can add literally anything to make it interesting. And we suggest adding colorful juttis for a distinctive class style. You can opt for a jutti with a graphic pattern, or you can go with a velvet one – both of the jutti types will look fabulous. Finish off the juttis of your choice, and you're sorted!
19 – Add Punjabi Touch to Your Tank Top And Jeans
Because of the vibrant colors and designs, Punjabi khussas are the most popular type of khussas. We love the unusual colors and patterns that add instant interest to the space. Pair your jeans with a tank top and add contrasting color khussas for an eye-catching look.
These Punjabi khussas make a great option to pair with jeans for a daily wear outfit. They are your best friend on days when you are on your toes all day long. The style and pattern are easygoing and look gorgeous.
18 – Classy Denim Khussas With Plaid Shirt And Jeans
Denim khussas are having a moment this year for all the right reasons. They look classy, formal, casual, and elegant. You can easily pair it with your formal or informal outfit without having a second thought. Perfect for those who shy away from wearing bright color shoes. Now you can enjoy a comfortable pair of juttis in denim.
17 – Red Khussa With Button Down Shirt And Palazzo Pants
Palazzo pants have made a ground-breaking comeback, and the unusual colors and patterns are a dream. Brighten up your day with this lively pink color palazzo pants paired with a white button-down shirt.
Create a fusion wear outfit by adding traditional khussas that maintain a formal look without being too formal. Complete your look with your favorite shades and red khussas, and you have a stunning outfit. Ideal for a brunch or a day out with friends, you're sorted now!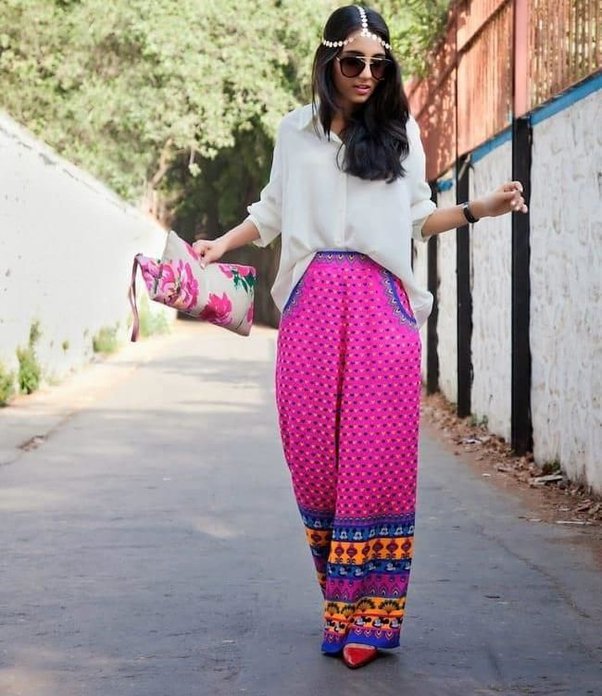 16 – How About Embroidered Juttis With A Casual Outfit?
Most people wear embroidered juttis only with traditional outfits. Sorry to break it to you, but there's no such hard and fast rule you've to follow. As the famous designer Gianni Versace said, "Don't make fashion own you, decide what you want to express through your dressing and by the way you live."
Slip into a lovely embellished jutti with your casual outfit and seal the day. Wear a stunning maroon top with skinny jeans, fit your essentials in a cute little bag, and you're ready for a casual day out.
Casual Maroon Top (similar) $21.99
15 – Punjabi Khussas With White Kurti And Jeans
Nothing can match the elegance of a cotton Kurti decorated with intricate chikankari designs. When it comes to styling a chikankari kurti, the options are endless. But the combination of kurti with jeans is chic and modern.
Pair your white chikankari kurta with jeans to create a stunning indo-western look. Accessorize it with oxidized silver jewelry. Although a statement necklace looks amazing, you can opt for silver earrings if you prefer a contemporary and a casual look.
Slip into the classy white khussas to complete the look. If you wish to add a dupatta, check this post on Types of Dupattas And Tips on How to Wear Dupattas.
14 – Plain Gold Khussas With A Black Suit
Want to be stylish but comfortable as you enjoy your day out? We suggest adding a metallic gold khussa to elevate your basic eastern wear.
The whole outfit is simple, modest, yet super stylish. Add some fine jewelry pieces like a bracelet and rings. Carry your essentials in a designer bag; you have a sober and stunning look.
13 – Pair Your Salwar Suit With Black Jutti
We love the trend of matching salwar suits. You need to have at least one of these in your wardrobe since the modern and sophisticated vibe of these suits is unmatchable.
Tie your hair in a messy braid and accessorize with some adorable silver earrings. Slip into the beautiful black juttis, and you have a perfect breezy outfit for your college, office, or a casual day out in summer.
As much as we love this black and white suit, the vibrant prints are a good option too.
12 – Add A Traditional Jutti With Your Punjabi Suit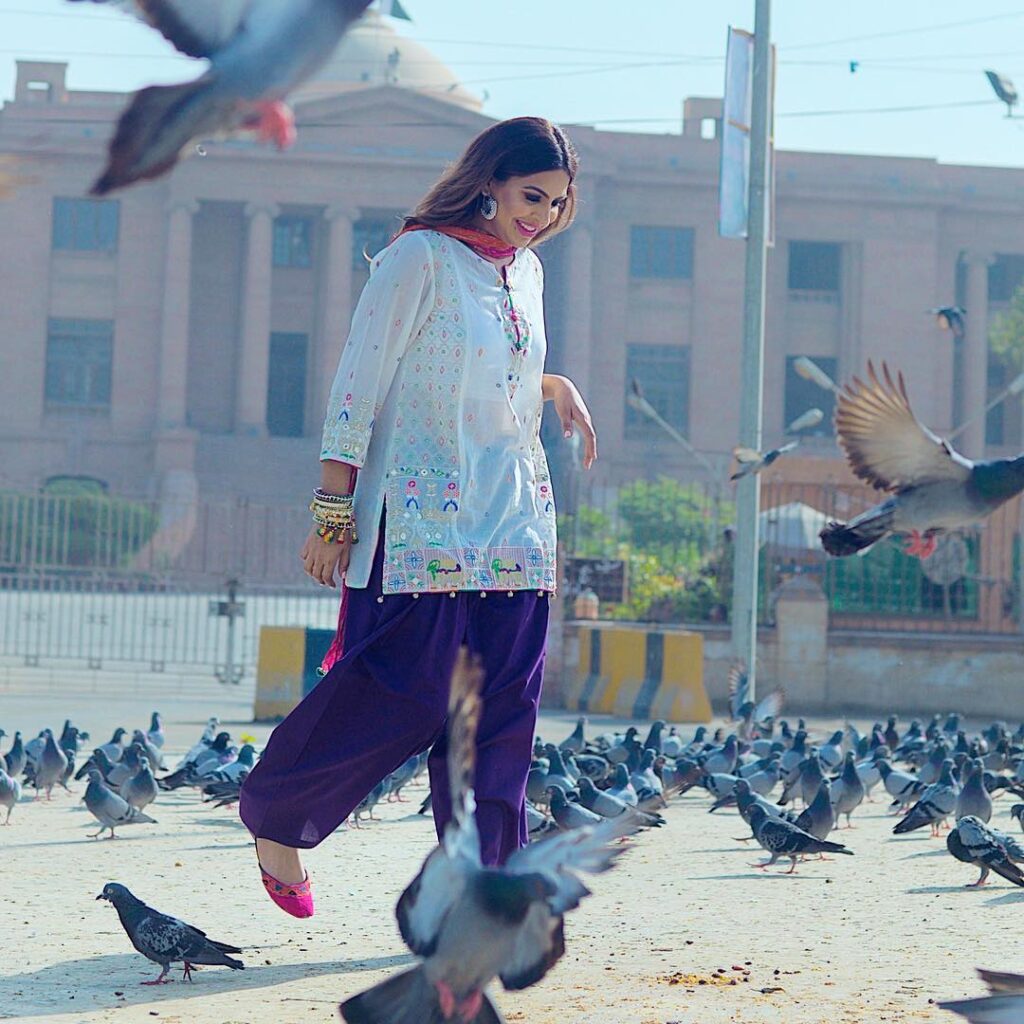 11 – Kasuri Khussas With Peplum Top And Printed Dhoti
Dhoti is a traditional garment, and its pairing with a peplum top is an unconventional twist we love. Not just the style, but prints are wholesome. Print over print is an excellent choice for standing out in style.
Moreover, the combination of dhoti with khusssas is an artful creation. Wear a leather jutti and accessorize generously with a choker. Finish your traditional yet contemporary look with loose hair.
10 – Flared-Hem Trouser And Silk Blouse With Khussa Jutti
Here we have a super chic plus modern look for you. Create a statement outfit with the stunning blue flared hem touser and purple silk blouse. With such eye-pleasing colors and gorgeous outfits, you surely will make everyone turn heads!
Let me introduce you to a pair of khussa jutti. Although they are quite popular among men, there is no rule that suggests women can not wear them. Pair khussa juttis with your outfit and bask in the limelight.
Match it with the oxidized silver cuff bracelet, hair up in a bun, and your effortless look is complete.
Wrist Cuff Bracelet in Silver $10.99
Handmade Traditional Khussa Jutti $48.95
9 – Colorful Khussas With Blue And White Kalamkari Skirt
Don't we love it when Bollywood heroines wear stunning skirts with short blouses? Create a similar look with a white blouse and blue plus white kalamkari skirt.
Perfect for a plethora of occasions, outfits like this are the epitome of sophistication. Pair it with minimal jewelry, and colorful Punjabi khussas, and your contemporary yet traditional look with open loose hair is ready!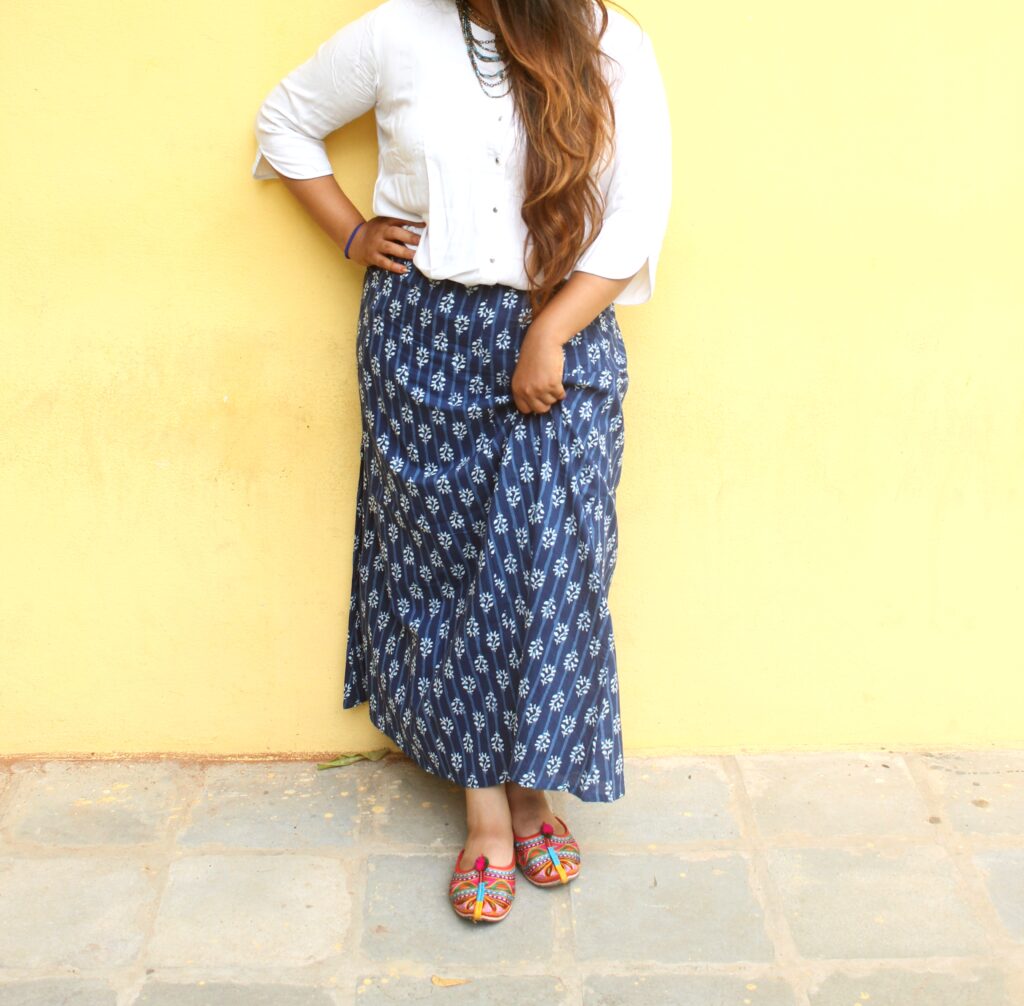 8 – Add A Colorful Rajasthani Jutti to Flared Kurta And Trouser
Here's an outfit that is an excellent choice for festivals or engagement party guests. As Eid al-Adha is just around the corner, take some inspiration from this gorgeous look and brighten up your eid with a vibrant suit like this.
Add a touch of elegance with a plain flared kurta and trousers. Pair it with simple and cute earrings, bracelets, and a colorful Rajasthani jutti. Do your hair in accordance with the weather. If it's summer, you can create a half up and down hairstyle similar to that one in the picture.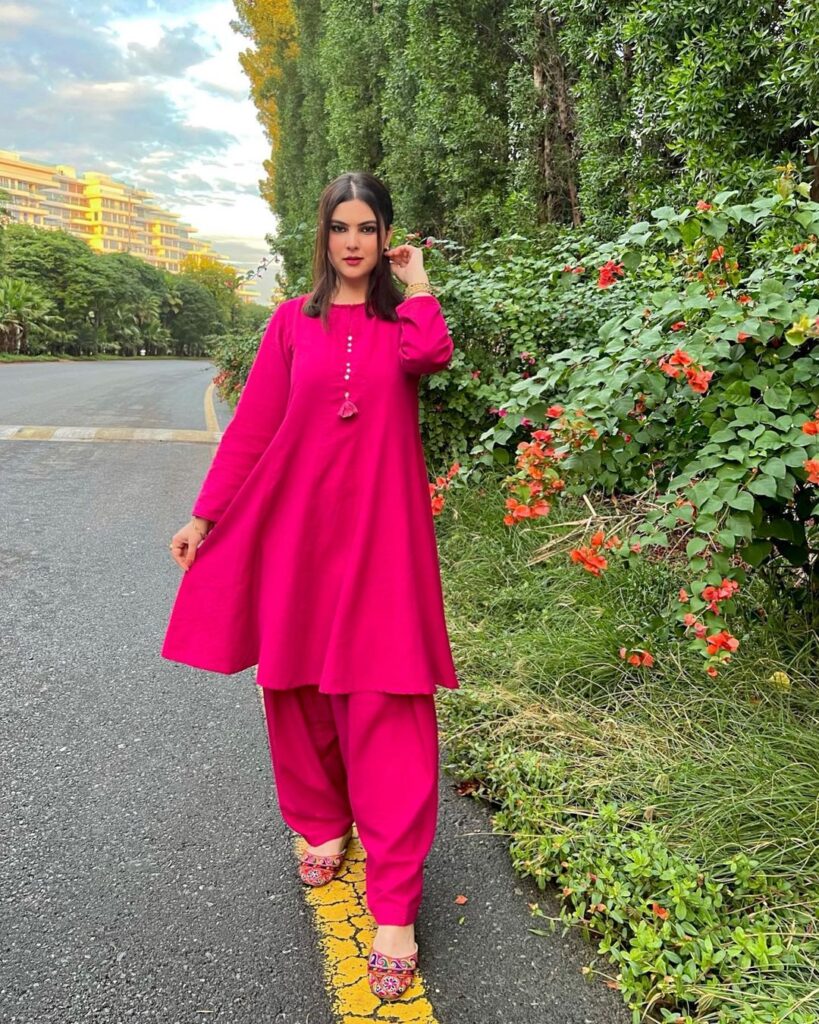 7 – Anita Hassanandani Reddy in Modern Printed Khussas
Didn't like the embroidered khussas? No issues, Khussas come in a wide range of variety. Go strong with the lovely printed juttis this season – this is a type of jutti that you can pair with anything in your wardrobe.
When going for a traditional look, especially in this hot weather, we suggest you choose a lightweight yet classy piece like this. A short kurta with a Patiala shalwar.
A white Patiala salwar with a short kurta makes a cute desi outfit. Add a statement pair of earrings, a bindi, and lipstick to complete the look.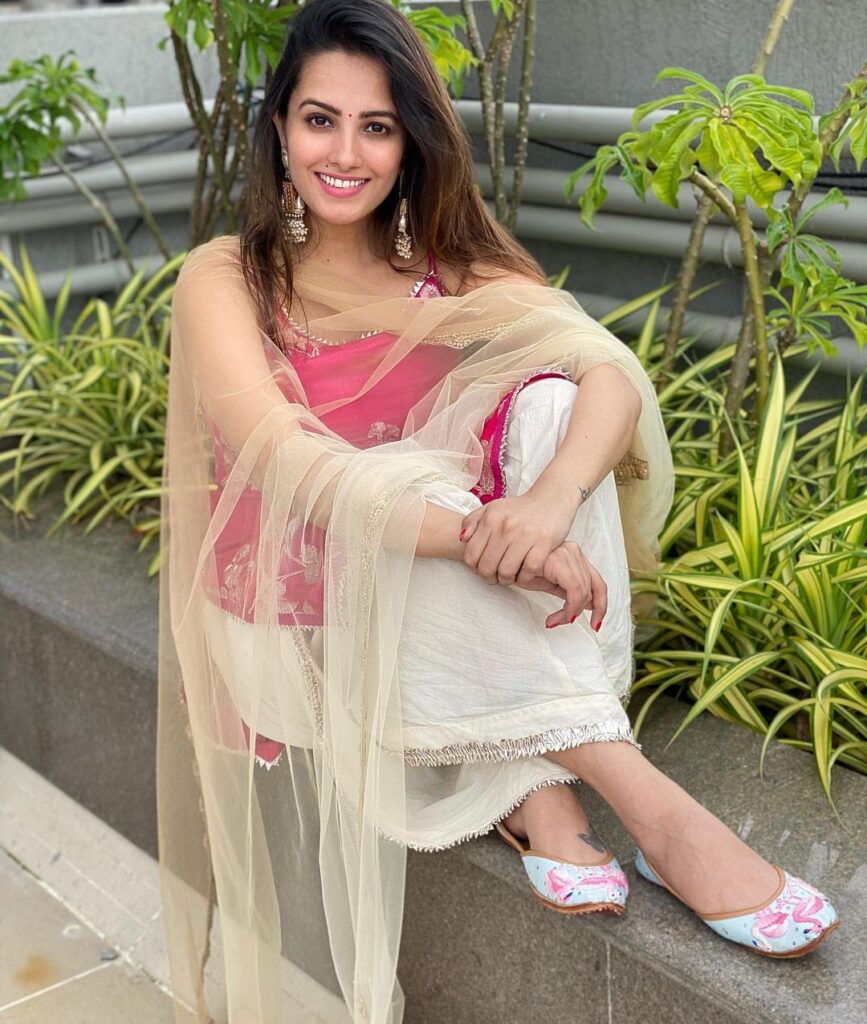 6 – Wear Them With The Stunning Anarkali Kurti
Nothing look as elegant and royal as an Anarkali kurti. This is a traditional garment that gives you aesthetic and dreamy vibes like a Bollywood movie.
Dark purple with golden embroidery and embellishment is an unbeatable combination. Wear this victorious combination and seize the day. Accessorize it with some silver earrings and slip into the gorgeous golden juttis to complete the look.
Embroidered Juttis in Gold $48.00
5 – Printed Sharara Pants Outfit to Wear With Khussas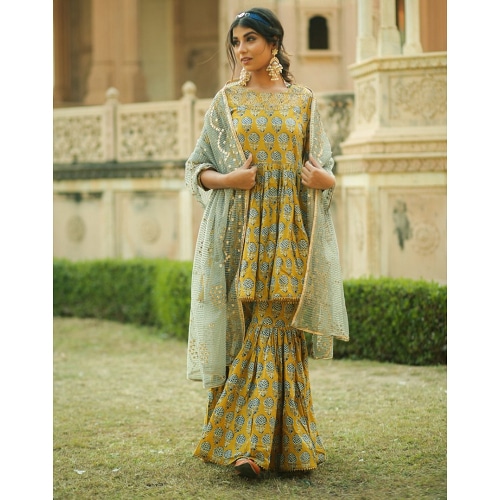 4 – Add A Contrasting Jutti Like Saba Qamar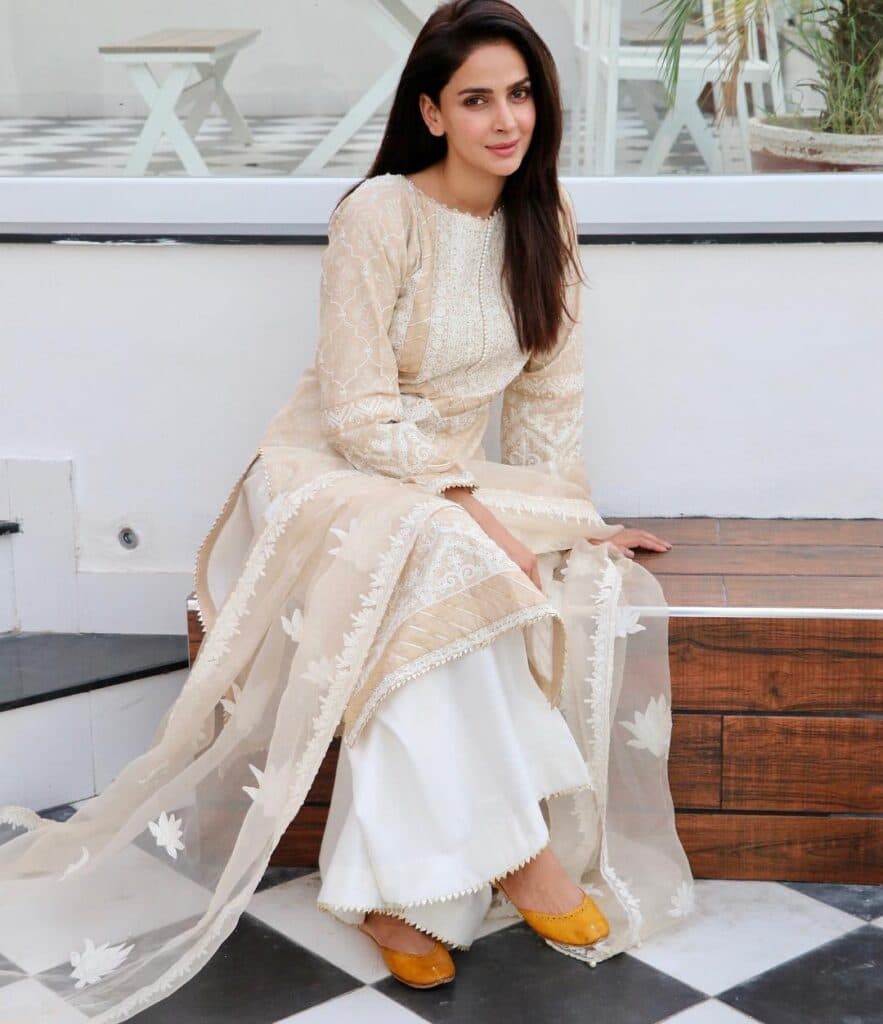 3 – Slit Cut Pink Outfit to Wear With Khussas
Bring the drama to your desi outfit with this slit-cut Kurti design. Add the same color palazzo pants, and you are ready for a small intimate event. The outfit isn't too heavy and can easily take you through the day.
Wear cute tassel earrings in pink and put your favorite shade of lipstick to complete the look. For shoes, slip into the cute jutti with colorful beads.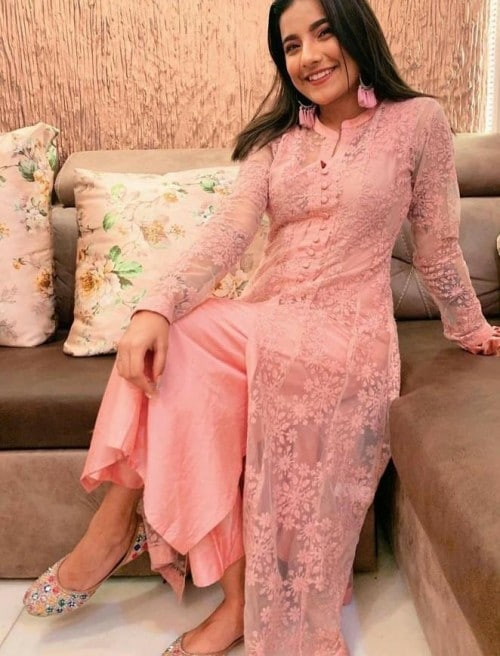 2 – Match the Embellished Golden Jutti With Your Blouse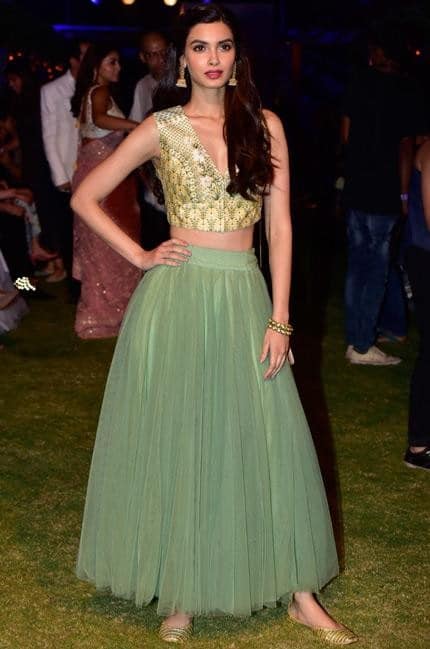 1 – White Anarkali is Our Favorite!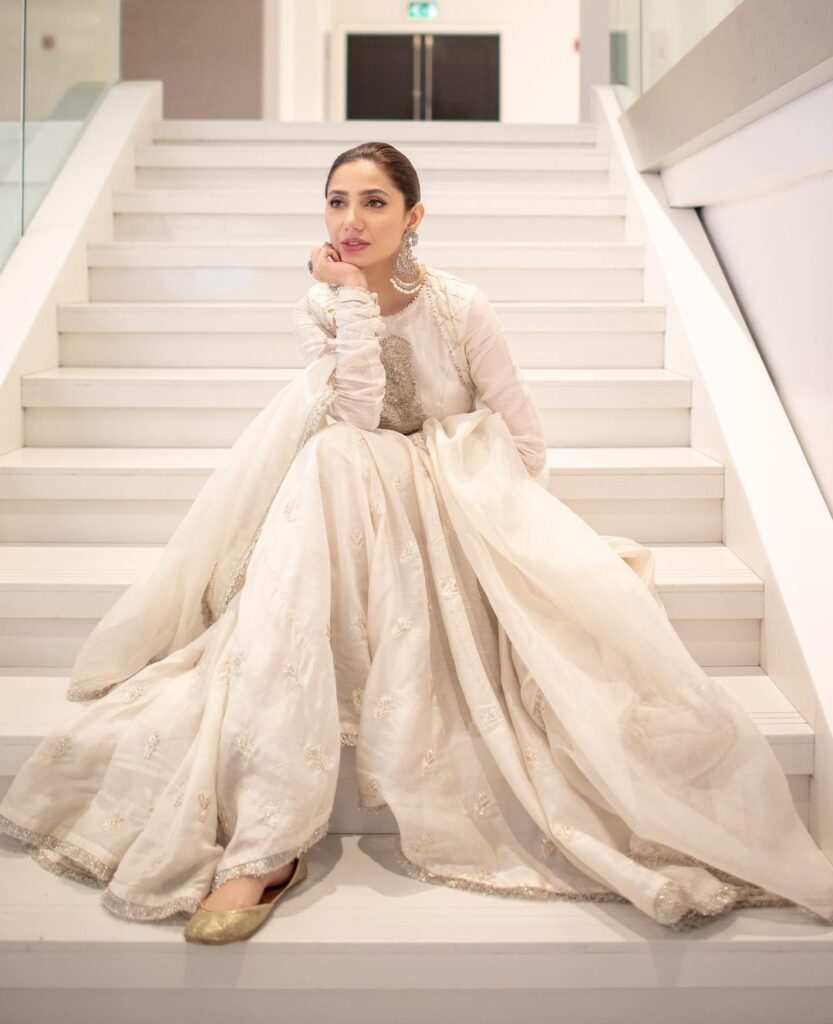 Frequently Asked Question
Q. What are best Khussa brands in Pakistan?
Ans. You can easily get a wide variety of Khussas, at affordable prices, in any local market in Pakistan. But if you wish to buy online, here are the top Khussa brands you need to check out:
Dazzle by Sarah, Zari, Laam, Jooti Shooti, Stylo and Khussa Corner.
Q. How do I make my Juttis last longer?
Ans. Keep your Juttis in a good condition. Clean them at regular intervals using a damp towel or cloth. Let Juttis dry out in a sun for a while. Make sure to not leave them out in a sun all day long, take your Juttis inside once they are dried out completely. Stuff your Jutti with a newspaper or tissue to prevent crease marks. In the end, wrap a cloth around your footwear and store it in a box or bag to avoid any wear and tear.
Q. What are the latest trends in juttis?
Ans. Juttis of all colors with heavy embroidery and beads are a popular choice these days. However, juttis with thread or mirror work are also having a moment. It really depends on what sort of occasion you would be wearing them. For instance, graphic printed khussas are a huge hit for a casual day-to-day look. Just make sure the color and design of your jutti go well with the outfit because the right pair of footwear can be a major attraction of attire.