Hair Style Ideas for Petite Women – Hair styling is one of the defining features of a full look. You cannot pick an outfit without choosing a complementary hairdo. And believe it or not, how you choose to style your hair decides whether you look good in an outfit or not. Sometimes, you can pick a fabulous dress but still don't look good enough if your hair doesn't complement the outfit of your choice.
In this article, we present to you 25 hairstyles which work with a variety of outfits for women of petite frames. Some are elaborate, some take a couple of minutes at most, but all will undoubtedly look awesome. If you're short and want to look for hair styling ideas, read on!
Hairstyle Ideas for Petite Women
↓ 25 – Short Hair with Blunt Bangs
Blunt bangs are thick, full, and one single length. Most of the time they fall between the eyebrows and upper lids in length, but they can be worn shorter for an edgier look. It's common to see blunt bangs taper slightly down at the edges to blend in with the rest of the hair. This style of medium hair with full blunt bangs has been recommended for women and girls alike to suit their petite frame awesomely. If you're a teenager and planning to get a new hair color then you should definitely have a look at 15 New Hair Color Trends for Teen Girls to Try in 2019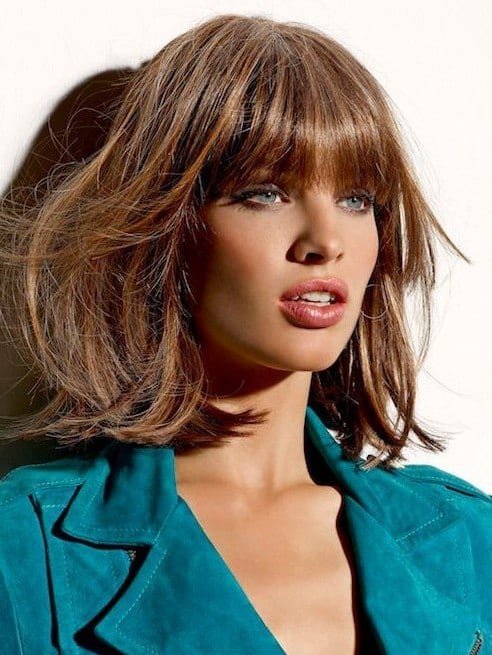 ↓ 24 – Funky Hair-styling with Braids
Styling hair using braids is one of the most amazing hair trends out there. There literally dozens of ways you can style your hair by braiding them like side braids, crown braids, braided ponytails, and so many more. While a few of them are really complicated and require expert hands, some of them can be tried easily at home with minimum expertise. Like taking a simple braid and twining it around the head and securing it with pins.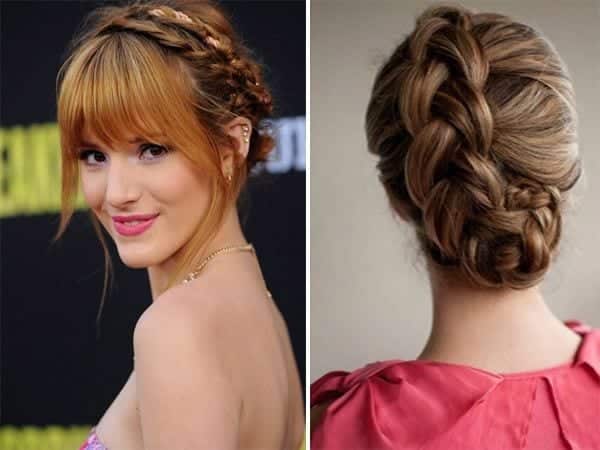 ↓ 23 – Wavy Hair with Side Curls
This is one of those styles which are effortlessly achievable and look incredibly beautiful regardless. All you have to do is create subtle waves in your hair and then take a lock of hair from each side near the center and slowly twist it, taking the twisty curls to the back of the head and securing with pins. Ta-da! This look is for straight hair only, though.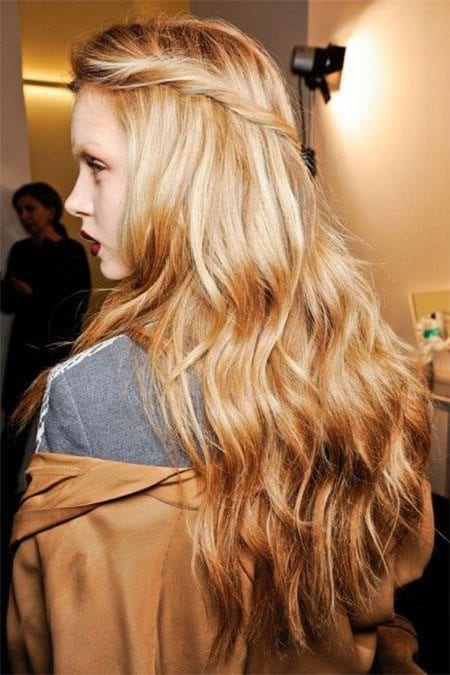 ↓ 22 – Braids with Ponytail
Perfect for a summery and fresh look! This might take some time but the best part is it doesn't need to be perfect. Messy hair styles are all the rage these days and even if it ends up looking rumpled, you can rest assured you'll look chic regardless. Know what else you need with this casual hairstyle? A Hot casual outfit! So don't miss these 15 Casual Work Outfits for Women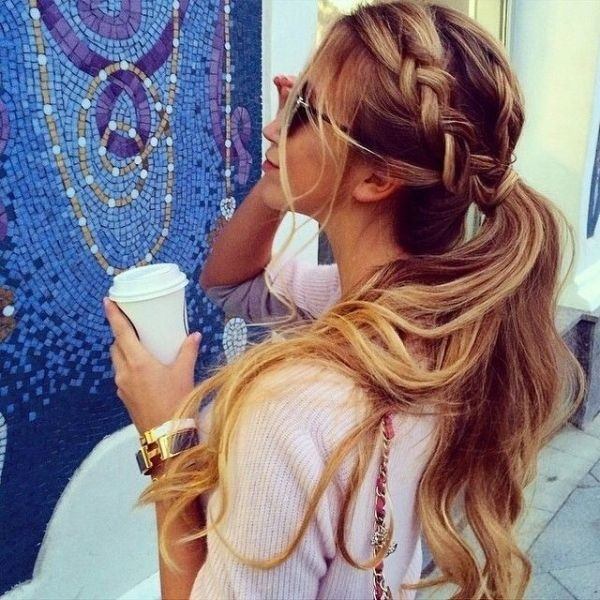 ↓ 21 – Single Crown French Braid
You literally don't need to try any elaborate hairstyles if you learn to do this! The french braid part is tricky, true but practice makes perfect as they say. Since it's a single braid that helps. You would need to keep adding thin strands to keep extending it as far back as you want.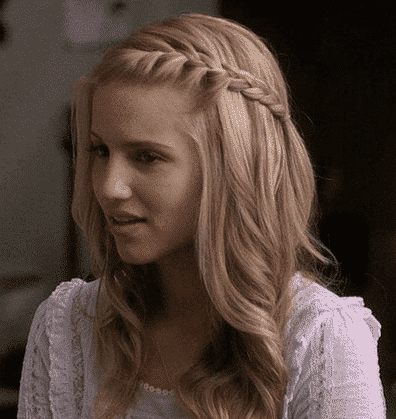 ↓ 20 – Ladder Braid Hairstyle
Silky hair is a privilege, use that privilege to create something extraordinary! We know this looks difficult and, well, it kinda is. But hard work always bears fruit. Two words: Youtube tutorials! You will be the talk of the town with your fancy and unique hairstyle.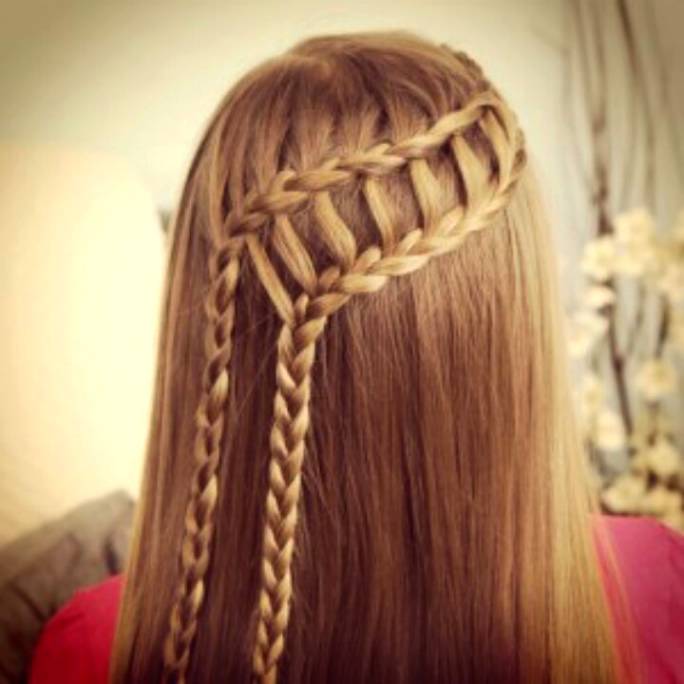 ↓ 19 – Twin Fishtail Braids Style
The twin fishtail braid style will be your sexiest pick for a casual and chic, school girl look. Given your short frame and paired with something appropriate, this hair style with make you look years younger than you really are. Or if you're already young this will lend you some innocence. Beware, though, fishtail braids are not for the faint of heart. Again, you'll need silky straight hair or if the hair is slightly curly you can use oil, some other hair product or another option is to do this on slightly dirty hair.
↓ 18 – Long Hair, Light Curls
This slender looking hairdo will suit nicely your slim and sleek frame. It's a classic style which can be achieved relatively easily and is a modification of the style we mentioned above in that instead of just pining the twisted locks at the back, use these strands from each side and then do a third messy curling braid, securing it with elastic. This will look really nice from both the front and the back.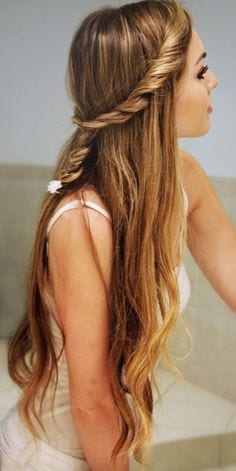 ↓ 17 – Sleek Parted Hair
The kind of hair that suits almost everybody. Incredibly easy to do, all you need to complete this look is some hair gel or oil to set the hear firmly in place and give it that beautiful shine. In case you have thin hair, add some volume by doing a blowout, Here are all the tips you need on How to do a Blowout-20 Ideas for Messy and Blowout Hairstyles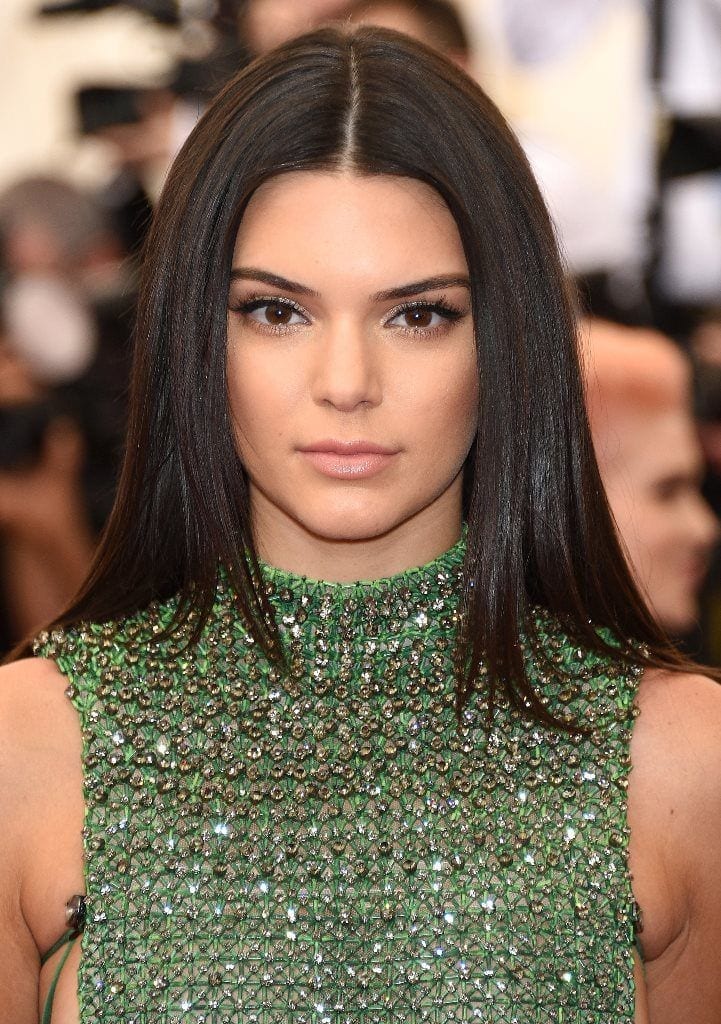 ↓ 16 – High Ponytail with Bangs
The happy high ponytail with round bangs is a must for women and girls of smaller build. It's a tried and tested style that almost never fails to make the wearer look charming and sweet. Works with both wavy and straight hair!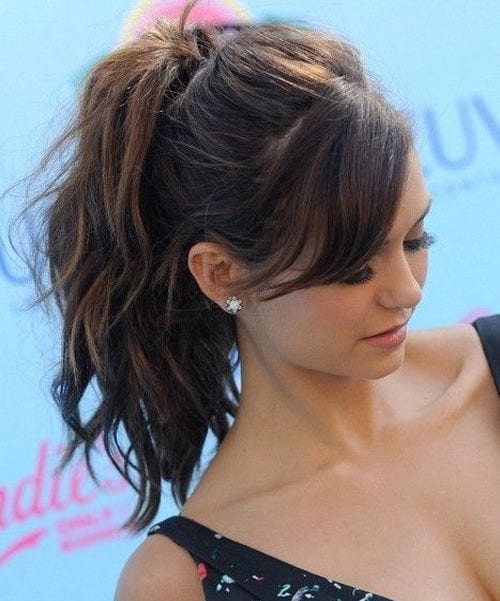 ↓ 15 – The Korean Bob
Korean culture promotes beauty and cuteness. Their fashion and sense of style is unique, unpredictable and incredibly cool. Most women of all ages tend to go for the short hair, bobs included. It will look especially cute on girls with petite frames.
Korean ladies sure do have an amazing sense of style so for some Korean inspiration, have a look at our collection of the best Korean Women Fashion – 18 Cute Korean Girl Clothing Styles.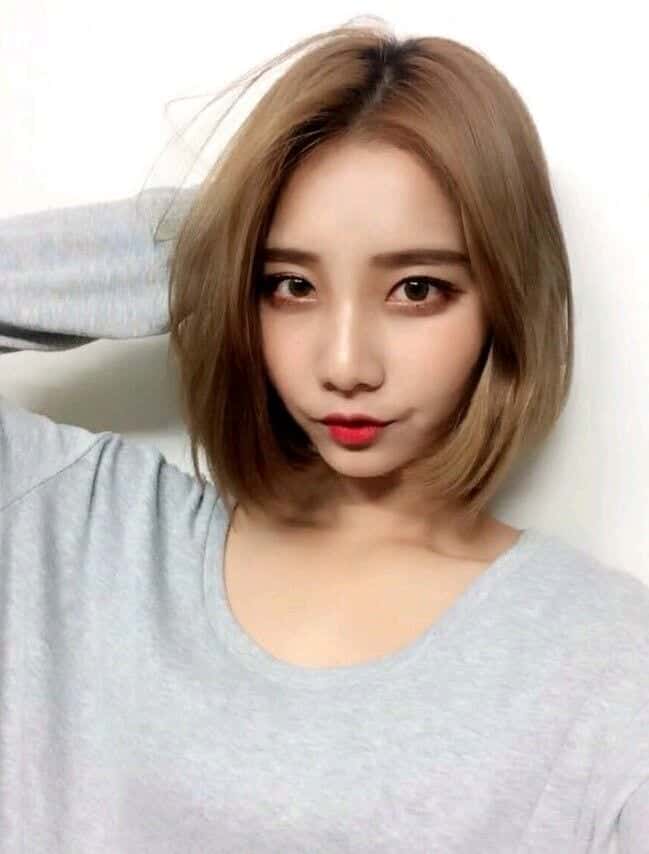 ↓ 14 – Layered Cut Hair
Shailene Woodley is not petite, she's 5'8 but we would like to point out that this hair style would look great even if you aren't as tall. This style is a little reminiscent of old Disney days but it's still a good one and you can totally rock it if you want to. After all, old trends tend to make a comeback eventually.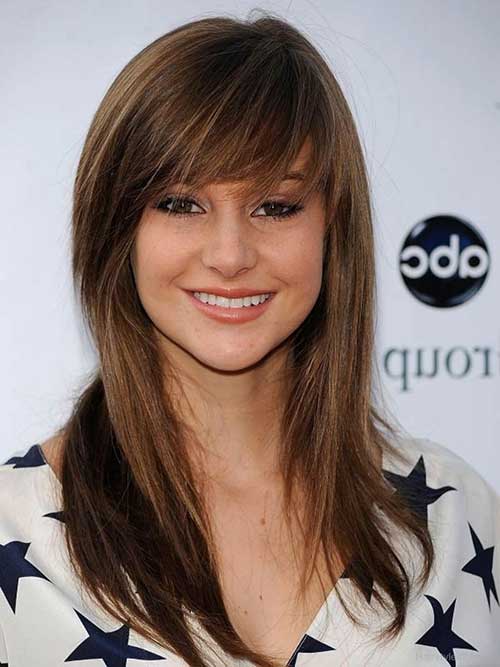 ↓ 13 – Long, Messy and Dyed
If complicated hair styles elude you, you can just go for the good 'ol hair dye. Determining what color would suit you is the tricky part and it may take some failed experiments to find that out but once you realize what works best with your hair, voila, that will be all you need.
Messy hair are also almost always a success. It isn't known you thought it would be a great idea to muss up one's hair and call it a day but whoever it is, they're probably very pleased with themselves. Again, the use of some good hair products is recommended.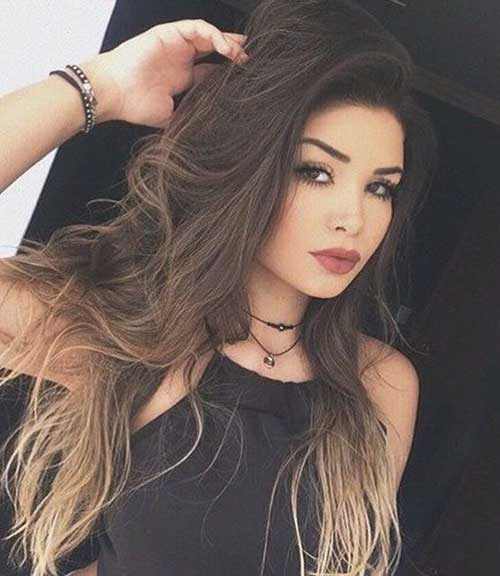 ↓ 12 – Pixie Haircut
More and more women lately have gone for the pixie hair style. For some it's a temporary change from the usual while for others it's their permanent style. Emma Watson made headlines when she decided to go for a pixie cut after the Potter films ended. It was a bold and brave choice and it suited her a lot.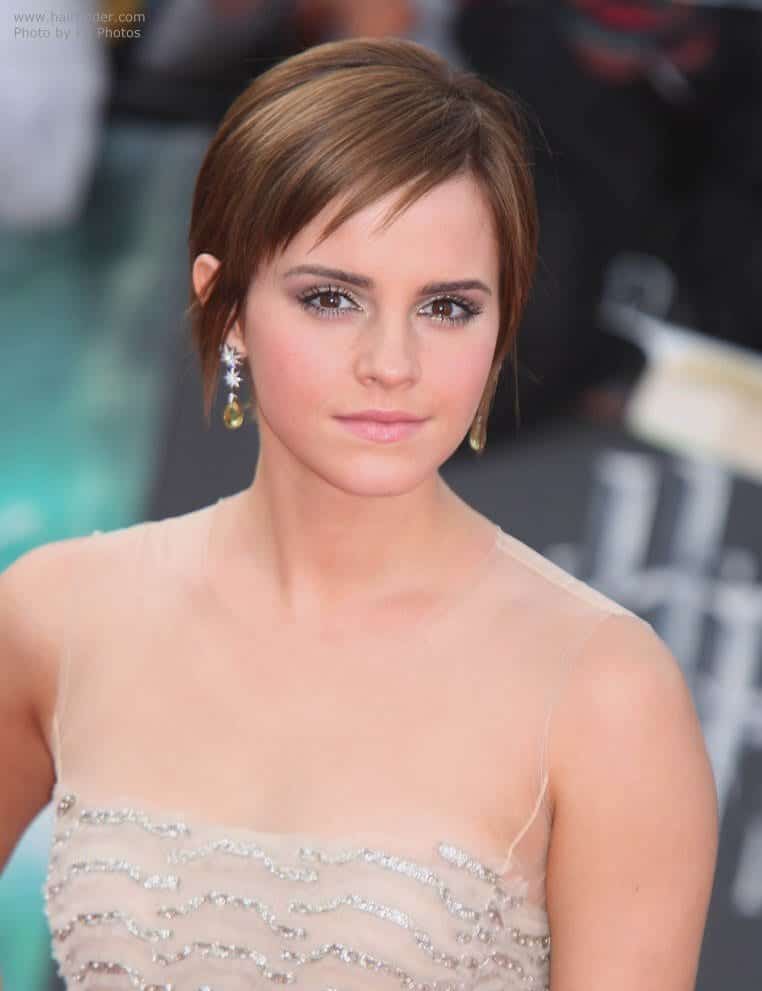 ↓ 11 – Messy Ponytail Style
The messy ponytail style of this year is a great choice for both casual and fancy days. Like we said, messy hair styles have been in for quite some time and it doesn't seem like they'll be out of fashion anytime soon. From braids and updos to ponytails and simple, open hair, messy hair look chic in all. Like in this picture, it doesn't look the style took too long. All it takes is some hair spray and some curls and there you have it!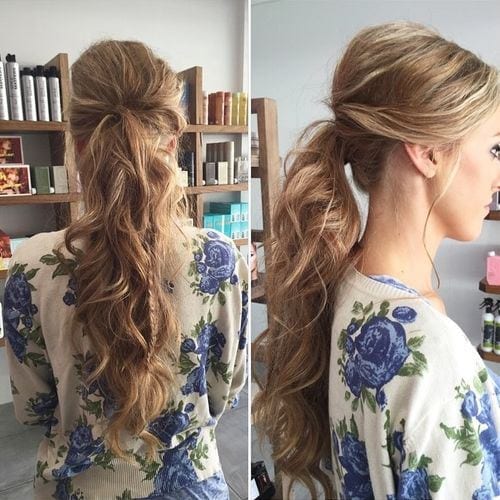 ↓ 10 – Emma Stone Iconic Updo
Now this is what you call fashionable! Emma's hair is short, it's clearly visible in this picture. She uses her bangs to create a side parted puff and then simply takes the remaining hair to the back, pining them under and around each other and securing with a simple but beautiful pin. Again, note the carefully messy factor. So for this hairstyle, you would need short hair because that would make them easier to control and maneuver and easy to pin in place. It's a quick hair style if you know what to do. We recommend buying some pins.
Emma Stone's wonderful updo is just simply meant for all. If you love Emma as much as we do then you really need to see these Emma Stone Outfits-25 Best Dressing Styles of Emma Stone to Copy.
↓ 9 – A Luxurious Crown Braid
This is a look fit for princesses and queens. It looks incredibly sophisticated and pretty. A crown braid (or halo braid) is a beautiful style that can be dressed up or down and worn anywhere. Crown braids have become especially popular over the last few years for girls who are going to a dance, or prom. Although it may look daunting to create, it's actually quite simple and makes an impact. In no time you will be able to create a crown braid, and have everyone else feeling jealous about how beautiful your hairstyle looks.
All different kinds of braids can be used like french braids, fishtail braids and dutch braids.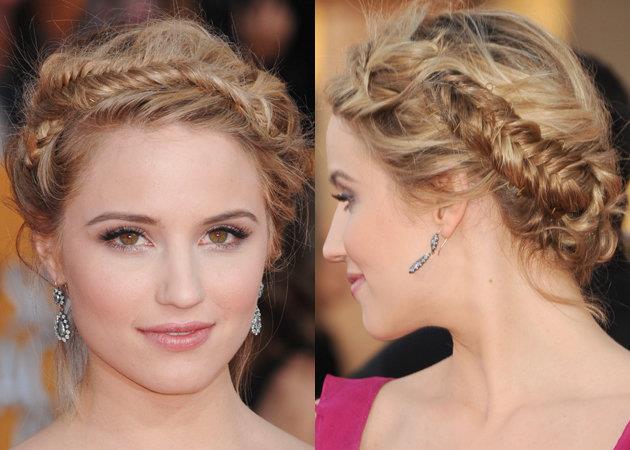 ↓ 8 – Quick Hairdo for School
Ain't nothing quicker than that. Short hair, long hair, straight hair, wavy hair, bangs or no, this is simple and fast and super edgy! All you need to do is make a high enough ponytail and then simply keep tying bands after intervals. For additional styling make sure to pull the band back a little, this will puff up each section and give it a messier, more futuristic look.
An alternate way of styling hair like this is to braid the hair before tying up the last band. You can use bands of same color or different colors.
The quickest possible hairdo for school girls. For more quick and easy hairstyles that you can do within minutes, see these Top 10 Super Fast Hairstyles to Do.
↓ 7 – A Sexy Messy Bun
A sexy, messy bun will work best if you have long hair. And a lot of time. Until you get practiced at it, that is. There a lot, and we mean a lot, of messy bun hairstyles out there. Some have braids, some have twists, all are undeniably beautiful. Youtube tutorials will help you out a lot and some blogs even do pictured, written tutorials. So go check them out and start working on that messy bun of yours!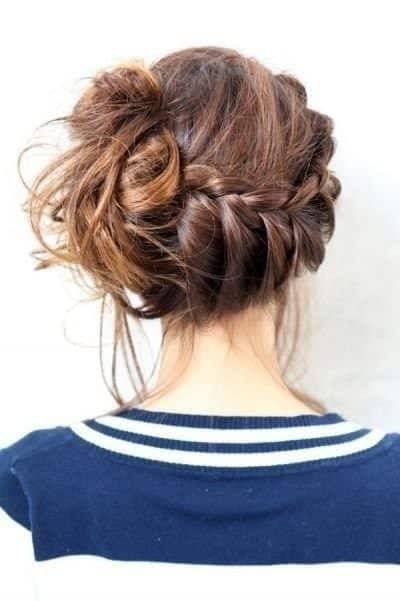 ↓ 6 – High Bun
A high bun looks laid-back and ladylike, and it works well on long hair and medium hair. A high bun is fixed at the crown of the head so it can draw people's attention to the wearer's face bringing the face an instant lift. The high bun is a cool choice for the hot summer and your lazy days.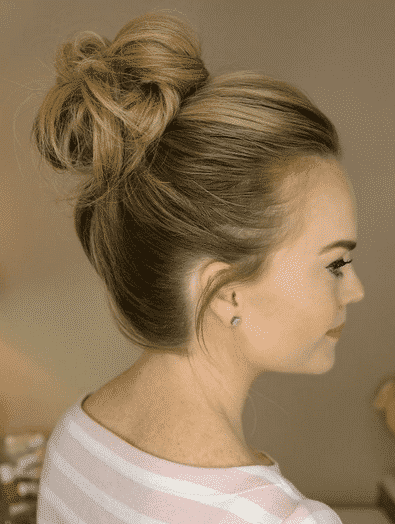 ↓ 5 – The Wavy Bob
Celebrities are the ultimate trend-setters and a majority of them have gone for the wavy bob these past couple of years. Medium length and wavy texture are among the top current picks in women's hairstyles. In this relation, wavy bob hairstyles are go to options for every day as well as special occasions. As a matter of fact, wavy hair is perceived as a very feminine feature.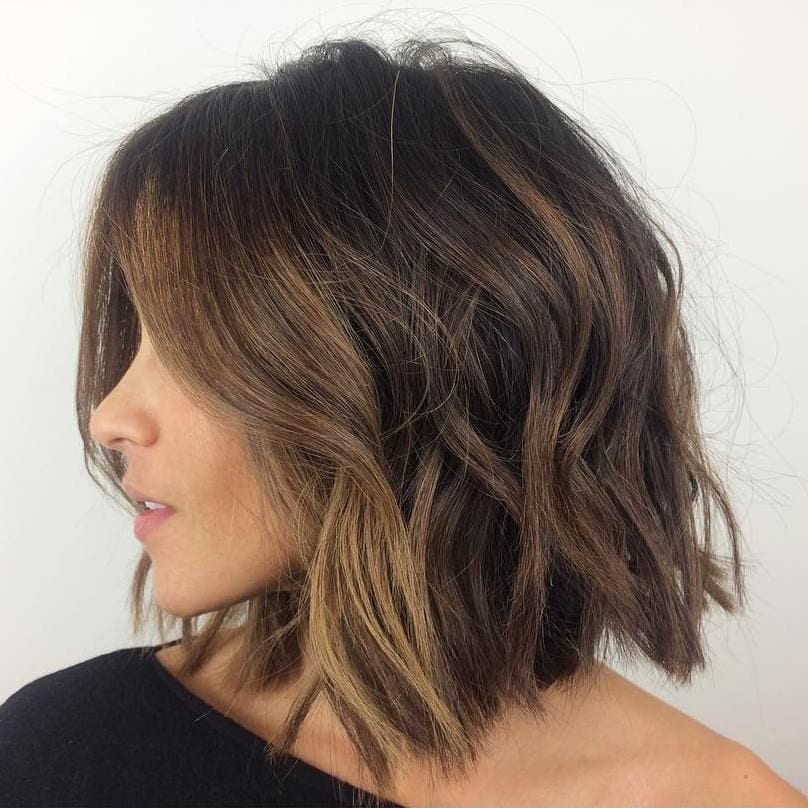 ↓ 4 – Taylor's Side Ponytail Look
A sleek and alluring style, the side ponytail is one of the easiest styles out there that you can try. You will need to straighten your hair if they aren't already straight. It works best with medium to long hair. Short hair will simply not give the desired effect.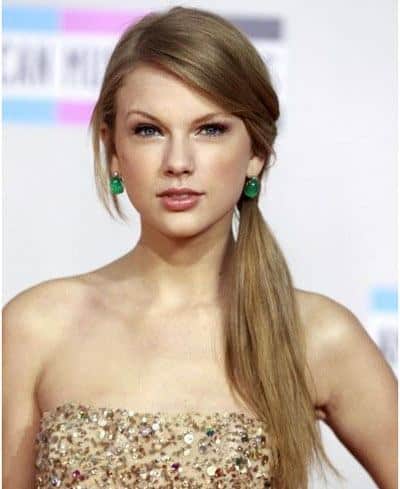 .
↓ 3 – Emilia Clark's chic updo
This will look good with all hair lengths but especially with short hair as it pulls more attention towards the middle-parting and the slight puffing at the crown of the head. For extra flair, add curls to your hair. You can secure the hair at the back with either a pin, multiple pins, some type of clutch or an elastic band. We recommend using multiple pins to create a pattern of some kind as those tend to look super pretty.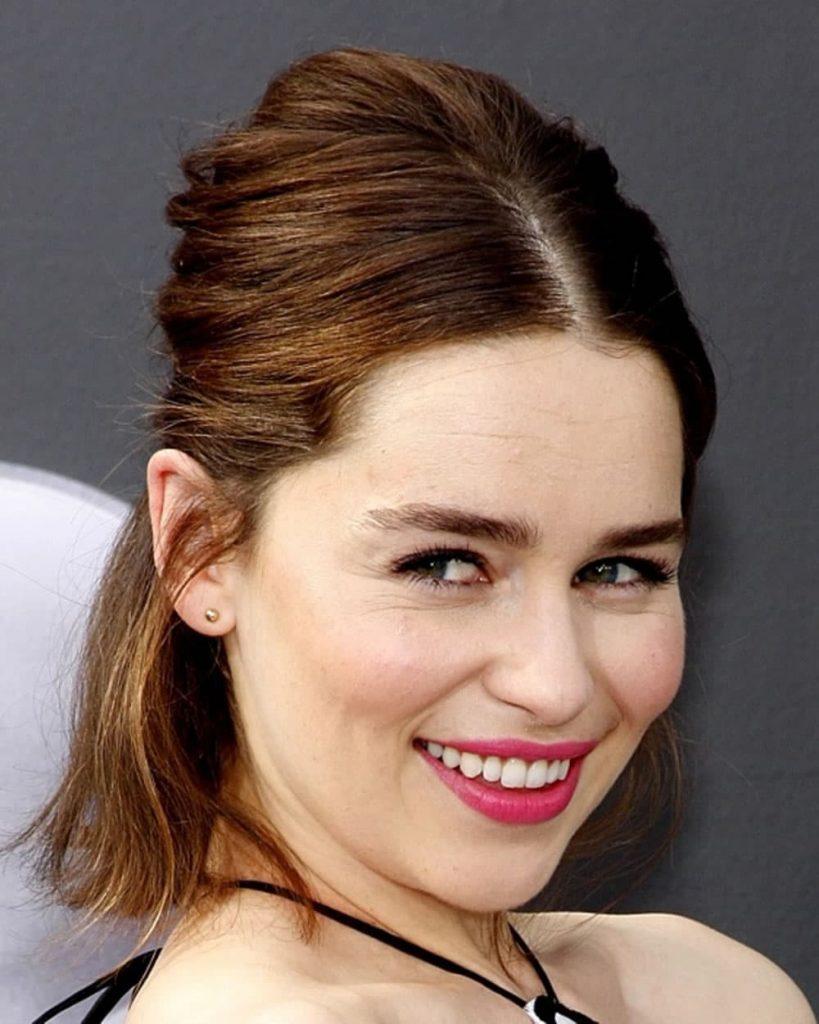 ↓ 2 – Hairstyle with Highlights
Instead of simply dying the hair, try experimenting with highlights. Highlights tend to bring out the natural color of your hair and enhance it. This isn't something that should be attempted at home, though. Consult with professional hair stylists and decide on the style that suits your physique best.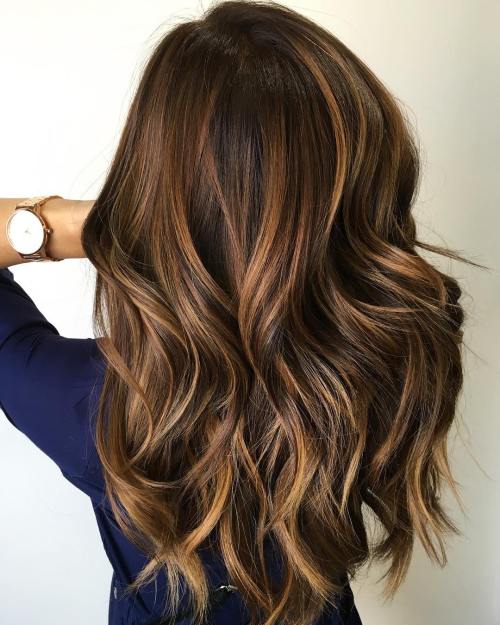 ↓ 1 – The Wedding Hairstyle
And finally this exquisitely beautiful style which will have you tie your hair into a bun with hair curling like roses on the side. Let a lock of hair loose and use pretty embellishments like pins to make it look extra dramatic. This is a hairstyle fit for a bride.