Hijab with Floral Outfits. Let's start with why you need to wear floral outfits. Well, to start off, they give such fresh vibes that you can just not help but wear them. Moreover, they look so beautiful in every season, but they're a special favourite for Summer and Spring time. And last but not the least, they're the latest fashion trend that everyone's following including celebrities and fashion bloggers so why should you stay behind?
But the problem with wearing florals for hijabis is that they often get confused about the right colour or style of hijab to wear with a floral outfit. Of course this is where we come in as we'll be sharing with you some amazing floral outfits and tips on how they've been styled rightly with hijabs and by the end of this post, you'll surely be a pro at rocking floral prints.
How to Wear Hijab with Floral Outfits
Let's start with some simple tips:
Wearing a floral hijab with a floral outfit is something that hardly ever looks good so this is a combination that you should avoid.
Make the floral print the highlight of your outfit by keeping the rest of it as simple as possible, as they say, beauty lies in simplicity.
When you're trying to mix and match different colors, make sure that you choose colours of the same palette so they go well together.
To add a pop of colour, choose the brightest color from the print in your outfit and use hijab and accessories of that color.
Florals often look great when matched with other prints like stripes or polka dots so if you're daring enough, do give this style a try.
However, never wear an animal print hijab with a floral outfit, or vice versa as these two can never ever look good together.
Now, let's move on and see how these tips look when applied practically.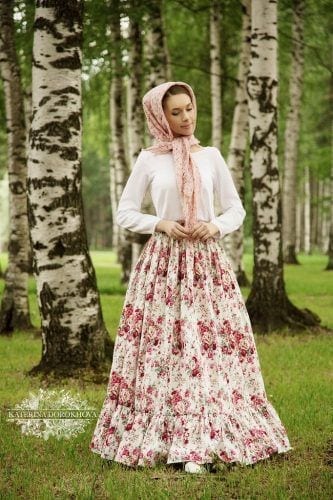 ↓ 20 – Hijab with Floral Gown for Wedding Guests
To attend a wedding, most asians choose gowns with intricate floral embroideries. Here we see a dress like that and as we shared earlier, the brightest colour in the outfit, i.e. pink has been chosen for the hijab so that there's the pop of colour which brings an instant glow to your face along with the festive vibes that are required for these functions. You can also check out these Tutorials on How to Wear Hijab Without Undercap if you're looking for this hijab wrapping style ideas.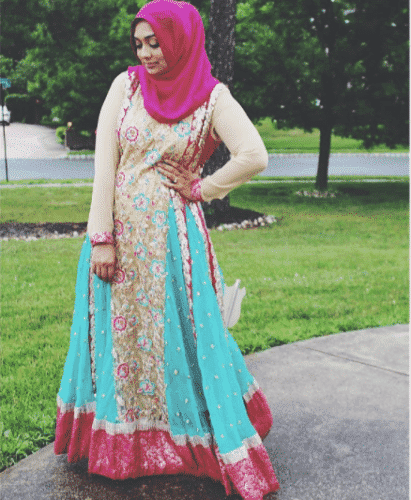 Via
↓ 19 – Nude Hijab and Floral Abayas for Travelling
When you're travelling, you obviously can't pack hijabs and abayas of different colours and matching everything isn't an option. So choose 2 to 3 of your favourite floral abayas and even a single nude coloured hijab can go well with all these hijabs. This makes a great and stylish combination for girls and women who're travelling, without increasing their baggage. You can see that this works well with both open and closed front abayas.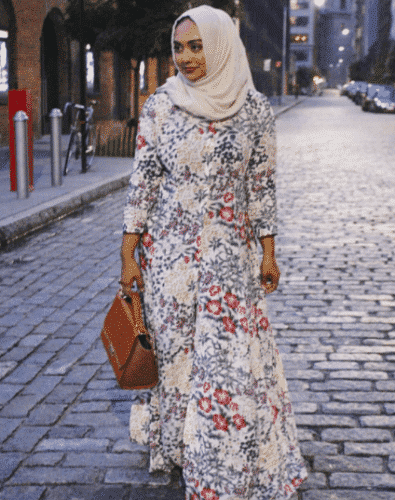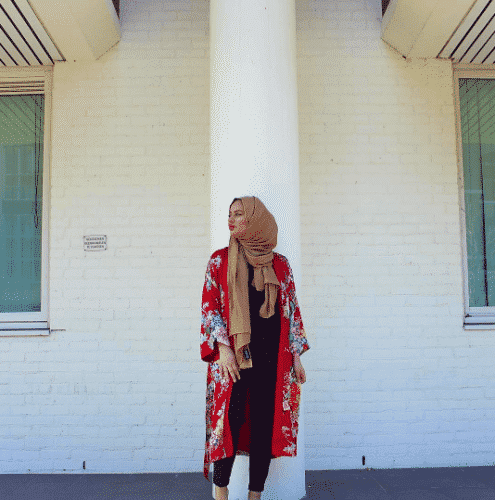 ↓ 18 – Floral Dresses with Hijab
If you're thinking of having a romantic lunch or date night with your significant other, what would be a better option than a flowy floral dress? Pair it with a light coloured hijab and a beautiful lip colour and he'll be unable to take his eyes off you. For more of such inspirational and modest outfit ideas, have a look at these Top 10 Hijab Brands.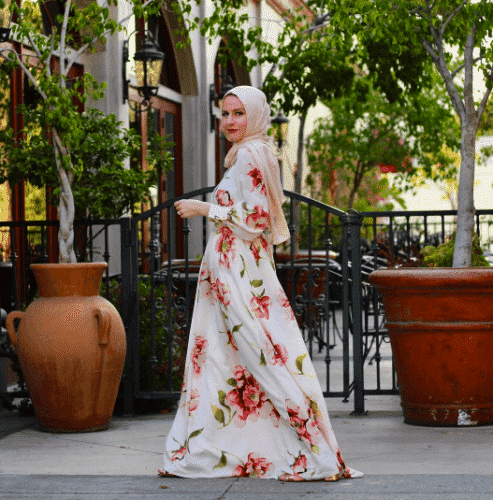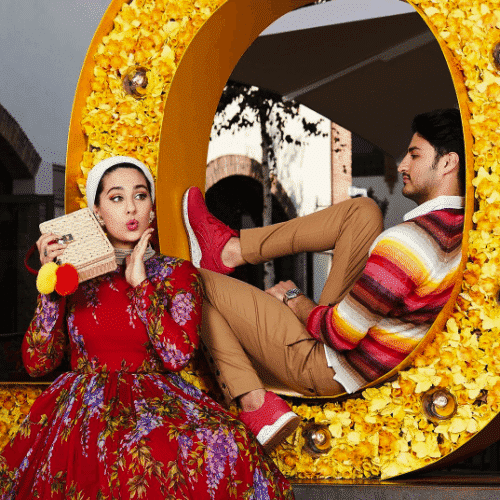 ↓ 17 – Hijab with Floral Dresses for Birthday Parties
Whether you're getting dressed for a birthday party or just a fun filled girls night out, a floral dress with a plain hijab will make you look as special as you are. If there's a leafy pattern in your floral print then match it with a green hijab and you'll be amazed by the results.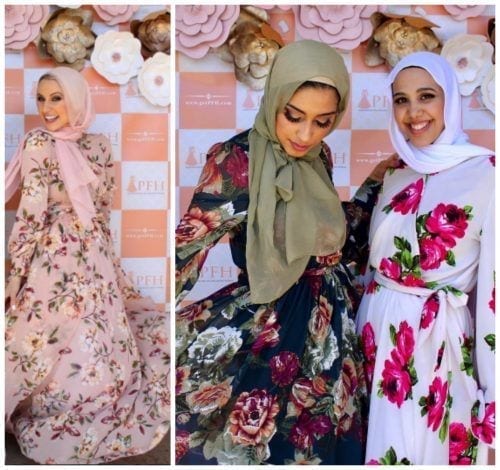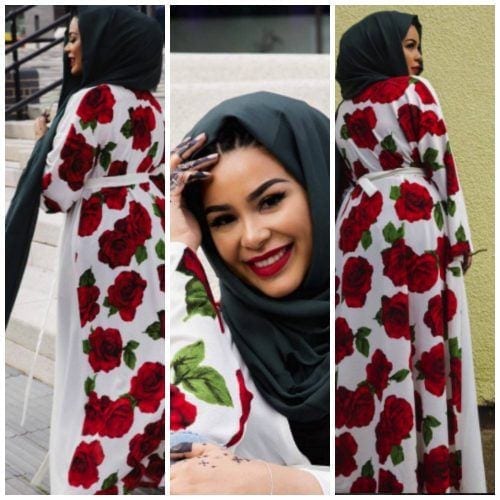 ↓ 16 – Anniversary Lace Dress with Hijab
What would be more perfect on your anniversary than a silk floral lace fabric dress and that too in white colour? It makes such a romantic and eye catching outfit and it can be paired with either off-white or cream coloured hijabs. Oh and don't miss out these 20 Sweet Wedding Anniversary Quotes for Husband He will Love.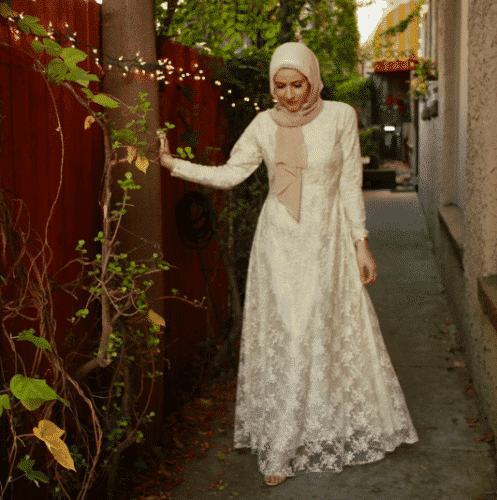 ↓ 15 – Floral Pants with Hijab
Who doesn't love floral pants? Whether you go for skinny ones, palazzo pants or cropped ones, they look great for casual wear as well as semi-formal. In fact, they even go really well as work outfits because when paired with the right blouse or top, they look very professional. Here are three different ways you can wear floral pants with hijab for work: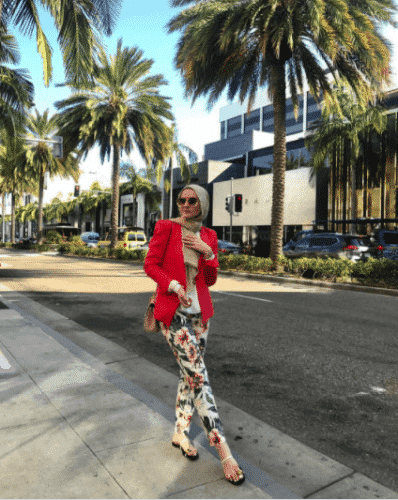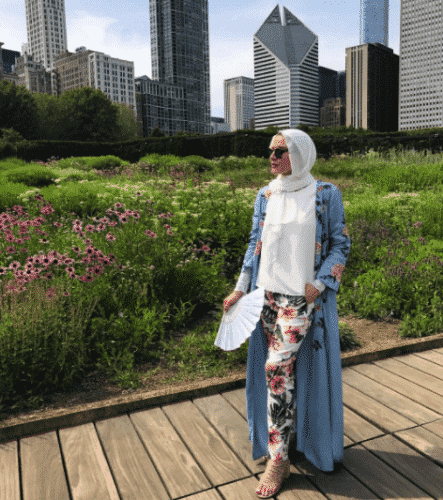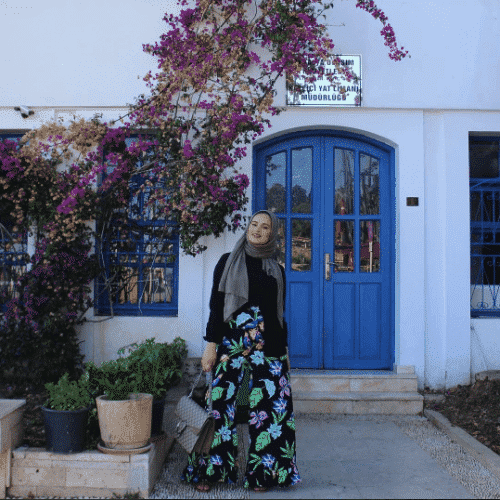 And here's a hot casual outfit with floral pants, sneakers, boyfriend shirt and a turban hijab. This look is all about sporty casual wear and makes you look great in floral prints without being too girly.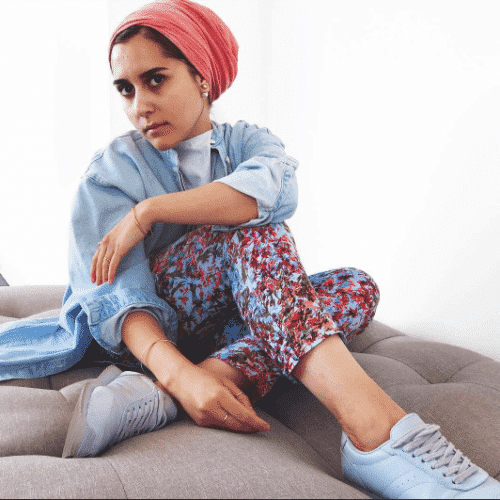 ↓ 14 – Floral Maxi Dress with Hijab for Summers
Who doesn't love wearing maxi dresses and they're definitely a staple item for hijabis to wear in Summers. You can pair it with one of these 20 Best Ways to Wear Egyptian Style Hijab.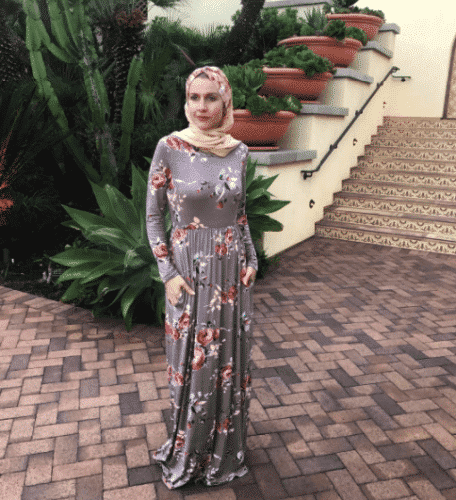 ↓ 13 – Floral Embroidered Gowns and Hijab for Wedding Guests
Another chic and gorgeous look for wedding guests who go for turban style hijab. It's best in this case to match the hijab with one of the base colours in your outfit, or you could go with a mix of two different colours and choose one for the cap and the other for your hijab.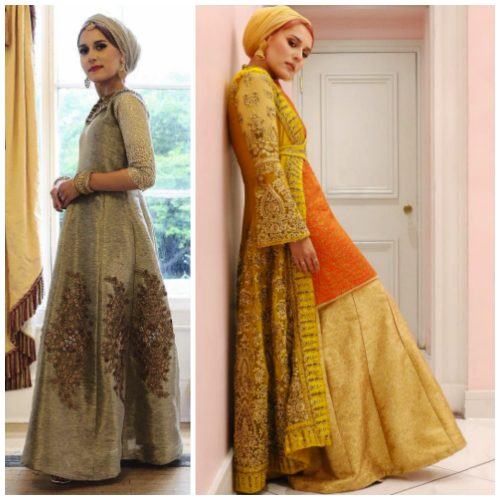 ↓ 12 – Skirt Outfit with Floral Top and Hijab
Wear a floral top with a plain skirt and hijab. Floral tops are another must have for Summers because you can create so many different outfit combinations with them like you could wear them with pants, skirts, leggings, jeans and what not and they will surely look great in any combination. But the trick is to choose a nice print in colours and fitting that looks good on you.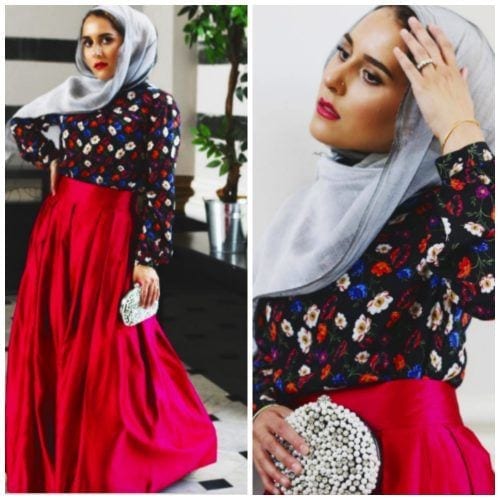 ↓ 11 – Floral Jumpsuit with Hijab
The perfect girly outfit, have a look at these 16 Ways to Wear Jumpsuits with Hijab.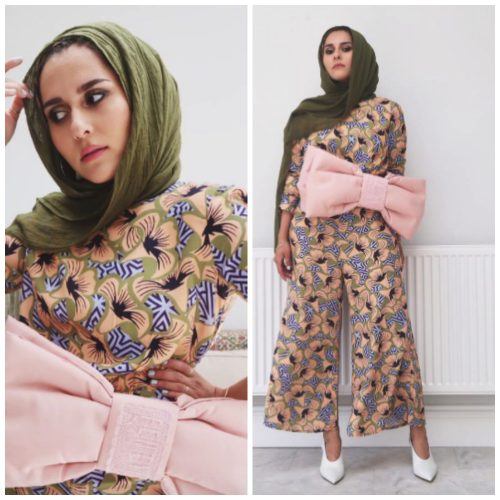 ↓ 10 – Floral Kimono with Hijab for Spring
A funky and fin filled look, wear a kimono with a belt and jeans for a fun day time outfit. You can add nude accessories including handbag and hijab.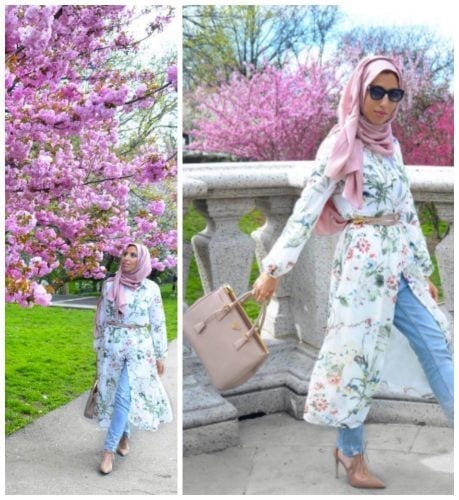 ↓ 9 – Printed Floral Kameez with Hijab
For ethnic wear, girls from many countries go for kameez, especially on the occasion of Eid. Here are 30 Ways to Wear Hijab with Indian Ethnic Wear.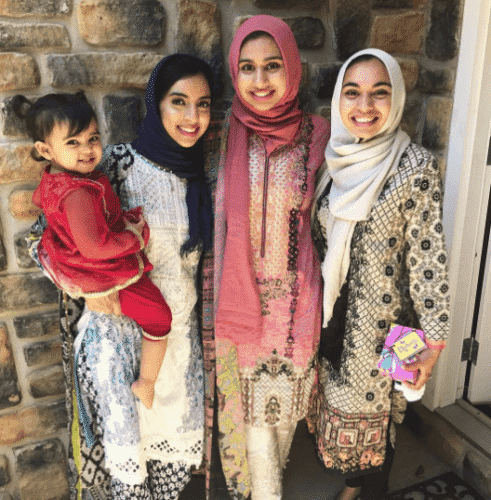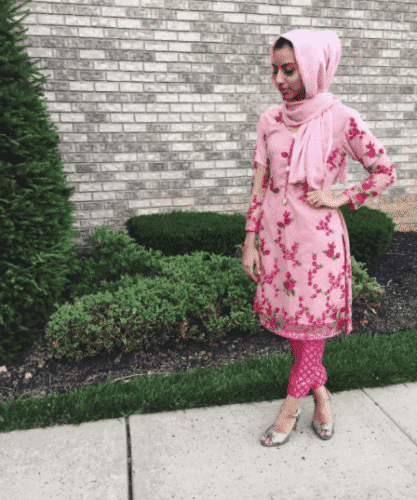 ↓ 8 – Floral Top with Hijab for the Beach
RECOMMENDED: Hijab Swimwear-15 Swimming Costumes For Muslim Women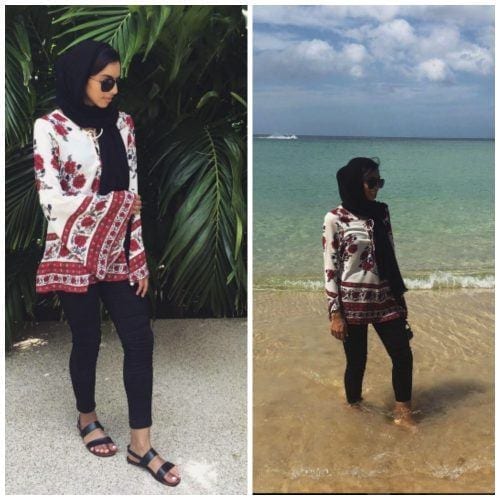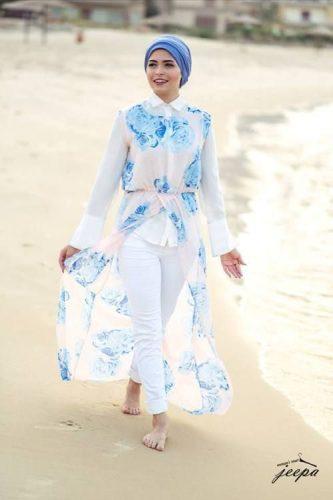 ↓ 7 – Floral Winter Jacket with Hijab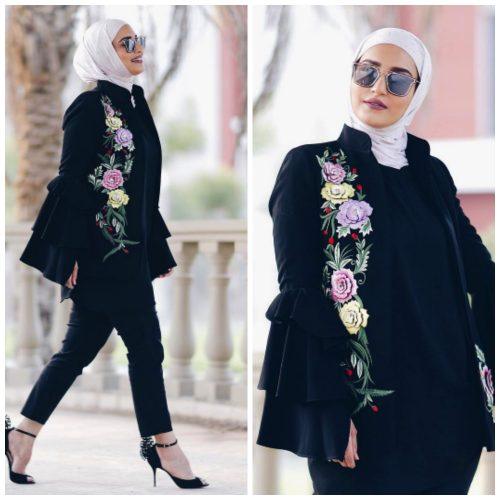 ↓ 6 – Floral Jeans with Hijab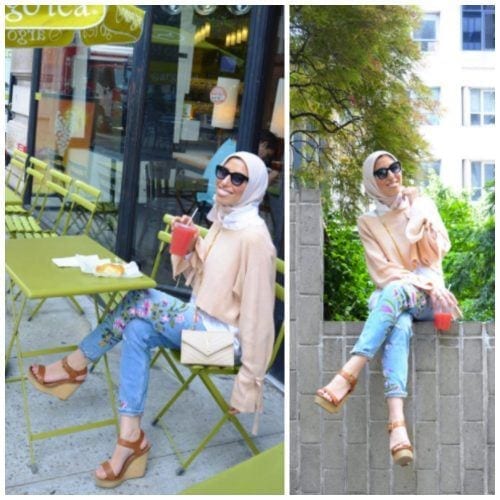 ↓ 5 – Black and White Floral Outfit with Hijab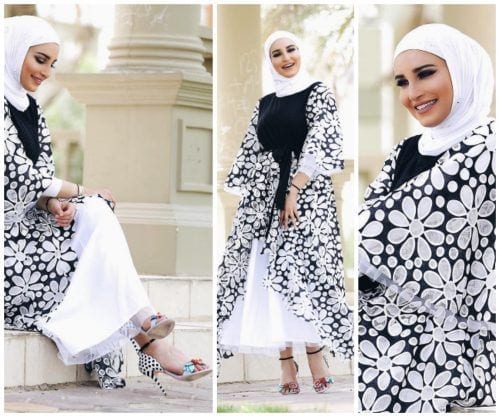 ↓ 4 – Floral African Style Skirt with Hijab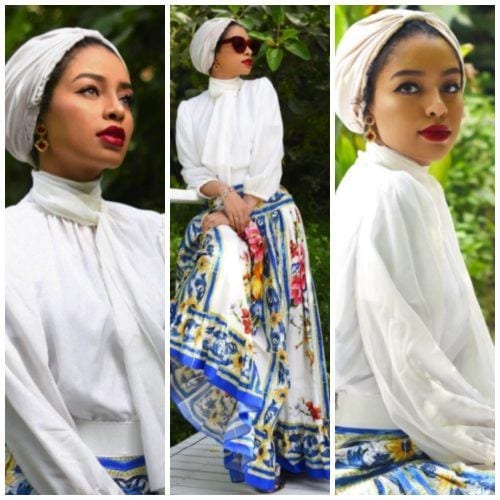 ↓ 3 – Classy Floral Dress and Hijab for Work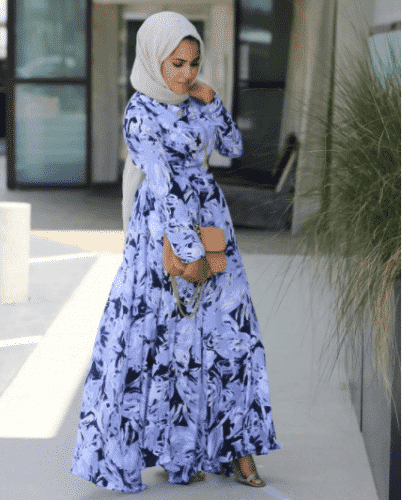 ↓ 2 – Floral Somali Dirac with Hijab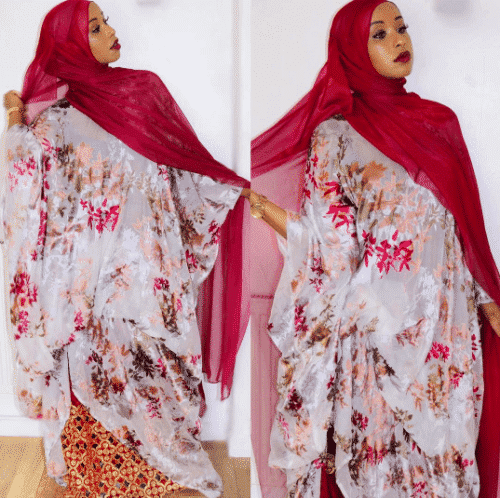 ↓ 1 – Hijab with Floral Bridal Outfit