Hijab with Jumpsuits. Who doesn't love jumpsuits? They are cool, chic and comfortable and can be worn in any season and for every occasion, just by the right styling. Another reason for hijabis to wear jumpsuits is that they are perfect for those who prefer modest wear. Modesty and versatility are thus the highlights of a jumpsuit. Moreover, it's a trend that never goes out of style.
They are available in so many great designs, styles and colours that you can always find a jumpsuit to match your taste and personality.
How to Wear Hijab with Jumpsuits Stylishly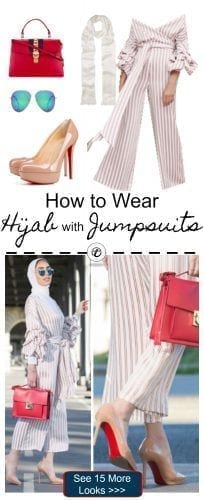 Some simple tips for hijabis who want to rock their jumpsuits:
If you want a hijab with a modest fitting, make sure that you don't buy one without trying it once.
If you're traveling and want to pack just one hijab to go with your different jumpsuits then always go for a neutral nude colored one.
If you like any sleeveless or not so modest jumpsuit, don't be afraid to buy it because you can always layer under or over it to transform it into a chic and modest outfit. RECOMMENDED: 20 Best Ways to Wear Egyptian Style Hijab
Jumpsuits are the easiest outfits to layer and you can create a number of creative looks with coats, jackets, sweaters, scarves and other layering pieces.
If you're new to wearing jumpsuits, a denim one would be the safest option to go for.
If you feel like this makes the outfit too loose for your taste, you can always add a statement belt to make yourself look more proportionate.
The type of shoes and hijab that you wear can completely transform how your jumpsuit looks, for a day to night transformation, try wearing your jumpsuit with a printed hijab and sneakers for daytime and switch to a metallic solid hijab and high heels for a chic night time look.
↓ 16 – Layering Your Jumpsuit
A polka dot jacket looks great with a solid coloured jumpsuit, pair it with a nude hijab and some chic accessories.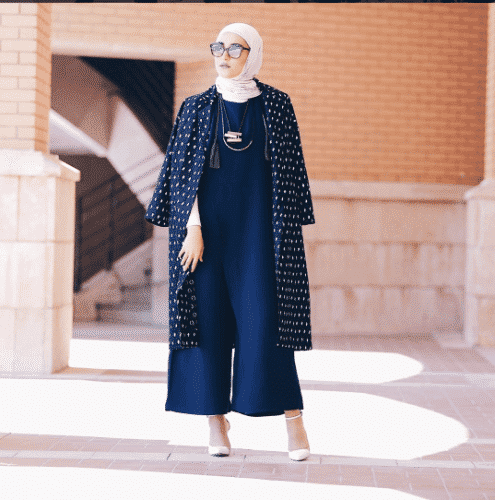 ↓ 15 – Jumpsuit, Hijab and a Hat
This look is such a cool and refreshing one, which makes it ideal for outdoor activities such as picnics, outdoor birthday parties and even for hiking, though you'll obviously have to choose different shoes, depending on the occasion. Here we see gorgeous black jumpsuit worn over a striped tee and layered with a sleeveless denim jacket. The fedora hat totally steals the limelight. Here are some simple Tutorials on How to Wear Hijab Without Undercap.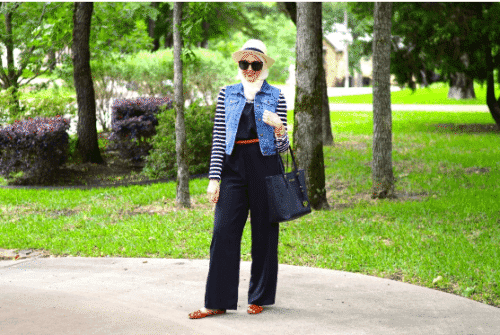 Via
↓ 14 – Jumpsuit with Abaya and Hijab
Girls who wear abayas can also rock jumpsuits by layering over them with a front open abaya. You can match the color of your hijab with the jumpsuit for best results. Here's the latest in Turkish abaya fashion: 20 Ways to Wear Turkish Style Abaya.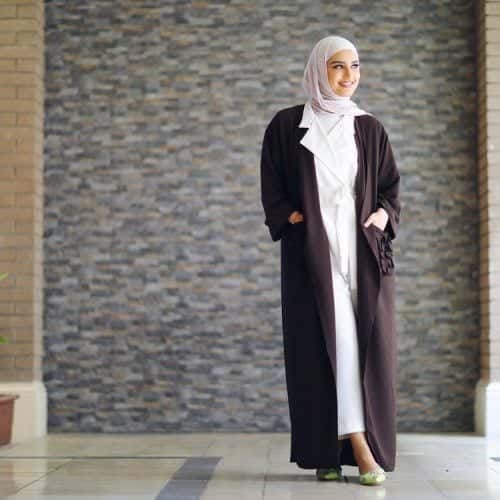 ↓ 13 – How to Wear Hijab with Jumpsuits in Winters
Since jumpsuits look awesome when layered, you can wear them in both Summers as well as Winters. A fur coat over a jumpsuit can totally transform your simple summer jumpsuit for the chilly season.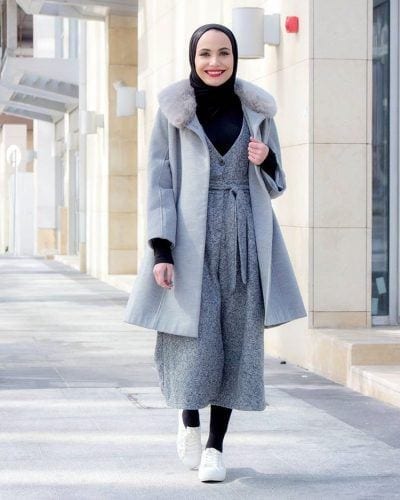 ↓ 12 – Modest Jumpsuit Outfit
Unfortunately, it's very hard to find a jumpsuit in full sleeves and the right neckline, but this shouldn't be a problem as jumpsuits look great with a shirt worn underneath them. If you're wearing a light coloured jumpsuit then wear it over a white tee and if you're going for a dark colored one, you can wear both white and black under it. For a polished and professional look, you can even wear your jumpsuits over a button-down dress shirt. However, for this, it is essential that you buy a jumpsuit in loose fitting.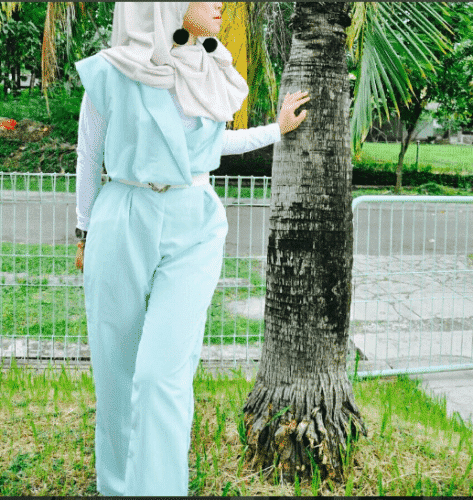 ↓ 11 – What Hijab to Wear with a Denim Jumpsuit
Denim jumpsuits are one of the safest options for those who're wearing jumpsuits for the first time. You can add colour and personality to a simple denim jumpsuit with the right bag so here are the Top 20 Designer Bags of 2017, to go with your awesome jumpsuits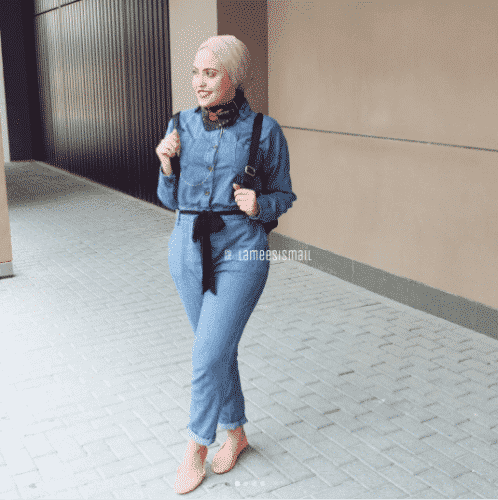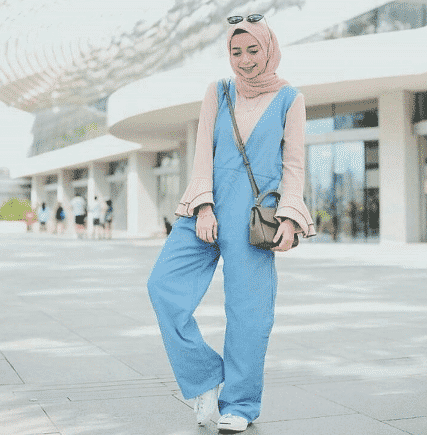 ↓ 10 – Metallic Hijab with Jumpsuit for Wedding Guests
It's always good for hijabis to add the latest trends to their simple outfits, these days, metallic is the latest trend whether you look at outfits, shoes or any other accessory. For a formal occasion or wedding functions, try pairing a metallic hijab with a monochrome jumpsuit and accessories, you'll be amazed by the beauty of this combination. Have a look at 30 Ways to Wear Hijab with Indian Ethnic Wear.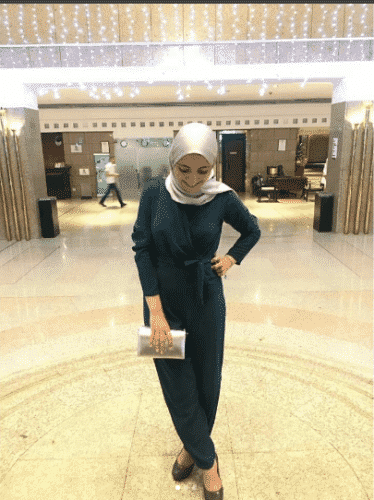 ↓ 9 – Hijab with Floral Jumpsuit for the Beach
Nature is always inspiring and mesmerizing, so incorporate the freshness of a floral jumpsuit to your beach outfit. You can pair it with a polka dotted or a solid colored hijab, but never wear floral on floral as it makes your outfit look too busy and just doesn't convey the same level of sophistication. Here are 20 Gorgeous Beachwear Outfits for Plus Size Ladies This Year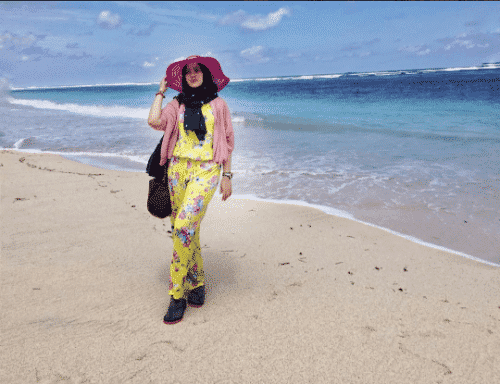 ↓ 8 – Sporty Look in Jumpsuit with Printed Hijab for Fall
For a sporty look, wear a printed hijab and a white shirt under your jumpsuit and for the shoes, our top pick this year will obviously be the adidas superstars but you can also choose from one of these  20 Best Designer Sport Shoes for Women to Buy This Year.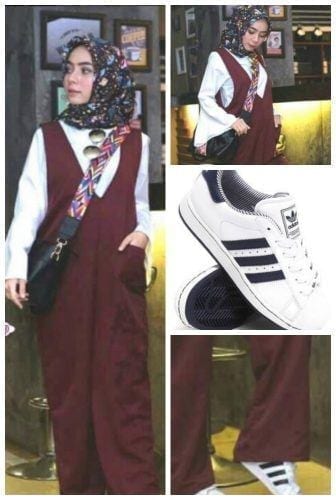 ↓ 7 – Hijab with Pink Jumpsuit
When wearing a pastel coloured jumpsuit, for example a pink one, you should go for a pastel coloured hijab in a similar shade, but not the same one of course. If you want your face to look glowy then choose a shade darker than your jumpsuit and if you want to show off your tan, then opt for a hijab shade that's lighter than your jumpsuit.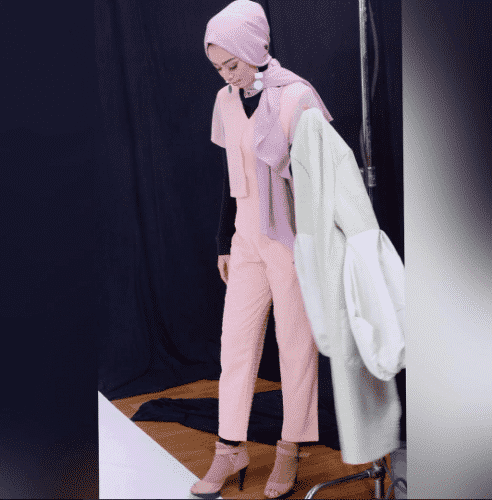 Via
↓ 6 – Casual Jumpsuit with Hijab
Want to wear your hijab and jumpsuit combo for a morning brunch, lunch, coffee or simply a stroll around the town? Go for the blue and white combination as shown below for a hot casual look that's effortlessly stylish. Here are 20 More Ways to Wear Hijab Casually.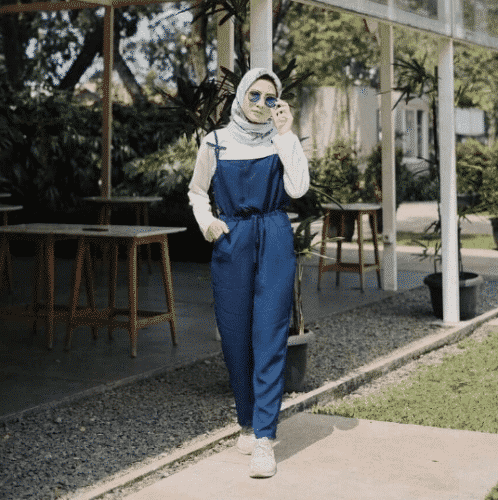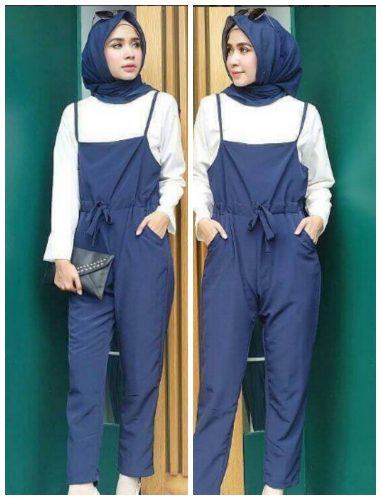 ↓ 5 – Printed Jumpsuit with Hijab
For a printed jumpsuit, it's always a good idea to wear a hijab that matches the base color of your jumpsuit's print.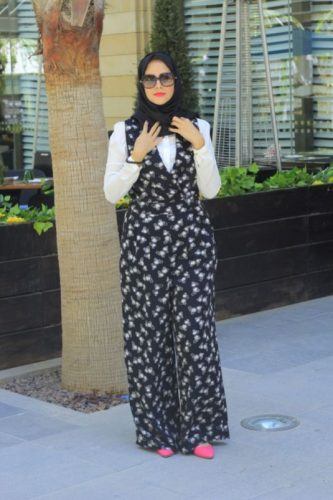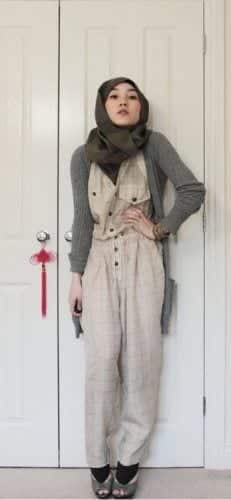 ↓ 4 – Maternity Jumpsuit Styling with Hijab
Women are always hesitant when wearing jumpsuits when expecting, but if you really think about it, they're so comfortable and stylish that they make excellent maternity outfits. Some things to keep in mind are that the jumpsuit must have an elastic waist and also choose one in a good quality fabric so you don't feel irritated. Go for some flat shoe such as these Funky Slippers.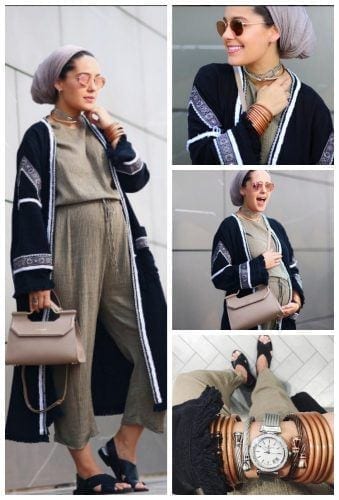 ↓ 3 – White Jumpsuit with Hijab
Monochrome outfits always look great and give you a great chance to show off your gorgeous accessories.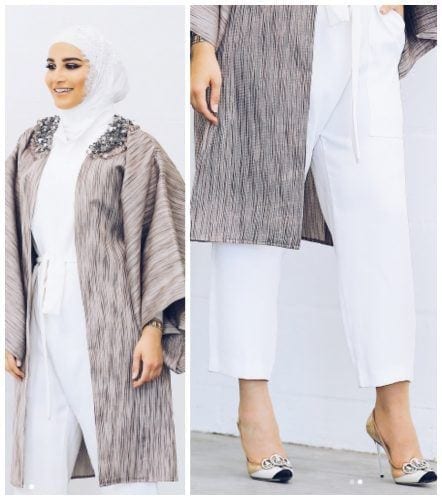 ↓ 2 – Jumpsuit Outfits for Travelling Hijabis
Jumpsuits make for the best traveling outfit, not just for the trip but also for the flight. A comfortable and practical jumpsuit can make your trip so much more memorable so do give them a try. And if you're into traveling, don't miss out these World's 80 Best Travel Destinations of the year.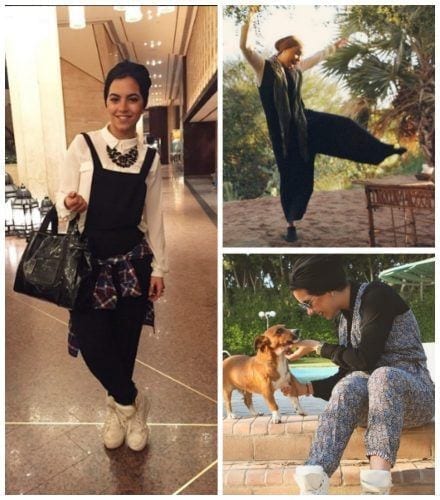 ↓ 1 – Hijab with Striped Jumpsuit
Another great look for traveling.