Latest Shalwar Kameez Designs for Girls. With shalwar kameez coming once again into a vast trend of attraction, women have got themselves all awe-struck because no other trend, long lost from the past has come back with such an impactful return that ladies can't help themselves of filling their wardrobes with it.
The shalwar kameez trend was vastly popular in the 90's but now has come back in the 2019 and is going to stay for a while because of so many cool designs it is offering in the market; which includes Patiala, straight cut, and much more you should see. So, we suggest you do not miss out on these following classy shalwar kameez styles for women in 2019.
How to Wear Shalwar Kameez Stylishly

RECOMMENDED: Top 10 Pakistani Clothing Brands for Women 2019
#15 – Latest Punjabi Patiala Suit
Here is the latest style of Punjabi Patiala suit for women in 2019 with a stunning high neck shirt and embroidery.
How to Style: Makeup/Hair with Shalwar Kameez
Try some cultural jewelry with this dress like the model and some catchy makeup tips. Dress your hair in a bun to match with the theme of dress. To go for something different and trendy, go for messy top bun as all celebrities are rocking it this year.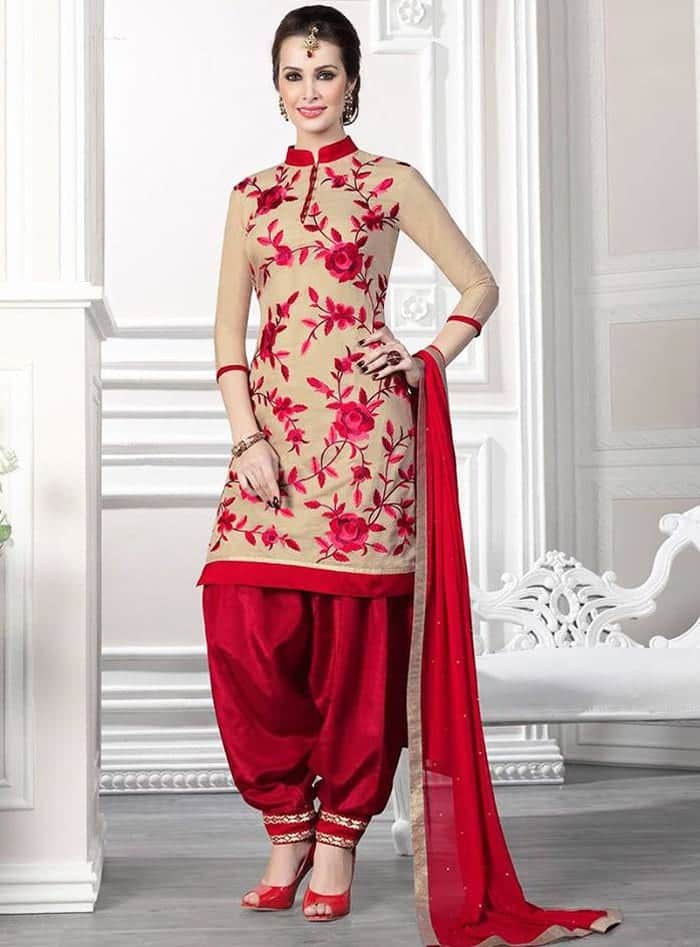 #14 – Straight Cut Shalwar Kameez Style
With this gorgeous parrot green straight cut shalwar kameez style; you can try heavy makeup with some dark lip colors like; coral, red, maroon, etc for a good contrast. Go with traditional jewelry and leave your hair open (straight or curls). Also, try heels as in like the model for perfection.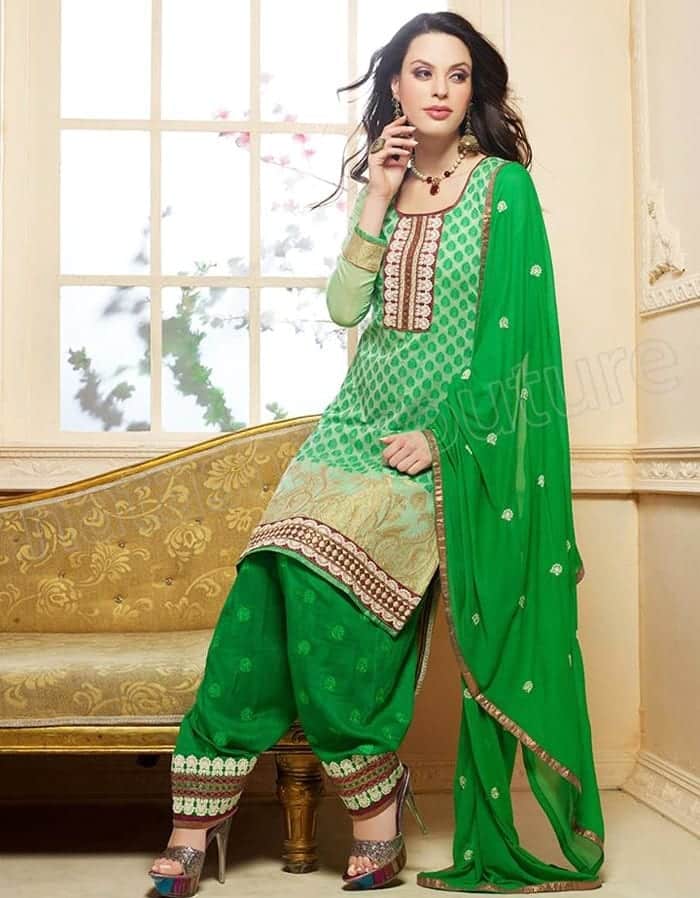 #13 – Full Plated Shalwar Kameez Style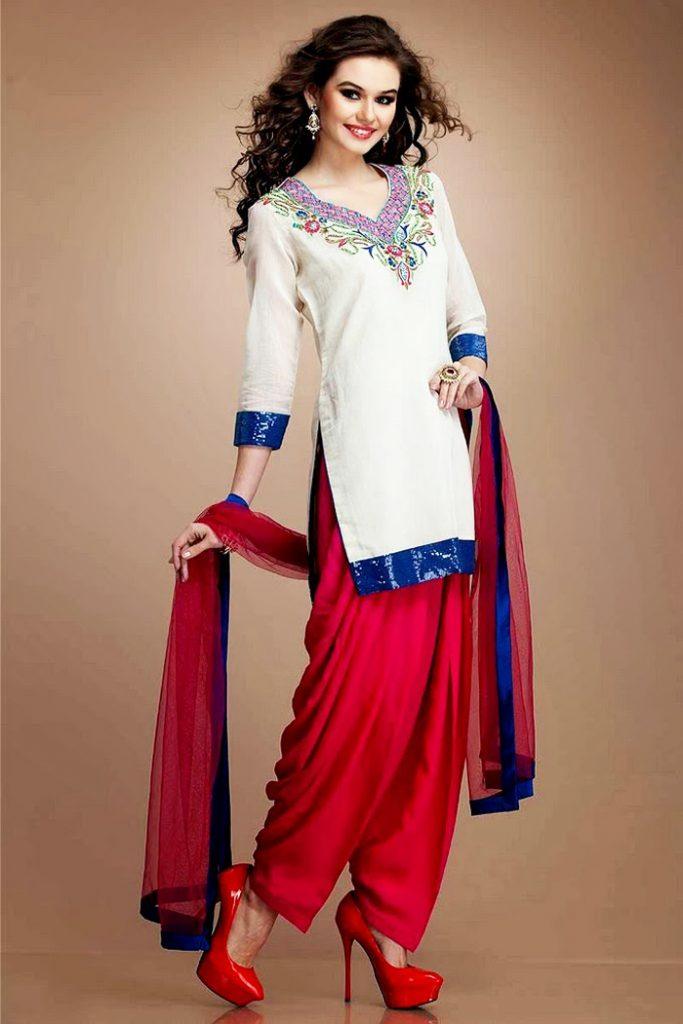 #12 – Short Shirt with Shalwar Style
Also, the catchy trend of short shirts with shalwar kameez is back with the swag. Following this model's style will be good enough for you. Leave your hair all curled and open, go with matching earrings (large/medium) and go with absolutely darker lip colors to make it go nicely with light blue. Heels will be the right option with a short shirt. For some more amazing shalwar kameez ideas, have a look at Alia Bhatt Outfits-32 Best Dressing Styles of Alia Bhatt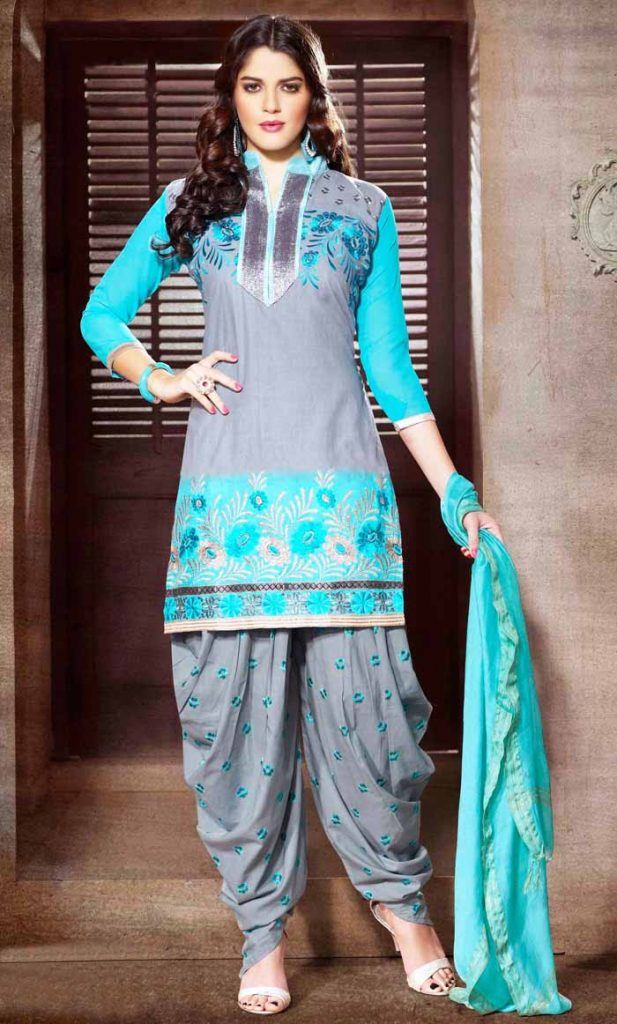 #11 – Silk Printed Style
For the times when there comes a fancy occasion, your cute and comfortable shalwar suit will be handy. If it happens to be this silk printed suit. You can wear it in the classiest way possible — match it with heels, leave your hair all open without any hairstyle and keep your makeup lighter to compensate.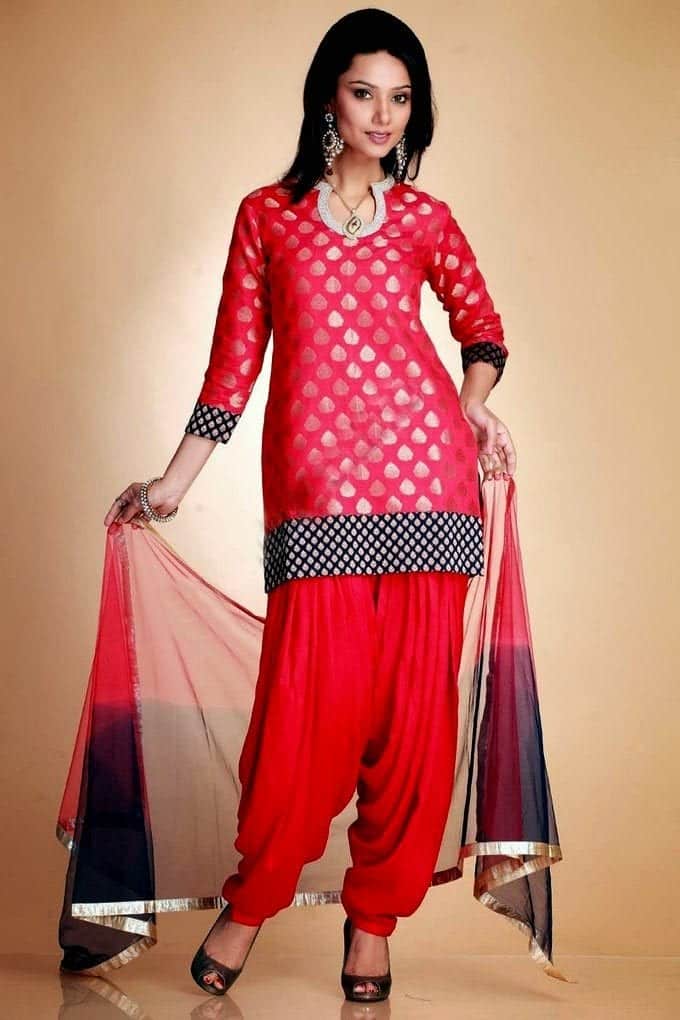 #10 – Elegant Shalwar Suit for Girls
Here is an extremely attractive and elegant shalwar suit for girls to try. It's gorgeous silk blue color is already so appealing and to enhance it, make it go with a cherry red lip color and matching jewelry. Wear it with some lighter color shoes, silver or silver-blue. While, for your hair, leave it straight and silky and you will be flawless. Check out 30 Latest Indian Bridal Gown Styles and Designs to Try this Year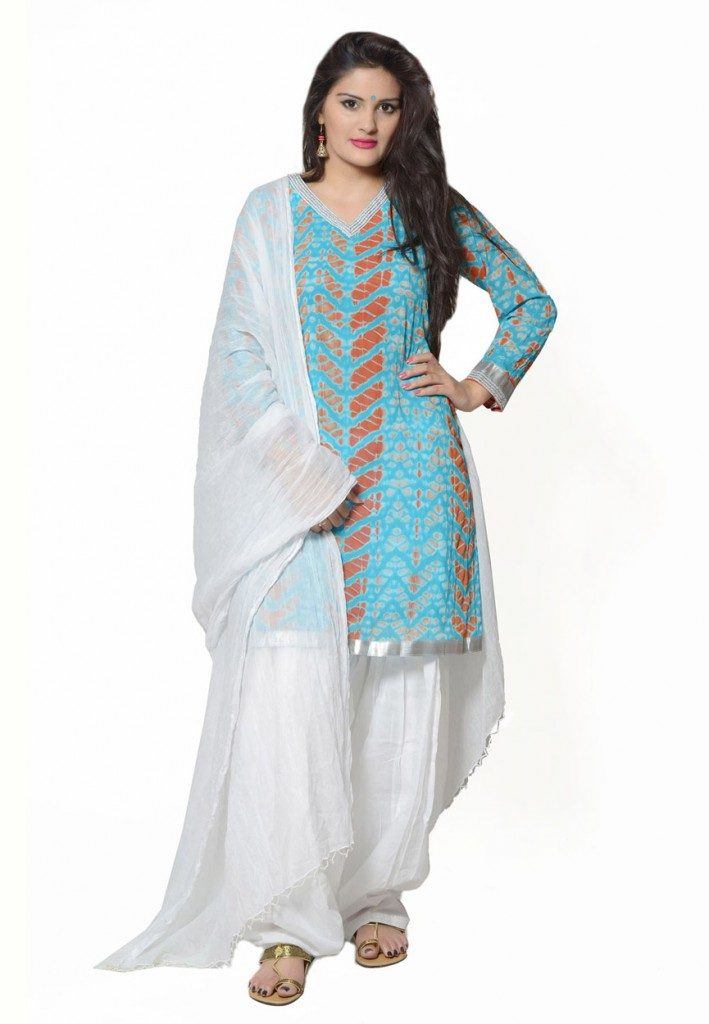 via
#9 – Shalwar Suit with Platform Heels Style
The time comes when we can miraculously match platform heels with apparently every clothing we own. Also, something less modern — shalwar kameez. Yes, there is a shalwar suit style that you match with platform heels which will undoubtedly look very appealing! So try a crazy pair of platform heels with that gorgeous red shalwar suit you own.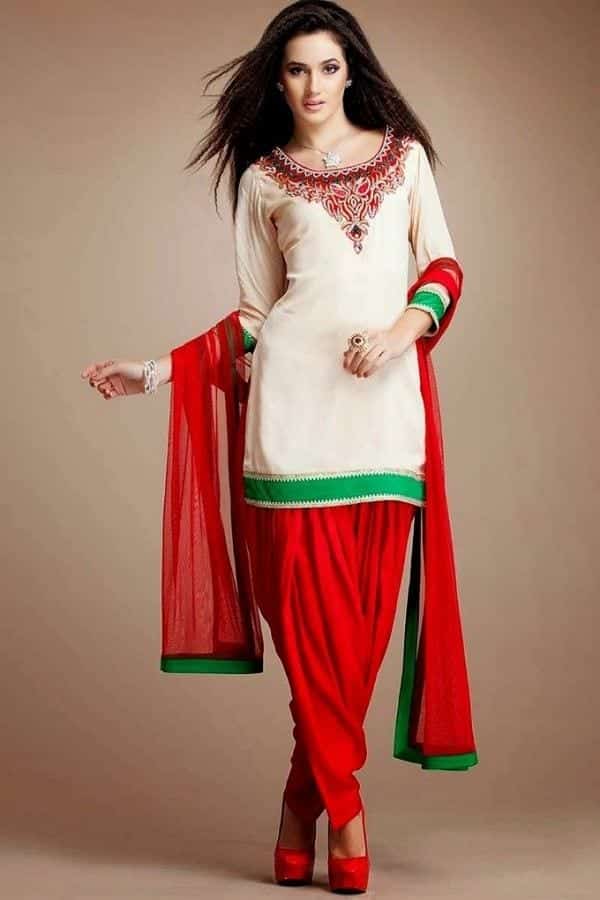 #8 – Shalwar Kameez with Sleeveless Shirt
If you happen to be a bit too proud of your posture, then this sleeveless shirt with this shalwar kameez will be your best look. We suggest you leave your hair open and straight (like the model) and go with a bit darker makeup tactics unlike the one below.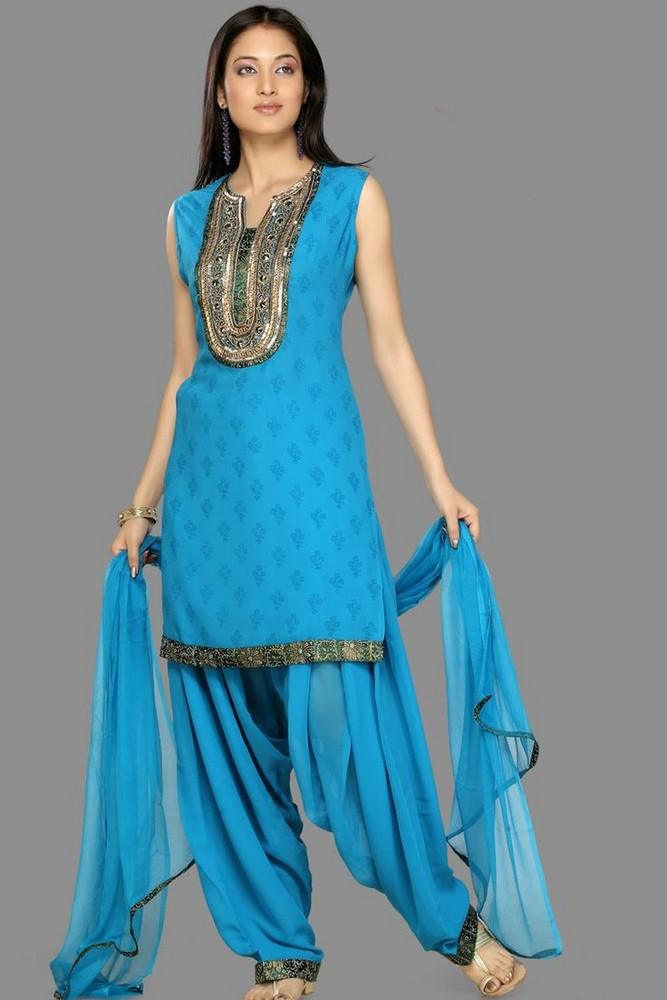 #7 – Colorful Patiala Design Look
Wear an extremely cultural and colorful Patiala shalwar suit and rock it like this model has. Dress your hair in a stunning desi side plate, wear cultural earrings and hair jewelry and rock it like no one else. As for your shoes, we suggest trying something like flats or closed pumps and avoid heels as it will tamper with the cultural look your dress is offering. And there you go!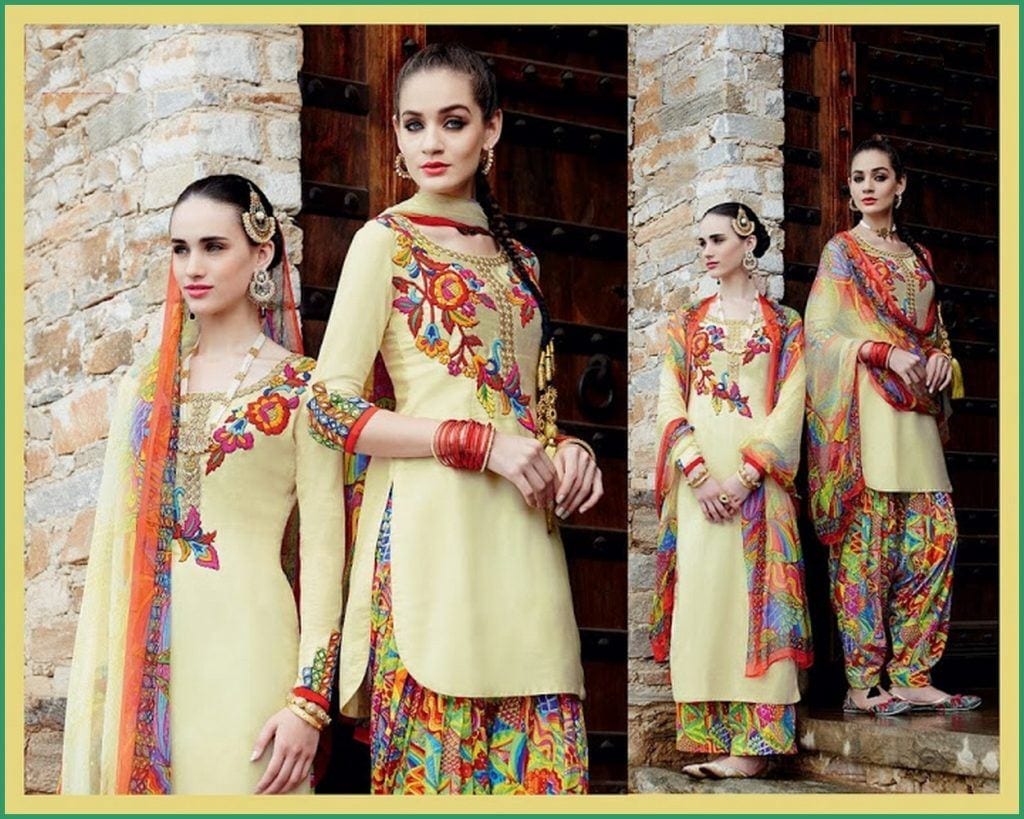 #6 – Straight Cut Formal Shalwar Kameez
Who knew the fashionistas would release a formal look to shalwar kameez? Well, fashion did and here we go having a classy and formal style of shalwar kameez for less fancy occasions and more formally casual ones. So keep your worries aside and wear it in your most comfortable way. Keep your hair all light and straight and no need to dress it much. For makeup, we suggest you go with a light nude lipstick and smokey eyes, add a touch of turquoise to the eyes for something different.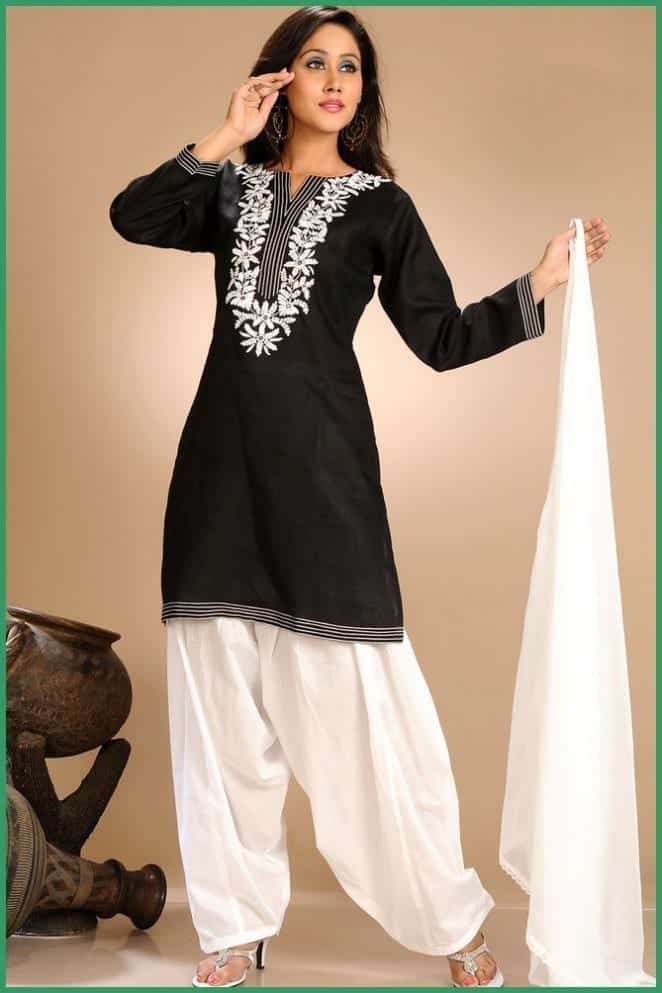 #5 – Aisha Takia Shalwar Suit Look – Celebrity Style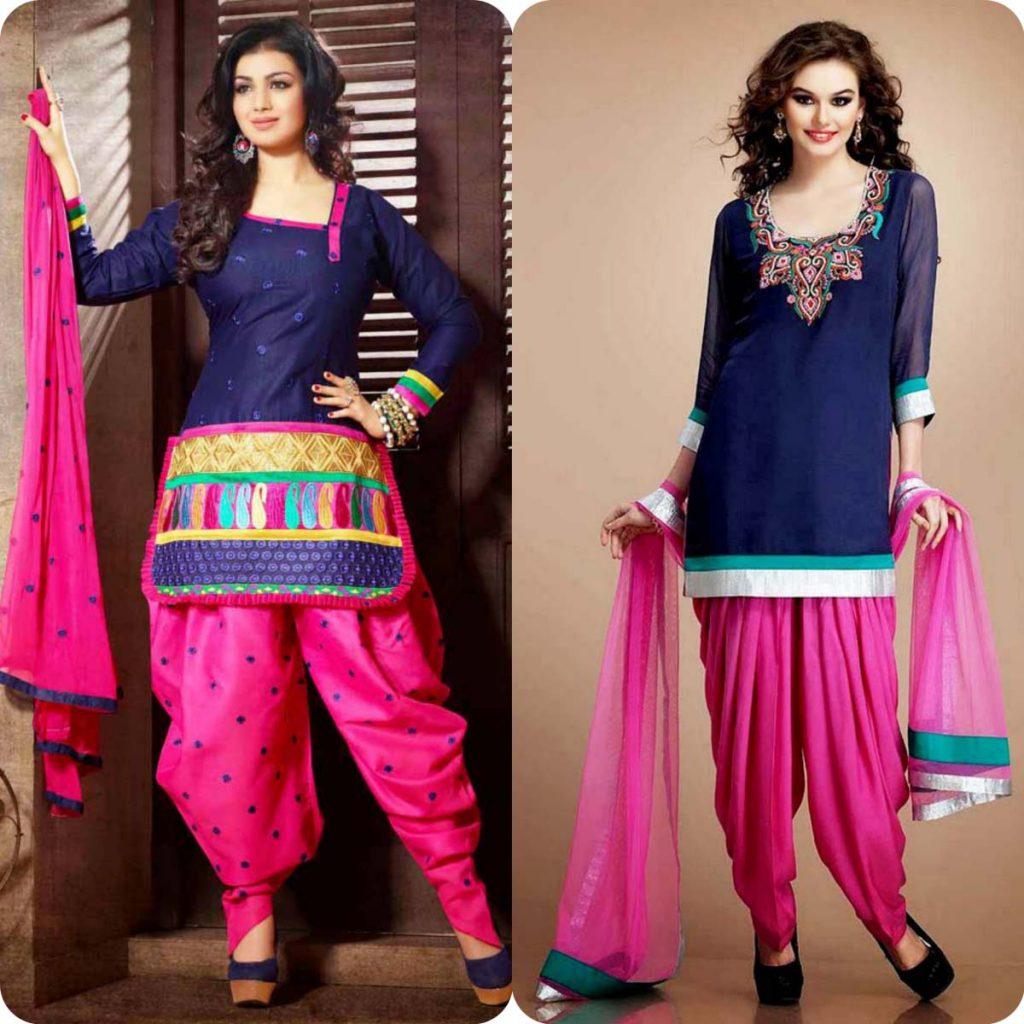 #4 – Fancy Shalwar Suits for Parties
Your most needed party styles are here — catch these unique and appealing fancy shalwar suits for girls to wear at parties and fancy gatherings. Some great tips for hairstyle and jewelry are given below, so explore and land on the best.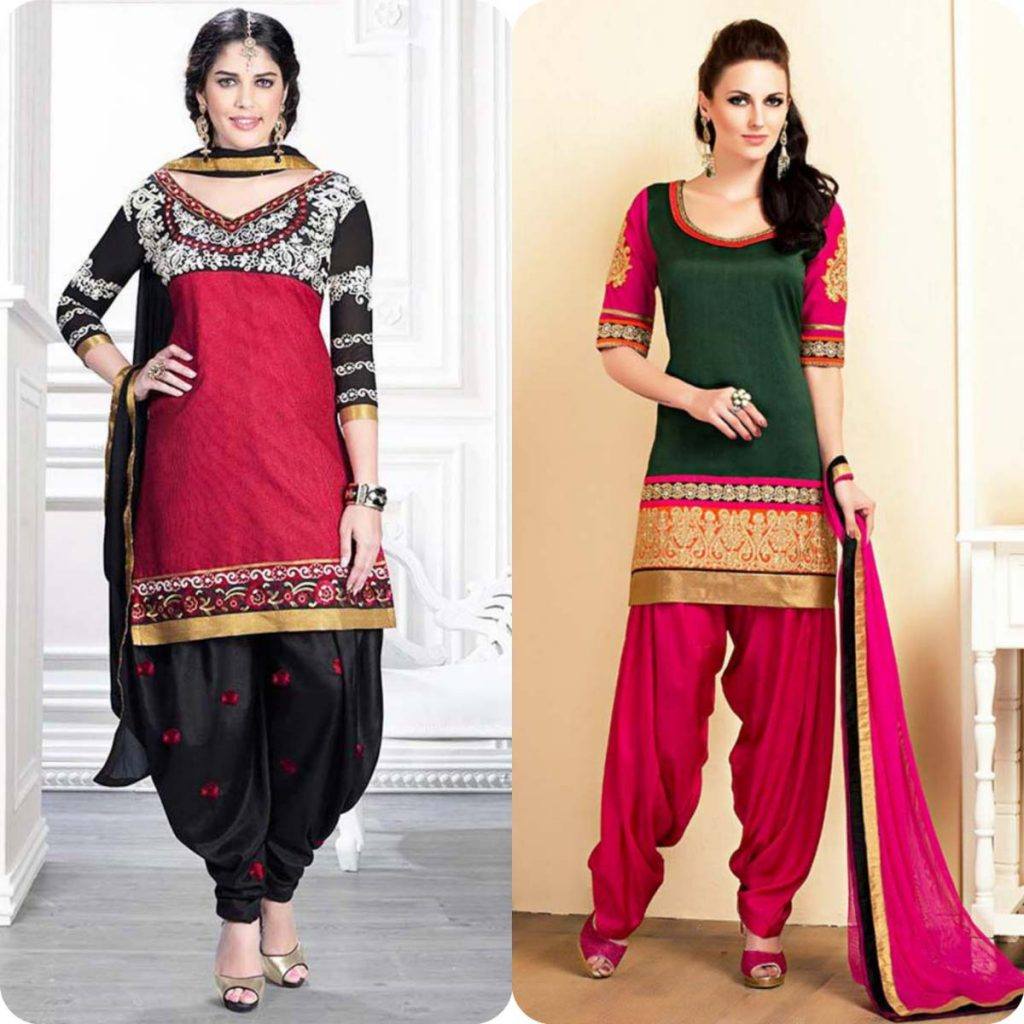 #3 – Shalwar Kameez for Mehndi Occasions
Shalwar kameez style that is just meant for a celebrated Mehndi occasion — and make sure you wear just like art with which this model has worn it. Style your hair as you like and give it a more desi look so it blends in. Apparently, wearing a lot of jewelry is the culture so you can try all the great appropriate jewelry you have that will match this dress. Wearing bangles will be a plus point. While for makeup we suggest you don't miss out on a cherry red lip color, because yellow and red simply rock together.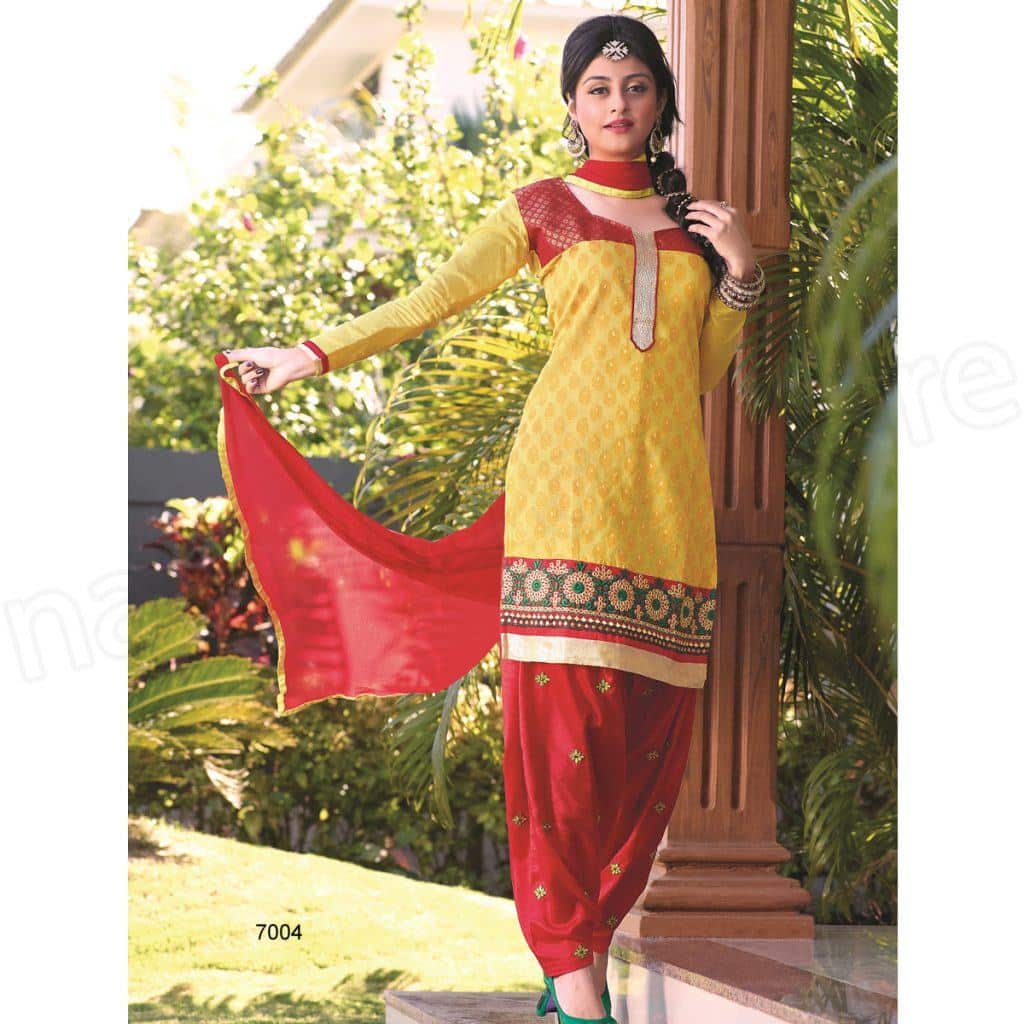 via
#2 – Non-traditional, Mehndi Suit Style
A non-traditional Mehndi suit style for women to try! This style can definitely be worn with heels and your most modern jewelry as well. You can leave your hair all open in curls or layers and just be your most casual self, and still, manage to nail it. For makeup, you can be as creative as you want, and try any lip color or eye shades you feel like.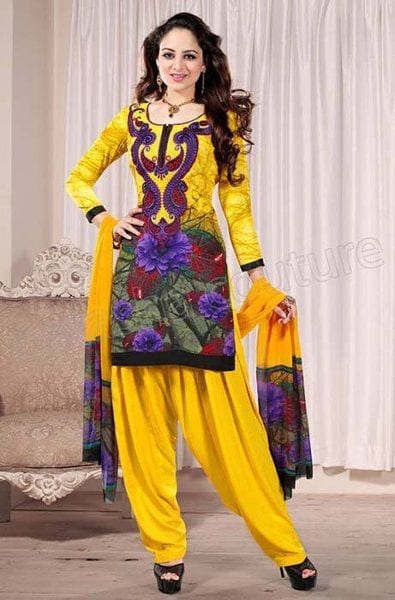 #1 – Patiala Suit Style from Dehli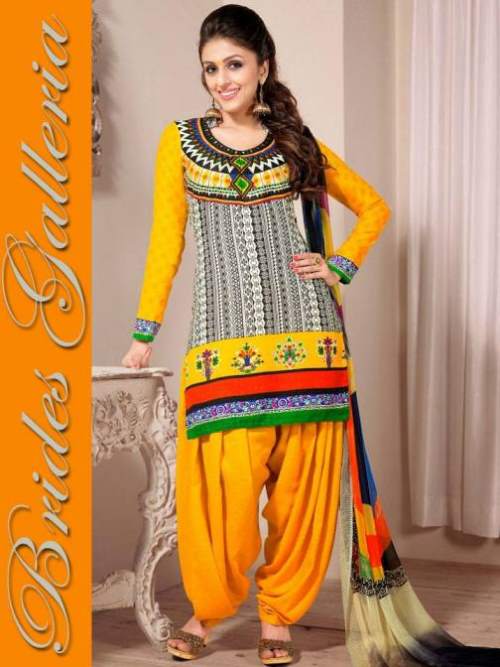 Tulip Shalwar Kameez Style
The stunning tulip shalwar style has become the center of casual theme all over Pakistan. You can wear it in a more cultured manner with a long shirt and dupatta like the example below.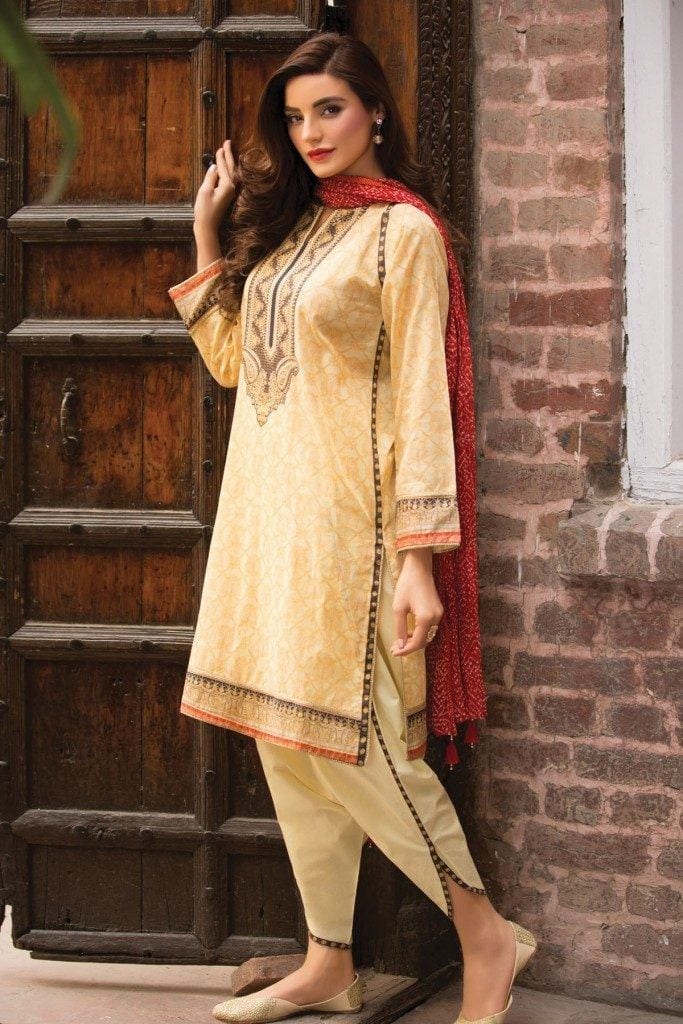 Or you can wear it with a short shirt like this.
Tulip shalwar with short shirt gives it a bit of western look, a style meant for all bold and classy women.