Looking for the latest Hijab fashion? Hijab as you all know is a veil that Muslim women wear to cover their head and chest. There are many new pink hijab styles that can be carried out. In many Muslim countries the hijab is considered compulsory whereas some wear it as a fashion statement. Those who wear hijab as a sign of fashion are often seen wearing different styles and colours.
There are many new incoming trends in hijab with designs, pattern and colours. It can be worn to several occasional events or gatherings. Fancy scarfs can be worn to formal occasions whereas, plain one's could be worn to normal gatherings. So if you wear hijab, I'm sure you love pink colour? Here are some great ideas to wear pink colour hijab. If you want you can also use these styles of wearing hijab for any other colour you like.
Outfits with Pink Hijab
These days young girls are preferring pink colour the most. Whether they are printed or plain.  Many varieties of hijab can be found in pink with designs like pleated scarf, knotted scarf, fancy fabric scarf etc. Colours can also vary from baby pink, shocking pink, dark pink, light pink. May be you can also add an under cap of different colour with the hijab to make it look classy.
1. Floral Hijab Style
Scarf trends change season to season and this time pink is ruling. You can easily pick any kind of prints of hijab that are available in the markets. If you like such multi-coloured scarves then take a look at the [highlight]Burberry Girls Multicolor Scarf Collection[/highlight]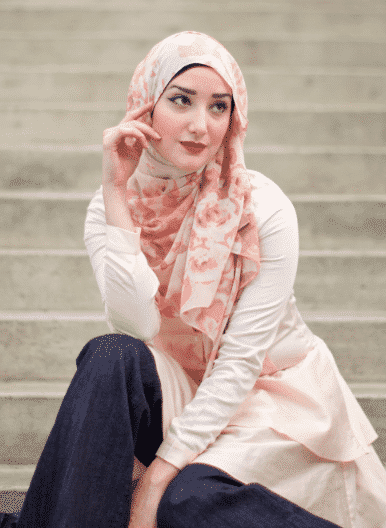 2. Silk Hijab

3. Chiffon Hijab