Casual Hijab Outfits. Muslim women prefer wearing Hijab in routine. Many Arab women wear it with different styles. This is not necessary that Hijab is worn with an Abaya but it can be worn any way you like it. Either wear it with western dresses. More style you put in your dress, the more elegant you may look.
Women belonging to different countries wear it with different styles, it depends on the origin and trends. Many people do not know how to pair up your head scarf with a dress. For the casual trendy dressing, one must know what can be worn with a scarf other than Abayas.
Casual Outfits to Wear with Hijab
Adding style in your routine and casual dressing is not much difficult. Just keep experimenting with what you like and wear. Here are some outfits which can be worn with Hijab. You can come up with your own looks by mixing together two or more of these looks and coming up with unique styles of your own.
 33 – Nude Color Outfit With Hijab
32 – Go Green With Hijab
31 – Casual Summer Outfit
30 – Trendy Checkered Pants Style With Hijab
29 – Pink & White Casual Outfit With Hijab
28 – Teenagers trends and Hijab
27 – Oversized Sweater Look With Hijab
26 – Outfit With Hijab For Running
25 – Sundress With Hijab
24 – Casual Denim Jacket And Jeans Outfit
23 – Hipster Hijab Outfit
22 – Casual Winter Outfit
21 – Traveler's Hijab Outfit
20 – High Waist Outfit With Hijab
19 – Elegant Hijabi Girl
18 – Pastel Color Hijab Outfit
17 – Smart Winter Hijab Outfit
16 – Cozy Winter Outfit
15 – Autumn Outfit Idea
14 – Cool Hijabi Girl Look For School
13 – Street Style With Hijab
12 – Animal Print & Denim
11 – Lace Hijab Eastern Look
10 – Trendy Gown Outfit And Hijab
9 – College Girl Outfit
8 – Cool Trendy Hijab Outfit
7 – Hijab Outfit With Statement Necklace
6 – 21st-century Hijabi Girl Look
5 – Stylish Hijabi Girl Look
4 – Modern Hijabi Girl Look
3 – Diva Style Outfit
2 – Simple Abaya Look
1 – Trend Setter Look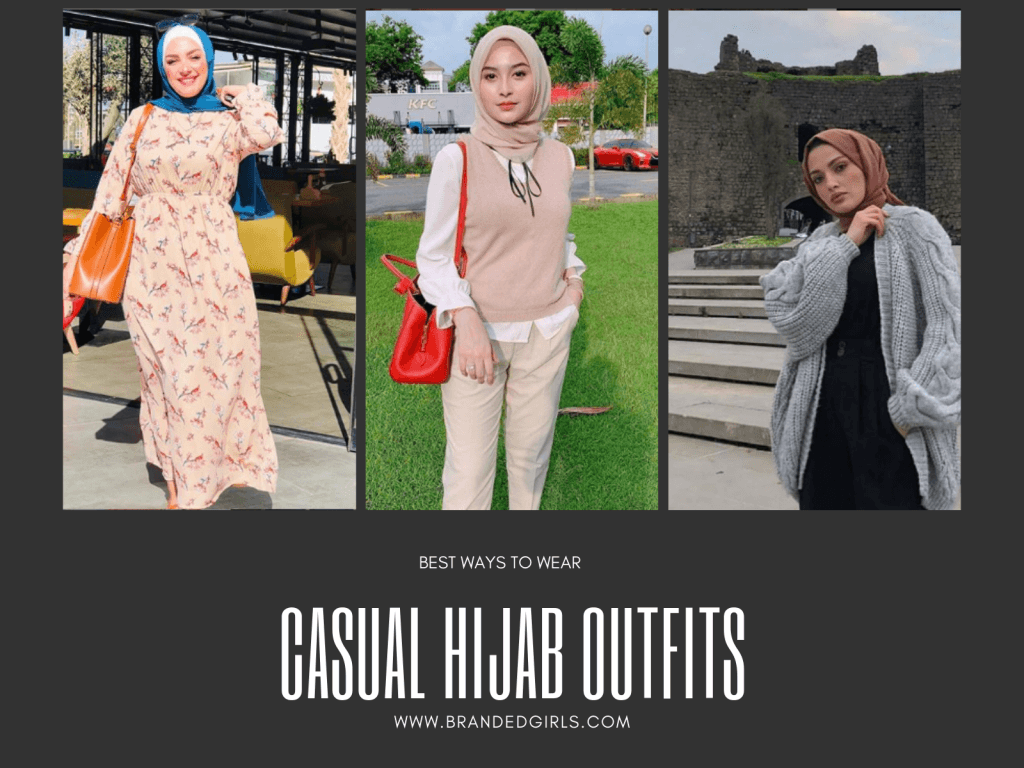 ↓33 – Casual Nude Color Outfit With Hijab
The nude shade is really going strong in the fashion world. The color has taken over every product that exists in the fashion community and has provided a completely new tangent to fashion with its not so colorful beauty. It is indeed a very decent color to be worn and always looks pretty stylish. This is the perfect casual nude color outfit look with nude shade pants, a white shirt with a nude color sleeveless sweater and to top it all, a nude color hijab.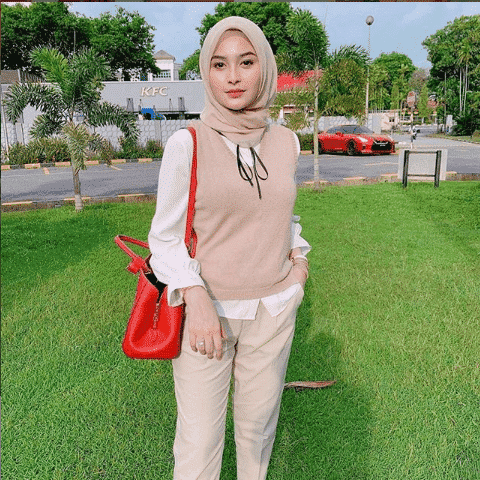 ↓ 32 – Go Green Style
If you are someone who loves the color green, then this is the perfect casual outfit for you to wear. Green straight pants, with a green pullover, white shirt, and sneakers, and not to forget, a beautiful green hijab.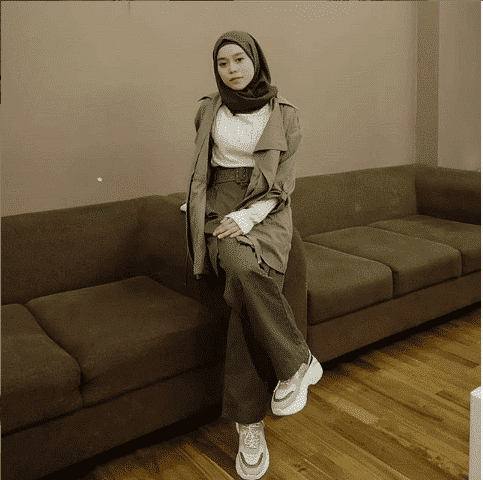 ↓ 31 – Casual Summer Outfit
Casual outfits in summers are bound to have jeans and a light half sleeved tee as a part of them. This combination of a blue tee shirt over blue jeans over strappy summer sandals and a cute brown crossbody bag makes a pretty great summer outfit. The jewelry adds to the look so don't forget to wear a nice necklace with a tribal bracelet and rings. The choice of hijabs to go with this outfit are uncountable. You can go with the same blue theme and wear a blue hijab with the outfit or try something more unique like mustard or deep red hijab to go with the outfit. Either way, your casual summer outfit is sure to look phenomenal.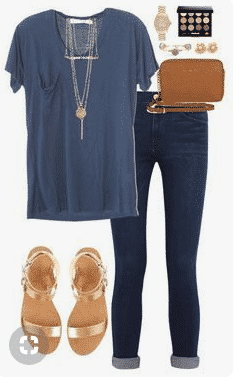 ↓ 30 – Trendy In Checkered Pants
Plain jeans are the most commonly worn garment in casual styles but printed pants can be classy on their own too. Wear a checkered printed pant with basic tee-shirt and a completely different color of hijab for a unique and trendy casual outfit style.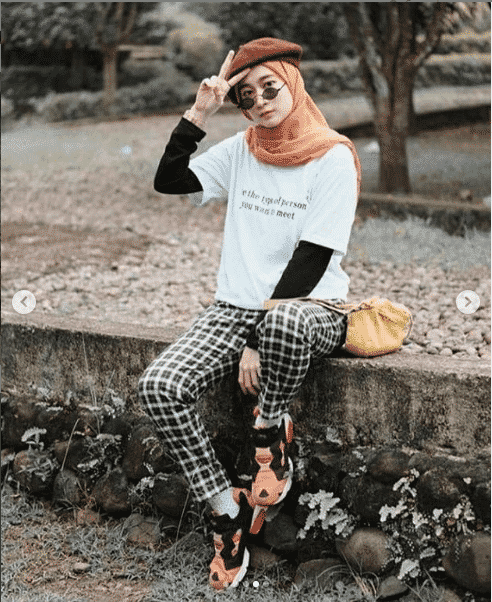 Source
↓ 29 – Ladies' Favorite Pink & White Casual Outfit
Ever since childhood, all grown up ladies have admired the feminity of the color pink. It is basically meant for women and white has always been the best color companion to go with it. A pink silk blouse o'er white pants and white sneakers make a great casual street style outfit.
↓ 28 – Teenager's Trends
Teenagers are equally finicky about their outfit styles adults are and why shouldn't they be. Where denim remains to be the first choice of teenagers for lowers, wearing different shades of jeans can often provide with unique styles. This teenager styled in grey jeans with a white basic and peach check shirt makes a wonderful casual outfit look for teenagers. Her hijab makes it even better.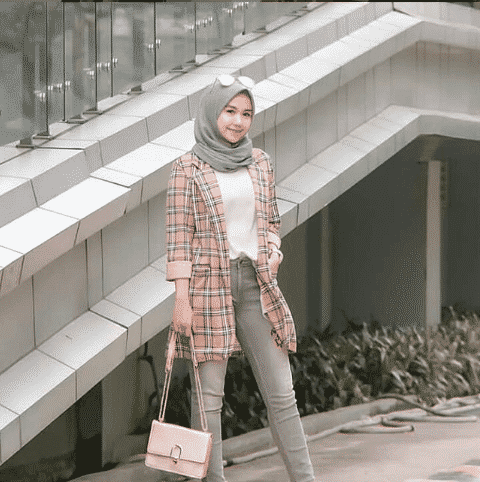 ↓ 27 – Oversized Sweater Look
A solid black outfit topped with an oversized grey cardigan makes one of the many amazing casual outfits look. The pastel-colored mauvey brown hijab makes the outfit all the more exciting.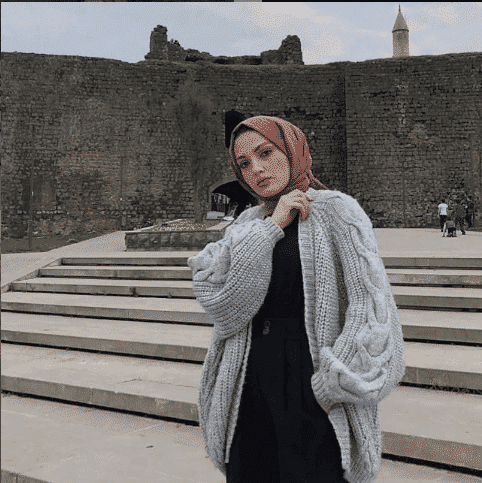 Source
↓ 26 – Casual Outfit With Hijab For Running
For the hijabis that are fitness enthusiasts, running is a part of their regular regime. While running is very important for the health, looking fabulous while running is also equally important I suppose. This casual jogger pants and matching upper with a hijab makes the best casual look for running.  Pull over the hoody get in your running shoes and off you go, perfectly styled. What do you think?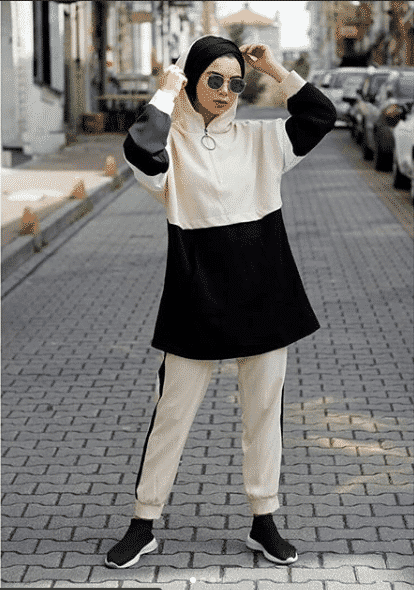 ↓ 25- Sundress For A Casual Day Out
Sundresses make the perfect casual outfits for outdoorsy days and beaches especially. Sundresses also look great with the hijab as they have a style that is pretty close to that of an abaya. Hijabis often choose sundresses for their outfits and it seems like a nice choice.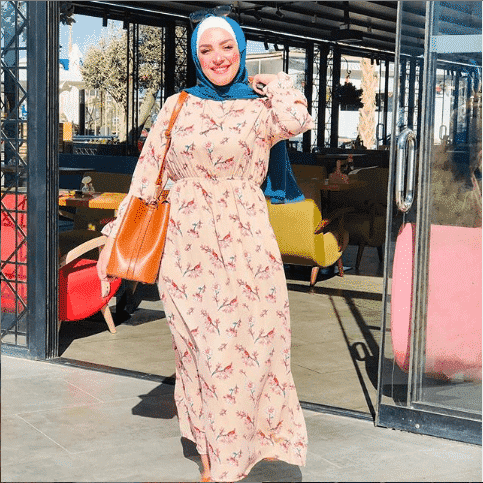 ↓ 24 – Casual Denim Jacket and Jeans Girl
For those of you beautiful hijabis who love to go extra casual with their outfits, this denim and fleece jacket over jeans is the best pick. Jeans obviously have the victory in casual fashion; when paired with a plain white tee, denim jacket and, a hijab this turns out to be the casual outfit of the year.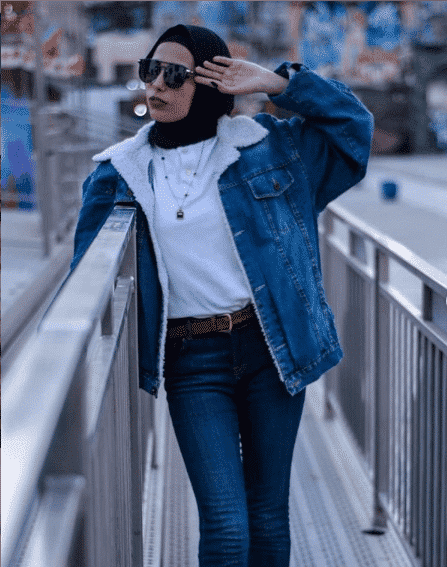 ↓ 23 – Hipster Outfit With Hijab
For those who are inclined towards fashion immensely, this is the perfect hipster look to go with a hijab. Leather pants with a grey cardigan and black boots make this casual look stand out from the rest.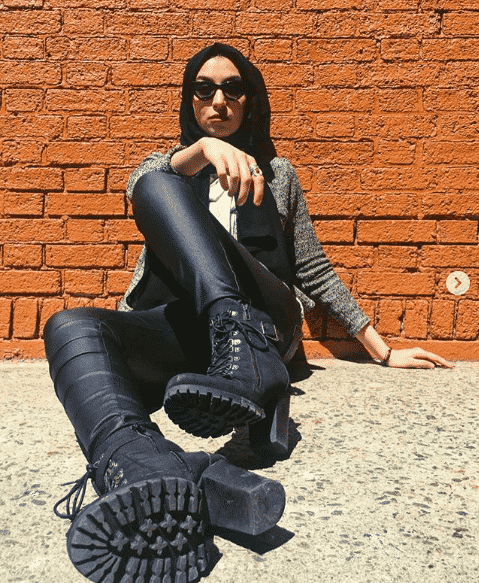 Source
↓ 22 – Casual Winter Outfit
Winter fashion is kind of incomplete without a nice pair of boots and a comfortable pullover. Style your favorite casual winter looks around similar ideas. Do not miss out on the cat-eye shades and the cool college backpack. Go on with replacing the beanie with a grey hijab and flaunt the perfect casual winter look.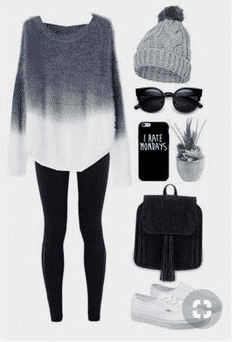 ↓ 21 – Traveller's Hijab Outfit
Many of our beautiful hijabis are travel junkies. While it is mostly advised to travel light, for the fashionista hijabis, the rules are reversed. Packing nice and trendy outfits with hijabs for a perfect vacation is not that difficult. See this style for instance where white boot-cut pants, a yellow trendy top, plain black hijab, and a traveler's backpack bring forward the perfect hijabi traveler look.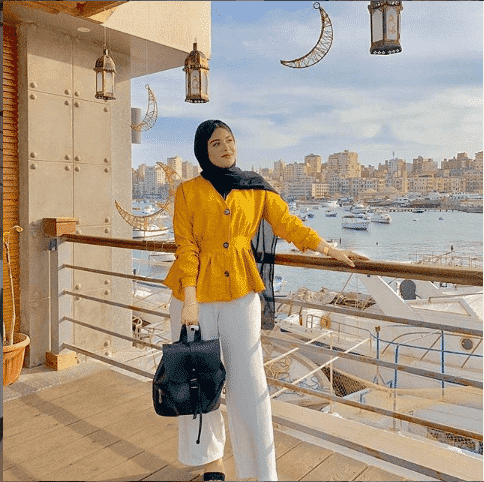 ↓ 20 – Stylish High Waist Belt Outfit
This is a must try. Select a plain silk scarf with a long light and dark color maxi and add up a high waist belt with the dress. The ends of the hijab have been left hanging back over the shoulders and it has been wrapped in a way to create a pointed edge at the top, this is what defines the Turkish hijab style and it looks great with casual outfits. For more ideas, check out Turkish Casual Fashion-15 Best and Trending Casual Styles in Turkey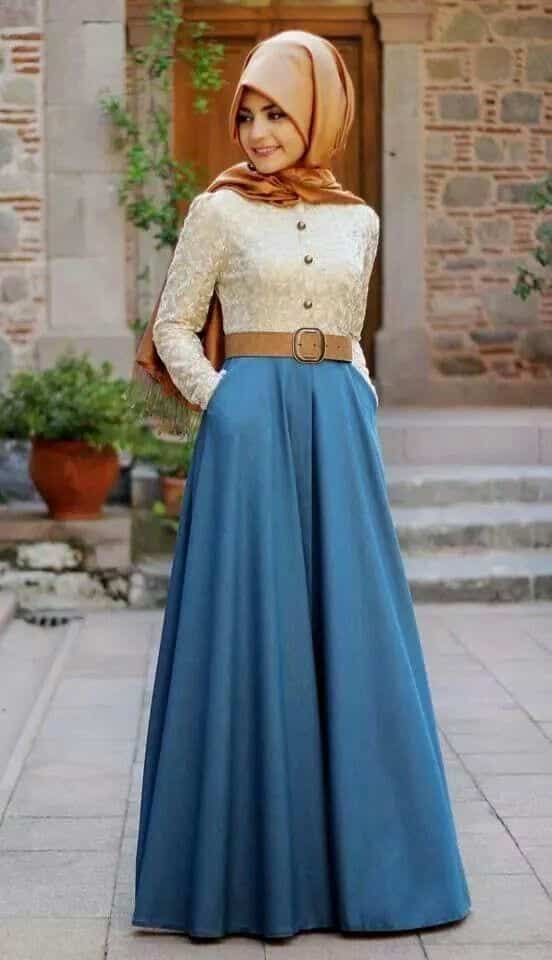 ↓ 19  – Elegant Hijabi Girl
For this look, you need a nice jumper in pastel shades and wear it with any light colored printed Hijab. Look more trendy by adding heels and you are ready for your office. You can see how plain outfits work exceptionally well with printed hijabs and vice versa.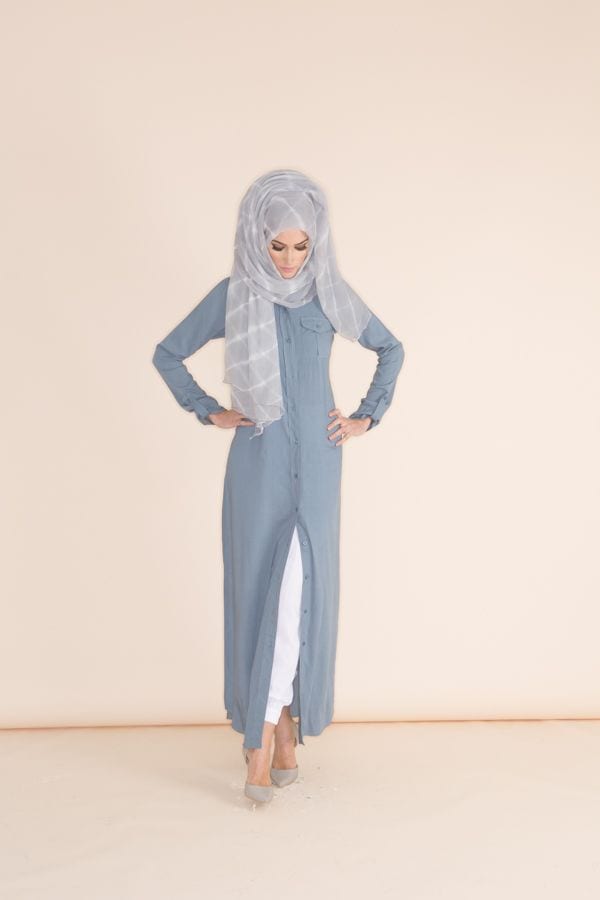 ↓ 18 – Cool Pastel Color Hijab Outfit
Here's another example of a simple and plain outfit that has been given a very elegant look just by adding a floral printed hijab. Routine and casual dresses need not be designed very carefully. A floral printed Hijab and a little bit make up will make you look beautiful at the workplace or college.
↓ 17 – Smart Winter Hijab outfit
Just wear your jeans with a long coat, get a trendy fashionable handbag along with any bright or pastel color Hijab, and you are effortlessly looking smart. Don't underestimate the power of accessories. Blazers would also look great with hijab in winters so have a look at [highlight]20 ways to wear blazers in different styles[/highlight].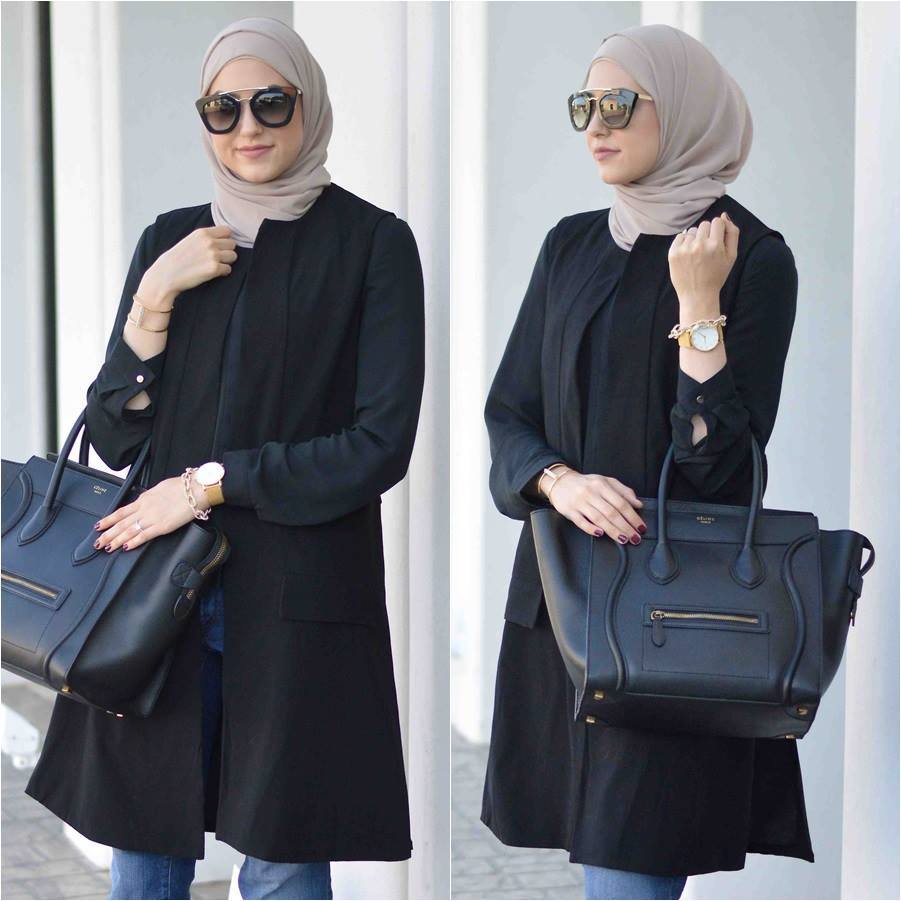 ↓ 16 – Cozy Winter with Shawl On
Stay cozy with a cowboy shawl and a matching color scarf with warm clothes this winter. A very minimalist but good-looking outfit.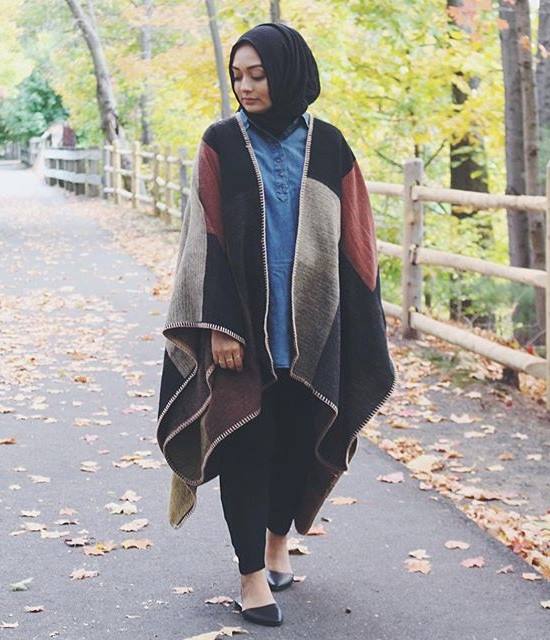 ↓ 15 – Autumn Outfit Idea
Palazzos are every girl's love. A polka dot shirt, with a cardigan and a statement clutch, is your pick for this fall. Add a black color hijab and look fabulous. Palazzos are an especially great choice for curvy women or those who have heavier thighs. This is because they have a slimming effect on your legs and also make them appear longer. The best solution to looking chubby would be if you could get your hands on a vertically striped palazzo pants.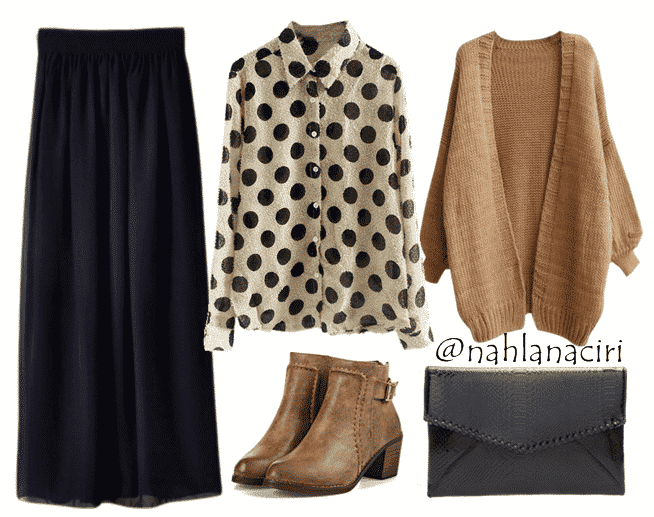 source
↓ 14 – Cool Girl Look for School
Grab your routine western dress i.e. pants a dress shirt, pair it up with mustard or yellow color cardigan or gown and add a nude headscarf. Heels would work wonders with this look. This is great for all school going girls, also have a look at [highlight]14 modest hijab sports outfits combinations[/highlight] so you can wear a cool sporty look to the school.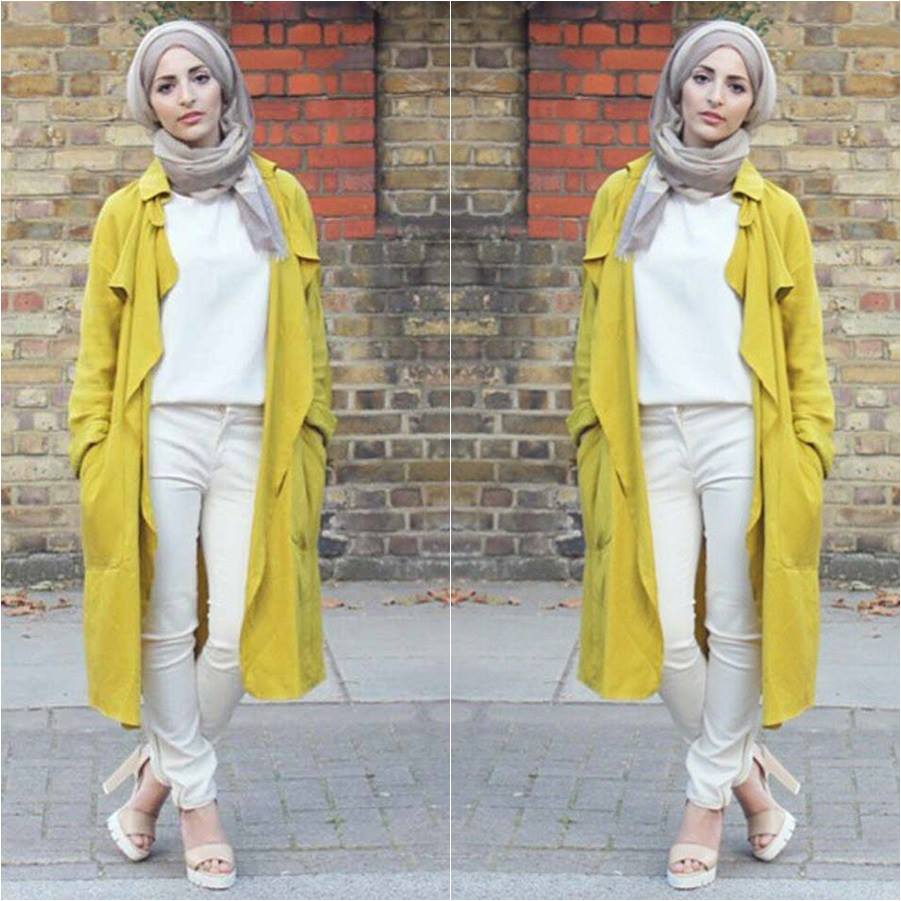 ↓ 13 – Street Style
Don't go in a hassle, wear a simple solid color trendy dress with Hijab and add some bold accessories.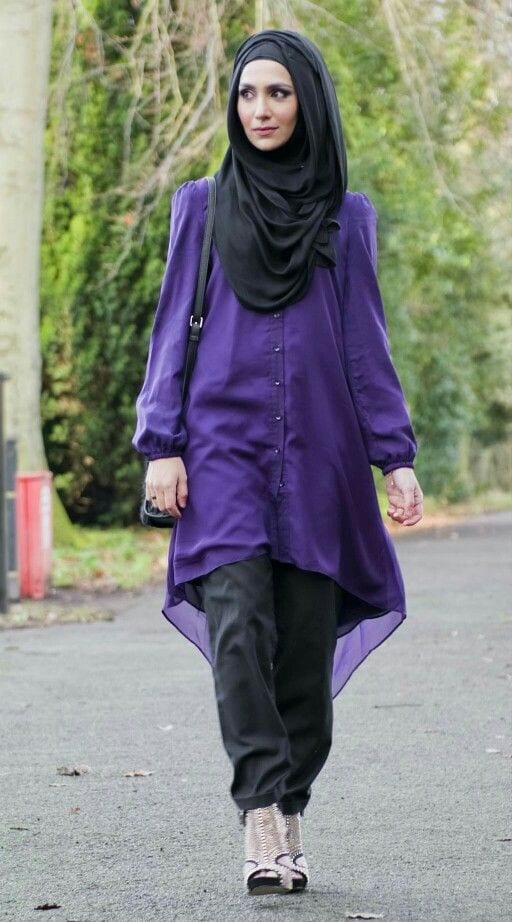 ↓ 12- Animal Print and Denim
One can wear denim along with an animal print scarf and cover your head with a dark color scarf. This style is quite modest and easy to catch.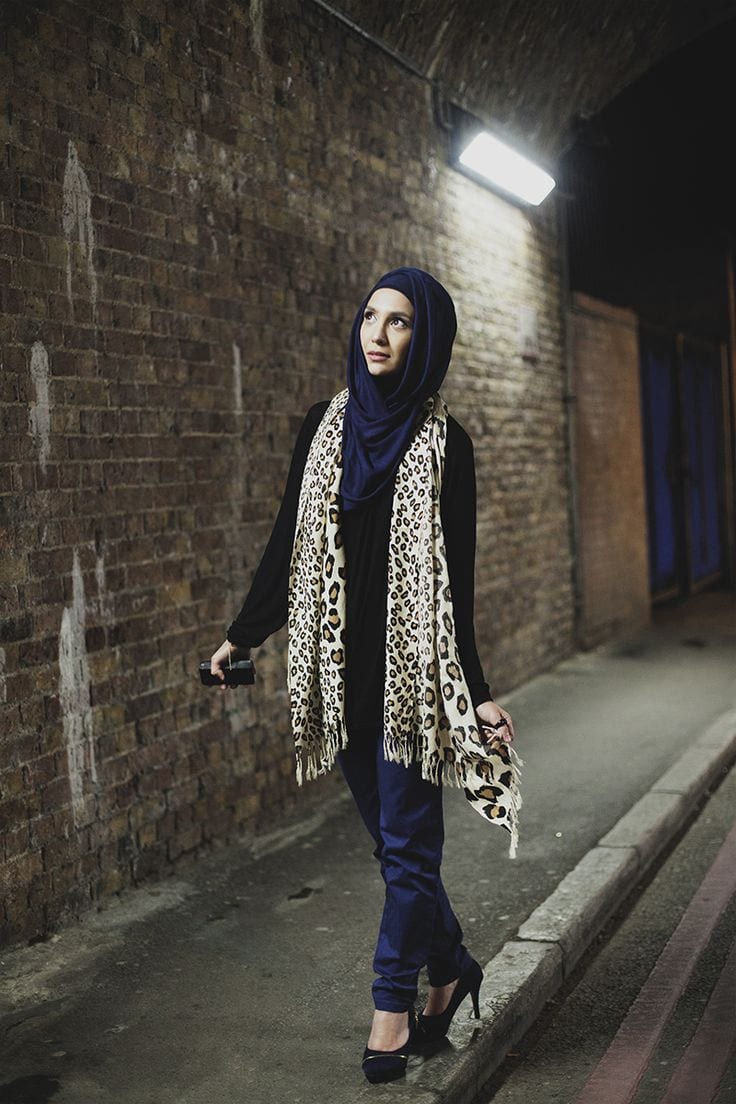 source
↓ 11 – Lace Hijab Eastern Look
Pakistani fashion is admirable everywhere. Add a studded or printed head cap with a floral lace scarf with your casual outfit to look cuter.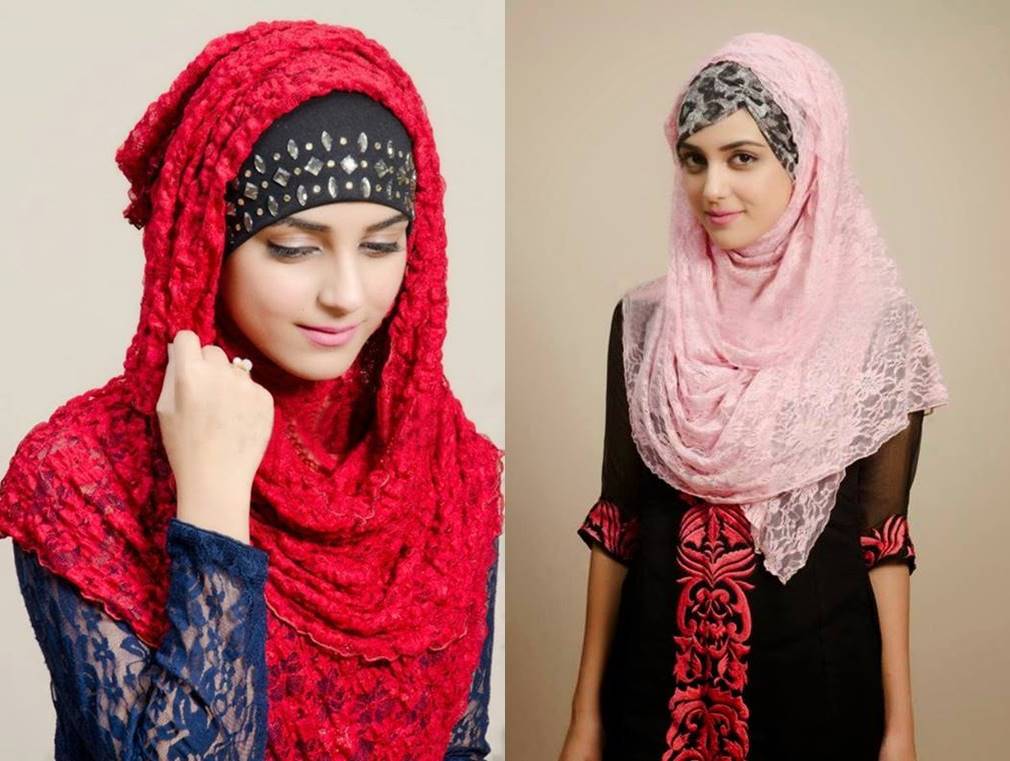 ↓ 10 – Trendy Gown outfit
You need not be conventional while wearing Hijab. A printed front open gown with black Hijab over tapered or even flared pants and black top will make you look stylish and trendy.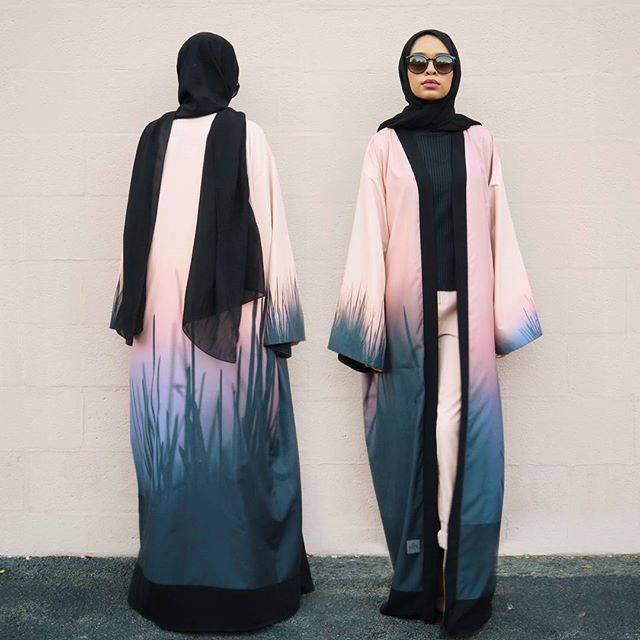 ↓ 9 – College Girl Outfit
A brown color dress with the same color Hijab, bright colored undershirt and stylish shades, will make heads turn in a crowd. You can also get tips from this outfit on how to transform a sleeveless dress that you like into a  really modest one. Simply wear it over a full-sleeved t-shirt and you're all set to go.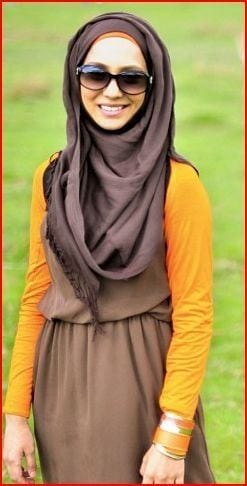 ↓ 8 – Cool Trendy Hijab Outfit
Go with your teenage straight pants and top along with pop style tee and hijab. You will look cute for sure.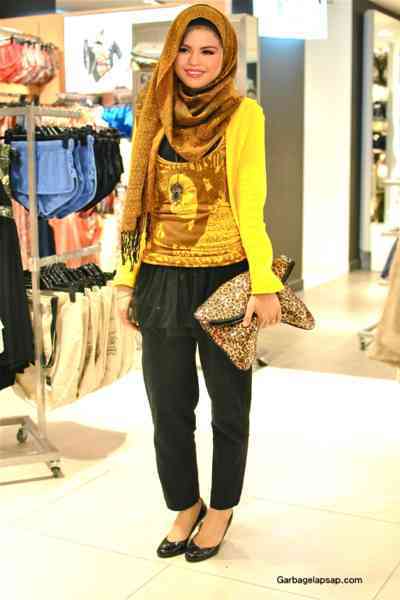 Source
↓ 7 – Solid color dress with Statement Necklace
Choose your statement necklace with a solid color casual dress and look trendy as hell.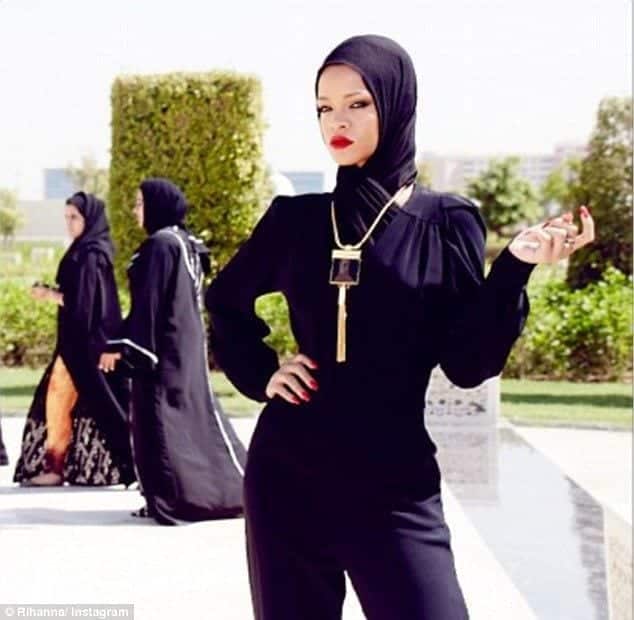 ↓ 6 – 21st-century Hijabi girl
Wear black white stripes top with a long solid skirt and wear Hijab with some style, here you are 21st-century modern Hijabi girl.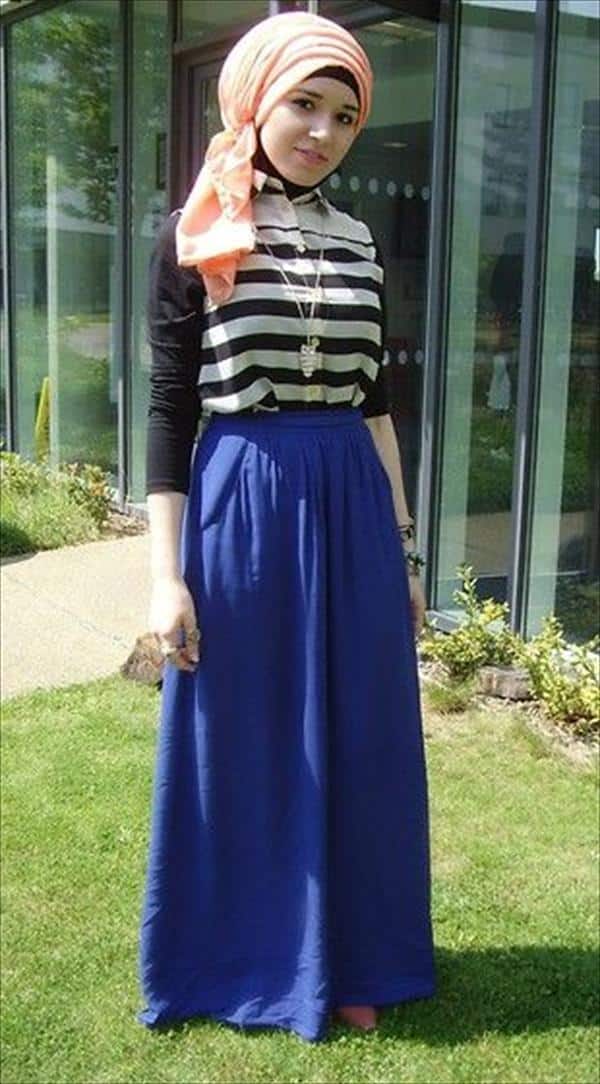 Source
↓ 5 – Stylish Hijabi Girl look
Just wear your dress with unconventional style, e.g. coat over shoulders, add some trendy handbag and a casually wrapped scarf will make you look very stylish.
↓ 4 – Modern Hijabi girl
Who says you can't look stylish in Hijab. A casual dress with a light color Hijab and a flared hat, and you are ready for your day.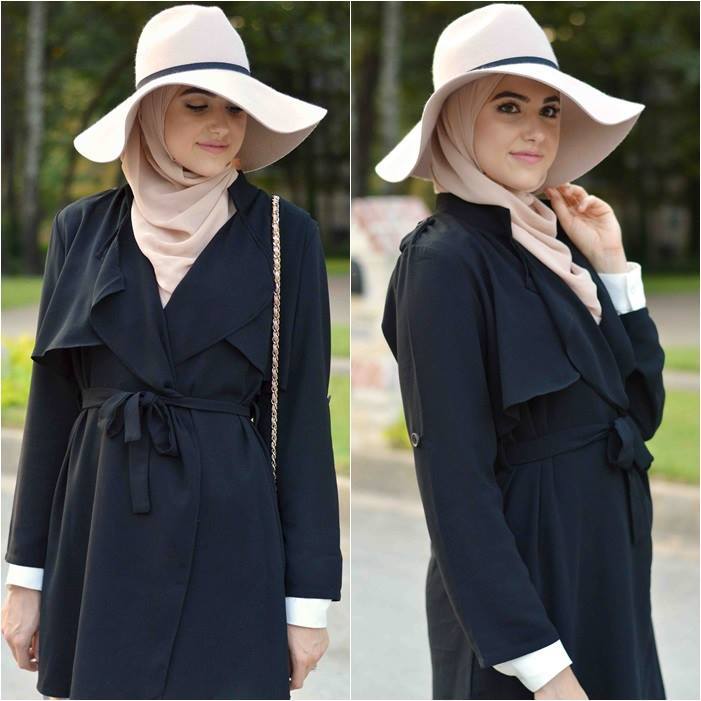 ↓ 3 – Diva Style outfit
A white dress with Red scarf along with red lipstick, here you get this simple and easy Diva to look in Hijab. Don't forget to add heels with your dress. For more scarf ideas to wear with this look, check out [highlight]24 modest ways to wear hijab with skirts[/highlight].
↓ 2 – Simple Abaya look
If you are an Abaya girl, just keep experimenting with your scarves, and statement jewelry can also do wonders with your simple and elegant look. A solid black abaya is never out of fashion and the best part is that it works for both, casual and formal events. Wear a flowy full black abaya to everyday errands or a party and look fabulous.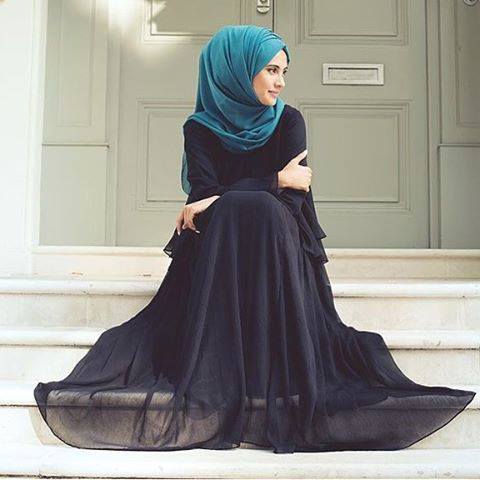 ↓ 1 – Trendsetter look
A flared trendy gown, with jeans and pumps along with some trendy jewelry and your confidence, can make you the trendsetter.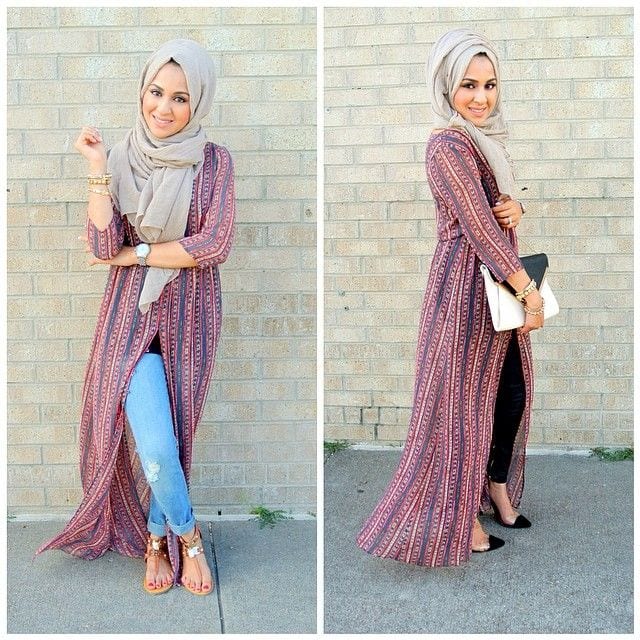 These were all the different ways to style casual outfits with hijabs for stunning day to day looks.