Best Iranian Hijab Style. Islamic hijab has been evolved with the passage of time and has become a significant part of Muslim street style fashion and top chic fashion runways among which Irani hijab holds substantial importance in the world of Islamic fashion.
Irani young girls and women are banishing stereotyping with their Irani hijab on and are telling the world that they are not oppressed or weak. Be it a chadar, scarf or a loose hanging veil, Irani females know precisely how to carry their hijabs in the chicest and stylish ways.
How to Wear Irani Style Hijab
In the year 2018, Islamic attire was authorized as "cool"! CoverGirl hires a hijabi ambassador. H&M sells a modern yet modest clothing line. Even Barbie dons a headscarf on a doll modeled after the American fencer Ibtihaj Muhammad. Be it wearing Irani chadar, Hijab or an Abaya! Outfitting in Iran could be complicated. The essential one for the Western female tourist is the headscarf. Below are the complied Irani hijab styles that are turning heads of many fashionistas around the world.
Check our earlier post about Casual Hijab Outfits.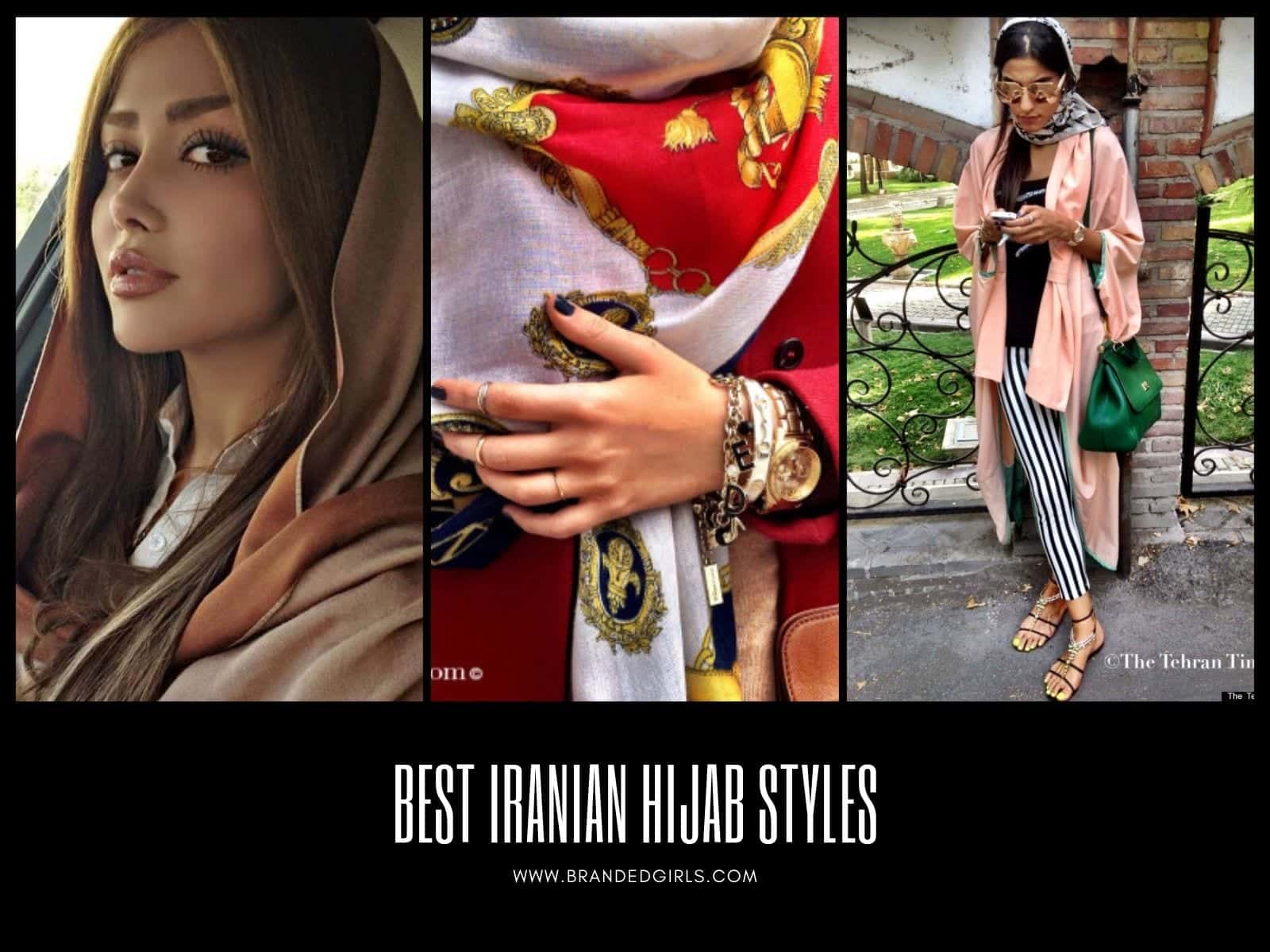 What to Wear in Iran
The attire code in Iran has always been a loud enigma for many female adventurers. Anyone visiting Iran would be in wonder of how fashionable Iranian ladies can be! You will be surprised to know that the hijab clothes code is not a custom in Iran. One can wander on Iranian streets with a loosely tied hijab while exposing most of the hair. Get the modernized Hijab street style fashion look with the below few tips.
Long Cardigan: Prefer wearing a long cardigan that hides most of the feminine body curves.
Skinny Jeans or Leggings: Yes, you can wear skinny jeans and leggings in Iran.
Slaying Hijab Look: Want to rock the chic hijab look while holding the headscarf in place? All you have to do is begin with tying up all your hair in a ponytail, or you can make a high or low bun (whatever suits you the most). Grab a headscarf made with non-slippery material (preferably cotton). Put on the headscarf of any of your favorite colors.
Style Tip: Put on a pair of sunglasses over the scarf so that the position of scarf can be fixed in one place.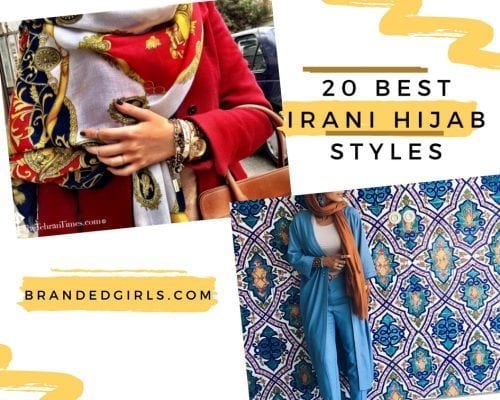 ↓ 20 – Looks Like Princess Jasmine Came Back to Life
Tan brown dusky complexion with almond-shaped eyes is all we are left with after seeing the bold Irani hijabi women challenging top fashion lovers. The dark brown curly hair hiding in trendy hijab wear is the next thing to follow in the latest fashion hijab ideas that every Irani girl looks forward to. The term hijab refers to both the head-covering traditionally worn by some Muslim women.
Have a look at these 11 Pics of Disney Princesses Muslim Version.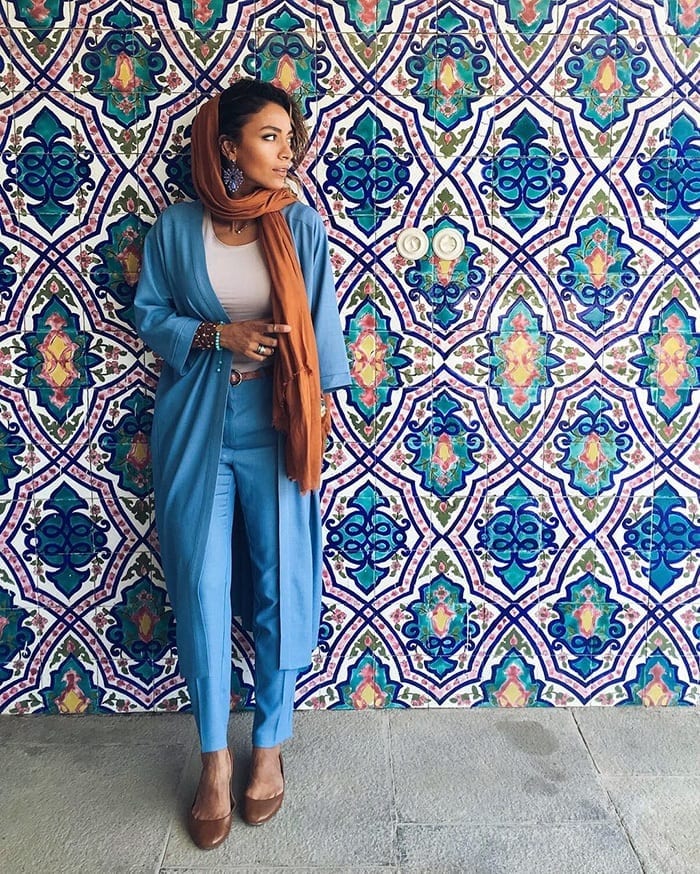 Step by Step Video Tutorial for Irani Hijab
↓ 19 – Irani Hijab for Older Women
Be it young teenage girls or aged Iranian females, all love to dress up themselves with peerless Tehran's fabric especially made for taking Hijab. We just love the way the floral patterns have been blended up. Floral colorful designs are so the top of the list in the summer season, making you look even more refreshing. Iran keeps surprising visitors by its myriad of temptations for lovers of history, culture, nature, arts, and food. The land is more of a type of an adventurous back-packer, a thriller hitchhiker and female-solo-traveler friendly.
The Secret Styling Tip: It looks good on every age bracket female!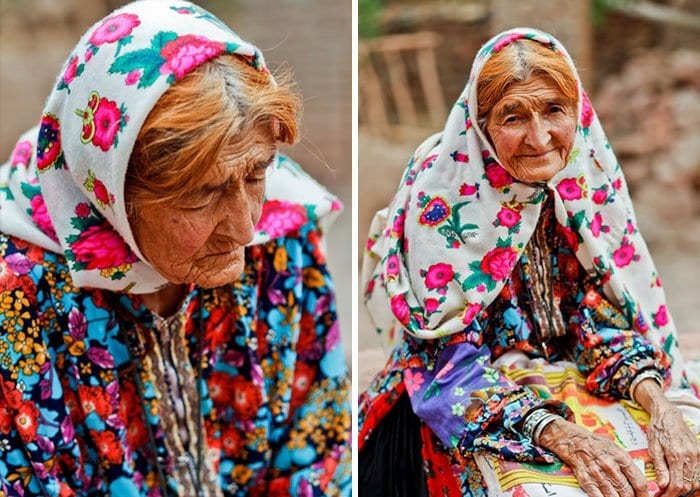 ↓ 18 – Irani Hijab for Work
First off, check out the facial resemblance with Ariana Grande! The model has demonstrated a very classy way to carry Hijab, especially for working women. By the way, the shoes are fantastic too! Ladies in Iran do not expose their legs in public. Long skirts or trousers are permissible. Pants can be slim fit or at least ankle length. The fabric material of the clothes should not be see-through in any case. Iran is all about keeping modesty in every way of life.
Review our earlier post about Casual Hijab Outfits – 34 Best Ways to Wear Hijab Casually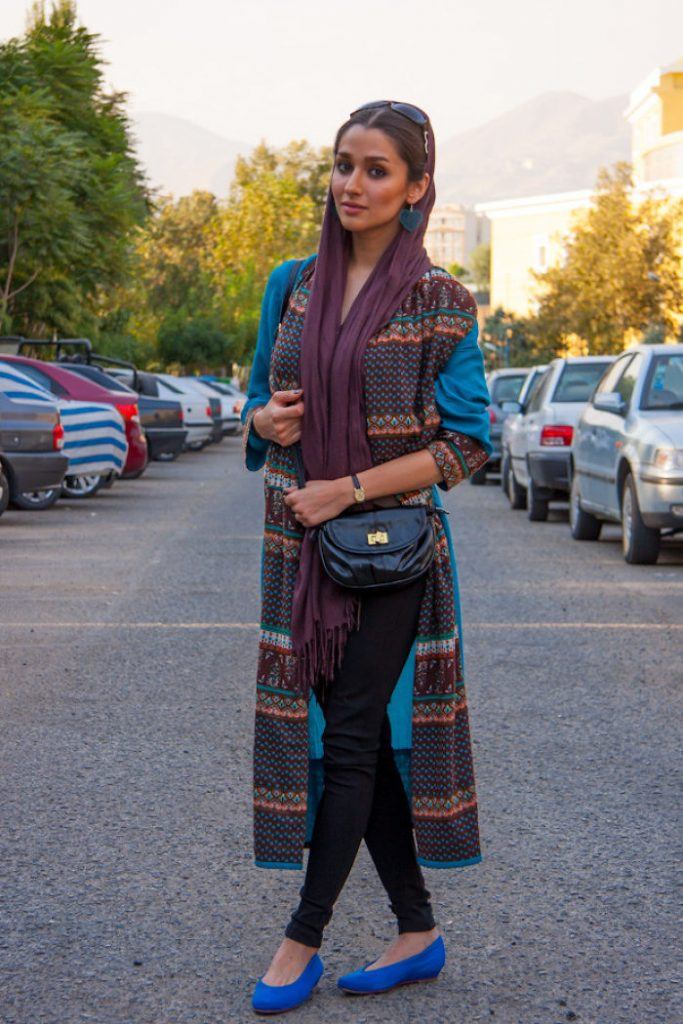 ↓ 17 – Black and White Always Win
Black and White has been an evergreen color combination and has always fit in well, whether in western or in eastern fashion and women all over the globe love to wear blacks with whites. Black and Whites are something that is must to have in your wardrobe closet as it goes by in any season or at any part of the day. Elegance and class are personified with Blacks and Whites. A black Kurti with an in-depth black hijab vogue will explicate you with a very modest and manageable Diva look. The end of the hijab can have appropriate hanging from the front over the shoulder. It needs to cover in a way to create a pointed edge at the top.
Read our earlier post about Top 10 Luxury Hijab Brands 2019 Every Hijabi Should Know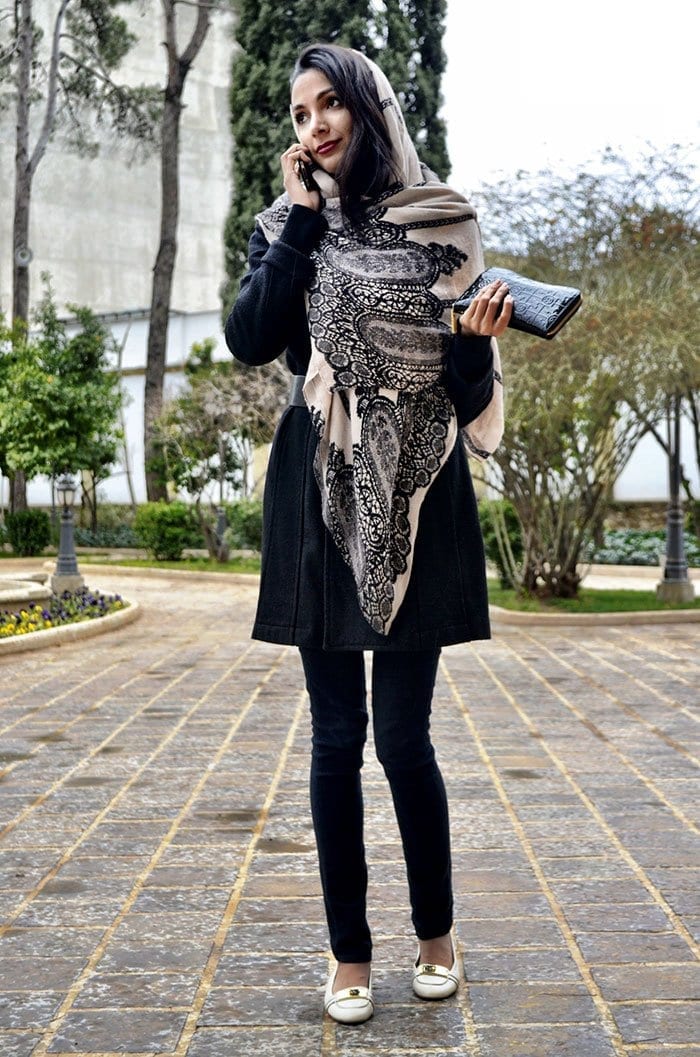 ↓ 16 – Powerful Irani Hijab Statement
Iranian women have been successfully making bold statements while wearing their hijabs, indicating that hijab is not a sign of social and religious oppression. Another floral demonstration of Hijab especially for the summer season, making you look even cooler and chic.
Here are 20 Modest Ways to Try Hijab with Gowns.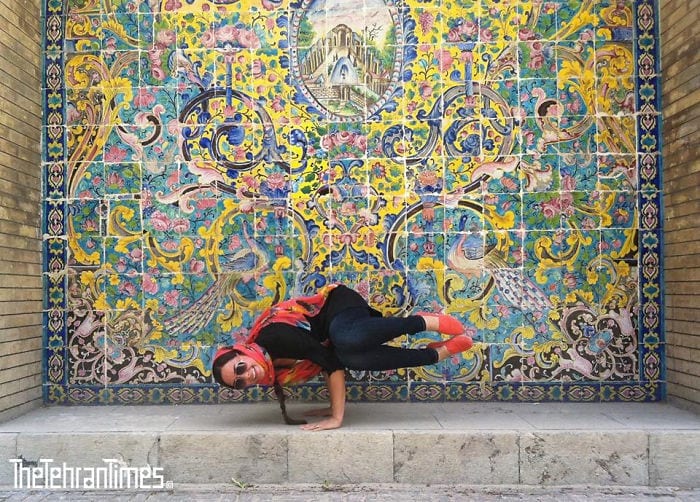 ↓ 15 – Seems Like Irani Version of Gossip Girls
Hijab has been evolved as a Chic Street style fashion also and now has been followed by all over the world with proud and dignity. However, here it seems like a big inspiration from Hollywood's gossip girls. You can wear a cap under your hijab if you don't want your hair to be exposed. And if you don't feel like wearing one, you might find helpful tips in our earlier post on How to Wear Hijab Without Undercap.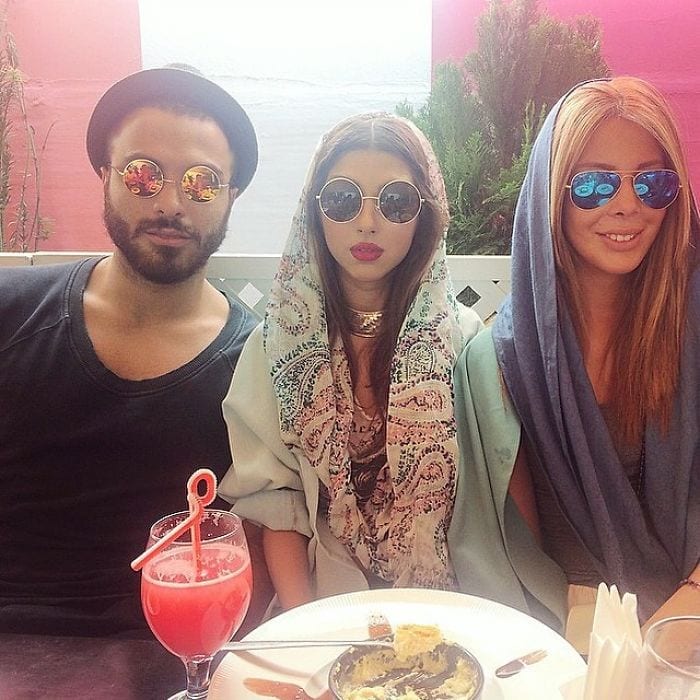 ↓ 14 – Simply Beautiful
We are left with no words, except "Simply Beautiful!" Flawlessly beautiful is the way most hijabi Irani girls look like which distinguishes them from the rest of the world.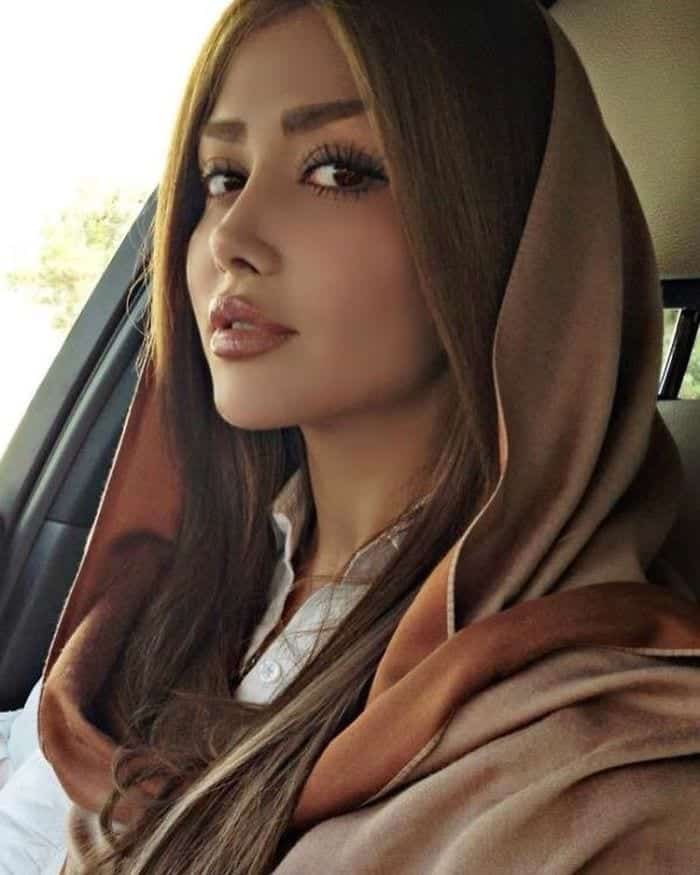 ↓ 13 – Manteau Craze
Mantua and petticoat of bizarre silk brocade, British, c. 1708 (MET)
A mantua (from the French manteuil or "mantle") is an article of women's clothing worn in the late 17th century and 18th century. Originally a loose gown, the later mantua was an over-gown or robe which is worn here in a very decent way, making the wearer more stylish, chic and cool.
Pro Fashion Tip: Mantua looks great with denim jeans and is an ideal wear for college going teens who love to wear hijab and to stay up to date on the latest fashion trends.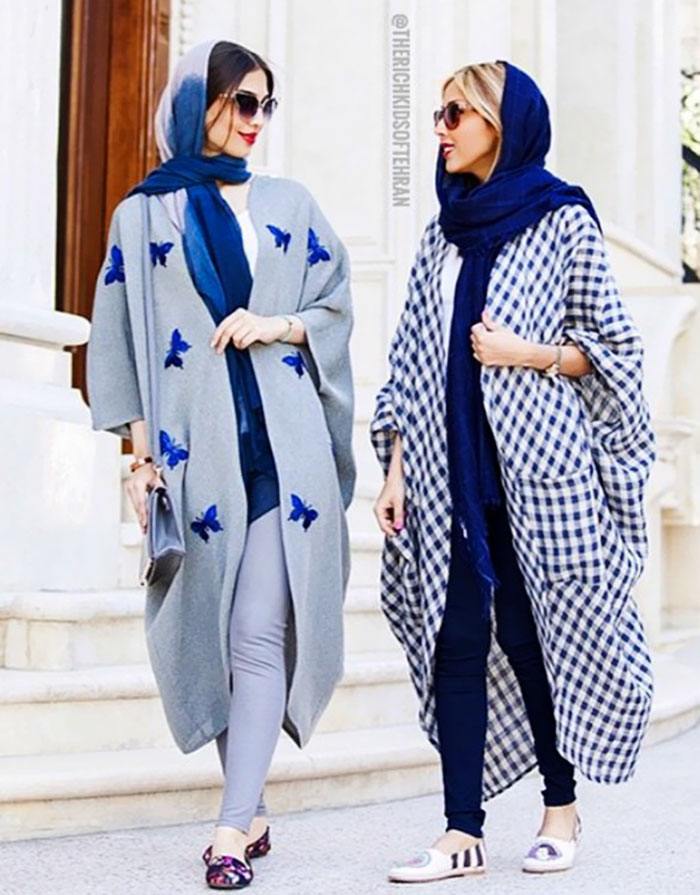 ↓ 12 – Another Creative Way to Carry Irani Hijab
Irani women and young girls are defying the stereotype that women wearing hijab are weak and oppressed. The idea of oppression due to Hijab has been rejected by females of Iran and they have portrayed a quite bolder and empowered image of Iran all over the globe very vividly. By the way, the shinny shimmering shoes are still an attraction for top chic fashion followers and they go really well with jeans.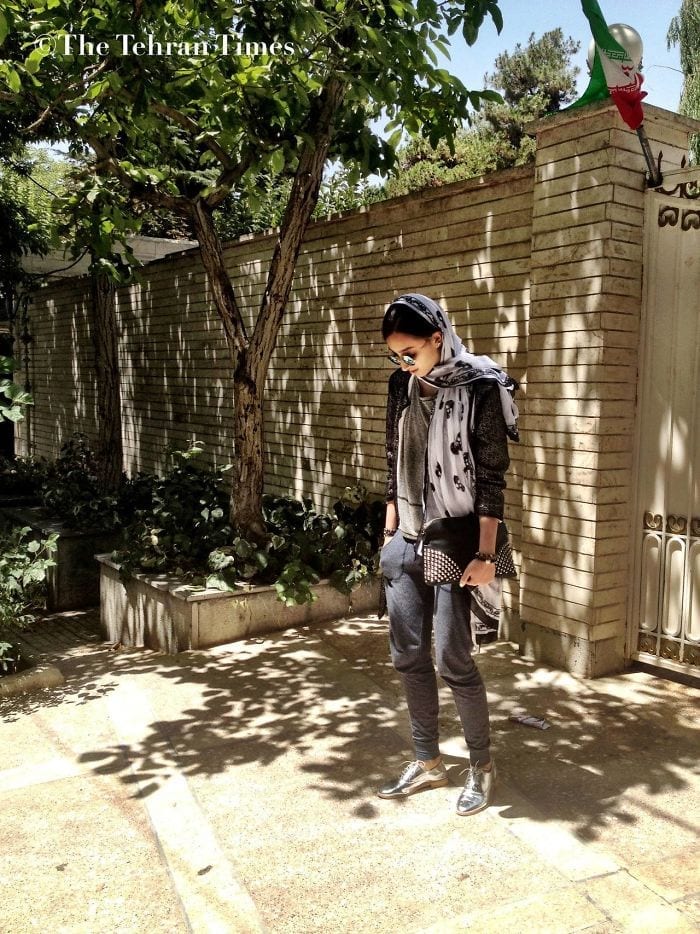 ↓ 11 – Supercharge your Boring Closet With Irani Hijab Styles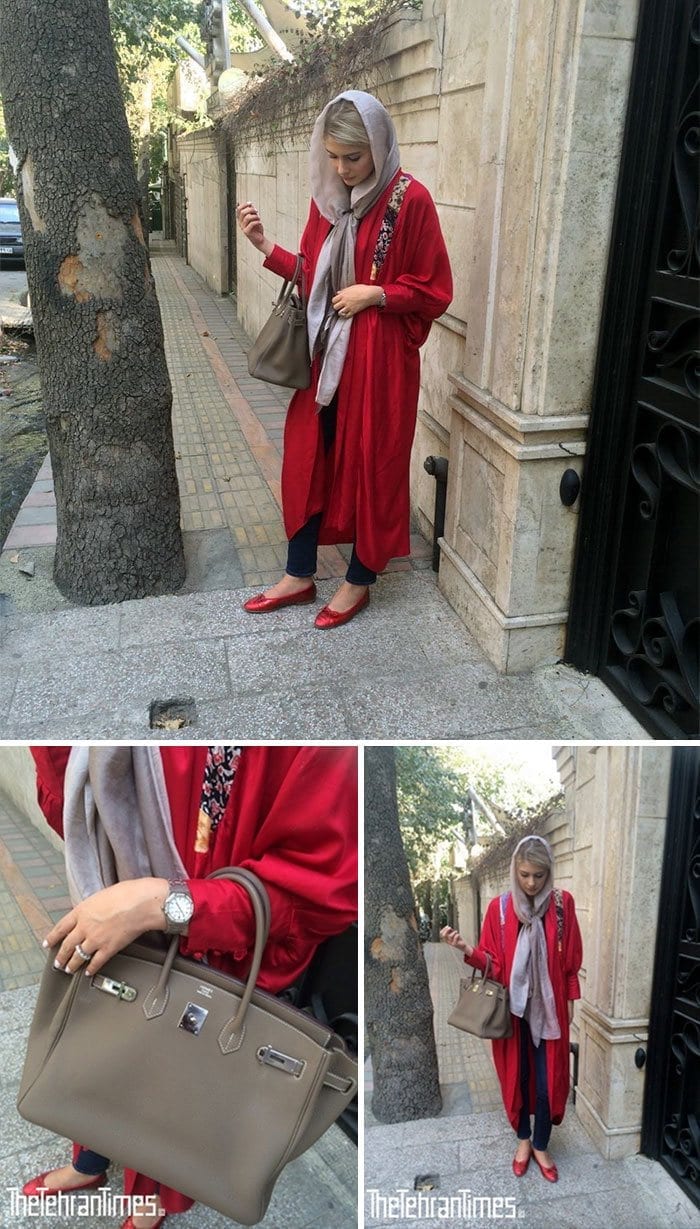 ↓ 10 – Destroying Color Restrictions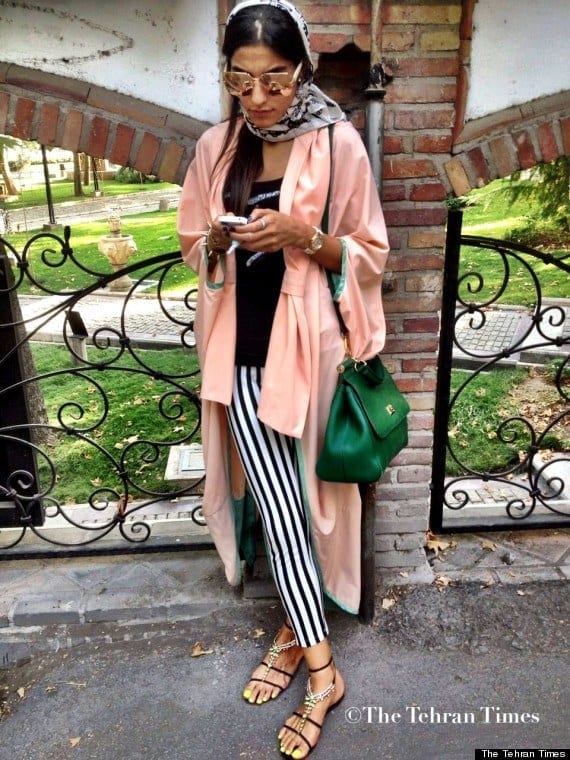 ↓ 09 – Fire Like Flashy Tiger Prints With Irani Hijab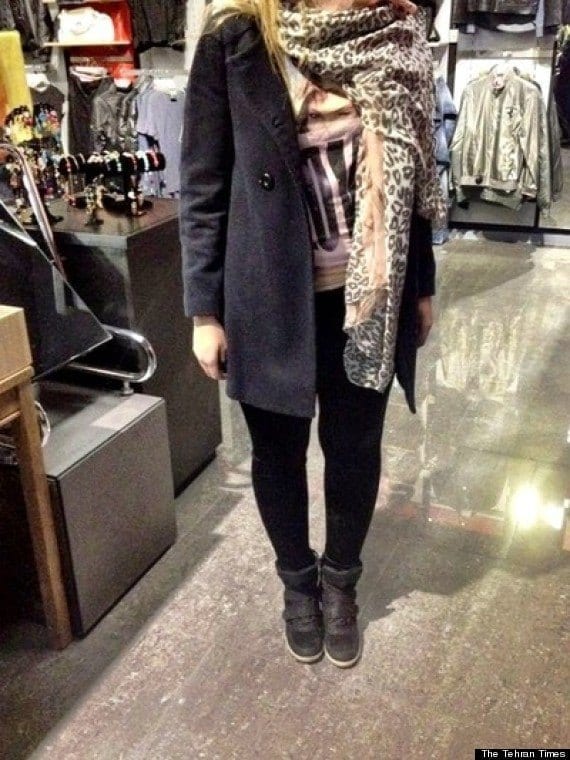 ↓ 08 – Classic Hijab Turned Chic
No doubt, Iranian women have become a fashion inspiration, and Persian hijab fashion has been gaining popularity worldwide too.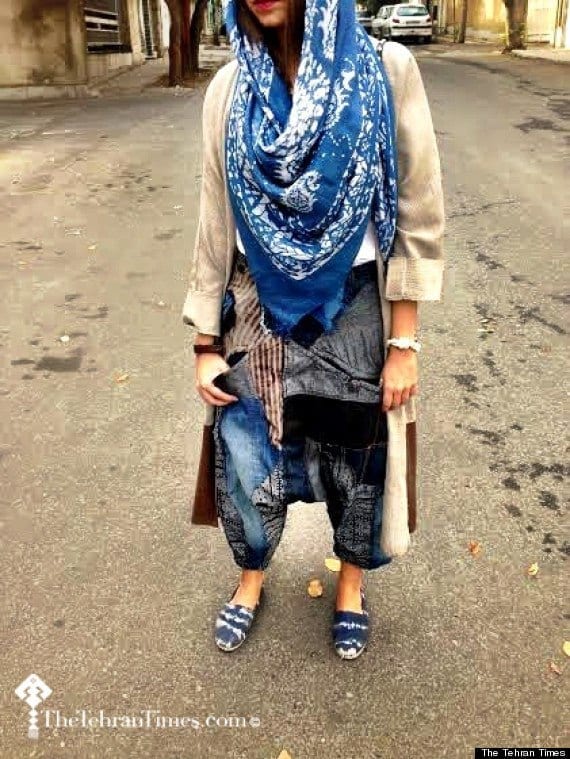 ↓ 07 – Matchless Irani Textiles For Hijab
Iran is one of the manufacturers of peerless high-quality fabrics for pretty Iranian ladies. Women of Iran love to show creativity by opting for various Hijab styles But some of the Iranian women try different fashions of Hijab and the government allows them to show their creativity.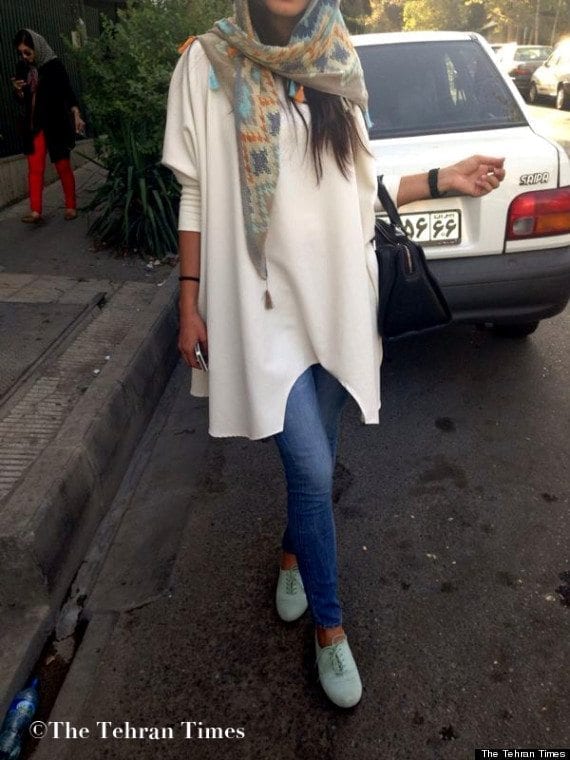 ↓ 06 – Style You Didn't Know About Hijab
Hijab is mandatory in Iran and so is looking beautiful too. Irani hijab has become a fashion inspiration for many other western fashion lovers also. In Iran, since the 1979 Islamic Revolution, the Hijab has become obligatory. Ladies are required to wear loose-fitting attire and a headscarf in public. Whether you have a circular or oval face shape, you can effortlessly adjust your hijab to fit your way and bring out your face. The most important is to pick a hijab color that will spruce up your face complexion and in which you will feel pretty. White is the pure color but if you feel like trying beige, pinkish shades or neutrals, go ahead with it, it's your day, your rules, your color choice! It's all about what suits you best. Have a look at these Top 20 Travelling Tips for Stylish Hijabis.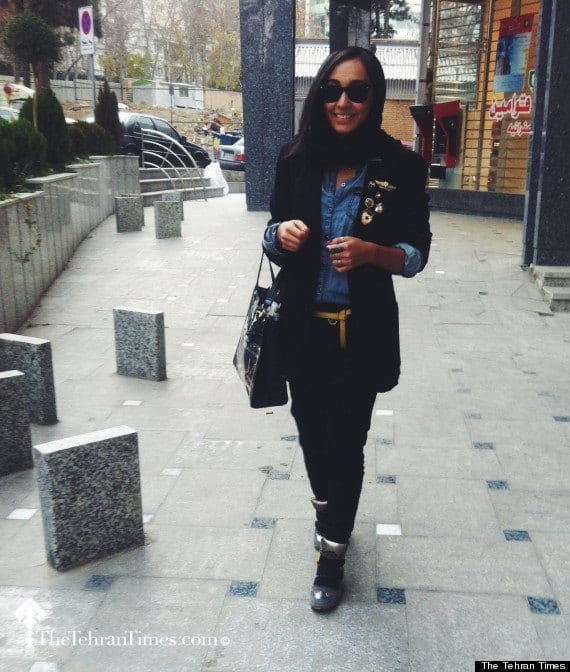 ↓ 05 – Wearable Hijab Styles In Daily Life
Flashy Yellow and fire like Red are another fashion statement of the women of Iran, which they love to carry it very boldly. Many Iranian women work outside the home, and families have quite conformed with the woman's vital presence in society. But it was not only the people but their style of wearing also changed. Iranian designers have designed various types of Chador and Manteau, which is more convenient for a working woman. Besides that, they decided to make more variation in their approach of wearing by pairing unique colors and distinct trends. These designs are not official; however, they have tried to be at least based on the standard norms. There is this enormous undercover designer market in the country that trends the brand-new and often stunning style of manteau and colors for each season.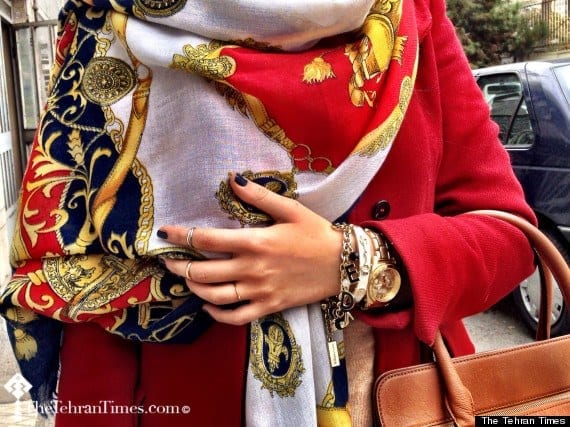 ↓ 04 – Wish You Had Known Hijab Styles Before
If you are planning to visit Iran, you can save these pictures as a reference for your overall stylish wardrobe style during your visit to Iran. Eccentric, quaking, and sophisticated. Fashion in the squares of Iranian cities often challenges the mainstream media depiction of Iran as  dull and pale cultural country, in which women are forced to wear a black dress from the top of the head to the tips of the toes which is a model related to the dress code being worn in countries like Saudi Arabia. Now they are seeking to build an identity and support an Iranian style of hijab style, pretty much alike to many other Muslim countries. But what is an Iranian hijab style? The below image depicts one of the many different kinds of Iranian hijab style commonly found on the streets of Iran.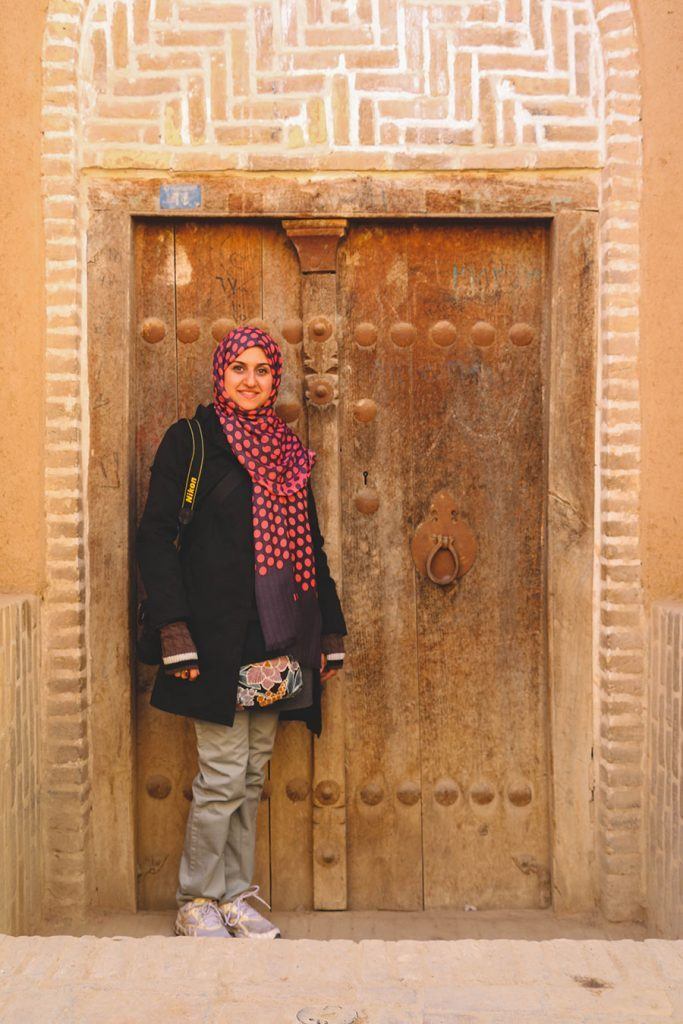 ↓ 03 – Busting Hijab Myths – Hijab Fashion for Modern Irani Woman
It is not mandatory to carry a long black chadar in Iran on your outfit. Hijab is not a sign of religious oppression, but in fact, is a symbol of modesty and dignity. By the way, the mosque art is not far than extremely beautiful. The most well-known hijab style is a side pinned hijab technique. It is the earliest and most realistic fashion for everyday wear. Just cover your hijab around the head and secure it on one side of your head with a pin.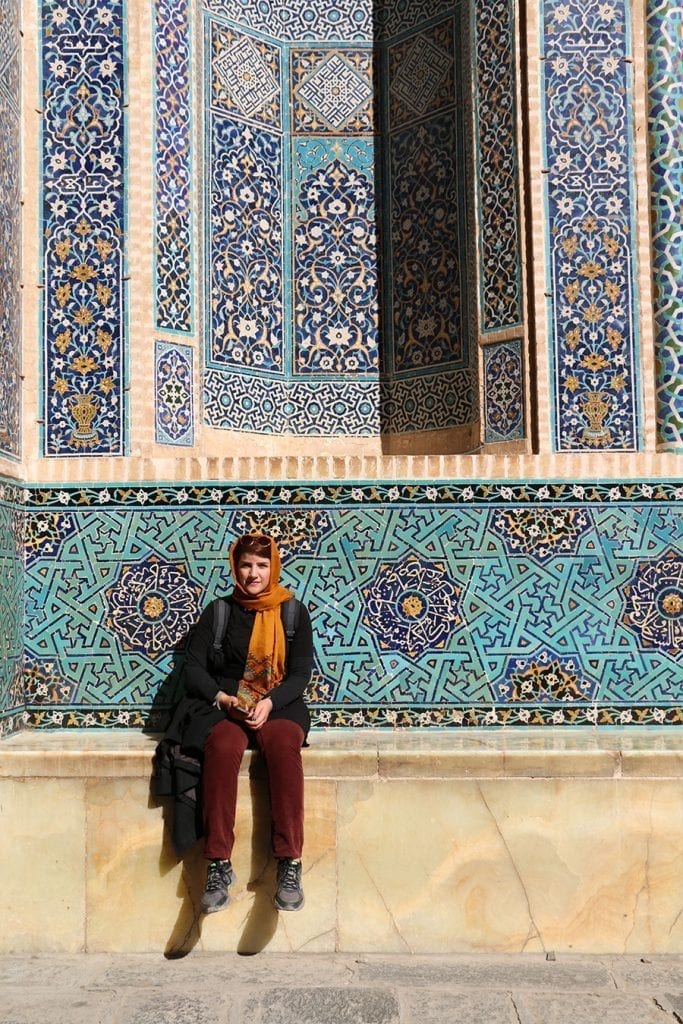 ↓ 02 – Wearing Irani Hijab In Stylish Ways
Be as comfortable as you want with your hijab on and don't forget to carry a big bright smile on your face making a bold empowering statement that would be exhibited to the entire world in a pleasant manner. Prefer nude or neutral hues for your hijabs, and this will support you to balance them with pretty much any outfit color. Hence no need to backpack all your hijab shades. Hijab sustains the privacy and modesty of Muslim women. Numerous Muslim women favor carrying Hijab in routine. Many Arab women wear it with distinctive styles.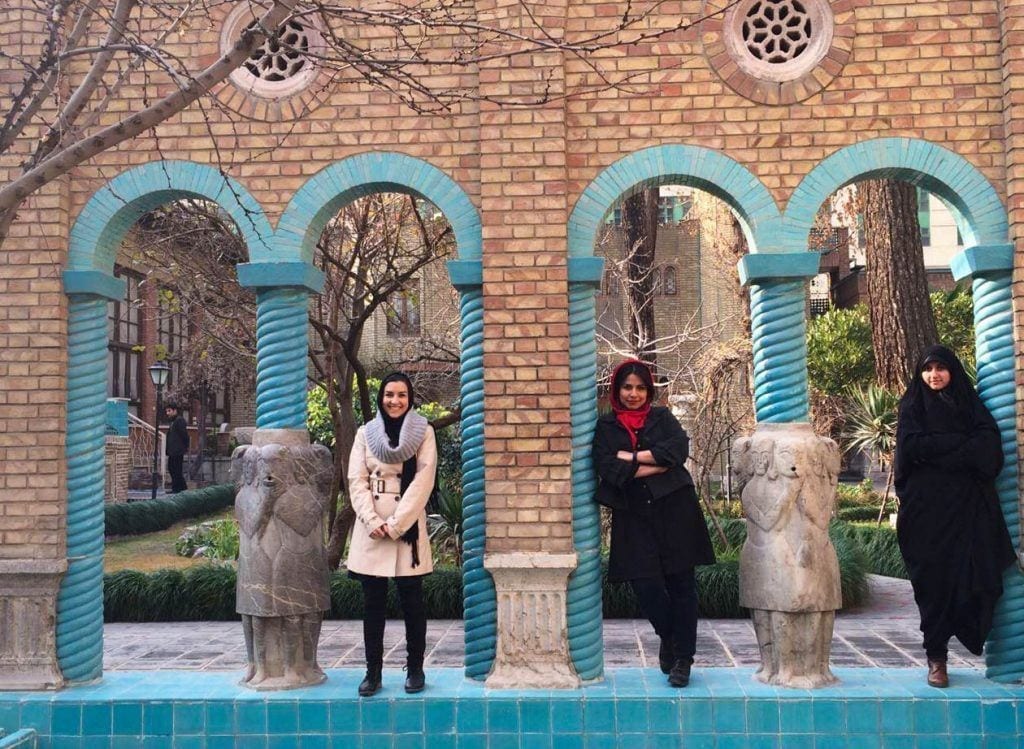 ↓ 01 – Best Ways Ever to Carry Irani Hijab Style
Have a glance at the cheerful smiling faces of Iranian young girls and women saying all loudly that Hijab has now become part and parcel of their daily life fashion, which they surely love to wear. These faces are making a vivid statement that Hijab is no longer an emblem of weakness, sadness, and oppression. Touring with a hijab is not always that regretful. Sometimes hijab acts as an ice breaker – if you are visiting Iran as a tourist then it will be easier for you to get a true feel of the Irani culture.