Blazer Outfits to wear in Winters. Winters are about to start and we all know sometimes it becomes hard to look fabulous beneath all those sweaters and shawls to keep you warm. But trust me one can look stylish and chic, even in winters or at other times. If someone wants to look classy and be effortless about it, blazers are a good option. Even at work, hang outs, parties or casual routines, just pair up your dress with a blazer and look fabulously dressed up and shine among all.
Stylish and Cute Blazer Outfits Ideas
Regardless of what you are wearing, a simple, funky or bright color blazer can help you to get you the look you always desired for. We can give you some tips on what to and how to use those trendy blazers with your routine dresses.
#20- Blazer with Matching Shirt
Pink can never go wrong in whatever routine you wear it. Just pair a pink T neck blazer with a black n pink checkered skirt and here you are ready for the flamed up look.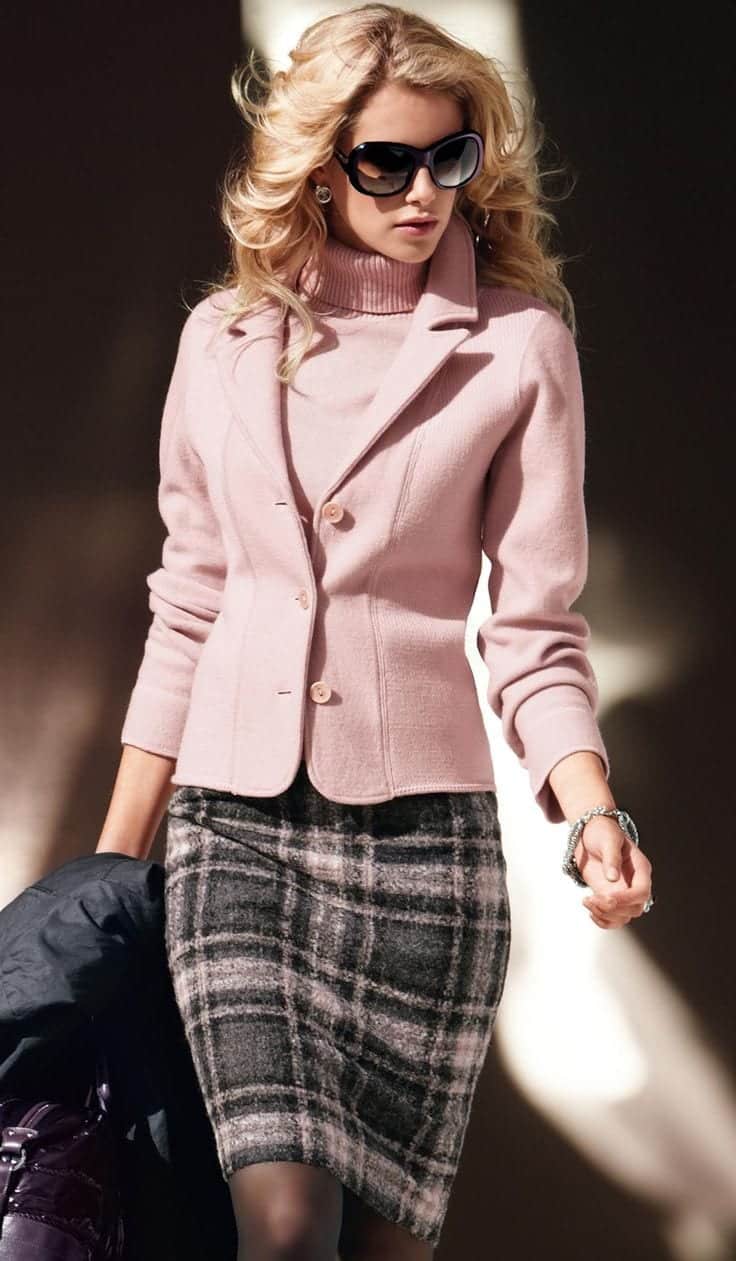 #19- Skinny Pants and Blazer for Work
If you are getting ready for a work meeting and want to go for easy and clean look, just grab a white button down shirt along skinny pant with a light color blazer. You can make your look more trendy by adding a strapped wrist watch matching with your pant's color.

Source
#18- Blazer with Denim for School
Denims are love, best thing about them is whatever way you wear them, they are going to compliment your personality. A dark color sleek look single button blazer, with a long chain and court shows with heels and make u look gorgeous.

#17- Cute Summer Outfit
Sleek girls may gonna love this love. Double breasted blazers are always in fashion and look trendy. Wear a mini skirt or jeans along any color double breasted blazer this winter and look Fab.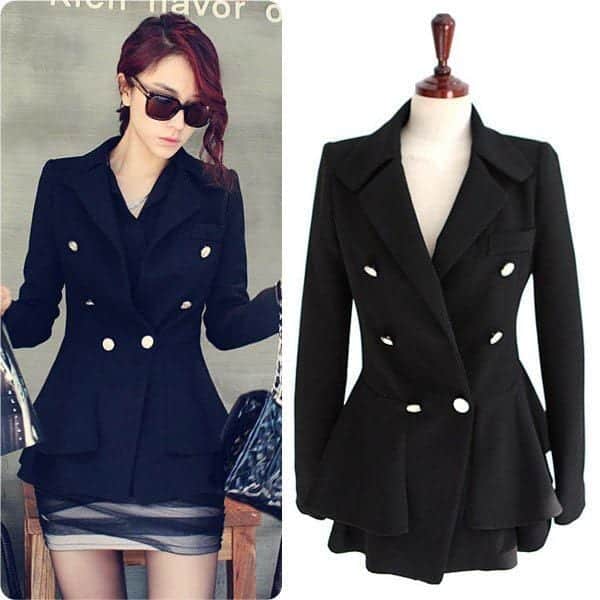 #16- Military Style
These are bit dare to wear style and while choosing this kind of blazer one must be careful. A little bit of color pop may give u punk look but better go with a mid length skirt or pant to compliment the military style jackets.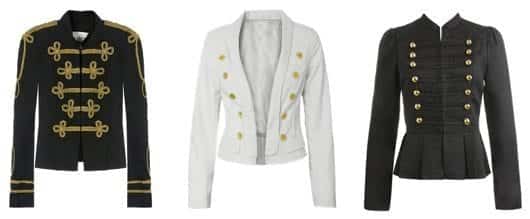 Source
#15- Long Blazer
Grab a legging or just a simple fitted pant with dark color double breasted fitted blazer. Adding a brooch can give you look glam and different.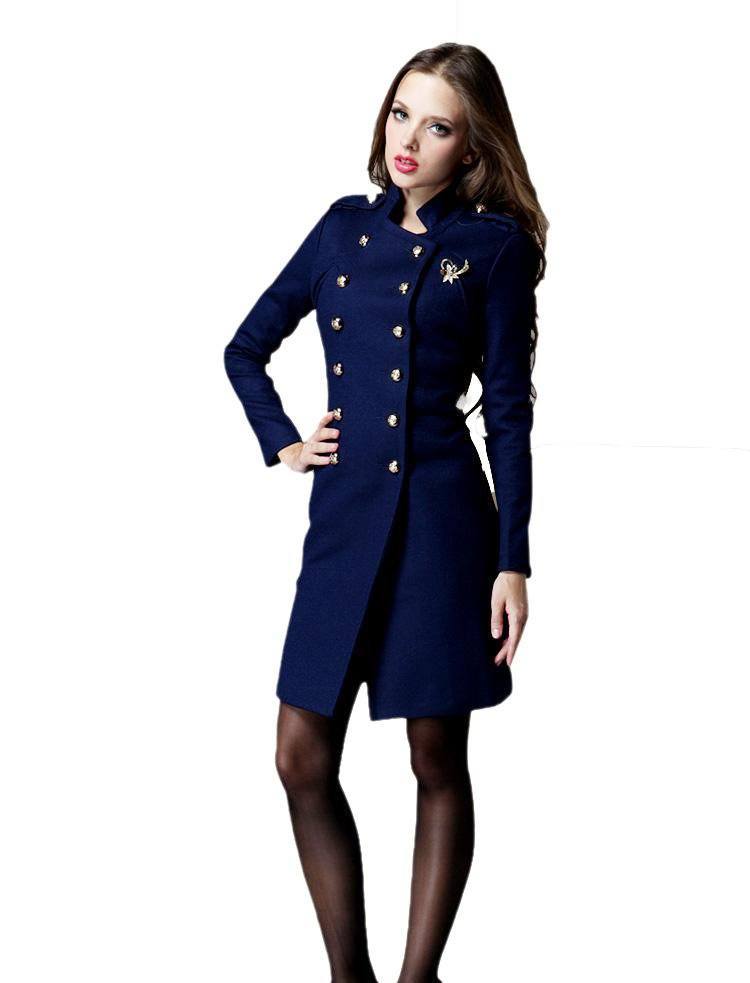 source
#14- Stylish Girl look with Black blazer
Wearing a short dress but want to add some style in to it? Just put on a bat wing blazer with your dress and here you are ready to show your class and taste in fashion.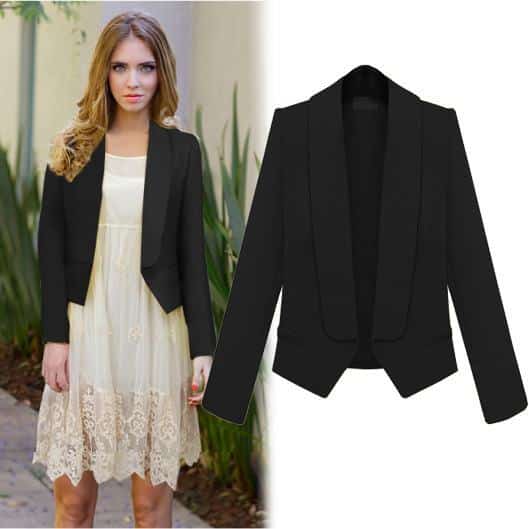 #13- Cool Office Outfit
Just like in the picture, a dress suit with little bit of colors can look awesome and decent as well. Come out from conventional style and put your jacket on shoulders for a different look. This is perfect for office and meetings.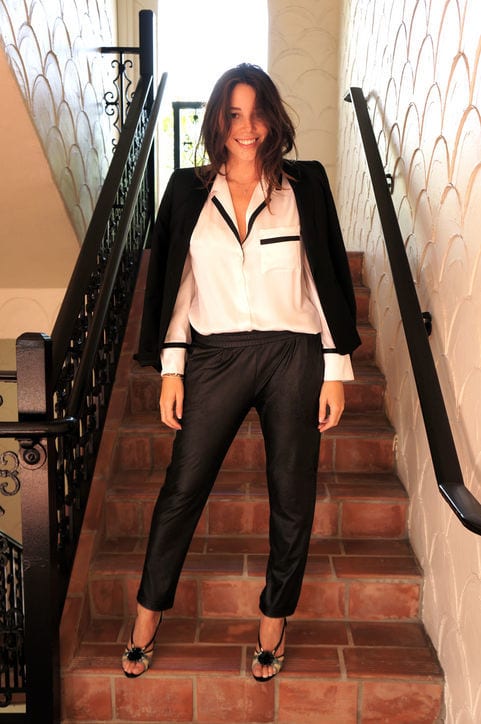 #12- Simple Check Blazer with Funky Pumps
Unless you keep experimenting with the jackets, you can't find the different look. When everyone is stick to solid color jackets, use your statement style and go for check print jacket. Pair it up with straight pants and a high heeled pump of some funky color. This look is equally good for office and outside boardroom. For more office outfits, check out [highlight]15 casual work outfits for women[/highlight].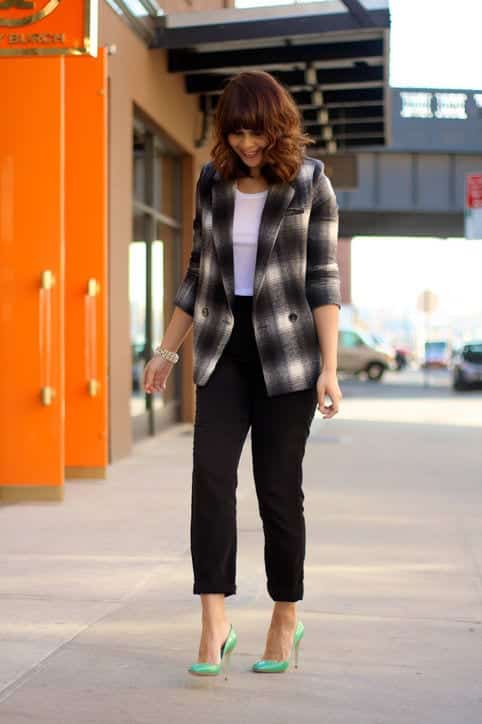 #11- Rough Denim with a White Blazer
A blazer can be worn with distressed jeans along a T-shirt. Which can totally transform the outfit into more contemporary one. As per a fashion blogger adding heels and a fun clutch makes this look work for a casual lunch meeting or dinner date.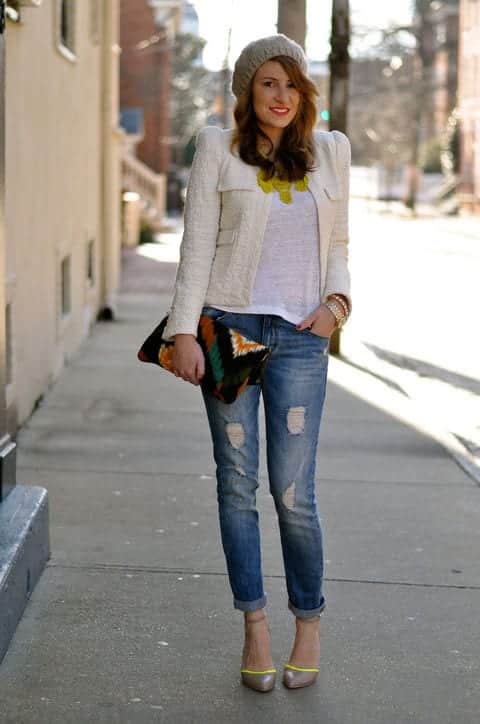 #10- Tomboy Style with Blazer
If you are a Tom boy then go for the boxy cut of a men's blazer. It really adds a toughness to an otherwise feminine look and stylish as well. Do not hesitate to go for maroon or brown pants.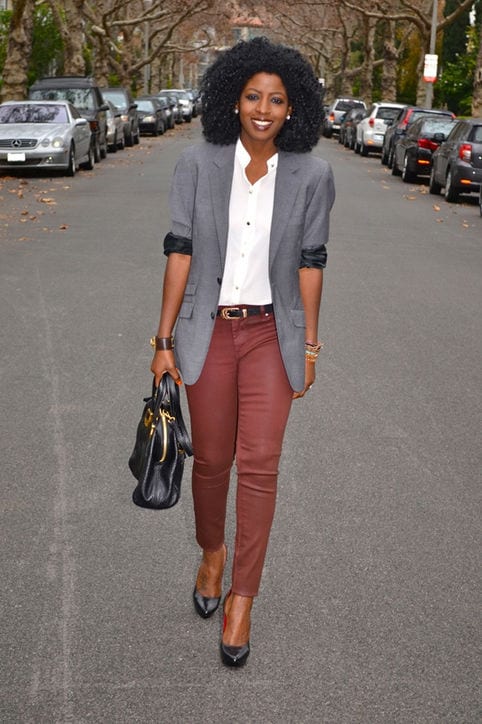 #9- Cool Casual Girl look
Grey and White are heavenly companions. If you are bad in making combinations, then simply pick up your grey blazer along white normal or boot cut pants, wear a bean cap and comfy shoes for a routine college look. If you love such street style as much as we do, then have a look at these[highlight] 25 most popular street style outfit ideas for women[/highlight].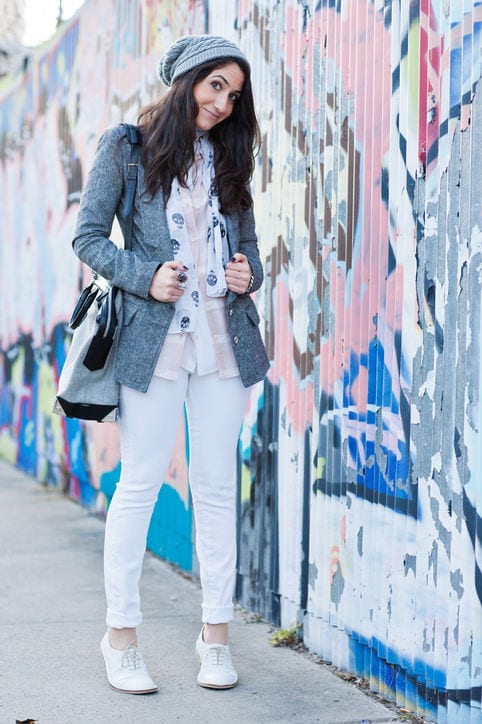 #8- Be Bold with Animal Print Blazer
Flared dress of a solid color can look awesome with an Animal print. Get a touch of Golden jewellery and some accessories, a blow dry casual hair style and here you are ready for the evening Queen look.  Nude color heels would add some more style.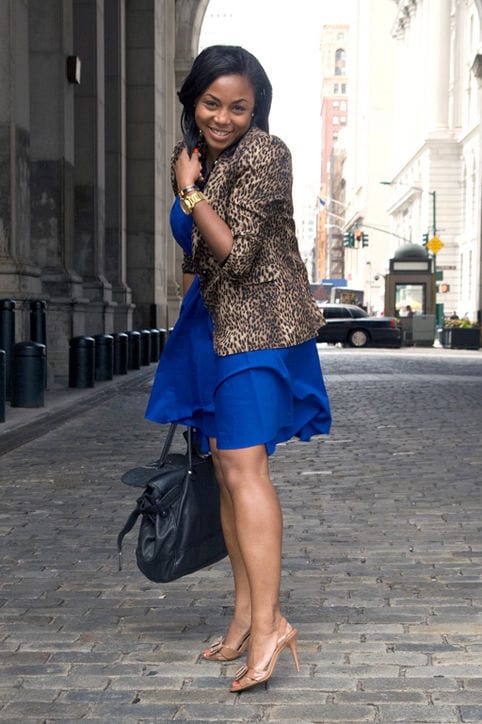 #7- The eternal White and Black Combo
Amid all the fashions and style, this eternal White and Black combo cannot be forgotten. No matter what is your age, or what skin color you have. This would look classy, elegant and chic on every woman. Wear it with whatever style you like, culotte Black or skinny Pants  along white high neck or top with White Blazer always look pleasant.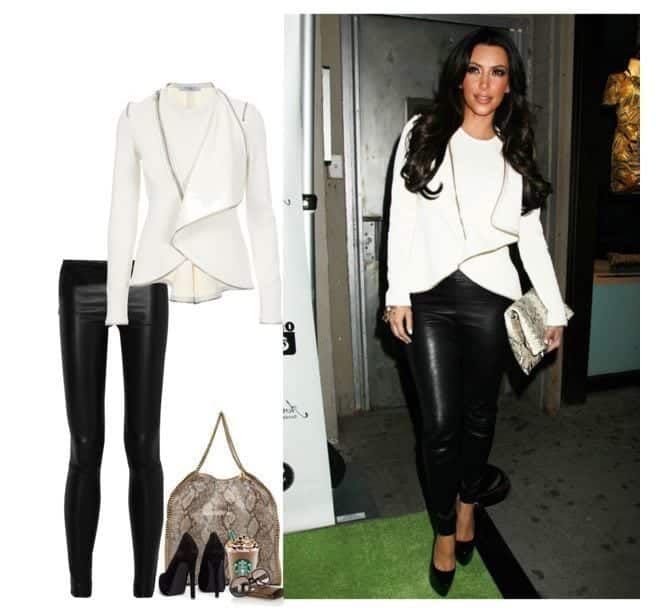 #6- Blazer outfit for plus size
Stay calm if you have broad or curvy body. A dark color blazer with a tee and jeans is your look of the day.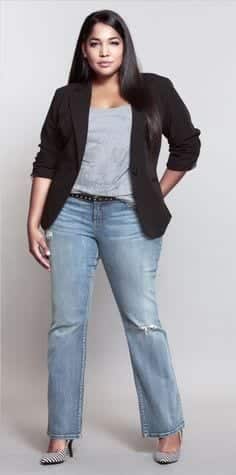 Source
#5- Lovely Lady outfit
This simple and elegant look is easy to catch. White Blazer compliments all colors and adding up some statement necklace will give the look you always desire.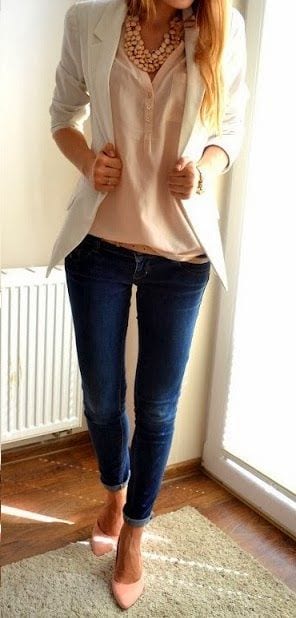 #4- Above 40 Denim and Blazer Style
If you are above 40 years then get this tailored solid color blazer with a casual jeans and some heels or flat pumps, along a tee. Brown Shades will look awesome with the dress along a big buckle belt.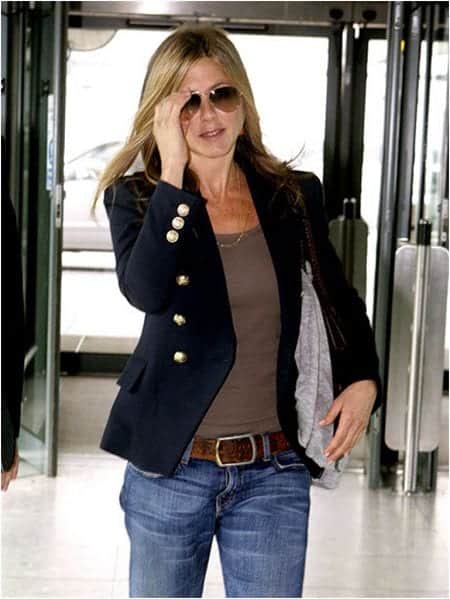 #3- The Fashionista Boss look
Get this look with going for unconventional dress suit and accessorize it instead of a belt.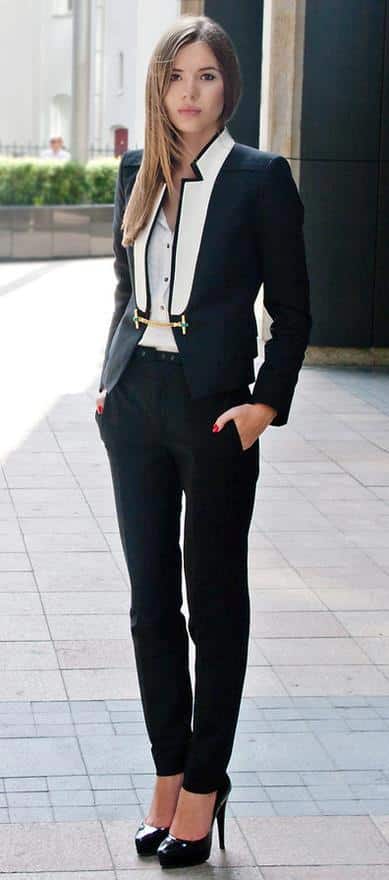 #2- Diva Style with Blazer
This contemporary and stylish blazer would look awesome with white pants or jeans, a print tee can give you Diva look, along wavy hair.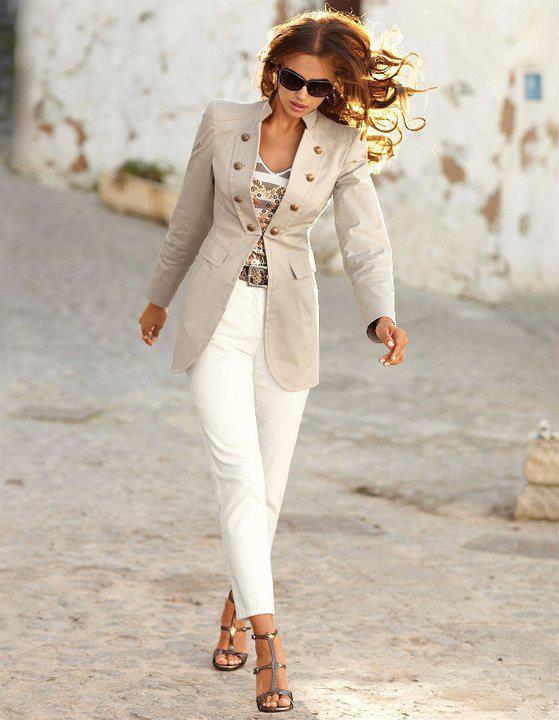 #1- Stylish Outfit of the Day
Yes this is the outfit of the day. Stylish, trendy, and yet again more chic and Diva look. Same color top but printed along Blazer, with jeans and some jewellery which can be easily spotted on you, with tied her will give you a head turn look.