High School Boys Outfits -Every high school student knows that style is imperative and when it comes to getting noticed. Well, the first and foremost thing while selecting any outfit is that it should be comfortable and compliment your personality but, always try to keep your look personal while choosing an outfit.
By doing this you will stand out from the crowd. There are various styles that are seen among high school boys. From goth and emo to swag and street and from hipster to classy. Each outfit has its own charm and its totally up to you what style you choose. Apart from this, you may also have to create stylish clothing combinations, like, how to dress up casually and formally in summers, winter, fall, and spring, that way you can be creative and innovative. So, with this in mind find your own awesome style. If you are the skinny guy then you must check out this collection of 19 ideal ways to dress up as a skinny boy.
Hairstyle for High School Boys
To compliment your outfit, the hairstyle is another important feature for guys to look significant and confident and to represent your overall look, hairstyle undoubtedly plays the major prominent role. A bad hair day can make you feel awful as it reflects badly on a person who wears it. Although, there are some simple little rules for high school guys when it comes to styling their hairs. But, to look appropriate yet flattering, there are a number of hairstyles for high school guys for a clean-cut appearance. From crew cut, side part, underpart, taper fade to furry slick back, every hairstyle is ideal for them and one can modify their desired look depending on what one is wearing. So you have to make sure your hairs are styled in a way that matches your outfit. For instance, if you are venturing toward a more formal button shirt and jeans look then make sure your hair is nicely combed. However, if choosing a more rugged look than a messy look is acceptable as long as it's a clean messy look. See this collection of 150 new hairstyles for Guys for more ideas.
Footwear
Footwear is pretty much the same ruling as your hair. Shoes need to look right with your outfit, as they enhance your overall personality. D. Martens are great shoes for an alternative or biker style and are widely accepted in high school. Sneakers are always a good option for footwear and are a very popular choice for high school lads. If you're feeling daring and want to venture for a contrasting color shoe then do so at your own discretion. You never know, your bravery could win you extra popularity points.
Accessorize
To finish your look, you need to add on some accessories. For example, a nice watch, some fashionable sunglasses, a belt which can be simple or chic. These things may sound minor but honestly, they are worth adding for a polished look. High school boys also like to put on a scarf or a beanie, a baseball cap and some other nice stuff depending on the outfit that they are desired to wear.
This post will discuss 20 exceptional ideas for you to create your own impressive and imposing high school look.
High School Styles for Guys
↓20- Street Style
Street style is booming, it demonstrates the versatility of such statement outwears perfectly. They are indeed the chicest looking and eye-catching inspirational style. With the pop-up colors, one can throw a primary-hued hoodie under your coat or make your top layer the star attraction. On the other hand, heritage style can also enlighten up your cool style. Street style with a black jacket, tiger t-shirt, black jeans and finished with a pair of Doc. Martens is absolutely your on the go outfit while leaving for your school. We recommend that you check out these 50 Most Hottest Men Street Style Fashion to Follow These Days.
↓ 19- Casual Winter Wear
For casual winter wear, one can carry Jeans, jacket and a simple top matched with sneakers and a hoodie. Messy hair is a great choice for this look. You may also add beanie and gloves. A scarf can also compliment your attire in winters. A rugged sports coat is another good choice for a casual winter look, as it gives you a more classical appearance. On the other hand, textured sweaters with jeans can make you look absolutely drop-dead gorgeous.
↓ 18- Style with Beanie
This look incorporates a pair of simple jeans, a printed t-shirt, and an open shirt. Accessories include jewelry, sunglasses, and a black beanie. The perfect look for those autumn months.
↓17- Logo Jumpers
Perfectly appropriate for high school boys, logo jumpers with contrasting jeans matched with blue sneakers can make you look absolutely dapper. This is indeed the most comfortable and coolest outfit for any season.  You should also check out these 10 Swag Outfits for Teen Guys for Perfect Funky Look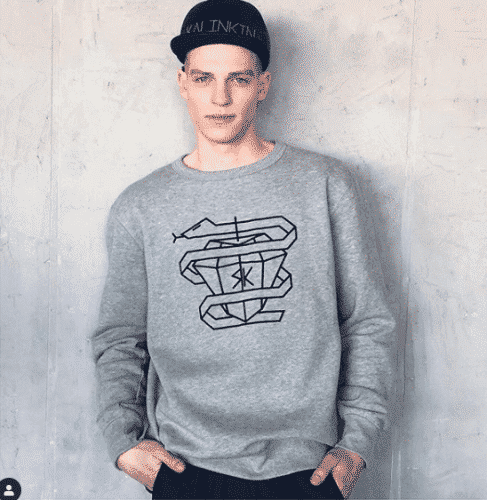 ↓16- Swag Style
For the swag look, you shall take inspiration from a celebrity that you adore. Like, for instance, Justin Beiber is an ultimate swag guide and most high school boys seek to adopt his statement style. Swag style is indeed a great look for summers like a sleeveless hoodie with a baggy pant or a sweatshirt paired with skinny jeans or ripped jeans. To add the spice on your look, accessorize yourself with super cool sunglasses, a cap or a beanie, feather necklace as a nice twist and black boots for a touch of attitude.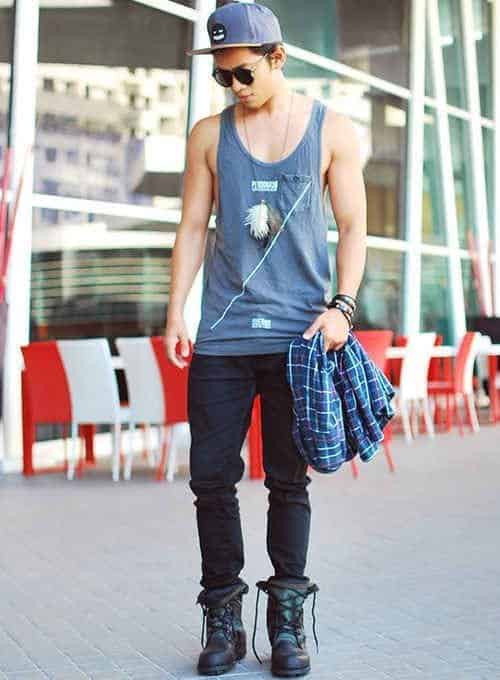 via
↓15- Cool and Casual Outfit
The cute yet casual style consists of simple jeans, t-shirt, and sweaters. On the other hand, a black polo shirt and distressed denim jeans could be another good choice for a casual look. You may finish this look with black Doc. Martens. The rugged hairstyle would be adequate for this cool look. Find more hairstyle inspiration from these 15 Cute Outfits for University Guys-Hairstyles and Dressing
↓14- Preppy Outfit
Preppy outfit involves lots of polo shirts, khakis, and button-down shirts and perhaps the most classical style to embrace. Brown or beige combat trousers are great and can be matched with any colored shirts. Use a jacket to add depth. Fabric shoes are perfect choices for summer days.
↓13- Wear a Scarf
This look matches oxfords with distressed jeans. Chunky scarf, trilby hat, and winter woolen coat make excellent additions to this winter high school style.
↓ 12- Hipster Style Outfit
Hipster outfits are comfortable, unique and functional, that comprises of vintage and anti embellishment style. One has a wide range of choices to dress up like a hipster. The outfits are generally distinct and rustic. Skinny jeans, plaid shirts, jackets, big sunglasses, beanie, and scarves are a good choice for this style. Just be yourself.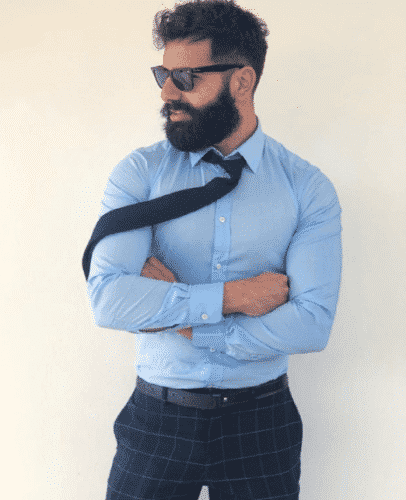 ↓11- Tartan Outfit
Tartan is a versatile pattern that will work with any style. For the high school boys, tartan outfits can be chic yet a classy choice. They can wear tartan shirts, pants and coat to look unique. Use different colored shoes and headphones for a splash of color and finish this look with sunglasses and a baseball cap. If one desires to look trendy, then just wear tartan scarves with any outfit. Instead of going for front open plaid pattern shirt, you can wear plaid pattern shirt but keep the front closed. And with this kind of shirt, you can wear any contrasting colored sneakers.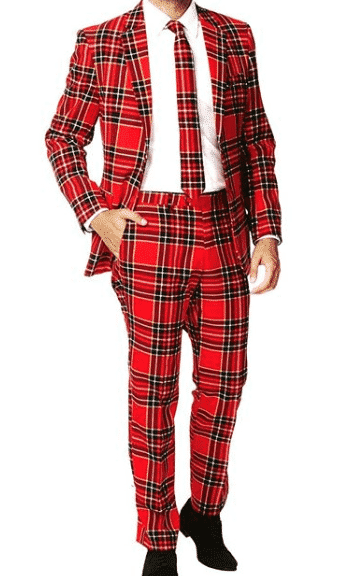 ↓10 – Nerdy Outfit
Nerdy Outfits can actually make you look pretty sexy and chic. So, to be a new trendsetter of your school, just create your own style and pull off any look with a charming and flattering nerdy outfit. You can go for the cheque shirt with bold black frame glasses, a cardigan with a tie or you can also add a bow with your outfit. Likewise, waistcoat with glasses is another good option to look like the most handsome guy in your school.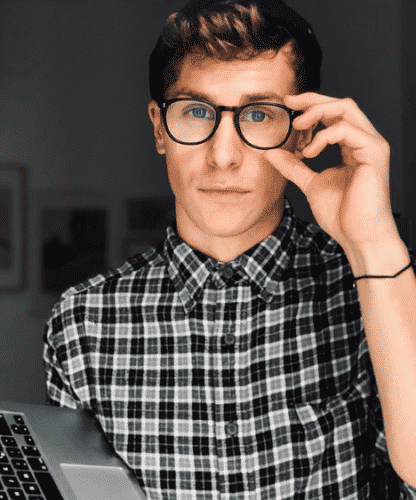 ↓ 9- Goth/Emo/Biker Outfit
Goth and Emo style is dark, brooding, yet sensitive and philosophical. This outfit has a lot of blacks with an awesome combination of combat shorts and ankle boots. You can match either a denim or leather jacket with this look. Finish with a fantastic chunky headband.
↓8- Classy Outfit
Classy Outfits are different from casual dresses. While dressing up as a classy guy, you may need to look a little bit formal and for that, you can add lots of suits, nice pants, good looking shoes, and some proper belts to your attire. Furthermore, you can also wear glasses to pull off your entire look. Ultimately, there would be the turning heads and glancing eyes as soon as you stepped in your school.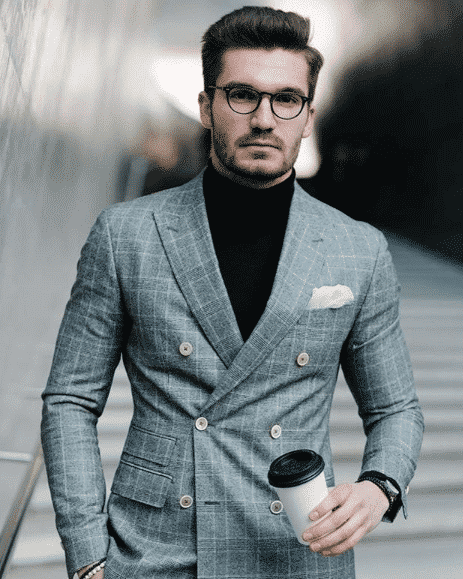 ↓ 7- Casual Summer Wear
To beat the summer heat, wear a t-shirt and shorts with sandals or sneakers. Choose to wear light fabric and cool colors for the soothing effect. Summer is one of the best weather to show off your outfit as one doesn't need to layer himself. Whether its a printed breezing shirt with plain shorts or a plain t-shirt with funky shorts. You can nail each and every look in summers.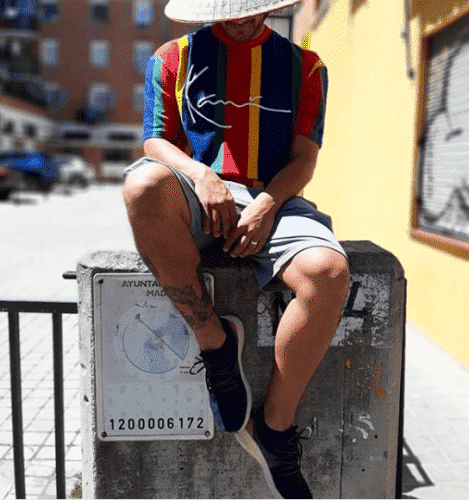 ↓6- Skater Boy Outfit
Black skinny jeans with a leather jacket and hoody. Finish this simple, but effective combination with plain sneakers and accessorize with headphones. For this outfit idea, you can go for black colored jeans and wear them with a black tee. A leather jacket would be great if you're wearing this in Fall or Winter season.
↓5- Spring Wear
Spring style has a number of options, for example, a wool jumper with blue jeans or a polo shirt with denim jeans for the casual look. If one needs to dress up formally, then unstructured blazer with the brown boat shoes can make you a handsome hunk. This outfit idea is perfect for those guys who want to dress very fashionably and want to be noticeable by everyone. For the outfit idea, you can go for jeans along with front close sweater in any dark color other than blue. For the shoes, you can wear loafers or Skechers, depending on your choice. For the hairstyle, you can go for side-parted hair for a perfect combo.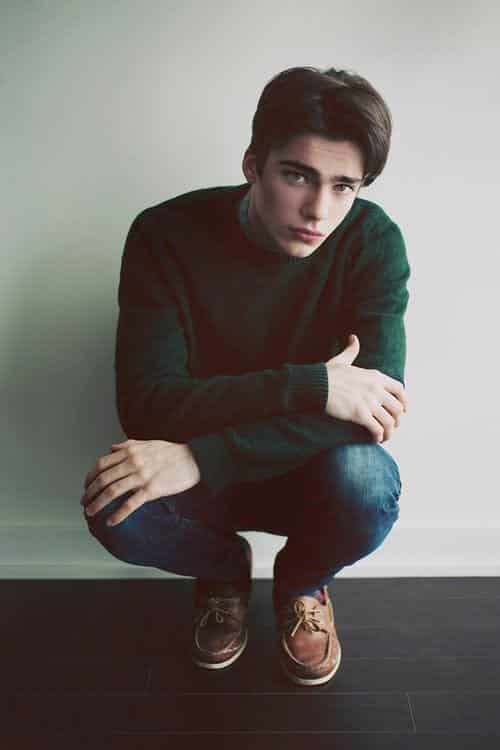 via
↓4- Autumn Style/Fall Outfit
This is a season when it's not cold neither too hot, so a suitable selection of an outfit can make you feel comfortable. Don't go for a bundle of layers, rather, choose a thick coat to beat the unpredictable weather. Knitwear is another good option for high school guys to style themselves. Warm earthy colors would be suitable for the fall season that includes brown, burgundy, olive green or navy blue type colors.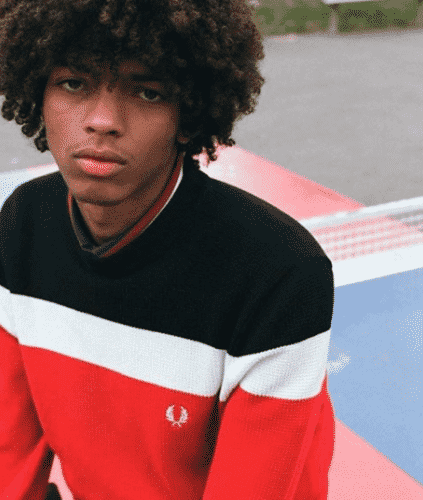 via
↓3- Casual Street Style
Distressed jeans and sneakers with an eye-catching red stripe v-neck. Another look where baseball caps are suitable. For brighter and bolder options you can wear any bright colored t-shirt or tank top and pair it up with your fav pair of shoes. For shoes, you can either go for sneakers or wear loafers, both are good options available for you. For accessories, add any bright colored, casual watch. If you're more of a smartwatch guy then the Samsung gear watch would look really awesome with this outfit.
↓2- Alternative Look
 Ripped Jeans with low neck top and denim hoody. Complete this look with black sneakers and a very stylish mohawk style hairdo. This outfit idea is perfect for guys who want to look casual to high school and also who don't want to spend much time in the morning trying to get ready for the day. For this outfit, you can go for dark colored jeans and along with that, you can wear a sleeveless black colored tank top. If the weather is a little on the cooler side then go for an opposite-colored hood on top to bring everything in the outfit together. For shoes, sneakers are gonna be your perfect choice.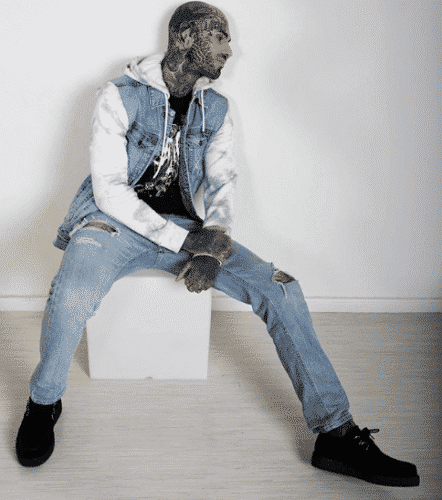 via
↓1- Decent Look
For the decent look, ties are still a very frequently seen accessory in high school. Use them to their full potential and choose one which will compliment your outfit. Novelty ties are not the best option for high school. Plain or simple patterns will denote an intellectual image.