Engagement Outfits for Indian Men. The times when all the shopping, all the priority, and all the attention is at the disposal of the brides, grooms tend to get a bit lagged behind in the will to look their best.
Unfortunately, on their very big day, many men feel that all the celebrations related to weddings are meant to be prioritized for their spouse. And like many women, some of the men also happen to dislike shopping. For all such men, here are the 10 Most Affordable Designer Brands for Men you Didn't Know
So, we are here to help with that. We have picked out the latest trends in the engagement outfits for men that rocked this year and some of them happen to be the work of the best designers in India, such as Manish Malhotra, Sabyasachi, and many others, which produced such blessing of engagement outfits for men.
What to Wear to an Indian engagement – Men
We will guide you with tips on how to wear your outfit best, what hairstyle to go for, what shoes will best match with your silk coat and much more. Have a look, and don't miss out on some handy ideas for your big day, which only happens once.
#20 – Rajat Tangri Engagement Suit
Rajat designers have always been famous for their rather unique designs of clothing for men. This recent and quite a popular style of engagement suit by Tangri has awed a lot of men in the previous year probably because of its shady style and a rather intimidating outlook. For a nice hairdo, we suggest you go for any gelled hairdo.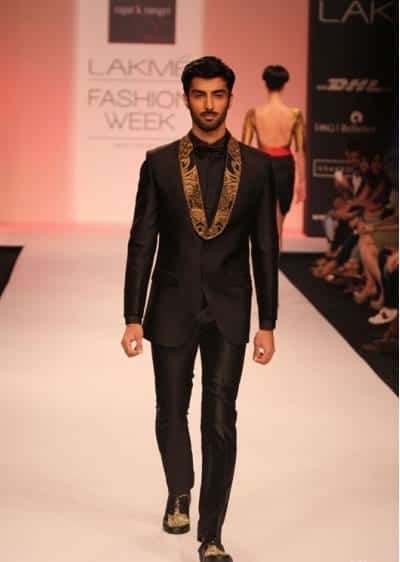 via
#19 – Vintage Sherwani by Shantanu-Nikhil
A vintage style of sherwani recently designed by the Nikhil designers, which is unlike any style we have seen before. The catchy coat with a unique pattern adds to the class of the outfit and hence, this is also one of the most popular outfits in the past year. RECOMMENDED: Latest Kurta Styles for Men: 24 Best Kurta Styles in 2019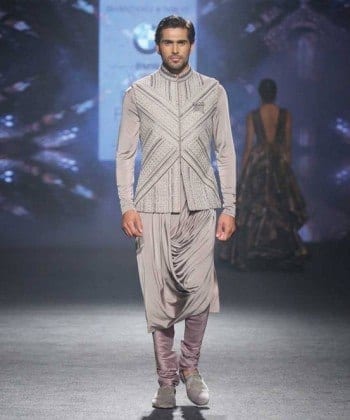 via
#18 – Kurta with Jacket Style by Nivedita
It's hard to get something to impress you when you are too choosy, but not with this Kurta full suit with jacket, and a rather appealing gold embroidered one that is bound to grab anyone's attention. So that makes it an outfit worth your big day.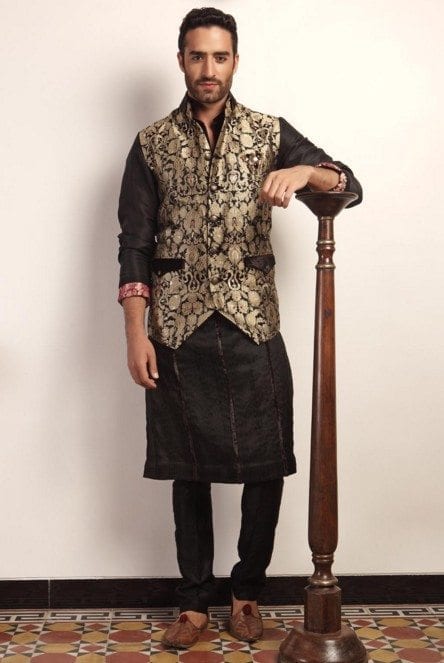 #17 – Outfit by Nivedita Saboo
A gleaming and subtle outfit by the matchless designer of India – Nivedita Saboo. The outfit includes formal, sleek pants with a mesmerizing dark blue coat. We would also like to suggest a pushed back hairstyle because it would be best here to match the shady look about the outfit. Since beards are a must with this outfit, do check out Celebrity Beard Styles-20 Best Celebrity Facial Hair in 2019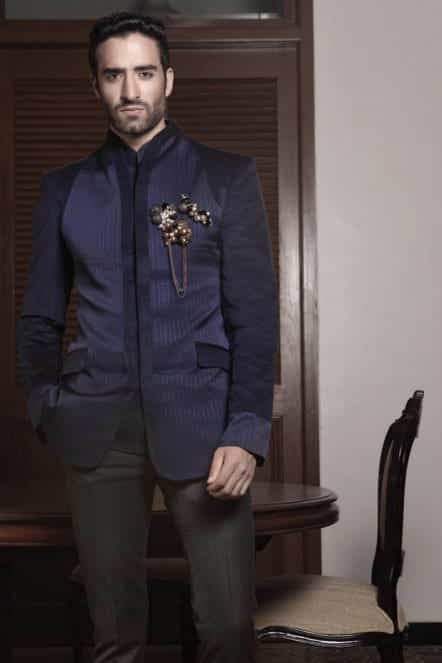 #16 – Unique Outfit by Tarun Designers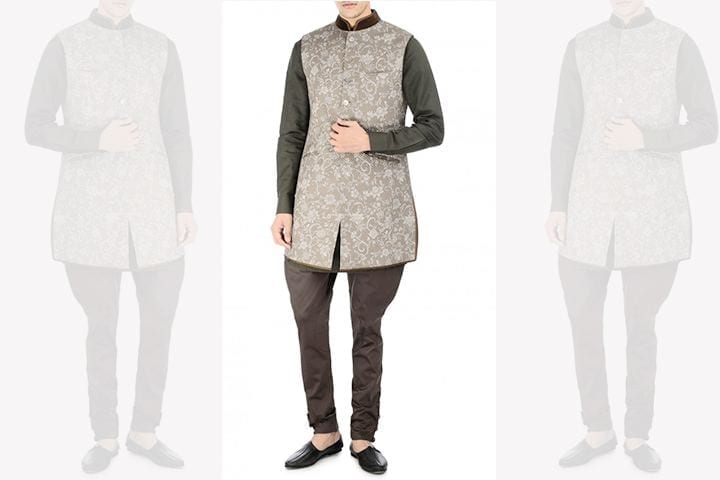 #15 – Outfit with Turban by Ujjwal Dubey
Here comes a classy mixture of a bit desi as well as western color, with the classic addition of turban to a considerably western outfit including formal pants and an impressive office coat. This formal design with a turban gives it a sophisticated yet occasional look and it would be a nice try. We suggest you go with a formal pair of shoes rather than some casual sandals.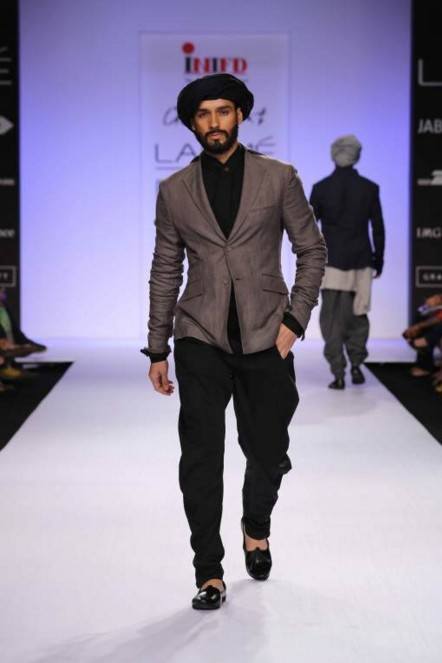 #14 – New Style by Shantanu-Nikhil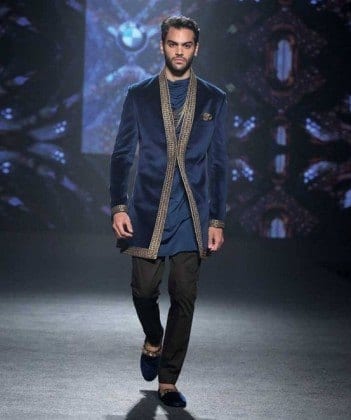 #13 – Manish Malhotra Suit Design
Manish Malhotra not only produces classic and incomparable bridal outfits but also the outfits for the groom to the bride. And this suit design is one example of a classy design of coat and pants for all our engagement pals. RECOMMENDED: Arjun Kapoor Outfits-30 Best Dressing Styles of Arjun Kapoor to Copy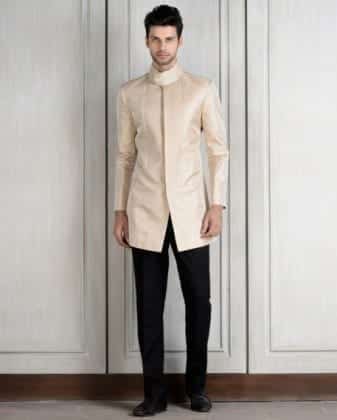 #12 – Embroidered Coat with Pants – Manish Malhotra
A new trend has reached the fashion market with this classic coat with such a prestigious-looking front and gold-embroidered sleeves. What further adds up to the class is the contrasting white pants with the coat. You can go for either formal shoes or sandals because both will match nicely.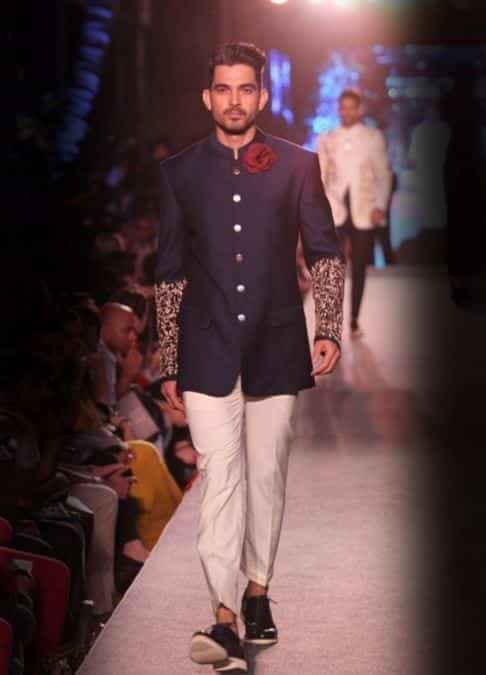 #11 – Raghavendra Rathore Outfit
The Rathore designers came up with a style that incredibly had an Indian vintage look to it and this is what the customers looked for when they were buying it. Dressing up in a vintage style always sells well and customers appreciate your approach to it.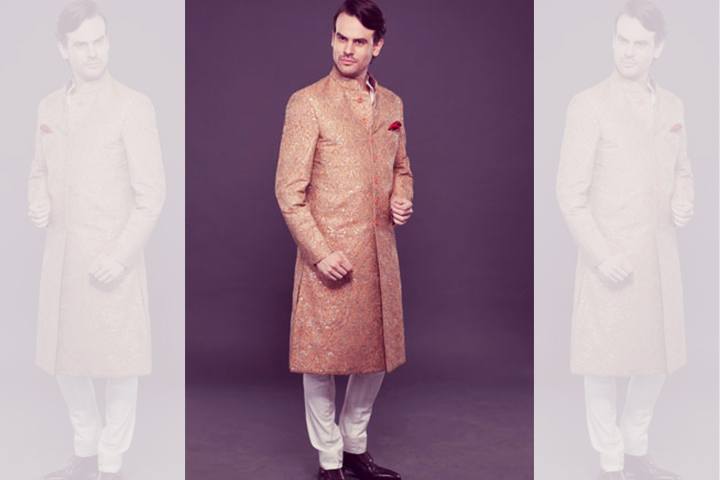 via
#10 – Ranbir Kapoor Lakme Fashion Week Style
You could not have missed out on this iconic maroon velvet suit worn by Ranbir Kapoor in the Lakme Fashion Week. It would also make an attractive attire for your big day. Wear your most formal pair of shoes that you own that matches the western look of your attire and keep your hair short and composed.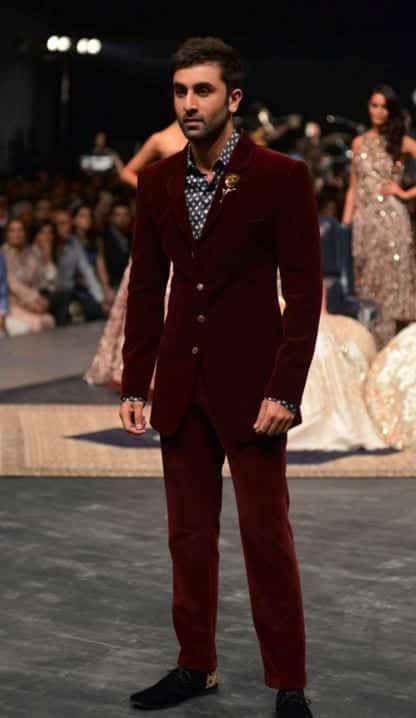 #9 – Rohit Bal's Outfit for Engagement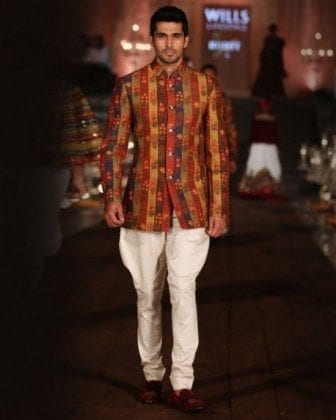 #8 – Sabyasachi's Kurta Suit Style
Fancy kurta set for engagement for men with a prominent gold embroidery and matching gold trouser to go with the silk dark blue Kurta. Surely, you would not want to miss out on something that brings out the best of you. For some more amazing inspiration, check out Fawad Khan Dressing Styles-27 Best Outfits of Fawad Khan to Copy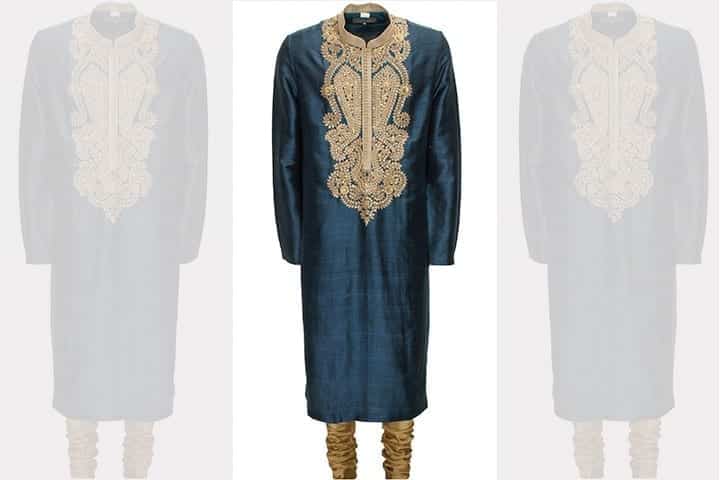 #7 – Siddhartha Tytler Outfit for Men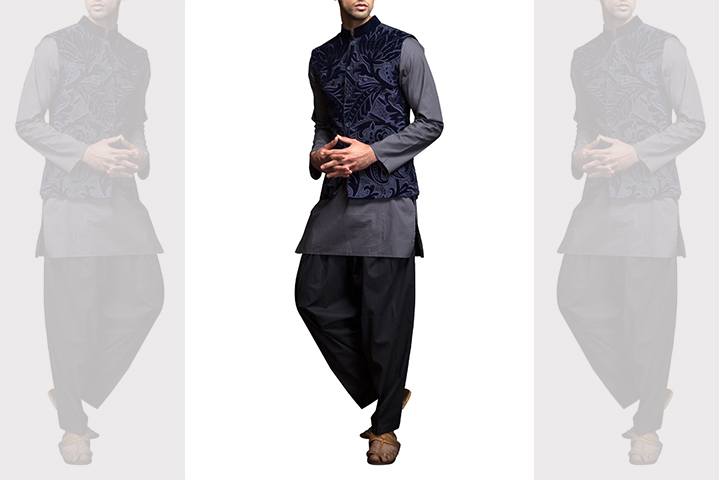 #6 – Silk Sherwani with Patiala Shalwar
#5 – Outfit for your son's Wedding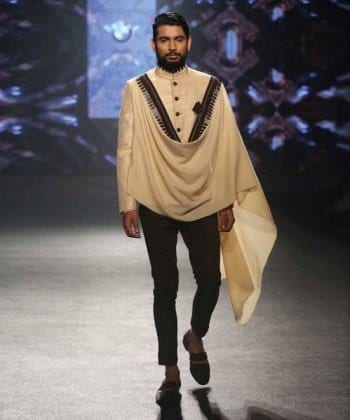 #4 – Vikram Padnis Sherwani
A regular looking sherwani by Vikram Padnis for your big day and we are sure you will impress all.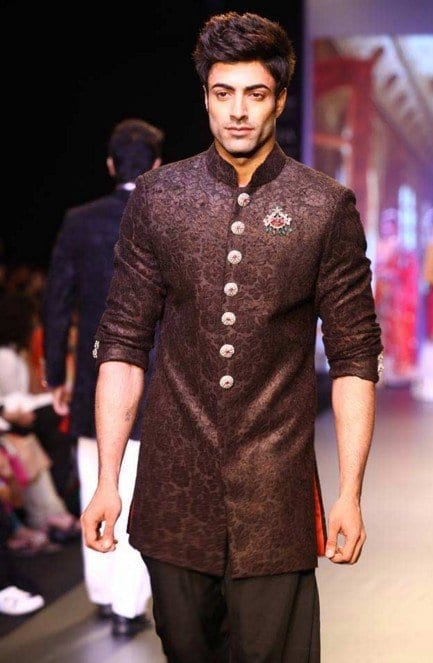 #3 – Jacket with Pants Style by Rathore
Rathore designers always manage to bring up a rather tough outlook with their designs. And so does this cool jacket with pants style and formally simple shoes to go with. You can keep your hair a bit messier if you want to or you can go with a side pushed back hairdo.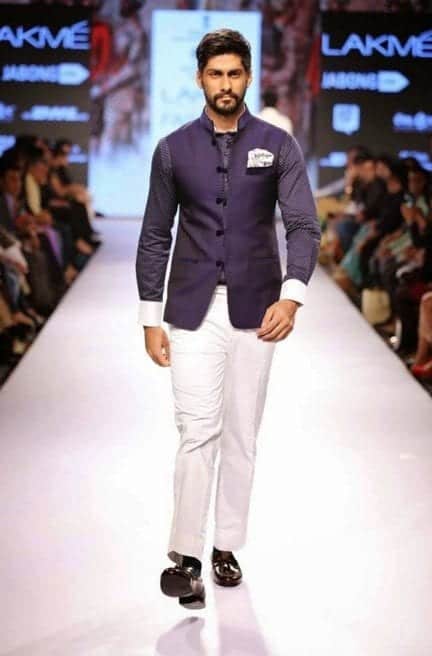 #2 – Handsome Sherwani by Mulpuri
The elegant and prestigious cannot escape your attention with the flauntingly amazing silver embroidery, its match with a pale trouser and brown shoes. Although, we suggest you replace them with a gray or silver one. This one will be a perfect option for your big day and probably more chances to impress your to be spouse.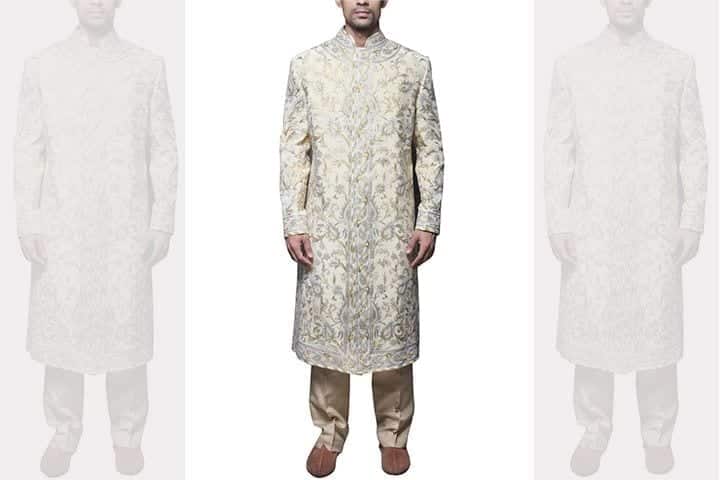 #1 – Fancy Sherwani by Zarilene
If you want to pick up something that truly brings up your celebrating spirits, then this is the outfit to go for. A stunning wedding/engagement sherwani introduced by none other than the flawless Zarilene designers. Since they always introduce something that a customer cannot put back once they choose it, this design is no less with a pale gold full embroidered sherwani with jet red trouser and matching red khusas to compensate.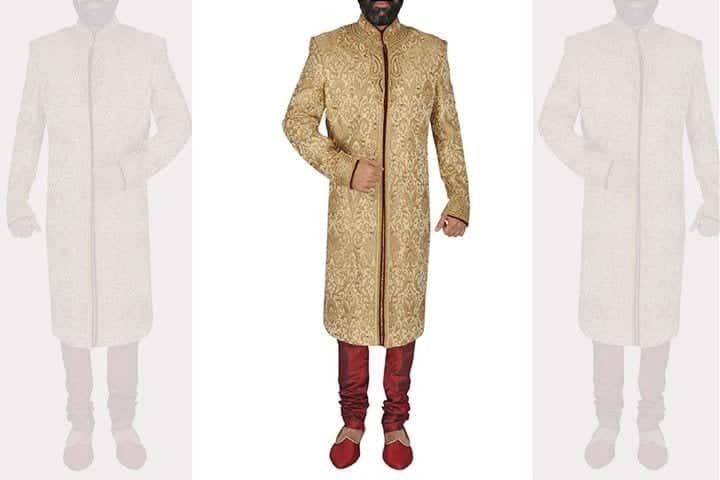 A Chemical Engineer by profession and content designer by choice! Meet Manahil Qureshi who has an infinite love for food and cats. Be it the latest fashion ideas about women or kids outfits or trendy men fashion styles, she loves to keep her pen moving on such niches. Other than writing, she has a love for designing jewelry which is why she has also started her own designer jewelry label, called Glare jewels. Want to know what is coming up next on her publication blogs? Subscribe to the newsletter and keep yourself updated anytime. Cheers!