2020 Halloween Costumes for Babies: We know Halloween is almost here, and you want your baby to look different but at affordable prices. Do not forget we all have such things in our home, which can be used to make a perfect Halloween costume, so you don't have to splurge on a day that most won't even remember.
Thinking of Halloween costumes for kids can be nerve-wracking. You want your baby to have the best costume in the neighborhood. Not just to take pictures for memories but also to show all other parents how great you are at being a parent. You need to wake up that inner artist of yours and use these DIY ideas for the perfect costume that can save you.
Homemade Halloween outfits for Toddlers/Kids
You have probably spent many hours on the computer looking for the perfect idea. And you are probably still confused as to what you will do. Well, your search is over now. Just take a look below to discover the cutest costume ideas and also find out how you can achieve that look quickly.
↓ 30 – Egg baby
These adorable kids look lovely in these deviled eggs. Just use any basic white romper and caps as the egg white. You can buy yellow cloth or cut up an old yellow t-shirt and stitch it to the front of the romper. Leave an opening from one side and stuff it with cotton to make the yolk. Then seal it. Add in red horns to the cap to make literal deviled eggs, instead of the dish we all know and love.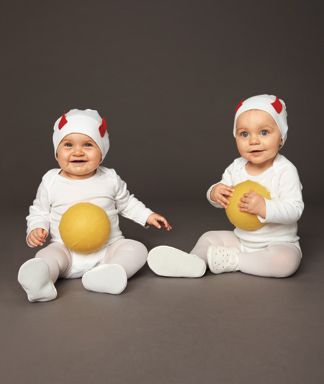 ↓ 29 – Cotton Candy Girl
You can easily purchase some net cloth from the nearest craft store. Attach the net to a simple tee and leggings, in whatever pastel color you like. Our favourite is pink, but you can go for blue or yellow as well. Use a party hat to make a cap as well; this will help it stay in place. Or you can skip on that part.
↓ 28 – Million Dollar Outfit
This one is an easy catch. A white pillow cover, monopoly game money, and black tape can do it all for you. Use the pillow cover a sack and make a dollar sign using tape or black cloth. This is also a spectacular idea for a family costume. You and your spouse can dress up as a robber and a bank manager, respectively, with the baby as a sack of money!
↓ 27 – The Old Man Carl From UP
You can achieve this look by using clothes your kid probably already has. Dress the baby up in cotton pants and a button-up shirt with a cardigan and bow tie. Add in some glasses, and you're good to go. You can use your kid's walker as the walker for Carl. This will help your kid get around easily as well if he hasn't started walking yet. Or you can attach tennis balls to some extra water pipes to make the walker. Balloons will complete the look!
↓ 26 – Struck by Lightning!
A toddler with some odd makeup and strings attached with cotton balls makes for an easy struck by lightning costume. Use cotton pasted on a chart paper for the cloud, your black eye shadow for the smoky makeup, and some hairspray to get the hair right.
↓ 25 – Anabelle Doll
Get a simple white dress with red detailing and a braided wig to get this spooky look for your baby. Use your makeup to make her look identical to the doll used in the movies. If you don't want to put makeup on your child's face, then you can go for the real doll's vibe and pick a pink wig!
↓ 24 – The Old Lady Cute Costume
All you need is a wig that is grey or white. Put your kid in any clothes you think will be appropriate, and put the wig on their hair. You can also get a small walker for them to drive the look home, or you can leave it out as well. But we would say a cardigan is a must to bring it all together!
↓ 23 – The Adorable Mummy Costume
This one is the easiest and cheapest outfit. Just wrap up that baby in a white bandage, and you're done. This one is also a great last-minute costume if you have been too busy. You can also splatter some red or brown paint if you want to make it look perfect.
↓ 22 – The Baby Popcorn
This is an idea for a dual costume. You can wear a button shirt and a bowtie to dress up as a movie theater employee, and you can transform your baby into a bucket of popcorn. Stick popcorn on a cap and make the bucket using cotton. Your baby will be the bucket, and his or her head the popcorn!
↓ 21 – The OctoBaby
Stitch some extra stuffed legs into your baby's romper, and his Halloween outfit is ready. Buy four pairs of identical leggings. Put one on your baby's legs and stuff the other 3 with cotton. These will be the eight tentacles of the octopus.
↓ 20 – Cute Spider Baby
Use the same technique as the octopus costume, but use all black this time to turn your baby into an adorable spider. If you want to match with your baby, then put on a skirt with web design, and you're good to go!
↓ 19 – My Sweet Pineapple
Few colored papers pasted on the headband and yellow romper is your baby's Halloween dress this year. You can also use cotton strips and stitch them onto the yellow romper to give it a more clean and professional look. This is how you make the cutest pineapple ever, now save him from being eaten!
You can also dye your baby's hair green for this look, check out Latest green hairstyles-these 23 shades of green hairs are irresistible.
↓ 18 – Mr. Strong Baby
Your old Cheetah print skirt and some paint will turn your baby into StrongBaby. Use thread on a skin-colored onesie to make chest hair and use your eyeliner to make a thin mustache for your baby. You can also make weights using cardboard and label them with 1000 or 10,000 kilos!
↓ 17 – Most Adorable Dalai Lama
Use rosemary and solid-colored cloth along with round frame glasses to put this one together.  Use a yellow cloth to make the sash and use one of your necklaces to complete the costume. Your little one will look like Dalai lama!
↓ 16 – I'm a Mooo Baby
This is one of the most used costume ideas of all time, so if you want to stand out, maybe keep scrolling. You can buy a calf costume at your local dollar store, or you can stitch black cutouts on a white onesie to make it at home easily.
↓ 15 – The Prince
Prince is one of America's most loved singers and musicians of all time. You can use this costume to give tribute to Prince while also helping your kid have the best costume ever. Use a curling iron or get a wig if your toddler doesn't have naturally curly hair. And use eyeliner for the mustache.
↓ 14 – The Walking Bathtub
This is a costume that all your and the kid's friends will remember for years to come because of its creativity. Some balloons and cotton with a shower cap stuck to your kid, and he is ready for the Halloween party. Add in some duck toys to drive this one home!
↓ 13 – The Mad Scientist
His Father's shirt and a laboratory coat with a mad looking wig and make up will give you this look. Use cardboard to keep his dad's shirt upright, and stuff the sleeves with t-shirts to make them look real. Use hair spray and white hair chalk to get the perfect crazy hair!
↓ 12 – Bag of Jelly Beans
This can be made for kids of all ages and even toddlers. Just stuff a last plastic bag with oval balloons and have your kid wear it over their normal t-shirt and leggings. An easy and fun costume!
↓ 11 – The Wizard Family
The witches and ghosts, all have someplace in this wizard theme outfit. We love family costumes, and this is great for a big family. The pictures will surely look amazing and will be the talk of every family dinner for years to come!
↓ 10 – Adorable Olaf
This character outfit is easy to make. This can be made just by a knitted Olaf face cap and a  basic white onesie with black circles sewn on the front. This will be very comfortable for your baby and also keep your baby safe from the fall winds!
↓ 9 – The Cute Joker Halloween
Indeed this joker is cute, and with some split lipstick and messy hair, you can achieve this look. Use green hair chalk for the hair, but first, make sure it's safe to be used to kids. Then put your toddler in a purple suit and get that makeup in place before its time for trick or treating!
You could even give your baby girl some nice nail art, have a look at Easy DIY textured Nail Art Design-Step by step tutorial.
↓ 8 – The Despicable Family
Another family costume idea that we absolutely adore. On this Halloween Party, a despicable family theme is perfect for your whole family and babies. Your kids can all be minions, and this way, you can make sure they don't get jealous or upset since they'll all have the same outfit. This idea will help you avoid many tantrums.
↓ 7 – Lovely Pumpkin
Make some space in your pumpkin for the baby. Carve a pumpkin and clean it out properly. Then place your baby inside it for the cutest Halloween photoshoot ever! This costume can only be used for pictures, though.
↓ 6 – The Little Mermaid
A knitted mermaid dress is all your princess needs this Halloween. This will especially be a great choice if you live by the beach as the pictures would turn out amazing!
↓ 5 – Baby Monsters
Mothers get your sewing machines out and stitch these monster dresses for your baby. Or go to a nearby target and get it for just a few dollars. You can also buy it here.
↓ 4 – This is Fresh
A Subway printed wrapping sheet and some veggies made out of paper; your Halloween baby is ready to attend the party. This one is cheeky, and everyone will surely have a good laugh!
↓ 3 – Mike Ditka
If you're a big football fan, dress your toddler up like Mike Dikita, complete with his signature bears sweater and cigar. Use a marker to make a red mustache and place some sunglasses on your kid to complete the look!
↓ 2 – Walter and Jesse
All Breaking Bad fans will truly love this one. This is a great idea if you have two kids. Dress one up as Walter White and the other as Jesse Pinkman to recreate the iconic duo and impress all your friends.
↓ 1 – I'm Einstein
Albert Einstien is probably the most famous scientist ever. Every person, from all walks of life, knows his name. So it's a great choice, especially if you're from the science field yourself. Use cotton to recreate his iconic hair and mustache, and use a black marker or tape to write the infamous equation on a white onesie. Your baby is all ready and looking as cute as ever!
Q. Which city is the Halloween capital of the world? 
A. Anoka, Minnesota, calls itself the "Halloween Capital of the World," as it is one of the first cities in the United States to put on a Halloween celebration that discourages people from playing tricks or causing trouble.
Q. What is the most popular trick or treat candy?
A. Reese's Peanut Butter Cups are the most popular Halloween candy, poll finds. Americans love to gorge on candy during Halloween, and peanut butter cups are at the top of the list. According to a survey from Monmouth University, more than 36% of Americans say Reese's Peanut Butter Cups are their favorite Halloween treat.
Q. How did Halloween start?
A.
Halloween began as the festival of Samhain. It was part of the ancient Celtic religion in Britain and other parts of Europe. At the end of summer, the Celts thought the barrier between our world and the world of ghosts and spirits got thin. This meant weird creatures with strange powers could wander about on Earth. The Celts had a big party. It was all about scaring the ghosts and spirits away. Later, with the Christian religion, the day became known as All Hallows' Eve – the day before All Saints' Day on 1 November. But Halloween took off in America.