All White Party Outfits. There is absolutely no tinge of doubt in saying that white portrays the most utter form of elegance, more than any other color possibly can. It can be worn whenever you want to shed the utmost simplicity.
We're here today with great ideas on catchy all-white outfits that will serve as classic swag styles, formal wear for office looks, and just your mundane casual style that you want perfect every day. It's the color of the biggest celebration one could have; a wedding, it can be worn even when you want to represent sorrow, and they also make great choices for any formal occasion.
How to Wear All White Outfit for Parties
The weather has a significant impact when it comes to fashion, and it plays a massive role in summer styling, that is why we tend to choose light colors so that it gives a cooling effect. White color is perfect for a summer formal or casual parties. So, have a look at these 26 best styles of all-white outfits that include all-white outfits for a casual look, all-white styles for plus size ladies and all-white looks to go with jeans. So, don't miss your chance to nail your look with nothing but the elegance of the color white. If you don't have a lot of ideas on how to go about all-white outfits and to nail them with flawlessness, then here's your chance.
Styling Tips To Rock All-White Outfits
How to style an all-white formal dress: You can choose to wear maxi dresses, bodycon dresses, etc. paired with a statement necklace and a beautiful ladylike bag
How to rock a casual white outfit: You can look pretty in simple clothing as well. If you are going for a casual outing, wear a white t-shirt with a white skin fit jeans and matching crossbody bag.
What Accessory to wear with white dresses: You can wear your dress with a patterned scarf or a cardigan, whether it is floral or any other pattern. Make sure you do not overpower your white attire with too many prints.
What shoes go best with the all-white outfit: Gold shoes go best with a white dress, metallic silver shoes also look best under bright light.
Below are some summer outfit styles for all-white outfits to get inspired by:
↓ 26 – Casual Girl's Night Out All-white Look
A relaxed and simplistic street style for the ladies who wish to put form above everything else. The method is all the way simplest, with a mildly ripped jeans look, a sassy pair of goggles, and the prominent cheetah printed clutch to make it flawless. You should also check out these Classy Spring Trends to try this year.
 ↓ 25 – All-White Engagement Party Outfit
An all-white style that will simply take the breath away of whoever glances at your outfit. With a perfect pinch of skinny white jeans, contrasting nude heels, and a sensual off-shoulder top with frills. To make it as classy as possible, some minimal jewelry and makeup would be best, like in the picture below, a perfect shade of red going flirtily with the white and a nail color that sparks.
↓ 24 – Stylish White Skirt Party Outfit
Parties are essential occasions for a girl, especially when it comes to how they should dress up. When you choose to wear white, we have got you covered with this long skirt and the sleeveless shirt. It is a simple yet elegant outfit, you should pair it with a beautiful bag and block heels to complete your look. Wear subtle makeup with bold lip color to look jaw-dropping gorgeous in that party of yours.
↓ 23 – Chic Summer Style for Formal Party
A chic and stylish summer look with shorts and a cute matching top, the matching and stylish heels give all the warm summer vibes, yet a distinct sense of style. Looking for Celeb style fashion? Here are 20 Ways to Wear All White Outfits Like Celebrities this Year.

↓ 22 – Casual Summer Look with Sneakers
A light and casual look for summers surely is an absolute dream dressing for many women to adopt in summers. The lovely combination includes a fantastic coat-inspired dress, matched with the coolest pair of sneakers. To retain your swag and avoid the sun glare, some lovely shades are not a bad idea at all.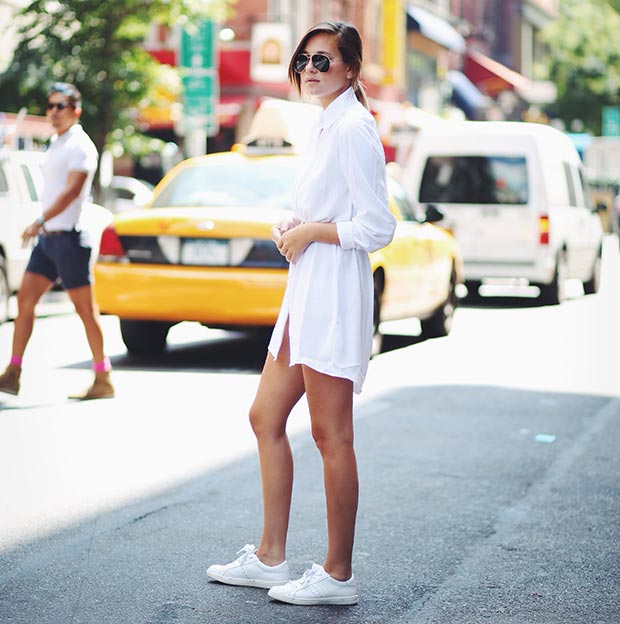 ↓ 21 – Kendal Jenner – White Outfit with Denim Jacket
Kendal Jenner rocks in her not exactly all white, but white-dominated look that will simply make a comfy and casual everyday style that we most want to get through a tough day. Plus, Kendal has further nailed it by putting on a dainty denim jacket and a cool short crop top.
↓ 20 – White On White Beach Outfit Idea
If you are planning to spend your weekend having fun at the beach, then the look below is perfect for such occasions. This white blouse and a mini skirt is the ideal outfit to wear with your shades and that beach hat to rock all your beach pictures.
All-White Party Styles for Plus size Women
Now, it's the time to get all prepped up for the amazing styles that will make you envious of all plus size ladies out there. With formal dresses, to casual styles, there is nothing that the plus size ladies can't nail and look impeccable. So have a look.
↓ 19 – Girls Night Out Style
A classy and stylish pencil dress for all the gorgeous plus size ladies to nail this style in just about one attempt. You should match it with some cute heels, and nothing more would be required to enhance your look further. Here are the Top Ten Brands For Plus Size Women These Days
↓ 18 – Lovely Plus size Dress for Weddings
Everyone loves dressing up for weddings and white is the most common color which girls wear on a wedding day because it looks charming, elegant and beautiful. Don't worry if you cannot think of any ensemble to wear on your best friend's wedding, here is one eye-catching wedding ensemble for you!
↓ 17 – Formal All-White Outfit
A stylish pant shirt outfit is perfect for formal outings like meetings or any other occasion. This beautiful outfit with a wraparound belt is ideal for plus-sized ladies. You can look amazing in this outfit if you pair it with delicate stilettos and minimal jewelry.
All White Celebrity Styles
Most of the girls look up to celebrities when it comes to choosing outfits, what they wear, and how they style it, for your help, we have some celebrities outfit inspirations below:
↓ 16 – Taylor Swift All-white Outfit Style
Taylor Swift once again pulling off the chicest all-white look in the style of a short jumpsuit and owning up to it like always, with the perfectly contrasting blue heels and a nude branded handbag. Check out more Taylor Swift's style in our previous post on  Cutest Taylor Swift Outfits to Copy This Year.
↓ 15 – Kim Kardashian Formal Party Look
Kim Kardashian in a fiercely all-white outfit style that perfectly syncs with the gorgeous tan of her skin. It will also serve as a lovely look for a formal day at the office, and you can be as comfortable and attractive as you may want.
↓ 14 – Hailey Beiber's Casual Style
Hailey's crop top with a short skirt and her loose boyfriend shirt is a perfect wear for a lazy hangout at a friend's house. She has always been a fashion icon and looks stunning in any apparel. You can pair a similar outfit with golden hoop earrings and beautiful footwear to complete your look.
↓ 13 – Gigi Hadid's Glamorous Look
Gigi Hadid has always been a fashion icon and inspiration to many, and her wardrobe is full of amazing outfits. Here is one of the amazing ensembles that she wore for a Tv show. This front open maxi dress with a contrasting belt is the perfect red carpet look, and you can wear it to your homecoming party as well. To add more style to it, you can wear dangle earrings and a statement necklace. Don't forget your favourite clutch to take along with it!
All-White Outfits for Formal Looks
Now it all comes down to formal dressing styles. We may have some ideas for you if you are conscious about what to wear to your office formal dinner, your first date, or even meeting with official guests, below are some looks you can choose to wear for formal parties meetings or even weddings. Check them out!
↓ 12 – Chicest Style for Weddings
Culotte pants and a loose-fitting printed shirt is the best outfit for weddings of not-so-close ones, and you can look stunning if you wear ivory-colored stilettos and dangling earrings as well!
↓ 11 – Formal Look with Cigarette Pants
Now, this is surely some way to nail formal looks with cigarette pants and pencil heels. To show off a bit more of your swag, you can try on a coat as well, like in the sample below. To be one step ahead, open flowing curls is a great idea.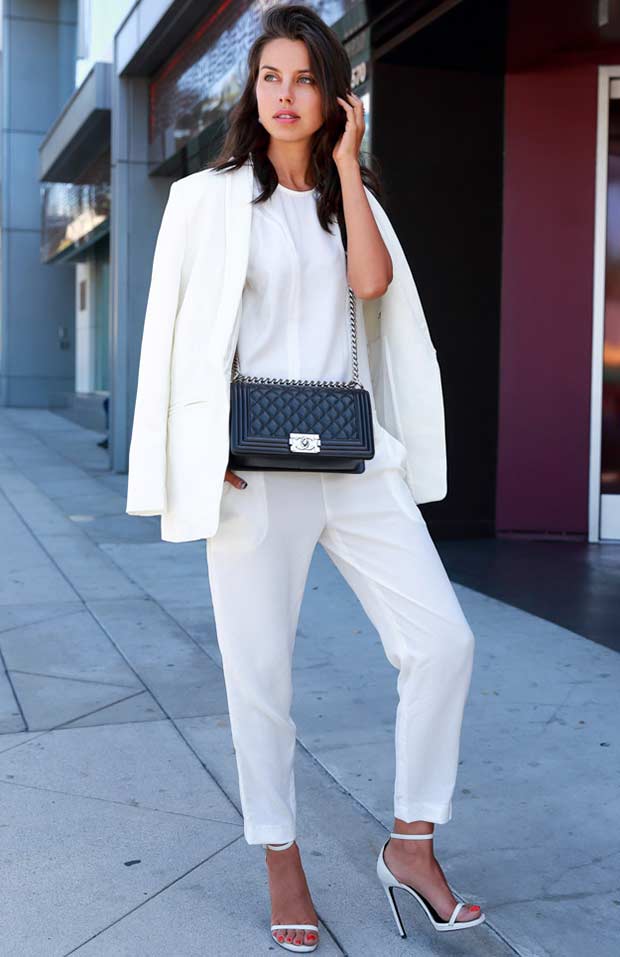 ↓ 10 – Vanessa Hudgens in a Jumpsuit with Blazer Look
Vanessa Hudgens, in a deep cut jumpsuit with a coat – this is one of our favourite street/formal looks, which can only be better refined with a spectacular pair of shades, some prominent jewelry, and seasonal shades of lip color to be in charming contrast with our all-white style.
↓ 9 – Formal Style for Summers
It surely is hard enough to think of anything above comfort in summers, but this outfit will make it possible for you just to have it all. With beauty, style, lightness, and comfort – all at your disposal, you'll be able to create a fabulous party look. Bonus points if you can get your hands on a beautiful silver cuff earring to go with the outfit.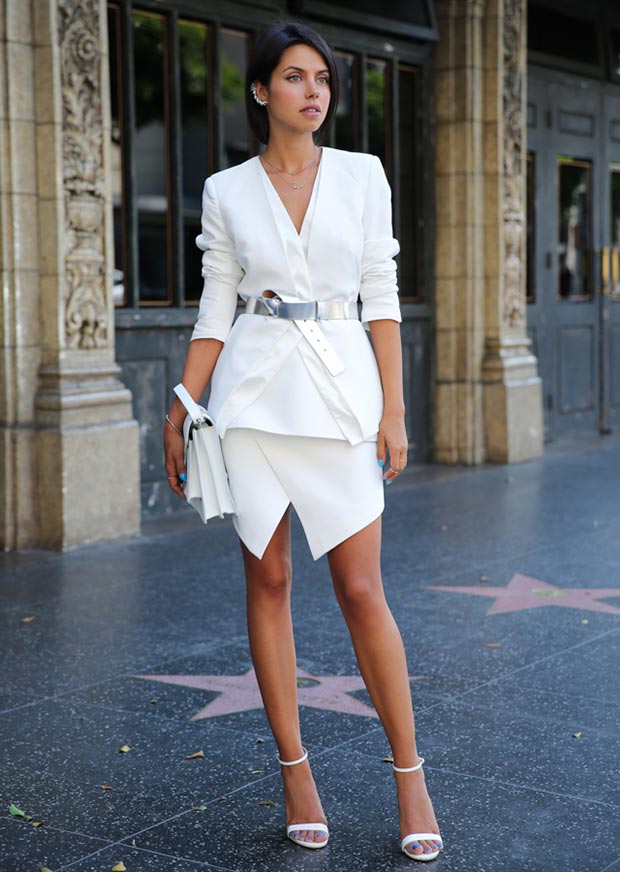 ↓ 8 – Formal Style with Skinny Jeans And Coat
Blazers, cardigans, and coats all add a formal touch to your appearance, here is a perfect look for your office party, comfortable and classy at the same time. If you wish, you can wear small studs and let your hair down unlike this photo
↓ 7 – Sexy and Formal Outfit for Summers
Ever wished you could wear shorts to a formal event? Well, here we are with a stunning idea to rock white shorts over a nice round neck long shirt and a delicate golden statement necklace. Moreover, you can wear a scarf in contrast as well.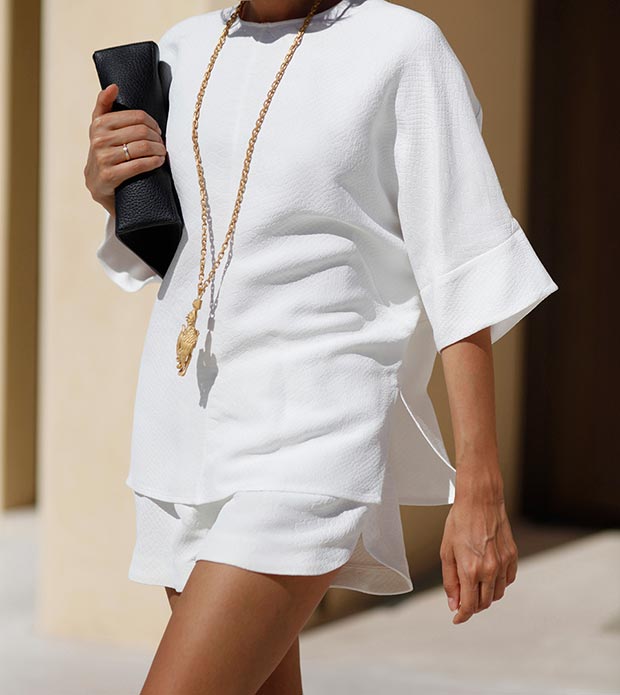 ↓ 6 – Gigi Hadid in a Classy Pencil Dress
Gigi Hadid in a classic and sensual pencil dress to nail in the harsh weather of summer and still somehow she manages to look wondrous. How epic style can be achieved with nothing but simplicity, because all Gigi seems to be wearing is a pencil dress, sandals, specs, and that's all.
↓ 5 – Women's Chic Blazer Suit
Women's suits are in fashion this year, so here is one dress up idea for your next party, this hem top underneath a white blazer with culotte pants will look perfect with gel back hairstyle and a nice pair of shoes, for a formal night event.
↓ 4 – All-White Wedding Mermaid dress
When it comes to choosing an outfit for a wedding, it is the hardest decision to make. To ease up your confusion here is a photo inspiration you can look up to. Below is an elegant lace top with a chiffon mermaid dress that will look heavenly if you wear it as a bride or even as a bridesmaid!

↓ 3 – Taylor Swift in All-white Style
Taylor in a phenomenal white textured skater dress that she nailed on a promotional evening, with sophisticated makeup and elegant styling of her hair to frame the face.
Taylor Swift in another flawless all-white style with cigarette pants that she pulled off with utter prestige and a formal class.
↓ 2 – White Outfit For A Cruise Party
It is so fun to have a party in summers, you can have all the fantastic sun-kissed pictures you wished for, but for that, your outfit should be fabulous. Check out this beautiful one-shoulder jumpsuit. It looks incredible if you wear long earrings and golden/ivory stilettos with it.

↓ 1 – Dreamy Tea Length Skirt Outfit
Skirts are the best outfit a girl can wear. You can wear them almost everywhere and with everything. In this picture, you can see a beautiful white pleated net skirt with a cream-colored blouse. This works best when you wear it with pencil heels and minimal jewelry.