Geek Cute Girl Outfits: Nerd and geeky looks do not mean at all that you look tacky or outdated. You can find lots of fun, peppy colors which can dominate your wardrobes like red, blue, green, aqua, yellow, mint and pastels. On to keep up that bubbly personality in nerd look go for retro shades as well.
Ideas What to Wear for Cute Nerdy Look
Dots and Stripes add a touch of feminity to your dress with elegance. Include some printed and patterned pieces in your closet to jazz it up. Flats and Long boats add more class in your looks so do not hesitate to wear them Nerdy girls prefer comfort on anything. Shorter hemlines look flirt and cool. Here are some ideas on how to dress up like a cute nerdy girl.
#18-Hot Nerdy Style
These geeky frames, denim, and the black white combo looks jazzy and lovely.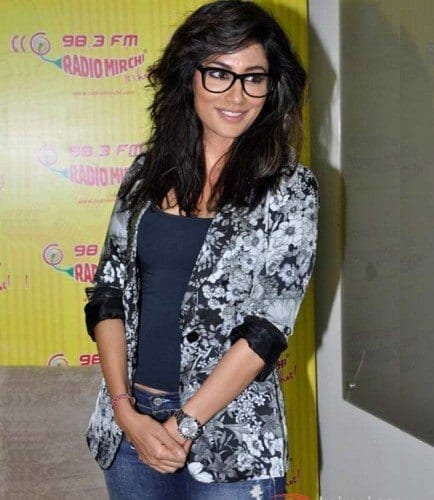 #17-Sexy Geek Celeb Look
Simply dressed, check shirts with large nerdy glasses and red hot lipstick gives you the cute and hot looks.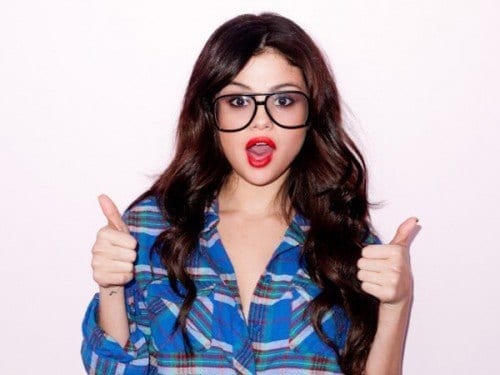 For some more celebrity outfit ideas, check out [highlight]20 ways to wear all white outfits like celebrities this year[/highlight].
#16- Mustard Cardigan School Girl Look
Messy hair can add more cuteness to your look.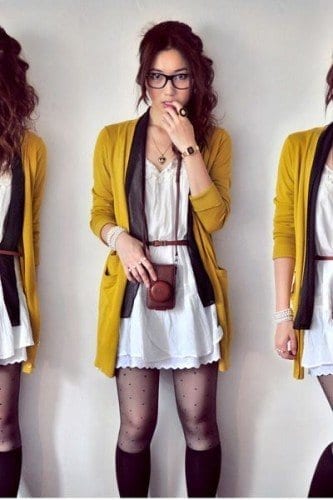 #15- Study Outfit for Girls
Long boats with flared lace skirt, white sweater, specs and a pendant look very cool and elegant. Don't forget that being a nerdy girl doesn't mean that you can't look pretty or that you don't know how to dress properly. For this super chic outfit inspiration, go for a white sweater that is up to your waist and then wear a pleated mini skirt underneath it. For shoes and bag go for leather toned colors.
Source
#14- Super Stylish Geek Look
A check blazer with high socks and some light makeup makes a nerdy look more stylish.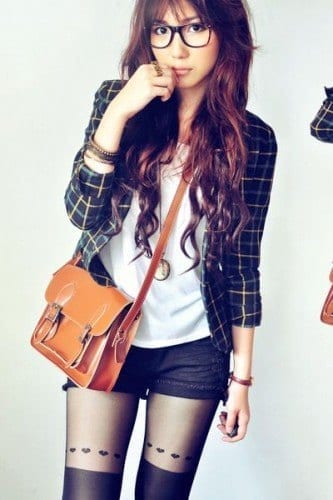 #13- H&M Dress with Target Tights
Going to a prom? Get an idea from this ultra stylish dress. This dress is for those girls who doesn't like to spend hours standing in front fo the mirror just to get ready. This outfit can be worn by anyone who wants to get ready in minutes. But for this outfit don't forget to wear a contrasting belt along with the dress.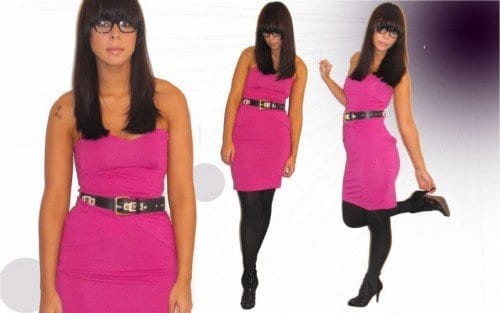 #12- Elegant and Spectacular Wardrobe
Peter pan collar shirt with a burgundy sweater is your new addition. Oxfords for shoes and a messy bun for the hair adds more style.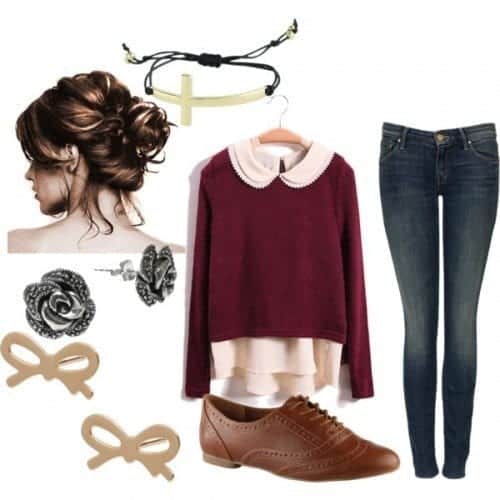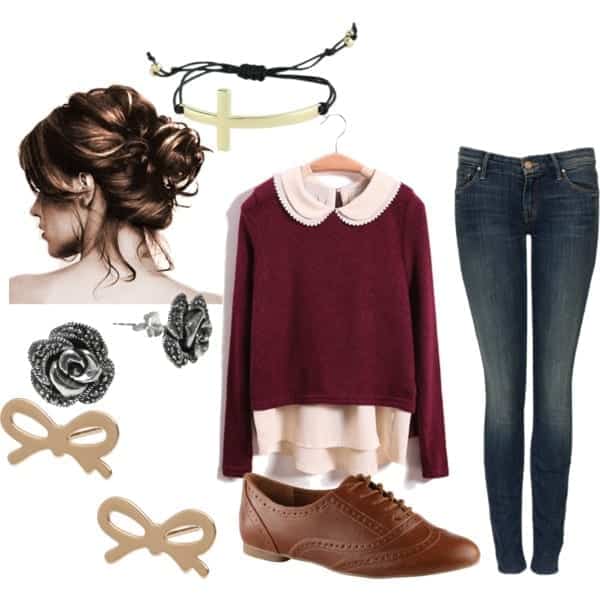 Source
#11- Cute As Fox Nerdy
Printed dress with white tights & T Bar pumps looks cute on geek girls. Top up your style with some geek chic glasses.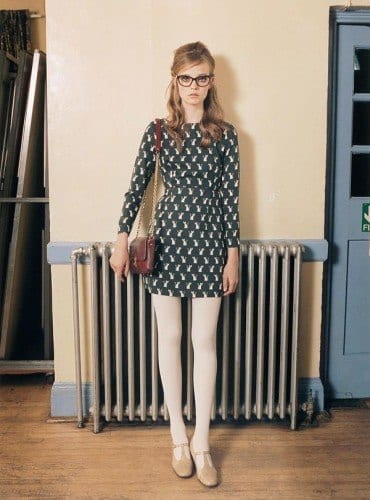 #10- Jess from New Girl
She is one of the ideal Nerdy style girls from all times. Have a look at her wardrobe.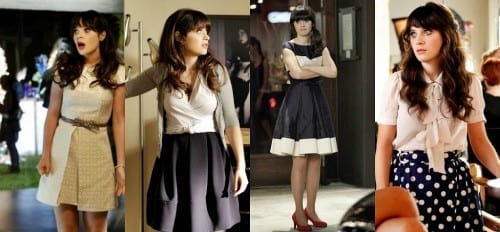 #9- Nerdy Chic Look
High socks with loose hair and blue dress is a must have for nerdy girls. A statement bag adds an even more chic look. This outfit is all about going for contrasting color schemes. For example, you can go for blue colored knee length dress but for a long coat, you can wear it in brown color to give a whole new dimension to your  outfit.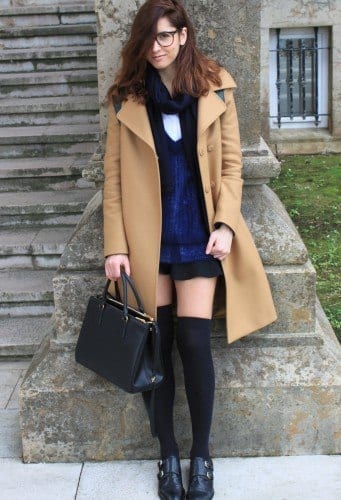 If you like this blazer outfit, you must have a look at [highlight]women blazer outfits-20 ways to wear a blazer in different styles[/highlight].
#8- Oxford Shoes  a Must Have
Oxfords are perhaps the number 1 geek chic shoes. Wear it with knee-high socks and a plaid mini skirt for a smart high schooler look.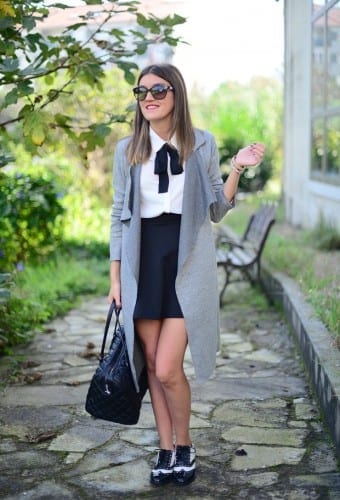 #7- Holiday sweaters with Denim
Denim is a woman's best friend. Holiday sweaters with red lipstick add more cuteness to denim outfits. This outfit idea is perfect for days around Christmas holidays. Simply go for a black colored denim with any kind of loose shirt and then wear a loose fitted sweater on top. If the colores  of this combo are too dull for your taste, then wear red colored shoes, bag and lipstick to make the colores of the outfit pop even better.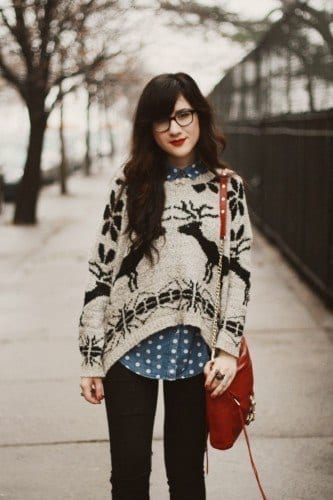 #6- Mustard Shorts and Navy Stripes on Chloe T
Side french braid, bow tie, and mustard shorts look very chic and stylish on nerdy girls. You dont have to stay confined to only this one color combo but also go for a variety of different color combos to  broaden up your dressing wardrobe. But if you're a nerdy girl or want to dress as one then wearing subtle dresses is the right option for you.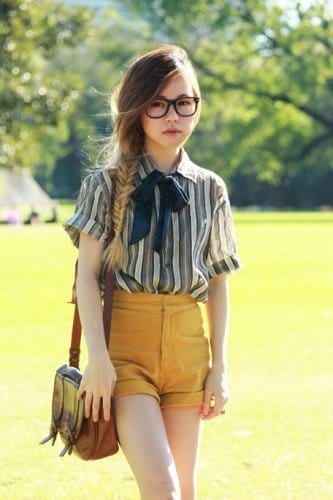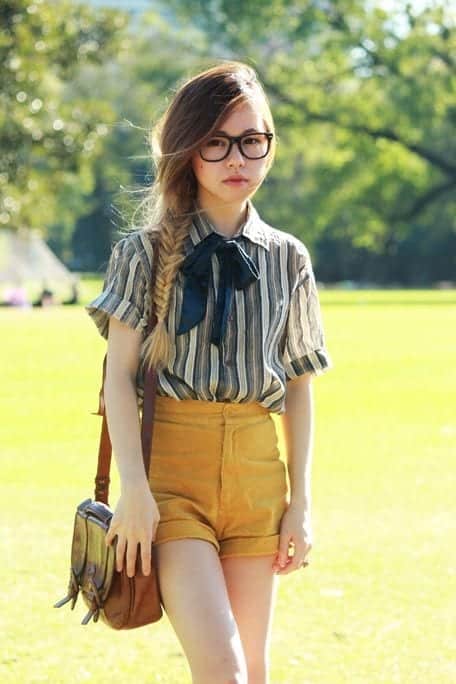 #5- The Blazer Nerd Girl
Red and White combo always looks hot. This white dress and red blazer are a must have. The nerdy outfit inspiration of perfect for nerds who are going to attend a get-together or a gathering with friends. For this outfit you need to go for a white colored lace dress, it should be knee length. For the top go for jet red colored blazer with front open and for accessoreis, you can wear anything as  long as it is in red and gold color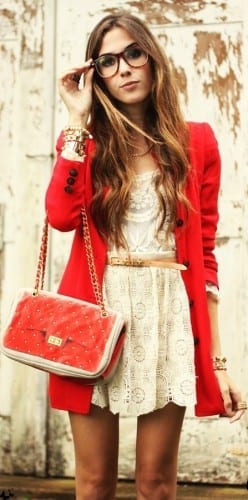 Source
#4- Chic in Black and White
Horn-rimmed or dark-rimmed glasses can add an extra nerdy flair to your look. These glasses look even better wen you wear them with the black colored outfit.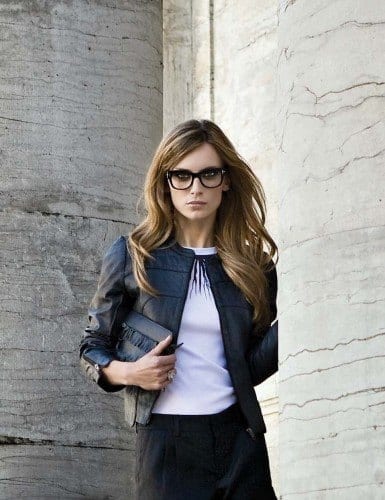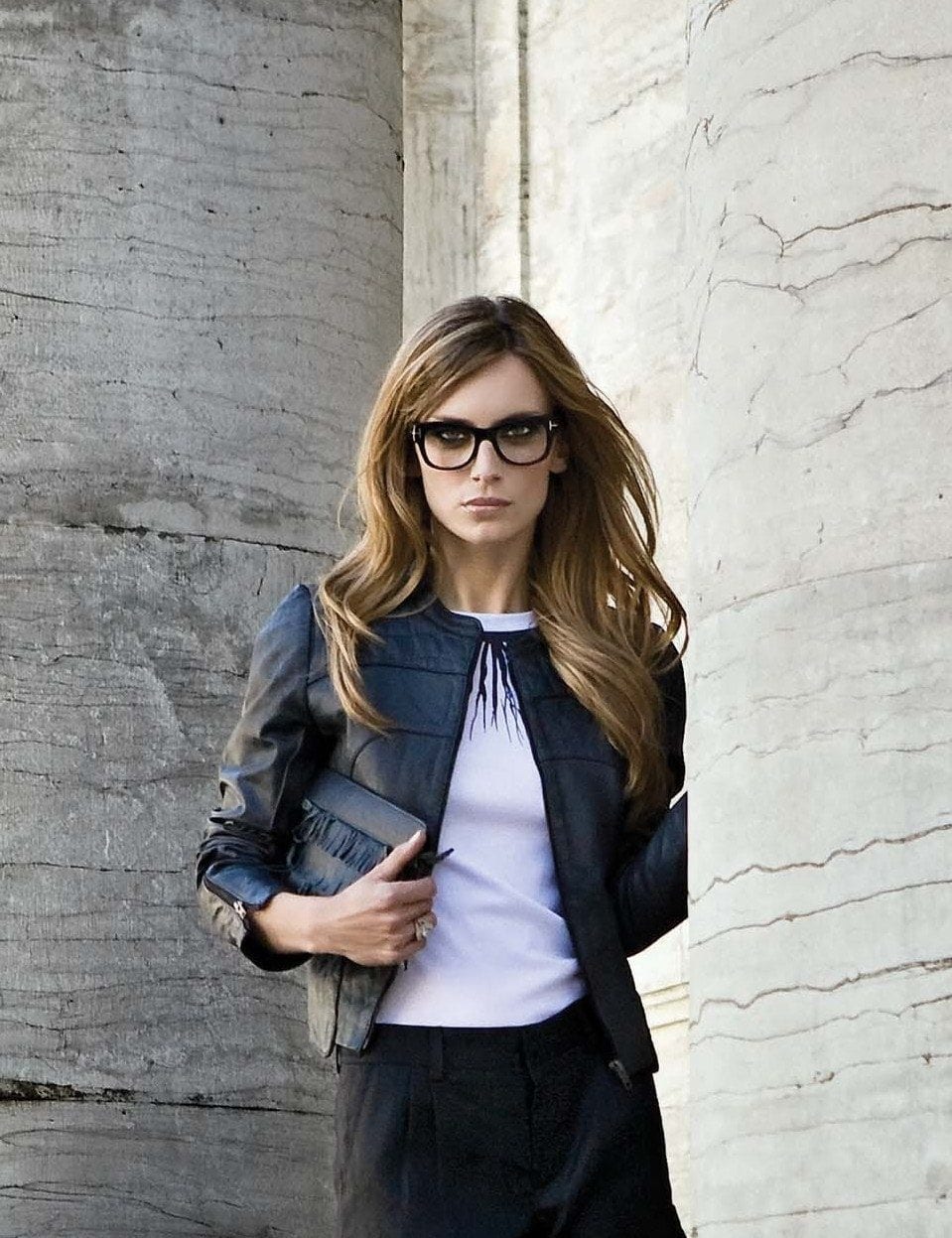 #3- Casual Nerdy Girl Outfit
High bun with a casual dress and a blazer is so easy to wear. For more causal looking dress for nerdy girls you can wear a pastel-colored dress and pair it up with matching blazer and keep the front open. For hairstyle, high top knot buns look perfect with this outfit becuase they enhance the beauty of the whole outfit combo. If you want to add more spice you can totally go for a cute looking headband to wrap eveything up.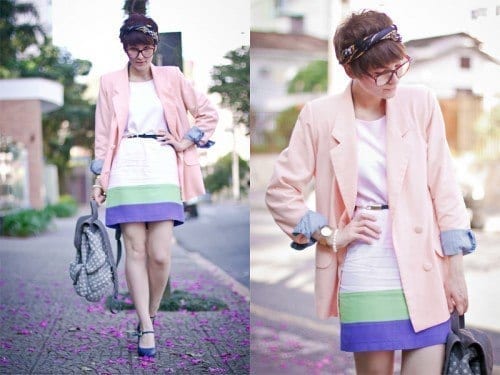 #2- School Girl with Skirt
It is not necessary that nerdy girls always wear specs. A black skirt with a check shirt and gallus is also a nerdy girl style. Suspenders are not ncessarily for men, they can be worn by women and will look super cute and sexy on women too. But the key is that you must know how to pair up your favorite suspenders and make a totally new outfit just by using them.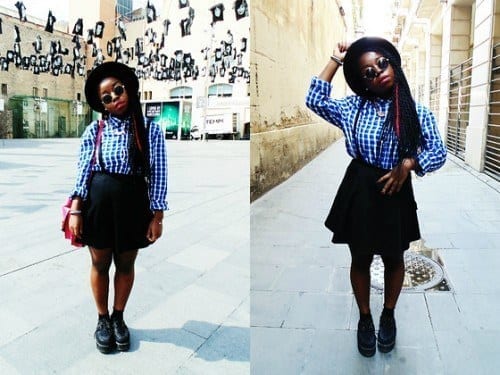 #1- Cute Short Dress for Nerdy Girls
Collar laced dress with pop colour lipstick and sleek hairstyle looks cool and cute. These dresses are perfect and they make you look like a cool and intelligent nerd rather than a boring one. For this outfit idea you need to go for any neutral colored knee length dress. For shoes and other accessories you can wear them in contrasting colors to make a perfect match.