How to Wear Nigerian Lace Tops. Lace is one of the most gorgeous pieces of fabric in the whole world. It makes any look glamorous and perfect for both fancy events as well as casual occasions. It all depends on how you style your lace to get that ultimate graceful and sexy look. And we all know Nigerian women are the queens of stylish and trendy clothing!
Hence we have compiled this list of the Top Stylish Nigerian Lace Tops Outfits. This list will take you on a journey like no other and show you different ways to style and create lace tops that are sure to turn heads everywhere you go. These outfit inspirations cover everything from casual wear to wedding wear, and we are sure you will find something useful along the way. 
Stylish Nigerian Lace Tops Outfits
This list of 20 Ways of How to Style Nigerian will allow you to experience a gorgeous world of Nigerian lace fashion and teach you how you can recreate these looks with ease. Buckle up and get ready to be blown away by all the breathtaking options we have compiled here. We are sure you will love them all as much as we do!
↓ 20 – White is the Answer to All Your Worries!
This outfit is gorgeous and will be ideal for a wedding guest as it comes with fancy frills on both the arms of the blouse and the skirt. The use of a printed and colorful Ankara skirt and plain lace blouse is something you will see a lot and the reason for that is how perfect it looks. A simple blouse is ideal for bringing down the brightness of the colorful skirt. You can always go for bold lipstick and some classic winged eyeliner to make the outfit a little fancier. 
↓ 19 – A Belt Brings it All Together
If you want to give the impression of a dress using a top and a skirt, you can tuck the blouse into the skirt and add a belt to cover the part where they meet. This is an old trick that works seamlessly and will make your outfit look more put together. Go for some silver earrings to match your white blouse, and add a black undershirt to give a new twist to a simple white lace top. Also, look at High Low Skirt Outfits – 19 Best Ways To Style Hi-Low Skirts.
↓ 18 – A Matching, Two-Piece Will, Look Exquisite!
One of the outfits you will find is most popular amongst Nigerians when it comes to lace is matching two pieces. The top has a fishtail look, while the skirt is simple and slim, much like a pencil skirt. The two go extremely well together, and the flare of the top makes the seam disappear, and the whole look comes together easily. You can search for this in any color and design of lace that you like, and we are sure you will look ravishing. Make sure you perfect your makeup and hair so you can completely steal the show! 
↓ 17 – Like a Star in the Sky!
This is one of the cutest combos we have ever seen. The dark blue frilly lace top and yellow skirt printed with stars make this lady look oh so adorable. This will be perfect for teenagers or younger girls as they first embark on their journey to wearing lace tops. The fun print of the skirt will look wonderful on school-going youngsters, and we are sure they will love how they look. Maybe they can wear this to school dance!
↓ 16 – Cropped Lace Top For Shorter Women
This cropped lace bodice of the dress will help if you are short as it will make your legs look longer. This is an old trick that people have been using and trust us. It works wonders. You can also add in a pair of beautiful heels to give yourself a few extra inches. Go for a simple updo and some dangling earrings to complete the look, and we are sure you will leave everyone breathless!
↓ 15 – Something to Balance Out All the Color
This one is really gorgeous because it is the perfect blend of colorful and dull. Going for a brightly colored lace when pairing up with a colorful printed skirt can result in a disaster most of the time. This is when solid colors such as black come in handy. 
↓ 14 – An Amalgamation of Fall and Spring
This is another example of using a basic black lace top to neutralize a more colorful skirt. Here you can see that the skirt has leaves printed on it, giving a fall vibe, but they are very brightly colored and look like a spring piece. The addition of a simple black blouse is all that is needed to bring both the fall and spring elements together and perfect the look!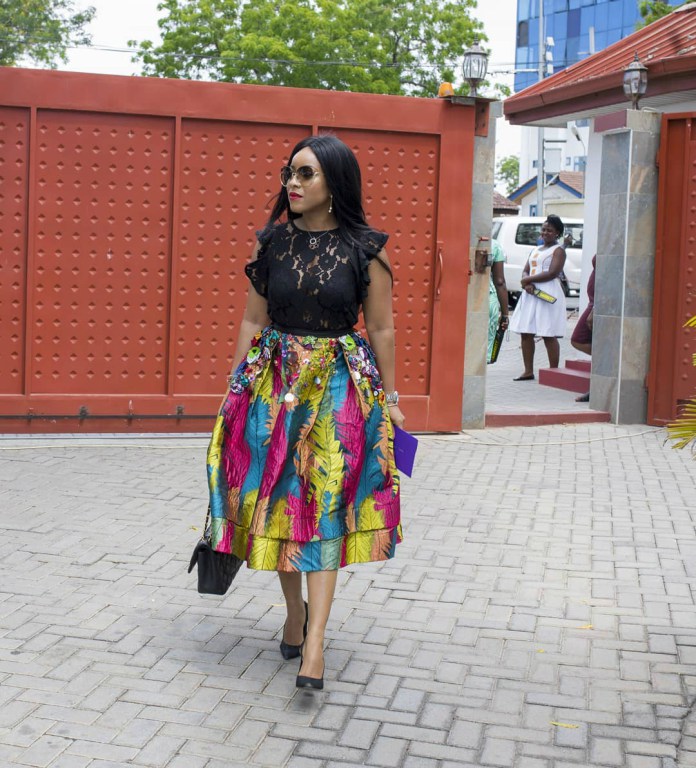 Source
↓ 13 – Red is Known as the Sexiest Color for a Reason
Red is the sexiest color on the planet, and we can see why! This combo of a red lace top and printed skirt show that you don't always need to pair up dulling colors with bright ones. Sometimes bright works better with bright than anything else. Here the red blouse is enhancing the colors and prints on the skirt and making the whole look more iconic. Make sure you add in some red heels to make the outfit perfect!
↓ 12 – Low Cut Lace Top Style 
This low-cut lace top and short Ankara skirt give us all the sexy going to the club vibes! This will be the ideal outfit if you are looking to go clubbing or just planning on having a night out with your girlfriends. The hair bow bun is a very trendy hairstyle that is being tried by everyone on TikTok right now, so you know this look is surely going to make you very stylish. So what are you waiting for? 
↓ 11 – Nigerian Lace Tops For Prom
This is another option for teens. They can use this look on the prom or while attending the wedding of a relative. The combination of yellow and blue always looks good, and the detailing of red on the skirt makes this one extra special. The skirt is cut, is super cute and trendy, and a look that is sure to make you look like a princess. Just add in a pair of pearl earrings and a pearl necklace to bring it all together. 
↓ 10 – For the More Graceful Ladies
This is a particular type of lace that comes with beads and sequins stitched on top. This look will work great for the older, more graceful ladies, especially while attending a formal event like an engagement or wedding. The traditional headpiece looks gorgeous and is perfectly matched with the color of the lace blouse, making it look very stylish. The addition of the extravagant skirt and jewelry drive it all home! Also, have a look at Off Shoulder Dresses Fashion-18 Tips to Wear off Shoulder Tops.
↓ 9 – Fun Combination of Blouse and Dress
Here we can see that the lady has used a sleeveless dress and a lace blouse without any lining. This causes the dress to work as a makeshift lining and also gives a whole look an interesting finish. This is a unique way to style a lace top, and we think it's genius. You can also add in a belt to give it more shape, and you will be all set to rock the party!
↓ 8 – Matching Outfits for Bridesmaids 
Bridesmaids always wonder just how they can look gorgeous while also not infringing on the bride's charm. This is a great option to do just that. This is an edition of the classic two-piece with a fishtail bottomed blouse and pencil skirt. However, you can see that there is detailing of lace on the blouse. That makes it stand out from the other basic two pieces while also not overdoing it.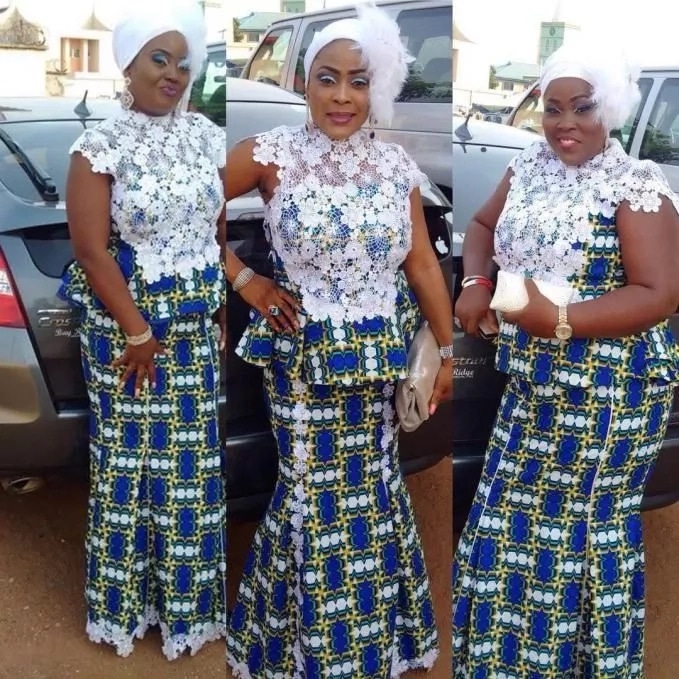 Source
↓ 7 – A Gorgeous Fancy Two Piece 
This a much fancier version of the two-piece that we have seen on this list before. Here the lady has used a dark blue lining under black lace, which gives traditional black lace a new and unique look. This is a great trick if you do not want to have a dull outfit but love black and want to go for black lace. 
↓ 6 – For the College Going Girls 
This is a great simple pick for college-going girls. They can wear this to weddings or college events or even their graduation! It all depends on how you style the outfit. Adding in shiny golden heels makes it a little fancy while keeping it to simple flats would allow you to use this combo on more casual occasions as well. 
↓ 5 – Modern Nigerian Lace Tops
This is a more modern take on a lace top, using simple bright blue high-waisted pants. A white lace top can work with any bottoms, and this is proof of that. So get your hands on a white lace top as soon as possible, as there are a million ways you style it and create new outfits. 
Source
↓ 4 – Off the Shoulder Blouse Looks Out of This World! 
This off-the-shoulder black lace top looks ravishing with a bright green skirt. This gives you another example of how you can style your black lace top. This one also shows that off-the-shoulder tops are a really great option for our ladies with defined collar bones. They will enhance your beauty bone and make you look not only younger but also skinnier and more delicate. So what are you waiting for? Get such a lace top now!
↓ 3 – Super Colorful Combo
This is the most colorful combo on this list, and we think it looks absolutely stunning. The skirt is so pretty and bright that even the dull black lace top isn't taking away from its beauty. The addition of the flowers on the neckline is a great idea and an excellent substitute for a necklace. You can go for this design if you don't like wearing necklaces as some women feel anything around their neck is too constricting. 
↓ 2 – Ideal Wedding Guest Option
This cream lace blouse works wonderfully with the bright green skirt, and we think you should definitely give it a try. The dangling earrings make the whole look that much more glamorous, and we think the addition of orange in the skirt is what adds the extra perfect element that was missing. The cut of the blouse is super gorgeous, with a sweetheart neckline for the lining and a straight one for the lace gives it a unique look that you must try when you get your next lace blouse!  Also, have a look at African Wedding Dress-20 Outfits To Wear For African Wedding.
↓ 1 – Sexiest Pick on the List!
This is the sexiest look on this list, and we are sure you see why. The combination of black with yellow is one that always gives, and this time is no different. The black lace blouses have a plunging neckline with a gold lining underneath causes there to be a gold V at the front. This way of stitching the blouse makes it look highly glamorous, and we think you should definitely try this idea. We also love the flower on the skirt, and we think it looks super funky and cool!
Frequently Asked Questions
Q. What is the significance of Nigerian lace?
A. Nigerian lace is essential as Nigerians always innovate the material and use it to make breathtaking tops, skirts, and dresses. African lace, in general, consists of many patterns and colors that can be used in several different ways. 
Q. Is lace okay to wear at funerals?
A. Yes, lace is absolutely okay to be worn to funerals. Lace is not specifically associated with any ceremony, so wearing it to a funeral will not be disrespectful as long as you don't wear a bright color like red. 
Q. How can you tell good quality lace?
A. Good lace is thick while also being delicate. Many people have the misconception that the thinner the lace, the better quality it is. This is not true. If lace is too thin, it will rip easily. Hence, make sure that the lace you buy is soft and delicate yet thick to avoid rips and occasional repairs!