Off Shoulder Dress Fashion. Off-shoulder dresses seem to be trendy, modern, and fabulous. They are an impeccable choice for summers. You can also wear off-shoulder tops with diverse jeans or chic skirts, or whatever combination you want to try. Don't hesitate to play with texture garments and free yourself to try unique combinations.
We have numerous impressive ideas that will guide you on how to wear off-shoulder tops and what to wear with off-shoulder dresses. These are looks that will help you spice up your daily style by incorporating this new and fashionable piece of clothing into it.
Chic Ways to Wear Off Shoulder Dresses
Off-shoulder tops are not only gorgeous, but they are an item that remains in fashion forever, so it is definitely one you should invest in and learn to style. This article will assist you in that! So read forward to find out how you can look amazing while adorning this form of tops and dresses.
↓ 18 – Gypsy Floral Top with Boyfriend Jeans
Bright pink and blue floral top having gypsy cut is looking amazing here. You can pair it up with some boyfriend jeans. Blue strapped shoes are the finest choice with this outfit as they work well into the color scheme. Some loose curls, a simple shoulder bag, and a thin watch are perfect additions to this look!
You'll enjoy next read on Best Plus Size Boyfriend Jeans Outfits.
↓ 17 – Modish Look for Winters
When winter is in the air, and you want to put together a grand outfit, try this look. Layer up a simple lace top under your off-shoulder top and pair it with some mom jeans and high heeled boots to set your style in place. Add in a large overcoat for added warmth and the winter feel. Keep the accessories to a minimum since you have enough going on with multiple layers, and accessories will overdo it.
↓ 16 – Semi Casual First Date Look
In the new era of dating apps, we have all had dates where we weren't too sure, so did not feel like putting too much effort into our outfit. This off-shoulder t-shirt paired up with a simple pair of skinny jeans and high heels is a great look for a first date that you're not too sure about. This doesn't give the impression that you are not interested but also saves you time and effort. We know we would've appreciated this idea for our disastrous dating app experiences, and we hope you appreciate it too!
↓ 15 – Lily Aldridge in White Crinkled Dress
Here is charming Lily Aldridge in a white crinkled off-shoulder dress. Voluminous sleeves give an unconventional look to this dress, and its floor-length gives overall an outclass effect. This is a look that is glamour and can only be worn to a very formal party, but it's a gorgeous option, and we hope you can get an occasion where you can adorn this or something similar. You can see that Lily Aldridge is wearing a wonderful necklace with her dress, and we think it's a great option as with this type of clothing, your shoulders and neck area is exposed and looks highly empty without accessories.
↓ 14 – Embracing the Lace Elegance
This beautiful black lace dress is teamed with some splendid strappy heels and simple stud earrings, and a snake bangle. The look is super simple and can be easily adopted with any gown you can find in this style.  You can straighten your hair to add make yourself look elegant and classy. This is a great option for semi-casual parties with colleagues or even barbeque parties with friends or a wedding! This might be the most diverse outfit we have on this list.
Have a look at our earlier blog on Preppy Brands for Women.
↓ 13 – Stylish Yellow Party Wear
Ruffles on the shoulders are making the dress eye-catching. Enjoy this look at a summer party. The dress is made out of cotton and is short, so it can be worn to backyard parties or beach bonfires during summertime. You can see that the model has styled it using simple strappy heels and some bangles and sunglasses. This is a simple way of accessorizing your outfit that not only looks pretty but also ideal for summers when even a necklace can cause irritation and annoyance due to sweat.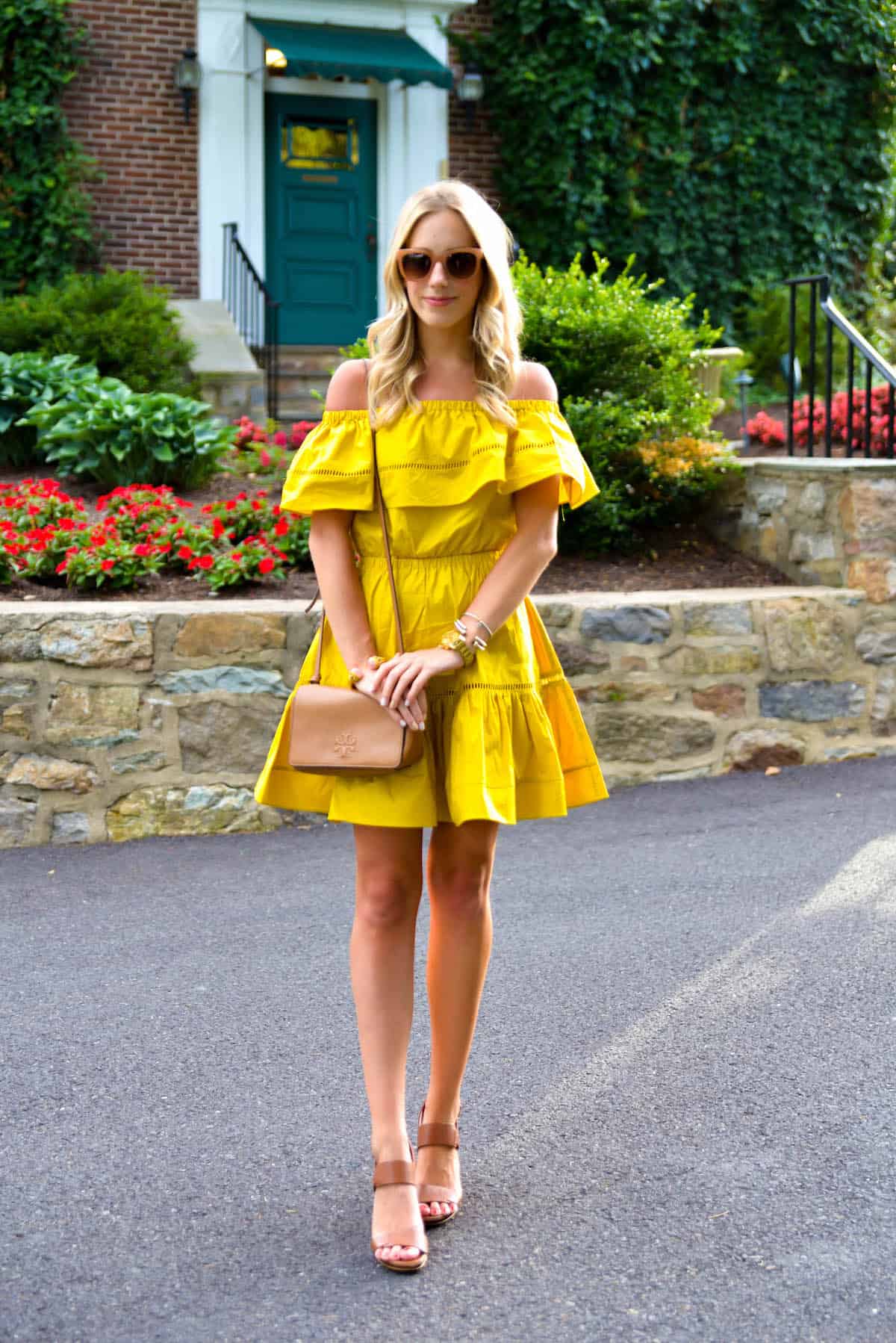 ↓ 12 – Lacy White Top with Jeans in Bohemian Look
Try an elegant getup with bohemian style. White decent full sleeves lace top with ripped boyfriend jeans is looking contemporary. This one can be worn to a daytime date with your significant other or lunch with your besties. Whichever occasion you choose, make sure you add a delicate pendant to chain necklace and curl up your hair in beachy waves to achieve the best outcome!
For more ideas of shoes to wear with jeans, have a look at the 25 best shoes to wear with jeans for different looks, 
↓ 11 – Crop Top Look for Vacation
This look is giving us vacationing and exploring Europe vibes. The crop top is a really great take on an off-shoulder top. The ruffles add in an extra layer of swag, and the fedora hat will make you look super cool. Carry a bigger shoulder bag than usual so you can carry all your belongings easily, or perhaps a tote so you can keep a water bottle as well as an extra pair of shoes in case your current ones break while walking around all day. Boyfriend and mom jeans are coming back into fashion now, and people are turning away from skinny jeans, so make sure you wear one of those to really stay trendy.
↓ 10 – Baggy Top with Skinny Jeans.
Baggy top and skinny jeans are giving a fun outfit look. You can wear pumps or sneakers with them. This will be suitable for you if you have a fun and energetic personality. Since the top is actually made out of wool, this is a look that is perfect for the cold seasons of fall and winter. Match your hat and bag to make your outfit look more put together. A darker shade of lipstick or lipgloss will be ideal as the colder seasons call for such bold lip colors. Curl up your hair gently to look your best!
↓ 9 – White Puffy Blouse with a Floral Skirt
This blouse is oh so gorgeous. Especially for younger and teen girls. The skirt and blouse combination is one that we adore, and when you add off-shoulder tops to the mix, it just gets better. Make sure you style it up with a necklace if you plan on wearing to a party, but if you're wearing to a class, then keep it simple like the model below. Natural hair is the best way to style this one!
Also, take a look at Skater skirt outfits-20 ways to style skater skirts for a chic look.
source
↓ 8 – Stripped Top with Jeans
A simple street style look that can be employed wherever you like. Whether just on a trip to the mall to run some errands or to lunch with your girlies, this will surely come in handy. The simple cotton top with strips, ruffles, and a knot at the waist is every girl's dream. You must get your hands on a shirt like this as it can be styled in multiple different ways, and you get to have many outfits by just investing in one piece of clothing. Pir it up with different jeans and shoes from your closet to come up with unique outfits!
↓ 7 – African Style
This African style off-shoulder dress is a total dream! The print is superb and very flattering, especially for plus size women. The multitude of colors really gets you into the summer mood and also makes you look radiant. Style it with some funky matching bangles and a pair of large hoop earrings. These accessories will make you look classy and fierce at the same time. A true reflection of your personality! You can buy the dress below here for $58.45 – $99.85.

↓ 6 – Denim on Denim Outfit
A denim off-shoulder blouse and a matching denim skirt are making a distinctive outfit to wear casually. This one is very hip and will be ideal for you if you are free-spirited and love taking chances in life. The messy hair adds on to the lively and carefree vibe that this outfit gives off. Keep your makeup simple, or go completely bare-faced and natural if you are comfortable with that.
↓ 5 – Red Dress with Puffy Bottom for Formal Occasions
The puffy bottom and snug sleeves of this exceptional red dress are making it remarkable. Wear some nice accessories and enjoy this look for a formal holiday celebration at your in-laws or an ice-breaking party with your colleagues. Go for a smoky eye and nude lip color, as the red of the dress will be overdone if you wear red lipstick. Put on small studs and a matching pendant to look really classy and elegant.
↓ 4 – Yellow Piece for Casual Wear to College
Yellow top with pretty tailored sleeves with distressed jeans are making an amazing casual and cheerful look. The cheetah printed bag really suits the whole look, while the statement necklace gives it an edgy look. Keep your hair hanging low or go for a low bun if the summer heat bothers you too much. This one can be worn when you are just going on a simple day out with your friends or even for a lunch date with your significant other. This is another diverse idea!
↓ 3 – Cool Look for Summers
This blue loose top with a gorgeous print can be worn with a white pair of shorts and cool sunglasses. It will surely make a stylish combo for summers. You can wear this to a summer bonfire party on the beach or a pool party at your friend's farmhouse. The dangling necklace is a great addition, and the hoop earrings really scream summer and fun!
↓ 2 – Barbie Ferreira's Off Shoulder Pick
Barbie Ferriera is our favorite from the cast of Euphoria, and we're sure you all must love her too! Here we see her wearing a grey off shoulder sweater dress with long boots and a sexy choker. Her look is super simple yet oh so gorgeous, and we think it'll be a great pick for the fall season. One thing you need to keep in mind, your confidence and self-love should be as high as her character Kat from Euphoria!
↓ 1 – Marvelous Tea Pink Prom Dress
This prom dress is, no doubt, a stunning and groovy off-shoulder dress. Shiny beading at the waist and fully pleated bodice are giving a superb ambiance. Choose pretty silver jewelry to enhance this look, or go for a simple watch, as seen below. A pair of dangling earrings will complete the look perfectly. The color of this one is elementary, which gives it the ethereal look it is exhibiting. You will surely feel like a princess while wearing this!
Frequently Asked Questions
Q. What kind of underwear are you supposed to wear with an off-shoulder type?
A.  The most common type of underwear women wear with these tops are strapless bras as they want to show off their shoulders completely. If you find that uncomfortable to wear, you can go for a bralette. This will add to your outfit and make it look even prettier.
Q. Are off the shoulder dresses flattering?
A. Off-shoulder dresses are trendy and completely in fashion right now. They also work for all ages and body types. They really are one of the most diverse and flattering pieces of clothing. So are off the shoulder tops and sweaters. Sweater dresses have also made their way into this form of clothing, and you can see women wearing them for parties during fall.
Q. Does off shoulder make you look fat?
A. With these tops, your shoulders are completely exposed, so they can make your shoulders appear a little wide. But if worn with the right accessories and confidence, these tops and dresses can be highly complimentary, especially for plus size women. However, every woman's body is different, so make sure you try them on in fitting rooms before you buy any and make an informed decision on how you think they look on you specifically because half of the beauty is confidence in one's own style!