Gharara Pant Outfits – For ages, the traditional shararas and ghararas have been considered a sign of elegance as they were worn with the most nawabi style by our grandmothers, but somehow they didn't fit in our modern day outfits. So now we have a modern version of these and they've been named the 'gharara pants.'
Giving a modern twist to the age old ghararas, the gharara pants are more sleek with refined plates as compared to the traditional ghararas and they can be said to resemble the boot-cut pants. While ghararas were mostly reserved for formal occasions like weddings, the good thing about gharara pants is that they can be worn for both formal and casual wear. You can even wear simple gharara pants to relax at home or for a long flight that you want to take in comfort. After the recent craze around dhoti shalwars, the gharara pants are surely something new and different that's worth trying.
How to Wear Gharara Pants
The cost of gharara pants varies and depends on the quality as well as where you buy them from. They're even being sold now by roadside stalls in markets for around 500rs, while you can buy them at more renowned stores from 1000Rs. to up to 3000Rs. However, if you go for designer wear then the price can be as high as 5000 to 10,000Rs. So it all depends on how much you're willing to spend. There are a number of designers who've created some mind-blowing styles of gharara pants in colours that are pleasing to the eye. Some of these designers include Sobia Nazir, Farah Talib Aziz, Karma and Asifa Nabeel. Now let's move on and see our top picks when it comes to styling these pants.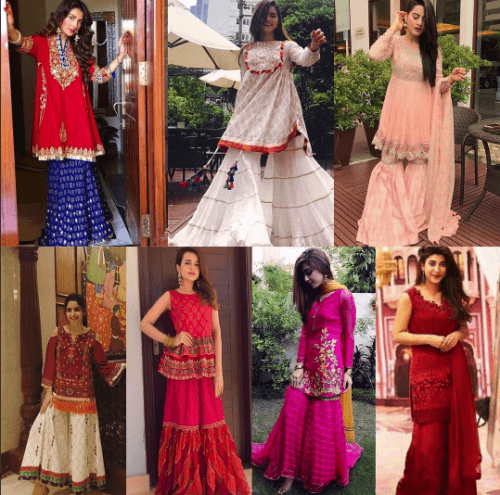 ↓ 20 – Disney Style Gharara Pants Outfit
How gorgeous is this Princess Jasmine style gharara pant outfit? If you're a Walt Disney princesses fan then this is something that can surely not be ignored, but don't forget the braided hairstyle. You should also check out these 11 Pics of Disney Princesses Muslim Version.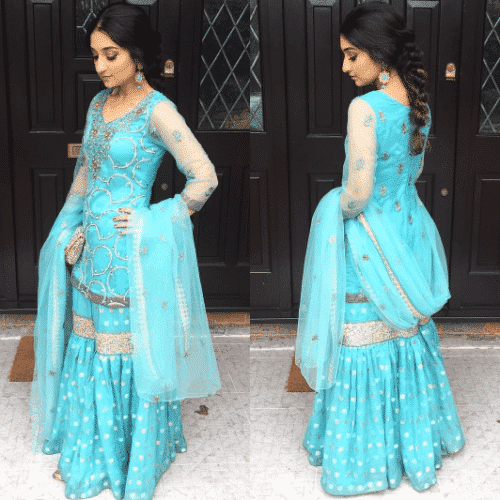 Via
↓ 19 – Gharara Pants with Hijab
Gharara pants are also a good choice for hijabis as both of them create a stylish combination. Remember that these pants are supposed to be long in length so they're touching the floor, and pairing them up with high heels would be the best choice.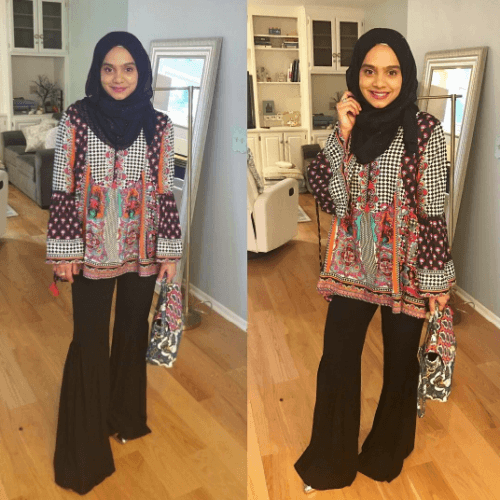 ↓ 18 – What to Wear with Printed Gharara Pants
For the Spring season, what would be better than floral prints so get your hands now on cure floral gharara pants and pair them up with a simple and solid colored or self-printed kurti. To make a style statement, go for statement necklines like the zig-zag pattern seen here. You will love how refreshing this outfit will make you look. And if you like floral prints then do have a look at these amazing Floral Print Outfits.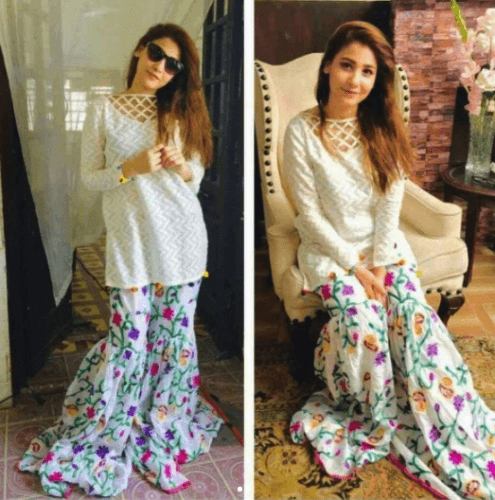 ↓ 17 – Western Outfits with Gharara Pants
If you're int owestern outfits then try wearing these pants with your favorite tops and blouses, especially ruffled ones for a sleek and modern look.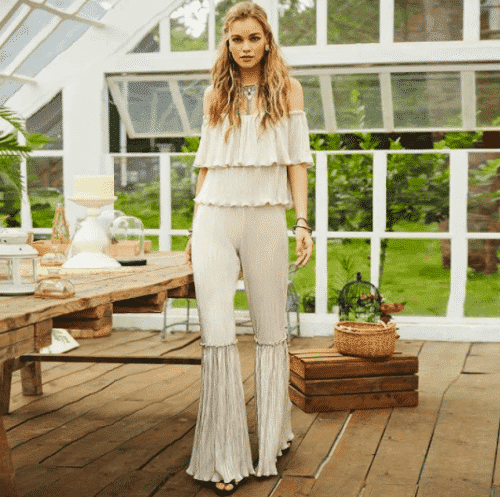 ↓ 16 – Gharara Pants with Front Open Gown
If you wear abayas or just like wearing front open gowns then pair them with gharara pants for a different look. Also check out these Top 10 Pakistani Clothing Brands for Women 2017.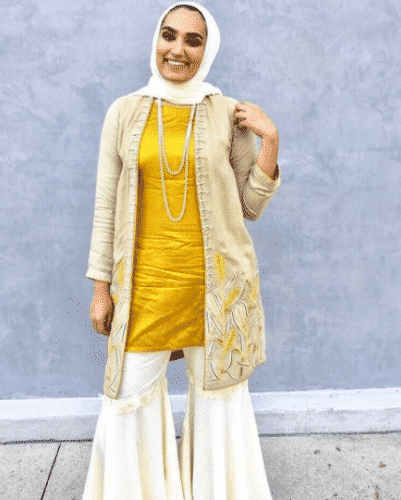 ↓ 15 – Gharara Pants for Little Girls
Oh and we can not even begin to explain how cute these gharara pants look on toddlers and baby girls.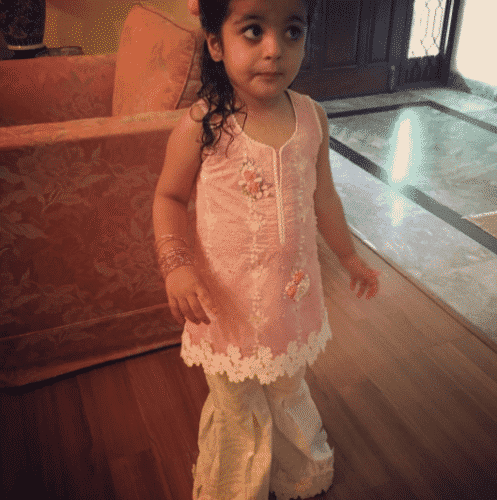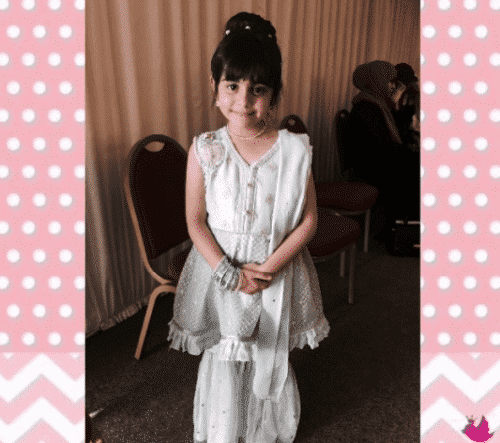 ↓ 14 – Formal Gharara Pants Outfit
As we mentioned before, gharara pants are a great choice for any formal dinner or function and they look especially good on young and smart girls. You should also have a look at these 30 Amazing Ways to Wear Patiala Salwar.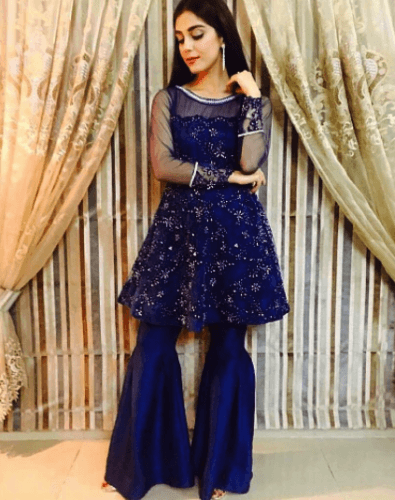 ↓ 13 – Modest Gharara Pants for University Girls
For girls who like modest clothing, gharara pants are the perfect choice because they keep you covered without revealing your body shape. They can be easily worn to college or university as a plain black gharara pant can be paired with any of your kurtas.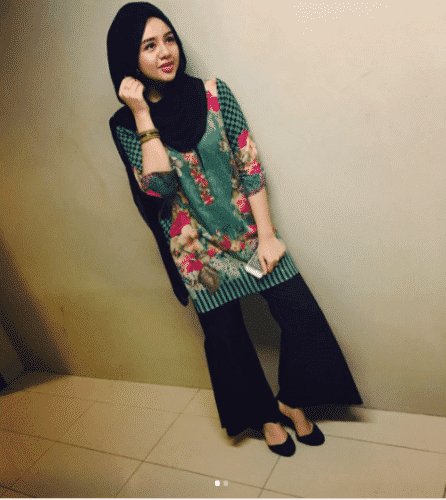 ↓ 12 – Funky Gharara Pants
Who doesn't love going funky every once in a while. With gharara pants you get the chance to experiment with all sorts of colours and funky looks for both day time and night time wear. Here are 30 Ways to Look Funky for Women.
Via
↓ 11 – Gharara Pants Look for Wedding Guests
Wear embroidered shirts with embroidered gharara pants for a gmalorous look to attend any weddign or engagement function.
↓ 10 – Bridal Wear in Gharara Pants
And even the brides are now rocking these pants since designers have started incorporating them into bridal wear. They make excellent choices for engagement or Walima brides, especially when worn in pastel colors. Have a look at the fabulous works of these Top 5 Bridal Designers of Pakistan.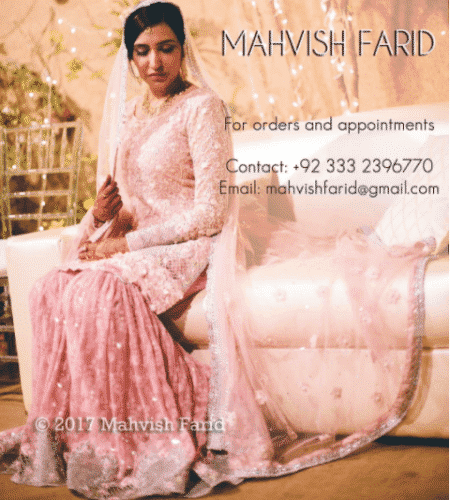 ↓ 9 – Branded and Designer Gharara Pants
Amongst other designers, Maria.B too has created some amazing gharara pants outfits and it looks even better when worn by the radiant Aiman Khan.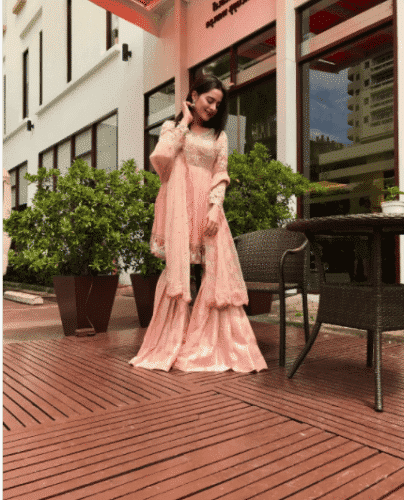 ↓ 8 – Desi Gharara Pants Attire
And here we have her twin sister, Minal Khan wearing a more casual style gharara pants by the brand "Rang Ja." For more celebrity style inspiration, check out these 25 Indian Celebrity Snapchat Accounts to follow.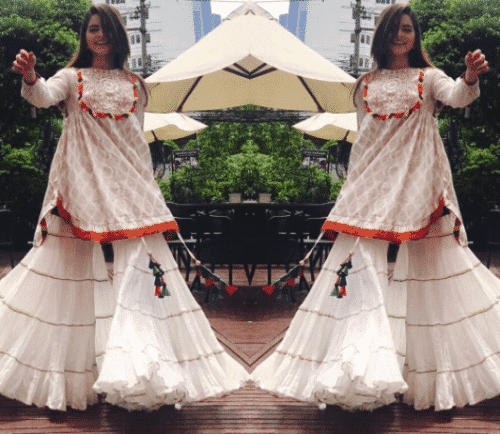 ↓ 7 – Gharara Pants with Peplum Tops
Combine two of the hottest trends in town together for a fun look.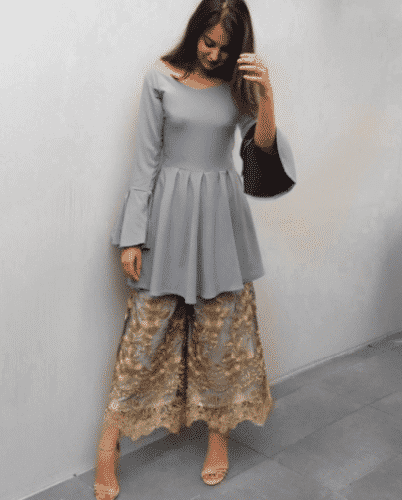 ↓ 6 – Monochrome Look
When in doubt, go monochrome!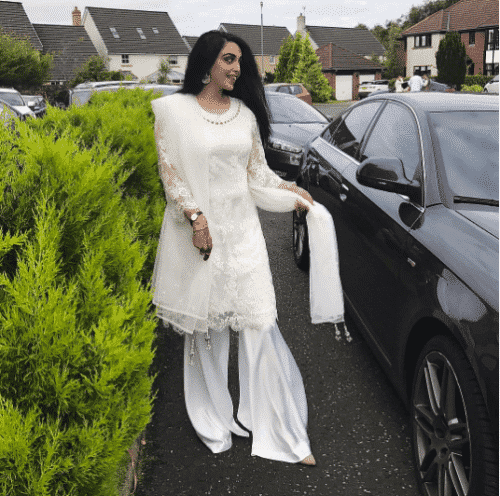 Via
↓ 5 – How to Wear Gharara Pants on Eid
They make the perfect Eid outfit with the right accessories and tops. Also, add a shaffoon or net dupatta to complete the look. To go with an outfit like this, you can also choose from one of these 25 Classiest Cinderella Shoes from the Best Designer Brands.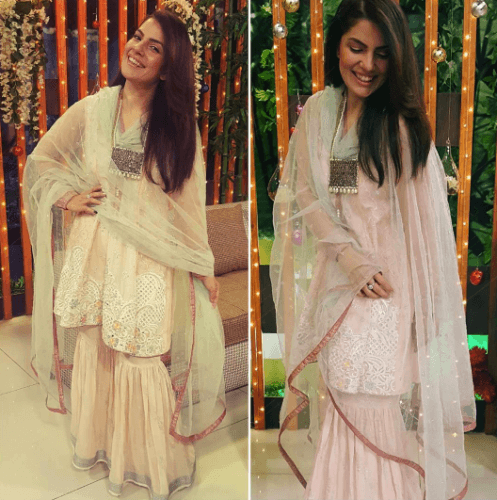 ↓ 4 – Pakistan Themed Gharara Pants Style
What a cute outfit for independence day.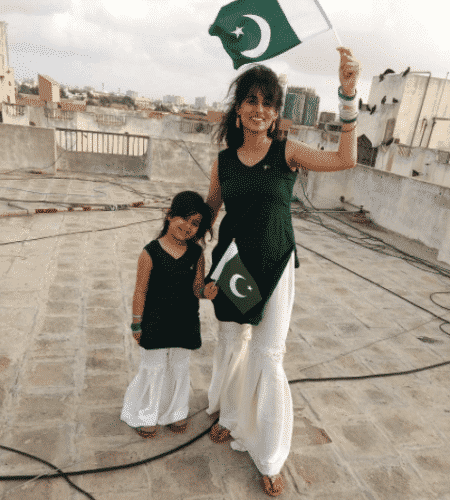 ↓ 3 – Celebrity Style
And for our top celebrity style outfit of the day, we have the beautiful Maya Ali wearing a specially designed gharara pant outfit by the talented designer, Mohsin Naveed Ranjha.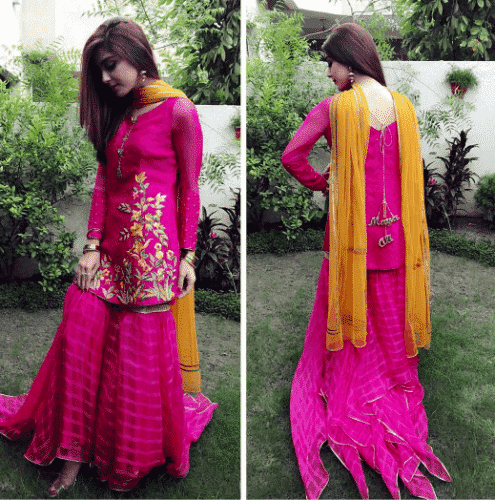 ↓ 2 – Casual Gharara Pants for Home
They can be easily worn at home so you can relax comfortably, making them a preferred choice for housewives and stay at home mothers.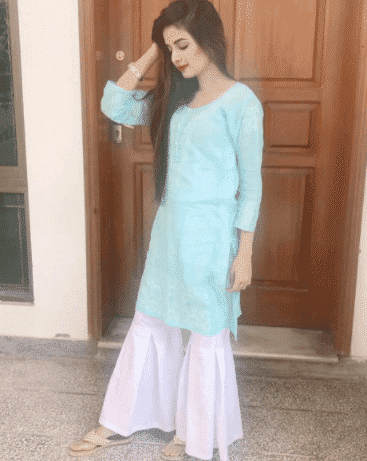 Via
↓ 1 – Make Gharara Pants from Unstitched Lawn Suits
Unstitched lawn suits from your favorite brands like Sapphire and Sana Safinas can be used to create the most beautiful gharara pants outfit as tailored pants will fit you best, all you need is a good tailor though.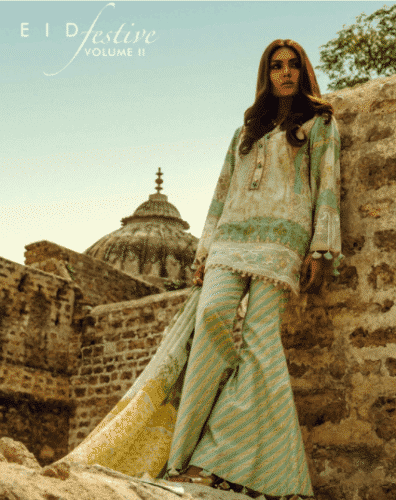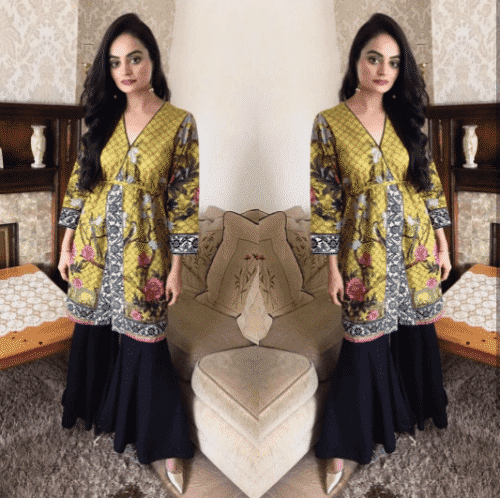 Via