Outfits with Hi-Low skirts. Hi-low skirts are the new swag of 2017 that not only looks the classiest clothing to date but also immensely sophisticated if you wear it on the right occasions. Don't worry about how to wear it or how to match it with the right clothing or accessory, because this post will help.
These classic and matching outfits that make up some great styles of hi-low skirts will take your breath away in the first glance. Need not wait anymore, just take a look and find yourself scrolling through the styles you have been looking for a long time.
How to Wear Hi-Low Skirts Stylishly
These 19 admirable outfits of hi-low skirts will be your coolest guide to fashion this year that you would not find yourself asking for more. RECOMMENDED: Skirt Outfits for Teens-20 Cute Ways to Wear Skirts This year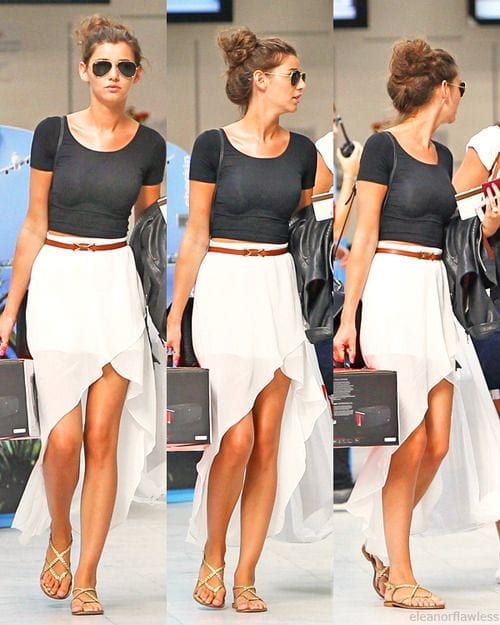 ↓19 – Shoes to wear with High Low Dress
A lovely idea to match some killer pair of shoes with your hi-low outfit and nailing it like never before. With strappy heels that will give your endless swag and sense of right fashion.
via
↓18 – Hi-low Skirt Style for Office
Did not imagine yourself wearing your hi-low classiness to office? Now you can and put it into reality. With this sensual hi-low skirt matched with a stripy tank top and a mesmerizing leather jacket and those top-notch curls, there is no way you won't pull this off. Here are 15 Ideal Plus Size Outfits Ideas with Skirts for Curvy Ladies
↓17 – Casual Hi-low Skirt Style
For most your casual styles or a simplistic summer outfit, this could be one your ways to start off. With a nice touch of casualness in your hi-low style matched with a purposeful handbag, you are some way to go.
↓16 – How to wear Hi-low in Vintage Style
A hi-low get up for a vintage-themed look is surely worth it. For a costume party look and even for a wedding occasion where you can just show off your class with the utmost simplicity.
↓15 – Hi-low Style for Parties
Hi-low skirts for parties? Yes absolutely. With the swag and the class that hi-low skirts can bring into your life, they definitely a heaven-made match for party looks. Some strappy heels will be great too if you can easily pull off heels. RECOMMENDED: 20 Recommended Shoes to Wear with Skirts of Different Types
↓14 – What to Wear With Hi-low Skirts
Absolutely out of ideas? Here are some great ideas to jump start your hi-low wardrobe with chic colors and dainty looks to last all year. Get your ideas intact with the crazy hi-low skirt looks, the classic pair of varied shoes and catchy hairdos to take all by surprise when they look at you.
↓13 – Hi-low Skirt with Platform Heels
Hi-low skirts are some great way to get those platform heels out the wardrobe and finally put them on with something that actually matches them to the fullest. Some minimal jewelry would not be a bad idea at all if you know what to match with your outfit.
↓12 – How to Wear Tops with Hi-low Skirt
Not sure what kind of tops go best with hi-low looks? Here's a nice example. Add the element of simplistic city girl kind of touch to your hi-low outfit with this dainty sleeveless tank top that goes effortlessly well with hi-low looks. Don't miss out Skater Skirts Outfits -20 Ways to Style Skater Skirts for Chic Look
↓11 – Pleated Hi-low skirt 2017 style
↓10 – Hi-low Skirt for Girls Night Out
For a perfect girls night out, you just need the right amount of class and boldness to have your best time. With this stylish and sensual hi-low skirt with a cross tank top and a pretty necklace, you will surely pull off your best look of the year.
↓9 – Sophisticated Hi-low Style for Work
Who says hi-low skirts cannot be sophisticated? They can be if you know what to shop for. With a button down tucked in a shirt over a classy and graceful hi-low skirt and a nice pair of heels, there surely is a way you could turn hi-low outfits into bundles of sophistication!
↓8 – Hi-low Skirt on a Date
Hi-low skirt for a date is not a bad idea at all. Specifically, if you follow the lead of the exemplary model in the picture below then you have a chance to nail it just as well. With hair as nicely trimmed and heels just as gorgeous.
via
↓7 – Wear Hi-low skirt for Prom
No longer is the dress culture the norm for prom. When hi-low skirts stepped into the game of all-kinds-of-wear, this hi-low awesomeness will be your best shot at prom with all eyes on you because it's not just unique but also very fabulous. Here are the cutest All White Party Dress Ideas for Women-19 Perfect White Outfits
↓6 – Wear Hi-low with Leather Jacket in Winters
via
↓5 – Wear Hi-low Skirt for Travelling
This look says you are ready to go to board a pass. With this perfect travel look that makes hi-low skirts look cooler than ever, you will surely nail your travel spirit with just the right kind of outfit on. So do not miss out and try this look whenever you plan to travel. Here are the 80 Best Travel Destinations in the World- Where to Go in 2017
↓4 – Hi-low skirt for Beach
Hi-low outfits are a good match for beaches as well. No longer do you have to rely on bohemian styles for the beach because you can just get a simplistic and sensual hi-low skirt for the beach that would be a perfect match for a hot weather and a windy day.
↓3 – How to wear Hi-low for Costume Party
via
↓2 – Hi-low skirt in Spring for College
This is one good catch on how to best wear hi-low outfits in spring when everything is beautifully floral and you too want to be just happily floral as anything. So wear those bright and happy colors and enjoy the beauty of spring with your lovely style.
↓1 – Hi-low outfits in Summers
Best thinking to wear anything in summers is right when you know that light colors are the most appropriate choice for heated days. Here are some good ways to wear hi-low styles in summers and some ideas of colors that will look best and will make you feel all comfiest and calm.
A Chemical Engineer by profession and content designer by choice! Meet Manahil Qureshi who has an infinite love for food and cats. Be it the latest fashion ideas about women or kids outfits or trendy men fashion styles, she loves to keep her pen moving on such niches. Other than writing, she has a love for designing jewelry which is why she has also started her own designer jewelry label, called Glare jewels. Want to know what is coming up next on her publication blogs? Subscribe to the newsletter and keep yourself updated anytime. Cheers!