Latest ghagracholi designs. Lehenga and Ghagra Choli have always been considered almost a necessity in every formal function in the subcontinent. Be it a wedding or a mehndi or even a formal party, girls always love to dress up in lehengas.
It makes for a very graceful and elegant outfit when paired with the correct jewelry and makeup.
How to Wear Ghagra Choli Stylishly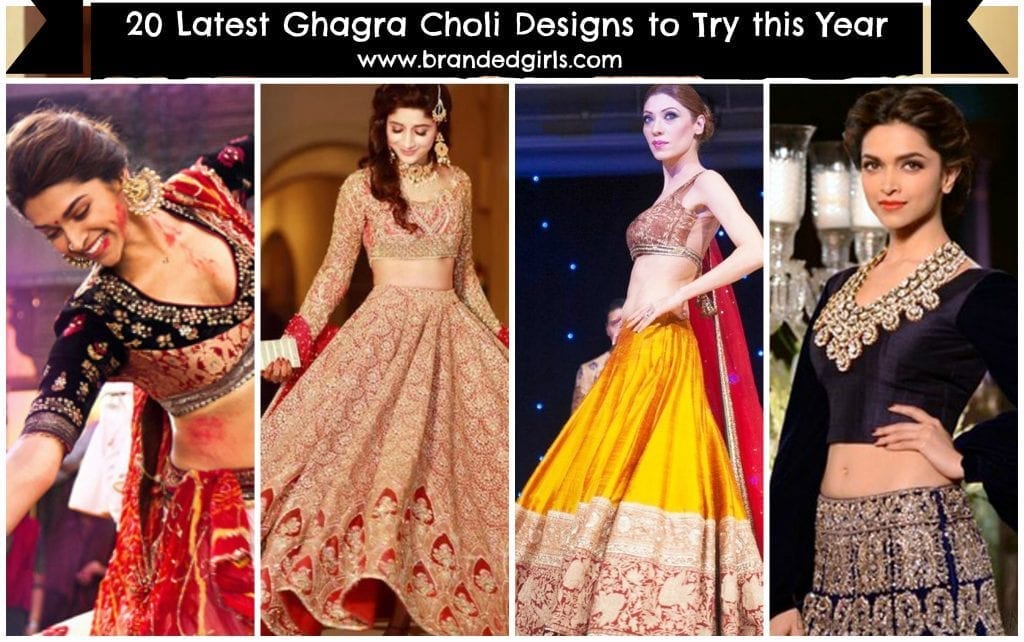 Let's take a look at the most classy and trendy lehenga styles from the latest collection of 2016-17.
# 20- Ghagra Choli with Short Blouses
The lehenga with a short blouse is most trendy style for this season and it works wonders when paired with the traditional accessories like jhumar, jhumkas and gullu band. Apply subtle makeup with this outfit for the most perfect look this wedding season. Also have a look at Latest Bridesmaid Lehenga Designs-22 New Styles to Try in 2016
 #19 Ghagra choli with Gowns
Pairing lehngas with gowns is another very hot trend being liked my women this season. This outfit works best for slimmer girls as it is layered and gives them a perfect graceful shape. Pair it with minimal jewelry and lighter makeup to dazzle people on weddings and other formal occasions.
 #18 Indian Style Ghagra choli>
As the lehengas originated from the indo-pak subcontinent, the Indian lehenga continues to be highly favored even in the recent times. This Golden colored Indian lehenga looks very elegant classy when paired with red lipstick and kajal filled eyes. The messy side plait is doing wonders to the look along with the traditional jhumkas. RECOMMENDED: How to Wear Bridal Lehenga Dupatta in 10 Different Styles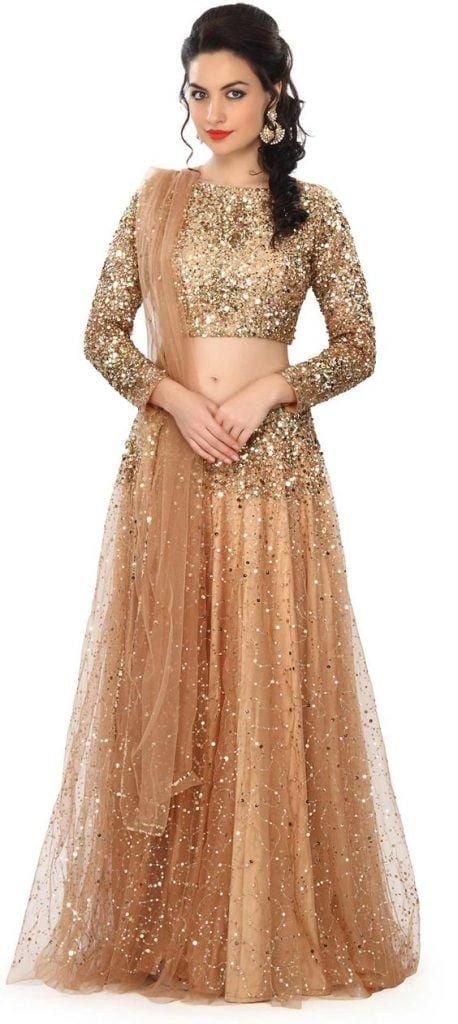 #17 Bridal Ghagra choli style
Nothing compliments the bridal look more than a red lehenga. So this look works best for brides when worn traditional jewelry like tika, jhumar and jhumka and bangles. In the recent times, colors like green or blue are added to the red lehenga to give it a trendy touch merged with traditional.

 #16 Ghagra choli for Mehndi Functions
No wedding is complete without mehndi and no mehndi look can be complete without the traditional green and orange colors. This highly embellished lehenga outfit looks best when carried with grace, a beautiful smile and the traditional jhumka and sat lara necklace. A messy side braid and multi colored bangles make it dazzle and glitter even more.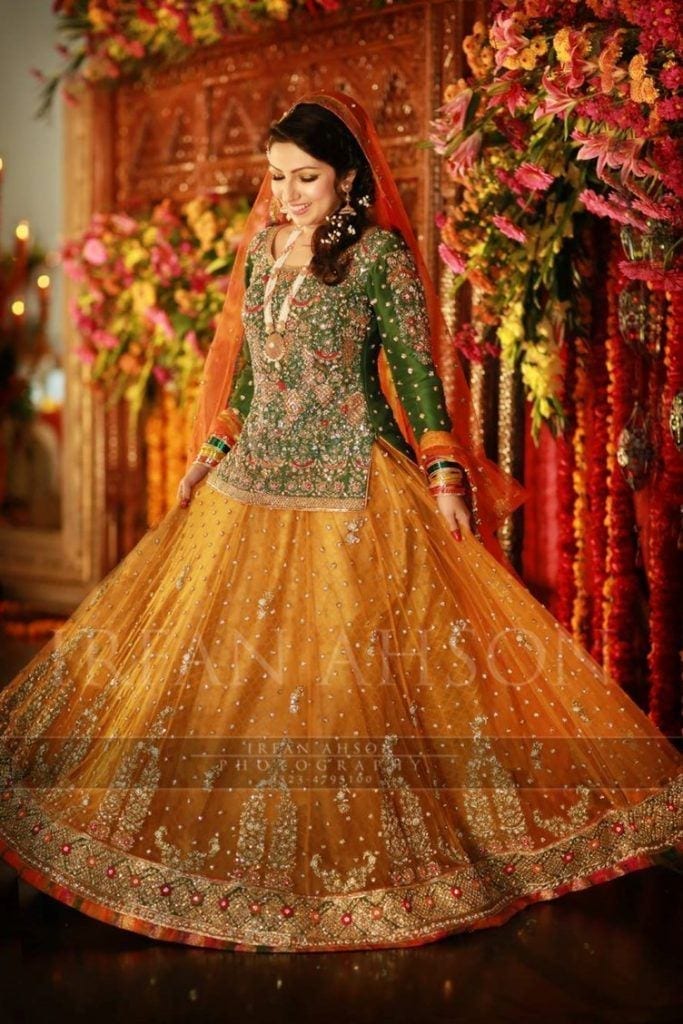 Via
 #15 Multi-colored Ghagra Choli
A shocking pink lehenga paired with a green shirt and an orange dupatta also makes for a very colorful look for Mehndi functions. Glass bangles and jhoomar compliment this look tremendously making it perfect. Do check out Dholki Outfits-20 Ideas What to Wear on Dholki/Sangeet Night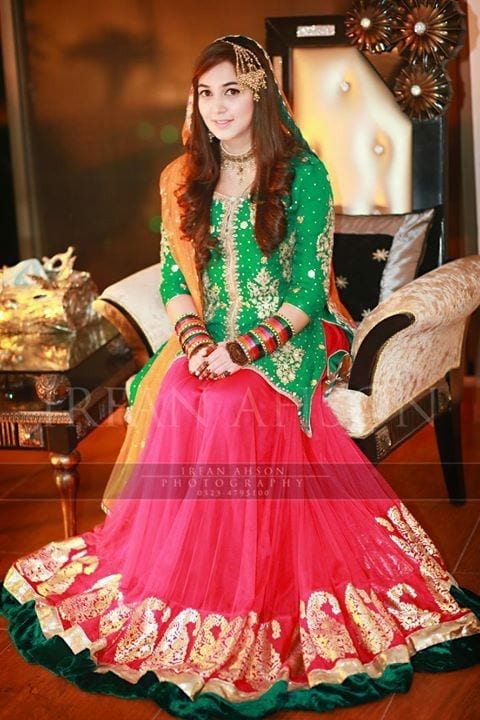 #14 Saree Style
This mesmerizing heavily embellished lehenga draped like a saree makes for an ethereal look to be carried on weddings. Dark green beads worn as a necklace and dark green glass bangles compliment the look effectively. This outfit may also be carried with matha patti or a tika and jhumar to give the most perfect look on the wedding day. Here are 23 Latest Indian Wedding Saree Styles to Try this Year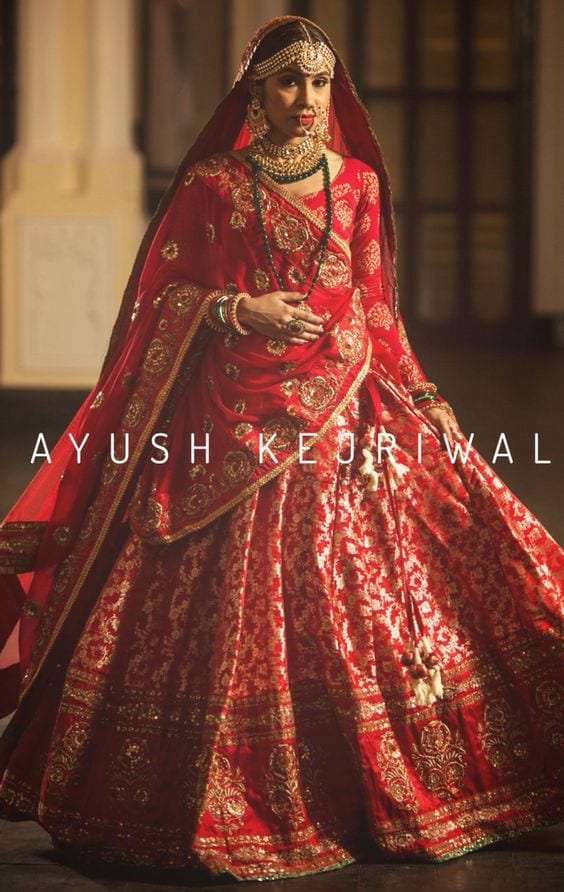 #13 Ghagra choli in Pastel Colors
Pastel colored lehenga makes for the most suitable choice for wedding receptions and gives the bride a very ethereal look. This outfit can be carried both by the bride as well as the bridesmaids if they wear a lightly embellished or plain dupatta with it. Silver jewelry and light subtle makeup go very well with this look.

 #12 Outfit for Wedding Guests
Bridesmaids can rock their lehenga look with this classic royal blue heavily embellished lehenga along with a plainer blouse. This outfit looks best when carried with back combed hair and a tika and jhumkas to complete the look.
 #11 Ghagra choli Outfit for Parties
This pink ghagra choli with a golden net dupatta and golden embellishment can be a very suitable outfit for an evening party. The lightly embellished lehenga choli with golden jhumka and golden bangles can make any girl dazzle and glow in parties.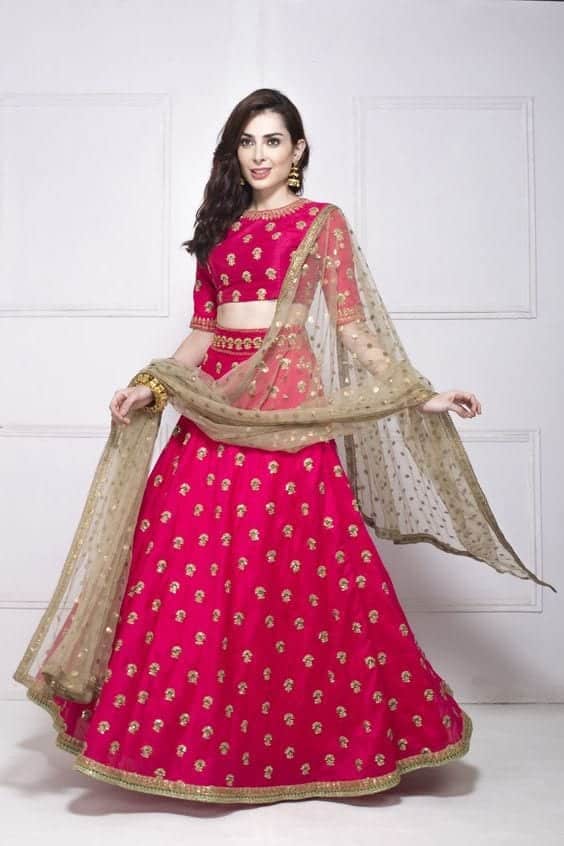 #10 Ghagra-choli for Plus Size Ladies
Plus sized ladies can also rock the lehenga look but when carrying it with a longer blouse which covers their midriff. Also block colors can be used to get a slimmer look. Most importantly wearing the same colored lehenga and blouse will give a slimmer and more toned look. This look can be carried with side parted open hair or back combed hair held back with pins.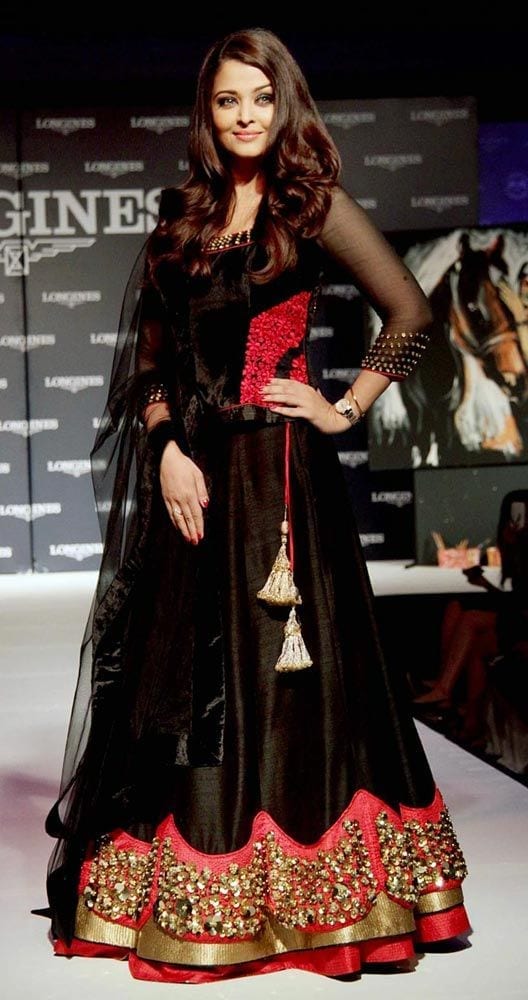 #9 Bollywood style lehenga choli
To give a feisty look this season, the Bollywood style lehenga choli can be worn as Alia Bhatt carries it effortlessly with minimal makeup and no accessories. This beautiful can be however carried with open hair or loosely tied hair and jhumkas for a softer and more radiant look. For more inspiration by this beautiful celebrity, check out Alia Bhatt Hairstyles-12 Latest Alia Bhatt Hairstyling this Year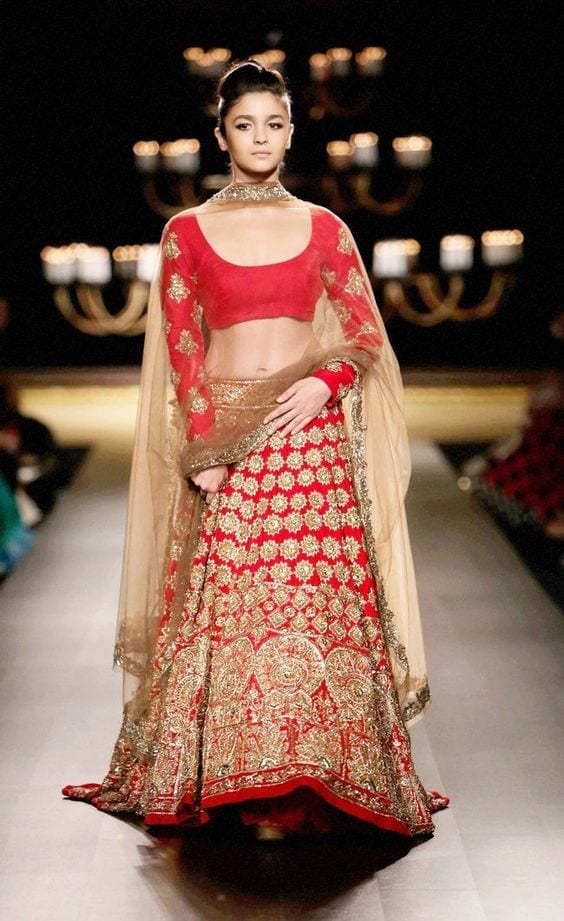 Via
 #8 Lehenga choli for casual events
For casual, this classic look can be very suitable. A navy blue embellished lehenga with a plain blouse and a long necklace gives this traditional attire a chic and classy look.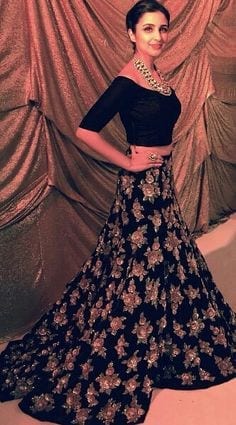 #7 Kamdani lehenga with a long kurta
This kamdani lehenga makes for another amazing outfit that can be worn by both brides and bridesmaids. The amazingly rich purple coloured lehenga worn with a red long kurta and blue dupatta can make any girl look mesmerizing. This look can be paired with open or tied up hair to give the correct look for the evening.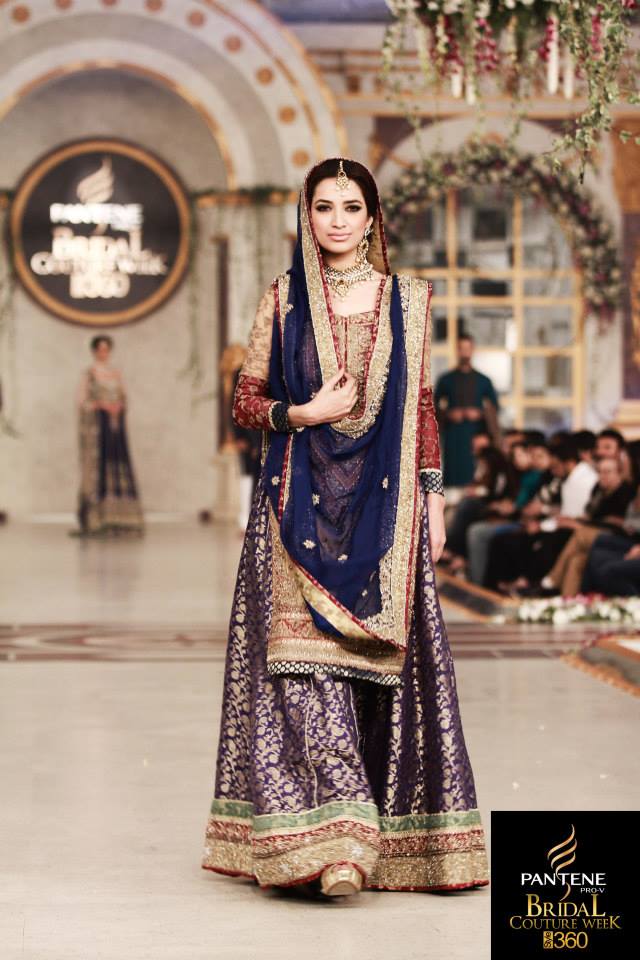 Via
 #6 Off white Saree like Lehnga-choli
Off white lehengas can be worn by bridesmaids like Shraddha Kapoor dons this elegant outfit for her friends wedding. This beautifully embellished lehenga has undertones of pink and red in the floral embroidery. When worn with a large necklace, a maroon pouch and tied up hair, it makes for the most perfect bridesmaid look.

#5 Electric blue evening wear lehenga
Electric blue makes for a great color to be worn in the evenings for formal parties. This lehenga can be paired with loose curls and silver blue jewelry to make for an amazing evening outfit.

#4 Perfect footwear for Ghagra choli outfit- Heeled sandals
Heeled sandals are the perfect choice for footwear to be carried with lehengas. They compliment the overall look well and add grace and style to the walk. Beautiful studded sandals can be worn by brides while the bridesmaids can go for slightly less studded ones.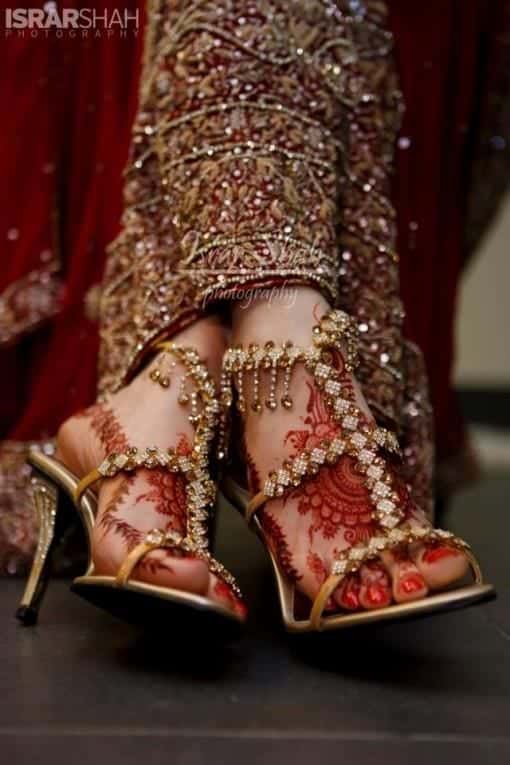 #3 Perfect footwear for Ghagra choli outfit- Khussa
Khussas are the footwear of choice for taller women who want to look graceful and classy in the lehenga outfit. Golden or silver embellished khussas can be carried with almost all the lehengas to look classy and elegant.

Via
#2 Best Hairstyle with the Ghagra choli outfit
Although almost all hairstyles can be carried with the lehenga outfit but loosely braided hair compliments the look the most. Floral pins and hair accessories may be used to give the most perfect look with lehengas.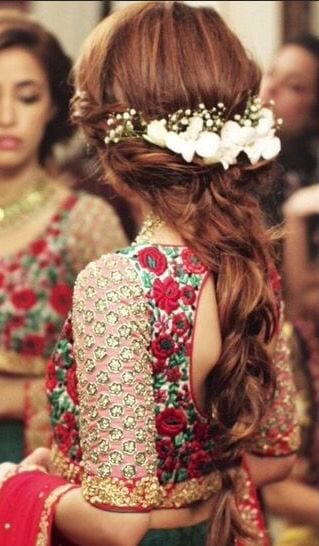 Via
#1 Makeup and Accessories to complete the Ghagra choli look
Lastly, this traditional outfit looks best when worn with the accessories like tika, jhumar, jhumka and bangles. Also heavy makeup but applied in a subtle manner makes this outfit stand out. Smokey eyes or heavily done eyes with softer colours on the lips can be most suitable look with this outfit.