Trendy Modest Fashion Ideas for Women. If you believe that the only ones who portray fashion most brilliantly are Victoria's Secret and Calvin Klein, then you definitely have been kept in the dark about how Muslim women ultimately nail fashion in their own excellent way. Muslim fashion for women is one of the most beautiful and diverse types of style there is, and we are here to tell you all about it!
If you are a Muslim woman, then do not think that you will have to forgo styling yourself fashionably to stay modest. Modesty and fashion go hand in hand, and Muslim women know exactly how to balance them perfectly. We believe this information should reach all Muslim and even non-Muslim women who like to dress modestly!
Muslim Women Fashion Ideas
We have put together this list to give you a simple guide to Muslim fashion for women while also helping you get the perfect results. These outfit inspirations will make your life so easy, and this list will allow you to look your absolute best while also being satisfied with yourself and your faith. So, take a look below at how the Muslim fashion trends speak of timeless class and sophistication!
↓ 14 – Wearing Modesty as Crown
This one is an interesting look as it tackles a new and different take on the traditional Hijab. We have seen the traditional hijab as well as the turban Hijab multiple times. Still, this half turban and a half traditional hybrid form of the Hijab definitely is something new and exciting. You can try this out if you are bored with your usual style. The sleeveless long coat doesn't only look great but also does an amazing job of keeping everything covered that needs to be covered. Although full-sleeved long coats are something that all Muslim women are obsessed with, you should try out a sleeveless piece, especially if you like in milder climates.
Take a look at our earlier post about Ways to Wear a Pink Colored Hijab.
↓ 13 – Girl Power
This image gives you a look into how diverse Muslim women really are and how their fashion sense and choices vary. If you are new to Islam, then you must look at these to realize that you have many options to pick from when it comes to your style choices. Never feel like you will be restricted just by accepting the Muslim faith. In fact, your beautiful journey to modest fashion is just starting! You can try out many different styles that will not only make you look good but also make you feel good by helping you portray your real qualities. Your intelligence and your will power over your physical appearance.
↓ 12 – An Outfit for a Formal Occasion
You might think that abayas are a piece of clothing that are only used as a cover-up and will make you look dull. But nowadays, there are many colors, patterns, and designs available in abayas that make them a versatile clothing option. Take a look at the abaya given below. It can be used as an outfit for a formal occasion like a wedding as it is embellished with small pink flowers. You can match your accessories with the abaya's color and wear it as an overgrown as well. It would help if you definitely had a few such abayas in your wardrobe to use them for different occasions easily.
You'll love reading more about Hijab with Palazzo Pants.
↓ 11 – Something for the non-Hijabis
We understand that all Muslim women do not wear Hijab. This is why we have included two options for such fellow Muslim ladies as well. This long casual gown can be worn by all women who like to dress modestly and still look fashionable. The second option, which is a simple blouse with a long flowy skirt, is another option that can be utilized as an everyday look and for a special occasion like a day out with your friends or family. You can style them with simple curls and light makeup to look naturally beautiful!
↓ 10 – Floor Length Cover-Ups
This extensively appealing Muslim fashion trend with hijab is the ultimate guide to standing out beyond your imagination. A down-to-earth, classic, and bright outfit for everyday routine, everyday street look, and casual meetings. This can be adopted in multiple ways. You can use different colored and differently textured gowns and use them as cover-ups, especially during the summers when wearing coats is hard. These days many printed options are also available that allow you to mix and match to create a new outfit every day with just a limited number of clothing items available. So make sure you get your hands on one of these!
Don't forget to check out Abaya with jeans-10 ways to style jeans with abaya modestly
↓ 9 – Dresses that Make your Heart Sing
To nail a perfect Muslim fashion look, you do not have to clad in typical cultural dressing, but Muslim fashion has a lot more diversity than you think, as in the clothing below, with a matchless long dress and hijab. The small floral print is ideal for springtime, and the dress's light cloth makes it suitable for the summertime. You can also put on simple trousers underneath if you are uncomfortable wearing capris and want your legs to be covered to the ankles. Add in some simple flats for the perfect casual look that you can adopt every day. So go shop for some long, simple floral dresses right now and get ready for the coming spring season!
↓ 8 – Business-Formal Options for our Boss Babes
Versatility rules Muslim fashion ideas. This can be seen in this enormously unique Muslim fashion outfit with a cool blazer, formal pants, and tucked in shirt, which breaks the stereotype of typical Muslim cultural dressing. Therefore; more chances to stand out. This also helps break the stereotype that revolves around women in the professional world. It is often thought that these women have to dress up in pencil skirts and tight blouses to achieve success. But this shows that a woman's competence is enough to get her all her accomplishments that she wishes to gain. If you are a working woman or in college and about to step into professional life, then these outfits are made for you. You should definitely get your hands on some cool blazers right now to stay trendy even at the workplace!
↓ 7 – Something Unique and Breathtaking!
This is a turban look that has been coupled with a unique style that will work for Muslim women amazingly. This look is not only fashionable and trendy but also comfortable and perfect for extra hot summer days. The prints and patterns on it have been taken from African traditional dress, so make sure you are not appropriating a culture for such prints. The cut and style of the clothing can easily be adopted with other prints to add something special to your wardrobe that will continue serving for years to come!
via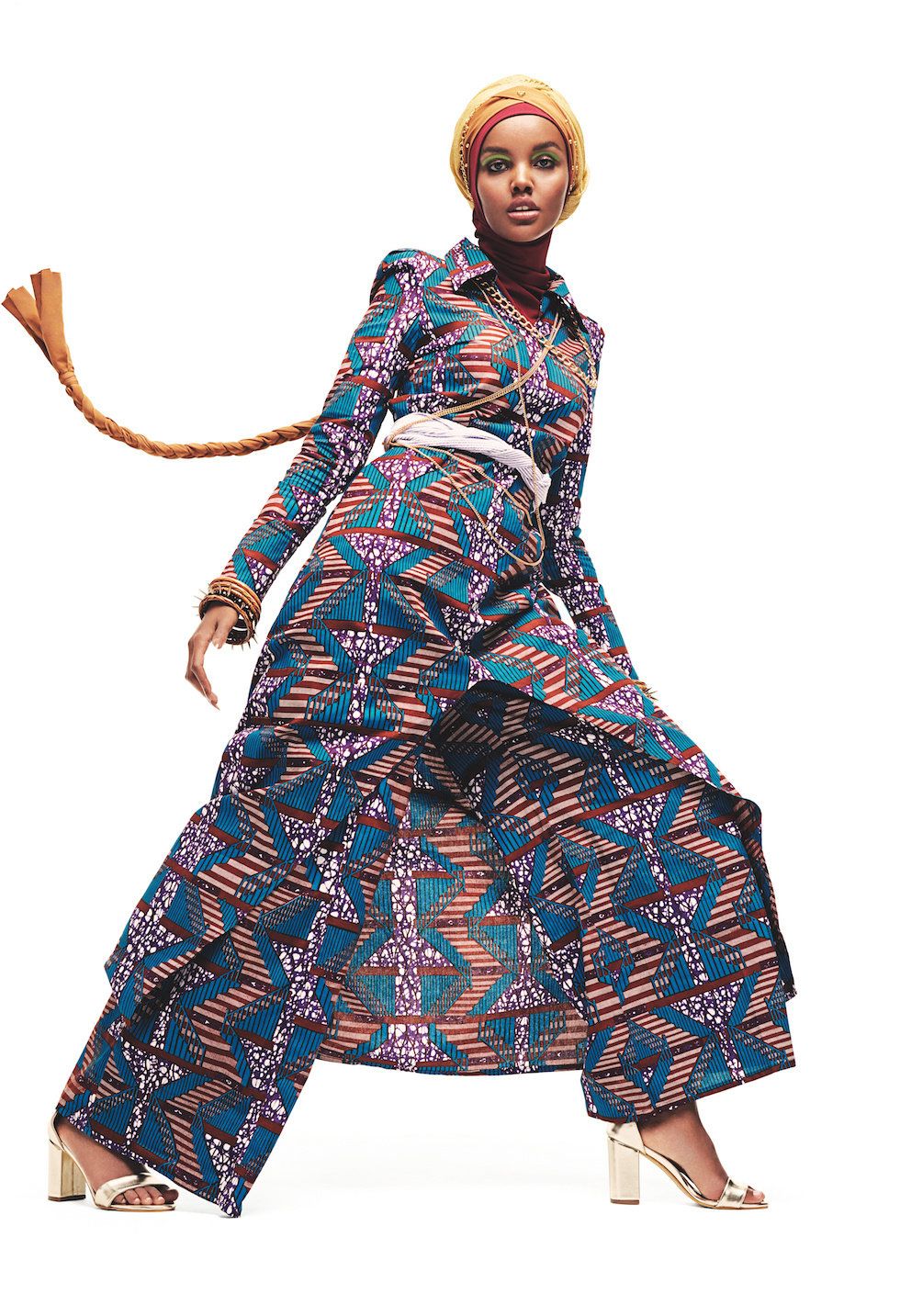 via
↓ 6 – Elegant Long Skirt Outfit
Long skirts, button-ups, and absolutely all our favorite clothing items have finally entered Muslim fashion themes. Below might be the coolest example of it – a dotted unique long skirt with a denim button-up shirt is all we need to maintain our perfect summer look this year. This outfit is super cute and ideal for younger girls, especially girls in high school or the first two years of college. It has a sweet and innocent look to it that just cannot be achieved through any other outfit. We know budget is low when you're young, so you must get your hands on some cute long skirts and mix and match them with different shirts that you already have to create outfits from your existing wardrobe. This way you won't have to worry about extra expenses to look great!
via
↓ 5 – Sophisticated Fashion Idea 
As if Muslim fashion ideas were not already too sophisticated to handle, this utter elegance and sophistication are at its peak in the Muslim fashion idea in the image below, and we are all very psyched to clad ourselves in this in the blissful year. The use of a traditional dress with added leggings makes sure you do not have to go out of your way to get modest yet fashionable clothing. You can get whatever is available in the market and build on that to give it the modest touch you require. This is a trend that Muslim women, and many other women, have been following for years, and it is now making a comeback. We must admit that we are most excited about this trend's comeback and you should be too!
↓ 4 – Classiest Dress
Hang on; you are not exactly out of options to create a flawless look. Because this immensely eminent Muslim fashion idea is the classiest and most chic of all get-ups that we have ever laid our eyes on. And we are absolutely thrilled to share it with you. The look might seem a bit old-fashioned to you, but we all know how retro outfits are these days, and this one makes use of that very trend. The added belt is something new, and the addition we think can bring your outfits together really well. So you must incorporate them into your own styling as soon as possible!
↓ 3 – Richly Sophisticated 
See sophistication and luxury go hand in hand with these ultra-classic Muslim fashion ideas for the upcoming year. These are looks that are completely up to date and are the perfect substitutes for your current every day look. They are simple, casual, and oh so easy to adopt. All you need are some coats, a few nice blouses, and t-shirts and a little bit of confidence. When buying your coats and jackets, you should go for either a trench coat or a simple cotton and polyester coat. Pair them up in random order and get your 5 outfits a week for whatever occasion you are faced with every day!
↓ 2 – Ultimate Winter Outfit
The classiest winter Muslim fashion idea is here to save you the hassle of choosing flawless outfits in winter. We discussed using short dresses with leggings before; here, we see the same being done with a pair of jeans. You can add in some long boots to keep your feet warm and a cute jacket to bring it all together. This outfit will help you combat the winter while also looking super cute and is an ideal pick for college going girls.
via
↓ 1 – A Little Bling Never Hurt Anyone!
Yes, there is a term 'western Muslim fashion,' and even though it is not culturally associated with Muslim fashion, it still is worn by many of the classiest Muslim women. Because the idea is indeed exceptional and rare in the fashion industry. But in today's time and age, it is becoming increasingly common. Muslims in the west often struggle with staying true to their faith when it comes to fashion, but it can be made easy with just a few steps. The option shown below of the combination of a long flowy shirt and boat neck is an exceptional one that must be applauded. You should try this lookout for wedding season.
Frequently Asked Questions
Q. What do Muslim women wear hijab on their heads?
A. The scarf that women wear on their heads is called a hijab, and it covers their hair. If you see a Muslim woman wearing a veil as well, that is called a niqab. The difference between a hijab and a niqab is that a hijab only covers the head and hair while the niqab covers the whole face except the eyes.
Q. Is fashion allowed in Islam?
A. Islam calls for modesty but puts no restrictions on being fashionable while staying modest and following the rules assigned. So, do not worry; a little fashion never killed anyone. Take inspiration from our list of trends that have been specifically designed for Muslim women, and you will good to go!