Latest Manish Malhotra Sarees Collection. You are probably aware of how Manish Malhotra brand rules the fashion in India and women choose to look no further when it comes to getting your hands on only the best.
Let it be a flawless bridal dress, an elegant engagement outfit to something as mediocre as a casual daily wear saree, Manish Malhotra has got you covered in nearly all your buying approaches.
Wondering how is that? Because Manish Malhotra knows how to get the most out of their designers and delivering impressive outfits to women everywhere. The progress and quality are consistent, which is why its outfits continue to admire women and rule their wardrobes. To know more, have a look at this year's collection of women's sarees by Manish Malhotra and dress your best and also find yourself the best hairdo from our awesome collection of Hairstyles with Sarees.
Latest Saree Designs by Manish Malhotra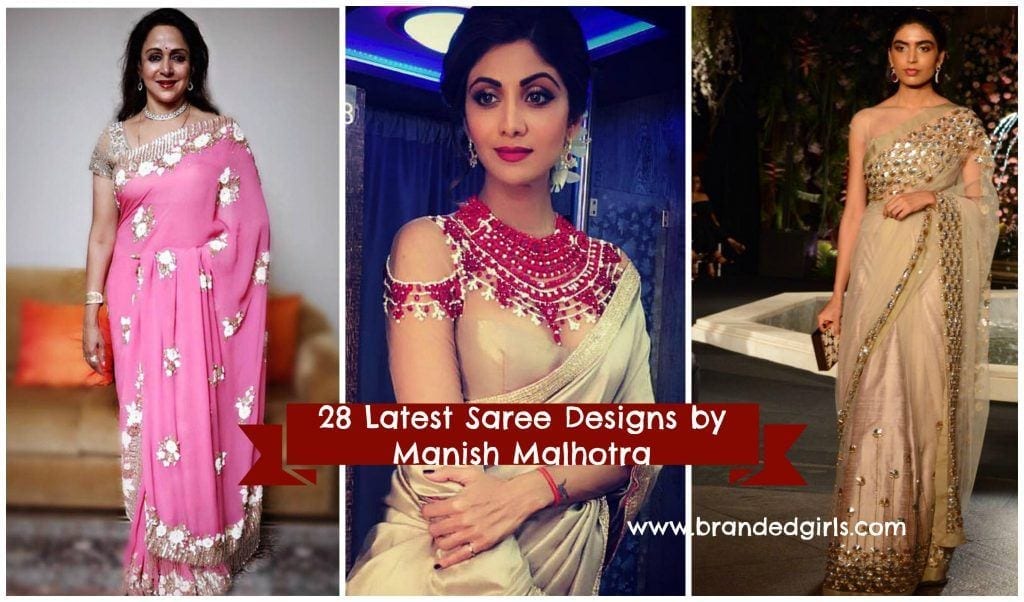 Have a look at his top 20 sarees from the year 2020 and impress all those around you in your simplest, most casual way.
#28 – Manish Malhotra's First Show 2020
Here's a glimpse of some beautiful white sarees that we saw in Manish Malhotra's first show of the year.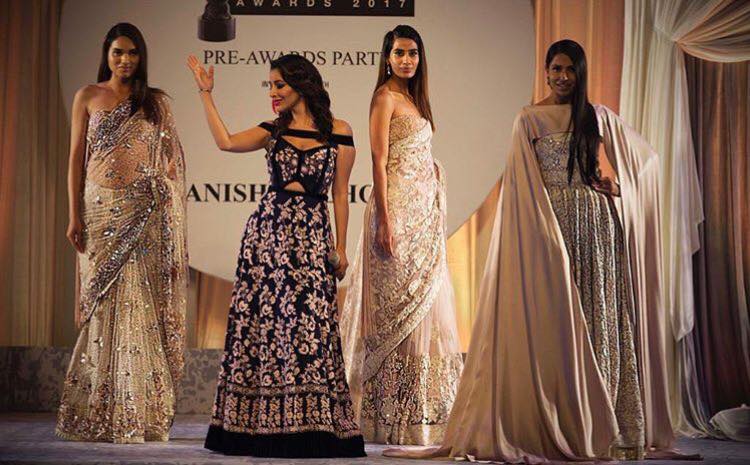 #27 – Angel Sleeves
Manish presented us last year with some amazing statement sleeves such as these angel sleeves. RECOMMENDED: 23 Latest Indian Wedding Saree Styles to Try this Year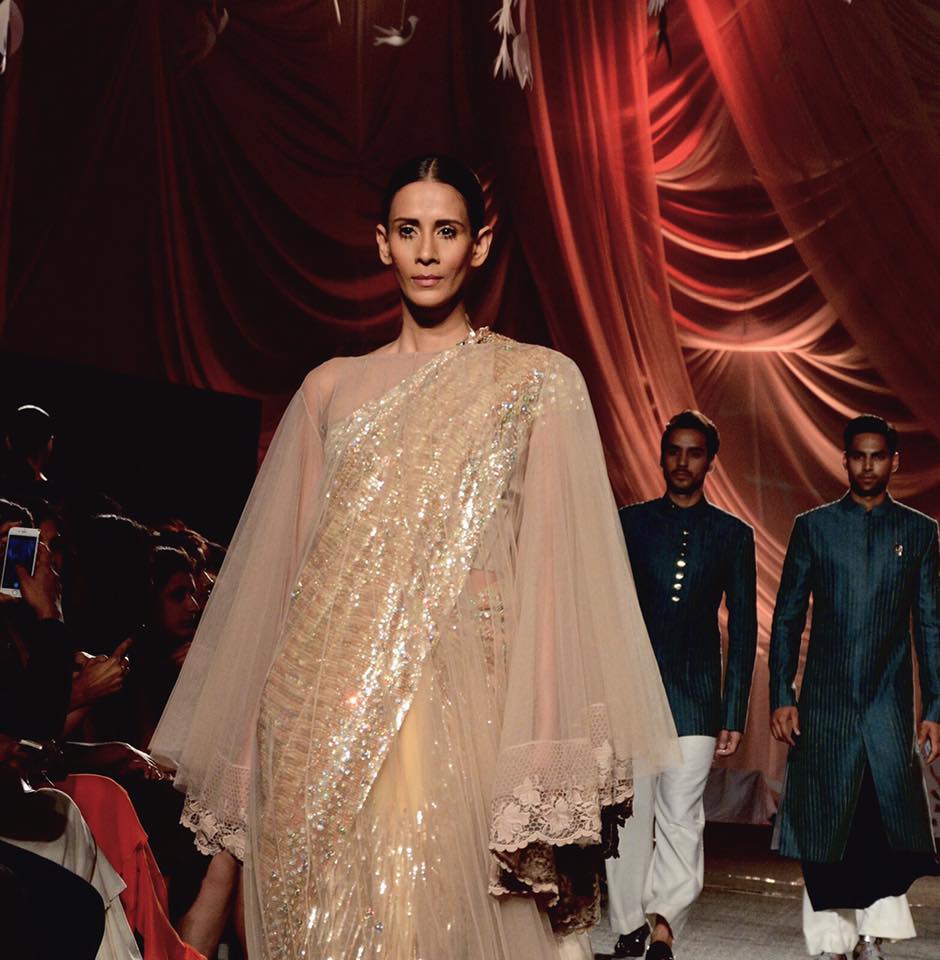 Here's another signature saree design by Manish Malhotra, worn by the style diva of Bollywood, Shilpa Shetty. The statement sleeves and neckline are adorned with real rubies and she has matched them off perfectly with ruby red lips.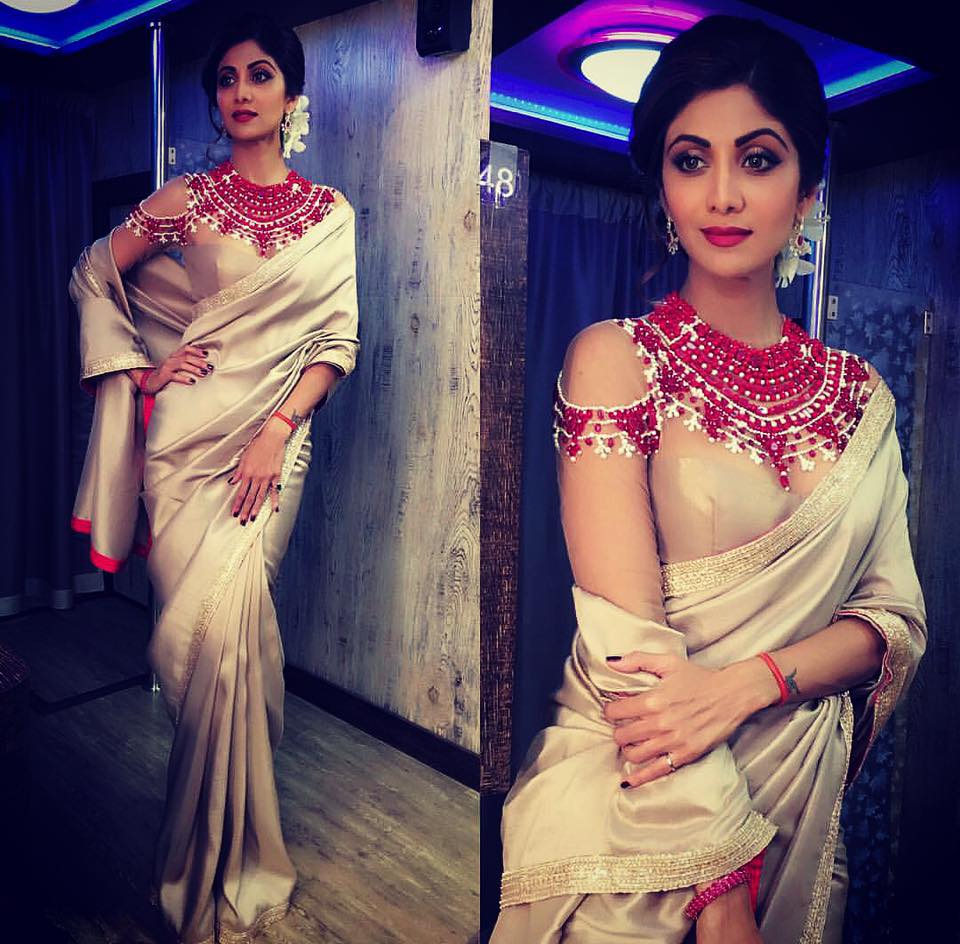 #26 – Sarees for Wedding Guest
If you're attending the wedding of one of your siblings then this beautifully embroidered saree is what you need. Here are Latest Bridesmaid Saree Designs-20 New Styles to try in 2020.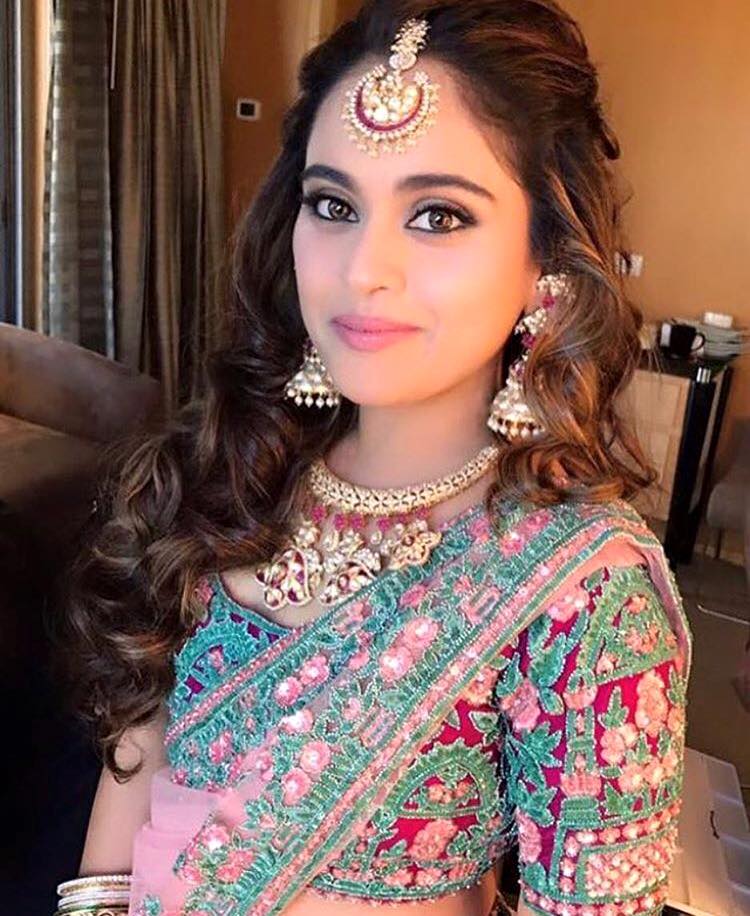 #25 – Unique and Creative Sarees by Manish Malhotra
How amazing is this jacket style saree by Manish Malhotra, the most amazing and creative party wear saree.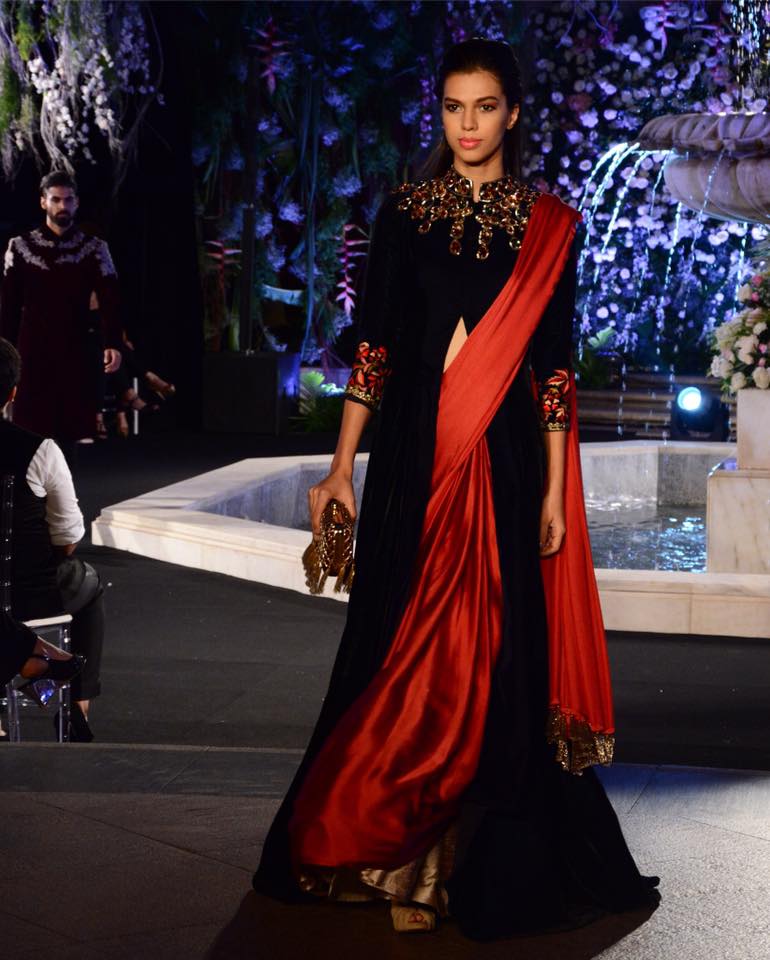 #24- Embroidered Floral Saree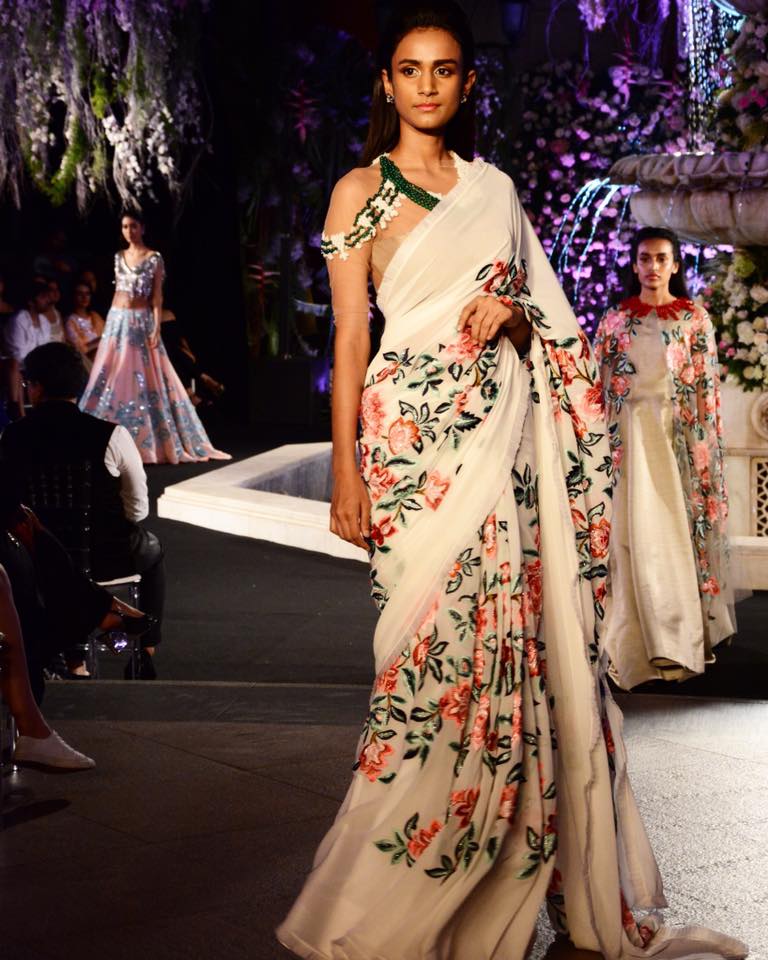 #23 – Glamorous Saree for Festive Season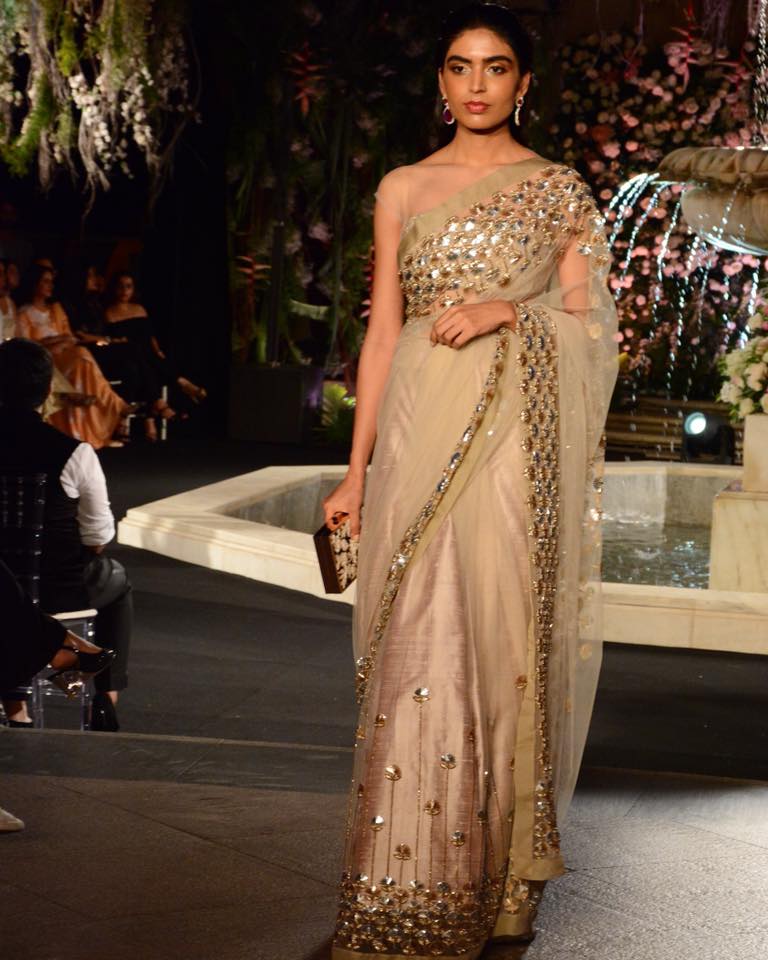 #22 – Bridal Saree
The latest look for brides who want to wear sarees by Manish Malhotra. It seems white is his favorite color of the year 2020.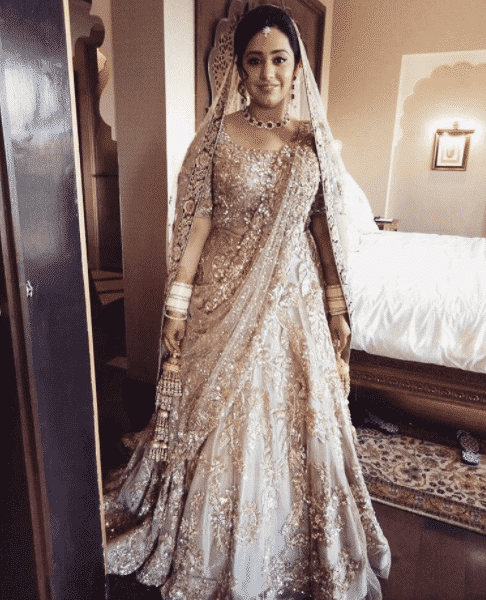 #21 – Aishwarya Rai Wearing Manish Malhotra
Here we see Aishwarya wearing a classic saree by Manish Malhotra.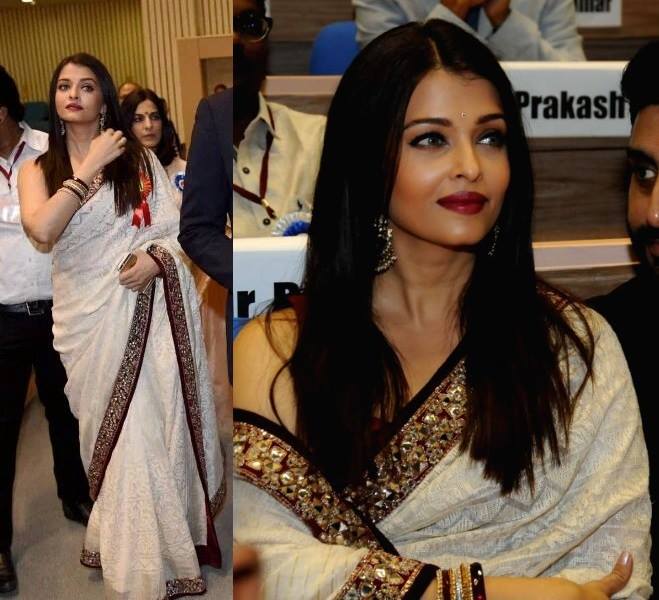 #20 – Pink Saree with Silver Polka Dots
A stunningly elegant and equally pretty saree by Manish Malhotra to take your breath away with the admirable pink glamor and the silver polka dots. A perfect match for this would be light pink makeup and an elegant pair of heels. A flawless outfit for a semi-formal house party.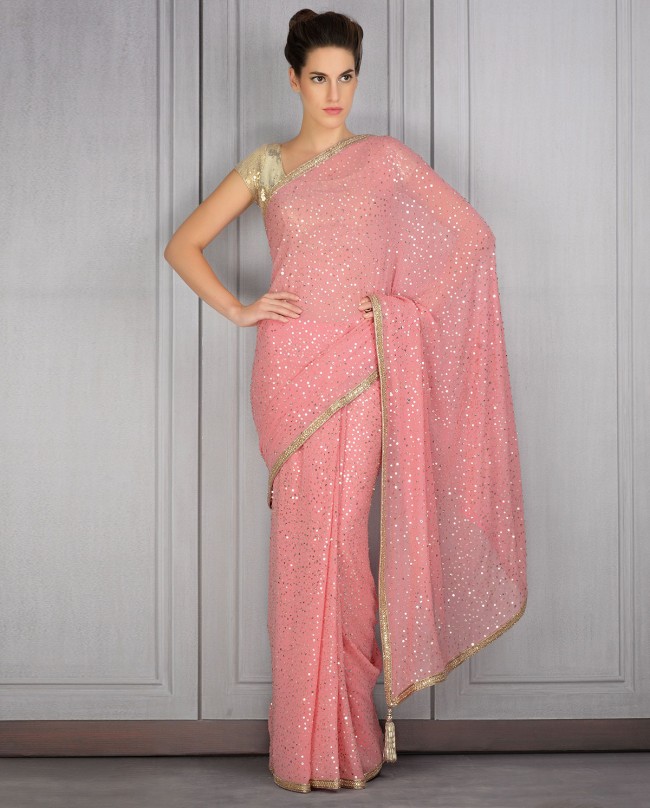 #19 – A Simplistic Pink Saree
A simplistic pink saree would be a nice touch to your simple day. Another simple yet utterly elegant work by Manish Malhotra that keep impressing women all over India. With this uniquely mild saree, you can rock your party-less day and make it all fashion updated.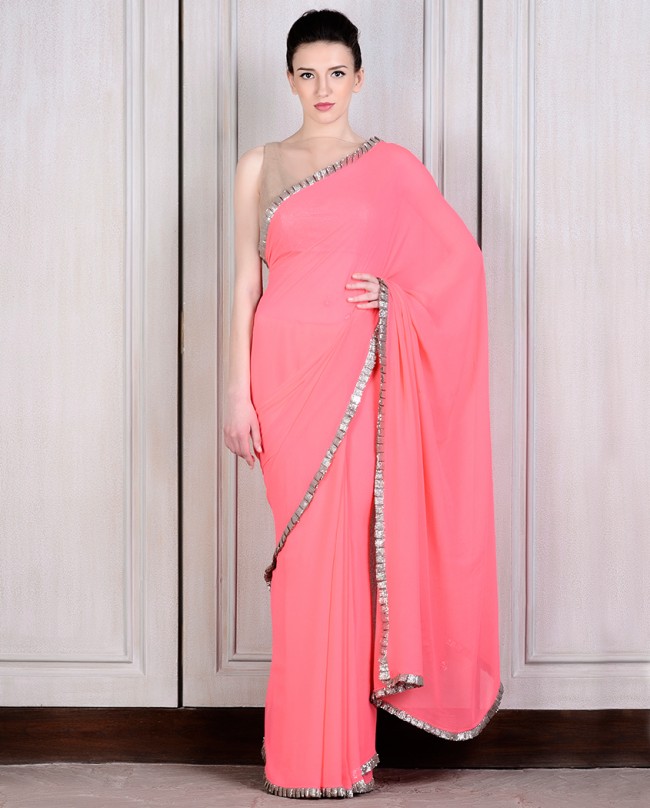 #18 – A Fancy Saree for Party-wear
This classy and elegant saree for party-wear will be the ultimate choice for you to wear at a fancy party where you can style your best and fanciest. With this fantastic design by Manish Malhotra, you should put on the most glamorous makeup look you know and dress it in the best heels you own. As for the hair, we suggest you style it in a classy updo or leave it open in shiny curls.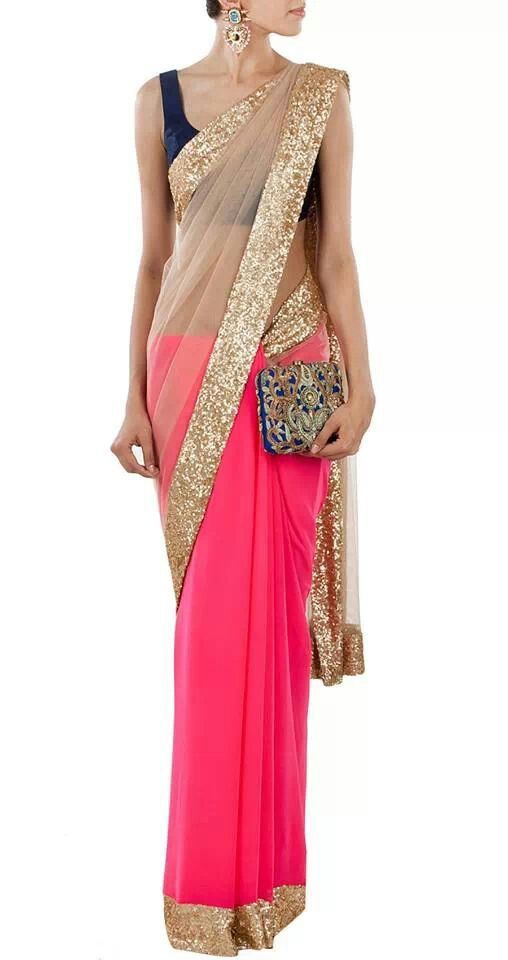 #17 – Saree For Formal Wear
When it comes dressing formally in a saree, it is never easy to just pick any. You have got to choose something that you can truly pull off as formal and saree might be the last outfit that comes to your mind. But Manish Malhotra has done the job on your part of such a design that will speak for itself. This matchless design of formal wear introduced by the brand is as classy and attractive as you can expect. Look forward to more, below. Here are 20 Best Sarees for the Mothers of The Bride this Year 2020.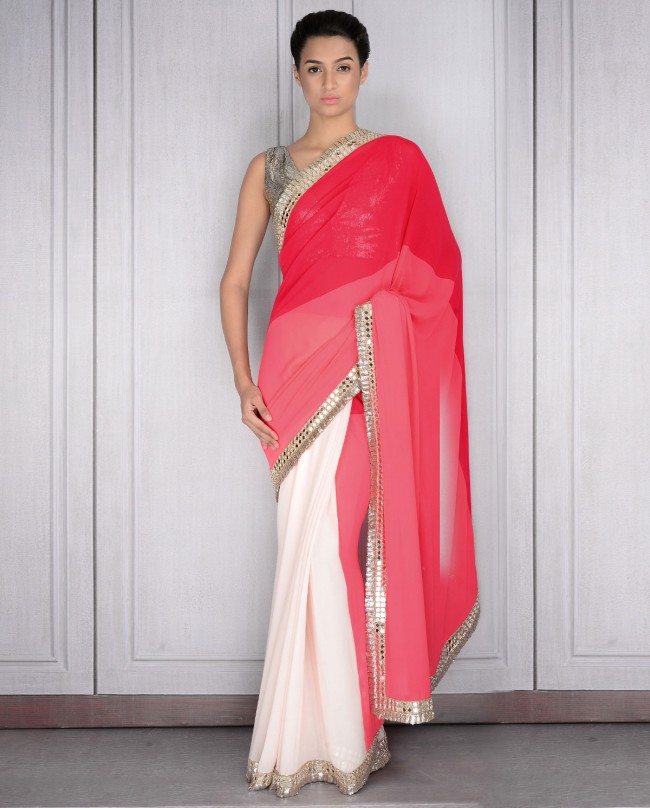 #16 – A Serene White Saree Design
Colors define the mood you are naturally having and wearing the right colors at the right time is surely important. You can be cheery and want to dress all bright or you want to feel peaceful so white seems the right choice. When that's the case, this serene white and lightly printed saree will come in handy and make you feel in control. Putting on light makeup and jewelry will be appropriate and this will also work for formal gatherings.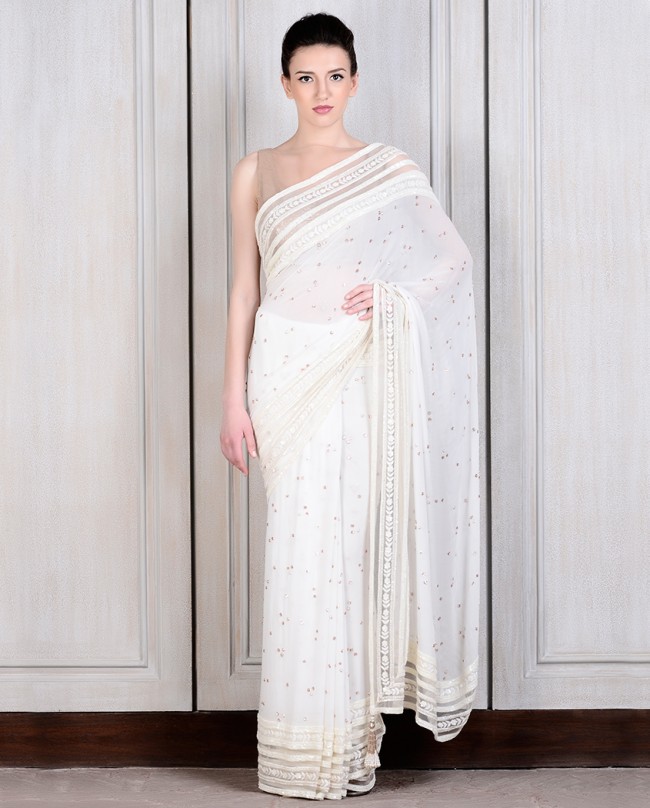 #15 – Net Saree for Party-wear
A sensual and attractive net saree by Manish designers will be ultimate for your most party requirements. We can suggest you some tips on how to go with it, starting from the hair which you should style in a western updo look, wear minimal jewelry as the design of the saree is decorative enough, and match your saree with any light shade heels for the perfect look you need.

#14 – Cute Printed Saree Style
A lovely and astonishing light lilac saree with silver patches all over it is probably how you imagine a saree that is flawless and is perfect for any party you have. With the amazing design of silver patches over a light lilac color, you know exactly the way you want to style it. With a fantastic pair of silver heels, minimal silver jewelry and makeup that is minimal yet also is very catchy to compensate with the light shade of the saree.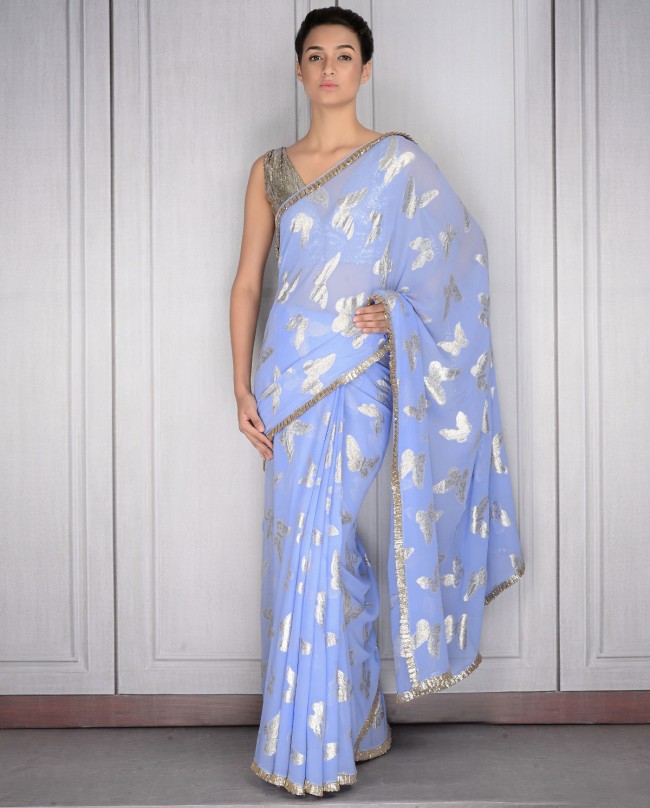 #13 – Elegant Style in Pink
The very same style at your disposal in a much nicer shade of pink that you can match with your most favorite feminine makeup style. You can leave your hair open in classy and gorgeous curls to match in contrast with the simplicity of the saree.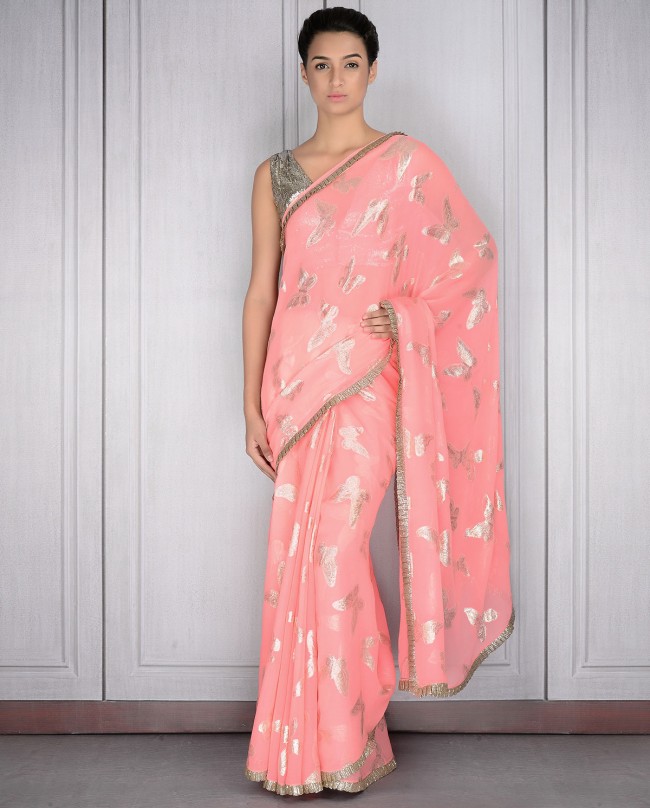 Here we see the graceful Hema Malini wearing a similar saree in hot pink color: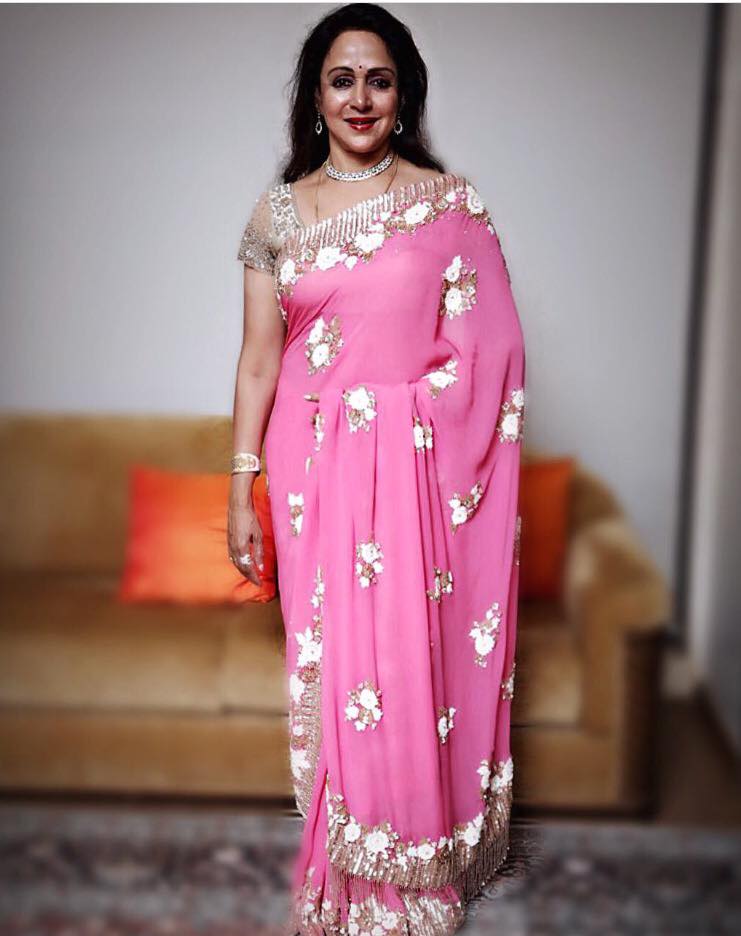 #12 – Pale Pink Saree Style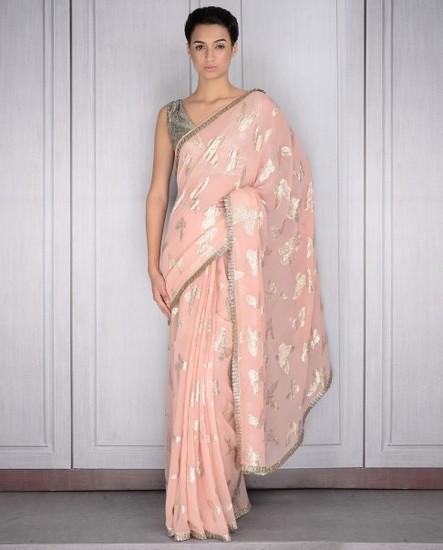 #11 – Manish Malhotra Fancy Sarees
As you probably know that Manish Malhotra practically rules the fashion of fancy sarees and its core focus is mainly on catering women with flawless fancy outfits for weddings, engagements and more. But the king of bridal fashion also masters in simple and party wear sarees. One of his semi-fancy sarees that could not escape customers' attention was this fancy light blue one that will be best for a friend's wedding or someone quite close, in the family or even an extremely big party.
#10 – Stunning Fancy Wear Saree
So, here comes the one that will be best for a big wedding, an engagement party or else. The gorgeous saree has enough fanciness and style that minimal or simplistic jewelry would do. To match the light shades of the saree, put your best dark makeup look with a probably darker lip color such as maroon or dark coral. A nice fancy pair of heels would do to match the heavy design of the saree.
#9 – Latest Design by Manish Malhotra
#8 – Classiest Manish Malhotra Saree
What sarees mostly miss is a bit of formal look that matches the Western culture, but Manish Malhotra filled that lacking and produced one such kind. With this classy, formal and elegant saree embodied with a western touch, you will complete your heart's consent.
#7 – Celebrities in Manish Malhotra Saree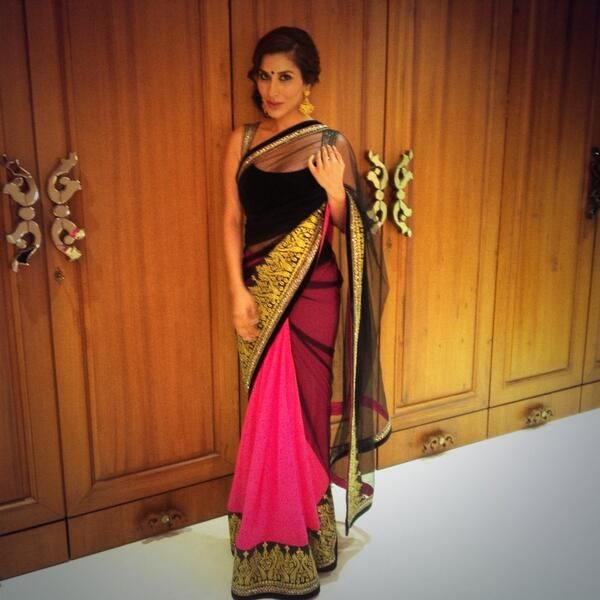 #6 – Manish Malhotra Saree with Mirror Work
#5 – Manish Malhotra Banarsi Saree
#4 – Saree to wear at Wedding
#3 – Sophisticated Saree Style
#2 – Casual Style for Sarees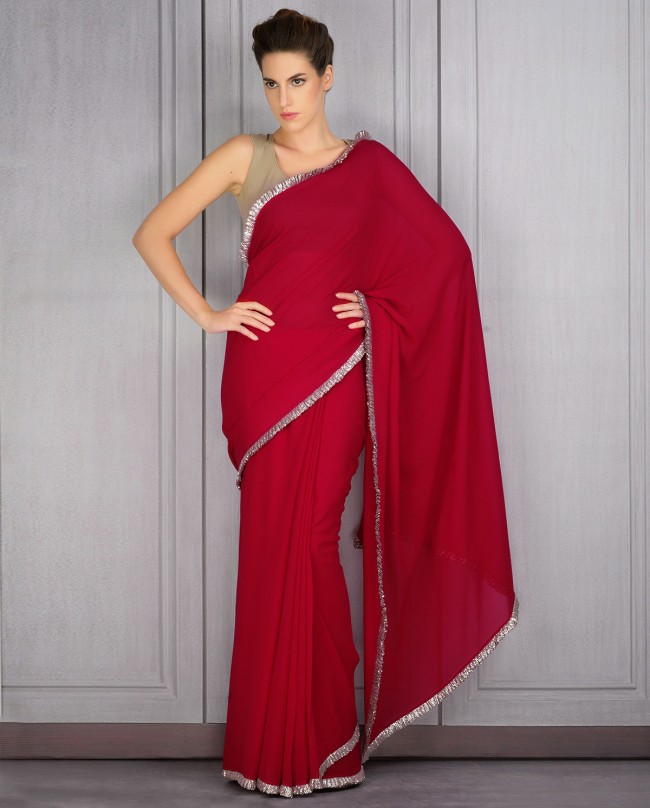 #1 – Simple-wear Saree Style
A Chemical Engineer by profession and content designer by choice! Meet Manahil Qureshi who has an infinite love for food and cats. Be it the latest fashion ideas about women or kids outfits or trendy men fashion styles, she loves to keep her pen moving on such niches. Other than writing, she has a love for designing jewelry which is why she has also started her own designer jewelry label, called Glare jewels. Want to know what is coming up next on her publication blogs? Subscribe to the newsletter and keep yourself updated anytime. Cheers!