Pink accessories for teenage girls: Teens mostly opt for the color pink as it reflects their delicate and adorable personality. Along with that, teenage girls still have a close affiliation with Barbie and her pink EVERYTHING, and therefore, pink holds a hugely important status in their lives. They are attracted to everything that is adorned in this color, even if it's just a little part of it!
To Decorate your room, we have already covered 18 DIY PINK room decoration ideas for Girls.
BEST PINK ACCESSORIES FOR TEENAGE GIRLS
For teenage girls, impression holds significance, and they want to impress everyone with their taste and choice in accessories. Following described are some must-have pink accessories for girls that can help them make an impression and blend in with other teens while being cute and adorable but still making their mark.
Before you move on with these, we highly recommend all young girls to see go through these 20 Cute Dressing ideas for teen girls with pink outfits.
↓ 15 – Phone Case to Keep Your Mobile Safe
Nowadays, EVERY single person possesses a Cellphone/Mobile phone. Teens can accessorize their cellphones using customize mobile cases by different brands, including Coco Chanel, Victoria Secret, and much more. If you prefer something cheaper than amazon and brands like H&M and Forever 21 are your best bets.
These days some super cute phone cases are being produced that can help you make a statement. Since many people have similar phones these days, like the iPhone, having a unique case is how you can differentiate yourself from others. Going for a pink phone case will help you establish your bubbly and happy side in front of everyone!
To find more about branded mobile cases, see our exclusive post on this. 20 Branded mobile cases and accessories. These are the perfect mobile covers for college/high school girls.
Shop: Kawaii Japanese Pink Strawberry Phone Case. $11.54.
↓ 14 – Fuzzy Socks for Harsh Winter Days
Socks are not just a necessity but can also be a fashion statement if done right. In general, socks are something everyone loves but fuzzy socks, in particular, are an option that can make your life so much better. While keeping your feet warm, socks also tend to give a cozy feel that allows you to feel at home and relaxed in your surroundings.
You can find several prints and patterns in fuzzy socks, but our favorite are pink striped ones as they balance out any look perfectly. To shop the socks shown in the following image, click the link below and get your hands on 6 pairs for a wonderful price of $14.99 only!
Shop: Anlisim Women's Pink Fuzzy Socks 6 Pairs, $14.99.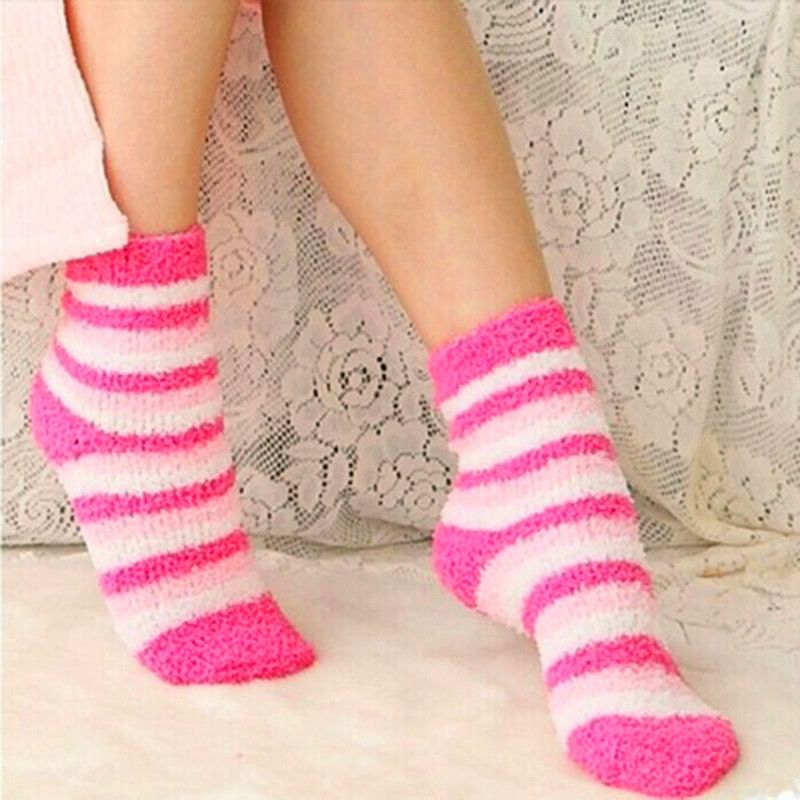 Source
↓ 13 – Necklaces so You Can Look Out of This World!
Necklaces add to a person's beauty, and it's the best accessory out there for teenagers. They love to accessorize themselves with a beautiful yet elegant necklace. The necklaces in pink color are adorable and match up with most teen outfits as they usually contain pink in some form.
You can go for a small necklace like the heart pendant linked below if you have a mild personality and do not like flashy jewelry. These pendants tend to give a very classy and elegant look. However, if you are more of a bold person, then a chunky necklace would be best for you. Examples of these are shown in the image given below as well. So take your pick according to your style, and we are sure you will look wonderful!
Shop:
↓ 12 – Headbands for a Chic and Cute Look
Headbands work in two ways. They add glamour to your hairstyle while keeping your hair arranged and out of your way. Pink headbands for teens are available in many different types and can be worn in several different ways. Headbands might seem like an outdated style to you, but do not be fooled. Headbands are an everlasting piece of cool accessories 40 years ago and are still just as cool today.
Silk headbands are currently the most in style, and the classic knot style is also making a comeback. These can be on the lighter side of pink and those who do not prefer bright colors. The teen loved brands such as H&M and Forever 21 are also selling these, which shows their popularity and how they are currently in a trend!
Shop: H&M Hairband with Knot Detail, $9.99.
↓ 11 – Best Friend Bracelets For A Bond That Lasts Forever
Bracelets make your wrists look delicate while being trendy and in-fashion. You can wear them to any simple occasion or a high-class formal event and fit in. For teenage girls, pink bracelets are very much in style nowadays. We have all had a best friend that has been with us since we were tiny. Such best friends are loyal and must be protected and appreciated. The best way to appreciate such a friend is to get matching bracelets with them!
So get your hands on these cute matching best friends bracelets from H&M to secure your friendship forever!
Shop: H&M 3 pack bracelets, $9.99.
↓ 10 – Rings To Enhance The Beauty of Your Hands
Rings can add up to the beauty of even the simplest look and enhance it even further. Women's hands are probably the most beautiful and delicate part of their bodies. Rings tend to make the hands of women look even more gorgeous and fragile.
Pink rings can work great with most outfits, especially if you opt for rose gold rings. You can go for more fancy gemstone rings or simpler bands with pink hearts or flowers. Any of these would look wonderful on your marvelous hands!
Shop:
Pink and White Hearts Ring, $35.99.
↓ 9 – Earrings to Add A Sparkle to Your Outfits
Earrings are categorized mostly in daily wear, but they can be worn on formal occasions as well. These can glamorize your simplest look and make you feel like a goddess. What kind of earrings you should go for completely depend on the occasion and your mood.
You can opt for stud earrings while attending school or a casual get together with your friends. However, go for drop earrings such as tassel earrings when attending a more formal event so you can look even more gorgeous than you do daily.
Shop:
↓ 8 – Airpods Case Set to Keep Your Airpods Safe
Airpods are a big part of everyone's life these days as everyone is slowly moving from wired earphones. However, keeping your AirPods safe is a huge hassle, and each day, we hear from our friends how they lost their AirPods. This AirPods case set not only allows you to make your air pod case the color you want it to be but also provides a safety wire to hold them together.
The clip with the case allows you to secure it to your jeans, bag, or any surface. Hence you do not lose the case of the AirPods inside it. And you can easily wear them while working out or moving around without worrying about them falling out because of the wire keeping them connected to each other and you. So what are you waiting for?!
Shop: BLUEWIND Airpods Case
↓ 7 – Backpacks for Daily Use
The biggest part of a teenager's life is their backpack. It holds all their belongings, and they always keep it with themselves, whether in school or even while they are just out with friends. Picking a backpack is hard, though. You must look at more than just it's color and pattern. The size and number of pockets etc., play a key role in influencing decisions.
So take your time and pick out the best backpack for you and your needs. Look at the different options available to you on the link below. However, do not forget that pink is the new color in trend and the best choice for everything!
Shop: An assortment of pink backpacks.
↓ 6 – Belts For a Formal Look
While you are a teenager in high school or the first two years of college, you are faced with alot of presentations that you have to dress formally for. Belts add a tad bit of glamour to your whole wardrobe and make quite an exquisite impression.
You might think a pink belt does not seem appropriate to wear in such a setting, but the truth is that such a bold move will surely leave a good impression on your teachers. So get your hands on a pink belt. Whether you wear it for presentations or just as part of your daily outfits, it is totally up to you!
Shop: Emporio Armani Women's Neon Leather Belt, $31.64 – $81.14.
↓ 5 – Watches to Keep You on Schedule
If you wear even a single watch with your wardrobe, you're all set for the day! Watches help you look more well put and professional. They leave a good impression on your teachers and supervisors and show you are serious about school and work.
Getting your hands on a light pink watch can be perfect for showing them you are responsible while also staying true to your own style statement!
Shop: Casio Women's Stainless Steel Watch, $29.95.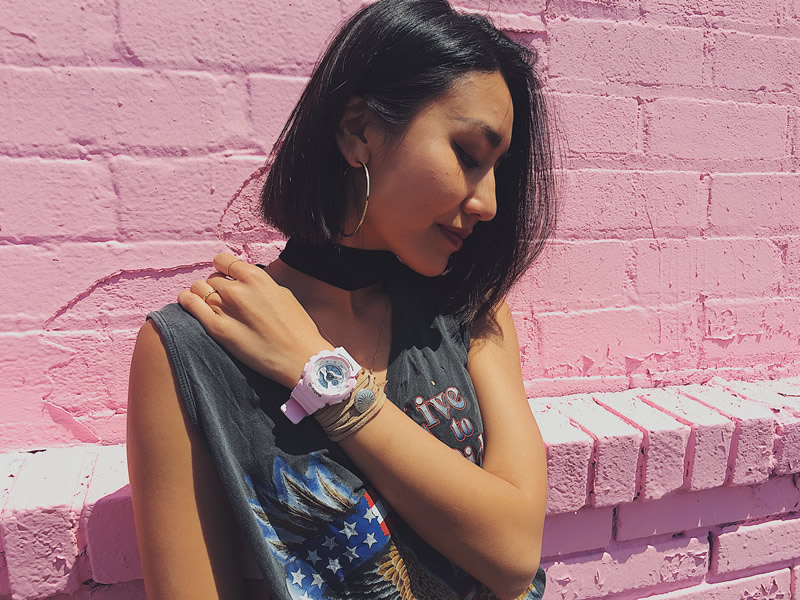 ↓ 4 – Headphones So You Can Enjoy Music Anytime
Some people prefer headphones as earphones, and AirPods tend to hurt their ears. If you are one such person, then this one is for you! When we were younger, we always thought our peers walking around wearing headphones looked extremely cool. And we are sure the verdict is the same today.
So get your hands on some pink Beats headphones and look as cool as ever!
Shop: Beats Solo3 Headphones
↓ 3 – Retro Shades to Help You Fight the Sunlight
Sunglasses protect you from sunlight and glare while making you look unique and trendy. Retro sunglasses have been in style for quite some time now and are here to stay. These make you look like you have been transported to the set of Clueless or Legally Blonde, and we love it!
So go on and take your pick from the link below to get your hands on a gorgeous pair of sunglasses!
Shop: Several Different Options
↓ 2 – Key Chain to Keep All Your Keys Organized
Key chains add a tad bit of style and glamour to your clutches, bags, cellphones, and whatnot. Going for cute and chic keychains allows you to show that you have taste in even the smallest details. You could always go for a simple key chain, but that won't be fun now, will it?
So opt for a fun pink fancy key chain to let everyone know just how fashionable you are while keeping all your keys organized and safe!
Shop: An assortment of different pink keychains.
↓ 1 – Hair Clips to Manage Your Hair
Hair clips have made a comeback in recent years. Long gone are the days when these were only seen as an accessory for girls younger than 10. Today, even supermodels like Gigi Hadid and Kendall Jenner are using them to style their hair. Hair clips make even your simplest hairstyle elegant while being trendy.
This accessory is on number 1 as it is the most in trend rn. It looks oh so perfect, especially on teenage girls. Hence, you should get your hands on a few simple pink hair clips as soon as you can, so you can be a part of this trend before it goes away!
Shop: Pink Crystal Facet Pearl Hair Clip, $9.99.
Frequently Asked Questions
Q. Are headbands in style this year?
A. Headbands were one of the most searched accessories in the last 2 years, not much seems to have changed. People are coming back to hair accessories such as hair clips and headbands and styling them in chic new ways. So do not be afraid and get your hands on a few gorgeous headbands to spruce up your outfits!
Q. Is pink still considered stylish, or is it a too girly color?
A. Pink never was and never will be "too girly." Pink is an absolutely gorgeous color that comes in several different breathtaking shades. If pink is a color you enjoy wearing, then go for it without a second thought! Because life is too short of giving up on things you love.