Winter Fashion Accessories. The fall has gone, and winter is on our doorsteps. Now, this is the high time for ladies to stock up on winter essentials. Before everything is gone from the stores, you should be prepared for it. Even old stuff can be of great use.
You must know that the wardrobe you have must keep you both warm and stylish throughout the cold days. Here are a few things which are a good investment and will never let you lose. These are essentials that you will be able to wear according to the new and old trends. Who cares what is in fashion? It is you who can bring the old thing in fashion as well. These winter fashion essentials are a must-have for every woman living in any corner of the world. Here's what each of you ladies must buy to welcome winter!
Winter Accessories Every Women Should Have
Winter is the time of the year that you get to flaunt your fashion in a different manner. You can layer up and pull out your best jackets and boots without worrying about sweat or frizzy hair. This is exactly why winter is our favorite time of the year. And now we are here to help you make it the best for yourself too! Read on to find out the top 10 accessories you must own this winter season to look your absolute best!
↓ 10 – Fluffy and Fuzzy Earmuffs
These fluffy cozy-looking muffs not only save you from cold but look very stylish as well. Many try to avoid hats in winter to save their hair and flaunt them, so these super warming ear muffs are a good option. These won't just keep your hair warm but will also add something extra to your outfit. The purple ear muffs shown below are ideal for you if you have a bold and fun-loving personality. You can use these to make a mark in your social circle!
You'll love reading more about Cute Outfits to Wear With Knitwear for Girls this Winter.
These nude colored ear muffs are made for people who like keeping it simple. You can pair them with an all-black outfit as soon or go for something nude or pastel. They would work in all ways!
↓ 9 – Beanies
For people who do not mind covering their heads and hair, beanies are the next best option. You can skip the earmuffs and go for a simple beanie. This style is tried and tested,, and you can go for it if you do not have the confidence to go for earmuffs. The combination of a grey coat and black beanie looks absolutely divine, and you must adopt it!
This is another example of an outfit with the iconic black beanie and grey coat combination. You can pair them with your favorite comfortable sneakers for a long and busy day.
↓ 8 – Scarf and Mufflers
Scarves and mufflers add a fun element to your outfit, especially in the winter season. While at the same time keeping your neck covered and giving you an extra layer of warmth. Investment in a good cashmere wool scarf is worth it. It will be light on your skin and look fabulous with day to day outfits. It is not necessary to go for only Burberry, H&M, or Zara, but locally made good stuff like chunky scarves can also serve your purpose.
Take a look at Perfect Winter Outfit For School/College Girls.
Although we are fans of chunky scarves, this light option is also a great one. This red scarf is gorgeous. The best part about this is that it is thin and minimalistic. You can hence wear it with any outfit without it feeling too constrictive. The fibers of such scares are very delicate and fine, so you must be careful while wearing it and only keep it for special occasions or holes that might show up in the fabric after just a few wears.
↓ 7 – Trendy Boots
When the weather gets wild, you won't have to worry about it. Boots of all kinds look insanely fashionable and keep you warm too. Select between the ankle boots, long boots, ugg boots, or knee-high boots, depending on your outfit. They can be worn with skirts along with high stocking and over leggings. The long boots shown below worn by Naomi Campbell, the true star of the fashion industry, show that these boots are made for those whose life revolves around fashion.
This year's most famous boots are ankle boots that are completely in fashion. These can work as formal shoes as well as regular wear. If you are a professional woman who has to attend many formal and business events, you must have a few ankle boots in different basic colors in your closet.
↓ 6 – Coats and Furry Jackets
A must-have accessory for all, either long ones or normal length, leather or fury, but to look classy and keep yourself warm, coats are an incredible staple in your wardrobe. It is one of the compulsory outerwear in winters. This suede brown coat is great for formal wear and professional women. This coat can be paired up with all kinds of outfits and colors like basic ones and florals. The matching of the long boots, thick scarf, and stylish coat is really the winter definition!
This furry jacket would be a must-have if you were a fan of the classic chick flicks of the 90s and 2000s. In those movies, every main character had a jacket like this that made them look not only cool but also really gorgeous. And these jackets are still in fashion today! So it would help if you got your hands on it for regular use and for going out with your friends.
↓ 5 – Warm and Cozy Sweaters
The knitted outerwear is not only comfy but keeps you stylish in winters as well. Be it oversize sweaters or casual sweaters; they add a bing to your outfit. Simple cardigans, as well as sweater dresses, are in this season. No need for extra layers if you put on a sweater dress. This winter, looks classy by wearing a sweater dress with some more style. You can add extra layers if you want to, but this not necessary all the time. For a more formal look, a blazer or Animal print coat can be a great pick.
The sweater dress shown below is one of a kind. The color is really pretty and pastel and is a refreshing change from the traditional dull colors seen during winters. The turtle neck adds to the class of it, and it is definitely one you should consider. Even if you don't want to wear a sweater dress, you can go for a traditional turtleneck with a blazer for business events that you might need to attend.
We have put in this basic sweater outfit to show you how you can look gorgeous with minimal effort. Just a basic sweater with some jeans and high platform heels is all you need to look stylish. So what are you waiting for?!
↓ 4 – Fuzzy Slippers and Sandals
This next option is something that is cute and comfortable. These fuzzy slippers will make your daily life comfortable, warm, and oh so adorable. Who doesn't love a few soft shoes that they can wear daily and stay happy? That's right; everyone loves it. And this is how you can achieve that dream.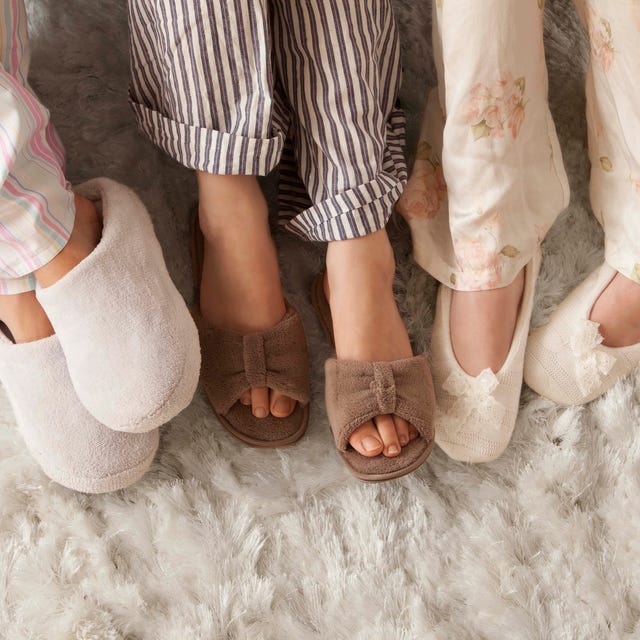 And do not think these slippers are for use inside the house only. You can also wear them outside, as you can see below. These fuzzy sandals are highly in fashion these days, and you can easily get them at any store like h&m and forever21. You can pair them up with any everyday outfit, keep your feet warm and also look amazing!
↓ 3 – Fashionable Gloves
Gloves are something that screams class and grace. They keep your hands safe from dust while this way, your fingers won't freeze when you're texting in frigid temperatures. You can add jewelry if you want to look more trendy with gloves as well, e.g., rings and bracelets.
Leather gloves are great for biker girls, or even if you want to style yourself like one. Leather gloves give a very rad and savage vibe. They will help you show your true personality if you are someone who is bold and fierce.
You can go for traditional woolen gloves as well. These will keep you warm and can be easily bought from any store around you. You can also make them for yourself by following a simple youtube tutorial! It won't just be a fun activity to use as a pass time but will also get you a gorgeous pair of new gloves. Get these in many colors so you can match them with different outfits and always look out together and sophisticated.
↓ 2 – Leather Pants
These tights keep you warm and look extremely stylish. Leather Tights are very much in fashion nowadays. These can be used in both casual and formal outfits with a fashionable look. You can pair them up with some ankle boots and a simple coat to look lavishly pretty. You can also put on a dark lip color to truly capture the spirit of winters. This look will be ideal for date nights that can get harsh and cold. Curl up your hair slightly to give yourself that no effort perfect look, and you are all set!
You can also wear them with a simple sweater and a pair of flat pumps. You do not need to do much to style them, just let your hair down in natural waves and put on a few small pieces of jewelry like earrings or a simple pendant.
↓ 1 – Cute Winter Socks
How can one forget to wear socks? Obviously, nobody, but this is not necessary to wear them conventionally. You can wear long socks that go up to your knees to keep not only warm but also look amazing. You can wear them at home with just a t-shirt to stay comfortable, especially on the weekends when all you and your significant other want to do is stay in bed.
Or you can wear them with ankle boots when you go outside to keep warm and make it seem like you are adorning some stunning long boots. These will work well with the sweater dresses that we mentioned earlier, or even a skirt if you are enough of a daredevil to wear a skirt during winters. Add in a few accessories like sunglasses, and you will all set to blow everyone away!
Frequently Asked Questions
Q.

What are the best pants for cold weather?
A.
Pants are generally the best thing to wear in winter, much better than skirts and shorts, for obvious reasons. But certain pants are better than others in combating the cold. Leather pants specific are great for this purpose as they do skin tight and do not let any air in. They will keep all your heat trapped inside and keep your warm and toasty.
Another great idea for pants would be sweatpants with fur lining on the inside. These are not only comfortable and soft but can also look fashionable if worn right. We know most people think that sweatpants are only for home, but we disagree. We have seen recently how people have made sweats part of their street style, including celebrities like Kylie Jenner, as can be seen below.
These are some options you should definitely try out!
Q.

Do thermals actually keep you warm?
A.
Thermals worn as undershirts are very effective at keeping a person warm because they help create an insulating air pocket, which is what really keeps you warm when it comes to clothes. So wearing a thermal shirt or leggings can keep the cold away by trapping air between the skin and cloth to create a natural insulator. You can even wear thermals on the outside as regular leggings and t-shirts if you want. Just make sure you style it appropriately.