Cute Pink Outfits- Teenagers have a hard time choosing the perfect clothes for themselves especially girls. They have a very tough choice when it comes to picking up the outfit. about their fashion choices. How to Wear pink and what to wear with pink  is an essential subject to know. This article will bring some great ideas how to make a perfect outfit combination Using pink .From pink top , pants , shoes , accessories you can style them with other colors to make a perfect feminist look.
Talking about pink outfits, there are several kinds of outfits available in the pink color. They can be worn with jeans, shorts, skirts etc. You can buy versatile pants or bottoms. In summers, floral skirts can look even more chic with a pink shirt. Every girl wants to wear the perfect combination of clothes. A high waisted short would also look absolutely amazing on a pink top. Embellished jeans are in fashion too. You can add these to your wardrobe and look absolutely gorgeous. Apart from tops, short frocks with leggings would look great.  For a casual look, you can wear baggy pants and t-shirts.Must see these 20 unique and amazing mobile accessories for girls.
Buy tops that look good on you. Not all kinds of shirts look good. A nice flowing top with jeans would do good. A multicolor necklace would look beautiful when working with a pink outfit. This will add more charm to the look. Whereas if you plan on heading to a formal party then you should own formal dresses. A long dress would look great on a tall girl. A pair of heels would look classy. This will be a perfect look for a formal party. Have a look at the pictures of these 20 dressing combinations. We are sure that you will definitely love these outfits. You can try all of these looks on yourself and look elegant and stylish.
Romantic hairstyles that go perfectly with pink outfits
Ways to Wear Pink Outfits/Accessories
A beautiful Pink bodycon Dress by Bebe. This is a perfect look for a spring date. You'll also love the use of Red and Pink Combination – How To Wear a Red and Pink Outfit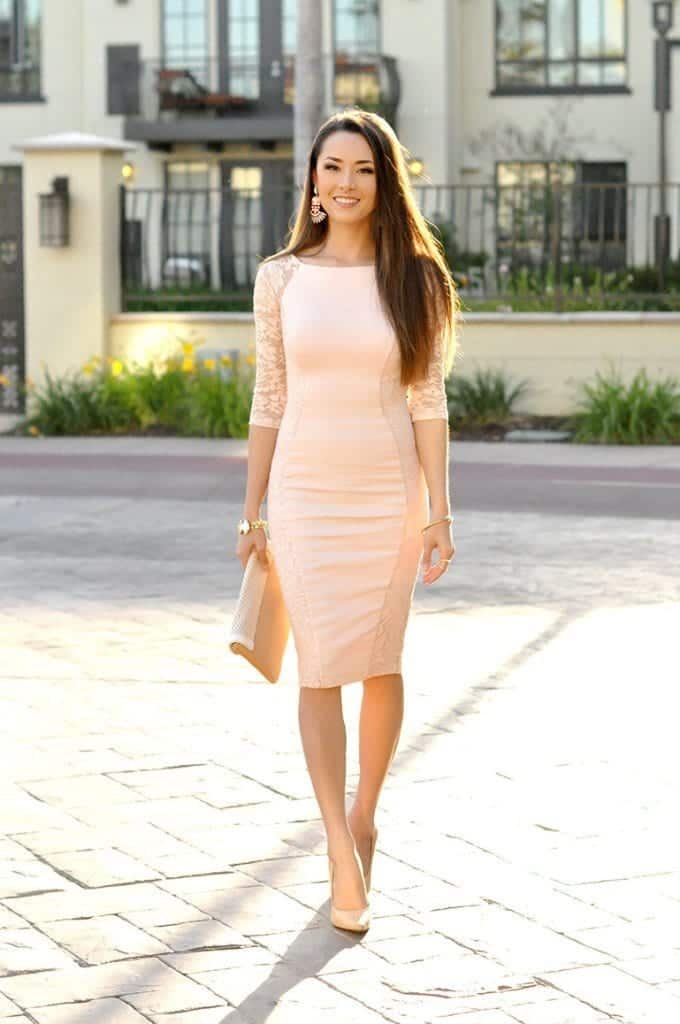 Simple Casual Look with Pink Sneakers.
For more inspiration on unique tops to wear with your pinks sneakers, check out How to Wear Bandeau Tops-20 Cool Styles to Wear Bandeau Tops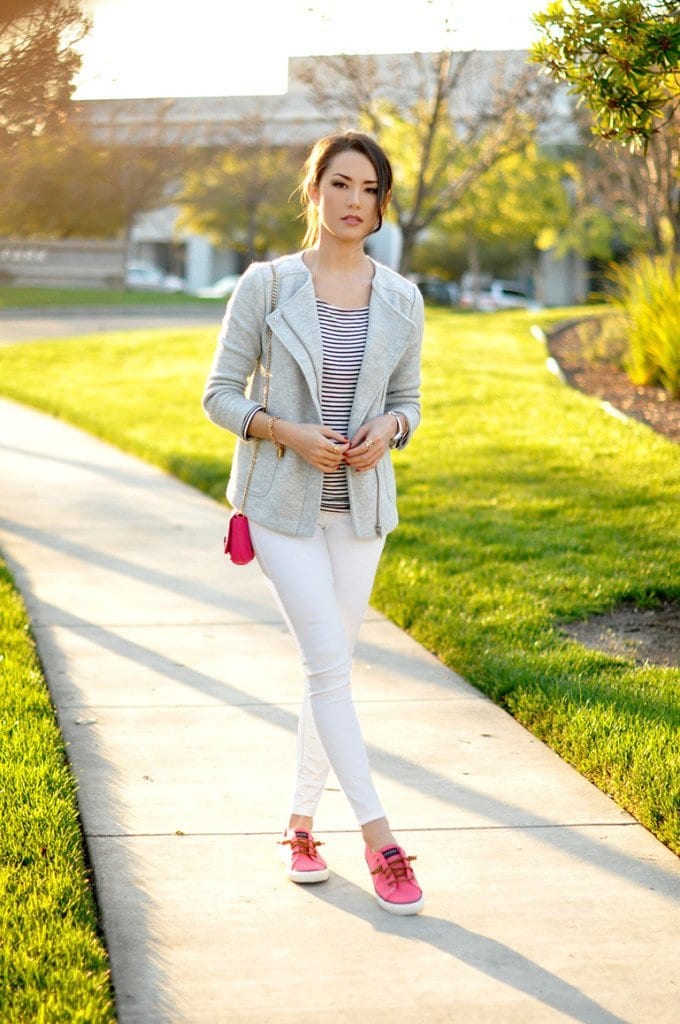 Winter pastels with Light Pink Coat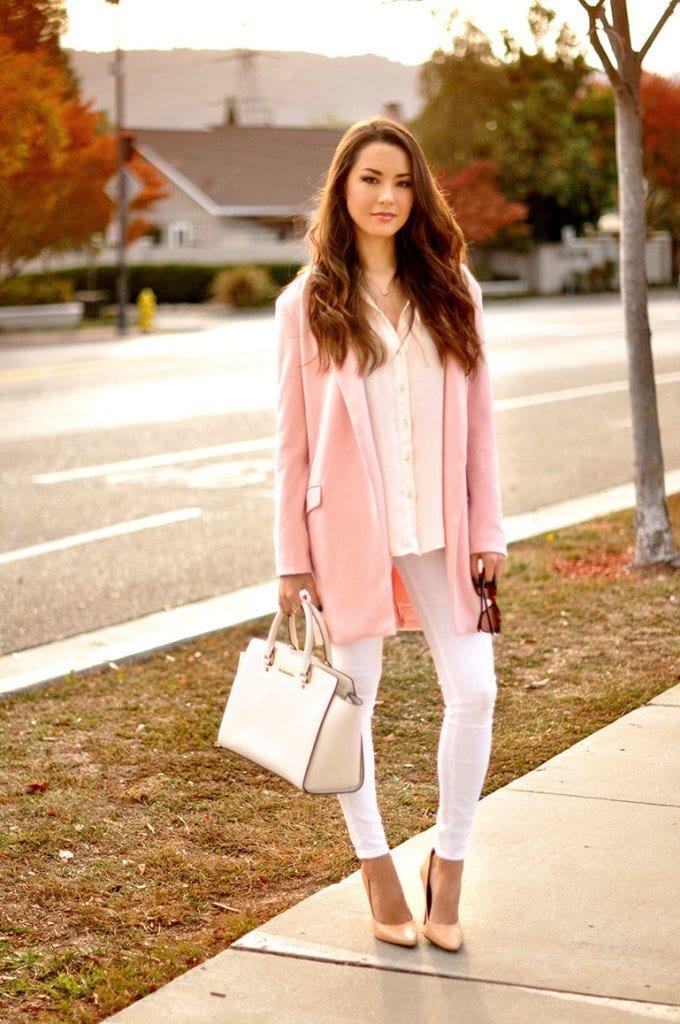 Winter Outfit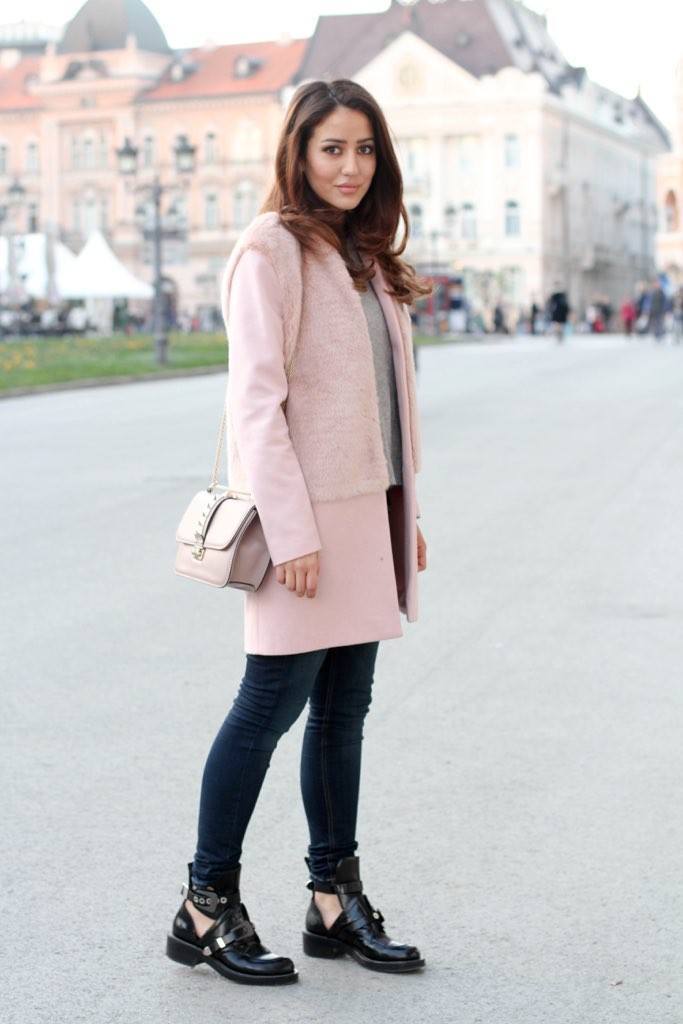 Summer Party Wear with Pink Skirt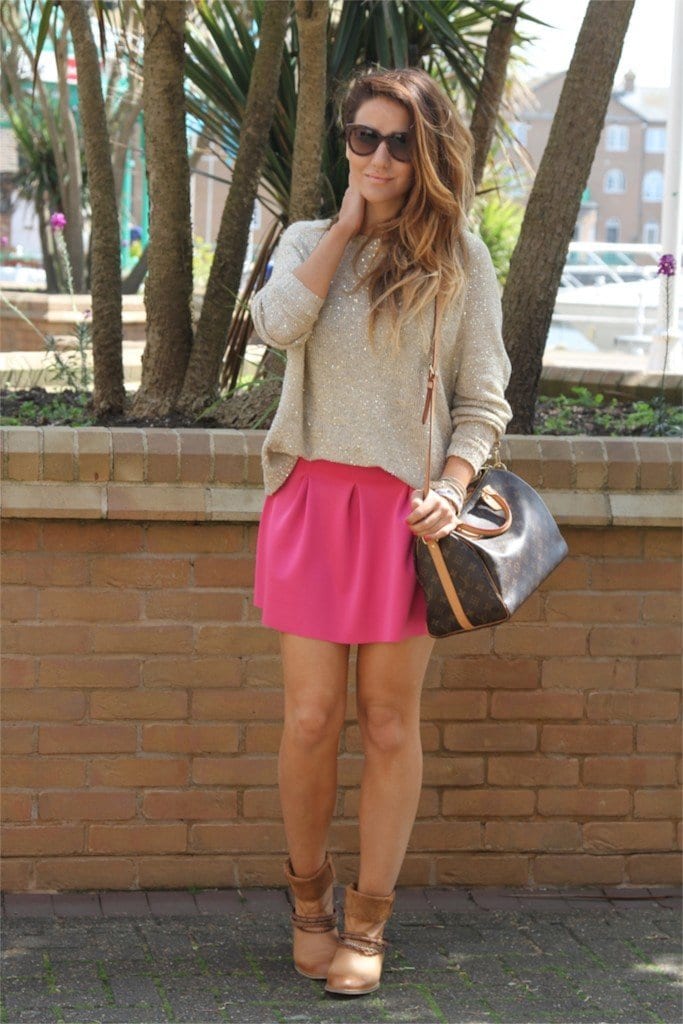 Funky Look
Pink coat being worn over a simple shirt, .so chic and funky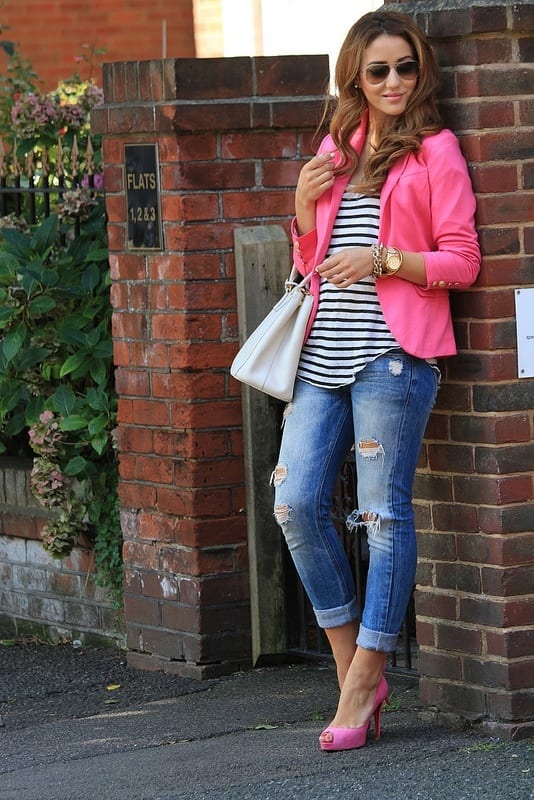 Ideal Pink Dressing Combination for Holiday Travel
Polyvore Outfit  for a formal party in Pink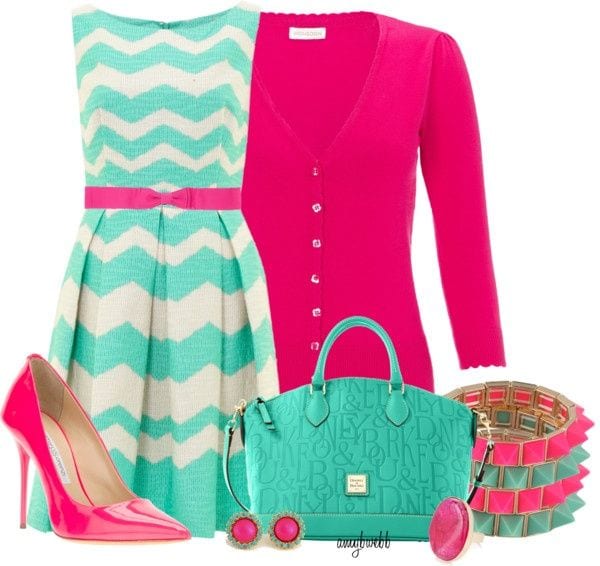 Here are some jeans and a top combination with heels, that would look good on girls and women of all ages: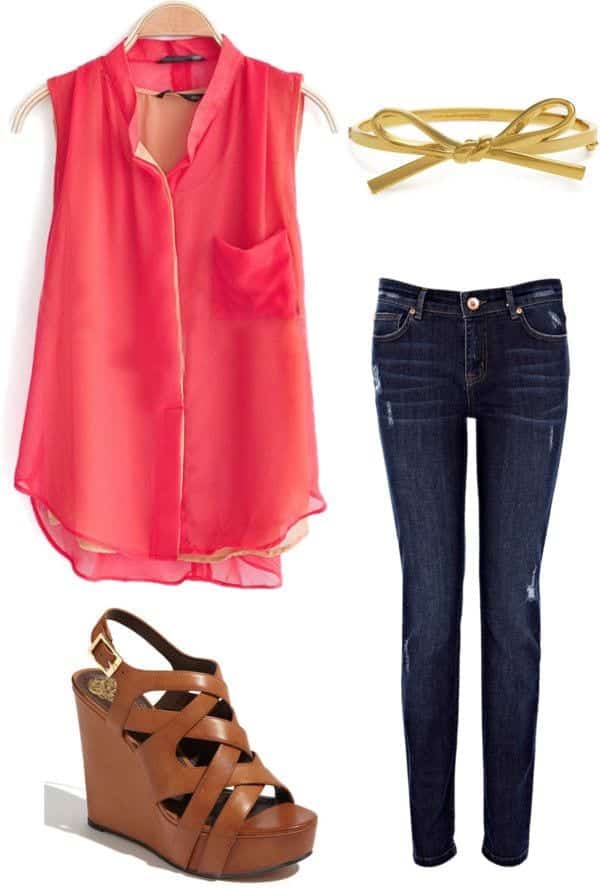 Perfect wear for a girls day out. Very trendy and classy.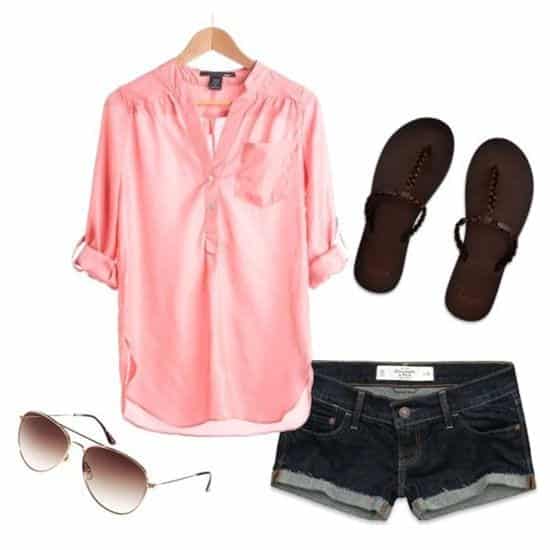 Shorts and top combination for casual day out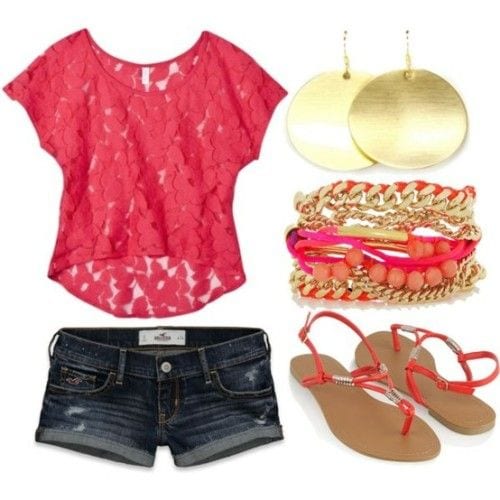 Summer Look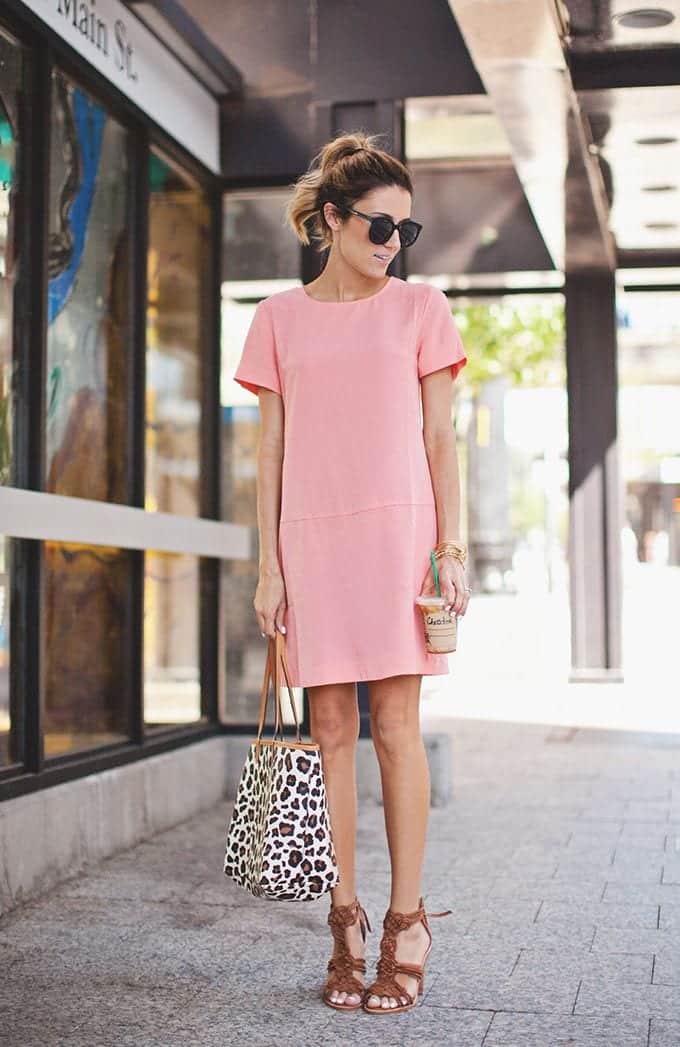 Knee length tees are the perfect thing to be worn in this summer. For the best combos try going for something that is out of the box. For example, you can go for pure baby pink colored knee length tee and then match it with brown colored heels and for the bag, how about a leopard print tote bag? This outfit is perfect when you want to keep your dressing casual but hot. This outfit idea is also considered as the last minute outfit idea for parties or get together. When going out to meet you friends or even when going to college, this outfit can be your ultimate life saver when running late.
Jewelry is must wear with any outfit.  Necklaces look very pretty and can be bought in any color. There are a variety of different styles and colors available. A nice statement necklace really adds charm to any pink dress.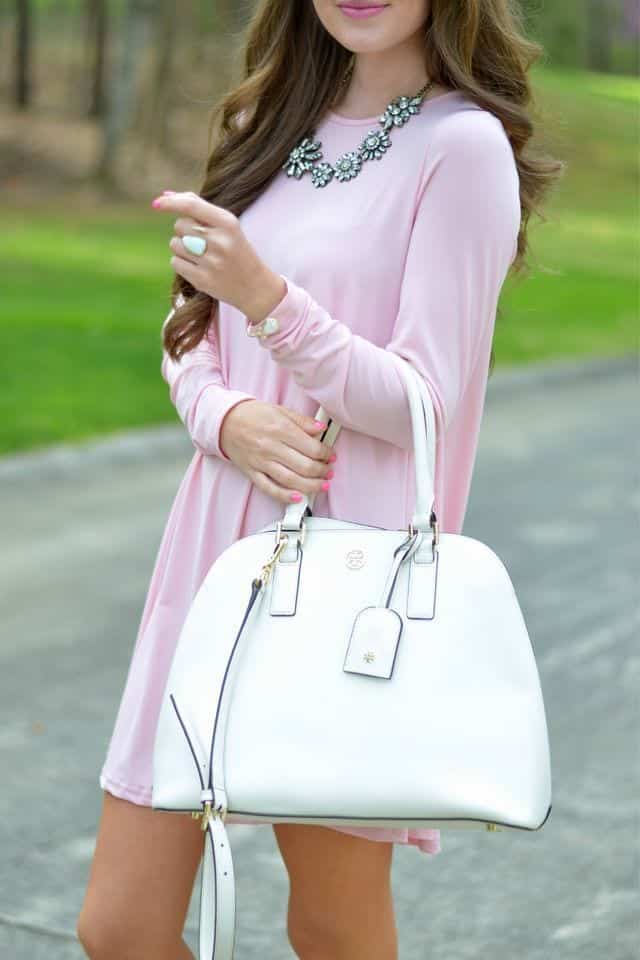 Stunning pink sweatshirt over jeans. This looks stylish and decent.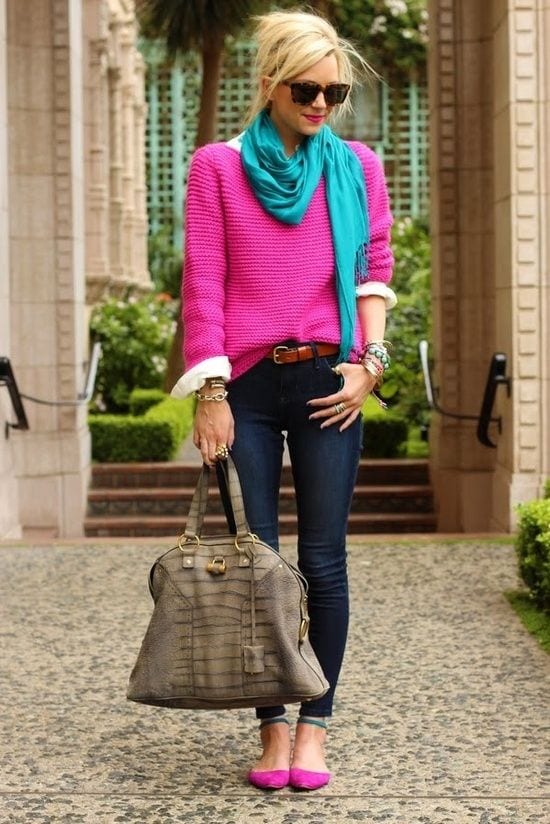 This outfit idea is perfect for Fall/Autumn season. For this outfit idea, all you need to do is go for classic blue skinny jeans and then wear a loose pink colored sweatshirt over it. If you think that your sweatshirt is too loose then you can tuck it in ever so slightly from the front area to give it some shape and style. For the jewelry, make sure you wear chunky jewelry. It is always a good idea to go for contrasting colours, so for this outfit you can wear a contrasting colors scarf. For example, you can wear a blue or yellow colored scarf for an extra pop of color.
Pink Shirt with Long Boots
Here's how you can wear long boots, even in the Summer season. A simple Pink shirt over skinny jeans. Boots really are the star of this outfit. If you love pink as much as we do, then don't miss out 15 Cute Pink Accessories Every Girl Needs To have These Days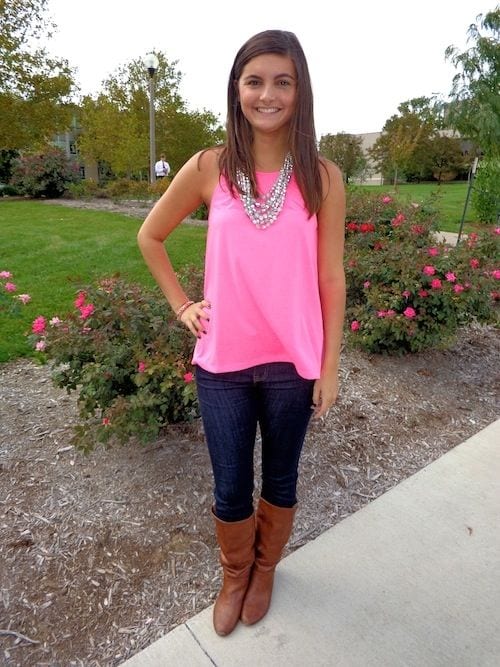 Beautiful floral coat worn over a pink short shirt.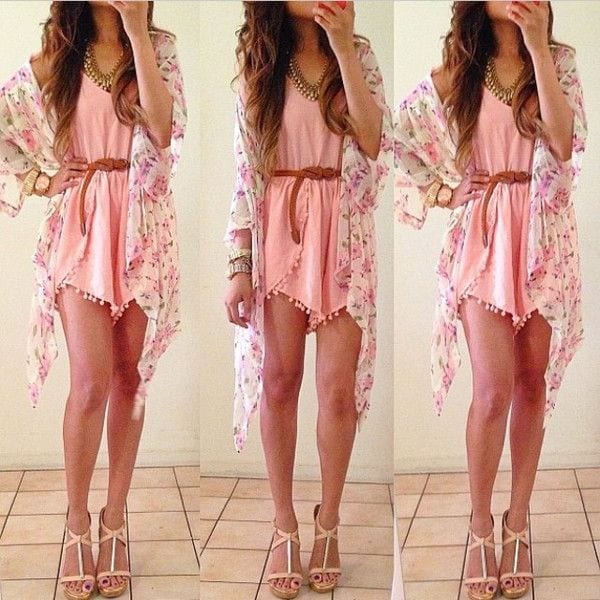 Attractive Work Outfit Idea
Here is a gorgeous work outfit for summers, because Summer fashion is simply incomplete without pink shirts and skirts. So if you're looking for a new office look, then this is something definitely worth trying. For the complete guide on shoes to wear with skirts, check out our post on 20 Recommended Shoes to Wear with Skirts of Different Types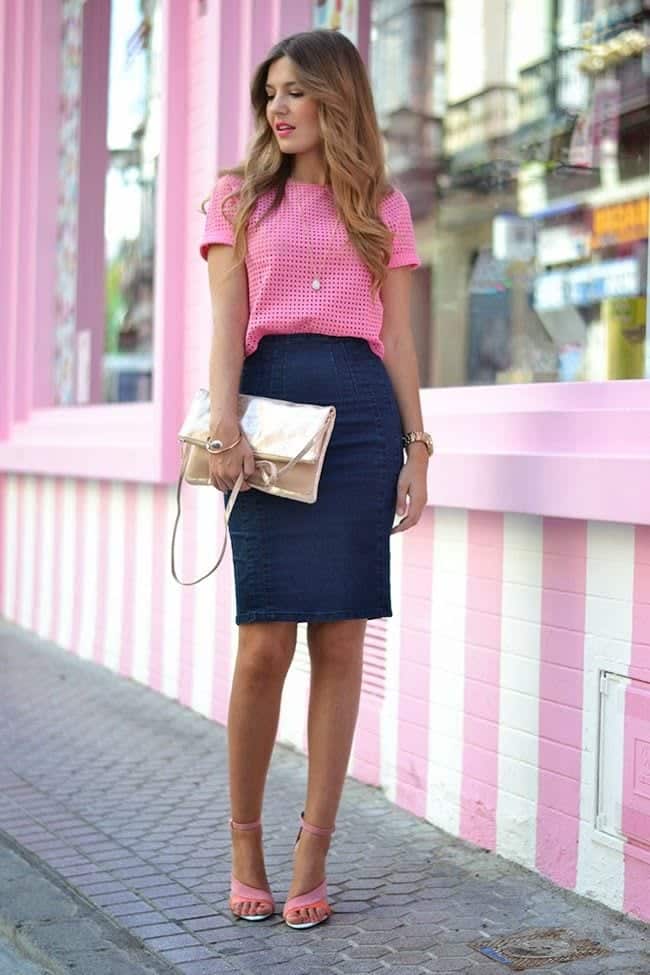 Scarf worn over a pink shirt looks beautiful. A teenage girl can totally pull off this look. You can also add your own creativity by adding a cool printed scarf on over your tee for a little bit of extra color in your whole outfit idea. The turquoise and pink scarf used here creates a really mesmerizing effect.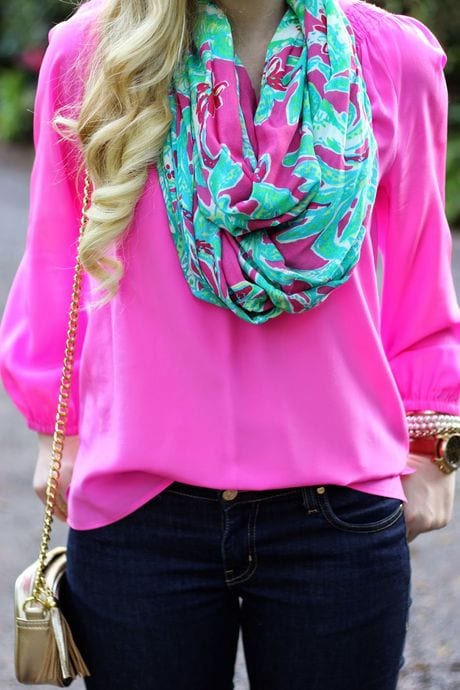 How gorgeous is this boho shirt paired with pink shorts. A chic and comfy look for all the adventurous and travel-loving girls out there.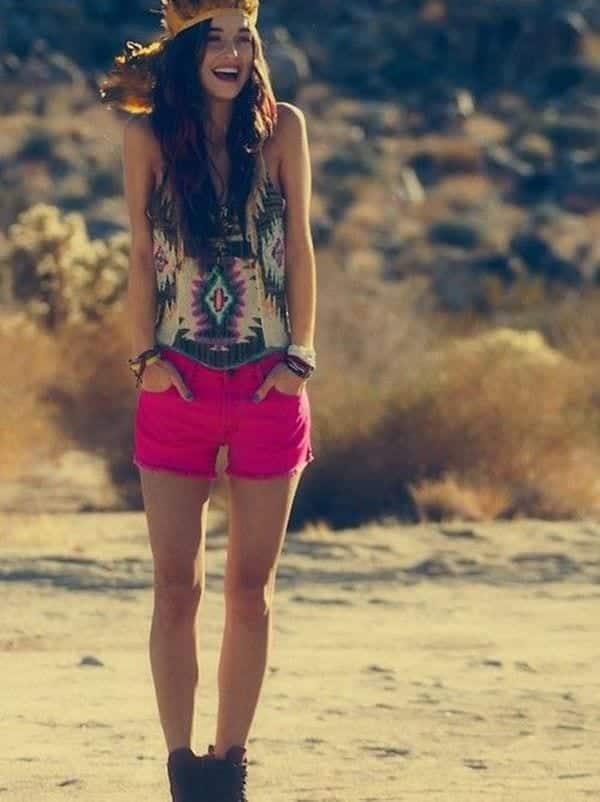 We hope these tips will help you pick your favorite outfit. Pink is a color that looks good on any girl or woman and you can never ever go wrong with pink.