Casual Outfit Ideas for Teenage Boys. It's not only girls who like to look good in what they wear, some guys like it just as much to dress up in something classy and cool. So this article is just for you guys out there who are looking for casual styles to try on for any day or night.
Those who think fashion and styles are only hard for a girl could have never been more wrong because guys have it tough too. But not for long because we gathered the best 20 casual outfits for teenage boys. So keep reading and find out which one you'll be trying out first.
How to Dress Casual for Teenage Guys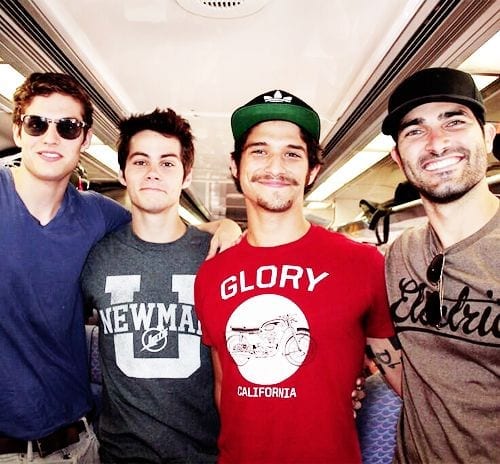 Let's start with some teenage style tips for guys which will guide you on how to dress for school or college.
↓ 20. Black on Black Swag Outfit
A plain old black t-shirt paire ith a black skinny jeans is the best casual outfits for all time. Not to mention how comfortable t-shirts are, specially on a hot sunny day. And we're just saying that a black t-shirt never goes out of 'style', see wheat we did there? *wink*  (Hint: Harry Styles). RECOMMENDED: Jeans for Skinny Guys-15 Perfect Ways to Wear Jeans Skinny Guys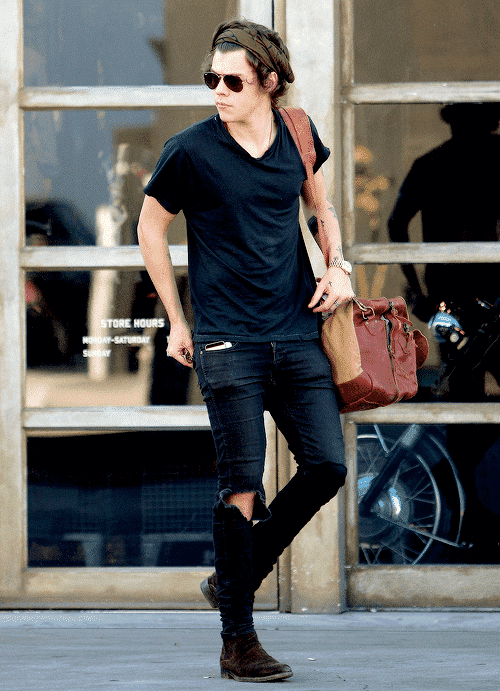 Via
↓ 19. Leather Jacket for Teenagers in Winters
Two words, one thing that every boy should own. A leather jacket! It doesn't matter what outfit you're wearing once, you add a leather jacket on top, it takes you to another level. Mostly you can wear a t-shirt underneath and pair it up with your favorite pair of jeans. Doesn't matter what part of the day it is or where you're heading, you'll look like a rockstar.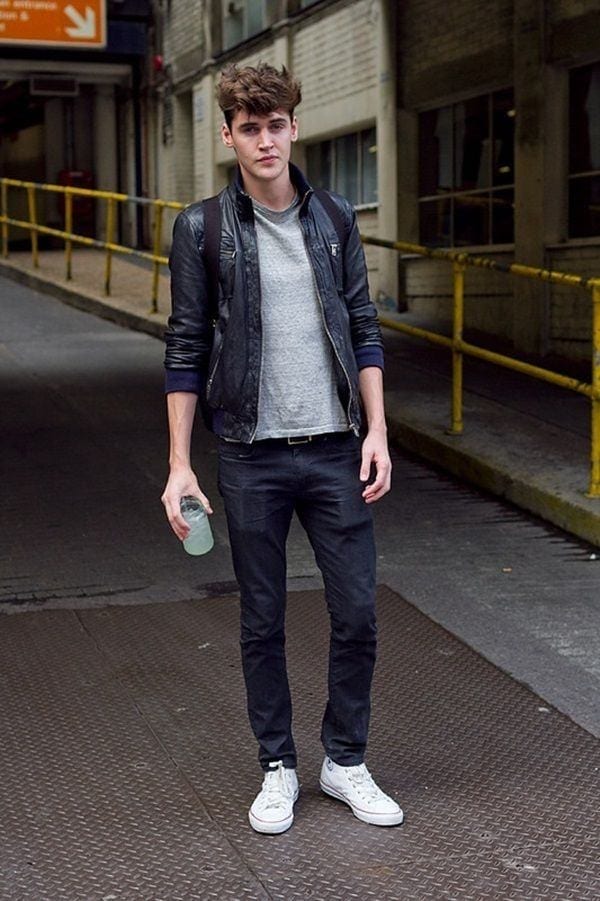 Via 
↓ 18. Casual Spring Look
Floral prints are very pretty but what makes them even more pretty is a pretty boy wearing them. Boys out there who are willing to try on the daring look, this is your time and believe us you won't be disappointed. Dress it up with a decent pair of pants and classy shoes and there you have it.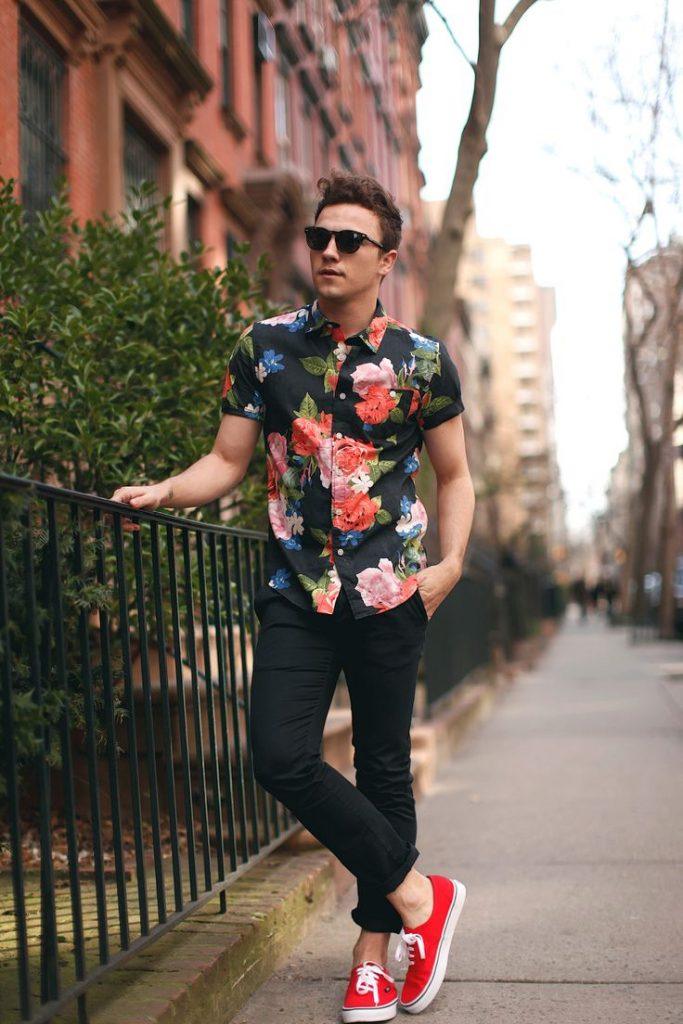 Via
↓ 17. How to Dress Casually for Work
Denims, you can never just have enough of these. Denim speaks casual style like no other style. You can wear a casual denim button down or denim jeans or you can wear them both and you'd still look great. Here are Hairstyles for College Guys-25 New Hair Looks to Copy in 2017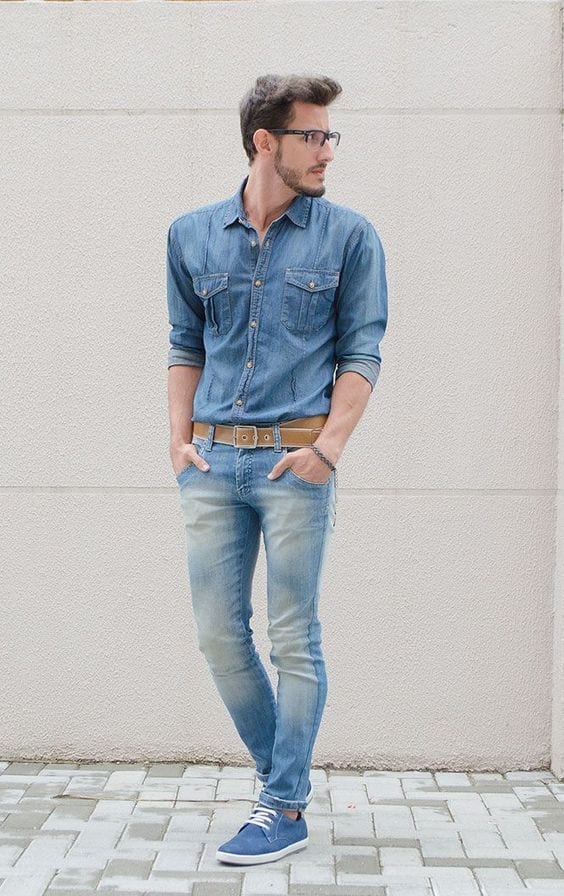 Via
↓ 16. What to Wear with Stripes
Another one of our favorite styles for teenage boys to try out is a striped shirt.  There are different types of stripes for you to try on, like bold and blunt stripes or fine stripes too. The most appreciated is the black and whited striped shirt, see if you can get one of those.
Via
↓ 15. How to Dress Casual on a Date
A little bored with the rounded collar t-shirts and want to try something different? We know just the one, V-neck! V-neck tees have always been around. A plain v-neck tee is just fine, don't bother looking with stuff written on it, that's just distracting.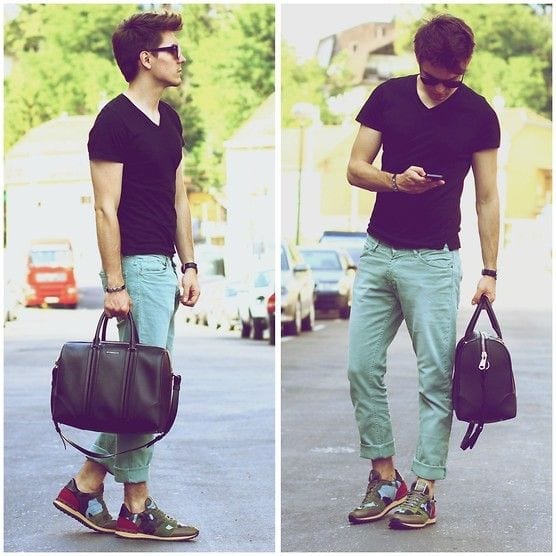 Via
↓14. Polo Shirts
We don't know what is it about a polo shirt and guys but whenever a boy walks around wearing a polo shirt, it's almost like there's a hole in out heart like a polo. Polo shirts were basically worn by polo players back in late 19th century, but now these days it's all about style.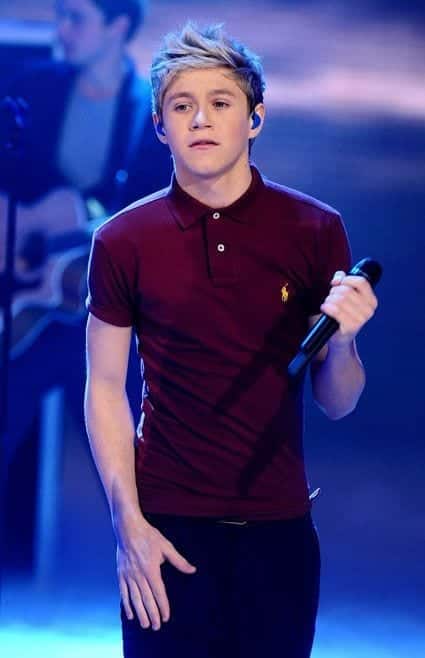 Via
↓ 13. How to Dress Casually at Home
Flannel shirts are all time favorite types of shirts for both guys and girls. They're so easy to dress up no extra attention is needed once you just put on a flannel shirt. And besides there are so many kinds of flannel shirts there that one will just not be enough. If you have some friends coming over at your place then this look is great for a laid back and casual but stylish look. RECOMMENDED: Best Jobs for Teenagers; 20 Ways to Make Money for Teens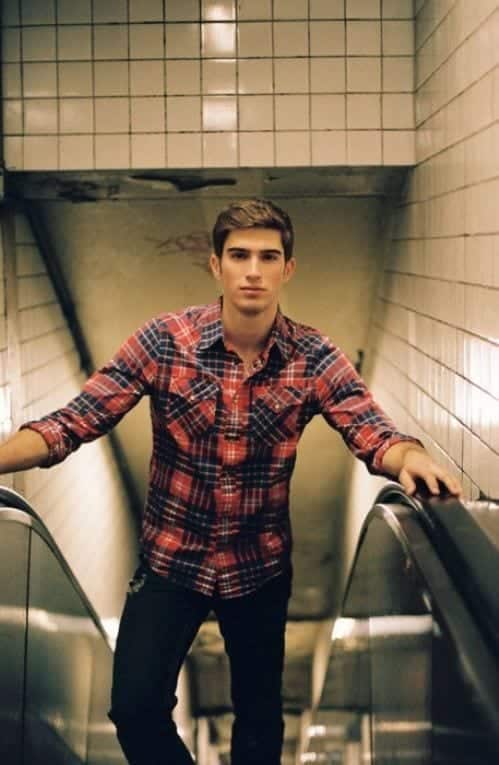 Via
↓ 12. Abstract Tees
Sometimes abstract art can be just what you a want. Nothing definite, just a simple shirt which looks good but doesn't have to mean anything. The style of abstract tees is very in these days, so join in.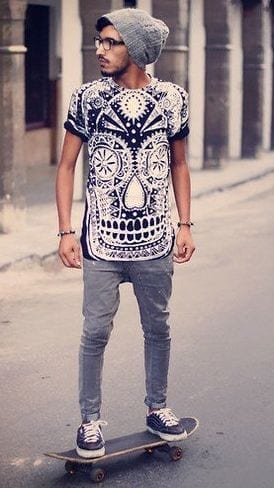 Via
↓ 11. Short Style
Summer are great for trying out shorts and summer 2017 is bringing you the chance to wear shorts in different colors. You can either wear a a good graphic t-shirt with your shorts or you can also wear a polo shirt, looks good.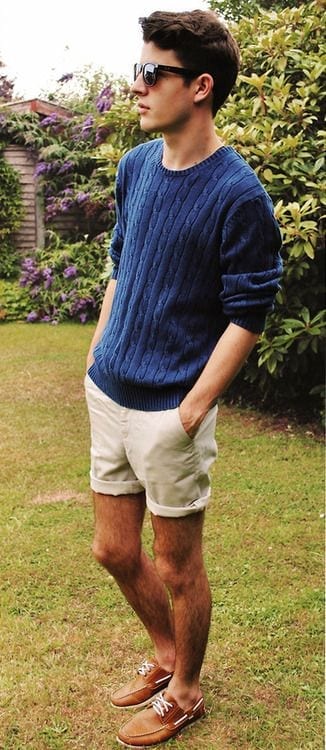 Via
↓ 10. Beanie Boss
Level up your beanie game and master the art of wearing a beanie because beanies are trending hard. Whether you're having a bad hair day or just wearing it for the style, beanies are there for you. Check out some awesome Clothing Brands for Teenagers-Top 10 Teens Fashion Brands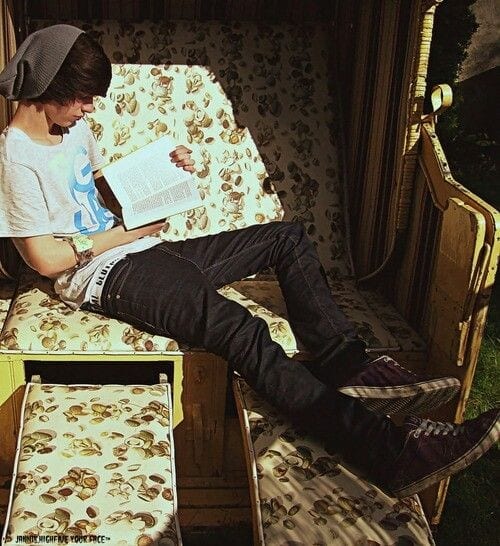 Via
↓ 9. Hoods Up
Hoodies are in style and trend all year round. A light hoodie made from a light fabric is perfect for summers and a little heavy one for fall and winter, because you gotta look no matter what season is it.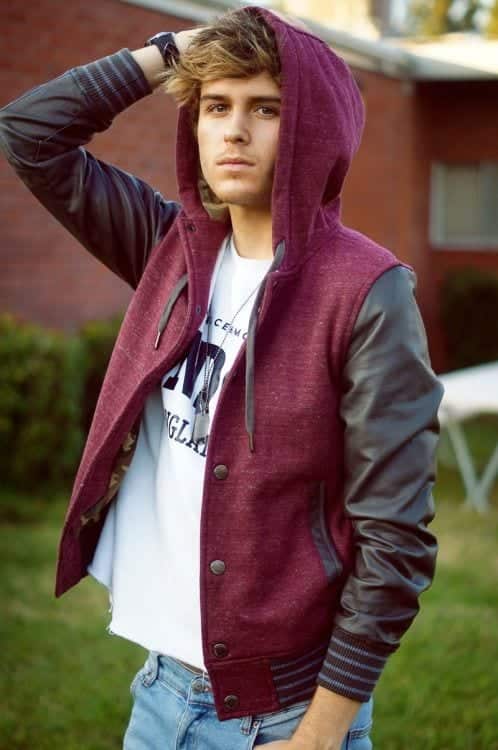 Via
↓ 8. Skater Boy Style
This look doesn't always requires you to know how to skate board, though it'll be a bonus if you know how to skate. But you can still try this style and look good anyway.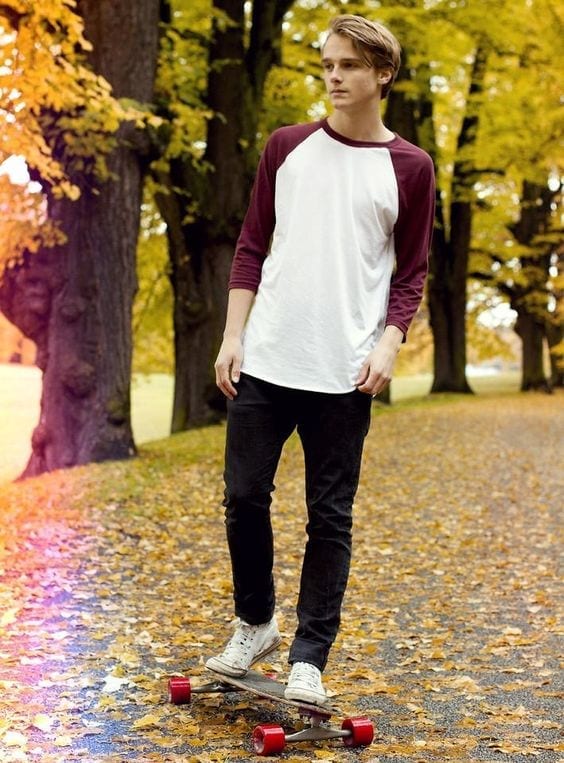 Via
↓ 7. Suspenders
Yes suspenders are finally back in fashion, and we love it. They were pretty casual in the olden days but looks like they are still considered casual yet classy. RECOMMENDED: Zayn Malik Outfits-19 Best Outfits Worn by Zayn Malik All Time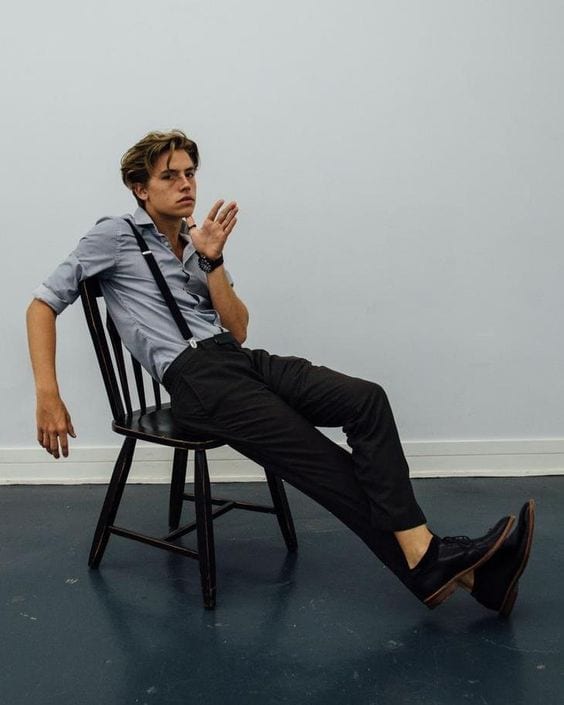 ↓ 6. Ripped Skinny Jeans
Ripped skinny jeans are kinda like our very old friends that we can never say good bye and we just get along with them very well and so does our every shirt, don't you think?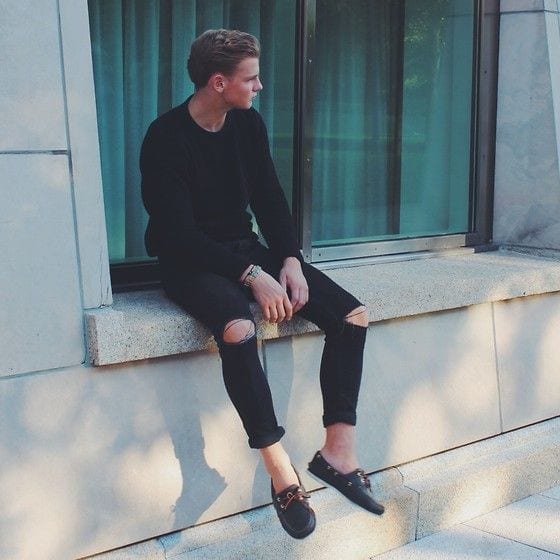 Via 
↓ 5. Boho Boy
The boho madness has gone kinda a long way but we can't help it, the boho prints are so carefree and relaxing that we suggest you at least own one piece of clothing with boho print on it.
Via
↓ 4. Overalls
The time to just casually wear overalls and instantly look cool is still not over. So grab your favorite overalls and get over there to rock it out. But remember to wear a shirt underneath, looks better. Don't miss out 15 Shoes for Guys with Skinny Legs–Footwear Ideas for Skinny Men
Via
↓ 3. Pocket on a Tee
A simple basic shirt's too boring for you? Not to worry, just get a shirt with little side pocket. We think it's casual and stylish.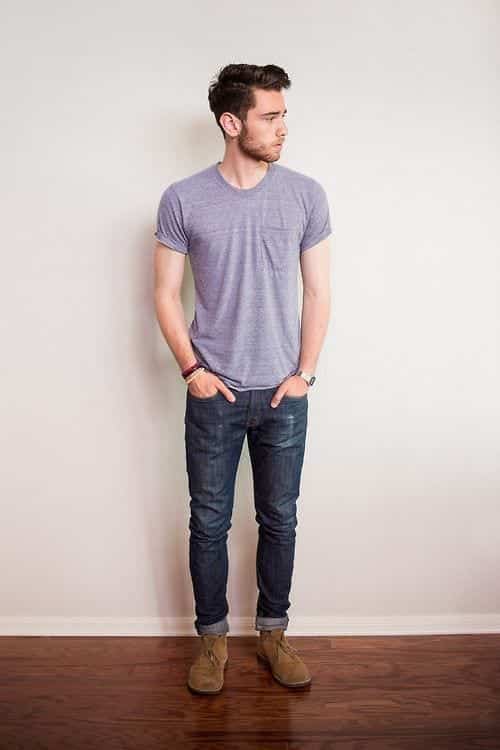 Via
↓ 2. Bandana Boy
Really want to play cool and casual? Wrap a bandana around your hair! No really trust us, it's the coolest!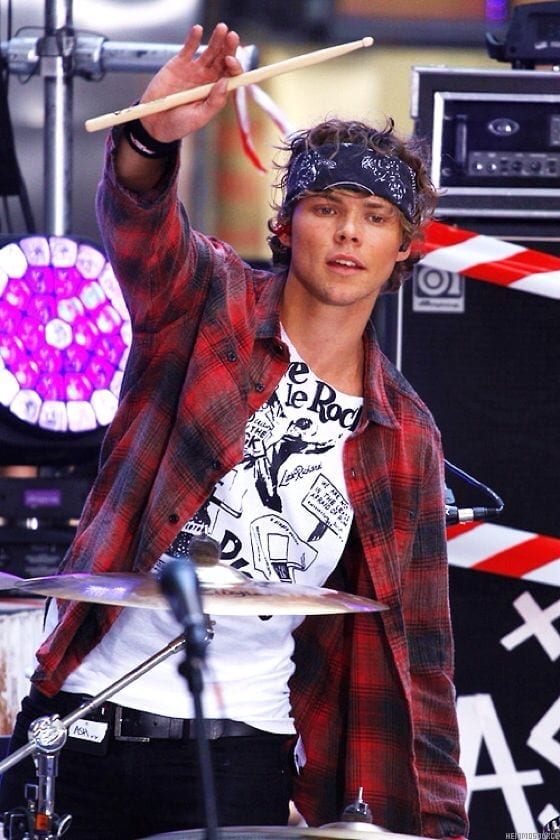 Via
↓ 1. Sweatshirt
And finally the casual-est of the casual styles for teenage boys, is a basic sweatshirt with a pair of jeans. Better if it has your name on it. Good luck boys.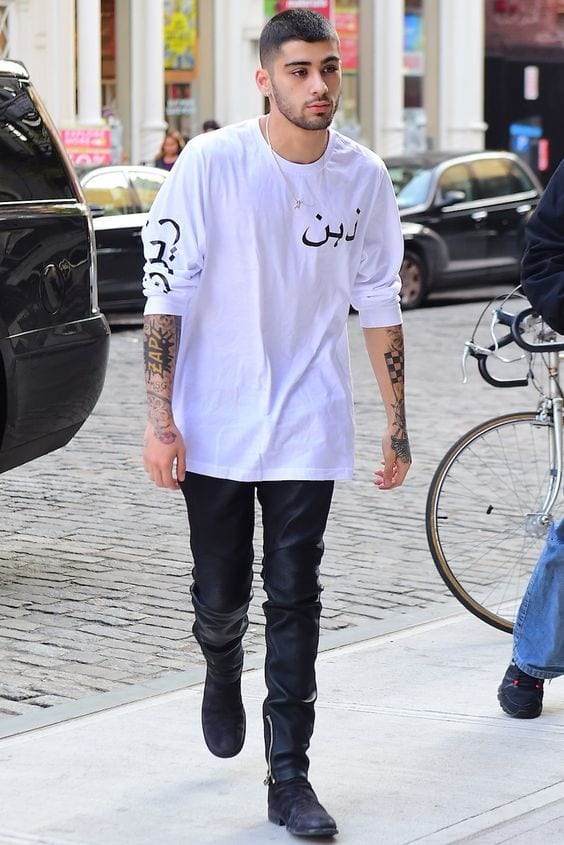 Via