Clothing Brands for Teenagers. Nearly all existing fashion brands and firms favor members of all age groups tremendously and will continue to do so. But there are some of the brands that have a prestigious identity of especially servicing the fortunate teen population.
So let us have a look over some of the coolest fashion brands that teenagers are immensely are crazed with the idea of, and includes them in their lifestyles very closely.
Where to shop for teenager's clothes?
Fashion has always remained a priority for teens. Teens, with the passage of time, are getting more aware of fashion and trends and they are struggling to spend more of their money for the sake of brands. It is very natural that most teens focus on how they look since it is really important for their image, reputation and most importantly appearance. You should also go through these New Hair Color Trends for Teens to Try.
In the contemporary world, there is an extensive list of brands that work up to the demands of the teens and fully satisfy their dire needs. According to a survey, most teens are obsessed with buying shoes as it is too attractive to have a decent pair of shoes. however, this does not leave other clothing items behind. Furthermore, in teenagers, fashion is the true way of expressing one's personality and teens for sure have to no matter what excel at it. Below we have made a list of all the most popular and top teenage brands which literally the teens are obsessed with:
# 17 – Rue 21
Rue 21 is basically an American retailer. Its origin is from Pittsburgh suburb of Warrendale, Pennsylvania. They excel at making casual apparel for both guys and girls. Teens are literally obsessed with this brand as it specializes in making apparel that satisfies their desires. they make outstanding pieces for teens, adults as well as kids starting from 11 years of age. They believe that through their design they can make you look not just astonishing but you will be able to show every definition of yourself. They have new styles for each and every one. Whether it is the feminine floral or the street fashion for guys, they ace it all.
They have an immense range for everyone ranging from tops to jeans, to dresses, to leggings to rompers to jackets to shoes to accessories and what not. For guys they have tops, shoes, jackets, shoes, men accessories like hats, cologne, jewelry, glasses, boxers, belts and so much more. A very massive range of choices for teens makes it their obsessions and they go crazy for this brand.
# 16 – Urban Outfitters
Urban outfitters is another American multinational lifestyle retail that is the favorite one-stop shop for teens. It is headquartered in Philadelphia, Pennsylvania. It has its branches and several countries including The United States of America, Sweden, United Kingdom, Spain, Denmark, France, Germany, Ireland, Belgium, Canada, Italy, The Netherlands, Israel and Pakistan. Urban Outfitters' main target is young adults like teens. They make such apparel for them for instance clothes, shoes, beauty products, etc that they can not resist buying those items. This company was first formed in 1970 however it was renamed Urban outfitters in 1976.
Their main motto is to inspire customers through their unique blend of creativity, quality along cultural understanding. Now it has become very popular that Urban Outfitters operates over 200 stores in the United States, Canada and Europe. Urban Outfitters now has home decoration items too like bedding, furniture etc under the label of UO Home. Ranging from tees to denim to backpacks, to swimwear to beauty suits, they have it all. They are sure of the fact that every time a customer pays a visit to them, they have designed something new yet trendy for them. They provide their customers with exclusive discounts and coupons too whether buying online or directly from their outlets.
# 15 – ZARA
ZARA is a Spanish fashion brand that is based in Arteixo in Galicia. This is an old brand which was formed in 1975. It has several other sub-brands too which include Massimo Dutti, Pull&Bear, Bershka, Stradivarius, Oysho, Zara Home, and Uterqüe. ZARA is the most popular brand and it is recognized worldwide. Due to such fame, it has been the favorite of most teens across the globe. It also has an online boutique for the ease of its clients. Their range is too exclusive yet extensive. Zara has been recognized nationwide because it had become the biggest retailer in the world to raise awareness for the Detox Campaign, and switched to a fully toxic-free production.
They simply believe in making apparel from Monday to Friday for you. They have outerwear, jackets, denims, dresses, jumpsuits, blouses, tops, sweatshirts, pants, skirts, bags and so much more. It is the favorite destination for a teenager in a mall because it simply has everything that a teen and an adult wants. For the past many decades ZARA has been successful in satisfying the requirements of its clients. Their creativity works wonders and inspires everyone.
# 14 – Ralph Lauren
Furthermore, it is not only widely known among guys but Polo Women is much admired by all the female teens too. For teens, Ralph Lauren has sweaters, dresses, handbags, etc. Ralph Lauren Corporation is a global leader in the design, marketing, and distribution of premium lifestyle products, including apparel, accessories, home furnishings, and other licensed product categories. They have maintained their long-lasting reputation for the previous five decades.
# 13 – H & M
H & M is the abbreviation for Hennes & Mauritz AB. It is a Swedish multinational clothing retail company. It is very well like in teenagers however it is favored by adults too. A very significant fact is that H&M and its associated companies operate in 62 countries with over 4,500 stores and has employed around 132,000 people. The reason why it is very popular among teens is that it is the second-largest global clothing retailer. It also gives online shopping facilities for the ease of clients in about 33 countries. The H&M group includes nine unique brands, united by common passions: to make great design accessible to everybody and to lead the way towards a more inclusive and sustainable world.
H & M offers its customers a wealth of styles and trends within fashion, beauty, accessories and homewares as well as modern, healthy food. They have also been successful in creating a convenient and inspiring experience for the customers. With customers around the world, they create large-scale demand for sustainable materials and circular solutions. Whether it is clothes or accessories most teenagers' first choice is H & M. Their style is truly super styling and each season brings out a brand new amazing collection for everyone.
# 12 – Adidas
Adidas is a multinational corporation, founded and headquartered in Herzogenaurach, Germany, that designs and manufactures shoes, clothing and accessories. Adidas is known as the largest manufacturer in Europe along with the second largest in the world. This is truly a blessing for it to attain such success for itself. Much popularity, fine standard and reputation make it the most favorite brand of teenage guys and girls and they are truly obsessed with it. Adolf Dassler is the founder of this company. Adidas' logo is three stripes, which is used on the company's clothing and shoe designs as a marketing aid.
Adidas has been employing 56,888 people from over 100 countries, and they produce more than 900 million product units every year and generate sales of € 21.218 billion. To become even more successful their plan is based primarily on three strategies which are speed, cities and open source. They make sports gear including sports shoes for all sports like basketball, football, soccer, skateboarding, workout etc.
# 11 – Forever 21
FOREVER 21 is an American fast fashion retailer headquartered in Los Angeles, California. It had first initiated in 1984 as the store called Fashion 21 with 900 square feet (84 m 2) in Highland Park. It is now proudly known worldwide for having about 600 stores in The United States of America, Asia, the Middle East and the U.K. Forever 21 is very trendy which is why it is loved by teenagers. It always puts up with the stylish trends of the regular day and embraces them with their wonderful creations.
#10 – Adidas
Although is it peculiarly recognized due to its epic shoe collection theme; it also has expertise in selling the best of the designs in clothing, that charges up the jock in any teenage girl or boy.
Here are the Best Fiction Books of All Time for Teenagers to Read.
#9 – American Eagle Outfitters
Apart from being an immensely reasonably priced clothing fashion brand, it also has a versatile collection of endless apparel choices that favor teenagers in nearly all clothing genres – classic, casual, formal and more.
# 7 – Charlotte Russe
Charlotte Russe – ever since its establishment has been been offering all teenagers with the best of ideas to glide on the hottest trends of fashion and clothing by keeping them updated. Never will you be lagging behind in fashion scope with Charlotte Russe.
# 6 – Diesel
Apart from manufacturing the most exceptional quality of jeans to date, it also masters in selling some of the classiest of footwear, sunglasses and watches; in short, it is definitely the king of accessories.
#5 – Gap
Gap has long been offering extensively classic attires and now has created a huge fan population in the teen crowd. If you are looking for cool, credible outfits that will last – then Gap is the choice to go for.
#4 – Hollister Co.
In the teen clothing global market, Hollister Co. is surely one of the brands that are growing at an infinite pace, because no matter what type of fashion you prefer, you are bound to find something that will go nerve to nerve with your fashion taste. So, do not miss out on this one.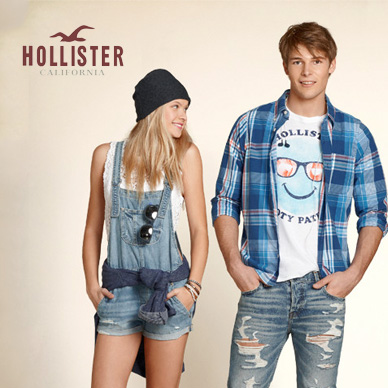 #3 – Nike
On number one of this list, we have placed Nike very appropriately. It is because Nike is an American multinational corporation that is engaged in the design, development, manufacturing, and worldwide marketing and sales of footwear, apparel, equipment, accessories, and services.
Nike's mission is to bring innovation and inspiration to every athlete in the world. Nike has such a class and fine standard that the teenagers too crave for it. It is based in Beaverton, Oregon. Nike is a very reputable brand and teens long for its apparel all around the globe. Nike is known as the first largest manufacturer in the entire world. Apart from being the most astounding sports brand, it also does provide endless means of class, style, and numerous chances of standing out due to the extravagant choices at hand – while you shop at Nike.
#2 – PacSun
They have the best-selling apparel for both girls and guys. It is the one-stop-shop for all teenagers and it is a definite stop when a teen lands in a mall. It is impossible to talk about all of their productions be it tops, jeans, footwear, accessories and what else. Even a simple piece of earring manufactured by this brand is too elegant and fashionable that it is a must-wear accessory for everyone. For over the past 30 years Forever 21 has seen various remarkable accomplishments which have made them grow gradually. Moreover, Forever 21 is the 5th largest retailer in the United States. It is a family-owned business.
One of the most unique ideas of a surf-inspired fashion brand, where teenagers can find numerous choices of clothing and accessories at their disposal. It has been rated in the fashion 2016 consensus as being the most progressive fashion brand to date and favoring teenagers all over the globe.
PacSun is dedicated to delivering an exclusive collection of the most relevant brands and styles to a community of inspired youth. Their range is simply just outstanding and the graphic tee shirts are the favorite items of teens because they can be made on orders too. Furthermore, the classy pair of shoes and jeans attract the attention of many. Each year they produce an astonishing collection which in fact is admired by the teens. The backpacks and sling bags are their style statement and teens love them.
#1 – Victoria Secret
Victoria Secret has now become a distinctive clothing line of fashion apparel from the lingerie brand Victoria Secret. This brand has been progressively favoring the teen market with chic outfits – of which all types are available from casual, formal and classic.
Victoria's secret is the first priority of all female teens when it comes to lingerie, women's wear and several beauty products too. Victoria's Secret is an American manufacturer, fashion designer and marketer. It was formed in 1977 and by this time it has become the largest retailer in The United States of America. Female teens are so obsessed with this brand that they love each and every tiny bit of it.
Victoria's secret has launched several branches all across the world. They work in almost all countries including Hungary, United States, Canada, United Kingdom, Italy, France, Spain, Portugal, Austria, Germany, Switzerland, Ireland, Poland, Serbia, Russia, Denmark, Norway, Sweden, Finland, Lebanon, Mexico, Chile, Argentina, Colombia, Brazil, Indonesia, Malaysia, Philippines, Japan, China, South Korea, South Africa, Egypt, Jordan, Israel, United Arab Emirates, Kuwait, Iran, Taiwan, Thailand, Australia, New Zealand and Singapore. Such an availability makes it very popular among women. Their sportswear, bras, lingerie, panties, sleepwear, beauty products like fragrances, body lotions, body washes, etc and accessories like bags, backpacks, cosmetic bags, etc are very widely liked and favored. You should also check out these Top 5 Most Expensive Lingerie Brands with Price Details.