Clothing Brands for Teenagers. Nearly all existing fashion brands and firms favor members of all age groups tremendously and will continue to do so. But there are some of the brands that have prestigious identity of especially servicing the fortunate teen population.
So let us have a look over some of the coolest fashion brands that teenagers are immensely are crazed with the idea of, and includes them in their lifestyles very closely.
Top 10 Fashion Brands for Young Girls
#10 – Adidas
Although is it peculiarly recognized due to its epic shoe collection theme; it also has expertise in selling best of the designs in clothing, that charges up the jock in any teenage girl or boy.
#9 – American Eagle Outfitters
Apart from being an immensely reasonably priced clothing fashion brand, it also has a versatile collection of endless apparels that favor teenagers in nearly all clothing genres – classic, casual, formal and more.
#8 – Beatrice Holloway
If you, in case have bright and cheery clothing preferences, then need not looking any further than Beatrice Holloway. Have your unique tastes fulfilled by its epic collection of cute outfits.
via
#7 – Charlotte Russe
Charlotte Russe – ever since its establishment has been been offering all teenagers with the best of ideas to glide on the hottest trends of fashion and clothing by keeping them updated. Never will you be lagging behind in fashion scope with Charlotte Russe.
via
#6 – Diesel
Apart from manufacturing the most exceptional quality of jeans to date, it also masters in selling some of the classiest of footwear, sunglasses and watches; in short, it is definitely the king of accessories.
#5 – Gap
Gap has long been offering extensively classic attires and now has created a huge fan population in the teen crowd. If you are looking for cool, credible outfits that will last – then Gap is the choice to go for.
#4 – Hollister Co.
In the teen clothing global market, Hollister Co. is surely one of the brands that are growing at an infinite pace, because no matter what type of fashion you prefer, you are bound to find something that will go nerve to nerve with your fashion taste. So, do not miss out this one.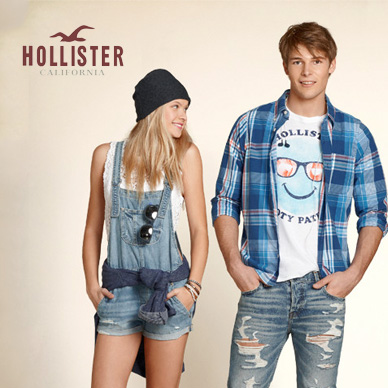 #3 – Nike
Apart from being the most astounding sport brand, it also does provide endless means of class, style, and numerous chances of standing out due to the extravagant choices at hand – while you shop at Nike.
#2 – PacSun
One of the most unique ideas of a surf-inspired fashion brand, where teenagers can find numerous choice of clothing and accessories at their disposal. It has been rated in the fashion 2016 consensus as being the most progressive fashion brand to date and favoring teenagers all over the globe.
#1 – Victoria Secret
Victoria Secret has now become a distinctive clothing line of fashion apparels from the lingerie brand Victoria Secret. This brand has been progressively favouring the teen market with chic outfits – of which all types are available from casual, formal and classic.