Hairstyles for College Guys- Last year there was a diversity seen in hair techniques used for men particularly. Slightly long tousled hair and designed hair and sideburns were the highlights of 2017. However, 2018 is the season of varied dying techniques like ombre plus it is an amalgam of both long and short or you can say mid-length hair.
The blow dryer look is still considered very appealing due to the crazy movement it gives to the hair but the slick back shiny hair is a no-no for 2018. More natural and fresh cuts will be preferred over the fancy ones.
The article, however, covers the 25 most stylish haircuts of the season which can be easily adopted by the teenagers and college going guys specifically. Let's go through these amazing styles.
 What Hairstyle to Choose for College This Year

#25- Retro Haircuts
The male vintage-ish styles are getting back with the additional mind blowing techniques as in highlights in gold, red and copper brown. The highlights are usually given to the length at the top while the sides are kept faded. The slick back look using the blow dryer which gives the flamboyant movements to the hair at the top is the classic style for the college goings. This style is perfect for proms and valentines parties as well.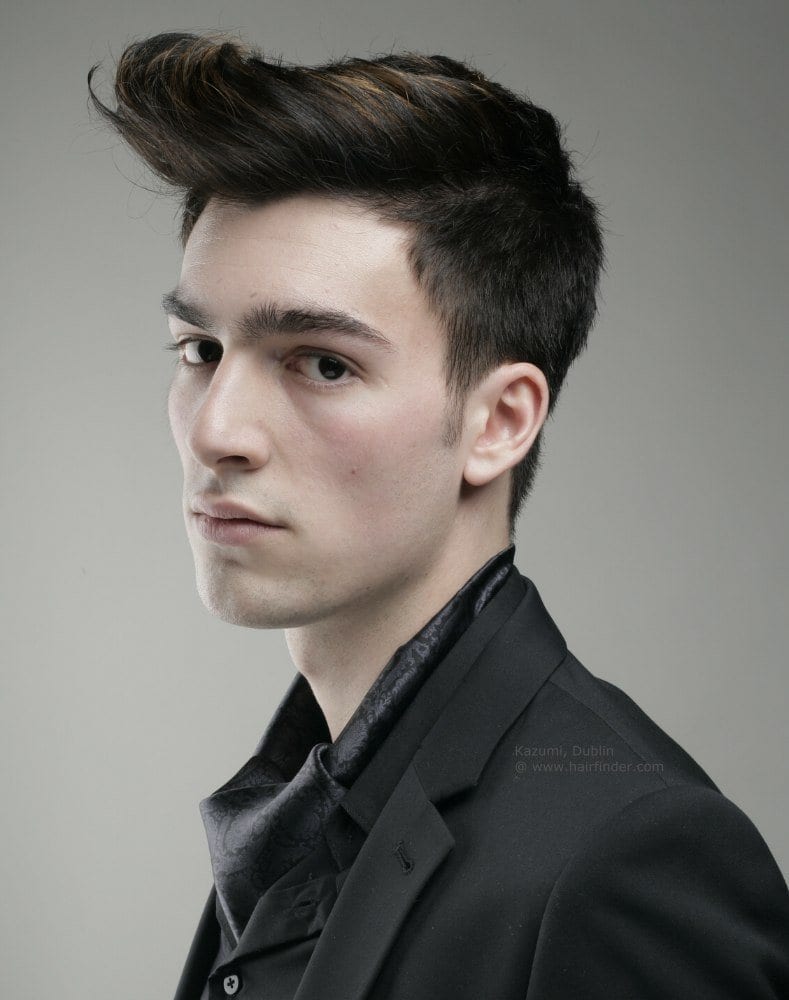 Via
#24- Forward Combed Style
The forward combed style can be adopted quite easily and it's a perfect option for those who have thin hair and a slim face. This cut is both simple and stylish at the same time and is quite famous among Asian and Japanese guys. However, this style works well only on damp hair, it will be difficult to style this way when your hair will get dry. As you can see, this hairstyle looks great with beards so do check out Celebrity Beard Styles-20 Best Celebrity Facial Hair in 2018.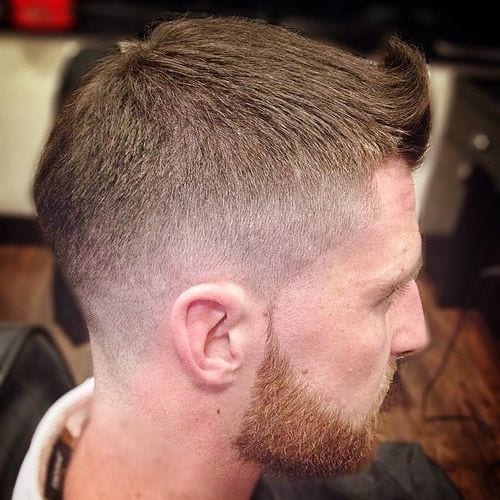 #23- Short Sides Long Top Style
Short side and the longer top is the highlight of 2018 due to the cheeky look. The ombre balayage dying technique works quite well for this style. Guys with silky and thick hair usually love this style. However, it's not that easy to keep this cut styled as in it requires blow-dry techniques as well as straightening for those who have curly or wavy hair.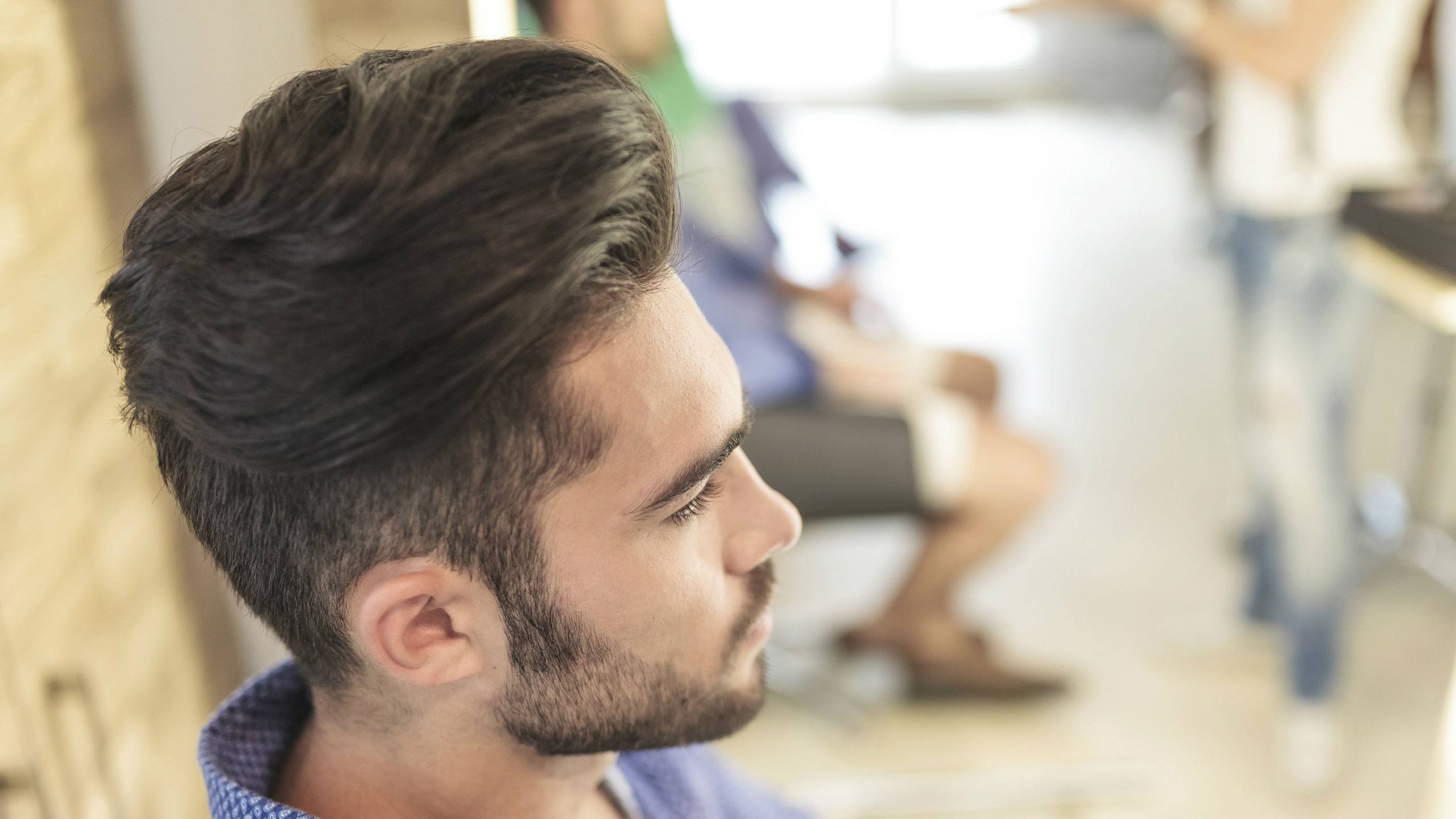 Via
#22- Braided Styles for Teens
The braided style is the most style favorite nowadays. It is specifically for guys who generally like to keep their hair slightly longer. They can carry the french or Deutsch braid styles as charmingly as girls do. It gives a very sexy and classy look when your hair are dyed blonde or the very popular granny style silver hair. RECOMMENDED: Cute Nerd Hairstyles for Boys; 18 Hairstyles For Nerdy Look
#21- Top Bun Style
Top bun style is very popular among celebs nowadays. Bradley Cooper, David Beckham, Jared Leto and many others have been seen with man buns. The man bun mania is taking over the hairstyles in 2018 since they give you a very steamy hot look and can go perfectly whether you're having straight or slightly wavy hair.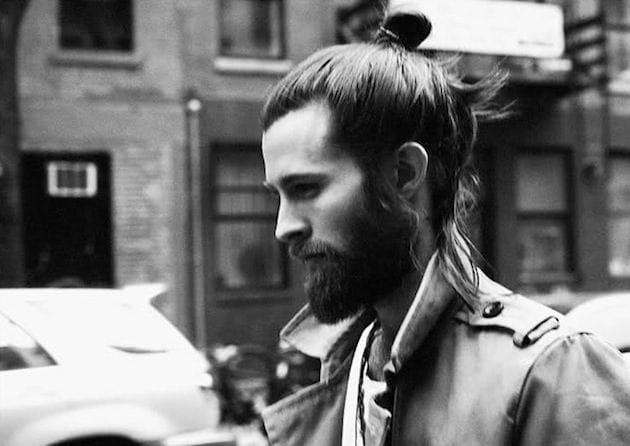 Via
#20- Long Curls Style
The textured curls style can be embraced by young guys pretty well. This style was long carried by Harry Styles and Jhonny Depp. It looks very classy and charming when copper high and lowlights are added to it. Sumowax by Bumble and Bumble can be used to give a frizz and to style your curls well.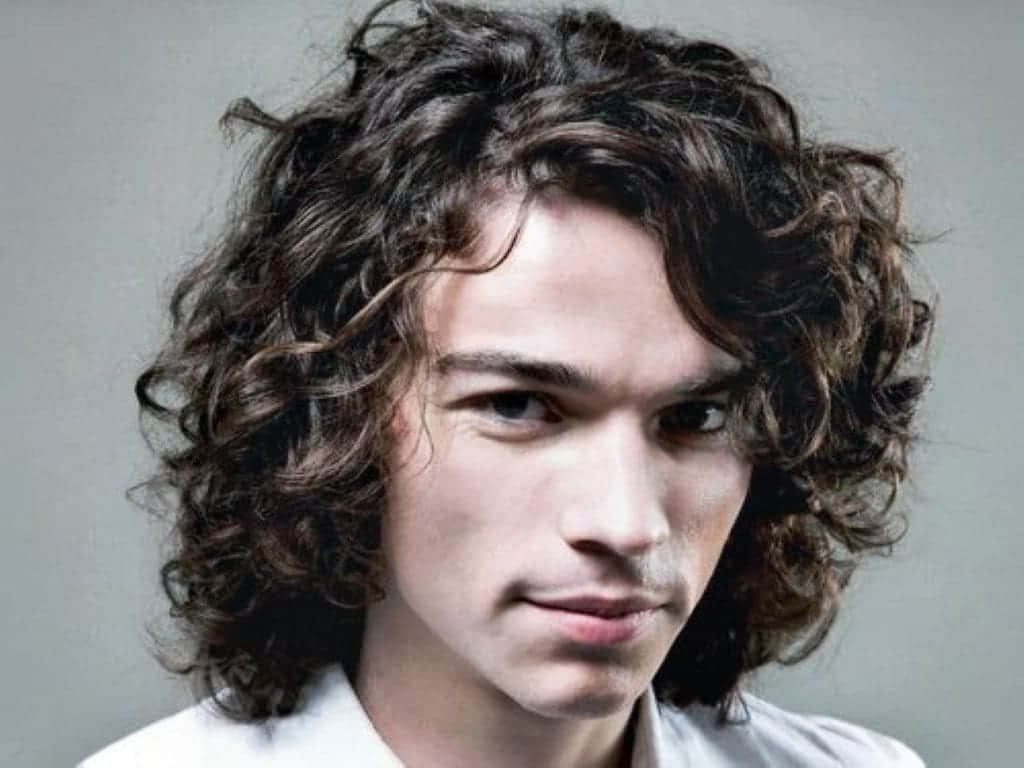 Via
#19- Cropped Fringe Style
The classic short angular cropped fringe style is quite popular among male models. College goings can also carry it in their own way. ADH Dry spray can be used for a better definition and volume. Fringe style goes very well with thin hair, however, guys with thick hair can have a textured look to add a little movement at the top.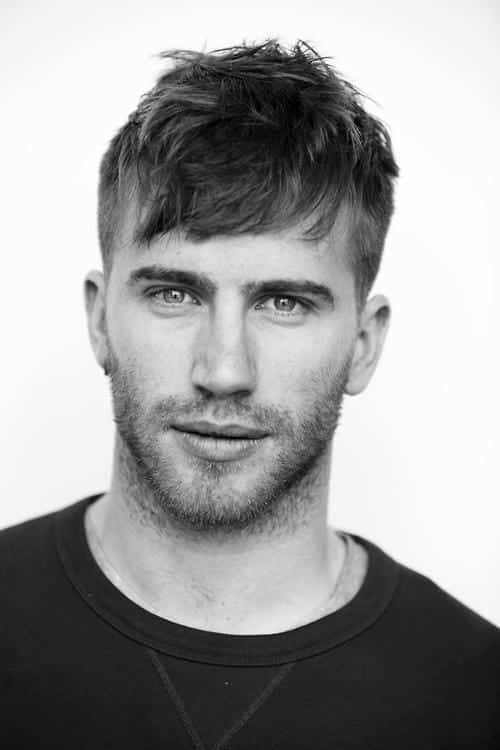 #18- Loose Pompadour Style
The loose pompadour style gives a very formal and enchanting look. Fashionistas like David Beckham, Zac Efron, and Justin Bieber were seen carrying this classic angular pompadour style with short sides. Pompadour blended with the undercut creates a very sexy look particularly if one is having a sharp face cut.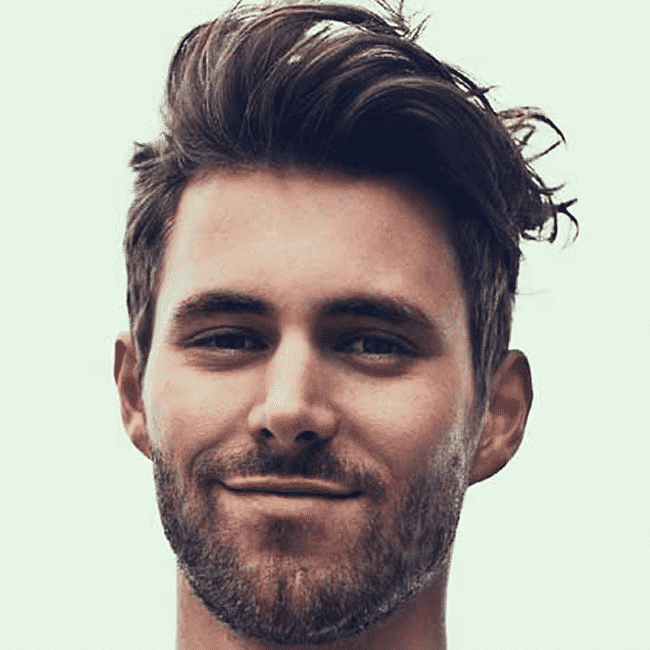 #17- Textured Quiff High Fade Cut
The quiff is one of the most sophisticated haircut techniques. Textured hair blended with quiff gives a classic contemporary look. Kevin Murphy Anti Gravity Spray added to blow dried hair is the ultimate look with high faded sides. Do have a look at 48 New Hairstyles for Skinny Boys Trending These Days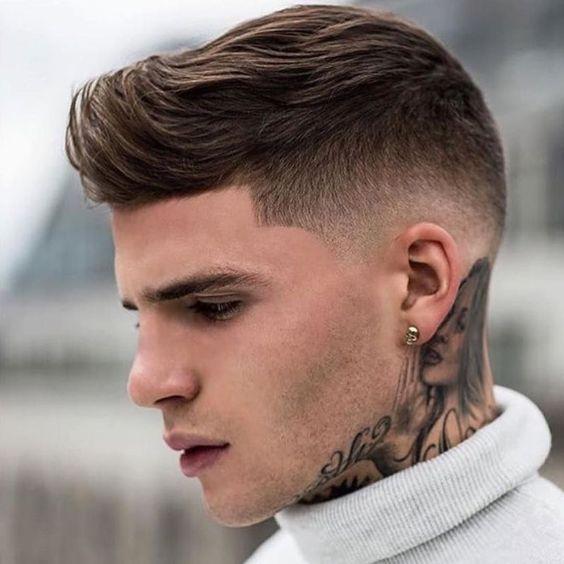 #16- Medium Low Fade Hairstyle
Medium low fade is also cool and trendy nowadays. Ombre dyed hair tousled at the top gives a soft and young look.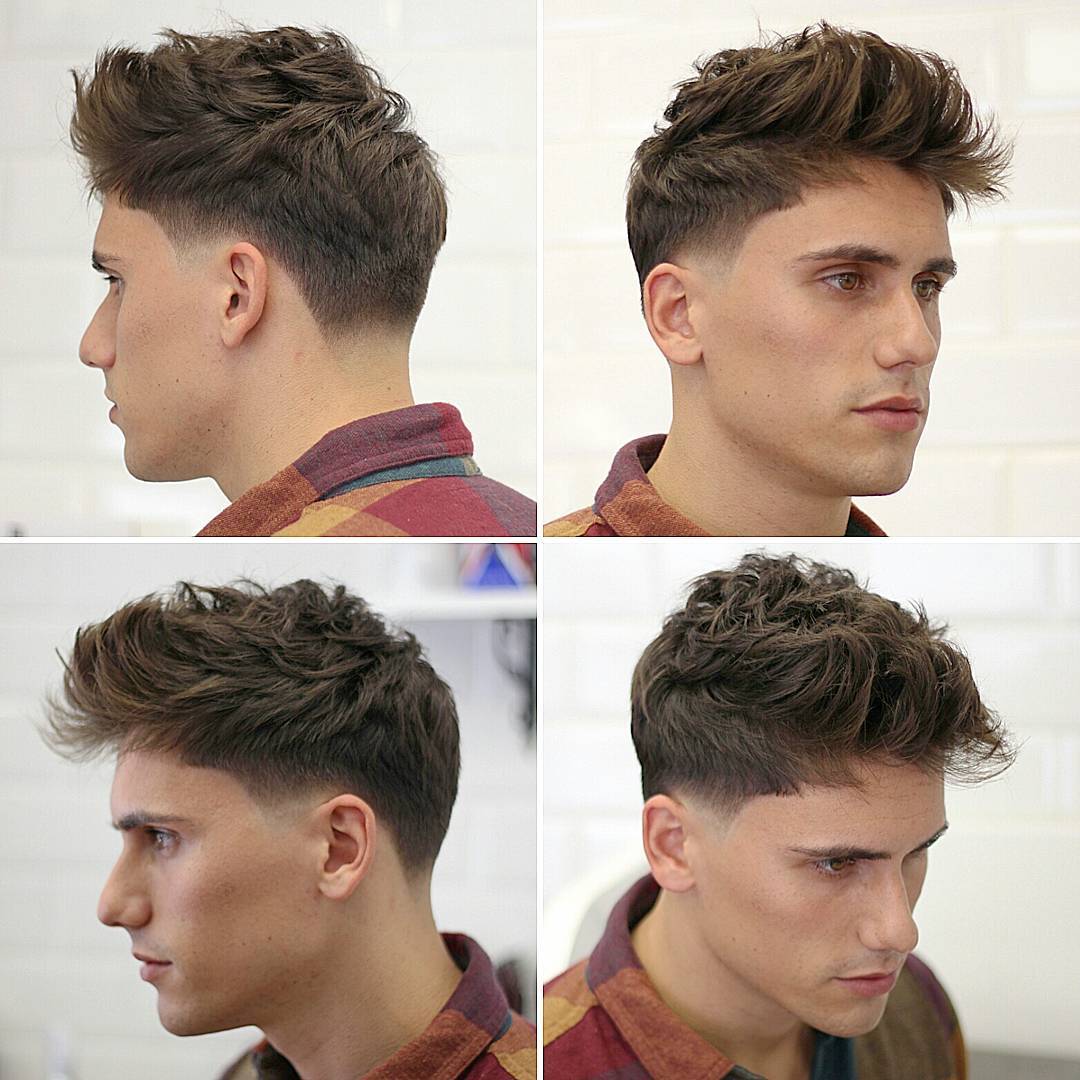 #15- Spiky Cut for Thick Hair
Spiky haircuts are timeless and every guy's heart favorite. Transformed with high faded sides and, slightly longer top is the ultimate choice for young guys.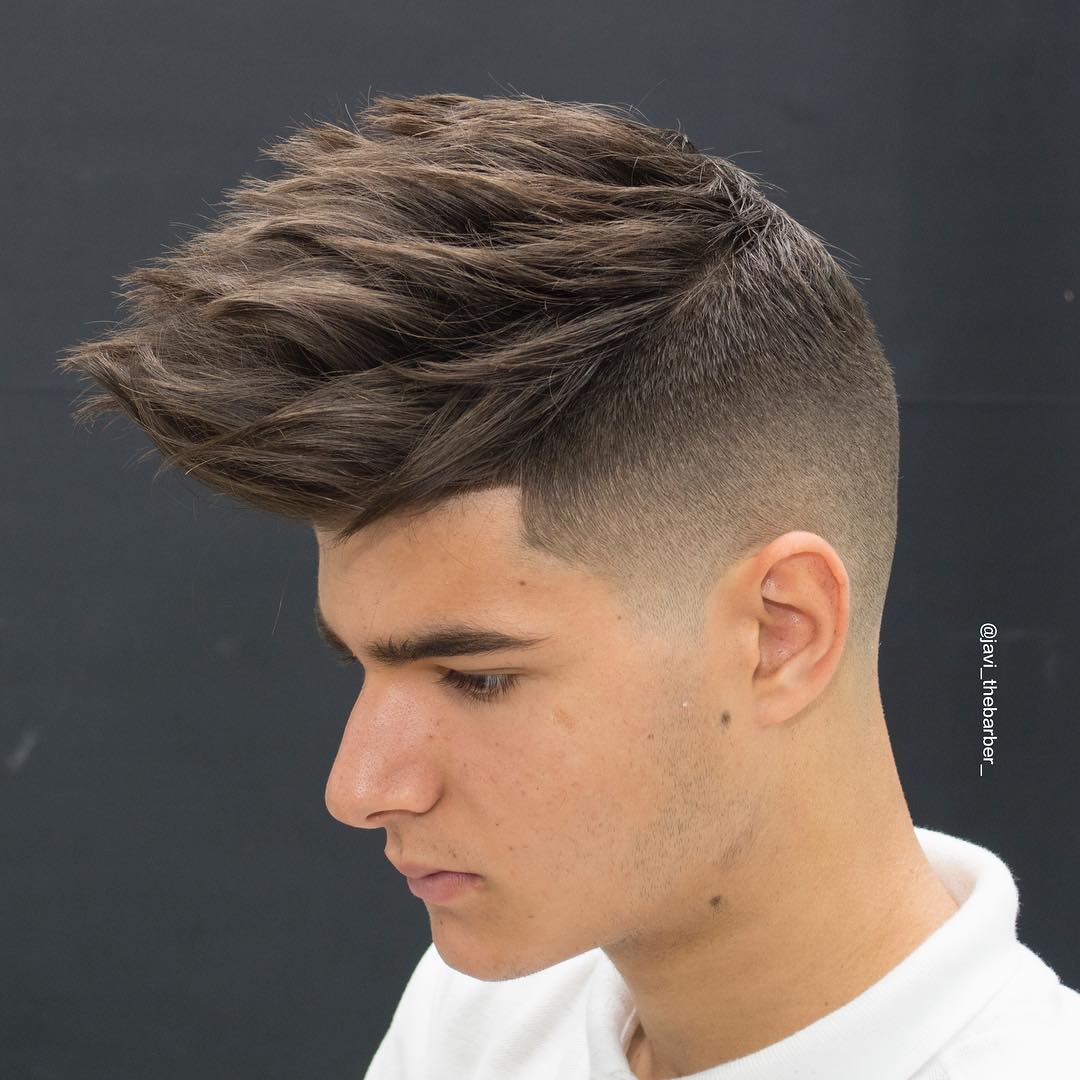 Via
#14- Medium Classy Hairstyle
Guys who like to keep mid-length hair can add a low fade to the sides. The granny style silver or metallic blue or zinc dyed hair are quite famous these days.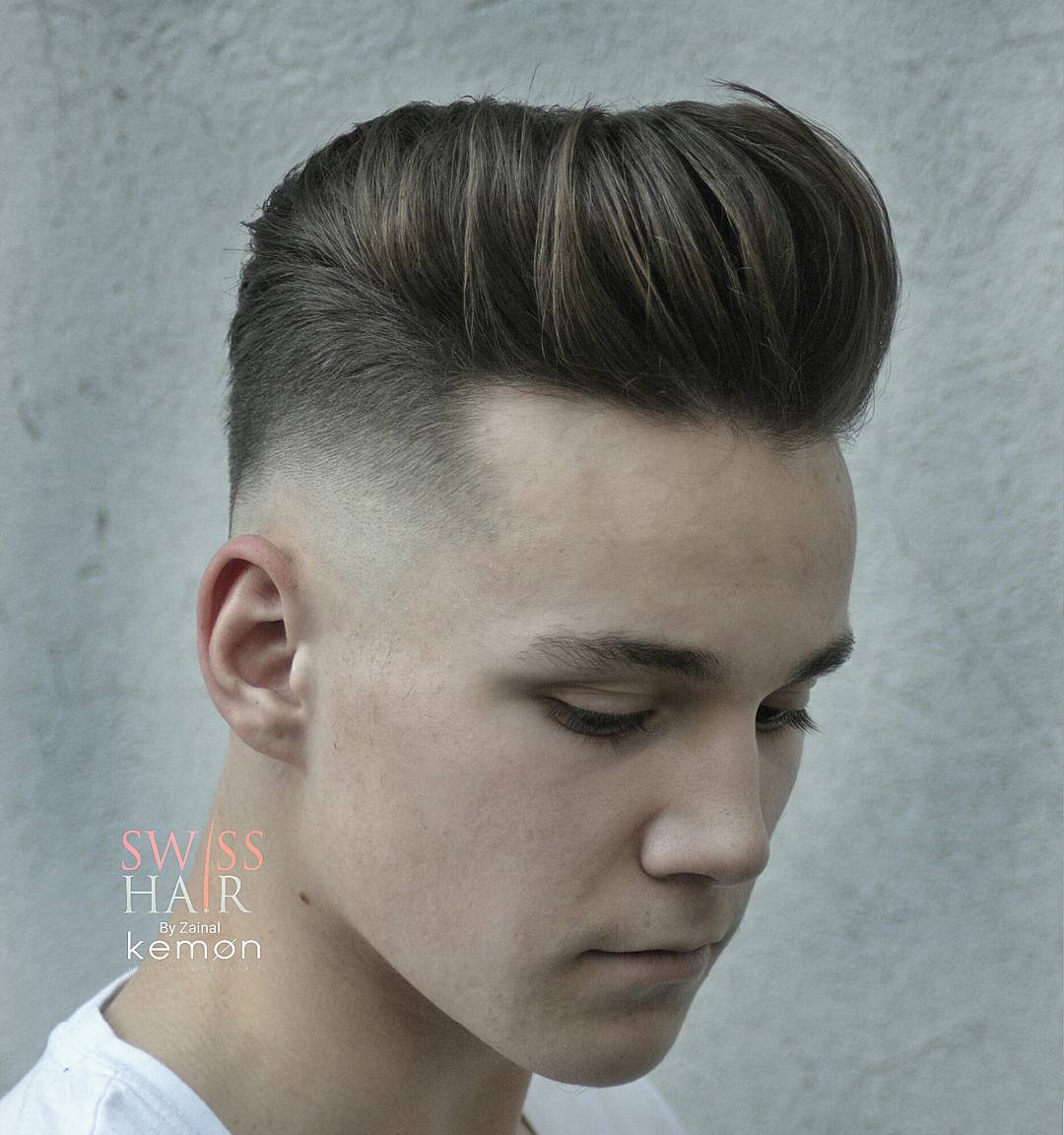 Via
#13- Fro-Hawk Style for Black Guys
Fro-Hawk is a timeless and iconic style for black guys. If you want the classic fro-hawk style then don't keep the length at the top less than three-quarters of an inch. Use a rolling brush to bring all your damp hair to the center and apply some gel to the hair at the top for the finishing.
Via
#12- Short Curls Style
Guys with curly hair can keep short spiky curls at the top with designed or faded sides. They can also add a little color to the top.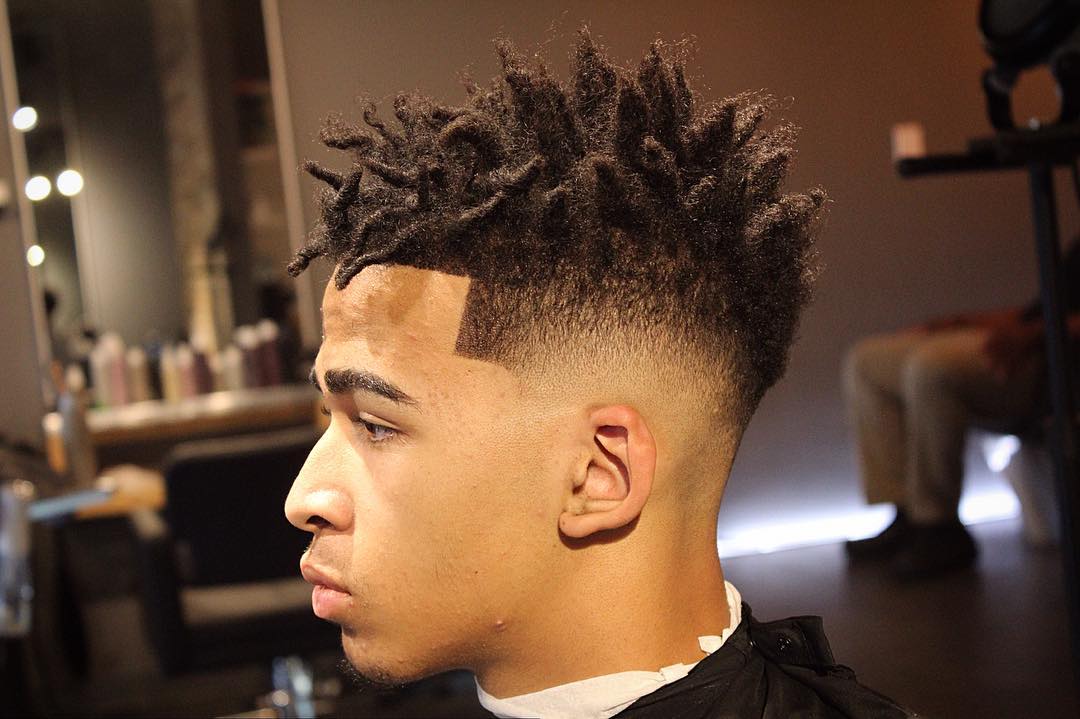 #11- Cool Undercut with Beard
Undercut hairstyles look flaming hot with beards. Highlights in gold and copper added to the longer top of the hair will accentuate the entire style quite well and will complement your beard as well.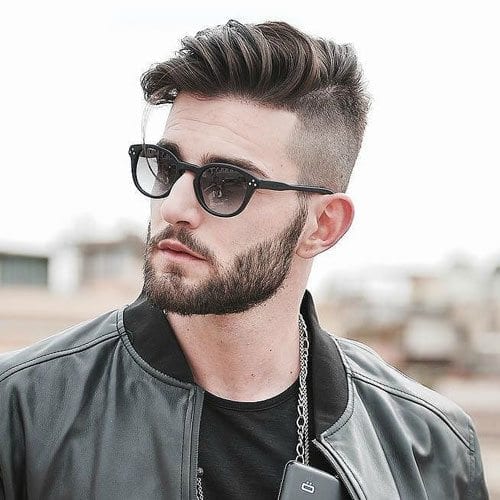 #10- Mid Faded with Beard
Mid faded hair with a scruffy beard is the classic look for parties and weddings. Guys with round face cuts can also carry this style quite well.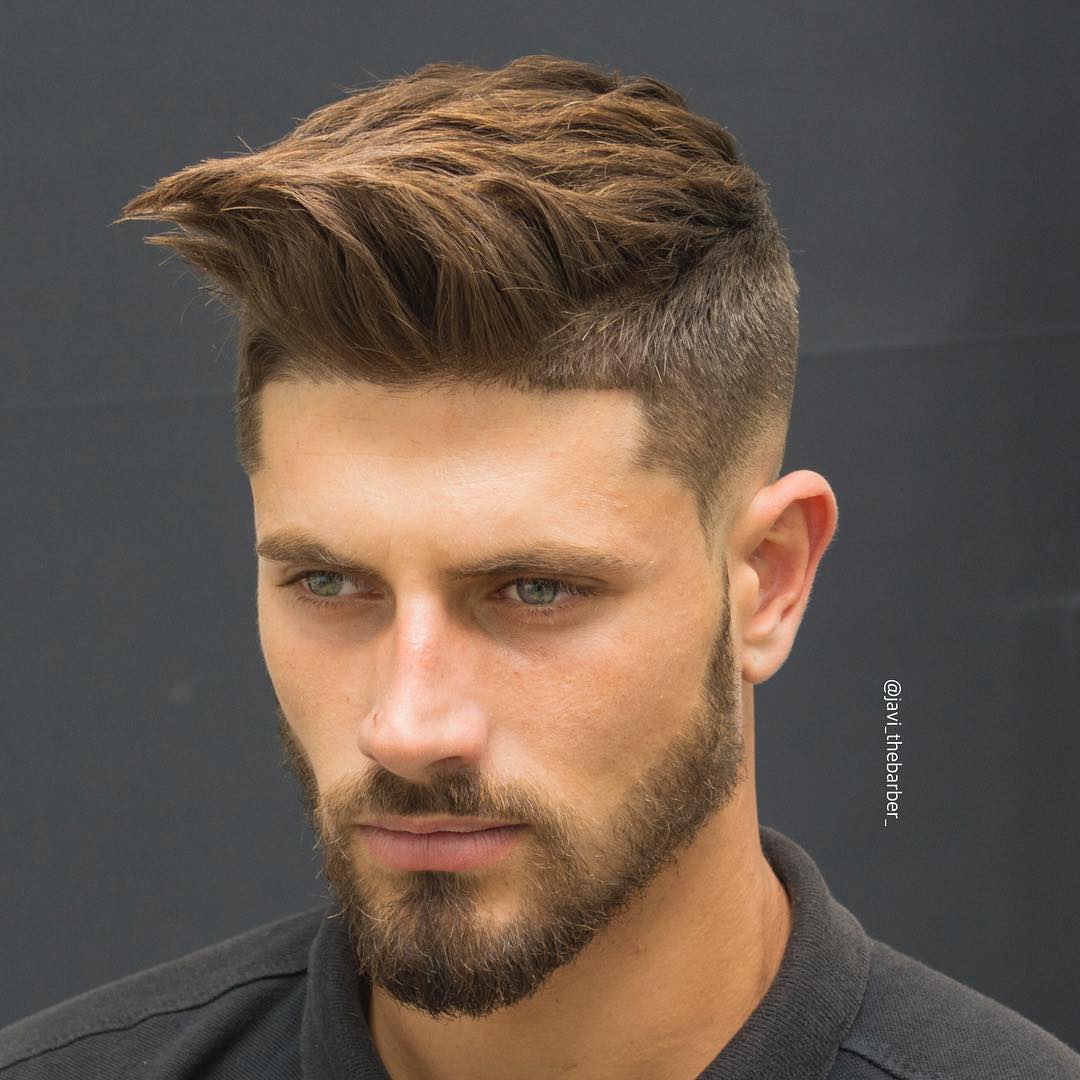 Via
#9- Style for Thin Hair
High faded sides with mid-length top haircuts are just perfect for boys with thin hair since it gives volume to their hair. Guys with thin hair can go for volumizing hair sprays and blow-dried look.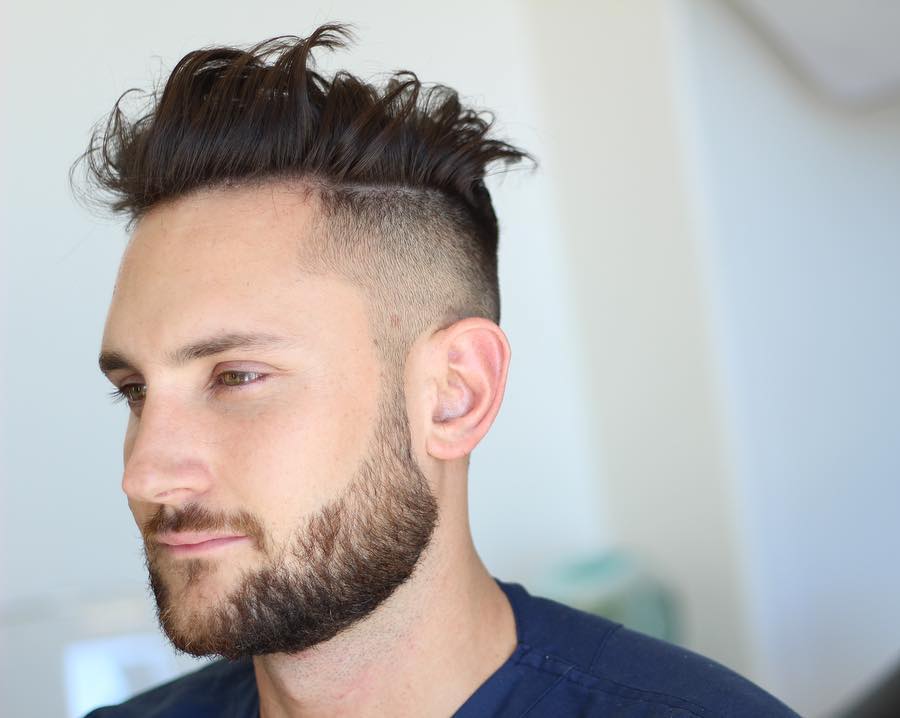 Via
#8- Tousled Thick Hair
Ombre dyed tousled thick hair kept slightly longer than short length hair will look very peppy on guys with slim face-cuts.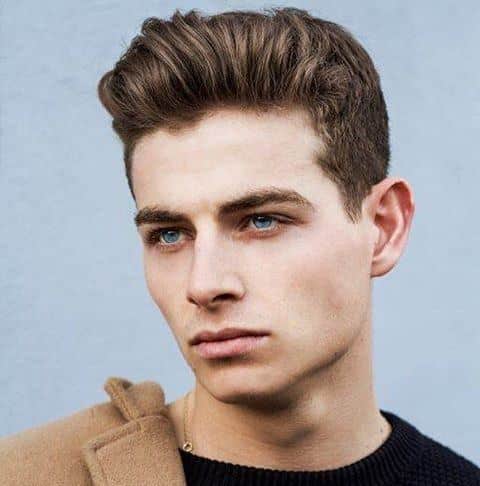 Via
#7- Medium Length Wavy Style
Medium length angular wavy hair with low fade are just perfect for both thick and thin hair. Louis Tomlinson of One Direction also kept slightly angular wavy hair. Low fade can spice up the entire haircut.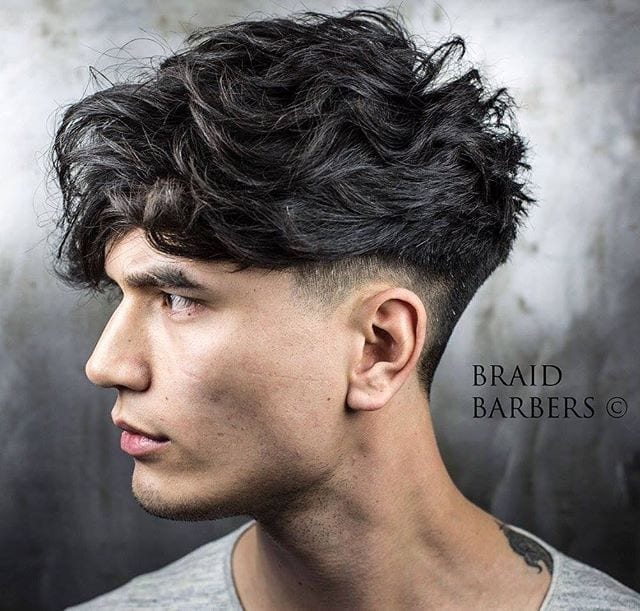 Via
#6- Wavy Slick Style
Wavy slick back blow-dried hair look extremely handsome on formal college events or wedding ceremonies. Side parted mid fade is ideal for this style as it gives a more transformed and stylish look. RECOMMENDED: Zayn Malik Hairstyles-20 Best Hairstyles of Zayn Malik All the Time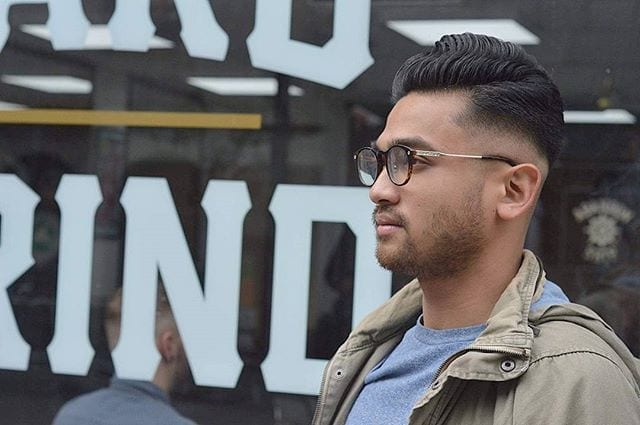 Via
#5- Short Spikes with Mid-Fade
Short spiky hair with mid-fade is ideal for lazy young men who generally avoid styling. The short spiky hair look can be embraced by just combing the front hair when damp. It is both stylish and easy to carry.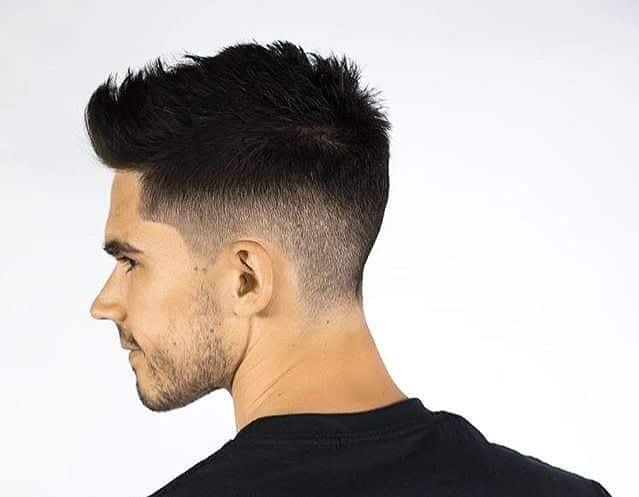 Via
#4- Long Hair Undercut
Long hair undercut style is quite popular among rock stars. This look is very appealing with faded dyed hair in bold manly shades and looks amazing with beards.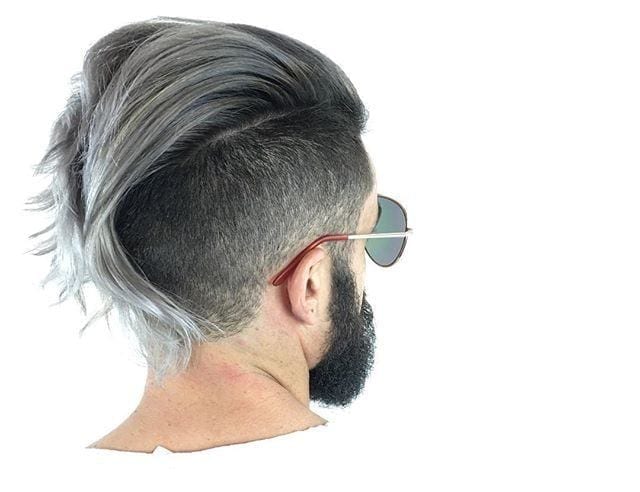 Via
#3- Ultra Short Crop Cut
Ultra short crop cut with designed and bald sides is the ultimate choice for guys with dark hair. It's a Japanese style haircut which can be adopted by Asians and Africans quite well.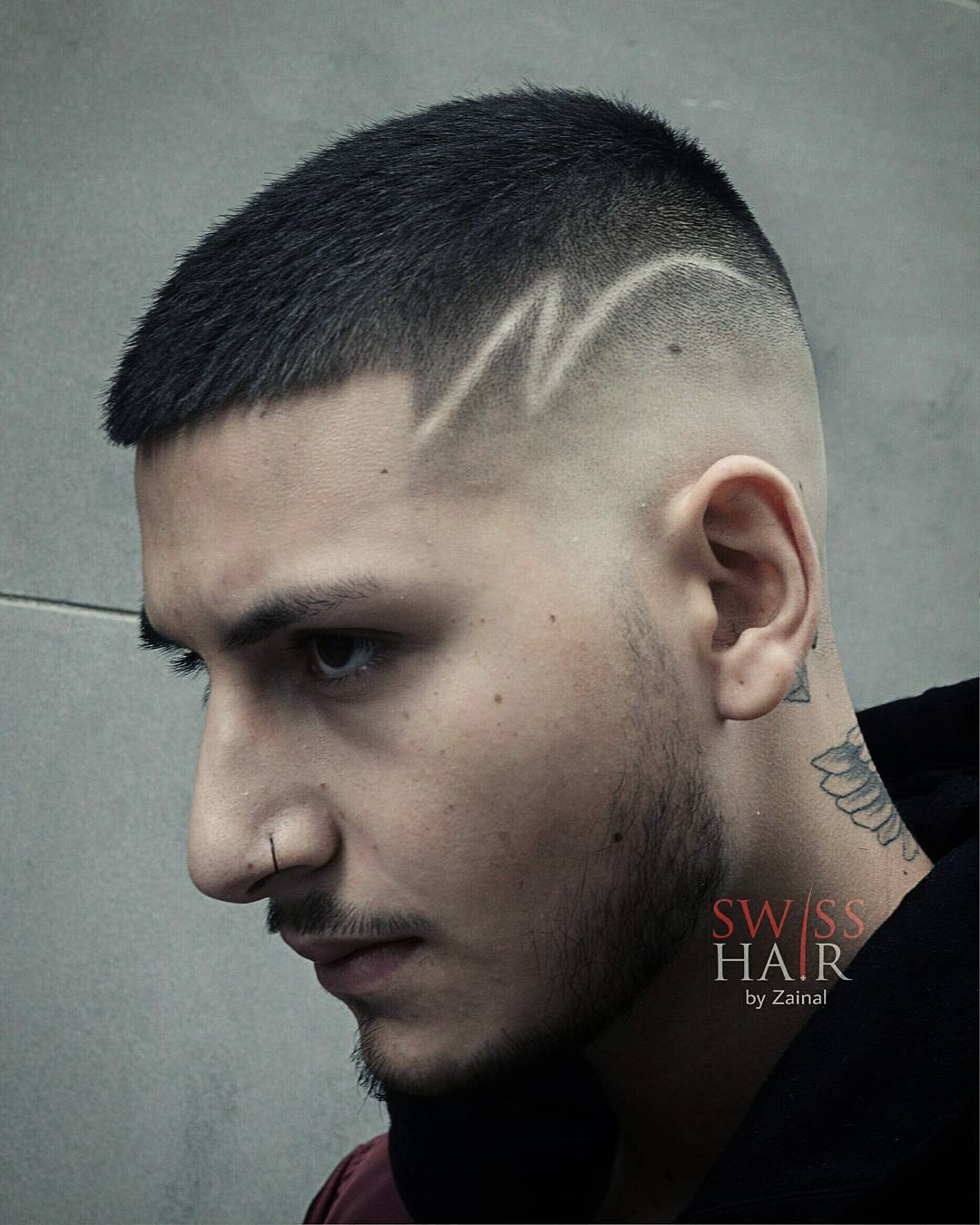 Via
#2- Natural Messy Style
The natural messy style is the timeless look for guys with wavy and longer hair. Guys can go for a little lighter shades with this style which enhances their personality and complexion even more.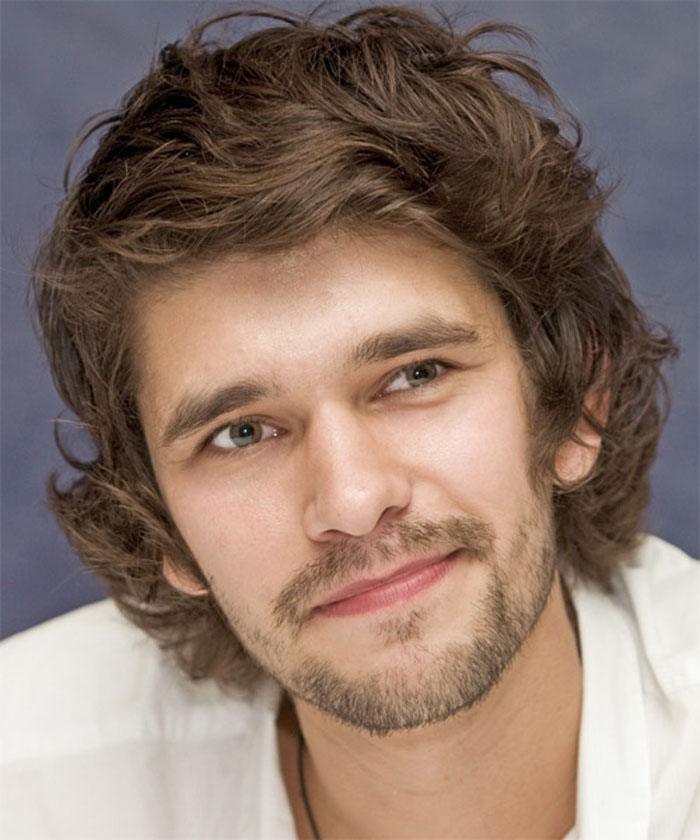 Via
#1- Mid-Layers for Long Hair
Young guys who usually like to keep slightly longer hair can add a few layers to their hair as well as high and lowlights. The look is very manly and splendid. Men with a longer and sharp face-cut can slay this style.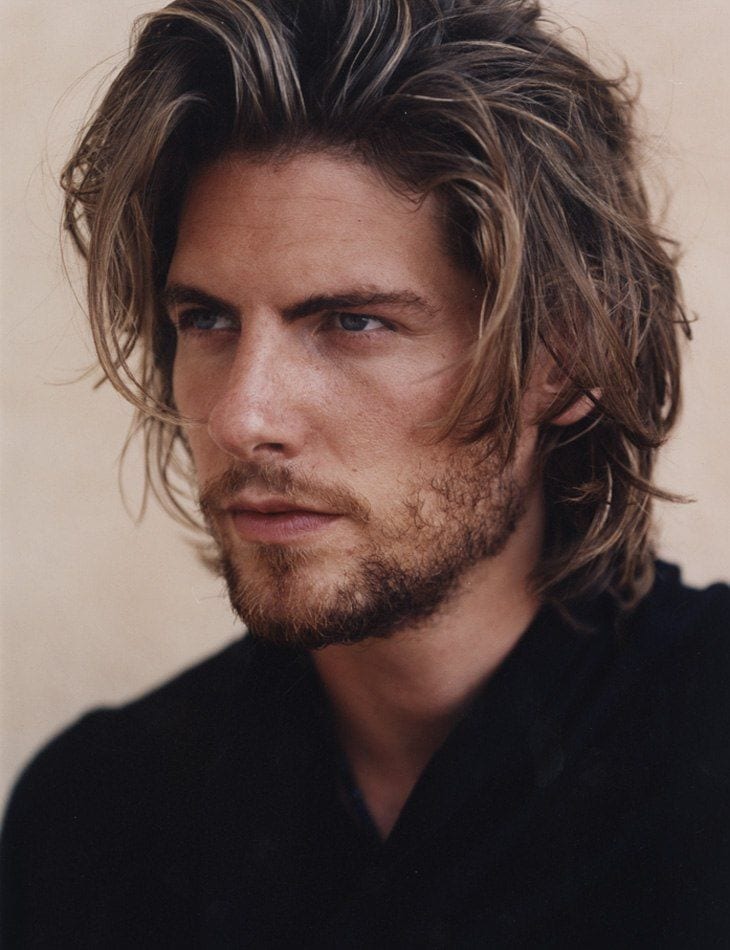 I hope this article will help you in styling your hair in 2018. Give your feedback and additional ideas in the comment section.
A Chemical Engineer by profession and content designer by choice! Meet Manahil Qureshi who has an infinite love for food and cats. Be it the latest fashion ideas about women or kids outfits or trendy men fashion styles, she loves to keep her pen moving on such niches. Other than writing, she has a love for designing jewelry which is why she has also started her own designer jewelry label, called Glare jewels. Want to know what is coming up next on her publication blogs? Subscribe to the newsletter and keep yourself updated anytime. Cheers!