2018 Abaya Designs. The abaya fashion of today is absolutely unrecognizable of what customers usually expect abayas to be like. No longer abayas are limited to Muslim women, but the modernity and style have taken it to be worn comfortably by women of all cultures.
What we have seen in the past decade of abaya fashion, that it has transformed so much up till today that diversity and equality are the ultimate goals of normalizing abayas in western fashion-dominated countries.
If you have not already seen the various new styles of abaya trends that women cannot help being awed by, then we can help you there. In this post, you will the newest styles of abayas available including some gorgeous gown styles, cape style abayas, formal abayas, fancy ones and any other style you want in your wardrobe.
Latest Abaya Styles 2018
So, have a look at these 23 top abaya designs this year in 2018 that took abaya fashion to the highest level and added much more class, beauty, and elegance to it.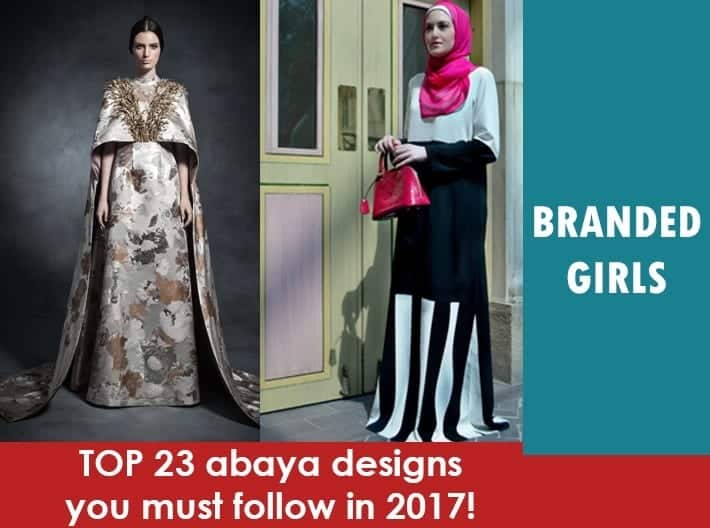 #23 – New Modern Abaya Look
This new and modern abaya look recently made it to the market and has every bit of western touch to it that makes it perfectly diverse for women of all cultures. Even Muslim women can now dress with so much more style and prestige that was not there in earlier typical abaya designs. RECOMMENDED: Top Abaya Designers; Top 10 Abaya Brands in the World 2018.
#22 – Classy Abaya Coat Style
For the very first time, the touch of swag is seen in these new and classic abaya design especially this one with a coat look. This abaya design will be your perfect style for formal gatherings, for party looks to if you wear it with heels and land on to the highest level of sophistication possible.
#21 – Gorgeous Contrasted Abaya Style
A slick and stylish combo of contrasting colors makes this abaya so demanding. With every bit of modesty, elegance, and style, this abaya design is a dreamy choice for all Muslim women and with a classy western touch, it deems suitable for women everywhere.
#20 – Modest and Stylish Look 2018
#19 – Casual Abaya Styles for 2018
#18 – Abaya Style with Heels
For women, who cannot imagine their outfits being completed without heels, here's a try! Check out this smart and stylish abaya look that bonds well with a sassy pair of heels! So, don't miss out the one suitable design that will fall to your standards of comfort style.
#17 – Lace and Crystal Abaya Look
Some new and authentic abaya designers have recently come up with some unusually catchy and phenomenal abaya style not seen or designed before. So, have a look at this magnificent lace and crystal abaya look that matches a gown style to a high extent. To match the subtleness of the gown, you should apply some slick and attractive smoky eye makeup and a nude or lighter lip color to create the required effect! You should also check out 15 New Abaya Styles for Teenage Girls For Modest Look
#16 – Abaya Bridal Gown 2018
For all Muslim women who wish to stand out a lot more than usual, and all those western women as well who are much awed by this fantastic abaya bridal gown style of 2018 that no abaya style had risen to such a level in the past and have matched so many diverse tastes.
#15 – Fancy Abaya Look for Parties
An abaya that makes itself so demanding and falls suitable for your so many party needs has got to be worth it. All it needs is to be worn with simplicity and it will do the rest of the job. Like many others of its kind, it needs a dark makeup look particularly a greater job over the eye makeup, such as a hot and fabulous smoky-eyed look. You can dress your hair in a stylish updo or wear it down all straight and silky.
#14 – Dark and Edgy Abaya Style
#13 – Stunning Silk Abaya in Cape Style
A stunning and elegant abaya with a catchy and dominant cape style for all women who wish empowerment above all else! A bit of empowerment with a pinch of style isn't bad, so you should try this out if you are too tired of the typical and monotonous abaya styles of the past and want to stand out with style and poise. Since the subtle and formal color of the outfit demands a lighter makeup look and simplicity, we suggest you stick to it. Don't miss out these amazing Kaftan Abaya Designs-18 Latest Styles to Buy Online Now
#12 – Classy Abaya Gown with Coat
Finally, the accessory of the coat has also been added to the new abaya gown style and that makes it quite suitable and comfortable as a winter outfit as well. Now's your chance to dress comfortably in an outfit you find modest and also be stylish in the harsh weather of winters!
#11 – Abaya with Cape Style
Here's how you can achieve a dominantly feminine abaya in a stunner cape style and get all the real life superheroine feels that rarely any dress manages to offer you. With this fancy abaya cape style, there won't be much effort on your part to make it look any better and all you have to do is let it speak for itself. With light makeup and jewelry, and a simplistic hairdo, you will be good to go!
#10 – Crepe Cutoff Abaya 2018
The crepe cutoff abaya style with a classic and unique hijab has taken the fashion by storm in 2018 this year! With abaya trends becoming more pervasive in the western society, women are coming up more boldly than ever to try new styles. With new styles being more all-culture-friendly, women from all classes can try it out and feel and look amazing! RECOMMENDED: Abaya with Jeans-10 Ways to Style Jeans with Abaya Modestly.
#9 – Striped Abaya Design 2018
Striped abaya design for ladies who are fed up with the idea of black abayas over and over again released in markets.
#8 – Abaya with Pencil Skirt Style
#7 – Stunning Lace Abaya Gown Look
#6 – Elegant Abaya in Gown Style with Coat
Pair off your beautiful abayas with the Top 20 Hijab Style Trends for Muslim Women These Days
#5 – Abayas for a Winter Wedding
#4 – Casual Abaya for Office Styles
#3 – Royal Abayas for a Princessy Look
#2 – Dolce and Gabbana Abaya Styles
#1 – Abaya with a Transparent Coat
via