Modest Church Outfits for Teenage Girls. Who says you can't show up to church looking modest and stylish at the same time. it's all about how you choose to express the real you in front of people and in front of Jesus.
You can still manage to fashionable while showing little of your skin and we're going to tell you exactly how to do that. It's all about mixing and matching your outfits for the occasion. So keep on reading below and find your perfect outfit for this week's visit to the church.
How to Dress for Church if You're a Teenager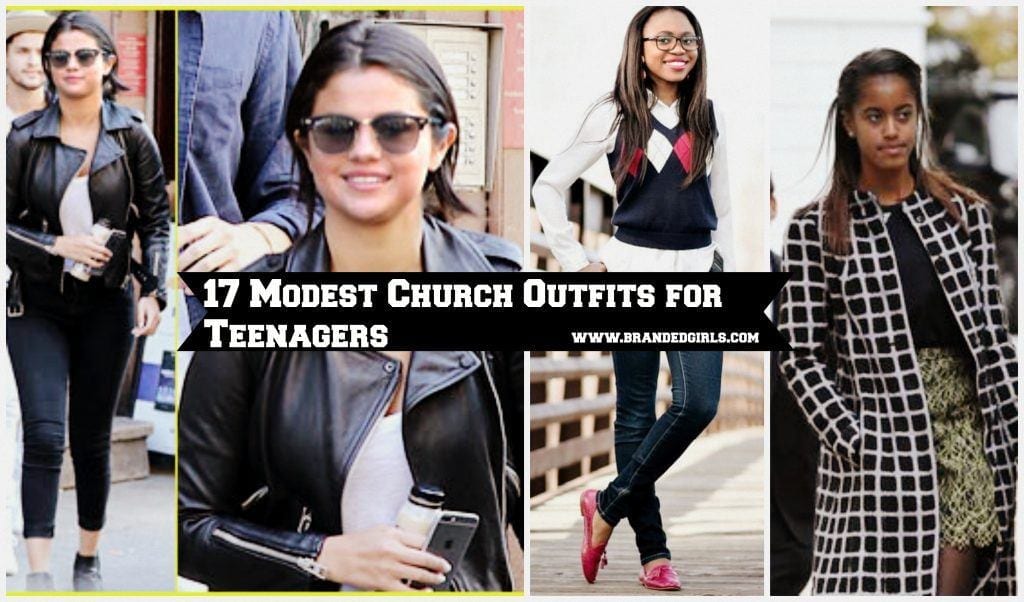 As a regular church goer, you are expected to dress in a manner suitable for church and it's morality.
Every church has its own standards and it is quite necessary to dress according to it.
Since its a sanctuary you are supposed to be well dressed and look your best.
RECOMMENDED: 80 Most Amazing Nail Art Ideas for Teenagers This Year
Try not to reveal a lot of your skin, leave that for the social events and parties.
Refrain from wearing anything revealing or body fitted.
Some churches have dress-code, it is always a good idea to go through it before attending the church service.
↓ 1 – Pretty in Pink
The beautiful and sheer color pink looks wonderful on any day, so why not pair it up with a skirt and peplum shirt for the visit to the church?
Via
↓ 2. Black and Bold
Skirts aren't the only options on the table available. This beautiful palazzo pant looks great with not only a loose shirt but you can try it with a t-shirt of your choice as well.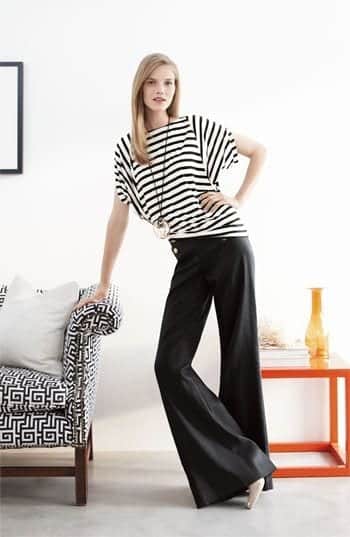 Via
↓ 3. Long Skirts
Long skirts are never out of fashion and they can be ideal for your visits to the church. You can wear a sweater in winters or just wear any top of your choice. You should also have a look at Skirt Outfits for Teens-20 Cute Ways to Wear Skirts This year

↓ 4. Adorable Jeans Outfit
Jeans are perfect for almost any place and any time of the day or night. They are also very good church outfits for teenagers. Style it with your favorite shirt or jacket and look amazing. Check out these 25 Best Shoes to Wear with Jeans for Different Looks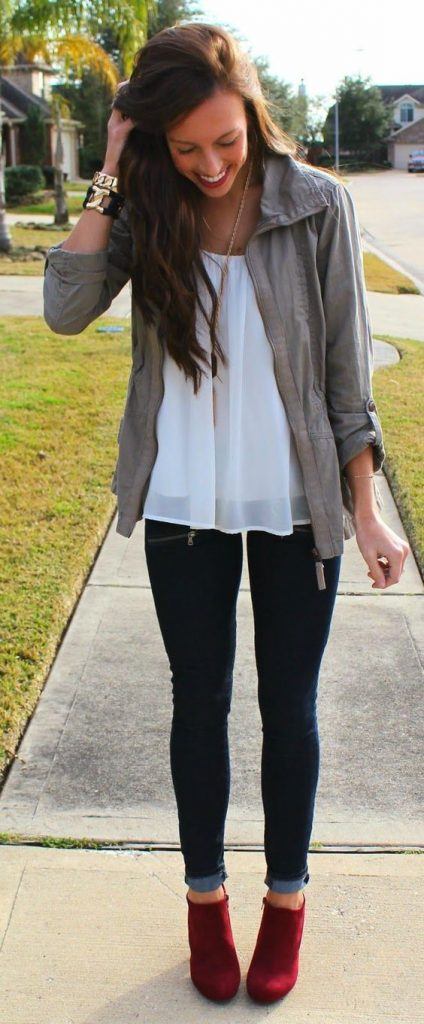 ↓ 5. Fancy Church Attire
There is no harm in dressing up a little fancy once in a while for the visit to the church. God loves you anyway, so show up in the best way possible like wearing this pink lace embroidered top with a bottle green lace embroidered skirt and an edgy clutch.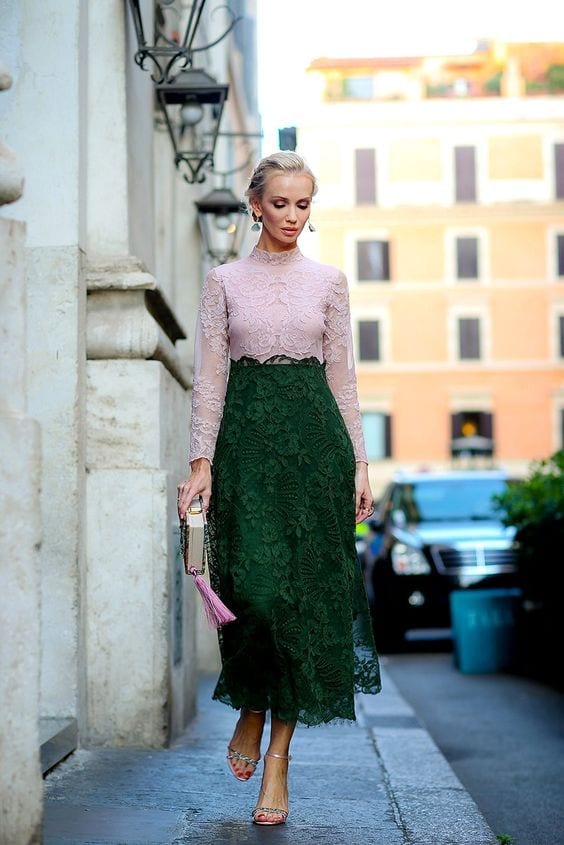 Via
↓ 6. Floral Skirt Outfit
A decent floral skirt paired up with a beautiful top is all a girl with a good fashion sense can ask for. This outfit is definitely church approved and loved by the fashion enthusiasts also. RECOMMENDED Floral Print Outfits– Top 20 Flowery Pattern Ideas For Girls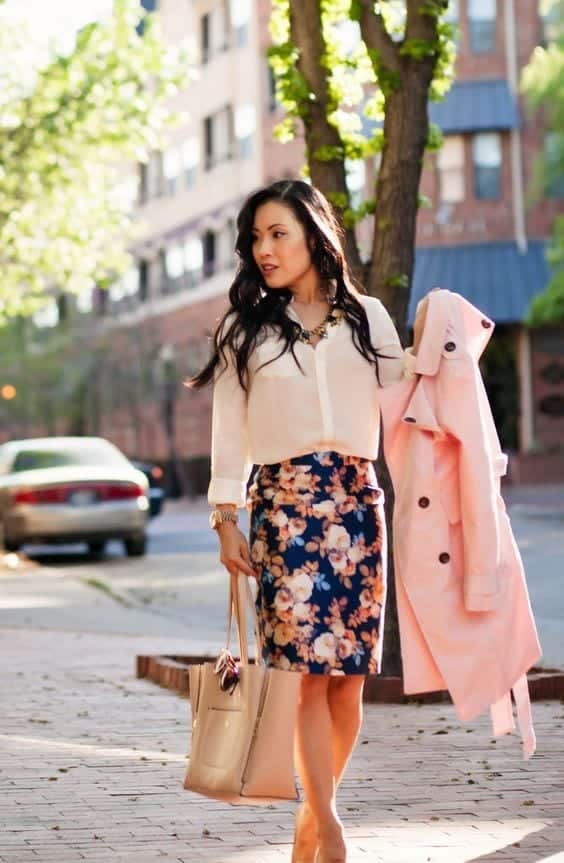 Via
↓ 7. Floral Maxi for Church in Spring
A girl cannot have enough floral outfits in her closet. But a maxi and that too in a colorful floral print is pretty much a must have for every girl. This outfit is great for church outfits for the winter and fall.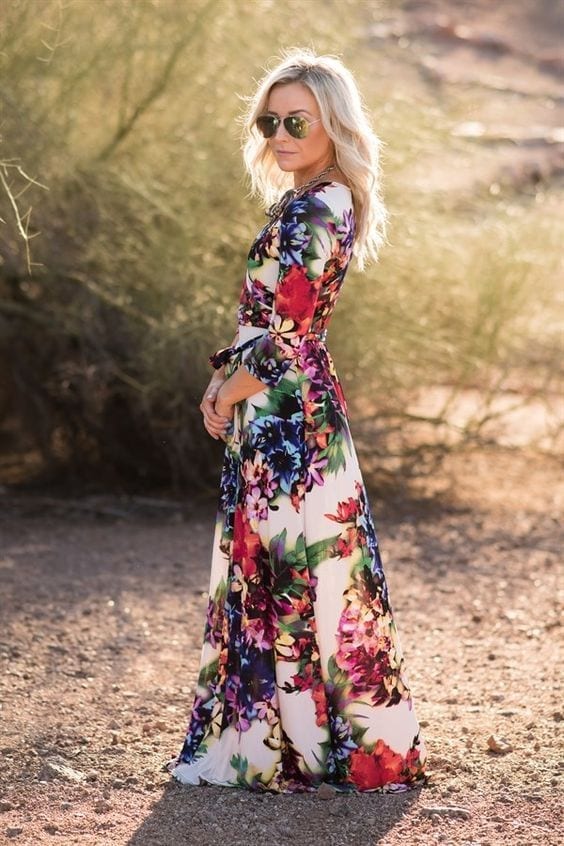 Via
↓ 8. Denim Jacket
We're pretty sure if God could pick a favorite color it would be blue and why shouldn't it be. Blue is a such a cool and calm color. This blue chiffon maxi is just like God gifted from the heavens.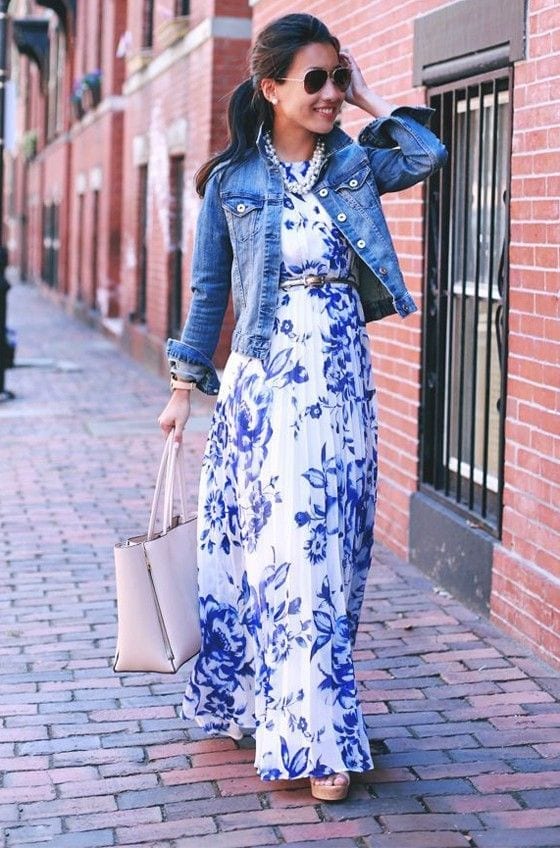 ↓ 9. Casual Look for Church
You don't always have to look uncomfortable to look gorgeous. Sometimes simplicity is the key to success. Just like this classic black t-shirt looks so breathtaking along with this white midi-skirt.


↓ 10. Blush in Pink – Lace Outfit for Church
The beautiful combination of white and pink will never go out of style because of its modesty. This outfit looks perfect for any kind of social gathering be it formal or just hanging out with friends. But what makes it suitable for the church is how it shapes the person who wears it and looks super decent.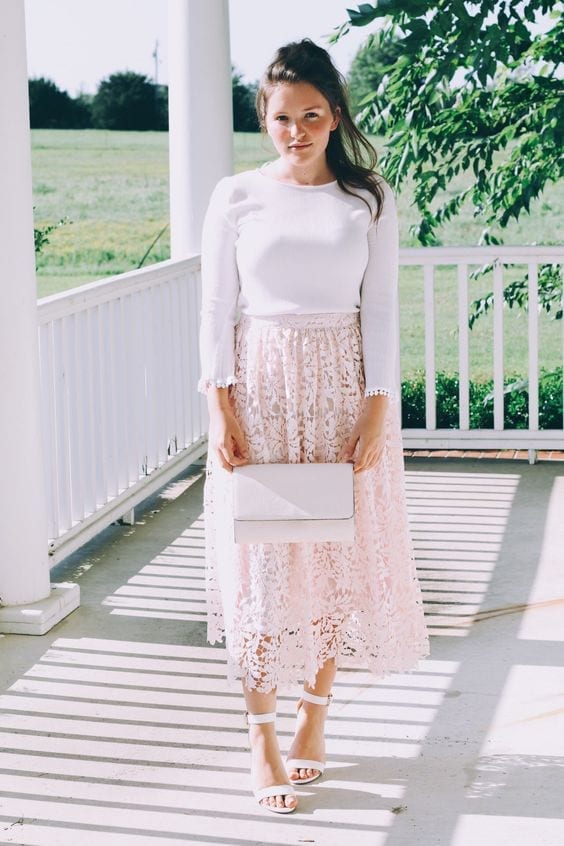 Via
↓ 11. How to Wear Pencil Skirt for Church
Here is another example of a lace skirt in purple color paired with a white t-shirt. This pair looks classy yet simple making it perfect for your visit to the church with your family and loved ones. The pretty lady added white accessories to her outfit to complete the look.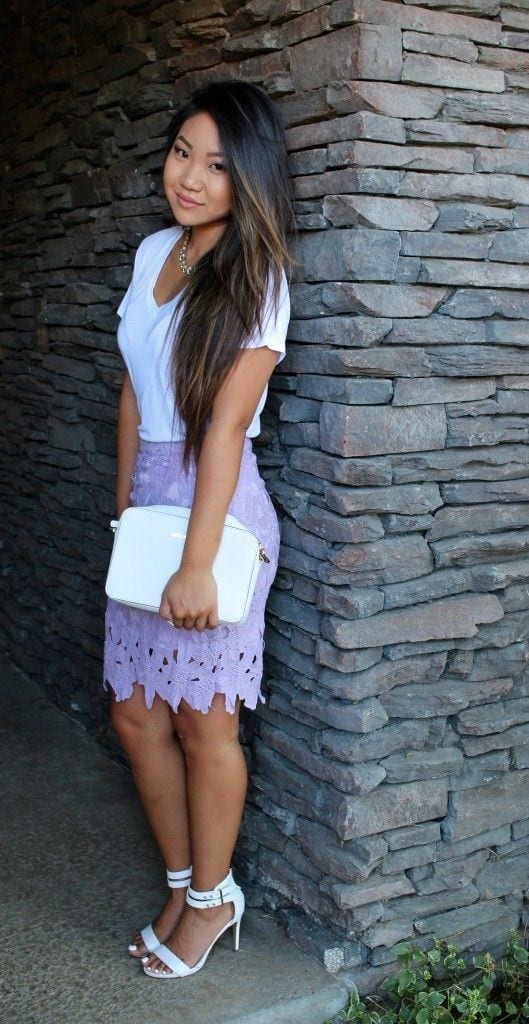 ↓ 12. Leather Jacket Outfit for Church
If you're a girl who isn't afraid of dark colors then God loves you already. This bold and striking red skirt paired a pure leather jacket and bright colored hand bag is giving us serious church outfits goals! Add in the statement necklace and complete the entire outfit.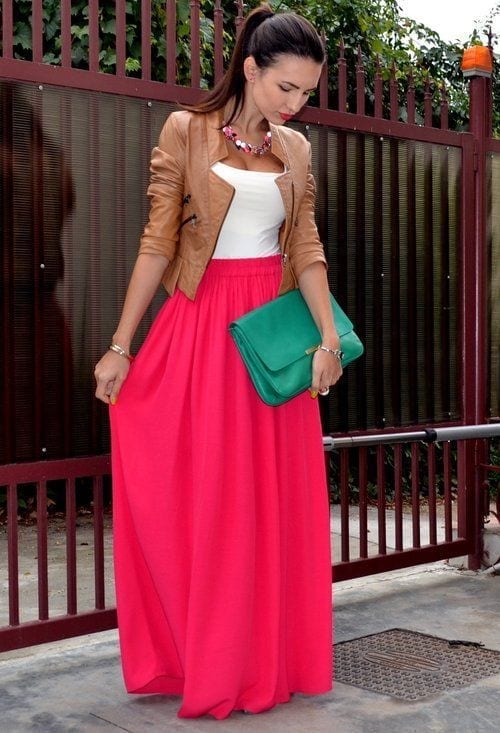 Via
↓ 13. Simply Chic Church Outfit
The possibilities of the things you can pair with a pink skirt are endless it seems. Here you can see how great a simple grey shirt looks paired with the baby pink chiffon skirt. You'll have the eyes on if you wear this to your next visit to the church.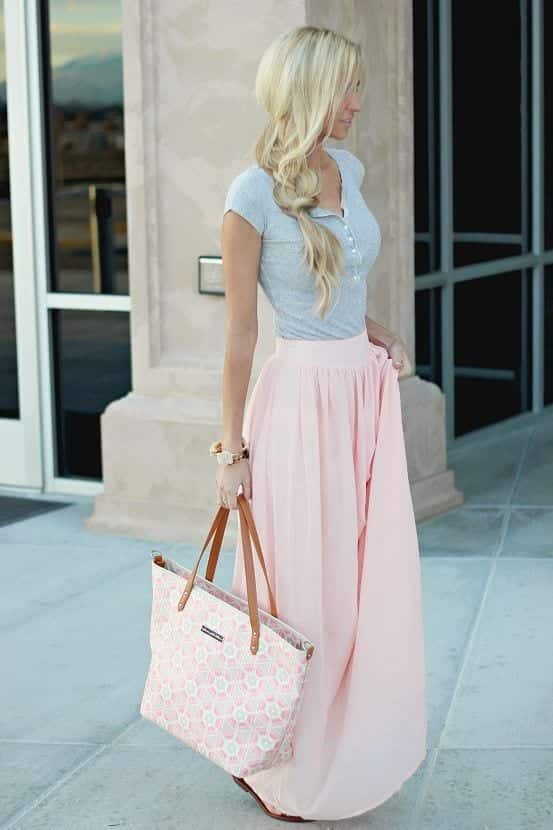 Via
↓ 14. Tea Dresses for Church
Tea dresses are the favorite dresses out there for the ladies from the 80's and 90's. You will definitely be loved in the church by the adults if you show up wearing something this pretty and modest.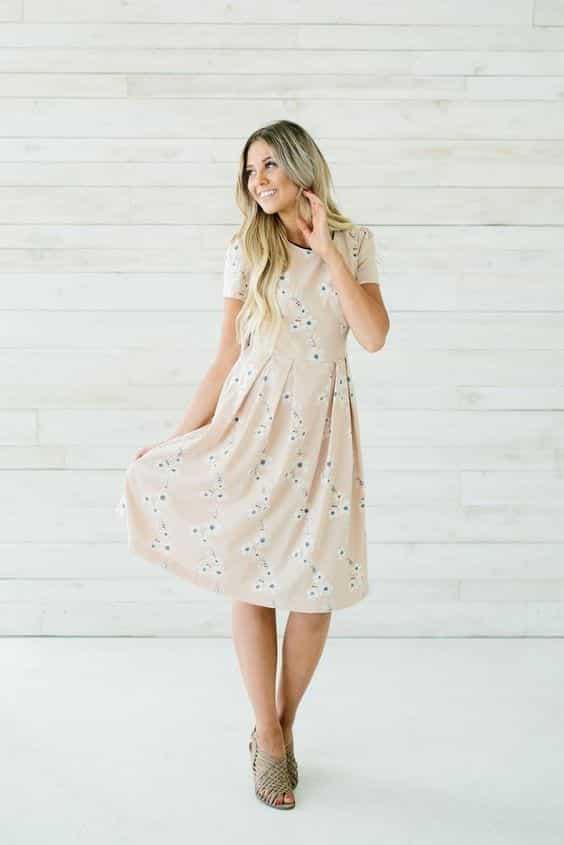 Via
↓ 15. Elegant Outfit for Church
If skirts and dresses aren't your thing, don't worry you can still go to the church looking fabulous. You can wear a sleek pair of pants and your favorite chic top and be God's fashionably faithful servant.


Via
↓ 16. Wearing Pants for Church
Calm down your pants don't have look boring to have t be church approved.You can wear colorful and trendy pants as well and still manage to go to the church and pray your heart out. Match your colored pants with a plain top like the picture below and add in your handbag and comfortable sandals and go ahead. Check out these 2017 Spring Outfits-20 Classy Spring Trends to try this year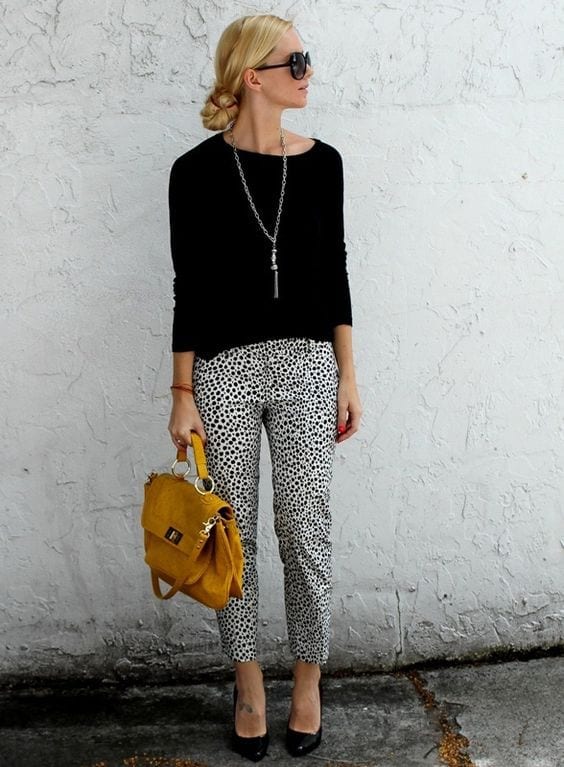 Via
↓ 17. What to Wear with a Skirt for Church
Believe it or not this battle between the modest outfits for churches is being won by the long maxi skirt. And looks like it is winning for good. There is no denying the fact that whoever wears this amazing sheer and long maxi skirt will end up looking beautiful instantly. And not to mention the modest vibe the maxi skirts gives if wore with a very good looking top. Add in your favorite clutch like this one below and you'll be in the prayers of every fashion lover present in church with you.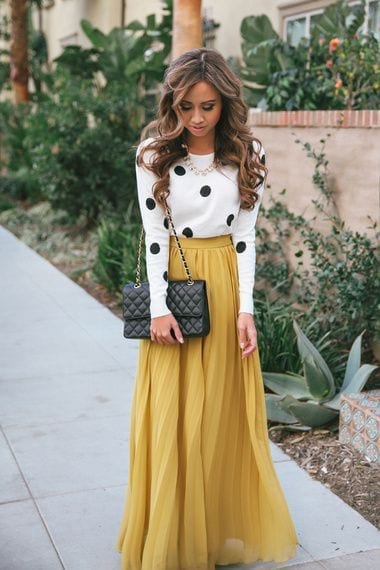 How to Wear Church Hat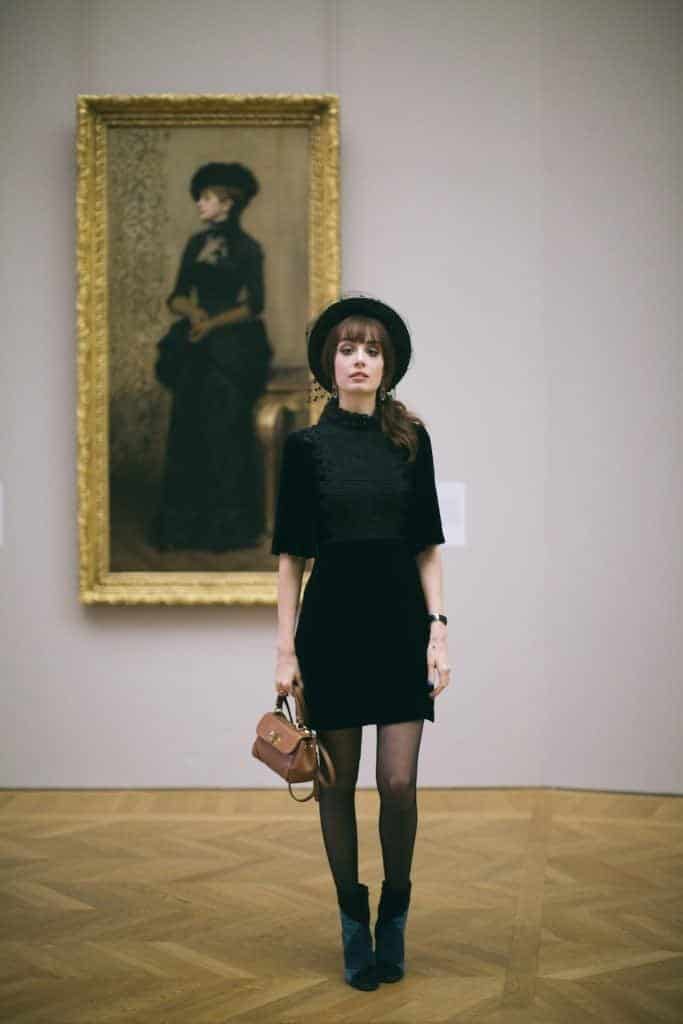 The Right Church Shoes
Avoid wearing stilettos to church, the same goes for flip flops. So the best choices would be pumps and sandals.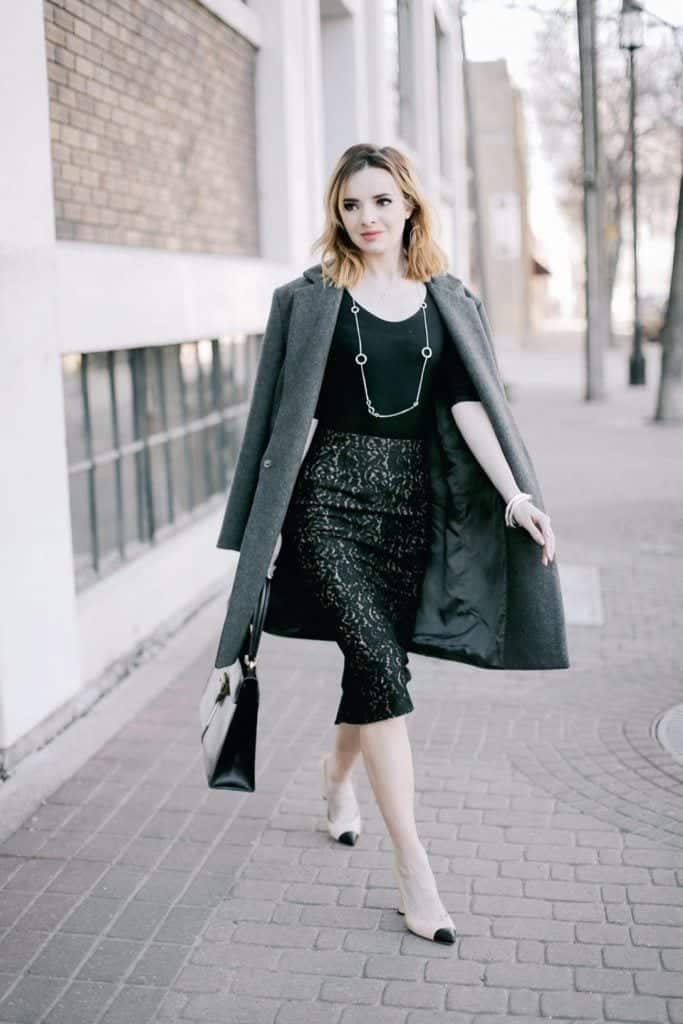 Via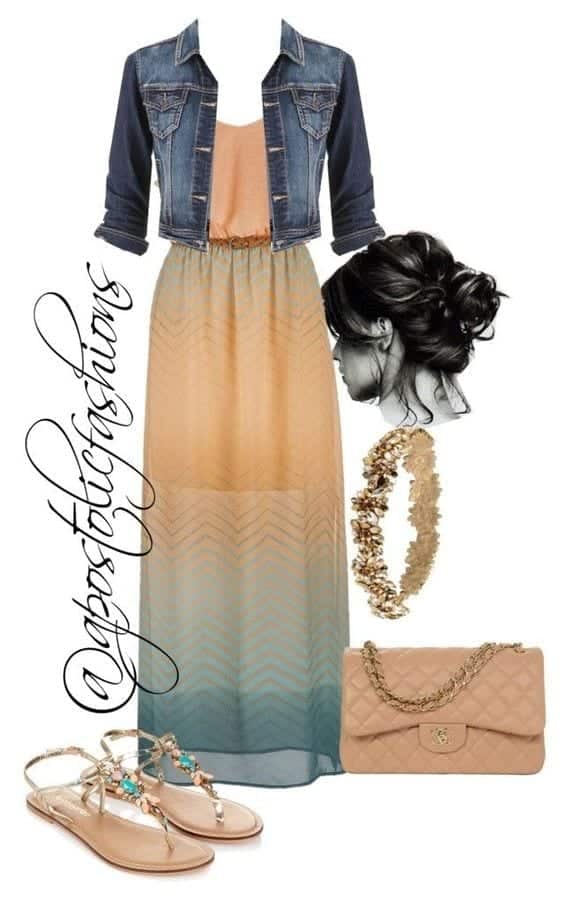 Via
How to Wear Your Hair for Church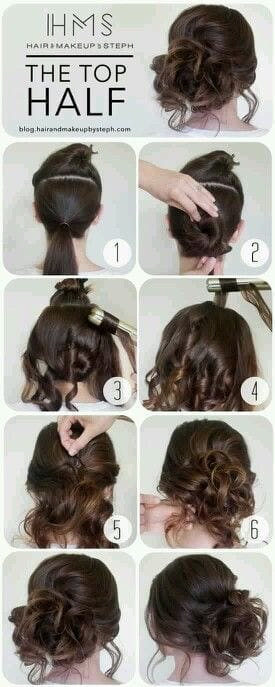 Via

Via