Hijab Styles for Brides and wedding guests: Wedding is the most important day of a woman's life. How to look beautiful by following your Muslim dress is not difficult at all now. You can wear Hijab with your wedding dress and if you are not a bride then even one can adjust Hijab with their party dress.
Fashionable Hijab Styles for Wedding
Here are some of the tips one can use to wear Hijab on wedding day and in parties to look stunning.
#20- The Royal Brides
Hijab can be worn with any bridal dress. These royal brides made their Hijabs more stylish and fancy by adding heavy embroidery and jewels.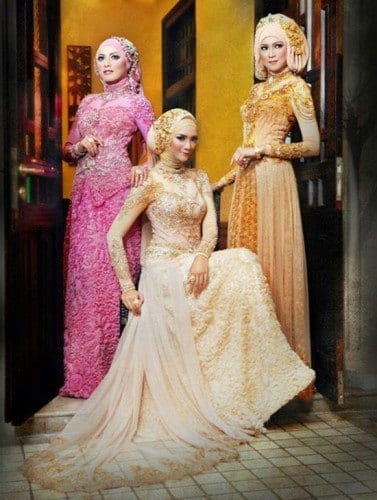 Source
#19- Elegant Party Outfit
This aqua color maxi dress with the combination of White is heavenly and stylish. Just add a bright color lipstick in your makeup to compliment this look.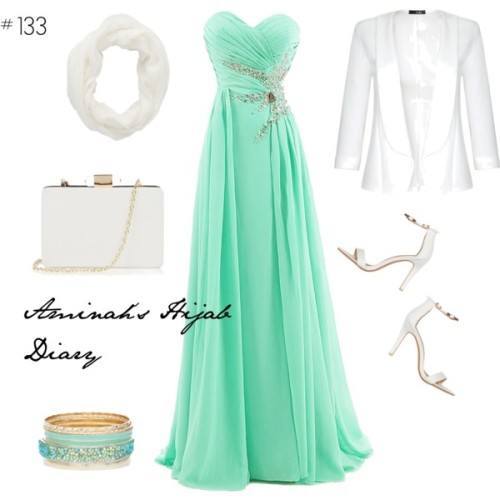 #18- Simple African Bride in White
You dont have to leave your modesty as side for your wedding day. Yes you can be modest on your wedding day and still look beautful on your day. Simplicity has its own beauty. Everyone can look beautiful in White color and if you want to look simple and elegant make Duptta as a Hijab for different look. This hijab style is perfct for women who have around face and who ant to make hteir face appear slimmer. For this hijab style you can take you net dupatta and wrap in aorund yur face or you can simply pin it behind your ear to make sure that you head remains covered all the time.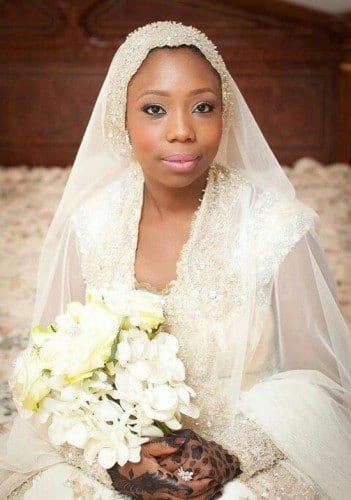 Source
#17- Plus Size Cute Bride Outfit
Women of every body type looks good in this princess style wedding dress. A silk Hijab with some light jewelry will look beautiful on women with heavy body.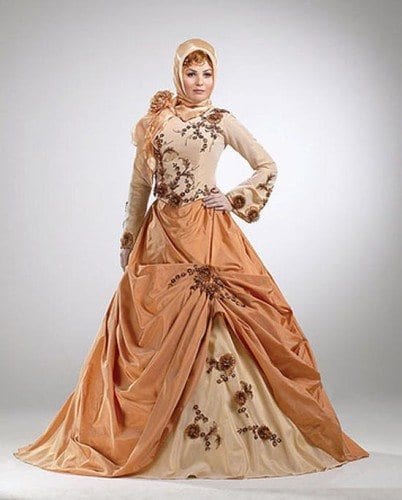 #16- Modern Hijab Bride
While everyone is following the same, be bold and try some different thing on your wedding day. This modern style wedding dress will look great with a studded Hijab.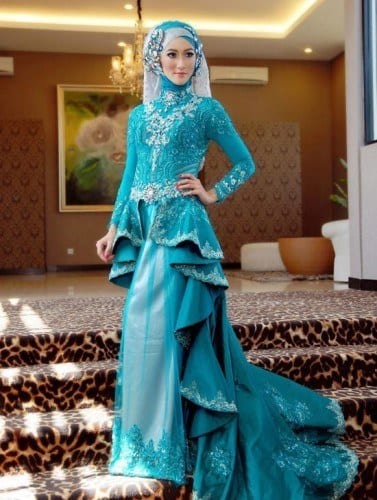 Source
#15- Beautiful Fancy Hijab Style
This looks very beautiful and different if you decor your Hijab. Use some head jewelry and and another scarf to add more colors by wearing your Hijab differently. This hijab style is perfect if you have heavy duppta on your wedding day and you want the embroidery of that dupatta to be visible. For this hijab style you can take a separate glittery hiajb and wear it around your face. Make sure to keep the drapes of the hijab smalle to make your dress prominent. You can also go for contrasting colors for example if your dress is in pink color with silver embroidery then you can wear silver scarf instead of going for pink scarf.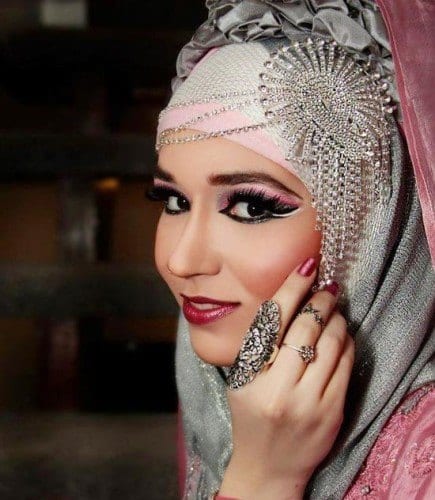 Source
#14- Lovely Bride Outfit
A bright lipstick with a beige color embroidered or fancy dress and head jewelry will make you more adorable as a bride. This look can be opted for bride's sisters as well. Some lace in Hijab will look good too. If you are a wedding gues, palazzo pants can make great formal outfits so do check out [highlight]Hijab with Palazzo Pants-20 ways to wear palazzo pants modestly.[/highlight]
Source
#13- Turban Hijab Stylish Bride
In some areas Turban style Hijab is very much admired. A bride with silk Turban Hijab with a net dupatta veil can give the most different and stylish look at your big day.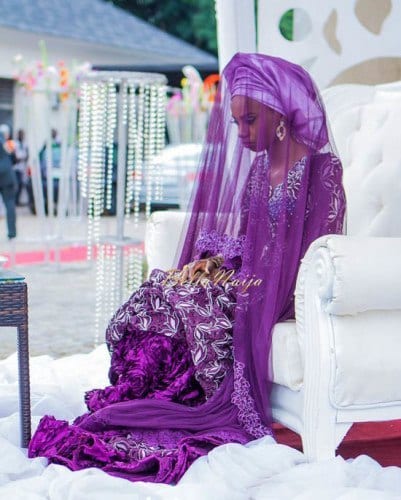 #12- The Lovely Simple Hijabi Bride
On engagement or Nikkah ceremony bride should try to wear different colors. An embroidered duptatta with a skin or beige scarf will turn you more lovely and beautiful.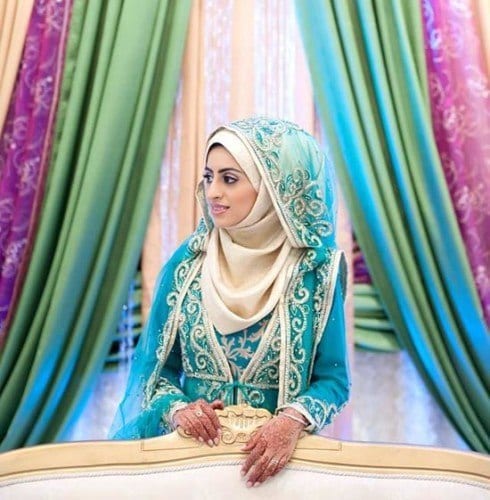 Source
#11- Turkish Cute Bridal Dress
Turkish brides wear White gowns on wedding day. So if you wear Hijab add some stones and beads on your Hijab. Go for smokey eyes and bright lipstick.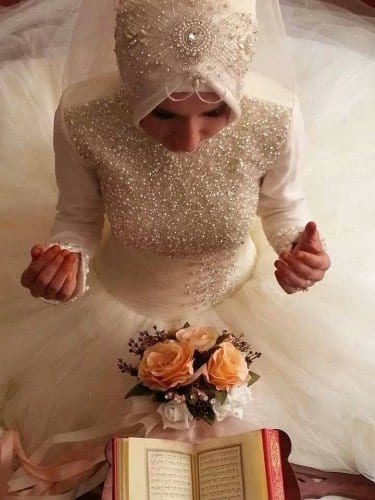 Source
#10- Cute Hijabi Bride
Light colors are very much in now a days. If you don't like heavy looks, then with a light color dress, just some head jewelry on your Hijab is your perfect choice.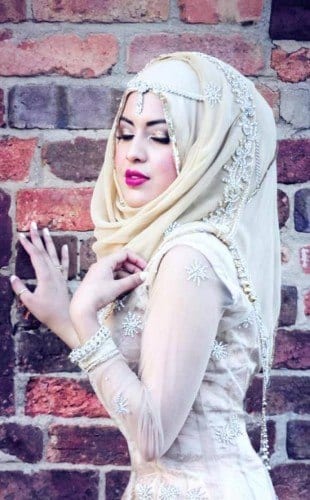 Source
#9- Simple Fancy Wedding Dress
There are many girls who prefer going simple on weddings and parties. Just a printed scarf with your simple outfit and a sequined blazer is your pick to shine.
#8- The Fancy Lace Hijab
Anyone can add more bling to their fancy dress just by having a fancy lace Hijab. It is effortlessly cute. These kind os hijab with net drapes look very royal and elegant when theyr are worn on your wdding day. FOr this kind of hiab you can either tell your tailor to make it or you can also make it all by yourself to make sure that you look pretty on your bi day. OFr the colors these net hijabs look the best when you get to wear them in the same colors as the color of your dress.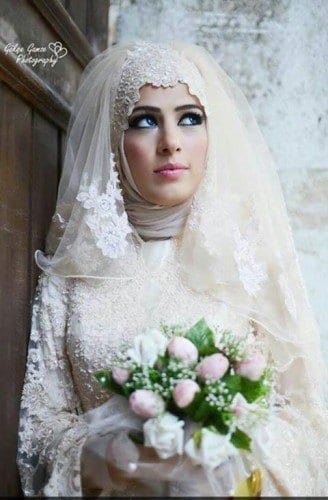 #7- Silk Stylish Fancy Dress
Evening maxi gown with a light color lace style and a silk scarf is your pick for a wedding function or party.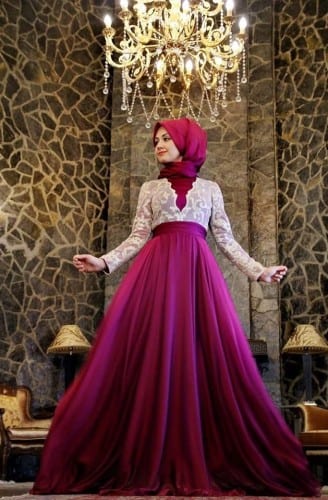 #6- Trendy Party Dress
Tea pink color always look stylish. Some fancy embroidery with a silk flared gown and a scarf can make you more gorgeous. Carry a box clutch to look more stylish.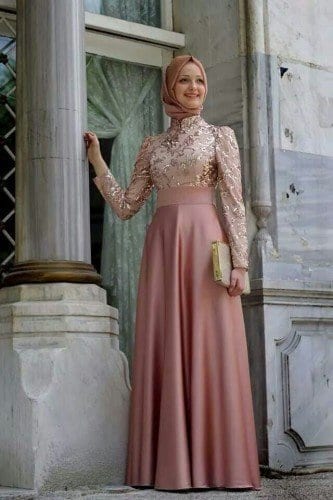 #5- Eastern Elegant Party Dress
A Pakistani style frock with light silver head jewelry and decor your dress to look stylish in a party. Youhave two choises when it comes to opting for hijab on wedding day. You cna either take a seaprate hiajb made out of scarf or u can take your dupatta as your hijab. The hijab taken with dupatte will have more drapes and will look more cute and flawy.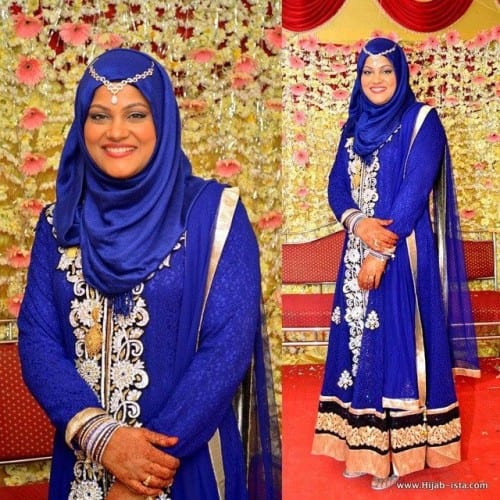 #4- Cute Modest Girl Dress
Bright color and simple frocks with a different color Hijab and some embroidery on neckline looks very modest and cute.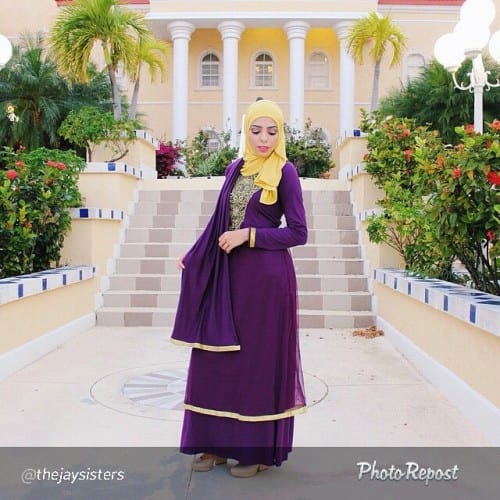 #3- Asian Stylish Hijabi Girl
This looks very good when you want to carry a fancy dress and wear jewelry differently. You cna always try weaing a head jewelry ver your hijab to give yoursefl a cute and elegant look. You dont hae to feel restricted that you cantwear head chains just because you are wearing hijabs.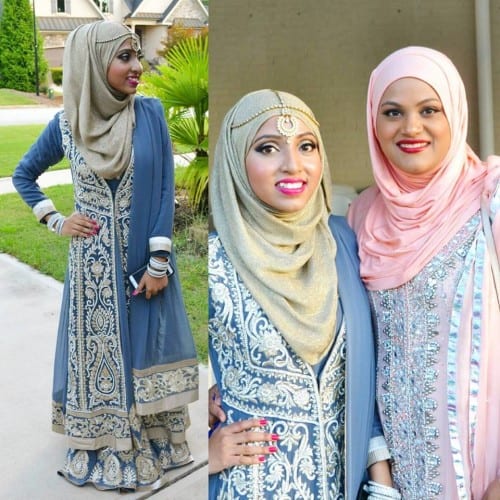 #2- Stylish Hijabi Bride in Red
Red is the most desirable dress on wedding day. A light color Hijab under fully embroidered dupatta adds decency in the dress.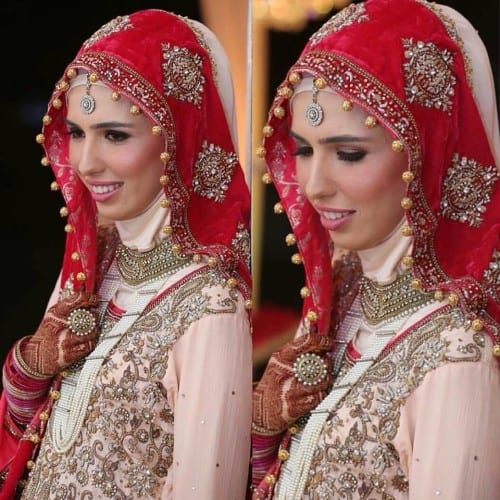 Source
#1- Beautiful and Stylish Asian Bride
Just like this picture, one can wear not so heavy embroidered dress with jewelry as well but on their scarf to look more stylish and different. Also have a look at [highlight]Latest turban hijab styles-18 ways to wear turban hijab[/highlight].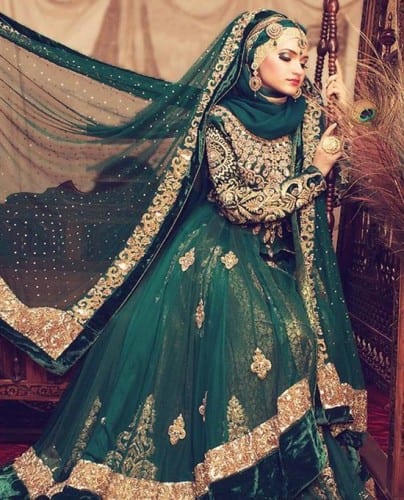 Source