Fashionable Ankle Bracelets: Your feet are precious and make them more beautiful by adding some charm with stylish and fashionable ankle bracelets and ankle chains. Plain and elegant ankle chains can add very much glam in your feet and they can look more beautiful with some pedicure and ensembled jewels. One can wear any kind of shoes with ankle bracelets and chains to have more beautiful and attractive feet.
Latest Ideas for Feet Jewelry
How to wear jewelry on your feet is always a big question but this is the easiest thing to wear. Either wear anklets in both feet or go for one-foot chains. Do not over do with feet jewelry but in casual or beach party this could even work. Noisy anklets are outdated now and elegant or bedazzled anklets are in fashion. Ensure a pedicure for adding more beauty in your feet along these wonderful anklets.
#1- Anklets with Boots
Who says you can't wear anklets with boots?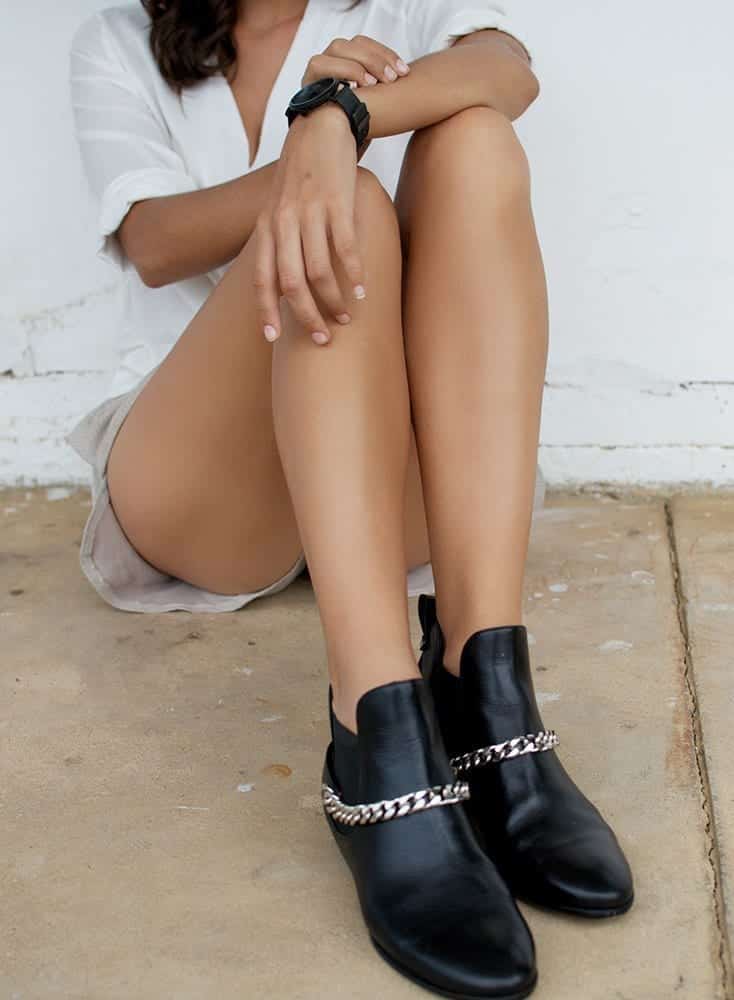 Wearing them with skirts is highly recommended, and of course the chains look even better when you choose the right shoes, so do have a look at [highlight]20 recommended shoes to wear with skirts of different types[/highlight].
#2- Stylish Ankle Chains
Add coined chains in a layer to add more glam and hip hop look.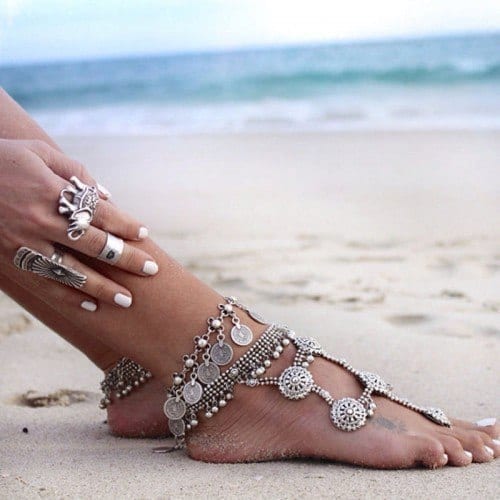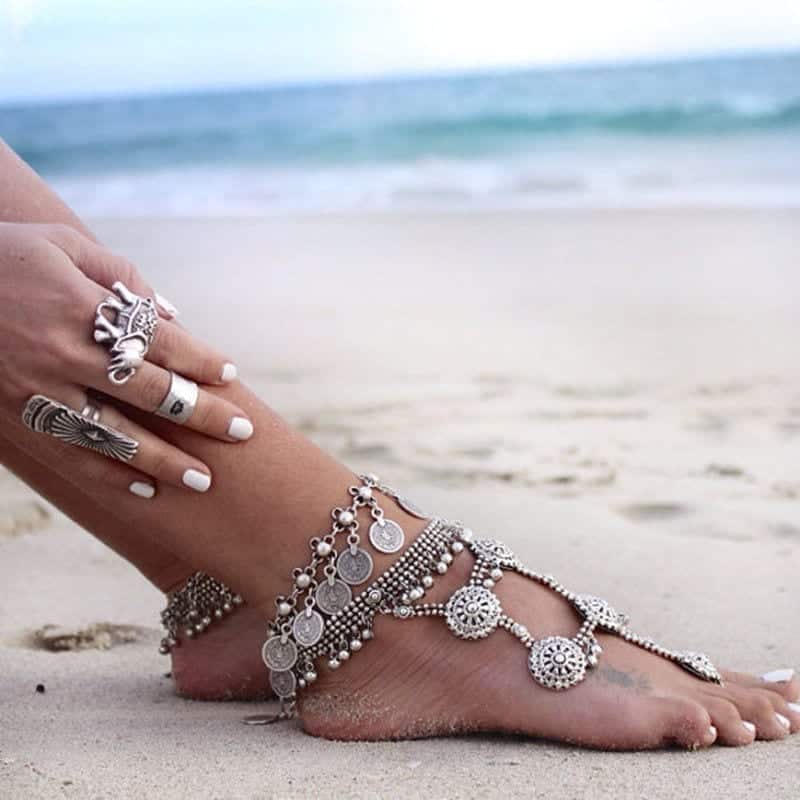 #3- Silver Coin Chains For Ankles
Denim are for all purposes and adding feet jewelry with daily wear looks very catchy.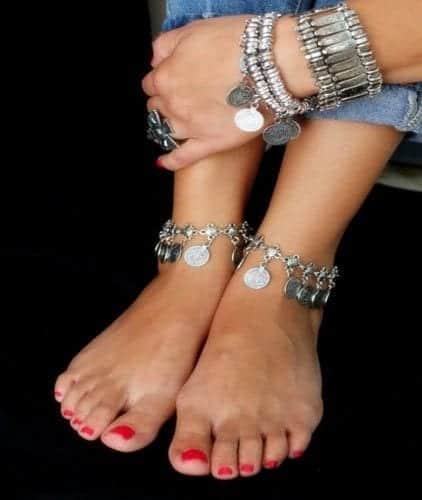 #4- Bohemian Ankle Chains
Anklets come in different styles and such coins and Croatia bohemian anklets look very cool on beach with naked feet.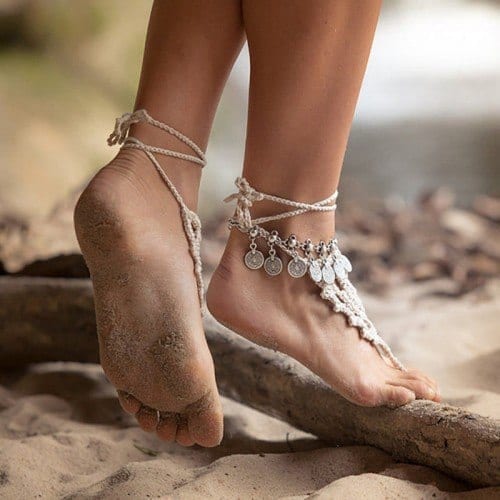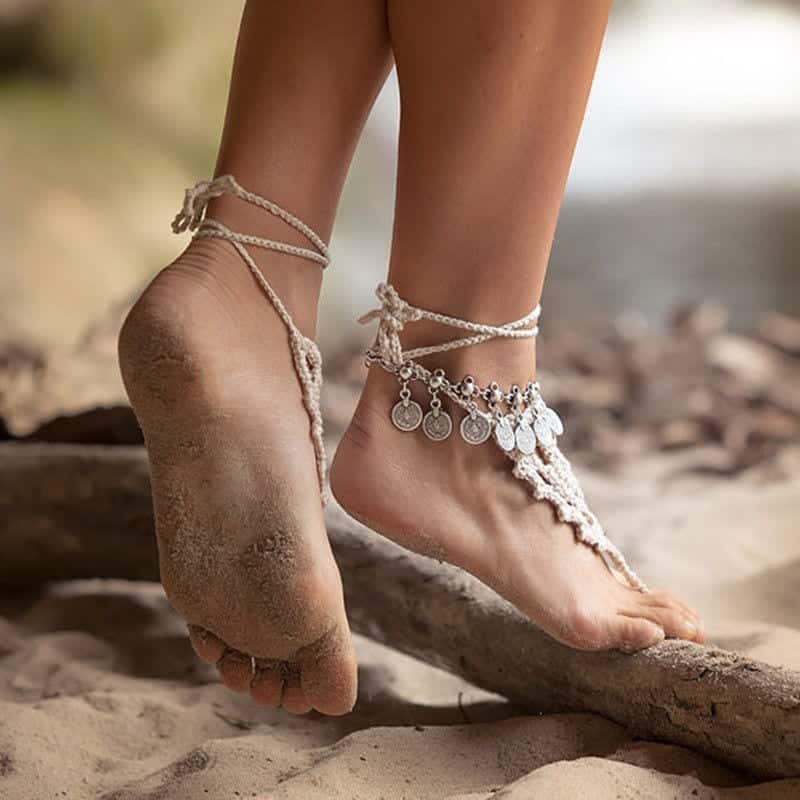 #5-Layered Chains for Sexy Feet
Add gypsy looks to your feet with layered chains.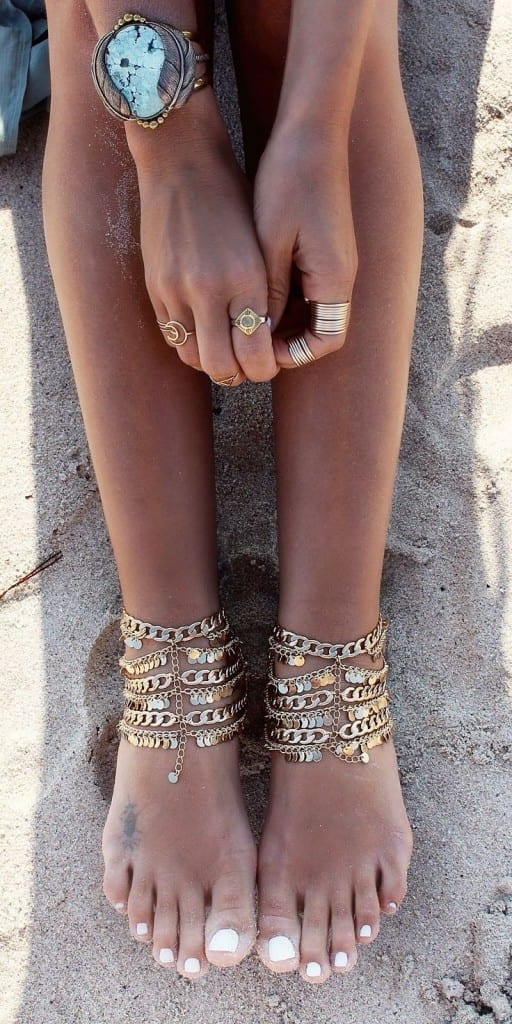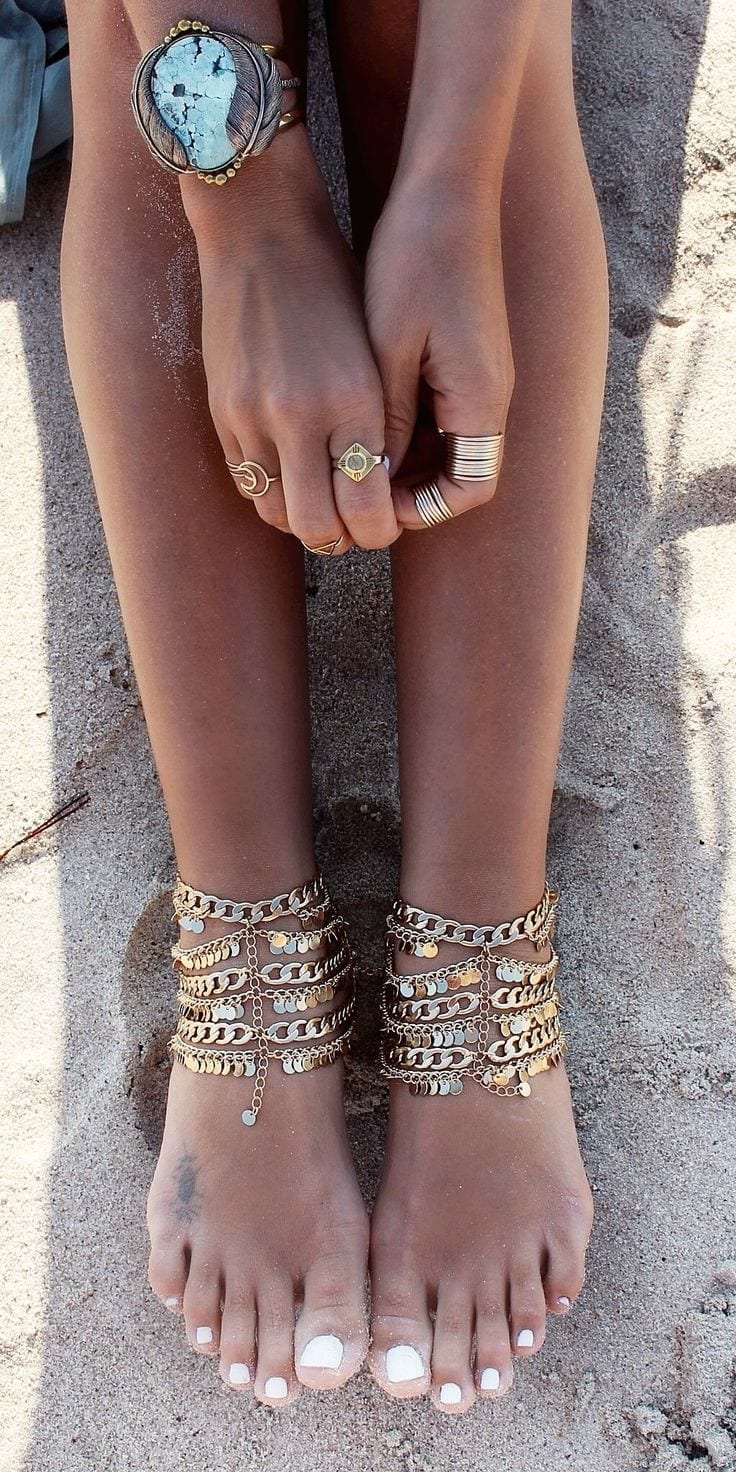 #6- Sexy Lacy Ankles
Laces are sexy, such lace and jewel combination is amazing.
#7- Hot Barefoot Sandal with Toe Chain
#8- Nude Heels with Diamond Chain
Diamonds look very sexy and glamorous, nude heels are very much in and such diamond chain adds charm to your feet.

Also check out [highlight]15 cute pink accessories every teen girl needs to have these days[/highlight].
#9- Lovely Butterfly Ankle Bracelet
Keep the anklets light and cute, some floral or butterflies look very amazing on feet.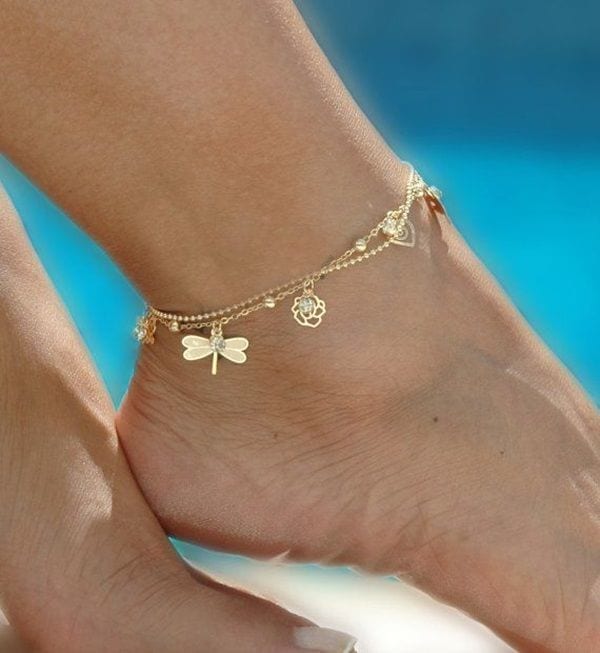 #10- Black Beads and Sexy Feet
This is kind of very elegant and cute anklet.

#11- Twisted Thread Ankle Chain
These are do it yourself kind of anklets and need no struggle to make them.

#12- Plain Gold Ankle Chain
Going for an official party but want to look more glamorous, wear plain chain under stockings.

Do have a look at [highlight]20 ideas shoes to wear with tights for different occasions[/highlight].
#13- Heels with Gold Ankle Layered Chains
Add layers of simple anklets for a different and stylish look.

#14- Thread and Beads Sexy Chains
Go naked feet or wear flats and pumps, thread style anklets look very pretty.

#15- Infinity Style Chains
Infinity style anklets look amazing and can be worn with every dress.

#16- Cuff Style Beautiful Ankle with Heels
One can try ankle cuffs to look different.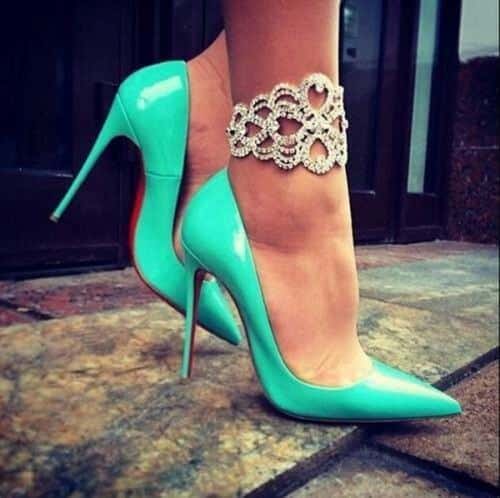 #17- Cute Ankle Chains
Cute and simple anklets go with everyday routine.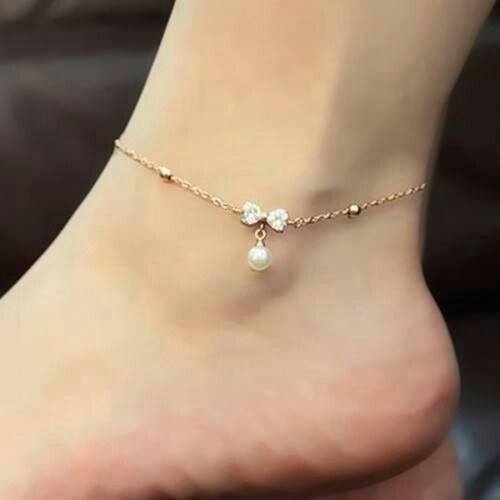 #18- Be Gold Chains for Tan Skin
Tan skin is the most beautiful thing, make it more pretty with Gold feet jewelry.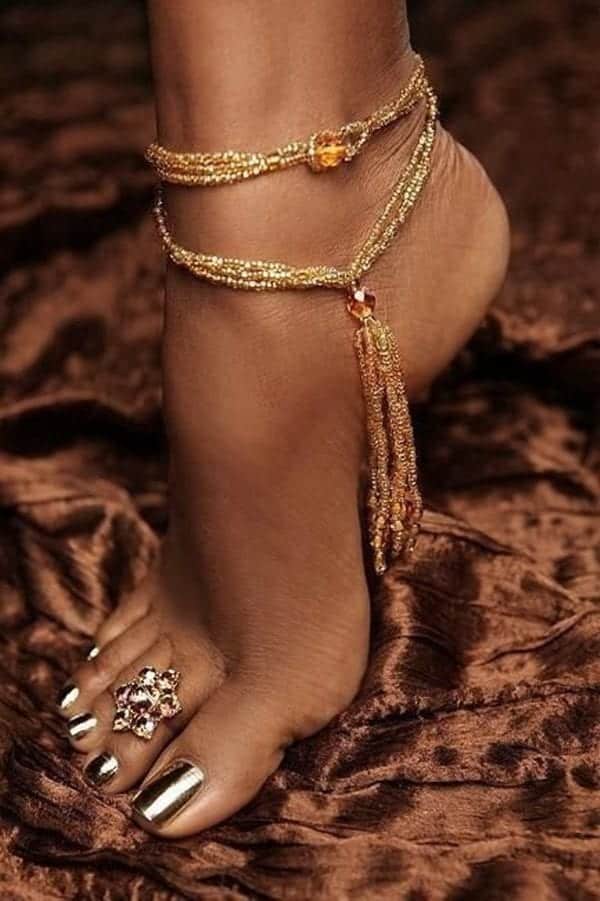 #19- Gypsy Style on Beach
Partying on beach? Go for such choker type anklet.

#20- Ankle Chains with Tattoos
Go for a bohemian look by adding tattoos and funky nail colors.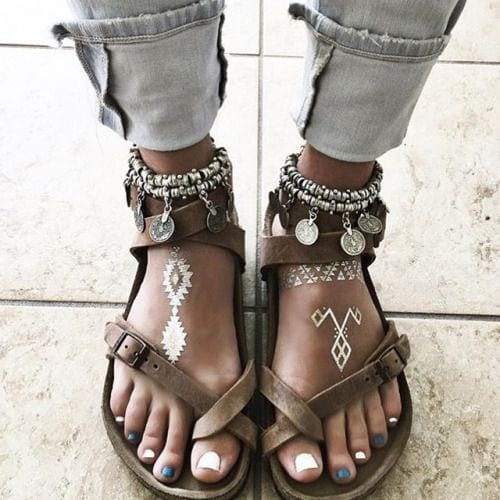 #21- Croatia Chains with Wedges
Anklets with some jewelry attached with wedge shoes look very fashionable.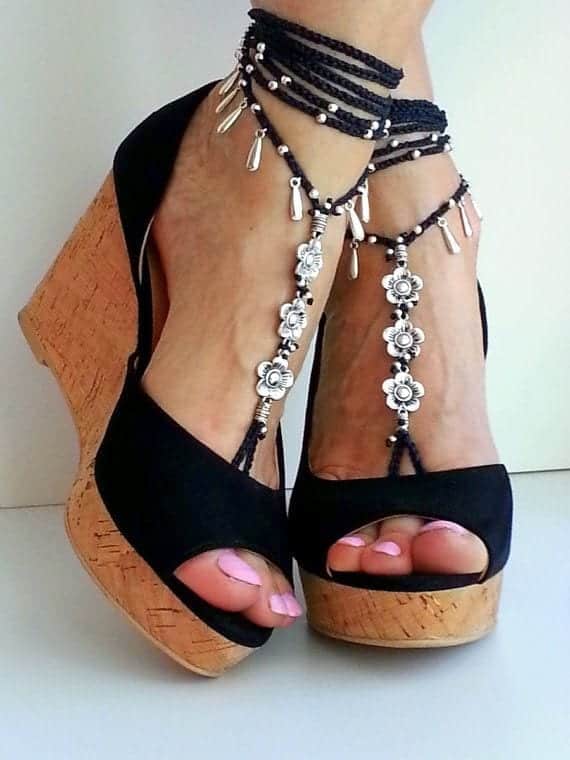 #22- Sexy Croatia Bracelet with Barefoot Sandals
Such anklets are very heavy but these does not need sandals, your feet look amazing.
#23- Hippie Style Ankle Bracelet with Flip Flops
Summers need cool styling and this looks very cool in routine.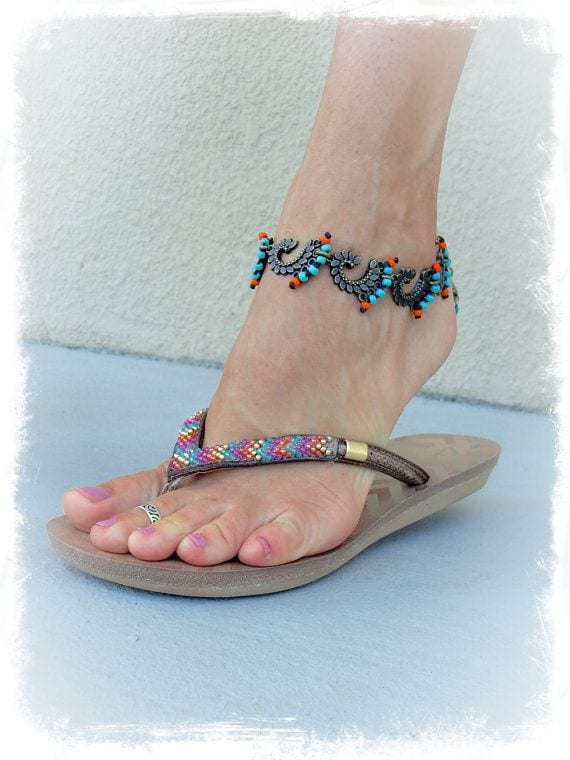 #24- Bejeweled Egyptian Ankle Bracelet
This is easy to make, use your old necklaces for such ankle bracelet.