Sexy Plus Size Beach Outfits. Styles of beachwear definitely come down to personal preference and also how much self-confidence a lady has. But it does not matter in the slightest what body type you have just as long as you embrace your shape. Choosing the right beachwear to suit your body type can be an issue no matter on your size, but plus size ladies can sometimes feel a little self-conscious.
What should curvy women wear at the beach? What accessories work perfectly for beachwear? This article covers different shapes and styles to suit a plus size figure. Also, have a look at our post on Stunning Spring Outfits for Plus size Ladies.
Beachwear for Plus Size Ladies
Styles of Plus Size Swimwear. For a plus size lady, patterned fabrics such as floral or polka dot are great choices when it comes to swimwear. These patterns take the eye away from areas you do not want to have any attention. Patterns such as stripes should be used in moderation and ideally just as a feature rather than an all-over pattern. Stripes can broaden an image and can cause you to look bigger. Use details to their full advantage. If a swimsuit if ruched or ruffled down the center or on the shoulders, use them to draw any unwanted attention away.
If you are a bit more confident and not self-conscious about your mid area then why not go for a bikini? Plus size ladies can absolutely rock a bikini if the fit is right. Invest in one that gives your bust support. High waist bikini bottoms are great for plus size ladies as they will draw unwanted attention away from your mid area. Some bikinis also have halter neck or asymmetrical tops with them so why not use these as a feature for your outfit?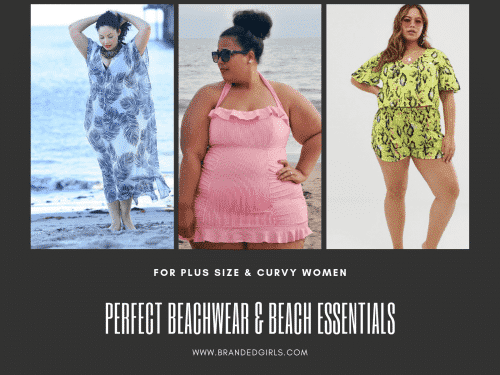 Beach Accessories for Curvy Ladies. If you're a little bit self-conscious when it comes to beachwear then why not accessorize with a sheer sarong? These are perfect for the beach as they will add layers and shape to your outfit whilst still complimenting your figure beautifully. Choose one in a contrasting color, if your swimsuit is white then choose a black sarong. A simple yet stunning way to make your beach style amazing. Other accessories for the beach include wide lensed sunglasses and wide brim sun hats. Black and white is a great color combination for swimwear and sun hats and is also great for the larger lady. Don't forget to add some bling to your outfit with simple necklaces and bracelets! These accessories together will make every plus size lady look stunning on the beach. Be sure to check out these 20 cute outfit combinations for curvy ladies.
Check out the following images of beachwear for plus size ladies and use them to create your own gorgeous branded beach outfit combo.
↓ 20 – Maxi Dress
A maxi dress looks great at any beach destination. A strapless one will be a great choice as it ensures comfort as well as style.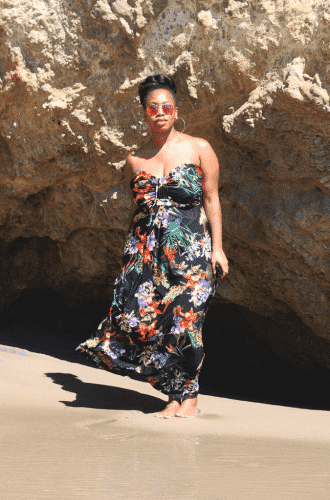 ↓ 19 – Crop Top With Shorts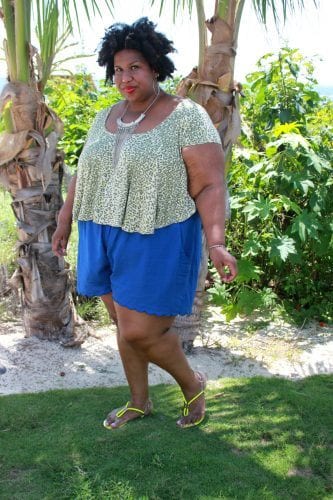 ↓ 18 – Bold & Beautiful Prints
Abstract prints are the latest fad and they look great when worn on beaches, especially if you go for bold colors like orange, yellow or hot pink.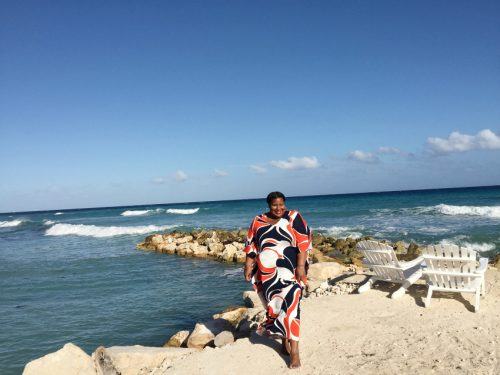 ↓ 17 – Modest Beach Outfit
We're loving this modest and minimalist dress that is so easy to dress up and down. Pair it with some funky beach slippers and bag and you're all set. This dress is by the brand "Cherry Blossoms Dress" who make the cutest plus size maxi dress, kaftans, tunics and much more so check out more of their collection here.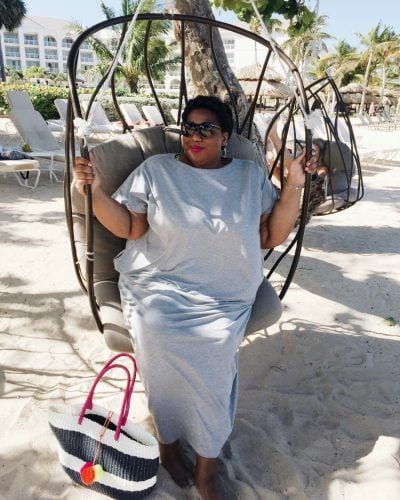 ↓ 16 – An All Black Swim Suit
Yes, you need a bikini for the relaxing time on the beach. But you would also want to pack a one-piece as it's more convenient for beach activities like playing volleyball or chilling at the bars. An all-black swimsuit is always a safe option when buying a beach costume. We highly recommend the BLACK TWIST RUCHED ONE PIECE SWIMSUIT by "Swim Suits For All" that you can buy here for a discounted price of just $ 54.60.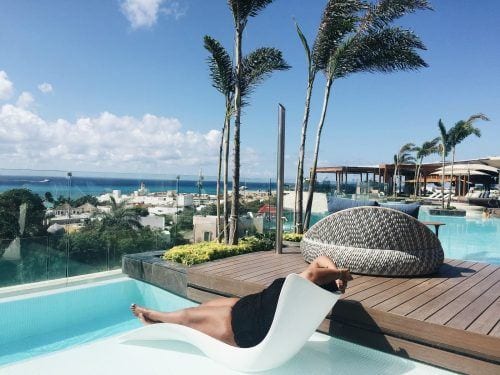 ↓ 15 – Beach Please Tee
What could be more beach-worthy than your beach please t-shirt? Pair it with a skirt for a feminine or with jeans for a casual chic look.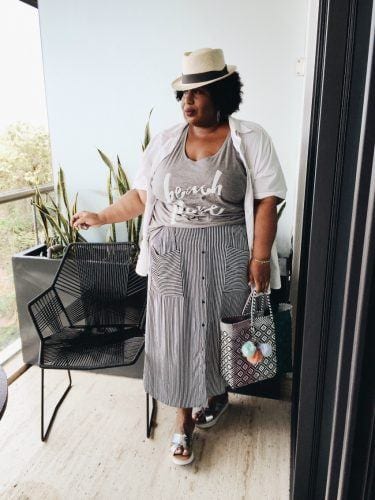 If you don't have a shirt like this, we recommend checking out the plus size tee with a "beach please!" screen print covered in sequins by Avenue that comes in a crewneck and short sleeves. Pair it with some sparkling or sequin for the perfect look.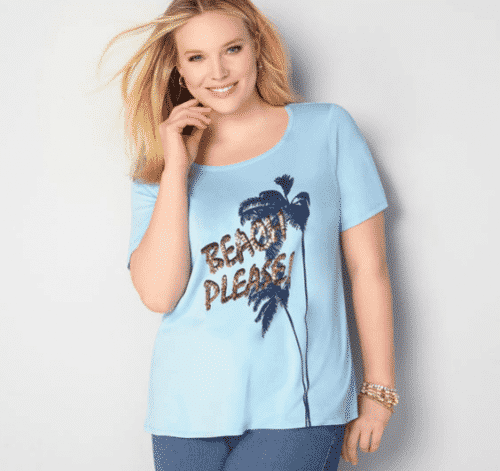 You can buy it here for just $ 10.50.
↓ 14 – Tribal Prints
Wearing tribal prints at the beach might be too old-school but it still looks great so why not give it a go. They look nice with some t-shirts as well as off-shoulder tops if you're going for formal attire. You can find similar tribal print plus size, wide legged pants here by Shein for just $ 9.00.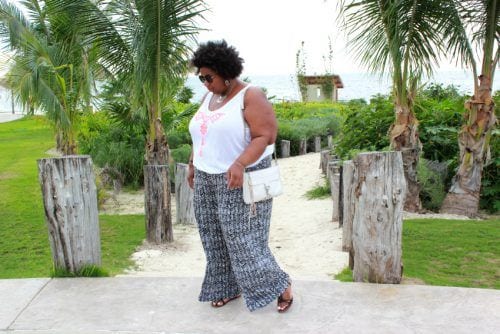 ↓ 13 – A Gorgeous Playsuit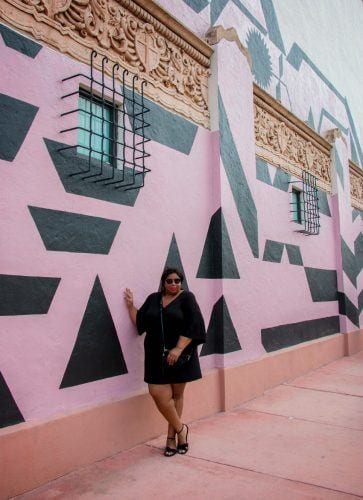 ↓ 12 – Peasant Top and Comfy Trousers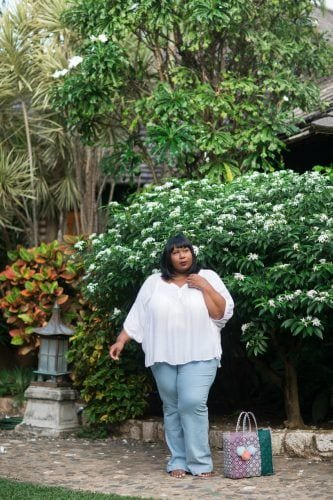 ↓ 11 – What To pack For The Beach
If you're still not sure about what to pack and what not to pack for your beach trip, watch this wonderful video by the awesome fashion blogger Kellie and we're sure that all your questions will be answered:
↓ 10 – Two Piece Outfit
This neon snake print jersey beach shorts two-piece by ASOS can be bought here for $23.00.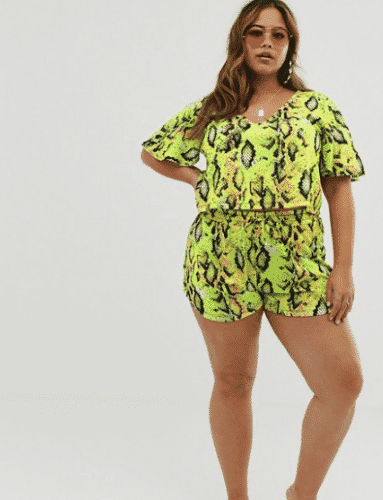 ↓ 9 – Where To Shop For Plus Size Swimsuits?
Here are some of our favorite spots to buy plus size swimsuits that look and feel great. We've also listed items that we love from their latest collections.
A) Swimsuits for all has a great collection of plus size swimdresses, one piece costumes, bikinis, cover-ups, tankinis and bottoms in the approximate price range of $ 30 to $ 90.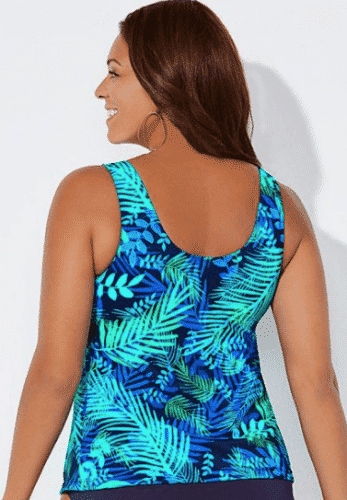 CARIBBEAN CLASSIC TANKINI TOP $ 29.40
B) Alpine butterfly swim is a brand that's solely dedicated to making chic plus size costumes. They have tops, bottoms, one-piece and cover-ups at prices starting from $73.00.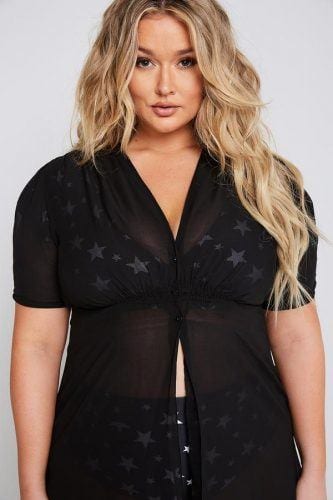 C) Lane Bryant too has a huge range of plus size swimming tops, bottoms, cover-ups, and one-piece costumes. When it comes to beach cover-ups, they definitely have the most amazing products including kimonos, jumpsuits and so many other interesting pieces. The price range is from $ 19.98 (on sale) to $ 110. The best part is that most of their products come with the offer of "buy one and get one for 50% off".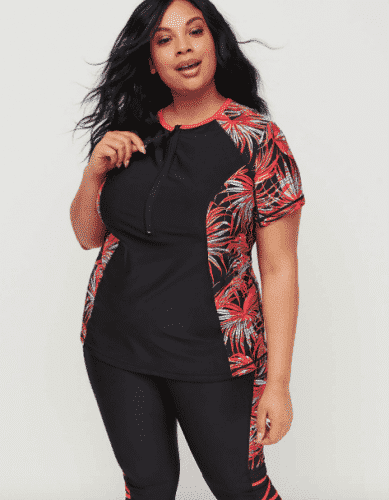 CACIQUE SPORT SWIM RASHGUARD – COLORBLOCK  $59.95
↓ 8 – Kimonos
A kimono is always the perfect cover up for beach outfits and a floral one will add glam to even the simples beach t-shirt. Moreover, investing in a good quality kimono means that you can reuse it in so many ways off-beach later on. For example, you can wear it wear it as a dress by adding on a belt, or just tuck it in your skirt and you'll have a gorgeous summer outfit.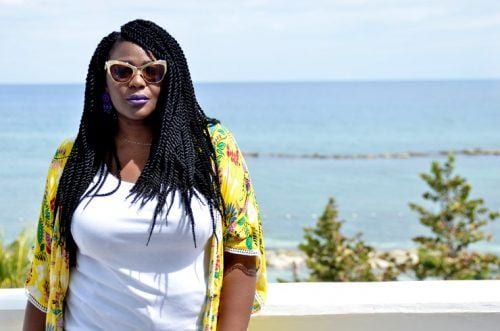 ↓ 7 – Beach Party Outfit
For a beach party, add the chic element by going for an embellished cover-up.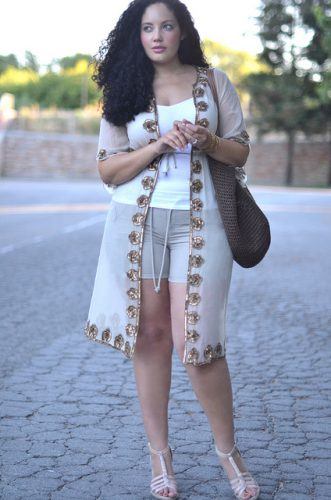 ↓ 6 – Tropical Prints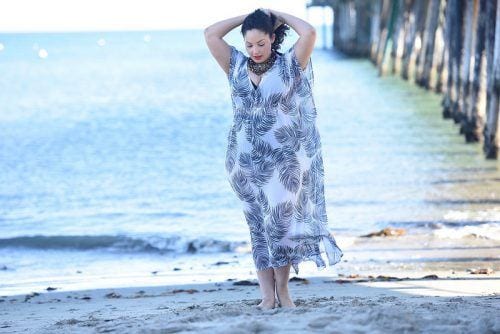 ↓ 5 – Skirt Outfit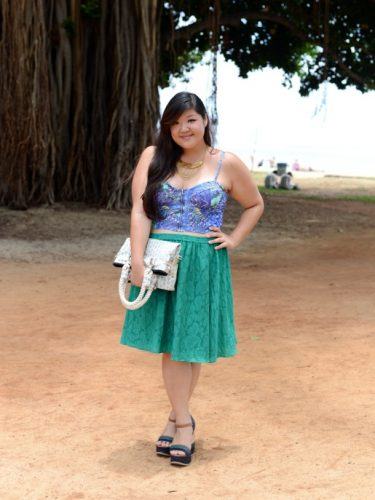 ↓ 4 – Beach Vacation Outfits
Here are three completely different looks that you can try for a new take on the beach every day during your vacation.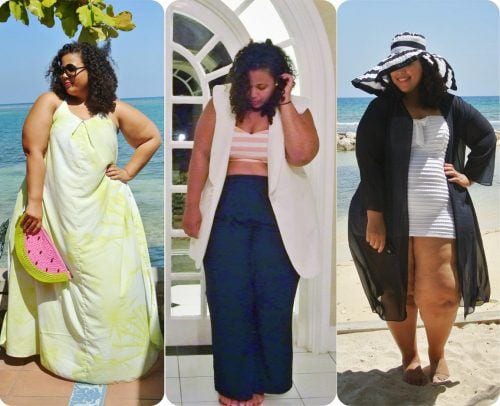 ↓ 3 – Guest Outfit For Beach Wedding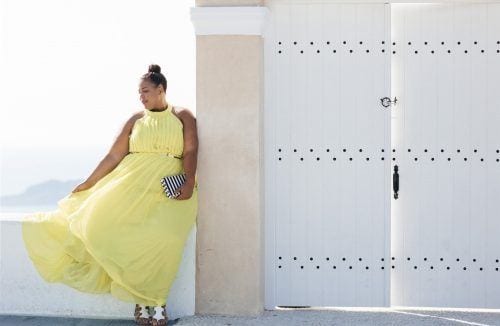 ↓ 2 – Hawaii Beach Vibes With Big Fruity Prints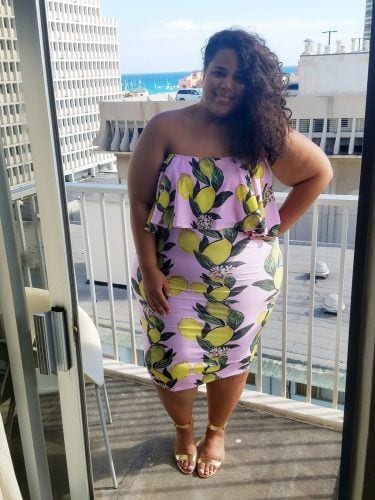 ↓ 1 – Preppy Outfit For Beach Walk