Yoga pants outfits: It is important to understand that there are multiple styles of yoga pants, so you need to find the right style for yourself. Comfort is the key when choosing your yoga pants as well as personal style preferences.
Skin fit, crops or full length, flared, loose fit crops are all suitable options for yoga pants. If you are wearing them for more athletic purposes or gym regimes, then skin-fit ones would be more suited to you.
Flared yoga pants or loose-fitting crops will suit your relaxing needs if you're into practising yoga.
Nowadays, you would find many top celebrities wearing yoga pants as casual wear or for street style fashion. So how to wear them? What outfits to wear with them? What shoes are perfect for yoga pants? We'll share loads of ideas that will answer all your questions.
How to Wear Yoga Pants?
You can easily match loose-fit yoga pants with crop tops or leotards for an outfit allowing maximum movement without problems while exercising as well as offering comfort. For a more fashionable style, rather than practical, why not match skin-fit bottoms with an oversized asymmetrical jumper? This is a great way of adding volume and shape to an otherwise plain silhouette.
Knee-high boots or even ankle boots with leg warmers over skinny-fit yoga pants will make for a gorgeous autumn and winter combination.
Important: Always Wear Yoga Pants in the Right Size
Never wear wrong-sized yoga pants as they will give an odd look and make panty lines prominent. Always ensure that your yoga pants are made from a breathable material that is not so harsh on your skin in the summer season. It is better to do a squat test with your yoga pants which you intend to purchase from any clothing store.
Which Tops to Wear With Yoga Pants?
In the winter season, you can pair up yoga pants with a puffy jacket or with a leather jacket or a blazer with any monochrome shirt underneath. Yoga Pants look awesome with tank tops, t-shirts, and tunics. The best part about Yoga pants is that they do not come only in black color. You can buy yoga pants in any solid color or even in acid-washed color too. Buy primary solid color yoga pants so that you can style them up with various graphic tees, tank tops, blazers, puffer jackets, etc.
Which are the Best Yoga Pants Brands?
Yoga pants are something which is must to have for every woman. Here are few yoga pants brands that can be your next online shopping destination for yoga pants so that you can refresh your wardrobe:
Alo Yoga
Girlfriend Collective
Zella
JoyLab
Lola Getts
Beyond Yoga
Nike
Outdoor Voices
What is the Difference between Yoga Pants and Leggings?
Want to know what is the hottest version of sweat pants? The surprising answer is Yoga pants. They are skin fit, suitable for all the seasons around the year and can be worn as casual and formal wear. As far as leggings are concerned, they are also skin fit but yoga pants are observed to be more lightweight and more stretchable and more durable as compared to a pair of leggings. Flexibility and extra comfort are what one can have by buying yoga pants.
Want to know how to style your leggings? Head over to Outfits with Leggings.
What Shoes to Wear with Yoga Pants?
Flare yoga pants are having a big fashion moment right now. So, it's better to choose shoes carefully without ruining the outfit. You can go for boots, sandals, ankle boots or even trainers. But, if you're not into the mood for adding more height to your look, canvas trainers like Converse are perfect for style flares for a casual look. However, it's better to avoid pointy heels with flared yoga pants.
PROFESSIONAL YOGA PANTS OUTFITS FOR WORK
Yes! You can even wear yoga pants to work by choosing a nice top and some gorgeous accessories. Here are three different work-appropriate looks created using yoga pants.
38 – You Can Create New Looks Everyday with Black Yoga Pants
37 – Baggy Tops Look Great with Yoga Pants
Apart from the looks shared above, you can also wear yoga pants with any loose-fit shirt or an oversized pull-over, matching pumps and light jewelry.
YOGA PANTS OUTFITS FOR TRAVELING
36 – With Crop Tops
When it comes to travel outfits, we look for something versatile enough to wear during our journey and be comfortable enough to withstand whatever weird contortions we end up in when trying to catch sleep on a long-haul flight.
Yoga pants are super comfy, casual, and stylish; so they are perfect for a travel outfit. Moreover, you can easily pair your yoga pants with a crop top and favorite sneakers.
35 – Layer with a Kimono for Traveling in Winters
If you like to stay warm during your flights, simple cover layer your yoga pants outfit with a warm kimono or a long cardigan.
YOGA PANTS OUTFITS FOR SUMMERS & SPRING
34 – Go for a Yoga Onesie
Here we see a gorgeous yoga onesie with strap top and harem-style bottoms. Onesies and yoga bodysuits are trending the most this year because they're not just convenient to wear for easy movements but also look great.
For a hot and happening look, try to choose ones with some sort of detailing like macrame on the back or cut out details on the legs.
33 – Printed Waistbands
This is one of the great ways of getting noticed in your yoga pants and still looking fashionable. Choose loose-fit pants with printed or colored waistbands. Match these with simple black or white crop tops, so they stand out.
This kind of yoga pants combo is great when going out for dance class or for exercise, or even when going out with friends to get a cup of coffee. You can easily find a variety of such yoga pants in the shops, thrift stores, and even online. They are available at a pretty reasonable price, so you can buy as many as you want.
Yoga pants by the brand Pink of Victoria's Secret have been especially trending recently and are one of the best ones around.
32 – Stylish Yoga Athletic Onesie
Harem style yoga bottoms and open back strap top onesie. It is perfect for outdoor activities or sports activities.
31 – Casual Summer Style
Asymmetrical long sleeve top with matching baseball cap. Pair this with cropped yoga bottoms and trainers for a great casual look.
Style Tip: In the winter season, you can consider wearing thick yoga pants as an alternative to leggings. You can wear an oversized sweater and long boots with yoga pants in wintertime.
30 – Summer Look for Yoga Class
Yoga pants are a fabulous transitional choice for the summer season. You can wear them underneath clothes or tunics, which means you can resume wearing your favorite summer dresses for a longer period of time. (Isn't it great?)
Here we see pink tie-dye cropped yoga pants matched with the black tank top. Yellow sole flip flops add a contrast of colour. Accessorize this look with a colorful straw bag, sunglasses and don't forget your yoga mat!!
29 – Summer City Style
Upstyle your flared yoga crops with a blue v-neck top and flat sandals. Accessories with a pink handled straw handbag.
28 – Comfy Athletic Wear
Go for a grey and black crop top with full-length loose yoga pants for comfortable and casual style.
Style Tip: If you are planning to wear yoga pants to your workplace then just make sure to pair your yoga pants with a longer top or dress. Prefer wearing a collared shirt with long yoga pants.
27 – Flared Yoga Pants Outfit
Yoga pants are women's favorite and are the go-to pants choice for females everywhere. These are considered one of the most picked fashions in today's world. It was specifically made for yoga and other forms of exercise but later on, became go-to pants for everyday use.
Flared yoga pants fit clearly on your body in a very comfortable way. These pants stretch well and are snug to our bodies in a way that makes them very comfortable to wear all day and night.
Flared yoga pants give perfect shape to your body. It ensures your body part is prominent, which helps you while stretching.
There are countless reasons why women love to wear flared yoga pants. Firstly, they are super comfy and flexible. They perfectly fit the body's shape; make all of your body shapes better and more prominent. So, you can love the shape of your body and boost your self-confidence.
Flared yoga pants can be the perfect outfit for Summers as they are comfortable, flattering, and currently super trendy.
26 – With Tank Tops
Simple white tank top and white waistbanded skin-fit cropped yoga pants – a great look for yoga and gentle exercising.
For a casual look, you can pair up yoga pants with a longer shirt because a long shirt envelops up your bottom and thighs.
Every outfit demands a different type of jewelry. So, whether you are wearing yoga pants casually, for travel, at the workplace, etc., you must keep your outfit in your mind while choosing jewelry.
It's better to avoid bulky accessories such as dangling earrings and a long necklace. Therefore, go with studs, small chains, and cute rings.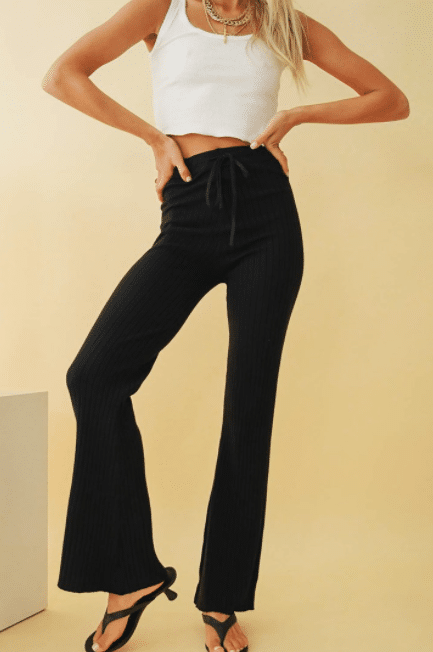 25 – Orange Is A New Black
Orange yoga pants are perfect for those spring-summer vibes. It is an ideal choice for your solid-color yoga pants collection. Indeed, it is like orange is a new black.
Its bright color is so refreshing that you can feel all the freshness and impact this color has while working out. So, if you think you need a workout-wardrobe refresh this summer, then you must go for orange yoga pants.
FALL OUTFITS WITH YOGA PANTS
24 – Monochrome Look
Flared yoga pants are an increasingly popular style in the high street. It is effortless to style flared yoga pants but not easy enough. Pair with oversized cotton shirts, tank top, a silky blouse, or knitwear, and oversized knits look great when tucked into a pair of yoga pants.
Moreover, you can also add bomber or denim jackets with pants. Most importantly, keep the one color that will let the trousers' cut do all the talking for you. Indeed, flared Yoga pants keep the look classic and relaxed.
23 – Nike Sports Look
Nike trainers with striped yoga pants and matching sports jackets. Also, check out this list of the best Clothing Brands for Teenagers.
22 – Street Style with Yoga Pants
Casual street style look with cropped yoga pants, logo print white t-shirt, and denim jacket. Accessorize with sunglasses and finish this look with white sneakers.
21 – Our Favorite Fall Combination: Grey and Green
20 – Adidas Yoga Look
Pink and grey Adidas sports hoody with black yoga pants can be your next favorite outfit.
Match this look with pink Adidas trainers, sunglasses and a large handbag.
Along with the yoga pants, you can wear a bright-colored hooded top that is easily available at the Adidas outlets. This outfit is perfect when you are going out shopping and when you don't want to get up and get dressed.
Go for a large handbag to keep your important stuff in there and don't forget to wear sunglasses to complete the whole look. For the shoes, you can wear sneakers in the same color as your upper, or you can opt for plain black or blue ones. This totally depends on your personal preference.
Here are 30 Ways to Get a Fashionable Sporty Look.
19 – Black and Pink Yoga Outfit
Add an alternative flair with leopard print. Tapered jacket hemline allows for a cheeky peek of skin. The straight-leg yoga pants are the absolute choice to practice as your weekend wear and keep a sense of weekday fashion.
Keep it delightful in a multi-colored pattern blouse.
18 – Sporty Look
Simple blue Nike V-neck matched with floor-length skin fit yoga pants – this combo is perfect if you are a sporty girl and love to play different kinds of sports.
You can wear this outfit when going to football classes or football sessions or even when going out to play tennis or squash.
For this outfit, you need to go for black-colored, skin-tight yoga pants and along with it, go for a blue-colored v-neck long-sleeved shirt to give yourself a comfy and casual look for the sports session.
17 – Purple and Green
Matching cropped yoga pants and jacket. A great look for yoga during Fall.
If you are too bored with your normal dressing and you want to try something new and exciting, then this is the right combo for you. You can go for purple-colored yoga pants with a matching zipper top.
For more twists, you can wear any other contrasting colored shirt inside your zipper to give an extra pop of color.
16 – Flared Yoga Pants With Beanies For Millenials
The millennials are more about comfort than fashion and this look screams comfort!
15 – Brown Wide Leg Yoga Pants
Wide-leg yoga pants are perfect for yoga or any other workout where you won't be in danger of tripping over the flared hems. You can pair them with any sports bra or workout top. It is easy to liven up your workout wardrobe with wide legs yoga pants. They can easily be worked as a regular outfit as well.
And brown always looks geat in Fall.
Button Down V Neck Shirt $18.99
14 – With Turtlenecks
Yoga pants are very versatile, and so is the turtleneck. It creates a great look when paired casually with flared yoga pants, and a pair of boots complete your outfit to make them look slightly more elegant.
If you want to make a striking impression, pair your turtleneck with flared yoga pants. Check out other ways to style a turtle neck.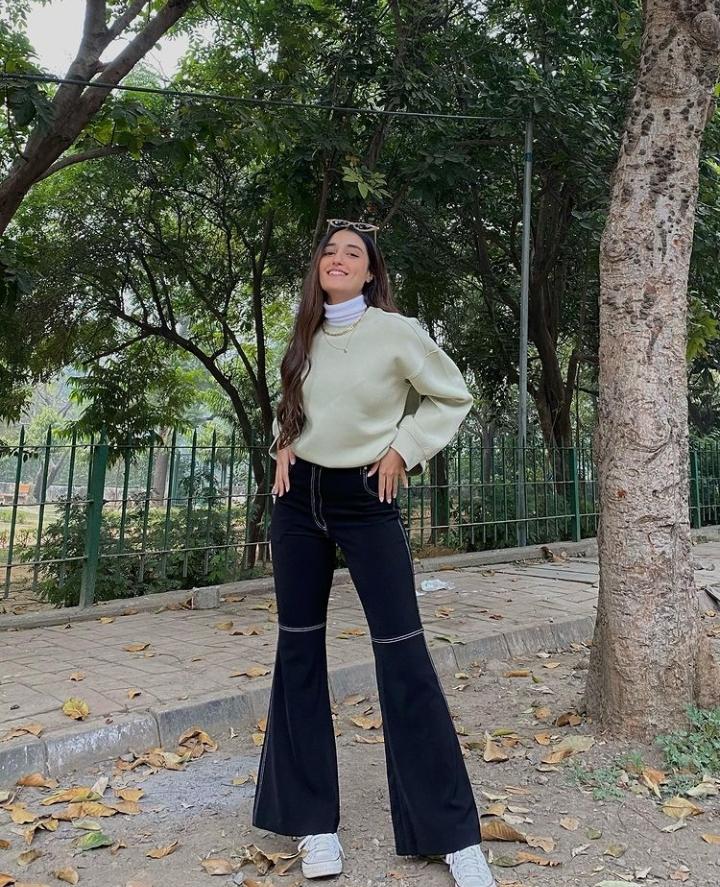 13 – With Cropped Sweaters
Adding layers is so much fun. A successful trick to befooling people into thinking you are wearing black jeans instead of comfortable yoga pants.
Flared yoga pants give the same look as palazzo pants.
You can add a cozy scarf, jacket, long cardigan, knee boots, etc., to layer over your yoga pants.
12 – With Brown Sweatshirts
This winter makes an impression by styling wool sweat with flared yoga pants. You can only wear a wool sweater and insert the shirt, leather jacket, and over-the-knee boots. It is the perfect outfit to show up at a party this winter.
Therefore, it is ideal to utilize your woolen sweatshirts and yoga pants. It would be a great way to add to this look.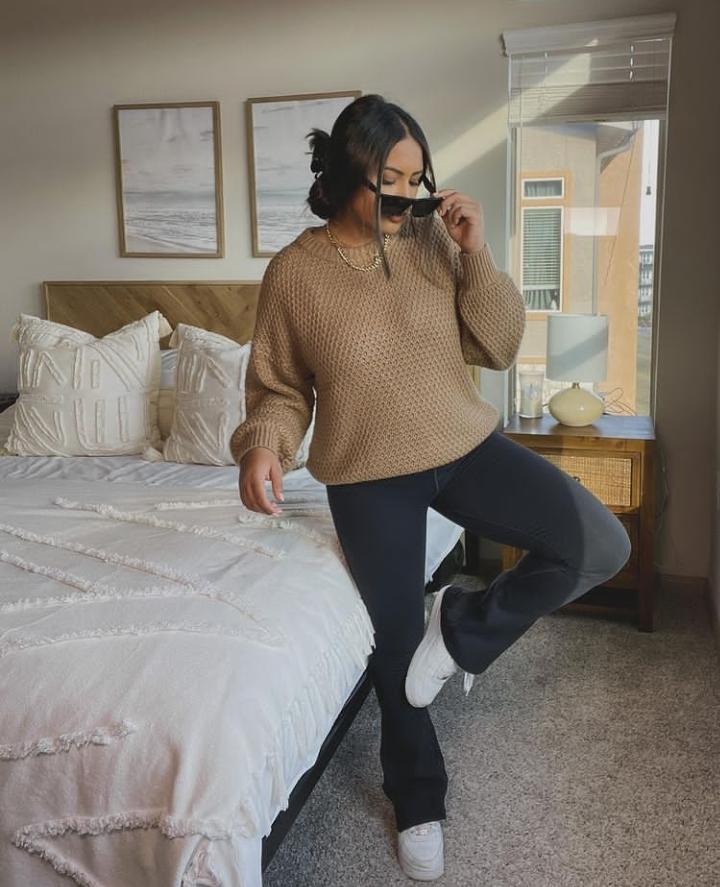 11 – Nike Sweatshirt With Flared Yoga Pants
Everyone likes comfy clothes. Isn't it? Yoga pants serve precisely what you want in a casual day outfit. You can style it with any sweatshirt, and you are good to go.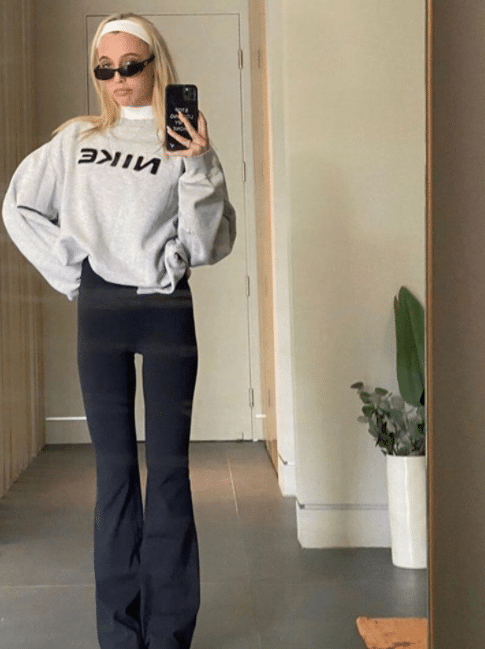 WINTER OUTFITS WITH YOGA PANTS
10 – With Furry Jackets
Flared yoga pants are back as comfortable as trendy. They managed to slide their way back into our hearts and wardrobes. Pair them with faux fur jackets or coats in Winters.
9 – With Puffy Jackets
You can style yoga pants in different ways this winter. You can easily elevate your look effortlessly with yoga pants by pairing them with an oversized puffer jacket. These casual wear with jackets are a great way to look together without doing much.
8 – Gen Z Queen Is Serving!
Gen Z is serving us 2000s nostalgia by bringing back yoga pants. They claim the re-discovery of flared leggings. The style made it way back into our current fashion repertoire. Emma Chamberlain has introduced new innovative ways to style yoga leggings and has made it a casual outwear not limited to gyms. Now it's again trending; all praise to our gen z.
High Waisted Bootcut Yoga Pants $22.99
MSBASIC Turtleneck Crop Top $15.99
HOW TO WEAR YOGA PANTS OUTSIDE THE YOGA CLASS?
7 – With Baggy Tops for Coffee
Flared leggings are what exactly we back then used to call yoga pants. They're typical leggings at the bottom instead of hugging your legs down to your ankle. Flared leggings are perfect for lounging around, low-impact workouts, and much more.
Indeed, they are back in trend with a modern twist by using comfortable stretch fabrics, allowing you to lounge while looking groovy. Therefore, they are the perfect definition of comfort in revolutionizing fashion.
6 – Black On Black
Black color never goes wrong. It is the most common look and yet the best one. You can pair your black flared yoga pants with a black crop top and heels and wear some jewelry.
5 – Should Yoga Pants be Worn in Public?
Yoga pants are a setting trend. You're likely to see many women wearing yoga pants in public. They have become as universal as blue jeans. You have probably got more than one pair of them in your wardrobe.
Yoga pants are now seen everywhere, whether it's a gym, the workplace, shopping at the grocery store, or going out with friends. You can take yoga pants out in public to the gym, the store, run errands, etc. It is like everything you can do in jeans. You can do it in yoga pants.
4 – Go for Printed Flared Yoga Pants
Printed yoga pants seem to be trending this season. They're so diverse and beautiful that you could spend hours looking at different yoga pants prints. Staying with more traditional blacks and plains might be tempting when you have bold choices.
But I really recommend giving them a ty as you can easily style them with plain tops or the same printed tops or hoodies.
Snakeskin Print High Waist Flare Pants $16.59
3 – Rock the Cowgirl Look
Denim chambray shirt with black yoga pants is something to die for!
Accessorize this look with cowboy boots and a chunky scarf. A great way to dress up yoga pants indeed.
You can turn your whole outfit around by just making perfect pairs and matching combos. For this kind of combo, you need to go for black colored yoga pants and wear them with a long denim shirt. You can add a nude-colored infinity scarf along with it to complete the look. Voila!
BEACH OUTFITS WITH YOGA PANTS
2 – Simple Beach Style For Yoga In Summer
You can wear yoga pants as your beach dress and you can rock them too.
As far as color combos are concerned, you can keep them as bright as you want to. For example, for a classic combo, you can go for black-colored classic yoga pants along with a white-colored sleeveless shirt.
Or you can switch to a white-sleeved shirt with any other bright-colored shirt like bright orange, red, blue, etc. For the shoes, you can wear your trusty pair of good flip-flops.
1 – High Waisted Flared Leggings with Crop Tops
Yoga pants are a good choice for the beach because they're comfortable, quick-drying and don't restrict your movements.
Frequently Asked Questions
Q: Is it ok to wear yoga pants anywhere except for yoga class?
In short, yes! It is perfectly all right to wear yoga pants daily. Yoga pants are especially worn during yoga sessions but are also go-to pants that can be worn all day long. Yoga pants are inexpensive, making them worthy of wearing daily and slaying any outfit.
These are so stylish and causal that they are perfect for a trip outfit. You can pair your yoga pants with a crop top and favorite sneakers. You surely will rock that look.
Q: How to style your outfit with yoga pants?
Yoga pants go well with all types of styles and outfits. Whether you're wearing a dress, an oversized shirt, heels, or sneakers, they will most likely match your outfit. You can style your outfit with yoga pants by pairing them with a blazer or jacket with a shirt underneath. Choose a blazer, cardigan, and jacket wisely to wear your yoga pants to ensure you look professional.
I prefer wearing a neutral-colored blouse with a black cardigan, along with yoga pants and a pair of flats for a professional-looking outfit that's also comfortable. After putting clothes on, complete the outfit by wearing bold earrings and combat boots.
Q: Are yoga pants for all types of bodies?
Yoga pants are designed for all types of body types. It doesn't matter what shape is of your body. You can always wear them. Now eat freely and treat yourself to your favorite food without worrying about button-up pants because yoga pants are highly flexible and effortless to button up. Though they can be of different sizes, lengths, long, ankle fit, or till your calves, depending on what kind of workout you'll be doing, you can pick them.
Q: How are yoga pants beneficial for your health?
It is said that yoga pants add years to your life and life to your years. The synthetic polyester material used in the making is more beneficial than 100% cotton. They contain fabrics that wick moisture from the body and promote airflow.
This moisture prevents overheating by keeping body temperature stable during exercise, while ventilating fabrics increase airflow. Yoga pants, with their super qualities, may make workouts more comfortable, especially in warm or hot environments.
Q. Where to buy Yoga pants for women?