Girls Sporty Outfit Look – Whether you are just out for a simple jog, working it at the gym or into full-blown, competitive sports there is no reason why your sporty outfit cannot be fashionable at the same time. Remember for a sporty look that is still fashionable keep makeup simple in one of two ways; either neutral colours on both eyelids and lips or a bold colour on one such as red lipstick. This article covers 15 ways to dress up for a sporty girl look.
Outfit Ideas for A Fashionable Sporty Look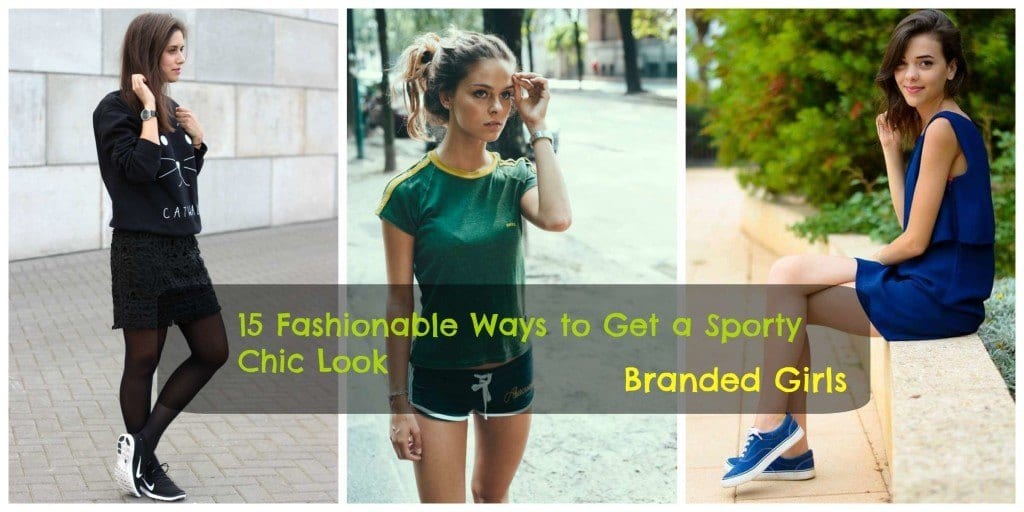 Recommended: 15 Best Summer Gym/Workout outfit ideas for women
#15 – Skirt with Trainers.
Nike trainers with lace effect skirt, tights, and cat logo hoody. Perfect for leisurely summer sporting activities.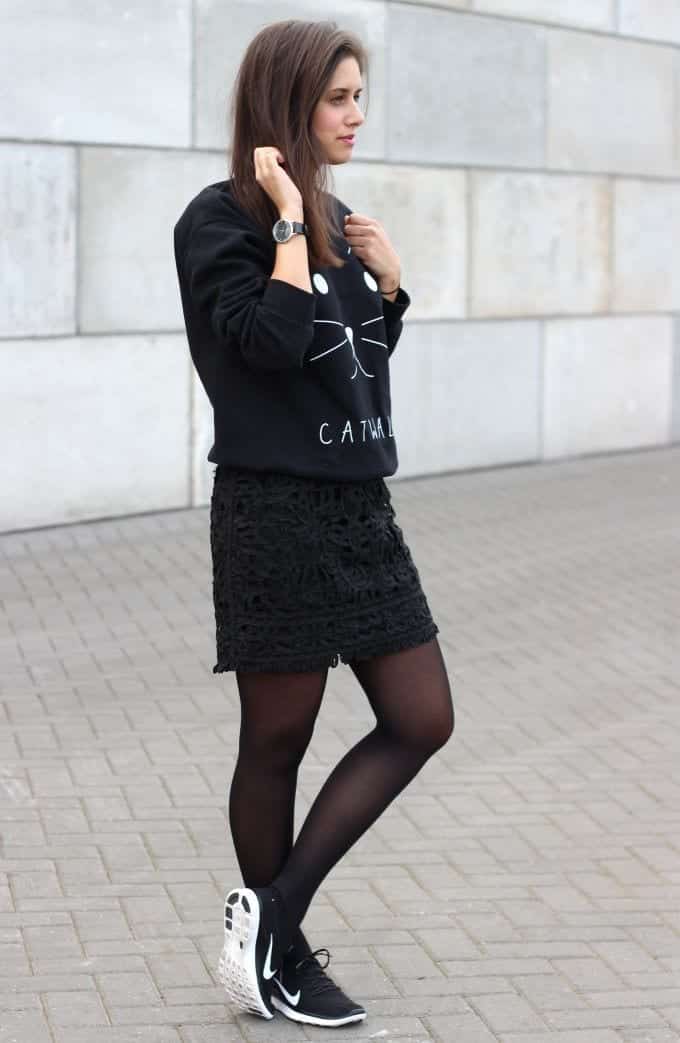 #14 – Street Style with Trainers
White trainers with black skinny jeans, black tank top, and blazer. Accessorize this look with leather handbag and sunglasses.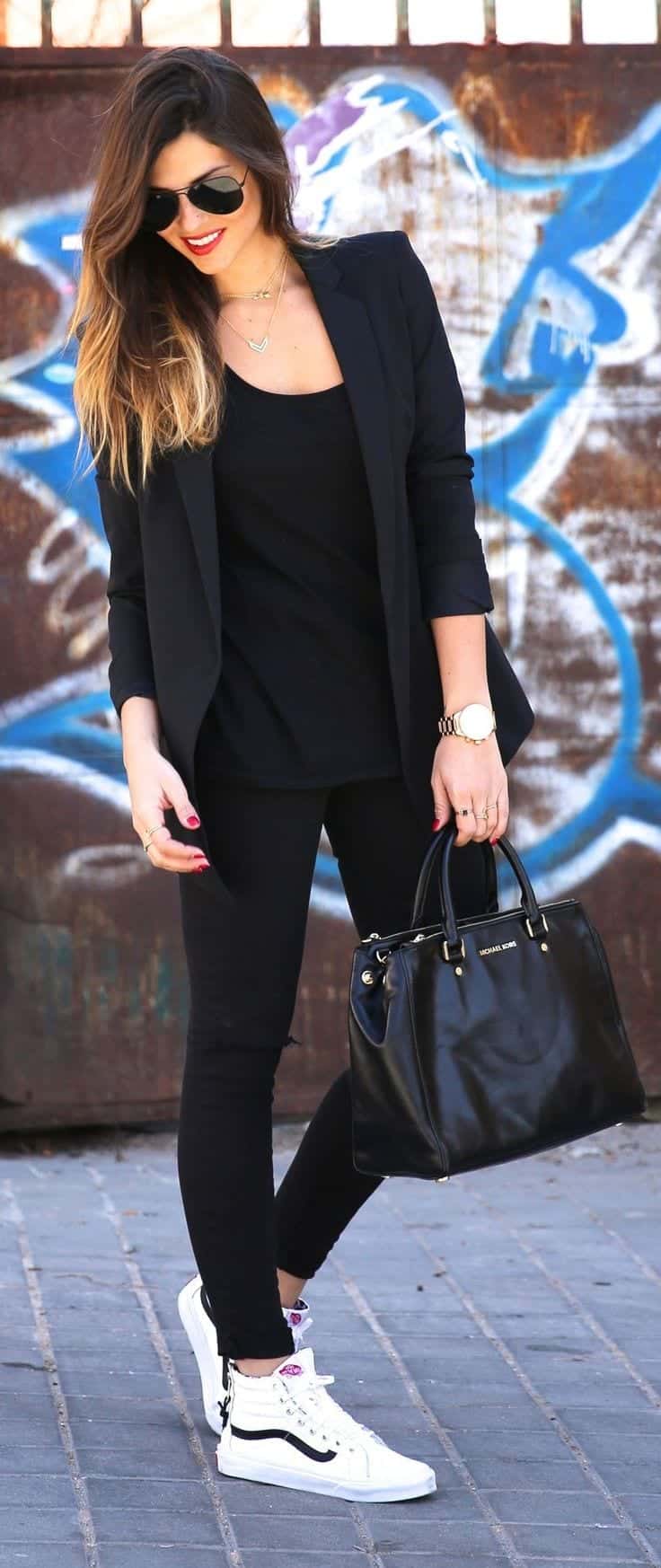 #13 – Teen Girl Look
Sneakers with jogging pants, sports number logo t-shirt, loose denim jacket and chunky wide knitted scarf for extra layering.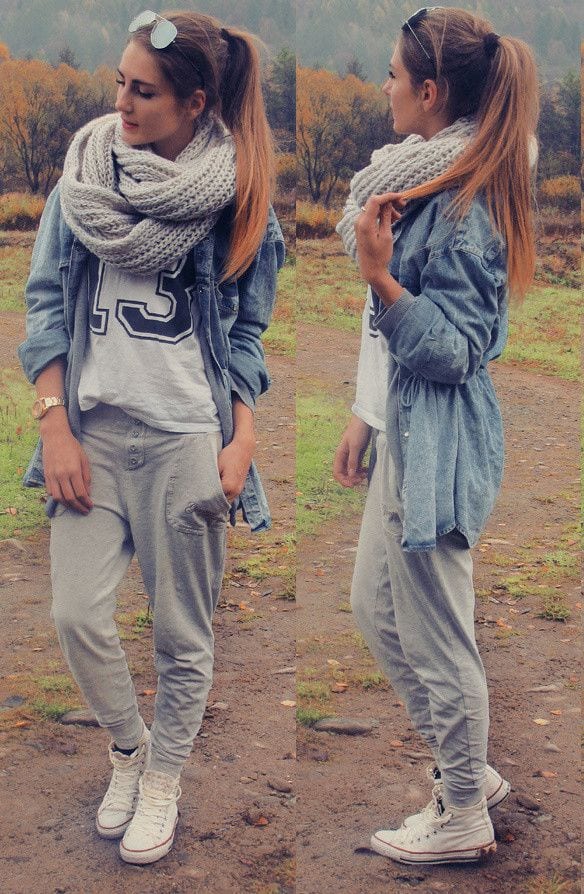 #12 – Sleek and Sexy Sports Style
Simple, long sleeve black dress with white high top converse. Accessorize with round sunglasses and large leather handbag.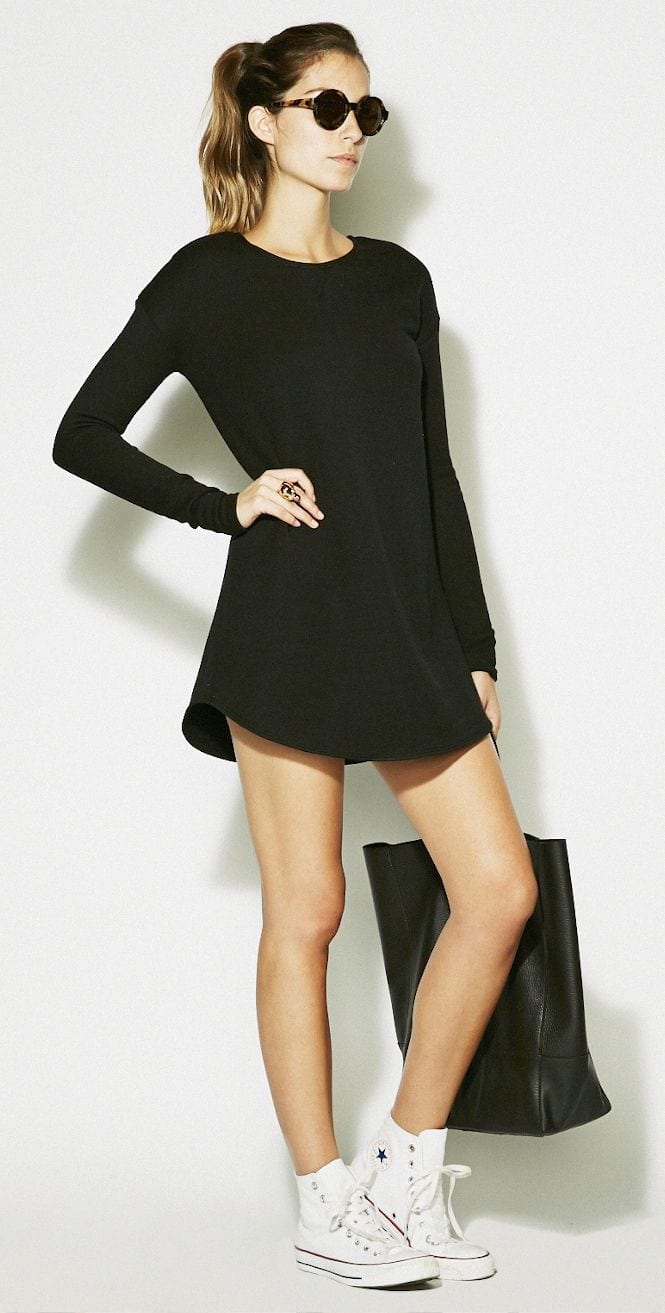 #11 – Casual Sports Look
Baseball vest paired with skinny cropped jeans and white chuck tailors with decorative studs. Customize this style with sunglasses and contrasting red handbag. great casual look for the high street.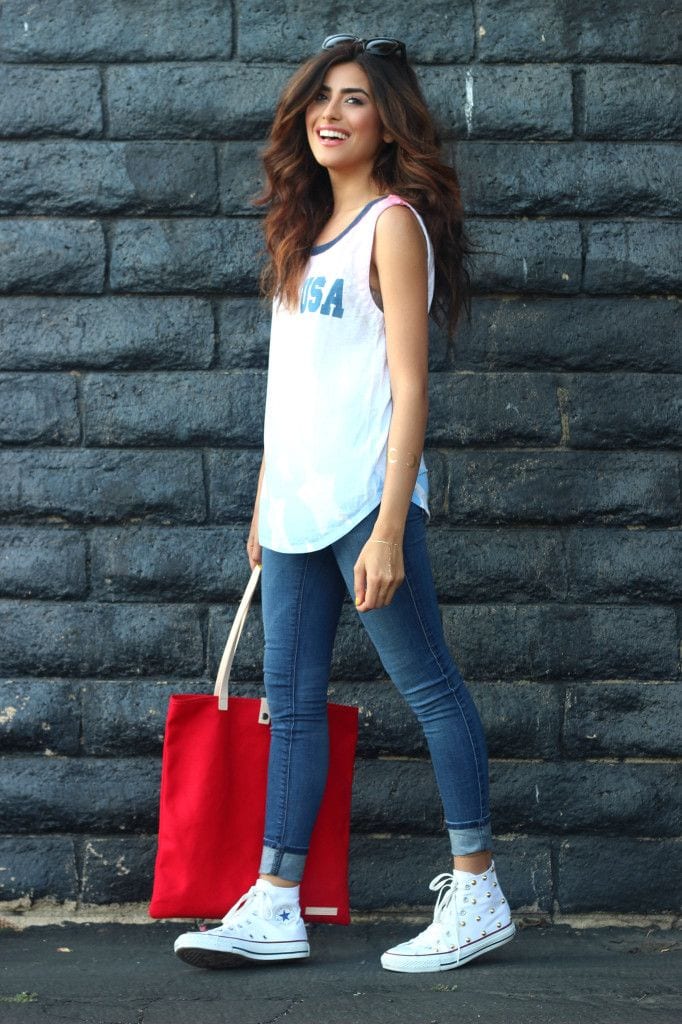 #10 – Gym Wear Style
Wide neckline Nike jumper with a black vest underneath, skinny fit gym pants, and Nike sports trainers. Perfect look for a gym session.

#9 – Style with Mini Shorts
Onyx emerald sporty T-shirt matched perfectly with emerald sports hotpants. Great attire for summer jogging.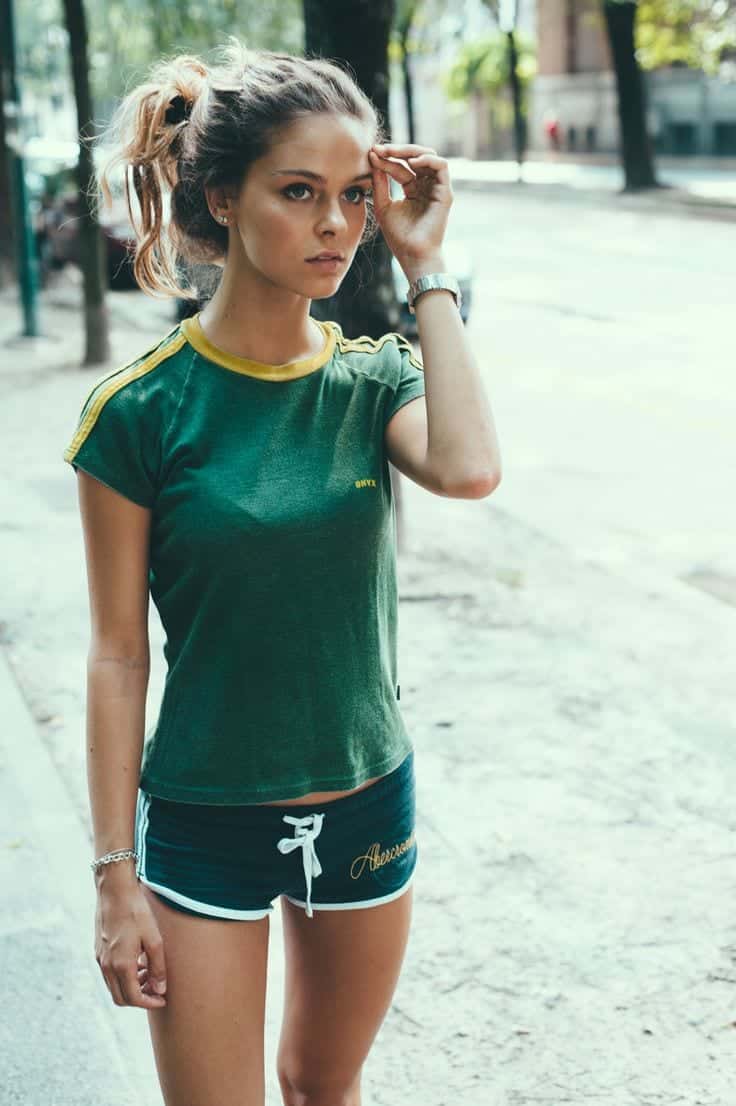 #8 – Summers Look for Teen Girls
This is one of the most simple and chic looks. A simple blue sleeveless short dress was worn with matching blue vans shoes. This is a great summer look for young girls.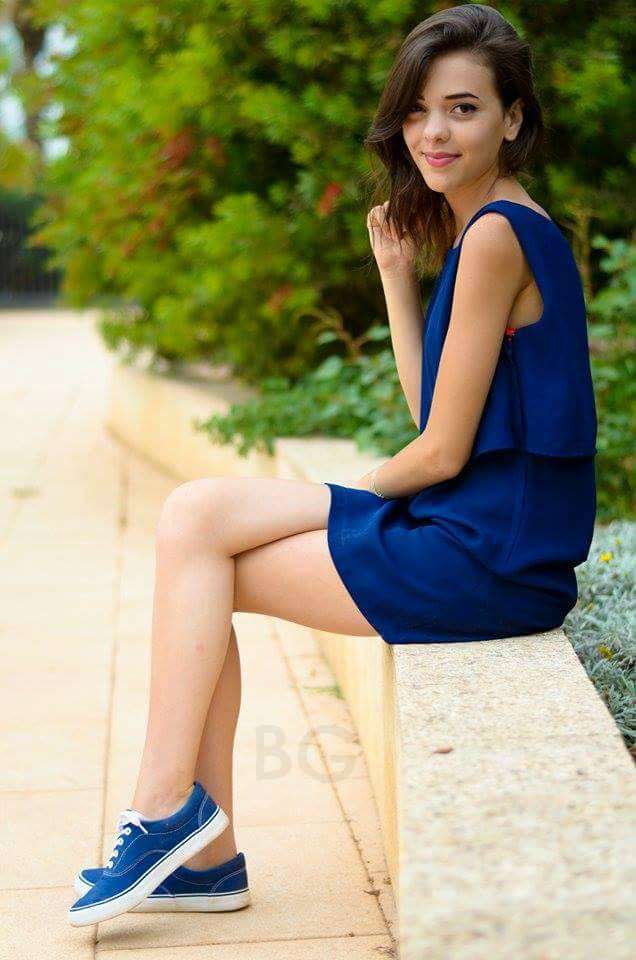 Fashion Blogger Style.
Simple yet elegant thick strap black dress matched with black and pink Nike sports trainers.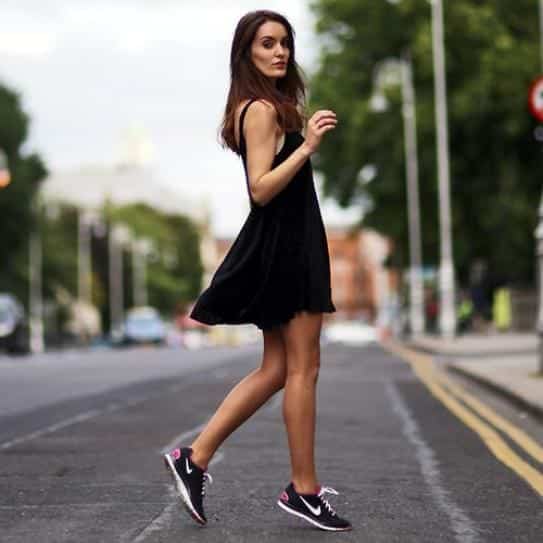 #7 – Army Look
Camouflage t-shirt with skinny jeans. Added NY baseball cap and low top sneakers for a more sporty feel. Camouflage shirt is the best option for the days when you don't know what to wear and when you feel like you don't have anything to wear as well. For this kind of an outfit go for camouflage tee with classic blue skin tight jeans. Don't forget to roll the bottom one inch of the jeans to make them look super cool and perfect. You can wear pink coloured sneakers with this outfit idea because the pink colour looks perfect with green. You can also wear a pink coloured baseball hat over it to make you outfit look fashionable. This outfit is perfect for going on a date where you want to keep things casual and when going to bar for some time pass.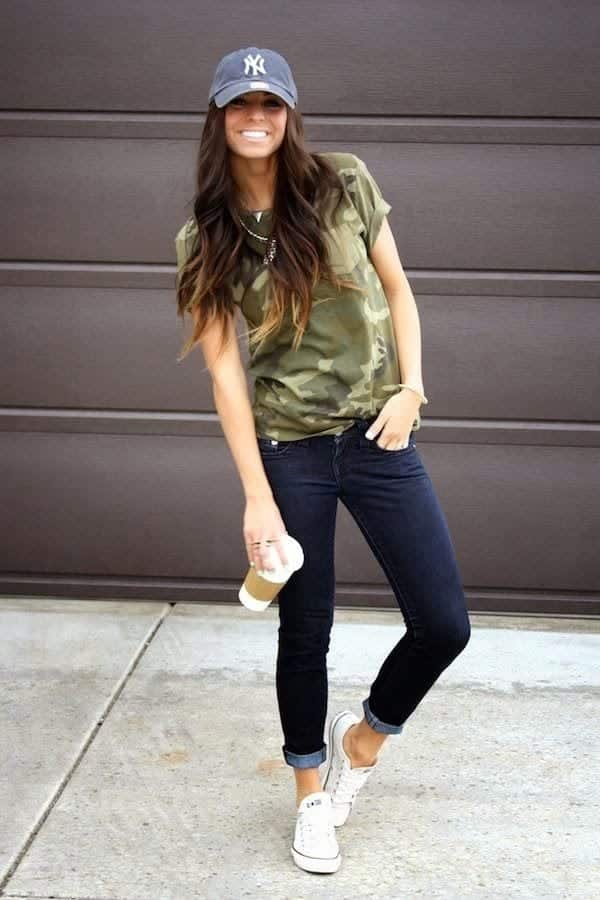 #6 – City Sports Style
Skinny jeans paired with sports jumper and low top black Converse shoes. Add in some chunky jewellery, contrasting red leather bag and sunglasses for a perfect city style. This outfit is perfect for those girls who want to keep their dressing as simple as hell but elegant and perfect for every occasion. This outfit is suitable for work and college too because of its modesty. For this outfit, the idea goes for classic blue coloured skin tight jeans and then wear sports lose sweat top over it. Try to go for creativity, and find the ones with sequenced numbers. For the shoes, you can wear classic black and white sneakers. For the bag, you can wear the cross body bag in any bright colour to make it pop over the outfit, for example, red or yellow.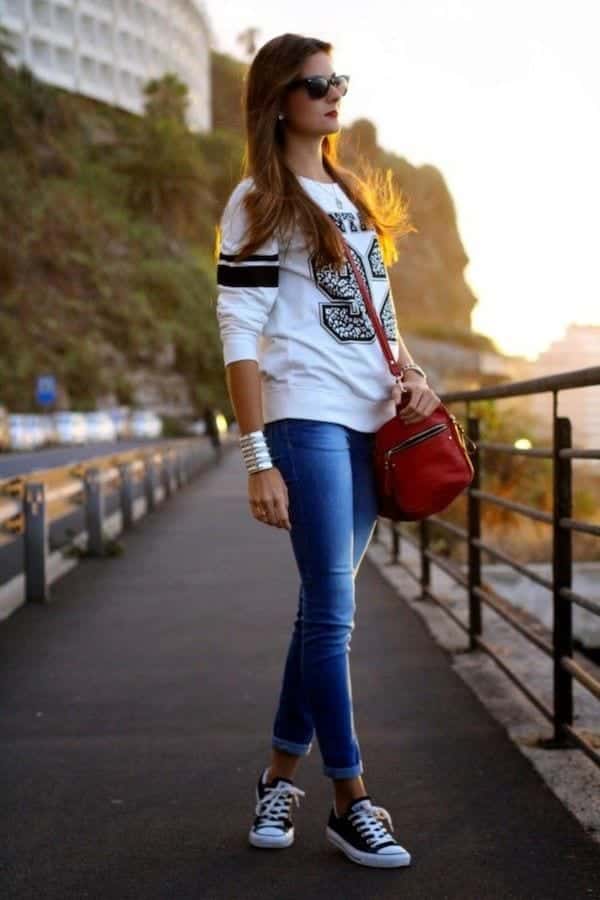 #5 – Sleek Sports Fashion
White patterned hoody with grey gym crops. Match this style with a pair of running trainers and use a matching overcoat for an extra layer. This outfit idea is perfect if you are going to grab a cup of hot coffee after your gym workout session. It can also be worn to friends to meet up right after gym time. For this outfit, you can wear grey coloured cropped sweatpants and pair them with a white hoodie and grey coloured overcoat to keep you warm through the cold days of winters. This outfit can be worn with different colour options; you don't have to stick to just two of these colors. Keep your options wide and vast.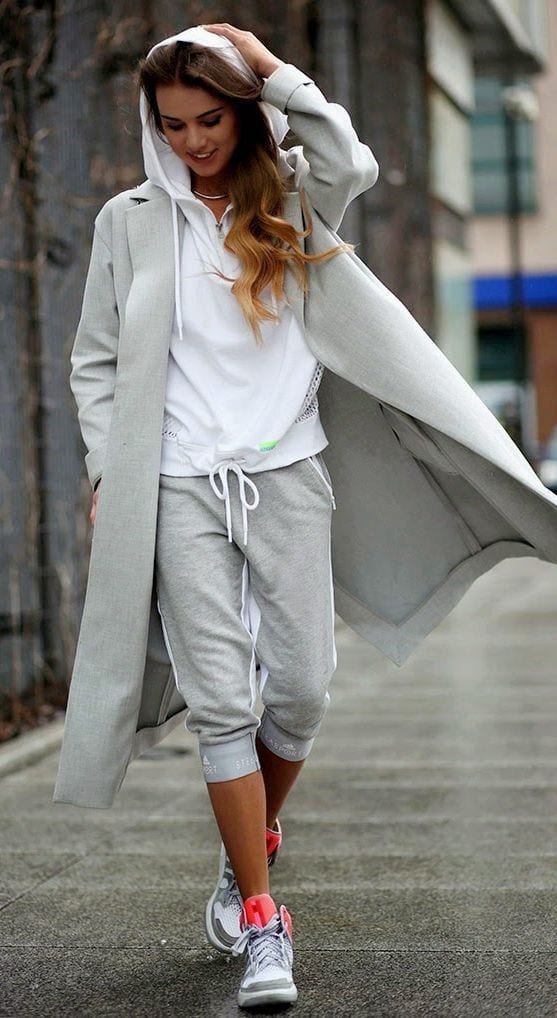 #4 – Swag Sports Style
Perfect sports look for black ladies. Cropped hoody with baseball jacket. Grey gym pants and strap pumps with round checkered sunglasses for a swag look.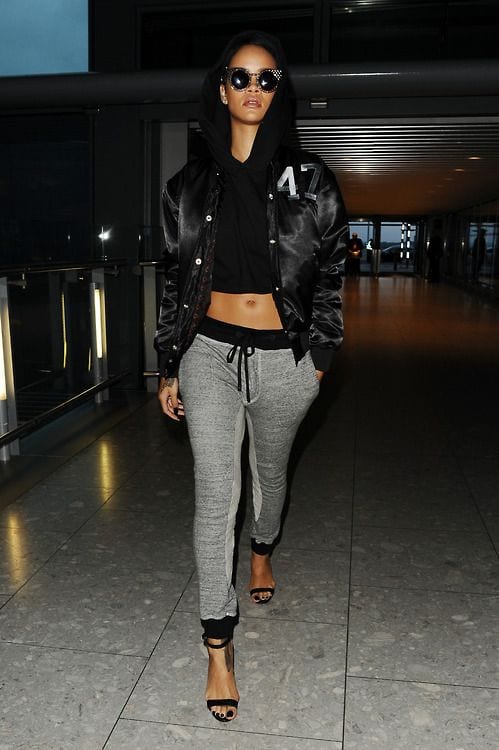 #3 – Celebrities look
Leather jackets are the best for a swag look and pairing it with a bandanna makes it even more perfect.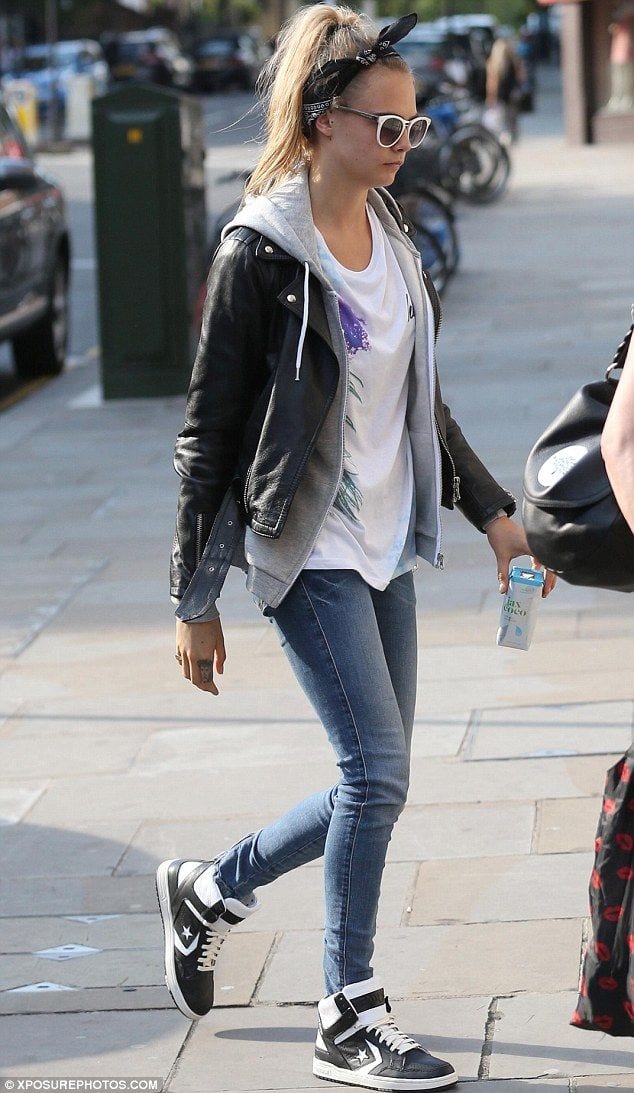 #2 – Trainers with Leather Pants
Sports Jumper with leather jeggings and high top trainers. Finish this look with a woollen beanie hat and simple sunglasses. This outfit may be a little uncomfortable for sports because leather tights are not very stretchable but this outfit looks extremely sexy and sporty on any kind of girl. For this outfit start by wearing jet black colored leather tights and then for the top, you can go for a loose sweatshirt that is full sleeved. You can also wear a black-coloured furry beanie, you can add anything that is black to match with this outfit with a little pop of contrasting colour. For the shoes try to keep them a little different for example you can wear red or white colored shoes or sneakers.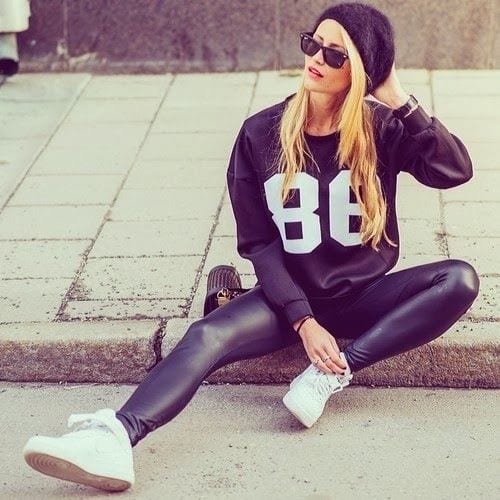 #1 – Nike with Skinny Jeans
For our finale! Grey jumper and scarf with contrasting red skinny jeans and red Nike trainers. Accessorize this look with sunglasses and large white leather handbag. The Hot red color is perfect for anyone who wants to look sporty and stand out in the crowd. For this kind of outfit inspiration, go for bright and striking red-coloured skin tight jeans and pair them up with the dull grey coloured hoodie to tone down the bright red colour. For the scarf, you can wear dark grey coloured triangular scarf around your neck or even go for an infinity scarf. For the footwear, the best choice is to wear red coloured joggers or sneakers to match with the colour of the jeans.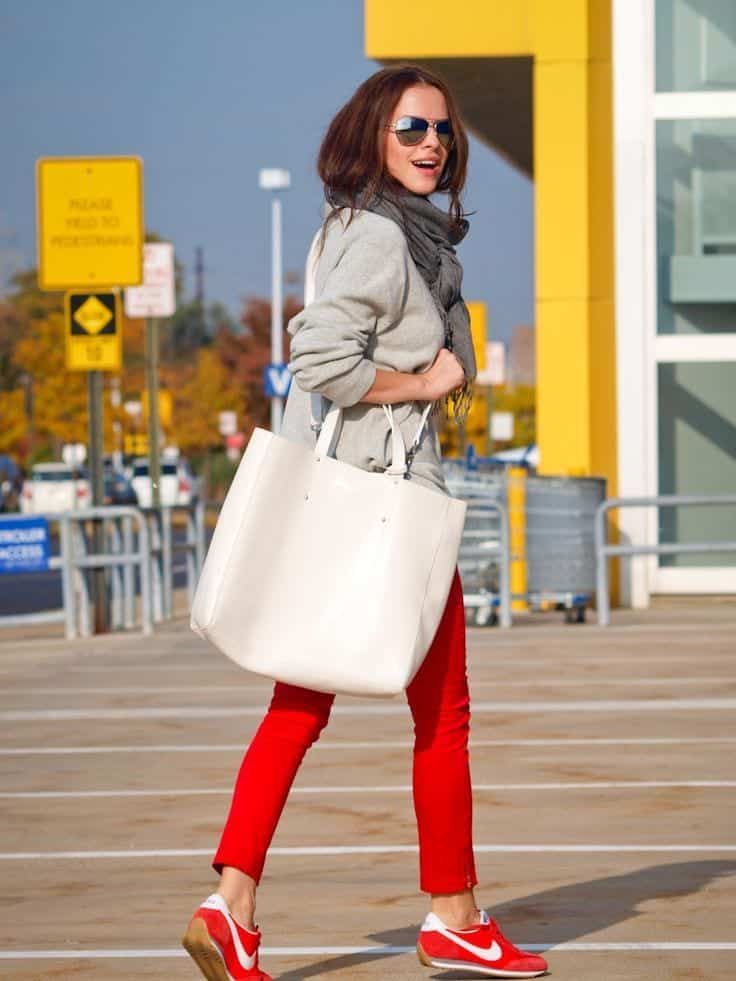 @images source @pinterest.com