School Fashion Outfits for Winter Season. Getting cold outside, isn't it? Yes…but the concern not only lies with wearing warm clothes, looking fashionable and practical is worth the deal. For teenage school going girls this is always a bit of an issue; what to wear that is both stylish and practical? If you need the winter outfit ideas that are beyond the standard cozy clothes tips do consider the mentioned 20 cute dressing ideas for school girls to warm yourself up this winter with stylish looks.
What to Wear For School In Winters
Want to look stylish and trendy with cozy outfit? Follow these warm and trendy fashion trends.
RECOMMENDED: Perfect Winter Outfit For School/College Girls-Monday Outfit
#20- Casual Sweater and Jeans Outfit

#19- Casual Check Shirt outfit
Give your school mates some style game with a denim mini skirt, plaid shirt and a classy suede boots.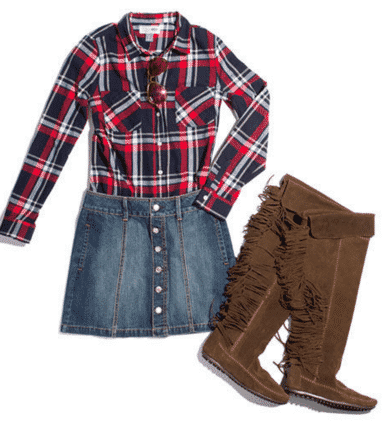 Also check out these [highlight]10 Fashionable Back to School Accessories Every Girl Must Own[/highlight]
#18- Cool Tee and Sneaker Combo
Add cuteness to your style with a funky tee and cool sneakers combo. This idea is perfect for girls who want to dress with cuteness drooling in their outfits and who want to loook extra cute and special at school or college. For this kind of outfit idea you can wear denim overall rompers with a cute looking light pink or baby pink colored shirt and then for footwear you can wear matchnig or white colored sneakers. You can also wear a cool and funky backpack for perfect cute and innocent look.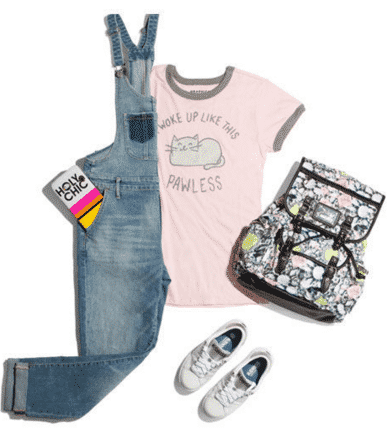 #17- Suede Dress Outfit
Be unique among your fellows with a classy fringe jacket, suede combo dress and Chelsea boots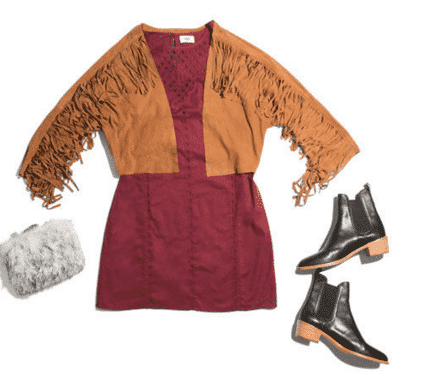 #16- Style up with your Cardigan
Add to your outfit, an ultra cool look with plaid cardigan, graphic tee, jeans and sneaker combo at school. For this outfit combo all you need is a plaid pattern shirt which is the hero of this outfit. Go  for black colored skin tight jeans and then wear any kind of white colored tee on top which may have a cute text written on it. Choose a nice funky bag for example you can go for blue colored purse to complete the whole look. You should also wear blue colored shoes to match your bag.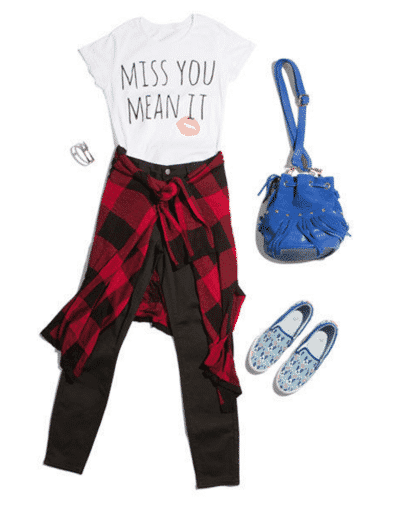 #15- Casual Floral Outfit
Be a style icon with floral dress and denim jacket combo added motto boots. This outfit is perfect for countryside girls and those who want to dress in a vintage way. For this outfit idea simply go for knee length dress with cute floral pattern on it and along with it wear a denim jacket to complete your whole look. For the bag you can take any handbag in maroon color with black ankle boots.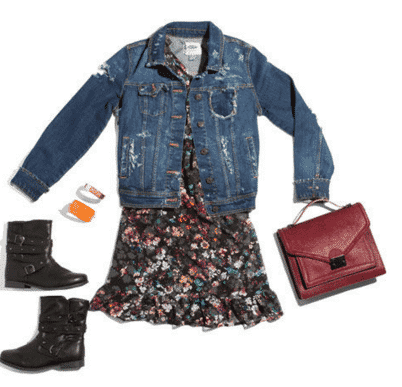 #14- Fun Graphic Sweet Shirt Outfit
Be the cool breeze of winter with Cool graphic tee, Ripped jeans and bright coloured sneakers. Such bright and neon colours are ideal for the Winter season which appear really dull and boring at times.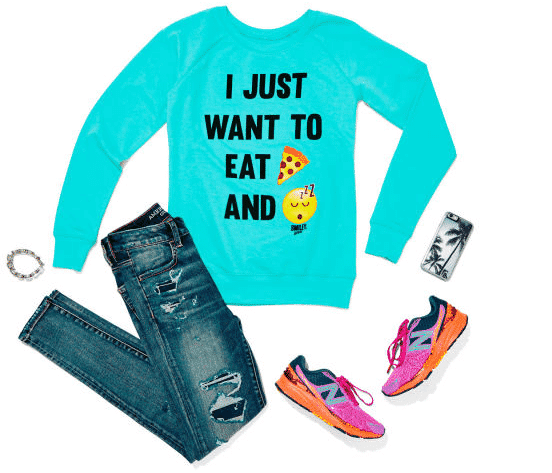 #13- Bright Stripped Sweater Outfit Idea
Add shine to your look with bright striped sweater, wool shoots and Suede Ankle Boots combo at school.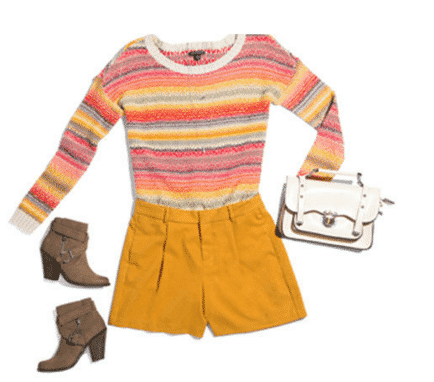 #12- Metallic Temp Outfit Idea
Be attractive with the metallic tempo dress, stylish motto jacket and trendy metallic booties. Girls with gothic love can wear this outfit and feel the best while wearing it. Wear any metallic dress with a jacket that has fringes on it to give street style look to your outfit .
RECOMMENDED: Warning: These 25 Metallic Nails Will Make You Change Your Nail Design Now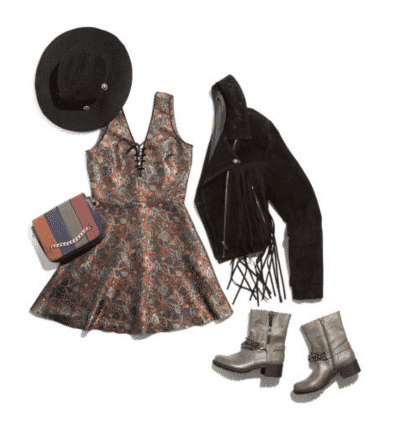 #11- Metallic Black Dress Combination Idea
Give yourself a smarter look with cropped pattern sweater, black skinny tight, fashion statement necklace and shiny metallic boots.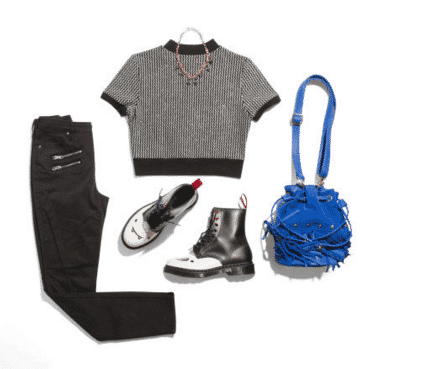 #10- Fur Sweater and Shorts Combo
Be the apple of others eye with the ravishing combination of fur sweater with corduroy shorts and printed ballet shoes. Black and orange is the best combo ever. This is also perfect for fall because of its unique color choice. For this dress simply go for black colored shorts and then add orange colored sweater on top of it. For the accessories, you can wear black colored side bag along with black high heels.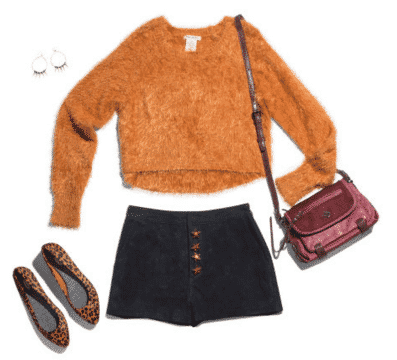 #9- Boomer Jacket Outfit Idea
Be a stylish teen with trendy front button skirt, boomer jacket and platform loafers combination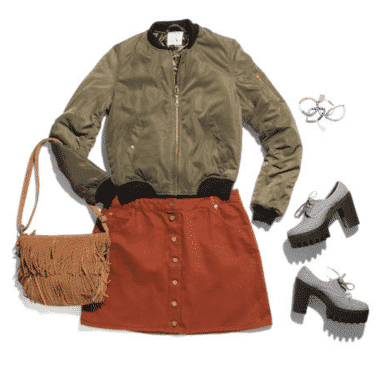 #8- Trendy Coat Outfit Idea – Nerdy Look
Have a nerdy look with cozy wool coat, bright knitted sweater and floral skirt in combo with knee boats. Also recommended: Cute Nerd Hairstyles For Girls-19 Hairstyles For Nerdy Look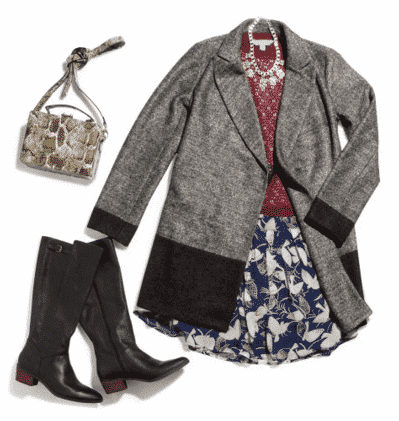 #7- Christmas Sweater Outfit
Be a hot chick of winters with Christmas sweaters, cord, cuff and stylish booties.
RECOMMENDED: Cropped Sweaters Outfits -15 Ways to Wear Cropped Sweaters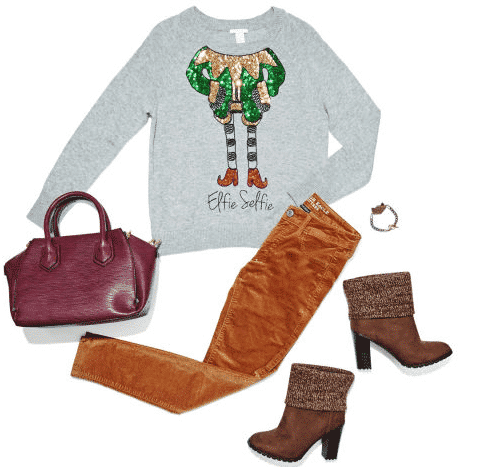 #6- Glamorous Skirt and Tee Combo
All you need to be a glamour girl of the day is the combo of printed skirt with a graphic tee and motto jacket with trendy bold boots.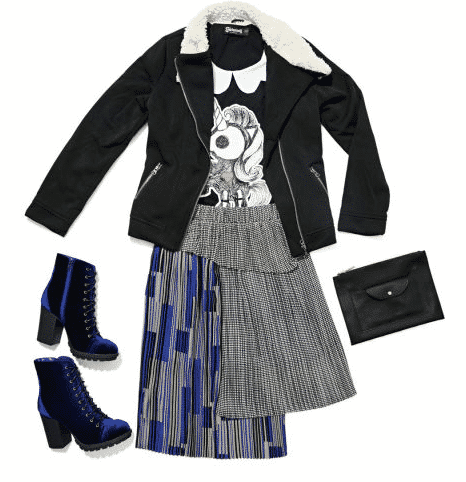 #5- Trendy Floral Stripped Skirt Idea
Wear a trendy tee with floral striped skirt, cute graphic shirt, shiny necklace and high heels combo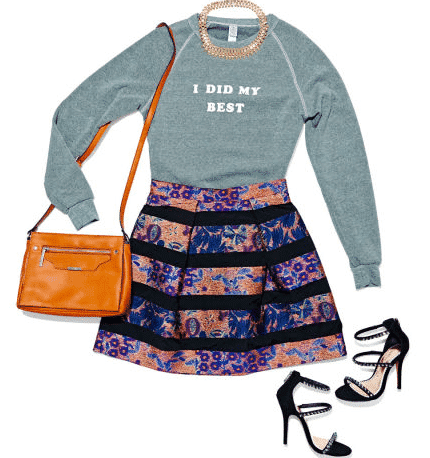 #4- Classy Denim Skirt and Crop Shirt Outfit
Dress up to the highest level of cuteness with this classy denim skirt, boxed crop to and ankle boot combo. For this combo you can wear blue colored front button skirt with black colored shirt over it. For footwear you can go for nude colored shoes and maroon colored cowboy cap to perfect the whole look. And we're sure you noticed how chic that hat makes the whole outfit look.
RECOMMENDED: Skirt Outfits for Teens-20 Cute Ways to Wear Skirts This year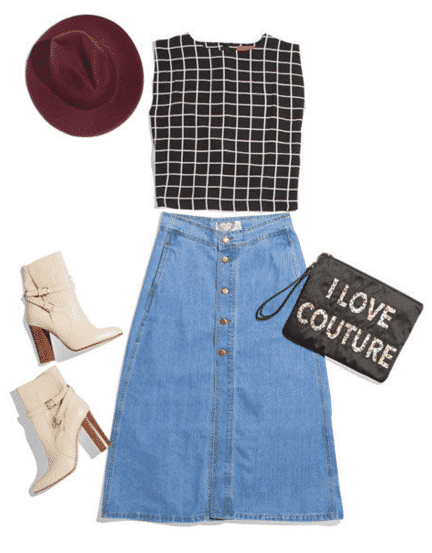 #3- Stylish Jumper Outfit
Dress up decently with this classy combination of light colored sweater, a classy jumper and Shearing wedge combo.
#2- Cute Cardigan Outfit
Add shine to your style at school with a bright colored dress, a cool cardigan, and stylish suede booties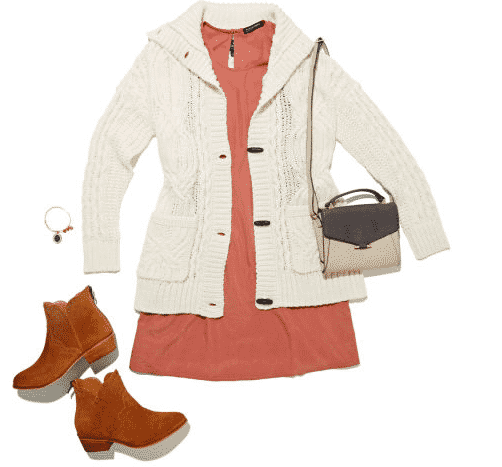 #1- Fringe Skirt and Tee Combo
Be a hot babe at school with a nice combo of a stylish graphic tee shirt, fringe skirt and contrasting sneakers. All you need to follow is to wear what suits you well and matches your overall presence. Just create your style and wear it.
To rock your school outfits, you also need the right makeup so here are some awesome makeup hacks that every school girl needs to know:
Turn pencil into the liner
over the period our eyeliner pencils get dried up and they lose their colour intensity, but you can easily turn your old eyeliner pencils into a gel liner with excellent smudge just by holding your eyeliner pencil over a flame for 1 to 2 seconds and then letting it cool for about 15 seconds before you can use it.
Remove glitter nail polish quickly
Yes, removing glitter nail polish is such a tough job but with this hack, you can easily remove it without any struggle, all you have to is instead of base coat apply white glue to your nails and then let it dry. Now continue with the glitter nail polish. When you are ready to remove it, this nail polish layer will peel off easily without any mess or hard work
Easy smoky eyes
To get perfect and easy smokey eyes all you have to do is to make a hashtag with your eyeshadow pencil at the outer corner of your eye. Now blend the hashtag with the rest of your eye makeup. The best way to blends it is using fingers. And voila
Long lasting lipstick
This is an old trick, but it still works when it comes to making your lipstick last forever. After you have applied, you favorite lipstick, lay one tissue paper on your lips and dust your entire lips with translucent powder. This will pick the colors of your lipstick and will make them last a lot longer than usual.
DIY lipstick
Do you have your favorite old broken eye shadow, laying around in your room? Well, you don't have to get rid of it  as you can only reuse it by turning it into a DIY lip gloss. Just crush the eye shadow into fine powder and then mix it with petroleum jelly and enjoy your DIY lip gloss