What to Wear with Fringe Heels? Looking for the perfect pair of heels for this year? What should you consider? While there are many styles of heels to choose from, it is important to know what specific type of heels you should choose. Consider what suits your likes and dislikes, what fits your toes, and above all, what's on trend.
Nowadays, most styles have returned from the antique era as people have become increasingly fond of them. As we head towards the '20s, we'll likely see a continuation of this nostalgia fad with Gen Z taking more inspiration from the past than just the crop tops, jeans with low rises, butterfly motifs, and sandals with thongs spotted over the past year. Therefore, I intend to show you one of the most popular styles from the olden days that is still popular today, THE FRINGE HEELS.
Recently, Fringe's been the talk of the town. Mostly because they are absolutely adorable that they make us feel young and playful. It is a touch of genius not only to add fringe to gowns and skirts but to wear them with boots and heels as well. We are experiencing major FOMO!
No matter your age, fringe sandals would leave you mesmerized. The accessory created a craze among the fans of these trendy accessories by adding a breezy and yet edgy flair to casual outfits.
In addition, when summer comes, everybody wants a pretty and fresh appearance for the hot weather. Girls must always wear sandals when the weather is hot. Now let me show you how to wear fringe sandals creatively. There's no way you'll regret trying this.
How to Wear & Style Fringe Heels?
All of us love wearing fringe shoes! With them, you can create tons of cute looks, including casual outfits as well. For instance, you could wear boyfriend jeans, shorts, and skirts. The most flattering way is to pair them with printed tops, stripes, or floral dresses in summer; the result is sexy and fabulous!
Don't forget to check out this list of Best Designer Shoe Brands for Women.
The fringe shoe will still look great if you wear slim or skinny jeans with white shirts. Though it's not a new trend, it's a return to the 1970s that makes you look unique and fashionable. Plus, they're edgy and can be worn in so many ways. There are various styles and colors of fringe shoes, including heeled sandals, boots, open-toe heels, and even flat sandals!
One of their best characteristics is adding visual interest to quite plain outfits. The best way to wear them is with a dress of a solid color. Finally, we will share some great outfit ideas for fringe-heeled sandals.
You'll also find the many types of fringe shoe outfits to choose from, in different colors with matching dresses or tops, so that you do not have to spend a lot of time searching for the perfect one.
All you have to do is scroll down and select what suits you best. You'll need to decide on a color and material to select your new sandals. But before checking out our picks, do give a read below on tips to wear fringe heels for a great look.
Tips on Wearing Fringe Shoes
Here are some tips for wearing fringe sandals to your advantage. The first step towards looking spotless is knowing how to wear fringe heels. Fashion is about matching the right clothing pieces with the right accessories and the best-fringed footwear. A lot of it will depend on your height and the shoe's tailoring.
High heel fringe sandals are an ideal summer/spring footwear choice for those looking to lengthen their legs and define them. You can look taller and slimmer in these cropped and stylish, tailor-made shoes. When you possess the skills to walk safely at these heights, adopt the trend.
One of the most popular combinations is the classy jeans combo. In fact, a laid-back blouse or a simple tee would work wonders when paired with basic accessories and the right pants. Choose an acid wash or distressed tailoring from the most popular washes on the market. The easiest way to create a memorable and unique look is to choose simple and comfortable pieces from your wardrobe.
The casual look and comfort of flats makes them very popular. The best time to flaunt your new flat fringe sandals would be at beach parties and on a leisurely stroll. They are some of the must-have fashion items of the season so I highly recommend styling them with skirts for casual get together or birthday parties.
15 – Suede Fringe Heels With Black Lace Top & Jacket  
There is no doubt that fringe and suede are in vogue right now. These shoes can help you stand out and still look chic, effortlessly stylish, and amusingly flirty at the same time.
In style terms, boyfriend jeans would be the obvious choice, but they don't really look right with these heels. Wearing them with something shorter makes sense if you want to show off the fringe.
With a Griffin jacket over this lovely black lace top, complete the luxe look.
14. Elegant Denim Dungarees with Camel Fringe Heels
Just recently, denim dungarees were re-introduced from the 90's. In spite of my disdain for them as a child, I'm just loving them now. You can wear them in many different ways, including both semi-formal or casual.
This look, created by pairing fringe heels with dungarees and an off-the-shoulder top, is classy yet eye-catching.
Off Shoulder Top With Ruffle Sleeve $23
13. Evening Out with Black Bodycon Dress, Shawl & Fringe Heels
Dress up your look with these high-heeled fringe sandals for a stylish, modern look that is casual and sophisticated at the same time.
A little black short dress, a cozy sweater wrap, and a black leather tote look great with these shoes.
12. Casual Denim Jumpsuit with Fringe High Heels
When it comes to looking trendy and in-style, you do not necessarily have to wear an outfit with all the fringes. Jumpsuits made of denim are always fashionable, and you can wear them in spring and summer.
These cute & comfy fringe suede sandals will go really well with this denim jumpsuit. You'll look really chic in this ensemble. Be sultry, cool, and comfortable!
11. Business-savvy in All-black Outfit
The feminine look can be achieved with a black coat, black leather pants, and cool high heels with transparent details and fringe on the back. Take advantage of a little bit of fringe that will go from the office to the evening effortlessly with these trendy fringe shoes.
10. Street-style White Babydoll Ruffle Top with Fringe Sandals
Our favorite blue skinny jeans can be easily paired with a white ruffle top and brown sandals adorned with fringe details on the front. A cool pair of sunglasses and a pink handbag are necessary finishing touches to complete this outfit.
Wear this outfit during summer when it's warm and wonderful, or during fall when it's still warm but there's a chill in the air.
9. Try a Blue Chambray Shirt & Floral Skirt with Purple Fringe Heels
Mixing pink, floral, and denim blue tones is one of our favorite trends this season! This look will look cool with shoes with fringe details since they add a touch of chicness to the appearance. To make your look unique and enticing, wear these purple fringe heels with a blue chambray shirt and floral skirt.
8. Spring Style with Purple Sweatshirt Boyfriend Jeans & Green Fringe Heels
Combining this purple lilac sweater with blue denim jeans and green fringe heels will add spring colors that instantly revitalize you. Your look and aura will change completely when you wear this combination. 
7. With an Off-the-shoulder Pink Blouse & Distressed Jeans 
It's hard not to love these fringed sandals! They're so stylish! Transparent details on the side of these shoes make them stand out, making them a remarkable way to catch people's attention. Wear a pink blouse and distressed jeans to create this chic look in the spring or summer.
6. With White Jeans
It'll be easy to steal the spotlight when you wear something like this, white classy jeans, a bright pink top, and high heels with stylish fringes, it's very stylish and innovative.
If you want this to look more feminine, you can open up your hair and add some pearly hair accessories. A vibrant summer party outfit like this one is perfect for wearing to an evening function or to a happy hour. 
5. White Maxi Skirt with Black Jacket & Black Fringe Sandals
It is now time to incorporate fall accents into summer staples. But where do I start? A gauzy white maxi skirt paired with a black jacket and the fringe trendy heels is just the right blend you've been looking for.
You can wear all the white you want now with black sandals & accessories in all the right tones. Style your strappy heels with a black-fitted moto jacket and a full maxi skirt for a glamorous yet wearable look.
4. Blue Floral Dress with Blue Fringe Heels
Printed floral dresses are another option for wearing fringe shoes. If you want to look polished, you should choose clothing that matches. The blue printed dress matches perfectly with the blue fringe sandals, giving you a more appealing look than ever.
3. Weekend Outfit with Fringe Ankle Strap Sandals
You can make everything work if you know how to combine your clothes perfectly and keep the right balance. Wear a black peasant top with blue ripped jeans for an elegant weekend outfit with a modern twist. If you wish to add a touch of style to this outfit, you should wear fringe-heeled sandals.
Here are some more Weekend Outfits for Women Trending This Year.
2. Match Your Accessories with Your Fringe Block Heels
Choosing an off-shoulder dress in light blue denim is a good choice if you're looking for comfort and style at the same time. Wear fringe-heeled sandals now if you want to make your outfit a bit more classy.
Wear a gold pendant with open hair to dress up your casual outfit with a twist. Consider matching your bag and jewelry with the shoes for a sweet, put-together outfit.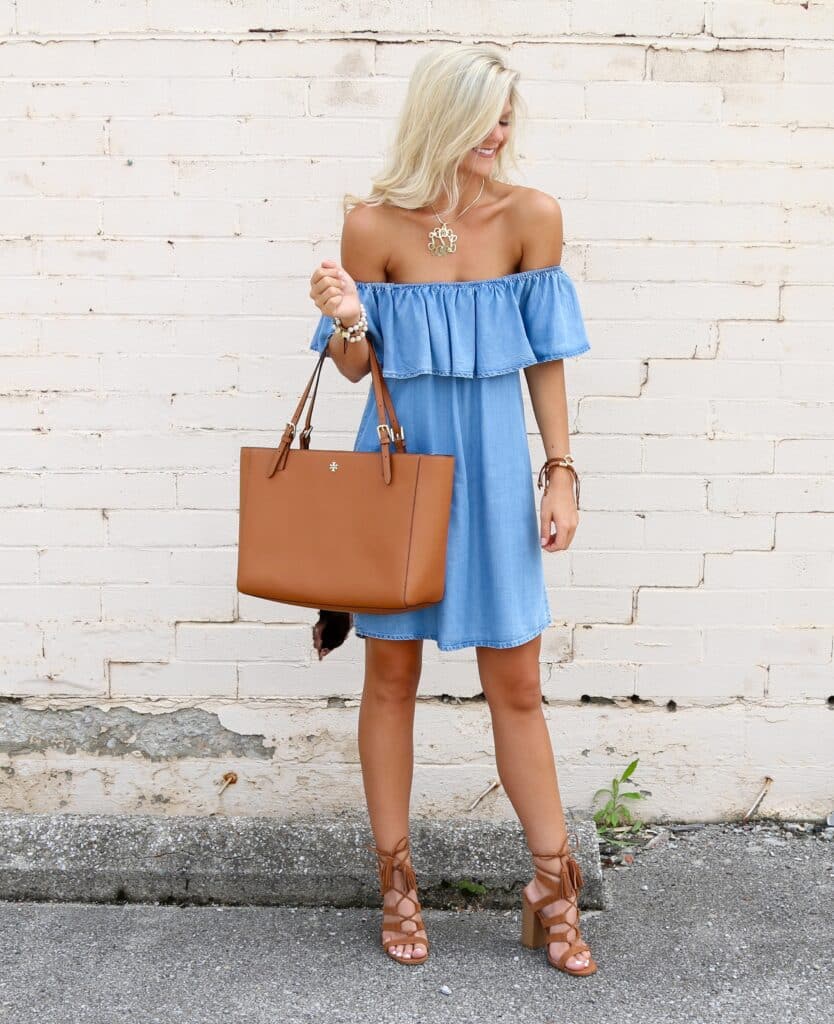 1. Elite Party Look with Hot Red Flare Dress & Fringe High Heels
Choosing a red satin fit and flare dress for an elite event gives you a sophisticated and breathtaking look. If you don't know how to tie your entire look together, fringe heeled sandals are a smart choice. You will look stunning in a red satin fit and flare dress. You should complete the ensemble with a black embellished leather clutch and one of these makeup looks that work best with red dresses.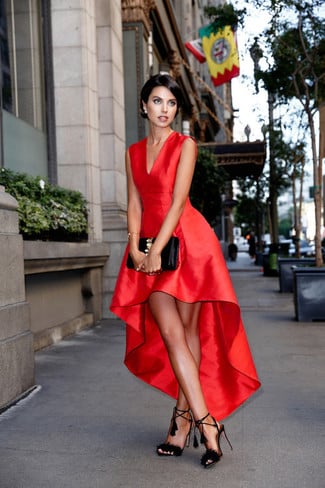 Frequently Asked Questions
Q. How do you wear fringed shoes?
Ans. Choosing oversized, fitted, or sleek outfits will keep your cool vibe. Mini skirts pair well with these shoes. Try fitted or A-line dresses if you want to emphasize your curves. Put on a cool, casual tee and a blazer with shorts and a sweater or keep it simple with a cool, casual tee.
Q. Are fringe shoes in style this year?
It looks like this will be a great year for fringe fashion. Many celebs like Gigi Hadid and Cardi B have been wearing prairie dresses, cowboy boots, and fringes.
Q. When was fringe popular?
A part of flappers' uniforms in the 1920s, fringe trickled into and out of fashion as a trend throughout the 1960s, 70s, and 90s. We did see this detail on leather skirts, flare jeans, clutches, earrings, and even kick flare jeans a few years ago, circa 2016.
Q. Is it OK to wear fringe heels?
A fringed sandal only adds to your sexiness and individuality. It makes you the center of attention. Share your thoughts and experiences about fringed sandals.