Aiman Khan Outfits – You all must know who Aiman Khan is. She is a superstar for a reason, due to her immense talent and popularity amongst the masses. Her good looks and hard work are the reason she has achieved the success she has today!
Her best feature is her relatability. Hence when it comes to fashion inspiration, she is the most sought-after actress in Pakistan. She wears and recommends clothing that the average Pakistani woman can actually wear in their lives. This is another reason for the love she gets from her followers!
Latest Outfits of Aiman Khan
If you have been looking to get some outfit inspiration from your favorite actress, then you have come to the right place! Scroll on to find out about the 20 times Aiman Khan completely blew our mind with her outfit choice, and get some inspiration along the way!
About Aiman Khan
Aiman Khan is a child actor turned superstar of the Pakistani television industry. She and her twin sister Minal Khan are currently at the top of Pakistan's best female actors. Other than her sister Minal, she has three brothers. She was born to a Police officer Mubeen Khan in Karachi. In 2018, at just 20 years old, she married fellow actor Muneeb Butt. The couple has an adorable daughter names Amal Muneeb.
Awards and Achievements: 
She started her work from the project Mohabbat Jaye Bhaar Mein on Hum TV in 2012. She has appeared in 27 plays since then, a big achievement for her 10-year career. She gained much prominence from her drama serial Bandi. In 2019 she became the most followed Pakistani celebrity on Instagram, but now the title has moved on to Ayeza Khan.
She has been nominated at the Hum Awards for Best Actress for her work in Ishq Tamasha and Bandi. She has also been nominated for the award for Best On-Screen Couple for both dramas along with Junaid Khan and her husband Muneeb Butt for the same serials.
Basic Facts about Aiman Khan:
Age: 22 years
Date of Birth: November 20, 1998.
Height: 5 feet 5 inches
Zodiac Sign: Scorpio
Instagram: aimankhan.official
↓ 20 – Aiman Khan Outfit for Eid
Eid is the time of the year when all girls get the chance to dress up as much as they want without getting mocked or feeling extra. This blue and gold ensemble is perfect for Eid, especially combined with the smokey eye look and drooping earrings. You can get this custom made by purchasing some raw silk for the shirt and golden organza for the dupatta. Also, have a look at 15 Best Pakistani Celebrity Eid Outfits; Celeb Eid Fashion.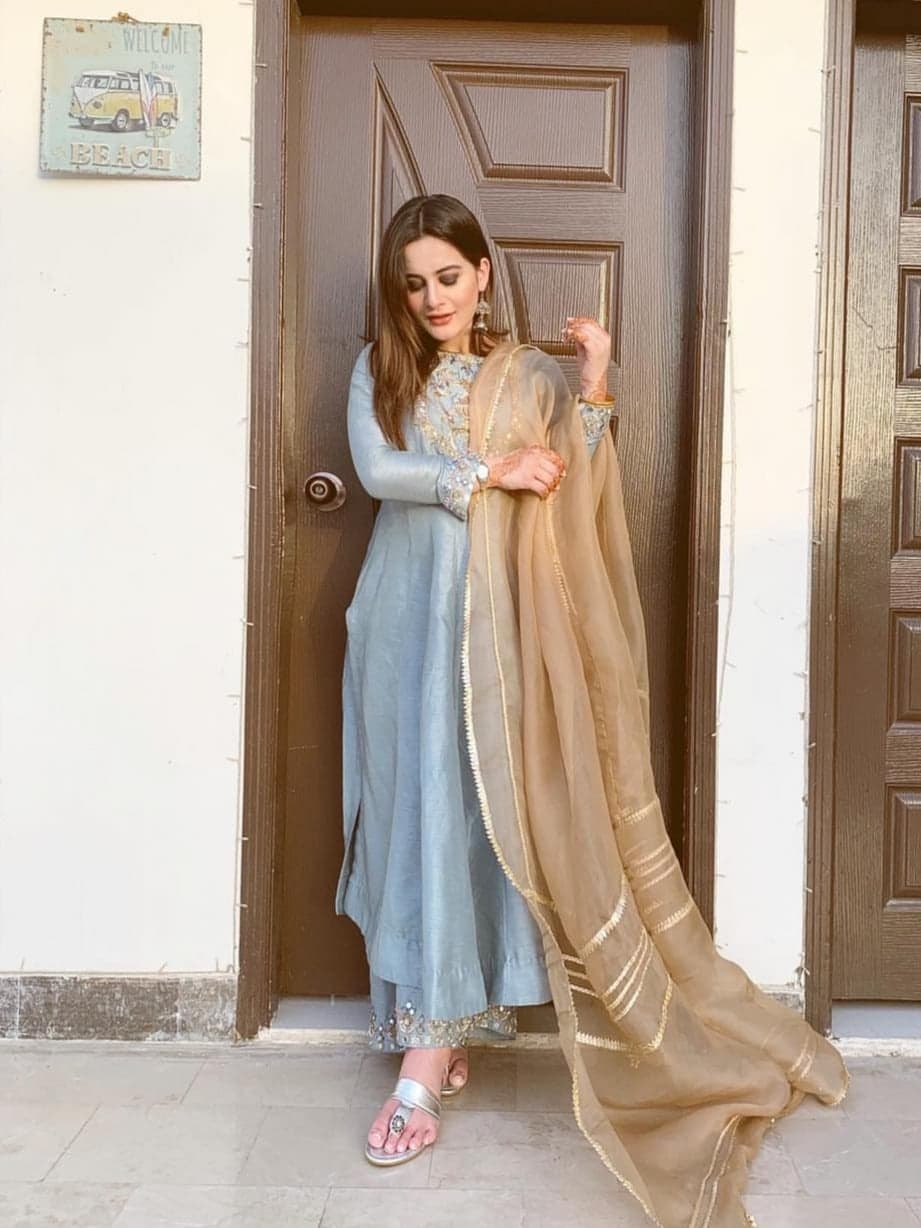 ↓ 19 – Something for the Wedding Season
With the Shaadi season coming up, you definitely need some new looks. This one is perfect as it is neither too simple nor extra flashy. The embroidered floor-length anarkali style green frock combined with a golden Jacquard Dupatta gives a royal vibe. This is definitely a look everyone will remember, and who knows, you might end up being the next bride!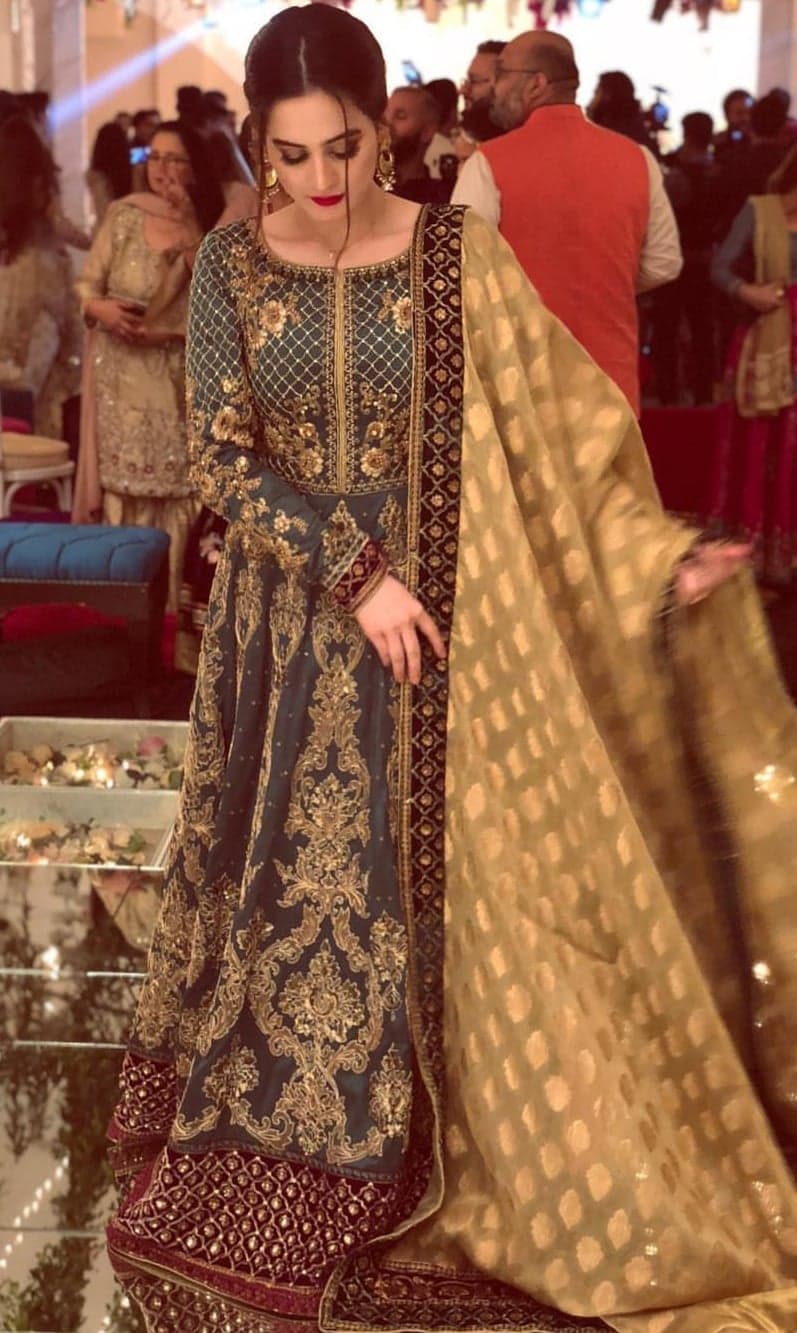 ↓ 18 – A Simple Look for a Summer Lunch
This matching two-piece is ideal for a lunch out with your friends during the summertime. It is simple yet elegant and truly reflects the color of the seasons with the bright prints. Lightly style it with a fancy clutch or bag and some shiny flats, and you are all set to slay. We particularly like the way the shirt has been stitched. It is an interesting take on the traditional kameez.
↓ 17 – Engagement Outfit
This all-white outfit can be worn to an engagement or on your very own! It is fancy yet simple, and the styling with silver accessories to match the embroidery is the best way to go about it. The gharara is a hot favorite of all desi girls, and this causal take on the usual heavily embroidered outfit is something w can't get enough of!
↓ 16 – An Option for your Bestie's Birthday Party
Aiman can be seen with her twin sister Minal in this one, giving us two very unique outfits to consider. Aiman is a little more glammed up than her twin, with a rustic silk top and matching velvet pants. Her hairdo is fierce and bold and definitely one you should try at the next big event in your friend group. You could also go for Minal's more simple look of a plain black blouse and printed flare pants.
↓ 15 – A Workplace Ensemble
This jumpsuit and blazer combo are ideal for all the working women out there. The simple striped jumpsuit is super cute, and the basic white blazer is easily available in the market. Go for simple styling with loose curls and gold earrings along with some light eye shadow. The key here to enhance your natural beauty, not overdo it!
↓ 14 – Black is the All-time Favorite
This is our favorite picture of the gorgeous happy couple of Aiman and Muneeb. They are seen in a simple matching all-black outfit that looks perfect. This shows that an ordinary combo of black t-shirt and jeans can look oh so wonderful with just a little makeup and light jewelry.
↓ 13 – Classic Shalwar Kameez for Shopping
If you plan to go on a long day of shopping and walking around the mall, this outfit will serve you well. It is a classic green cotton shalwar kameez, something ideal to fight the heat. Go for flats instead of heels, and you will find yourself comfortable throughout the day. Tie up your hair to keep it out of the way, and grab your favorite matching handbag with your cards and money inside so you can shop to your heart's content!
Get Her Look: Maahru Majestic Green – K40
↓ 12 – The Cutest Family
Aiman Khan is not just gorgeous herself but also has a beautiful family. This picture of the happy family with Aiman and daughter Amla wearing matching outfits is simply melting our hearts. Aiman's pink fancy ensemble can be worn on Eid, weddings, and even fancy dinner parties. We believe you should all have something fancy like this in your closet when such an occasion arises.
Get Her Look: Erum Khan Formals
↓ 11 – An Option for Mom and Daughter
We have all seen many pictures of moms and daughters wearing matching outfits, but here is one where even without a matching outfit, the duo looks super cute. You can see that Aiman has tried matching her shoes with Amal's outfit, and we appreciate the effort. We think this looks much cuter than a completely matching look!
↓ 10 – A Casual Spring Piece
This cotton gown is perfect for the spring season; when colors are bright, the first rays of heat are coming through. It will be a look that will keep you cool and also make you look gorgeous. Go for simple jewelry and a low ponytail to bring it all together, and we are sure you are bound to stand out from the crowd!
↓ 9 – Long Coats are our Favorite!
Long coats make any outfit look put together and perfect. Such is the case in the option below. The pink long coat has brought together the whole look effortlessly, and we think this is a great way of wearing western clothing modestly. Aiman Khan is known to dress classily and modestly, and this option is proof of this.
Get Her Look:
Coat: ROSÈ from Aiman Minal Closet
↓ 8 – Aiman Khan Outfit for Mehndi
If you are about to get married soon, then you must consider this ensemble. It is gorgeous mustard embroider two-piece that is sure to turn you into a gorgeous bride for your mehndi or dholki. The blouse and sharara are made so similarly that you can barely tell where one starts and the other ends, and we think that's the best part of this whole look!
Get Her Look: Reign clothing
↓ 7 – Traveling in Style!
With the novel coronavirus here to stay, it is getting harder and harder to travel these days. But with new masks coming out that don't only keep you safe but can also make you look really cool, this hurdle might be overcome. Traveling requires comfort, and this two-piece looks oh so comfortable. So the next time you are traveling, wear something comfortable like the option below and make sure you mask up!
Get Her Look: Outfitters
↓ 6 – Everyday Pick
This simple lawn two-piece suit can be dressed up and down as per your requirements. You can add in fancy earrings like Aiman to make it look more dressy and fancy. You can also go for simple stud earrings and light makeup if your day is casual. This option shows you that you can style even the simplest everyday look to make it gorgeous and ideal for fancier occasions.
Get Her Look: Edenrobe
↓ 5 – Date Night Look
Although Aiman rarely dresses in western clothing, she looks ethereal when she does! She is wearing an intricate light blue blouse with a pair of black leggings and looking oh so gorgeous. Her low ponytail and light makeup and accessories are what make this look so perfect. This shows that overdoing it is never the answer!
Get Her Look: 
Top: LOVE, DENIM from Aiman Minal Closet
↓ 4 – Fashionista on a Holiday
Here is a snap of her holiday in Turkey. A casual look complete with a puffer jacket and comfortable sneakers. While on holiday, all you need is to have comfortable shoes that won't hurt your feet after a long day of exploring and clothes that will keep your body at the right temperature. And we must say, this look is not only trendy but also looks really comfortable!
Get Her Look:
Puffer Jacket: Quizpk Black Padded Faux Fur Collar Jacket
Jeans: Breakout FRONT PANEL DENIM
↓ 3 – Traditional Beauty
This traditional Anarkali style shirt is something that everyone must have in tier closets. It is made with simple green fabric that is easily available. So get your hands on it as soon as possible and ask your tailor to stitch this exact look for you. Go for cigarette pants with the look, and make sure to style it with a bright bag and gold jewelry to bring it all together! Also, have a look at 11 Angrakha Outfits From Pakistani Celebrities & Influencers.
Get Her Look: OH SO GREEN from Aiman Minal Closet
↓ 2 – Aiman Khan Outfits for Casual Western Look
This one is for all the college-going girls who want to have a new look every day but do not want to invest in many pieces of clothing. Simply purchase several shirts and just pair them up with the same pair of jeans and sneakers. Not only will you be comfortable, but you will also have a new look every day of the week. I f you want, get two or three pairs of jeans to add more diversity. Remember, it's not about how expensive or how many clothes you have but about how you style them!
↓ 1 – The Most Graceful One Out of All
This simple grep cotton gown open from the front might be just the piece you need this season. You can wear it with a plain black pair of t-shirt and jeans underneath and achieve a modest, fashionable look. The puffy sleeves and collars are our favorite part of the gown, and we think you should incorporate these into different clothing styles such as simple blouses, etc.
Get Her Look:  SASSY YOU from Aiman Minal Closet
Frequently Asked Questions
Q. Who is more famous, Aiman or Minal?
A. Taking their following on social media, it is clear that Aiman is more famous than Minal. However, Minal Khan is in close tow due to her recent work in the popular drama Jalan. Aiman Khan's lifestyle is more loved by the public due to its domestic aspects, which is also another reason for her larger popularity than her sister.
Q. Who is older, Aiman or Minal?
A. Aiman Khan is 28 minutes older than Minal Khan. Minal Khan has said that she has filled in the role of her older sister really well and is also more mature than her.
Q. Does Aiman Khan have a stylist?
A. Aiman Khan does not have one specific stylist. For TV shows, she is obviously styled by the on-set stylist. But in her own life, she styles herself and keeps it quite simple. However, her clothing posts on her Instagram account are often sponsored, so her clothing choice is definitely influenced by that aspect.
Q. What is the brand name of Aiman Khan?
A. Aiman has a brand "aimanminalcloset" which she runs with her twin sister Minal.